Imagine taking a great picture of someone, but the lighting isn't quite perfect. Maybe there are annoying shadows, or the background doesn't look right. Well, don't worry because there's a magic tool that can make your photos look amazing!
In this blog post, we're going to talk about taking better pictures of people, especially portraits. We'll focus on a cool feature called Relight AI, which you can find in a special photo-editing program, Luminar Neo. It doesn't matter if you're a pro photographer or just getting started—with Relight AI, you can make your photos look fantastic with just a click.

Say goodbye to those times when your pictures didn't have the right lighting, and say hello to a new way of making your images look amazing. Let's discover how Luminar Neo can help you relight your photos and make your portrait photos better!
Why Good Lighting is So Important in Portraits
Before delving into the process of photo editing, it's crucial to understand the fundamental role that lighting plays in capturing high-quality photographs.
At its core, photography captures light. The precise quantity and caliber of this light can be the deciding factor between an image that's crisp and sharp, and one that's blurry or muddled. In portrait photography specifically, lighting isn't just about illuminating; it governs mood, tone, and the overall atmosphere of the shot.
Poor lighting can cast unflattering shadows, exaggerate imperfections, or distort the perceived contours of a face. On the flip side, well-executed lighting can accentuate details, lend depth, and truly encapsulate the essence of the subject.
Understanding how lighting affects the face underscores the value of tools like Relight AI. This tool provides a means to adjust and perfect lighting in post-production, ensuring the final image aligns with the photographer's intent. Ready to see how it works?
Relight AI—Your Go-To for Portrait Photography
Relight AI stands out as a powerful tool in the world of photo editing, particularly for those challenging moments when lighting falls short. Let's delve into its capabilities and how it can enhance your portrait photos.
Ever snapped a nighttime shot and found the lighting uneven? Some areas too dim, others overexposed? Enter Relight AI. This feature meticulously assesses your photo and, utilizing a 3D mapping system, ensures every segment is correctly lit, eliminating disparities in brightness. And the beauty of Relight AI lies not just in its effectiveness but its simplicity. See it for yourself!
A 7-day Free Trial of Luminar Neo with No Obligation
Get it now!
Quick Guide on Using Relight AI
Open up Luminar Neo.

Choose the photo you want to make better.

Go to the Edit section.

Find Tools, then Creative, and click on Relight AI.

Adjust the settings for near and far brightness using the Brightness near and Brightness far sliders.

Play around with the Depth to find the perfect balance.

Want even more control? Dive into the Advanced settings and tweak Dehalo, as well as Warmth near and Warmth far.

That's it! Your photo now has the perfect lighting, thanks to Relight AI. It's like having a pro photographer by your side.
The best part is you can see the magic happen. Your photo goes from okay to amazing in just a few clicks. We would like to show you some examples of how Relight AI can turn a dull photo into a stunning masterpiece. Get ready to be impressed!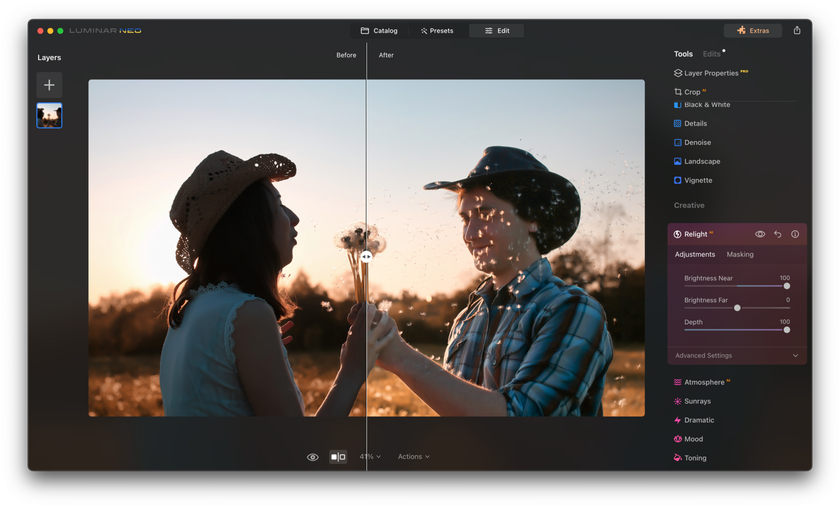 With Relight AI, you're not just improving your photographs—you're transforming them! And if you're completely new to Luminar Neo, we've got you covered with a video guide that'll help you get started!
Tools You Might Be Interested In
In addition to the amazing Relight AI, Luminar Neo offers a set of tools that can take your portrait photography to the next level:
If you want your subjects to have flawless skin, Skin AI is the solution. With a single click, it magically cleans up the skin, bidding farewell to spots and welcoming smooth skin. Even if you're not a pro, this tool makes portrait retouching a breeze, perfect for selfies, close-ups, and achieving that clean, professional look.
Face AI
Think of Face AI as your portrait buddy. It knows faces inside and out. From eyes to lips and the entire face, it's got you covered. It can even work its magic on side views! With this tool, you can tweak aspects like face lighting, face contouring, iris color, and more. Plus, it effortlessly handles common issues like dark circles and red eyes.
Portrait Bokeh
Want that dreamy, blurred background in your portraits? Portrait Bokeh has you covered! With a simple click, it transforms plain backgrounds into beautiful, soft blurs, ensuring your subject stands out. No need for fancy lenses or expert skills—this feature gives you complete control over background blur, and it integrates seamlessly with Adobe Photoshop and Lightroom Classic.
Removing backgrounds from your pictures is easy with Background Removal AI. A single click is all it takes, and it automatically detects your main subject. You decide what stays and what goes with easy touch-ups using the refinement brush. No more time-consuming masking or layering—it's fast and effortless.
Luminar Neo's Studio Lighting Simulation is like having a professional studio at your fingertips. You can recreate the magic of its lighting without the need for an actual setup. Fine-tune the intensity, color temperature, and direction of virtual studio lights to match your creative vision. Whether you desire soft, diffused light or dramatic effects, Luminar Neo gives you the power to make your images look like they were captured in a studio!
Tips for Mastering Portrait Lighting
Now that we've introduced you to the portrait-enhancing tools in Luminar Neo let's dive into some tips and tricks to help you make the most of these features:
Start with Presets: Luminar Neo offers useful presets that can give you a quick starting point. These presets can save you time and offer inspiration for your creative process.

Keep It Real: When using Skin AI and Face AI, aim for subtle adjustments. Natural-looking results often come from slight enhancements rather than extreme changes.

Combine Tools: Don't hesitate to combine different tools for more advanced editing. For example, you can use Skin AI for skin retouching and then apply Portrait Bokeh to create a stunning background blur.

Tutorials and Courses: Consider exploring tutorials or photography courses that focus on portrait photography and editing. There's always more to learn and discover!

Feedback and Critique: Share your work with friends, fellow photographers, or online communities. Constructive feedback can help you refine your skills.

Stay Inspired: Keep an eye on portrait photography trends and follow photographers you admire. Inspiration can come from various sources and help you evolve your style.
Remember, mastering portrait lighting and editing takes time and practice. To further enhance your portrait lighting skills, be sure to check out our in-depth guide on 5 Essential Lighting Setups for Portrait Photography for comprehensive insights into creating stunning portraits!
Bottom Line
In this post, we've shown how Relight AI and other powerful tools can enhance your portrait photography. Whether you're a novice or a pro, these features empower you to create stunning portraits effortlessly. With Luminar Neo, you have the tools and know-how to transform your portrait photography and say goodbye to lighting challenges.
Happy shooting and editing!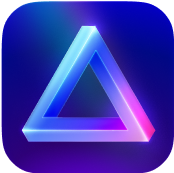 Advanced yet easy-to-use photo editor
view plans