In our review, we'll discuss the features and standout features of two editors. We will describe their advantages and disadvantages. So, GIMP vs. Krita. The battle begins!
What is Krita?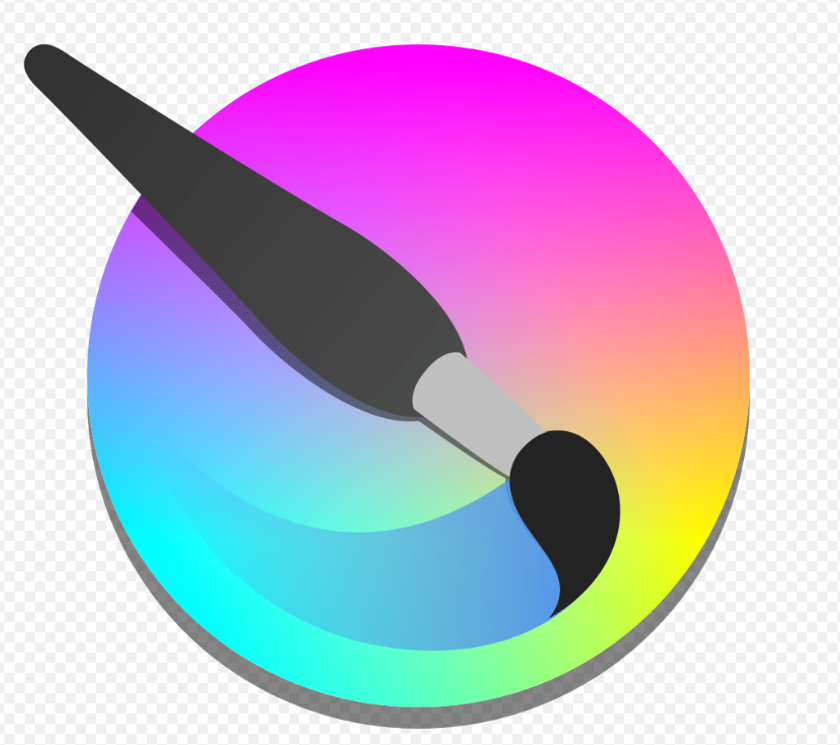 Krita is a graphics editor that offers excellent functionality for drawing and processing bitmap images. Advantages over the well-known Photoshop are apparent: the program is free and installed on all known operating systems (in addition to Windows you can download it for Mac and Linux). The interface is much more convenient and user-friendly for beginners.
What is GIMP?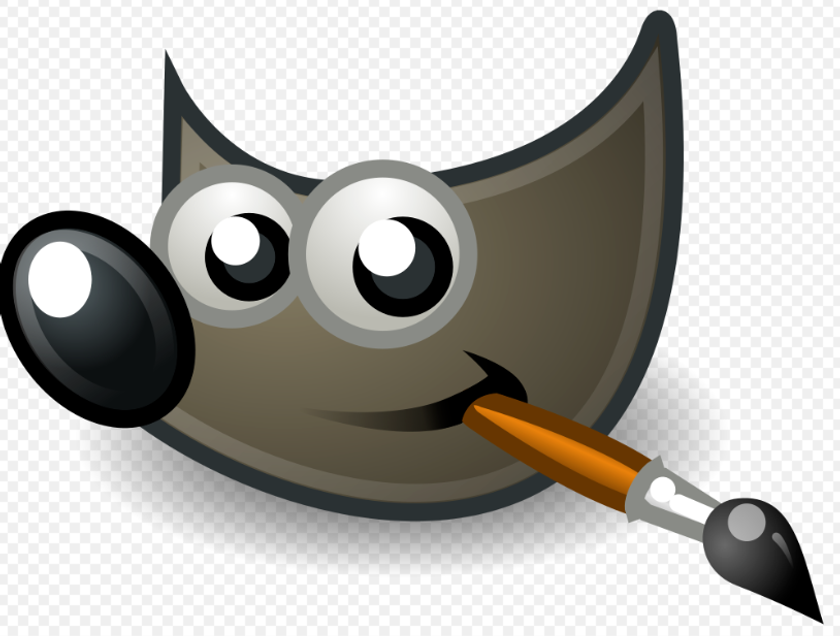 GIMP is a tool that works with images. A great solution, especially for beginners. It is a free editor that works with bitmap and vector graphics. There are versions for Windows and Linux. Distributed as an open-source application, so you can use it without restrictions.
GIMP vs. Krita: interface usability comparison
The interface of GIMP is not familiar. It consists of windows where you select the tools for work. This arrangement is uncomfortable, so let's switch to another working mode. To do this, select "Single Window Mode" from the "Windows" menu.

Then the secondary windows will be included in the main window and become its elements.
Let's take a look at the structure of the program's working screen:
At the top is the main menu used for work;

On the left is the panel where you select the tools you want to process;

Below that, there is the setting window for each individual tool, which is activated by selecting the panel above;

To the right are the Layers and Contours control panels;

Below are the brush tools, gradients, and history.
After you have worked for a while with this interface most likely you will find it quite handy because the tools are located quite ergonomically, and their number you can configure them, in this case, it will be exclusively what you need.
Krita's workspace is made in a minimalist way, but stylishly. Nothing is superfluous: on the left is the toolbar, and on the right are windows with a palette, brush profiles, and information on layers. You can change the design theme in the settings. Clicking on the link New File (or the standard key combination Win + N), we see a few templates: textures, templates for cameras, the ability to create comics, animation, etc.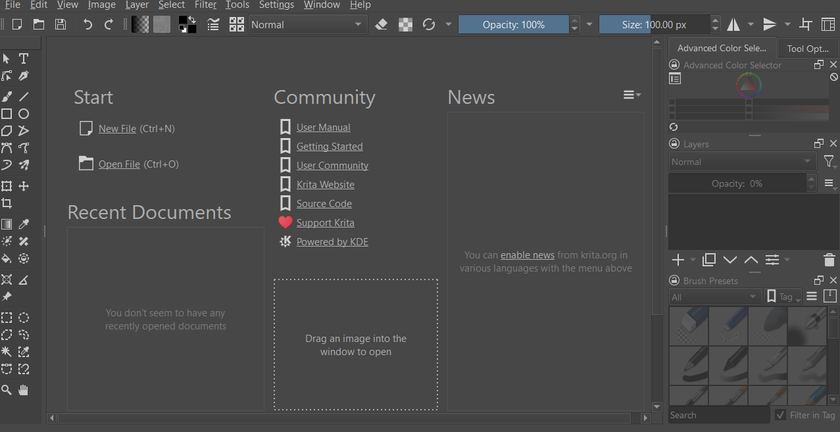 Functions: GIMP is convenient by quantity, and Krita is effective by quality
GIMP offers such features:
Creating and processing photos, logos, and drawings. Allows you to edit dimensions and color. Combines several photos together, changes brightness and color balance, converts photos to different formats;

Native Editor Format Supports JPG, JPEG, GIF, TIFF, MPEG, PNG, TGA, TIF, BMP, PDF, ICO, and more. There is limited support for PSD (original Photoshop format);

Drawing. You can create full-featured drawings. Use a set of tools: pencil, stamp, brush, etc. For each element, adjust the line shape, thickness, and transparency;

Creating an image on different layers. Each element is added to a separate layer. It is easy to edit them if necessary;

Elements for transformation and transformation: rotation, tilt, rotation, reflection;

Selecting a part of an image. Work with tools such as ellipse, rectangle, and smart selection;

Supporting work with scanners and tablets;

Working with built-in filters;

Batch processing capability;

Performed actions are recorded in the History section. It will help you keep track of changes;

Animation. The graphic editor works with the format Each frame is edited as a separate layer;

Creation and advanced processing of graphic files, photos, logos, and drawings. You can resize, edit color, merge several photos into one, adjust the level of brightness, contrast, color balance, and distortion, convert pictures from one format to another;

Full set of tools for transformation and transformation: tilt, scale, rotation, rotation, reflection;

Selecting a fragment of an image. Such selection tools as free-form fragments, ellipses, rectangles, and smart selections are available.

Support for scanners and graphic tablets;

A large number of built-in filters, the possibility of both piece-by-piece and batch processing of files.
As you can see the list of features is extensive and if versatility is important to you, then the GIMP is the best choice.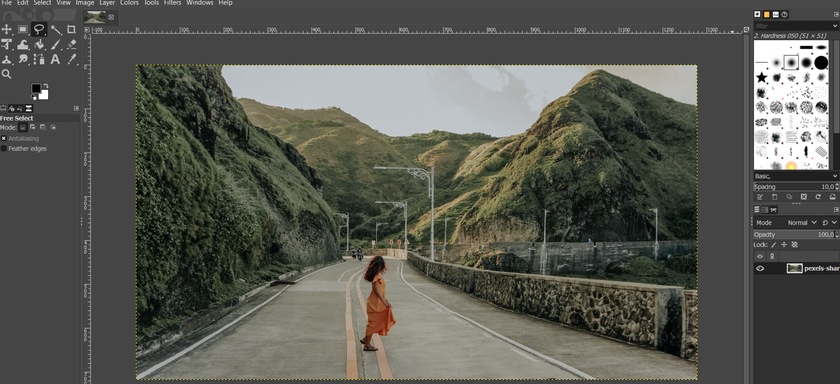 As with any editor, the principle of brushes, the artist's main tool, is implemented in Krita. A special panel of brush profiles is located on the right, although the window can be moved to any convenient place. In addition to the standard pencils and artistic brushes, there are ready-to-use solutions for painting. Each brush can be customized to meet your current drawing needs. You can easily choose brushes and palettes – just click the right button of the mouse.
Easy management of layers is another advantage of Krita. The editor offers the creation of standard, group, filter, vector, and other layers. Different maxi (filtering, transparency, etc.) are also provided. The special resource manager allows using brushes that were created by other users of the program. This feature significantly expands the possibilities of drawing and processing images. In addition to brushes textures, gradients, etc. are available.
You can quickly mirror an image either vertically or horizontally. There is also a possibility of rotation with the Multibrush tool. The quick mirror function helps to turn the working canvas and look at faults in the construction of the artistic layout. OpenGL support gives you the ability to zoom and rotate the canvas more quickly. The clarity of the image does not change even with strong scaling. Here are a few more additional features Krita offers:
Alpha channels and masks: the ability to display individual parts of the image, changing the color range without interfering with the image itself;

Animation: the possibility to create a frame-by-frame animation by selecting an appropriate workspace;

Multi-format: the editor can open and work with a large number of formats, including the formats of Photoshop, Corel Draw, etc;

Macros: there is the support of recording processing scripts, although many specialists speak of this as a weakness of Krita it is more convenient in Photoshop;

Creating Backgrounds. Create images for the backgrounds of Internet pages or desktops. Just press the [W] key and your canvas will be propagated across the working window (as an auxiliary rendering only). Now, when you draw a line right-slanting over the borders of the drawing, the line will appear left-bottom and your task will be just to make sure that the end of the line is smooth at the beginning of it. By the way, our site has a handy program called Pattern Cooler for creating backgrounds, which works right in your browser;

Dockers. The toolbars are customizable both in terms of the tab list and the presence of function buttons. You can drag and drop tabs/panels and hide them. A useful Tool Options tab, which contains the settings for the active tool, is located by default in the lower right window next to the Layers and Brushes tabs;

Cross-platform. Works in various GNU/Linux, FreeBSD, Windows, and Mac OSX distributions;

Networked storage. Right from the program you can access resources, such as brushes, gradients, textures, etc., created by other users;

Autosave: set up automatic saving of the document in order not to lose the results of the work.
As you can see, Crita has significantly fewer functions, but each of them is worked out to the finest detail. With such a set, this editor is best suited for professionals.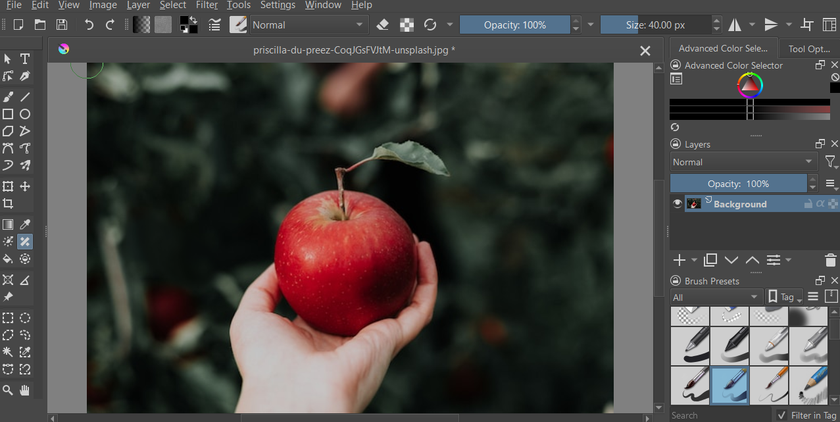 In our opinion, GIMP wins in this respect because:
Editing an image is easier;

Provides many basic and advanced features and tools for free;

You can download this open-source photo editor directly on any operating system, which in addition provides a wide range of modification possibilities for the application.
Comparing Krita vs. GIMP photo editing capabilities
Both applications are very similar. They have such functions:
Editing Layers;

Tweaking contrast;

Saturation;

Access to liquify tool;

Retouching tools.
In the following, we will talk about the tools that are different. For example, Krita has a Smart Patch tool that allows you to remove unnecessary elements from the photo easily and without loss of quality. The GIMP responds with the Clone tool which allows you to copy a part of a picture or a pattern.
Which program is best for digital illustration?
Krita can be used to create digital paintings, sketches, paintings, comics, and even drawn frame-by-frame animation. The interface is easily customizable. Plus Krita works great with graphics tablets. It is a powerful, flexible, customizable open-source raster editor. However, the interface and shortcuts here are peculiar – artists accustomed to Photoshop will have to retrain.
GIMP has most of the tools you have in Photoshop: layers, masks, color correction, smart selection, brushes, filters, and a mountain of other features. Some of the missing ones can be screwed on with third-party extensions.
Krita vs. GIMP: which file formats can the application work with?
GIMP's format support is superior to Krita's. Their list includes:
XCF;

JPG;

JPEG;

GIF;

TIFF;

PNM;

MPEG;

PNG;

TGA;

TIF;

PS;

XPM;

BMP;

SGI;

PDF;

ICO;

PCX.

At that time the list of formats with which Krita could work is much smaller:

The disadvantage of the GIMP in this case is the inability to work with the RAW format without additional modification, while Krita has no such problems.
GIMP vs. Krita: customer support and tutorials
You can't say that customer support is a weakness in any of these applications. In both cases, there are FAQ sections on the site where you can find answers to your questions. There are also official forums where live administrators will be able to answer your questions, but don't expect an answer right away.
Krita vs. GIMP: integrations
The GIMP is far superior to Krita in this respect, as the number of extensions to which it can be linked is incommensurably greater due to the open source and the ability to integrate into many different programming languages. At this point, Krita only offers the ability to integrate extensions with Photoshop and Gmic.
Thanks to this you can customize the GIMP exceptionally precisely, and add to it many useful extensions created by the internet community.
FAQ
Users often have questions not so much concerning the technical part of the applications that we described above. In this section, we will try to collect the most frequently asked questions.
Do any professionals use Krita?
Although it is fantastic open-source software, Krita is not used by professional companies because of its limitations as an application.
What are the disadvantages of GIMP?
The main drawback of GIMP is its interface. It is very unusual and simply confuses inexperienced Windows users. Also, this app does not work in 16-bit color space, and therefore has very limited opportunities for industrial use, in particular works for the printing industry. Another disadvantage is the complete lack of text filters.
Is Krita beginner friendly?
Krita is a great image editor that is very useful for preparing images for our publications. It is easy to use, and really intuitive, and its features and tools offer all the features we could ever need.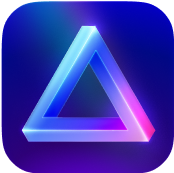 Advanced yet easy-to-use photo editor
view plans