You have many choices in HDR editors. Here are the BIG reasons to pick Aurora HDR
If you want to create truly amazing HDR photos, then you need the right HDR software. If you're new to HDR photography, check out this post that explains what HDR is and what it is not. And, when you're ready to pick the one HDR software for your photo toolkit, check out these reasons to choose Aurora HDR 2017.
Reason 1. Because you want the most up-to-date tool
Since the original release in 2015, Aurora HDR has been continuously improved with new features, new support for RAW files and new performance updates. Aurora HDR 2017 has been updated with every advancement in HDR photography we can think of, so you will never fall behind the times.
This latest update brings over 25 new features (making a total of more than 100) to help you make your best photos ever. It's packed with great features you might find only in Adobe Photoshop, but all fine-tuned for HDR photography. And features like Layers and Tone Curves, HDR look control and other are not even available in most HDR software on the market today.
Reason 2. Because you wantto get great results fast
We know that not everyone wants to spend hours after the shoot working on their photos. That's why Aurora HDR sports an elegant workspace that has been re-designed for speed and efficiency. With simple tools that are easy to locate, clear labels and a large area for your image, everything about Aurora is immediately usable.
So many people we've talked to say their favorite part of Aurora are the "one-click" Presets that provide an instant starting point for your image. Professionally designed, presets are categorized (e.g. Landscape, Architecture, Basic, etc.) and super-easy to use: simply click on the live preview at the bottom of the window and watch the magic happen instantly.
Among others, the new version of Aurora HDR features presets by Trey Ratcliff, Captain Kimo, Serge Ramelli. So you don't just get the perfect look fast, you'll also be able to get a signature look of some of the world's best photographers.

Reason 3. Because you need a complete HDR solution
A key reason we developed Aurora HDR was because hundreds of photographers told us they had to use 2, 3 or even 4 photo editors to achieve a great HDR image. That didn't sound right, and at the same time sounded like a great opportunity.
We looked at every other HDR software on the market, plus asked photographers for their step-by-step workflow to examine. After over 2 years of development, the result was Aurora HDR. It is equipped just with the right tools, import/export functions, user interface and tone-mapping powers the all-in-one HDR photo editor should have.
There are over 100 essential HDR tools in Aurora HDR. Here are just a few of our favorites:
Powerful Tone-mapping engineImproved algorithm is at least 50% quicker. It automatically reduces noise, and produces more realistic, sharp and natural tone-mapping results.
Class-leading Luminosity masksNew controls allow you to automatically make advanced selections based on the luminosity levels in your HDR photo. Once selected, you can dramatically enhance the part of your image without brushes or complicated selection.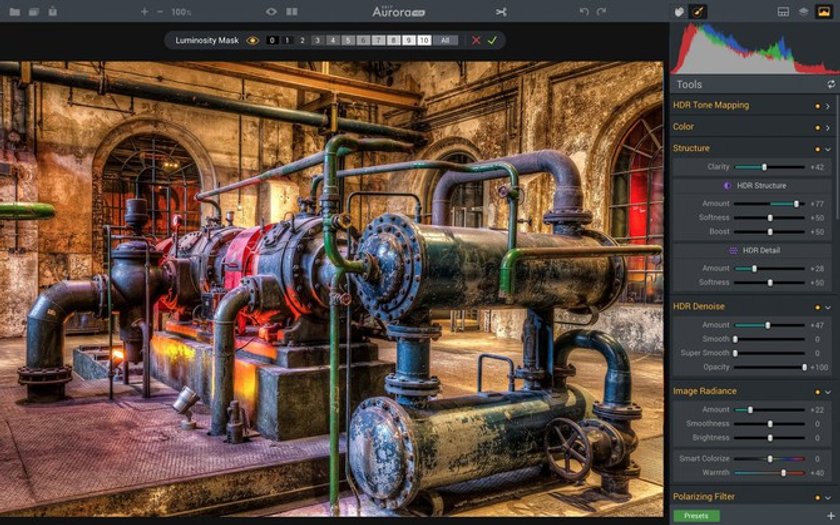 Extensive Batch ProcessingNo matter how many photos your want to process, we've got you covered. The batch processing in Aurora HDR 2017 automatically recognizes brackets and provides lots of settings to help automatically process and save many images at once - this is the single most requested feature since the launch of Aurora HDR.
Extra cool Polarizing filterThis is the perfect tool for your skies. It gives colors more depth with a single swipe and cuts atmospheric haze - perfect for landscape and aerial photographers, and most probably everyone else too!
Fast Top & Bottom AdjustmentsNew contrast, vibrance, and warmth sliders combined with exposure control add a extra level of selective editing. This panel allows photographers to selectively edit parts of their photo without complex selections, masks, etc.
LAYERS LAYERS LAYERSLayers are the secret sauce for many photographers who use Aurora HDR. The level of flexibility and creative freedom you get with layers is over-whelming. And did we say you can add as many layers as you want?
Structure & DetailGive your photos a stylish dramatic look. The structure and detail sliders in Aurora HDR have been designed specifically for High Dynamic Range photography, so you'll get intense detailed sharp results without extra noise or halos.
HDR DenoiseJust like the structure and detail sliders, the HDR Denoise tool was designed specifically for HDR photos. The noise reduction algorithm automatically identifies any "flaws" during the tone-mapping process and makes necessary fixes. It works especially great for removing pesky color noise on RAW files. There's also an HDR Denoise slider that lets you improve the look and feel of your photos almost instantly.
Reason 4. Because it has tons of nuances you'll love
Nobody likes to buy something that gives them limited functionality. We packed Aurora HDR 2017 full of not only every feature we could think of, but also a ton of [big & small] refinements that make the software really, really special. You can compare the software versions here.
For instance, the Image Radiance tool simulates an "Orton Effect": a soft look that would otherwise take hours of editing in other programs. The HSL (hue, saturation, luminosity) allows you to fine tune your image by isolating effects to certain colors, for example you might brighten only reds or greens. Color Toning helps to create an excellent sepia or duotone look and is highly adjustable.
The Tone Curve is perfect for advanced photographers who are used to Photoshop and offers rapid adjustments to the entire image or RGB channels. Many photographers love the Vignette tool for finishing their images by adjusting the edge exposure and thus drawing a viewer's eye to the most important part of a photo.
Reason 5. Because you want freedom to create anything
We work hard to ensure Aurora HDR does not in any way limit your vision of what you want to do with your photos. We made sure sure that if you want a completely natural and realistic result, you can easily achieve it. Many people insist on that! However, if a more creative look suits your style, Aurora HDR can keep pace too. It's got something for everyone!
Want a more crunchy, saturated look? No problem. Want to build up an image with layers, then use blend modes or textures to stylize it even more? No problem. Want to explore a TON of looks from our preset gallery before choosing a direction for your photo? No problem. We think you get the picture.
Reason 6. Because it gives you the opportunity to get on the magazine cover
Inspired by the images people create with Aurora HDR, we've launched a unique creative challenge with some of our favorite photography magazines in Australia, USA and UK. We called it the "Best HDR" challenge. And it is now supported by SmugMug as well.
The idea is really simple. You make photos with Aurora HDR and submit them to the contest. Every month we pick the 4 best shots, which in turn get published in magazines like "Outdoor Photography", "Australian Photography", "Digital Photo" and "Digital Camera". This is a fantastic and unique opportunity, available only to users of Aurora HDR.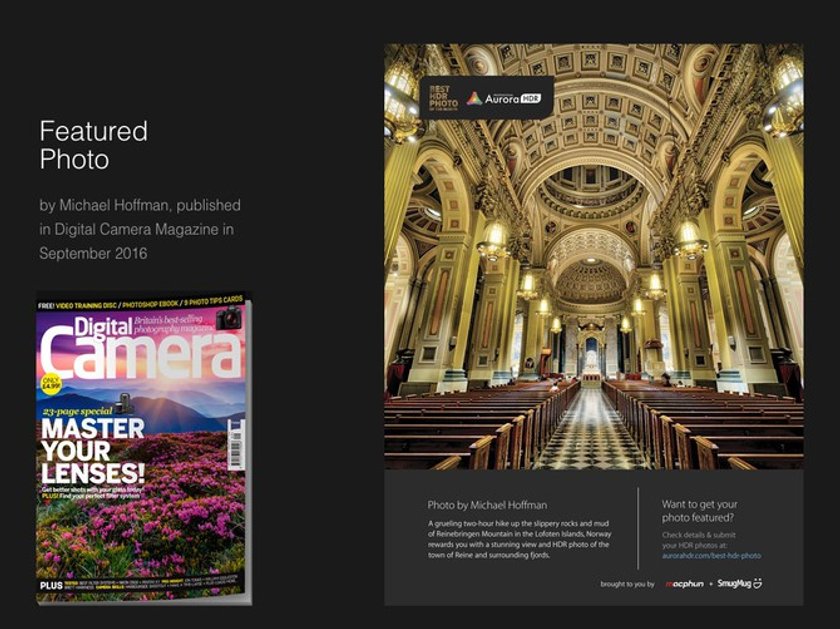 Reason 7. Because it is developed together with the world's best photographers
It's no secret that we developed Aurora HDR together with Trey Ratcliff, who is considered the world's most famous HDR photographer. However, we've also worked closely with amazing photographers, like Jim Nix, Captain Kimo, Serge Ramelli and many others.
In fact, Captain Kimo and Serge Ramelli have created their Signature Preset Packs which are included by default in Aurora HDR 2017. Plus, Scott Kelby has named Aurora HDR among his TOP 5 Photoshop plug-ins, calling it the "current HDR champ".
There are many more fantastic photographers, image processing specialists, and regular photography lovers who help us make Aurora HDR better and better every day — people just like you!
If you haven't tried Aurora HDR yet, this blog post was written for you! There are many reasons to give it a shot, with no risk, and there's no better time to discover HDR for yourself. Give it a try and we know it will quickly become one of the favorites most-used apps in your photo toolkit!
The new Aurora HDR 2017 will be available on September 29th. You can pre-order it today for a special price, and get $300 worth of bonuses from Kelby Media, SmugMug, Parabo Press and Trey Ratcliff.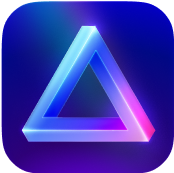 Advanced yet easy-to-use photo editor
view plans