Sometimes mother nature doesn't allow you to capture your vision for an image. In situations like these, a little planning during the shoot and an understanding of Luminar's features will give you the tools to create your vision. Here's how to add a Starry Night to an image using Luminar's Image Layer and layer blend modes.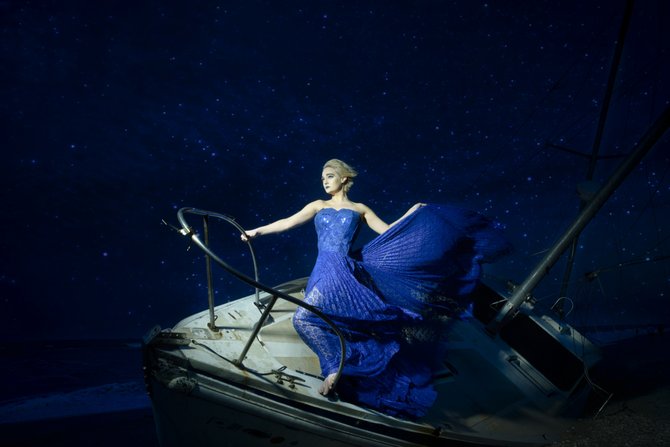 Follow these steps by first downloading the Starry Night and Stars image. Open the Starry Night image in Luminar.
Note: Images provided are to be used to follow along with the tutorial only. Images copyrighted by © Robert Vanelli.
Step 1: Process the image with Accent AI filter to automatically bring out the shadows and highlights, adjust the exposure, increase contrast, and bring out the details of the image.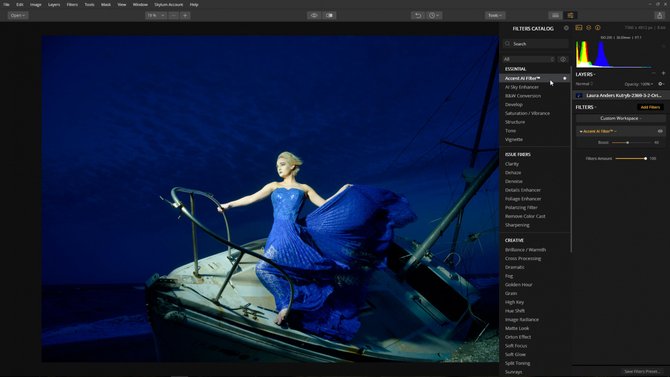 Step 2: Add a new adjustment layer by clicking the + button on top of the Layers section and select Add New Image Adjustment Layer... from the dropdown list.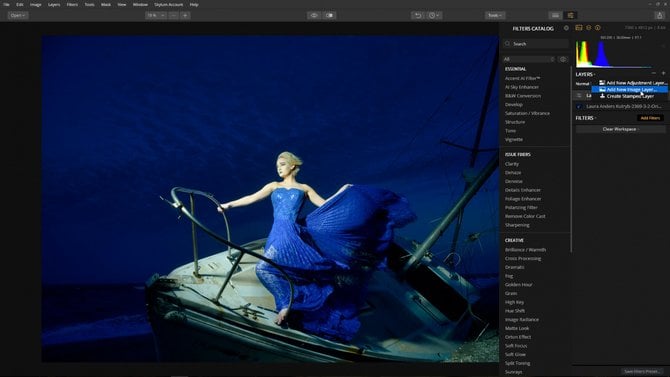 Step 3: Browse your computer for the image of the stars, select it and click the open button.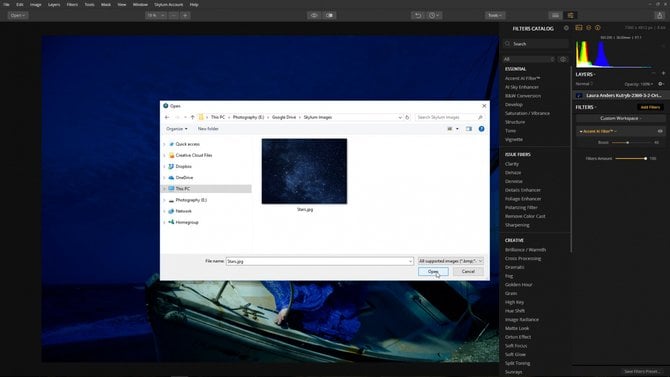 The image of the stars will cover the main image.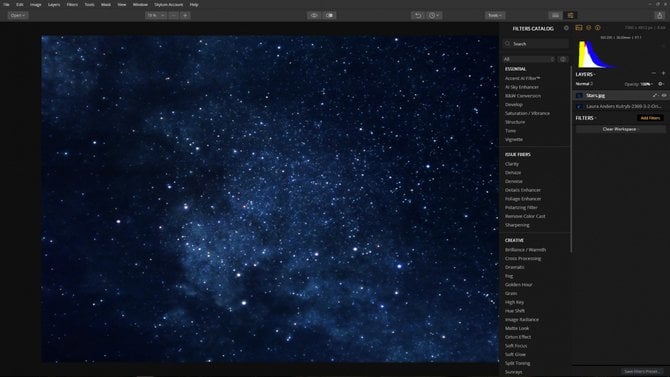 Step 4: Click the Layer Blend mode on top of the Layers Control and select Soft Light from the dropdown list. This will blend the stars with the background sky.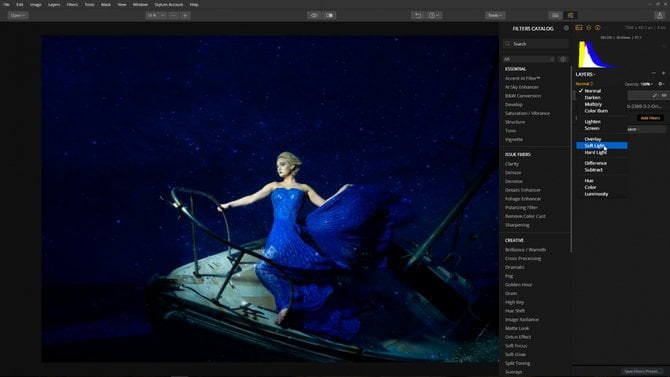 Step 5: Click the layer mask button (it looks like a brush) and select Brush from the dropdown list.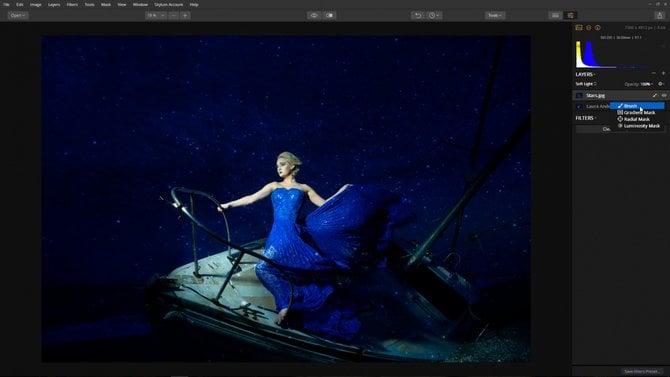 Choose Erase and brush over the areas you want to remove the stars from using 50% opacity, and 100% softness.

Click the Mask visibility icon to view areas the stars will not appear.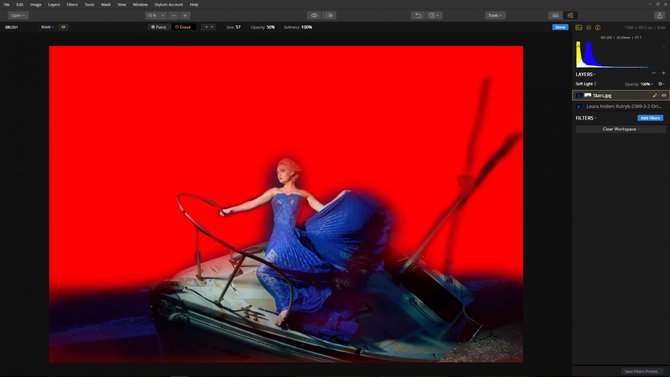 The Secret Step
The secret to making composited images appear to be photographed at the same time and location is to add a final filter to tie them together.
Final Step: Let's complete this look by adding a new Adjustment Layer.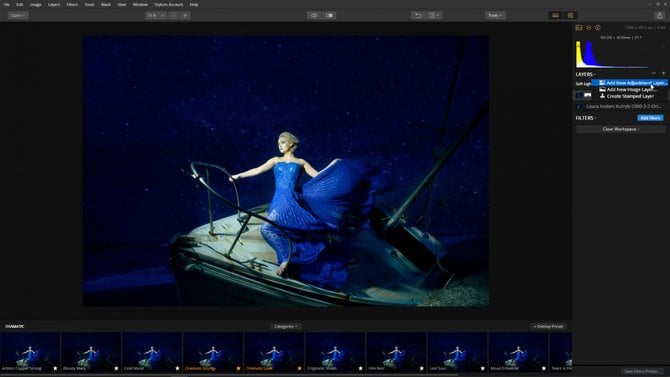 Then add the Dramatic Grungy filter from the Dramatic Category.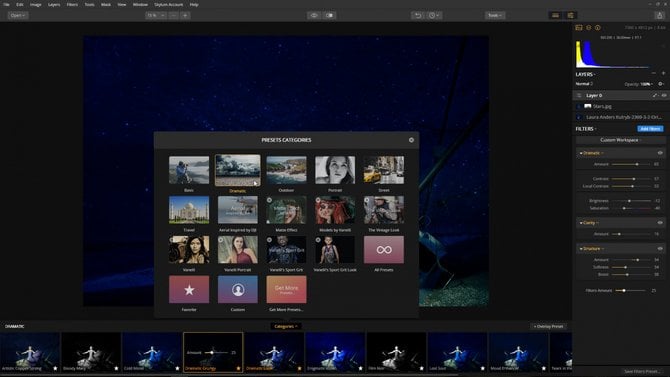 Adjust the amount of the filter to 25%. You can also add a Vignette filter to complete the effect.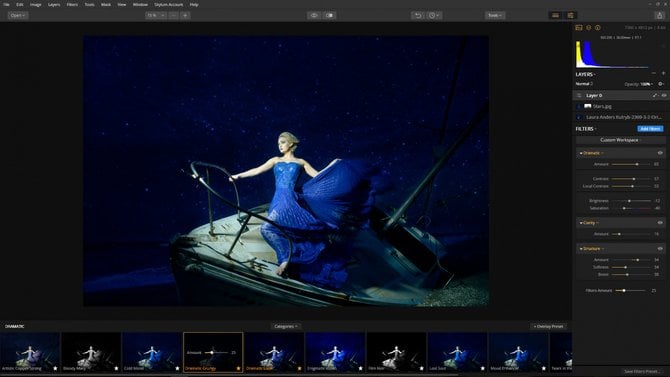 How simple was that! Although it's a photographer's goal to try and get the image right in camera, realistically, it is not always possible. Learn to balance when to get it right in camera and when to use a quick fix in Luminar. This will help make you a proficient and creative photographer.