How to Use Clone Stamp Tool on Mac Computers
Almost all photographers face the problem of having unwanted objects in their photos from time to time. Whether it's a stray piece of paper on a desk or a speck of sensor dust ruining a portrait, there are times when part of an image needs to be removed.
This is where the Clone Stamp tool comes into play. This tool, found in many photo editors, removes unwanted objects from photos or even adds a clone of another object. This tool has been a savior for many photographers as it saves them from having to take the photo all over again.
Before learning how to use the Clone Stamp tool, let's see which software is best for this.
Different editors, similar tool
There are many different photo editors that you can use depending on your needs. The Photoshop Clone tool is arguably the most widely used because of the great reputation that Photoshop has in the photography world, but there are other, simpler programs that can be used as well.
One of them is Luminar. It's a direct competitor to Photoshop and has many of the same features. Unsurprisingly, this also means that Luminar has its own Clone Stamp tool that can help you to easily remove unwanted objects or add clones of objects.
Luminar can be bought for a one-time fee, unlike Photoshop, making it a good and affordable alternative.
How to use Clone Stamp in Luminar
If you've ever tried using the Photoshop Clone tool, then you should already be familiar with how to use another clone stamp tool. The process is fairly similar across editors. We'll focus on how to use the Clone Stamp in Luminar simply because it's a capable alternative to Photoshop and is widely used by both Mac and Windows users.
Before we learn how to use the Clone Stamp in Luminar, we need to locate it. It sits in the tool panel on the right side of the Luminar window after you open an image.
Now we can learn how to use the Clone Stamp tool. To start, identify what you want to edit. Specifically, choose the area that you want to add something to (an empty patch of grass in this example) and the object that you want to clone into that area (in our case a lamb).
After making your mental selections, it's time to move ahead. Pressing the Option key on your Mac or the Alt key on your Windows computer will change your cursor to a crosshair icon. All you need to do now is paint over the object that you want to clone somewhere else.
The final step in using the Clone Stamp to duplicate an object is simply to click and hold down your mouse button while you paint over the area where you want the object to be cloned. As you move your cursor over the area, you'll slowly start to see the selected object being cloned. Once you're happy with the cloning, click Apply and you're done!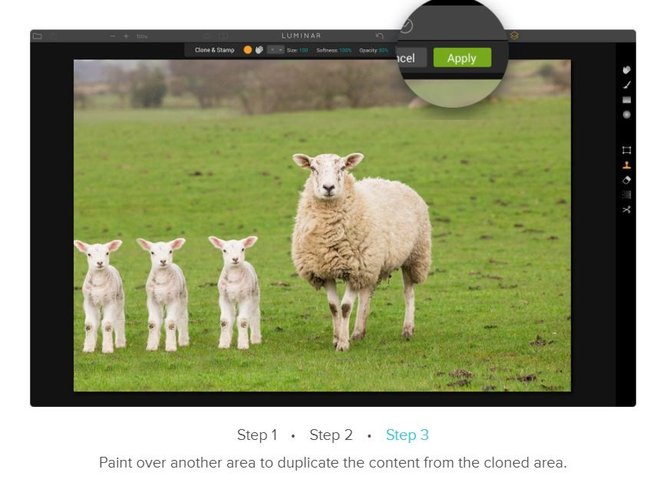 As you can see, it's very straightforward to use this tool in Luminar. In just four simple steps, you can make duplicate lambs appear in your photo and no one will even be able to tell that the photo has been edited.
Not just for cloning
The Clone Stamp tool in Luminar is designed to clone objects. But it can also heal parts of your photo. This means that if you have an image where some detail is missing in certain parts — like a broken part of a brick wall, for instance — you can use this tool to fill in the details using these same four steps. This way you can make old and tattered objects look whole.
Another great use of this tool is for removing parts of your photo. If we take the last image above as an example and we wish to remove one of the lambs, all we would need to do is follow the same four steps, but in this case we would select an empty patch of grass on the right side of the frame in Step 3 and paint over one of the lambs in Step 4.
Now that you know how to use the Clone Stamp to remove or duplicate objects in your photos, go ahead and download a free trial of Luminar and give it a shot yourself!