Google AdSense is considered the leader of the monetization market but it's no longer the only advertising program available. Each year, top ad networks compete in delivering the most appropriate ads for your website, providing easy-to-use ad management tools, and making your website profitable.
Google AdSense is considered the leader of the monetization market but it's no longer the only advertising program available. Each year, top ad networks compete in delivering the most appropriate ads for your website, providing easy-to-useah ad management tools, and making your website profitable.
In 2021, many publishers and webmasters don't consider Google's notoriety enough to sign up for the AdSense program or get rejected by it for not being compliant with Google's policy. Other publishers wish to diversify their income and use a supplementary monetization product on their websites. Among the most common reasons for choosing a different ad network than AdSense are a greater revenue share, a smaller payout limit, and a larger range of ad types.
Whether your AdSense account was banned, you don't have one, to begin with, or you're looking for something new, consider these top AdSense alternatives to successfully monetize your website and grow your business.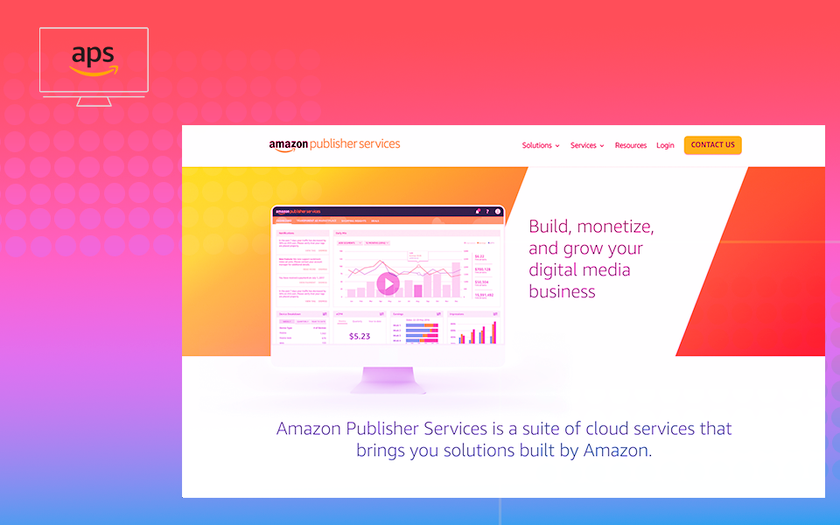 Amazon Publisher Services is the second most-used supply-side advertising unit after AdSense and it definitely deserves a look. It's a cloud-based marketplace that provides direct relationships with programmatic buyers. Amazon Publisher Services doesn't have fees and claim to offer faster site speed than its competitors. It's also very easy to install, versatile, and safe. Not to mention it's an Amazon product.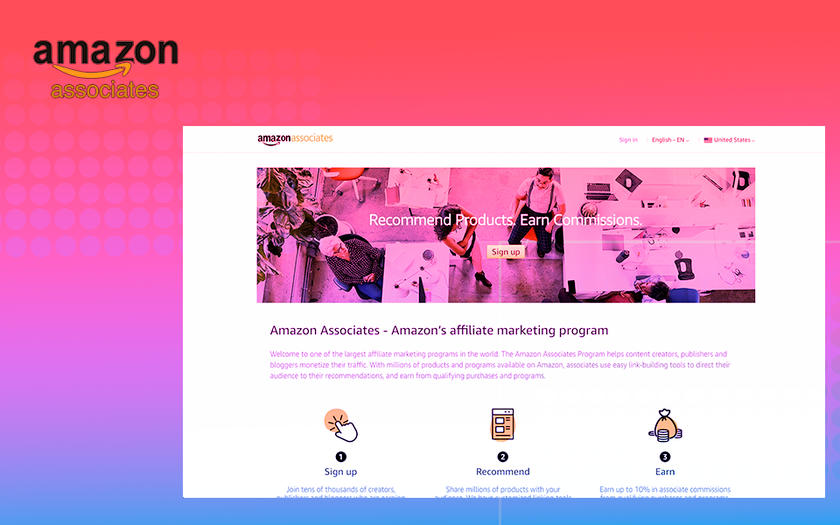 If you want more control over the ads appearing on your website, the Associates program from Amazon is what you need. It's an affiliate program, which means you link the ads directly to your content. Therefore, you can match the ads with your targeted audience, choose which products to promote, and increase your income.
Amazon's Associates program isn't the only affiliate program you can try but it provides a huge range of products to choose from, comes with the fame of Amazon, and has an easy sign-up procedure. People from all over the world trust and use Amazon and if you offer them exactly what they're looking for, your income can increase considerably. The program offers you up to 10% in associate commissions from qualifying purchases. Furthermore, you can still use AdSense or other ad networks.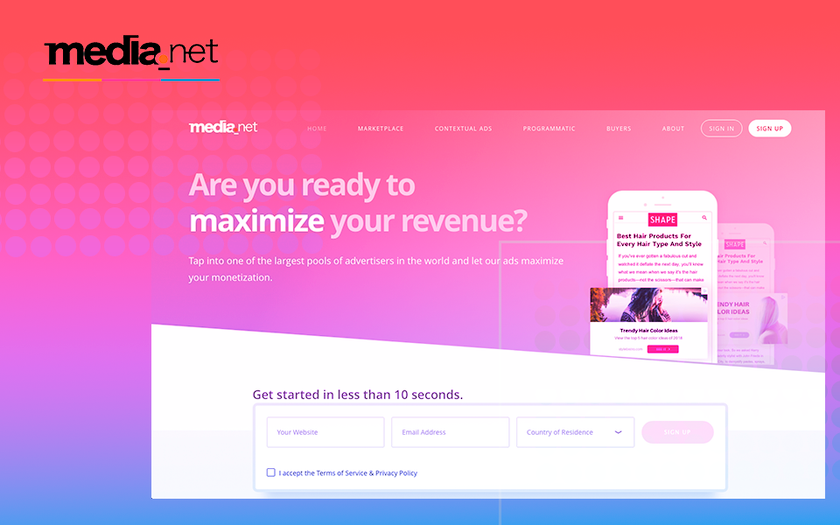 Media.net claims to have the largest pool of advertisers in the world. Among its clients are well-known publishers such as Forbes, CNN, msn, Elle, and USA Today. It gives you access to Yahoo! Bing Network and provides multiple types of ads from contextual to display, native, and mobile.
Media.net is one of the first AdSense alternatives you can think of because it operates similarly. Like AdSense, it also has a long list of terms and conditions you should carefully read before enrolling. They approve each website individually and you shouldn't be surprised if you aren't eligible. When you have Reuters and Forbes among your clients you're allowed to be picky.
To prove that you shouldn't limit to a single AdSense alternative, msn and USA Today are also customers of Taboola. Taboola is a content discovery platform and provides native ads (sponsored content) that emphasize content quality and the brand's culture. You have the possibility to target a specific audience segment and provide relevant content to your users. Native ads aren't very different than a standard article. Furthermore, you can use Taboola in combination with ad networks that provide other ad types. So it can be an additional source of income.
However, Taboola has its drawbacks too. It requires minimum traffic of 500,000 views monthly and has a minimum payout of $50, and your website has to meet strict eligibility criteria.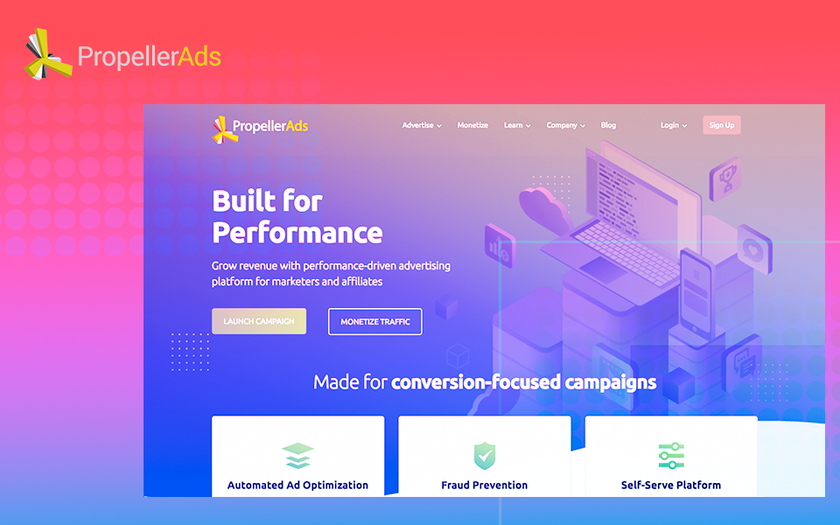 If you want a wide range of ad types, you should consider Propeller Ads. It offers popunder ads, banners, in-page ads, sponsored links, and video ads. Propeller Ads targets all OS platforms and browsers including mobile platforms. It also provides support for beginners and helps you learn how to monetize your website.
Unlike AdSense, Propeller Ads addresses niches such as software, videos, movies, entertainment, games, and dating. It also has a very low withdrawing limit of $5, several payment methods, and a separate fill rate for India, Singapore, and South Africa.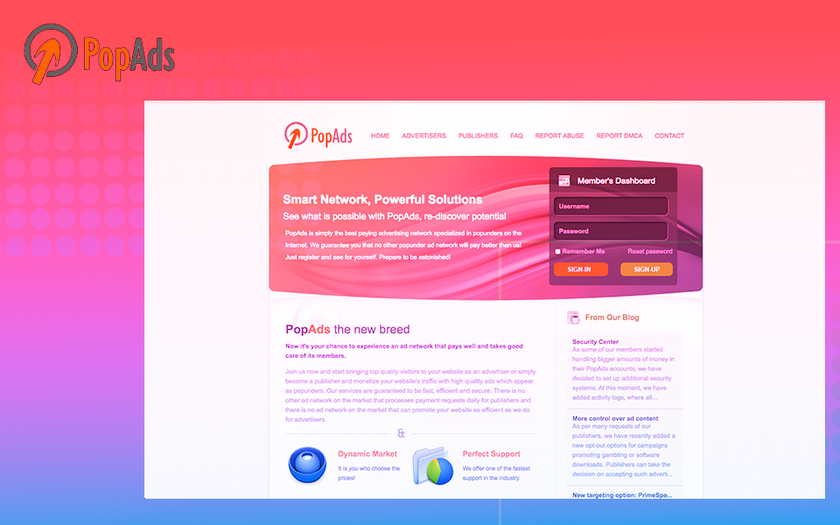 Another ad network specialized in popunder ads is PopAds. It's a good AdSense alternative if you want to redraw money anytime you like, benefit from a low payment limit ($10), and get your account approved in no time. PopAds provides mostly one type of ad but claims to be the best at it.
PopAds is very easy to set up and has good customer support service. If you've just started to monetize your website and don't have a lot of traffic and content yet, PopAds is a good starting point.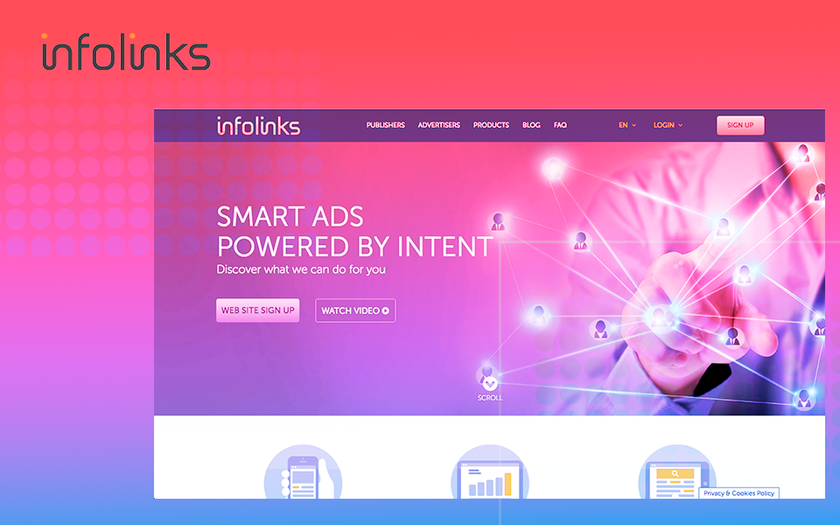 One of the things you want as a publisher is to make sure your audience receives the right advertisement. Infolinks is one of the ad networks that provide contextual targeting and try to make sure the ads reach an interested audience. They also offer exclusive placements and high viewability for the ads.
In terms of ad types, Infolinks is specialized in in-text advertising, video ads, and banners. It's easy to set up and you can mix it with other styles of advertisement. Infolinks operates in 128 countries and has well-known clients such as Netflix, Facebook, and TripAdvisor.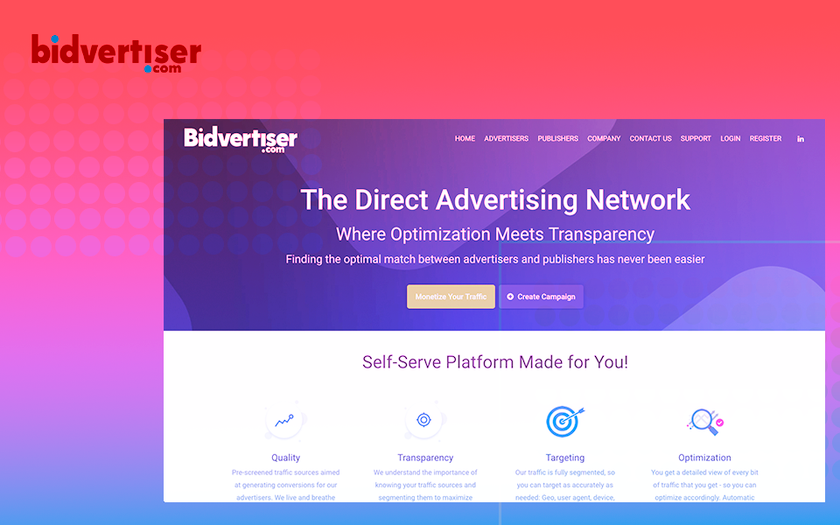 Another good AdSense alternative with a low payment limit ($10), multiple payment methods, and easy setup is Bidvertiser. It provides a wide range of ad styles from mobile to text, banner, and slider ads. It also provides tools for customizing the look of the ads to match your website. Bidvertiser is present in 196 countries and covers websites, blogs, apps, search engines, and more.
The drawback is that advertisers bid ad placement and sites and when you're new in the system it may take a while for them to find you.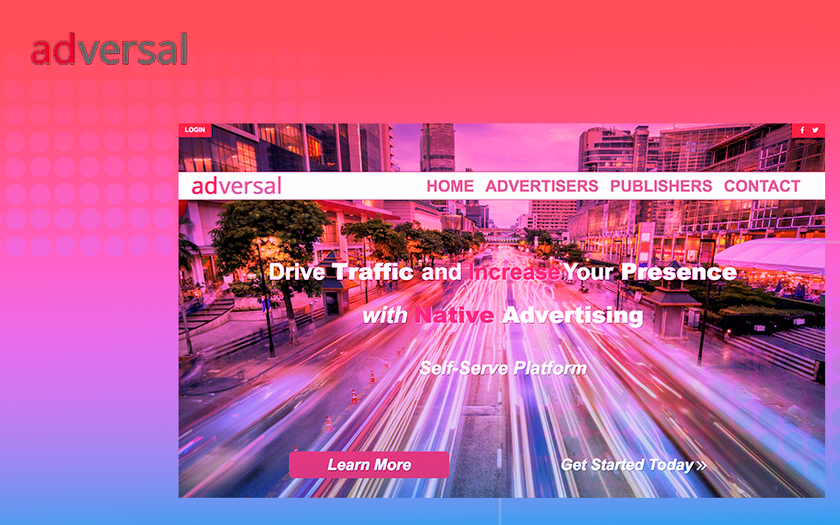 Dedicated to native ads, Adversal needs just a few minutes to transform your website into an income source. It's a good AdSense alternative because it doesn't require contracts, is GDPR compliant, and provides all the ad styles you need. Furthermore, it has an affiliate program to diversify your income, fast approval procedure, and a payment limit of $20.
However, to be eligible for Adversal you need to have at least 50,000 views per month and respect other requirements as well.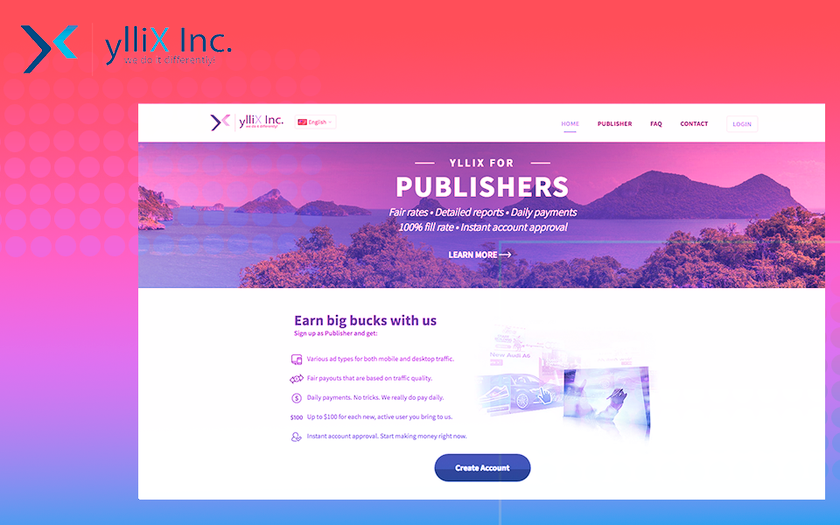 With daily payments with a minimum payment limit of $1 and instant account approval, ylliX is a legitimate AdSense alternative. The ad network offers popunder, full-page, sliders, mobile, and layer ads. In addition, they have a referral program that gets you $100 for each new publisher you refer and 2% from their earnings. ylliX welcomes publishers from all countries and offers an international fill rate.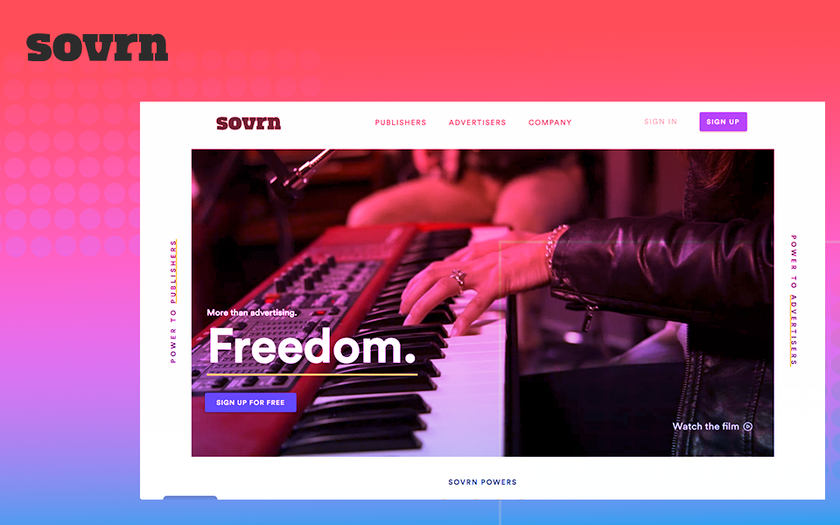 If you're looking for an ad network focused on content and creativity, check out Sovrn. They target the independent web and aim to provide transparency, flexibility, and solutions for small web creators. Among their products, there are waterfall, server-to-server, and header binding. Sovrn is a good AdSense alternative for people looking to monetize ad links and for those ready to monetize audience data. It offers ad auctions, data monetization, and unblock tools.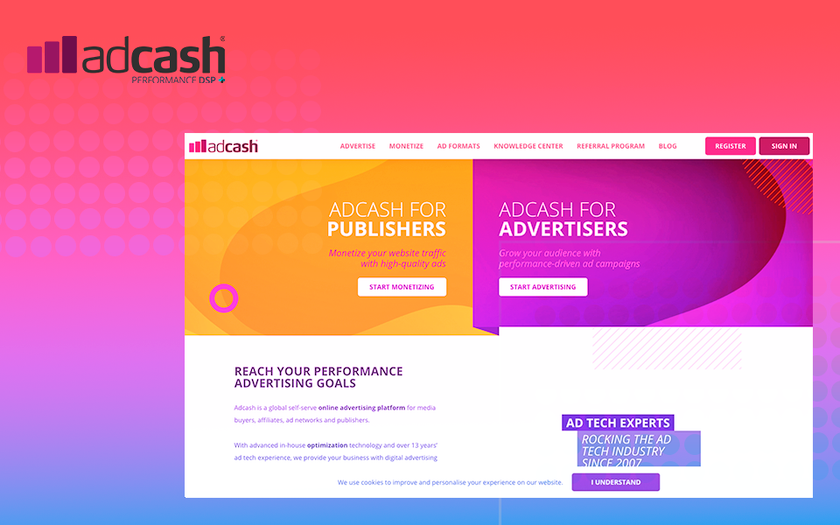 Another ad network with a wide range of ad types, Adcash operates in 196 countries. It targets all sorts of publishers from small independent publishers to website owners, content creators, and even ad networks or SSP partners. Adcash offers multiple ad formats (popunder, in-page push, interstitial, native, banner, and autotag), a high fill rate, live performance metrics, and anti-ad-block technology. The setup is straightforward and the payments are fast and versatile.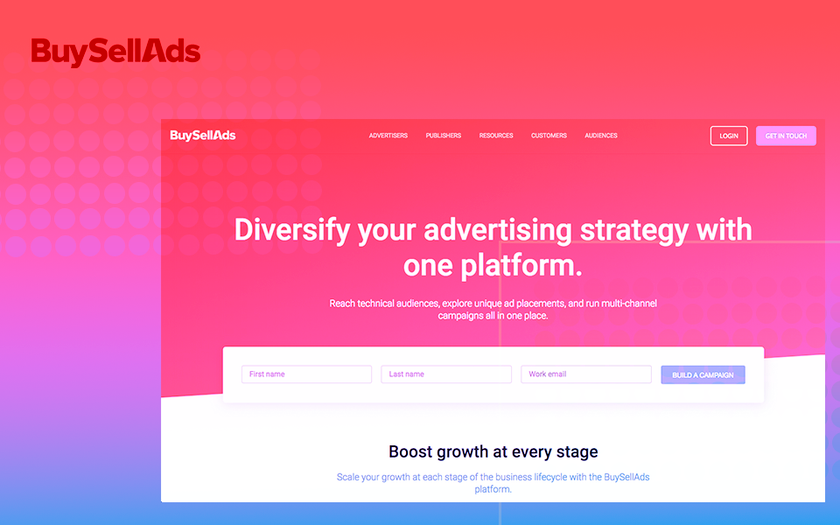 AdSense alternatives can take other forms as well. For example, you may sell advertising space on your website directly to a brand. And if you don't want to spend your time looking for a customer, you can let BuySellAds do it for you. The platform sells advertising space in your place and offers subtle ad placement instead of filling your website with distracting ads. It covers sponsored content, emails, and display ads. But the most important thing is that BuySellAds takes care of your content and promotes a cohesive and intelligent advertisement.
The drawbacks are a highly selective approval procedure, the limitation to English-language sites, and the strict requirement of a minimum of 100,000 views per month.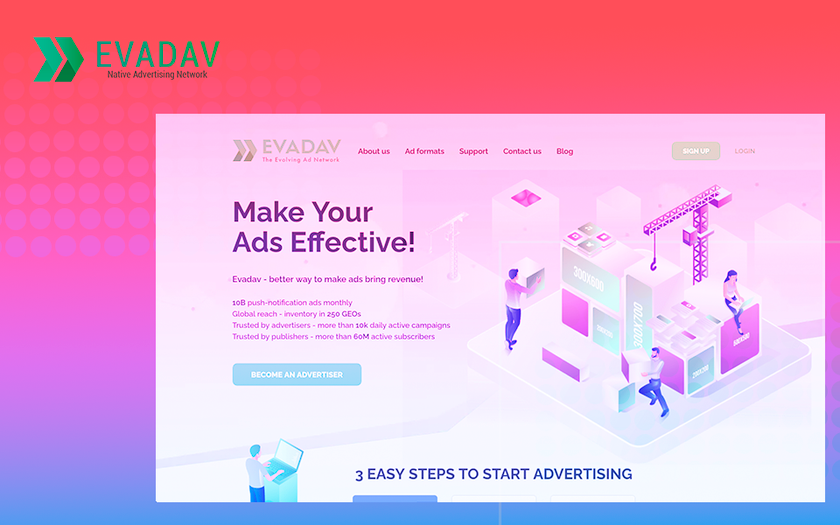 EvaDav is also an ad network that aims to offer a wide range of ad types including native ads, in-page traffic, push notifications, banners, video sliders, and popunder. Payment options are also diversified. The platform provides 24/7 support and dedicated account managers, compatibility with all OS platforms and browsers, and real-time performance metrics. In addition, EvaDav has a referral program that gets you 5% of your referred publishers' earnings.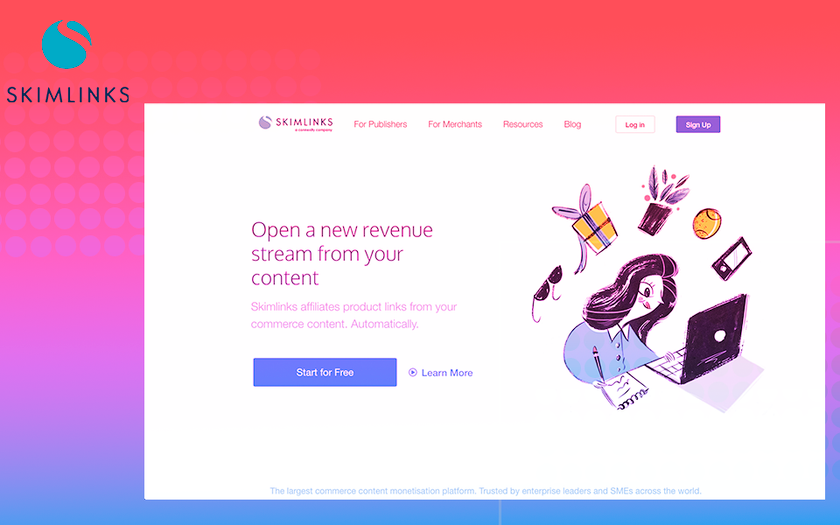 Affiliate links are a great way to diversify your income. You can use them in parallel with AdSense or as an alternative. But if you don't want to worry about setting them up, Skimlinks automates product links from your commerce content for you. It claims to be the largest commerce content monetization platform and has clients such as Yahoo! and Daily Mirror.
Skimlinks covers websites, mobile, emails, and social media. It connects you with merchants and demand partners and negotiates exclusive rates for you. It works best for bloggers and media publishers who want to focus on content and create a great experience for their readers.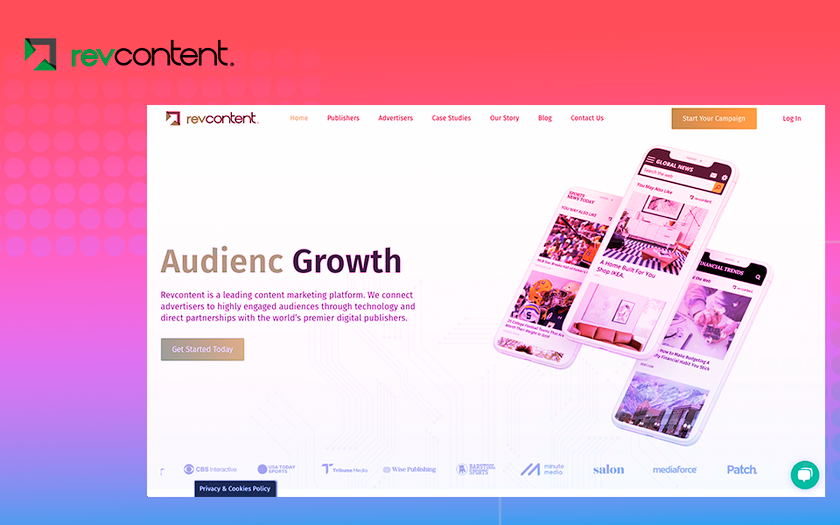 Aiming to be a leading content marketing platform, RevContent intermediates business partnerships between publishers and advertisers. It offers native sponsored content, emails and newsletters, and video ads. RevContent claims to be faster, and have higher rates and better user UX than its competitors. The platform also provides data visualization and performance metrics to help you make informed decisions and boost your revenue.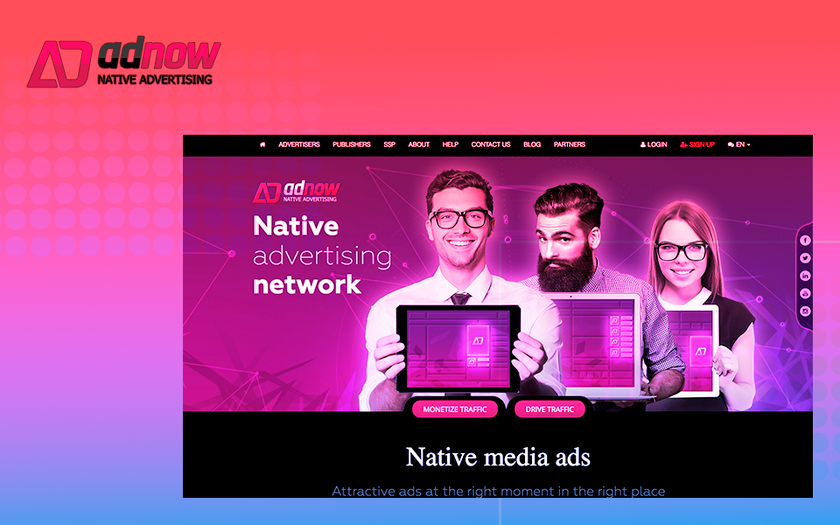 Adnow is a good AdSense alternative if you focus on native ads. It operates in 114 countries and works with over 160,000 publishers. Adnow believes native ads are the future of advertising as the reader wants engaging content and relevant information. It supports websites and mobile apps as well.
Adnow has a referral program that gets you 5% of your referred publishers' earnings, weekly payments with a minimum payment of $20, and a fast setup process.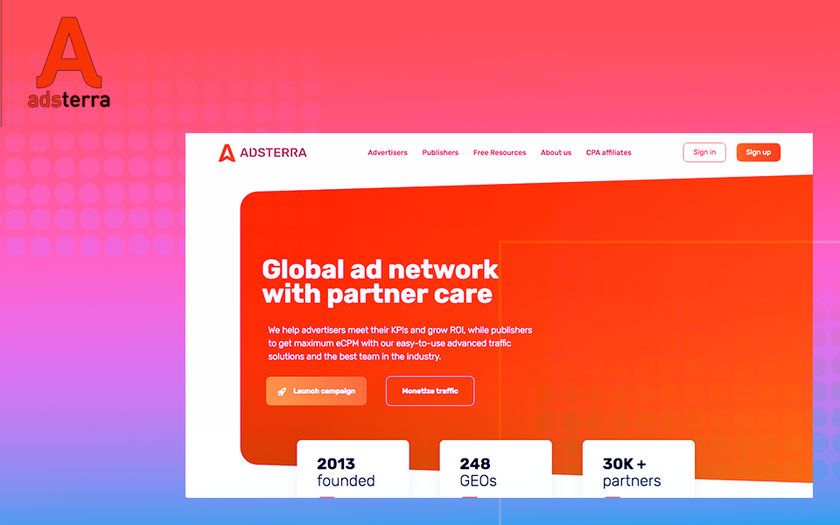 A standard AdSense alternative, Adsterra offers a 100% fill rate, 10-minute approval, and twice a month automatic payments with a minimum payment of $5 and multiple payment methods. It provides multiple ad types for websites, mobile apps, and social media and supports all OS and browsers. You can use it for popunder, native ads, banners, video ads, and push notifications. In addition, you can filter the ads displayed on your website to make sure you provide a good user experience.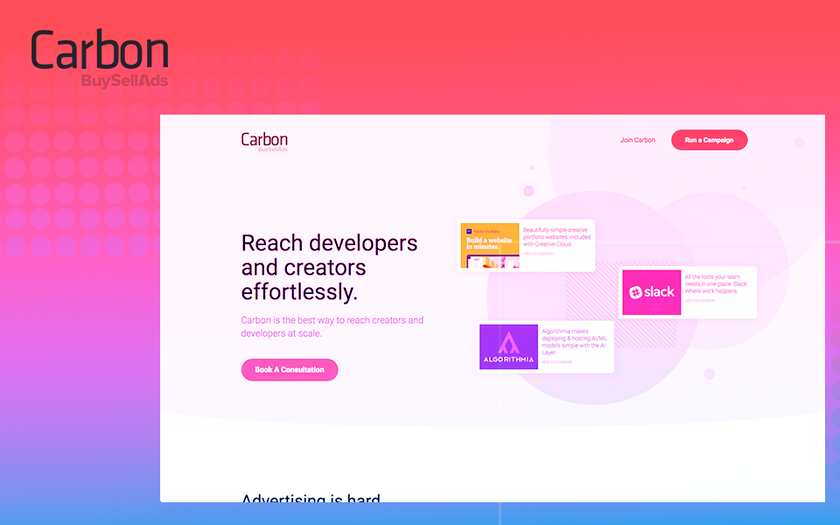 Designed for developers and designers, Carbon Ads is a specialized ad network that aims to match ads with content. They have a wide network of communities, blogs, resources, and websites that deliver relevant content. So if your website is dedicated to developers or creators, you should create a better experience for them by customizing the ads. Chances are the public will interact more with relevant ads.
Carbon Ads comes with a few eligibility criteria you have to meet. In addition, your request will be approved only if they have a vacancy available in their program at the moment.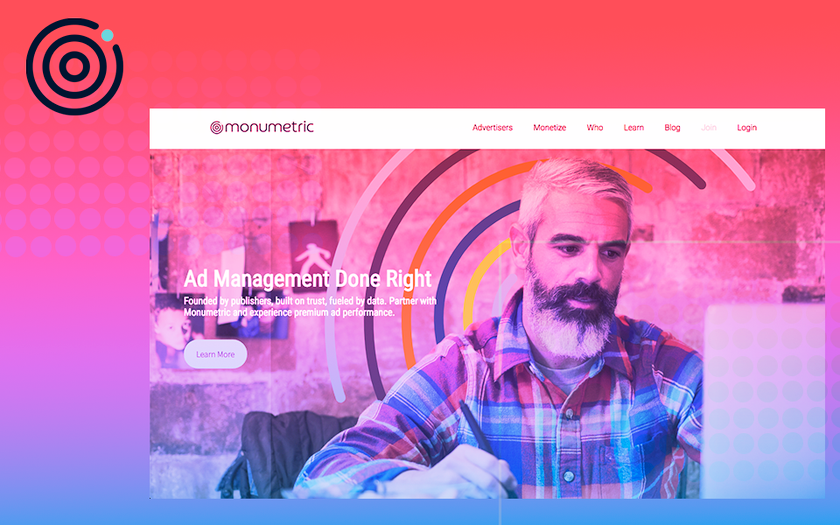 Monumetric pays for impressions instead of clicks and has higher rates than its competitors. It aims to preserve the best user experience and rewards you for having valuable content and interested readers. It also provides solutions for monetizing video. Monumetric gives you access to several monetization programs but you have to meet the eligibility criteria. Besides, not all of them are free. In addition, Monumetric offers expert advice to boost your revenue, performance metrics, and support for implementing their solutions.
Conclusion
There are plenty of AdSense alternatives to choose from and you have all the chances to find a satisfactory solution for your website. However, to increase your revenue you need more than a good ad network; you need relevant content and the best user experience for your visitors. Focus on delivering amazing content and growing a community around your website. Provide relevant ads that fit your website's style and content and choose a monetization method that complements your content. Often, less is more.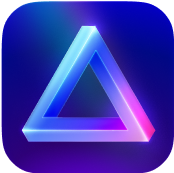 Advanced yet easy-to-use photo editor
view plans