For photographers, both amateurs and professionals, the desire to improve the quality of their work is understandable. Moreover, it is only possible to achieve good results with constant improvement.
Let's talk about how useful the machines can be when taking great pictures and editing them to the perfect level. And we don't mean technical tools like cameras, though their role is paramount.
Here, we will focus on artificial intelligence, challenging the common stereotype that neural networks are made for lazy people to think for them. In the modern world, Artificial Intelligence feels with us, creates with us, and helps us to achieve better results in everything we do, including photography.
The given article observes the usage of Artificial Intelligence in photography from the point of view of the AI upscalers. In this guide, we look through the best AI photo upscalers currently available for users, comparing the top 10 best AI upscalers' advantages, disadvantages, and prices. Let's observe the best AI image upscale software in more detail.
What Is an AI Upscaler?
Before we start our journey in the world of the best upscaling software, we must specifically define what we are dealing with and whether it is essential for us in the modern photographic realm.
So, an artificial intelligence upscale is defined as a sophisticated software or tool that harnesses the power of advanced artificial intelligence algorithms. Its primary purpose is to analyze, process, and enhance images automatically. Unlike traditional photo editing software, which requires manual adjustments, Artificial Intelligence upscale utilizes its computational prowess to improve image quality with remarkable precision without constant intervention from a human.
AI upscalers are designed to understand the intricate details of an image at a pixel level. The best image upscalers, based on artificial intelligence, employ complex mathematical algorithms to extrapolate and generate additional pixels, effectively increasing the image's resolution. This process enhances various aspects of the image, including sharpness, color vibrancy, and overall clarity. In other words, AI upscale breathes new life into your photos, revealing nuances that might have remained hidden otherwise.
Here are only a few functions of an Artificial Intelligence upscaler you can rely on while creating your next photographic masterpieces:
Image Enlargement: AI upscalers are particularly useful when enlarging a small or low-resolution image without sacrificing quality. They excel in preserving details, ensuring your photos remain sharp and clear even when scaled up.
Restoration: Old or damaged photos can benefit greatly from AI upscaling. These tools can repair imperfections, restore faded colors, and rejuvenate vintage photographs

.

Enhanced Details: AI upscalers reveal hidden details in landscape photos, architectural shots, and even portraits. The nuances of textures, patterns, and fine lines become more pronounced, resulting in visually stunning images.
Artistic Effects: AI upscalers can also be used creatively. They can stylize images, apply unique filters, and transform ordinary photos into works of art.
Workflow Efficiency: For photographers, AI upscalers streamline the editing process. They save time by automating tasks that would otherwise require meticulous manual adjustments.
Top 10 Best AI Image Upscalers
Here is our list of the ten best AI upscalers that have earned their place at the forefront of photography enhancement. This curated selection offers a range of options that differ in price, so they are available for every budget. We took into account the average cost of each subscription per year. We recommend visiting the official websites to get accurate information about the current prices. New users are often offered a discount or free trial of all features, so take the chance to explore as many AI features as possible from different photo editor developers and choose the one that works best for you. Free options are also available, and they are for those who want to give the AI upscalers a try but are still determining whether it is worth spending money on.
1. Luminar Neo's AI Upscaler (
Free Trial
)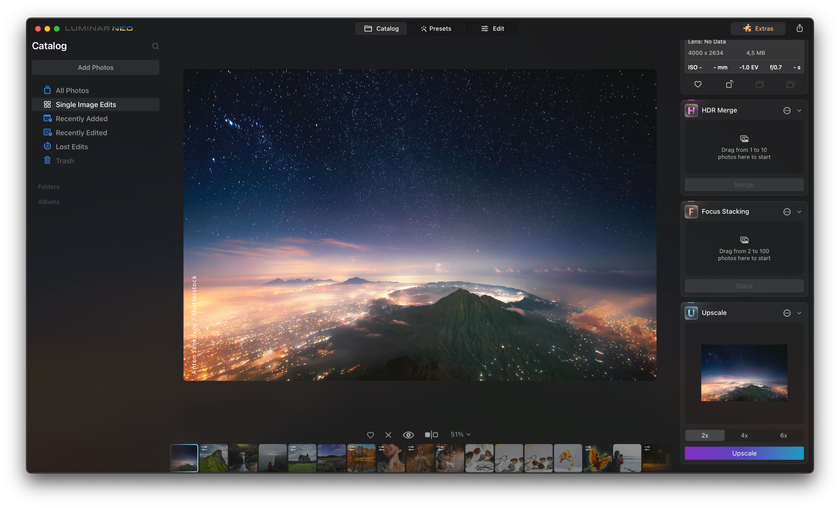 The star of our list, Luminar Neo's AI upscaler, is renowned for its seamless integration with Luminar's powerful photo editing suite. It delivers exceptional results, though its pricing falls in the premium category. Without experience working within the Luminar Neo ecosystem, its learning curve may initially confuse you. Still, thanks to the convenient and understandable interface, you can quickly and easily learn all the functions.
2. HitPaw ($39.99)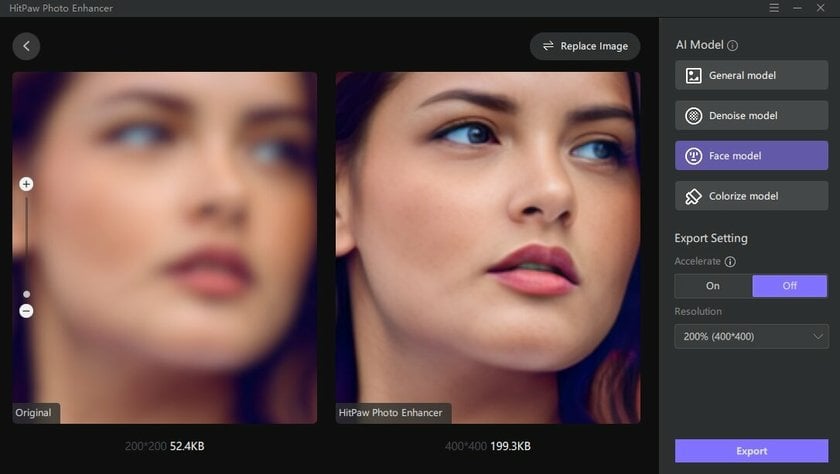 This premium offering sets the gold standard in image upscaling. Its advantages include unparalleled image quality improvements and a user-friendly interface. However, it comes with a premium price tag that may only suit some budgets. It easily copes with a large volume of photos. You can also create a color copy from a completely black-and-white photo with the help of AI. It is a great solution for restoring old photographs. Also, this software makes it possible to do the same with video. Therefore, it is one of the most popular for enhancing images.
3. Upscale. Media (limited free version and $40 per month)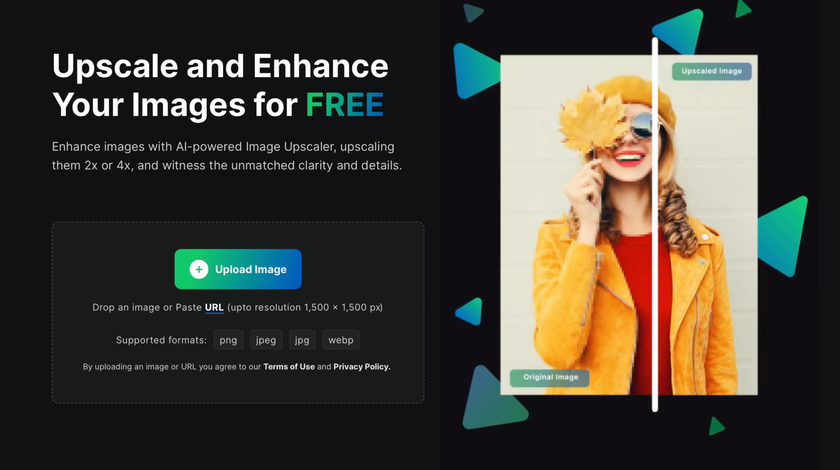 It is available online, as a web browser tool, and in mobile versions for Apple and Android devices. It is a versatile option that balances cost and performance. It offers impressive results for beginners and professionals, making it a well-rounded choice. However, the amount of available features is rather limited, which is especially noticeable compared to other options of the same price or even cheaper analogs.
4. Gigapixel AI ($99.99)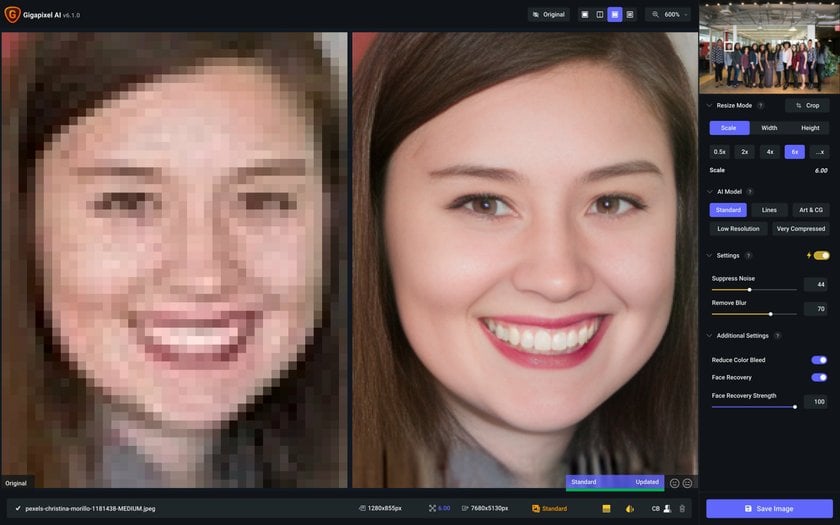 It is available on Mac and PC to use this program's benefits. You can upscale your image by 600% without losing quality. Focused on speed without compromising quality, it is perfect for those seeking instant photo improvements. It also has a free version with limited functions. However, its paid status may appeal to something if you have certain specific editing requirements.
5. Icons8 Smart Upscaler (free version and $9 per month)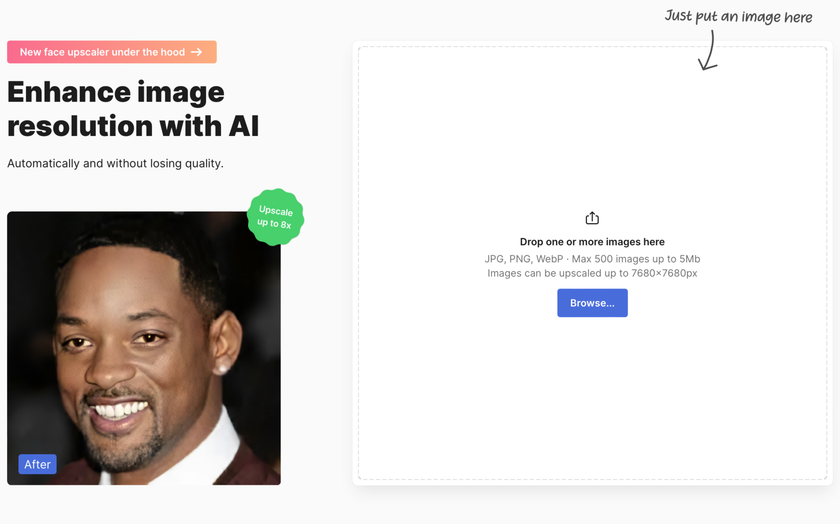 It is an online tool which works with various file formats. The interface is simple and lets you download one image at a time. You can also check the small zones by comparing the before and after processes. A cost-effective and efficient option caters to those on a tight budget. While it may not match the capabilities of premium options, it provides solid results for basic enhancement needs. However, the level of customization could be higher.
6. AVC Labs Photo Enhancer AI (free demo and $39,95 per month)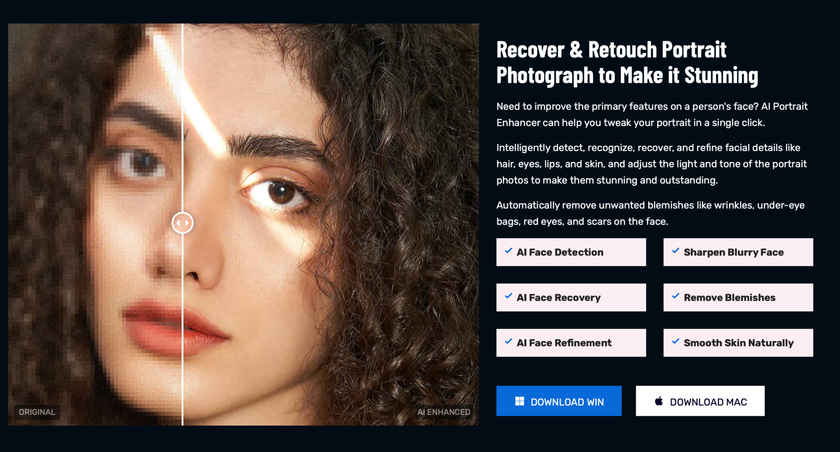 Known for its seamless integration with popular photo editing software, offers precise control over enhancements, making it a favorite among professionals who demand fine-tuned results. It has different AI tools, which you can use in the complex to get better results. However, beginners find its learning curve too complicated, so seek an easier option if photography is new to you. It also may require a more powerful computer to run smoothly.
7. Photoshop AI (starts from $27 per month)

It uses cutting-edge algorithms to preserve image details, making it a top choice for professionals looking to enhance their work. But complex editing is much more time-consuming compared to other AI image upscaling tools, especially if you work with high-resolution photos. It works on Mac, Windows, and Linux. But compared to other available Upscalers on the market, you can find better quality for the same or even lower rate.
8. Media IO (free trial and $19.99 per
month
)

Ideal for on-the-go photographers. It offers rapid fixes and enhancements. It is one of the most affordable AI image upscaling software products on the modern market. However, it may not be as comprehensive as other paid options, and some important advanced features are absent.
9. Pixel Cut (Free)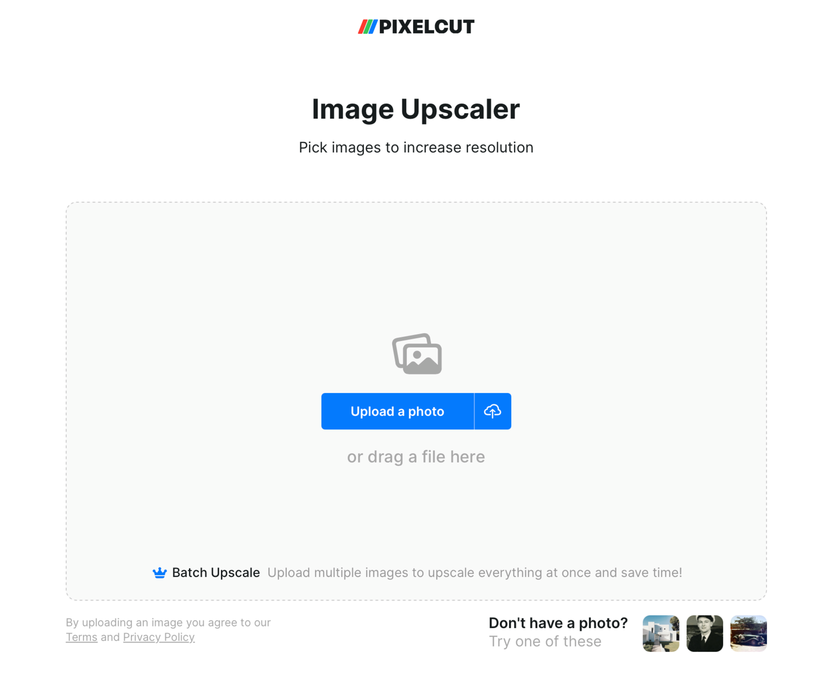 It is a newcomer in the field that shows promise with its user-friendly interface and rapid improvements, all without costing a dime. This upscaler is online so that you can enhance a manageable amount of images. But it carries the main disadvantage of most free software products — much fewer features are available than in the paid analogs (especially the premium ones). The customer support system needs to be more present.
10. Tiny Wow (Free)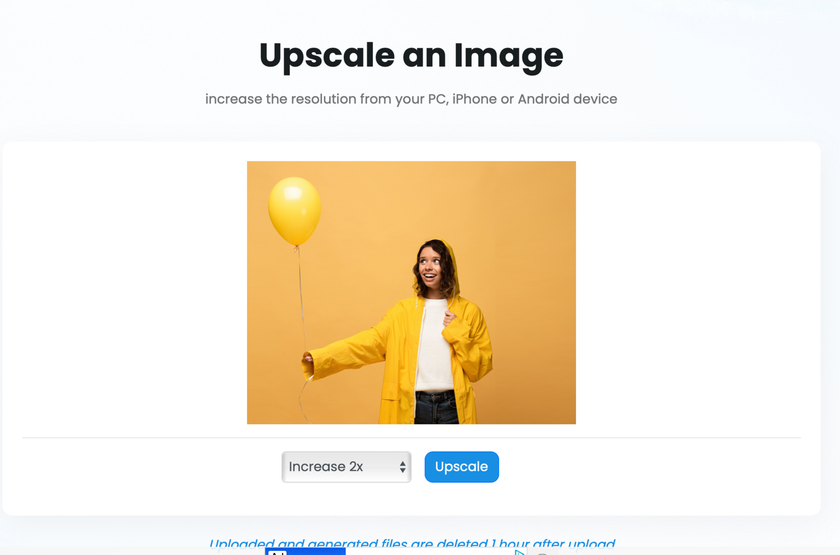 A free option that impresses with its ability to enhance photos without compromising quality, making it a fantastic choice for budget-conscious users. However, adverts and additional limitations common for non-paid tools can easily spoil a good first impression.
Conclusion
The best AI upscalers showcased in this guide have demonstrated their remarkable abilities: from preserving image quality and speeding up your editing workflow to budget-friendly options and artistic creativity, AI upscalers completely transform the creative process for photographers in a better way.
Some AI upscalers may come with premium price tags, while others might offer a different level of control than traditional editing methods. Still, there are plenty of options to choose from, both for professionals and hobbyists.
Remember that Artificial Intelligence will never replace real human intelligence, especially regarding compelling creative tasks. But it is here to make your creative process faster and easier.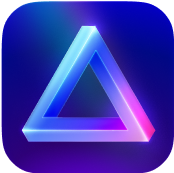 Advanced yet easy-to-use photo editor
view plans