We've created a list for you of the 10 best drones for kids from the simplest to some equipped with cameras and different features.
You shouldn't choose just any drone for a kid. Drones for kids should have some special features. They should be easy to control, durable, and not too expensive. Children aren't very skillful pilots, and they often crash, so the simpler the better. A first drone is like a first car: you shouldn't be sorry to crash it.
We've created a list for you of the 10 best drones for kids from the simplest to some equipped with cameras and different features.
1. Contixo F16 FPV Drone with Camera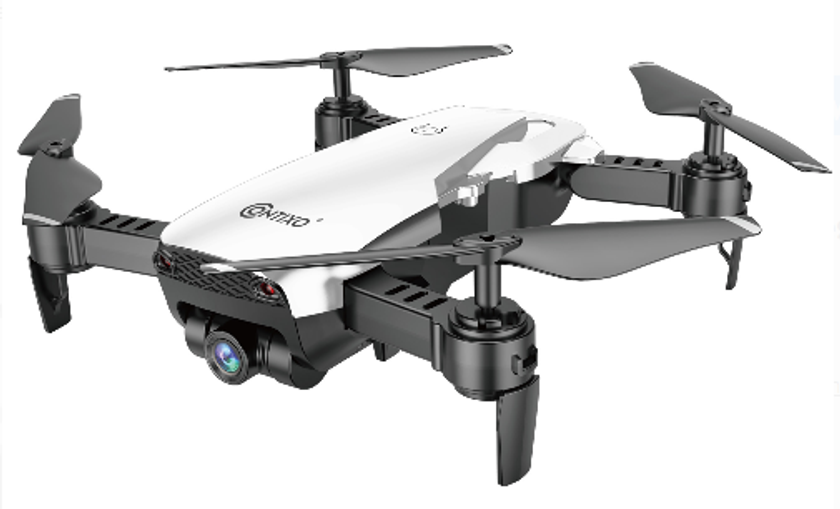 The Contixo F16 is a good choice to start. It has 10 minutes of flight time and a 100-meter range. The bonus battery gives you an extra 10 minutes in the air. The Contixo F16 is equipped with one-button take-off and landing. With this feature, kids will be able to launch and land with one button press. There's also a special flight mode for beginners where all controls are simplified and automated. This gives beginner pilots the possibility to have fun flying and to study piloting at their own pace. This drone is safe and protected from crashes, which happen often with young pilots. An out-of-range alarm reports when the drone is at an unsafe distance. And a low battery alarm warns about low battery charge. The 1080P camera will give you beautiful shots and videos.
2. DEERC D20 Foldable Mini Drone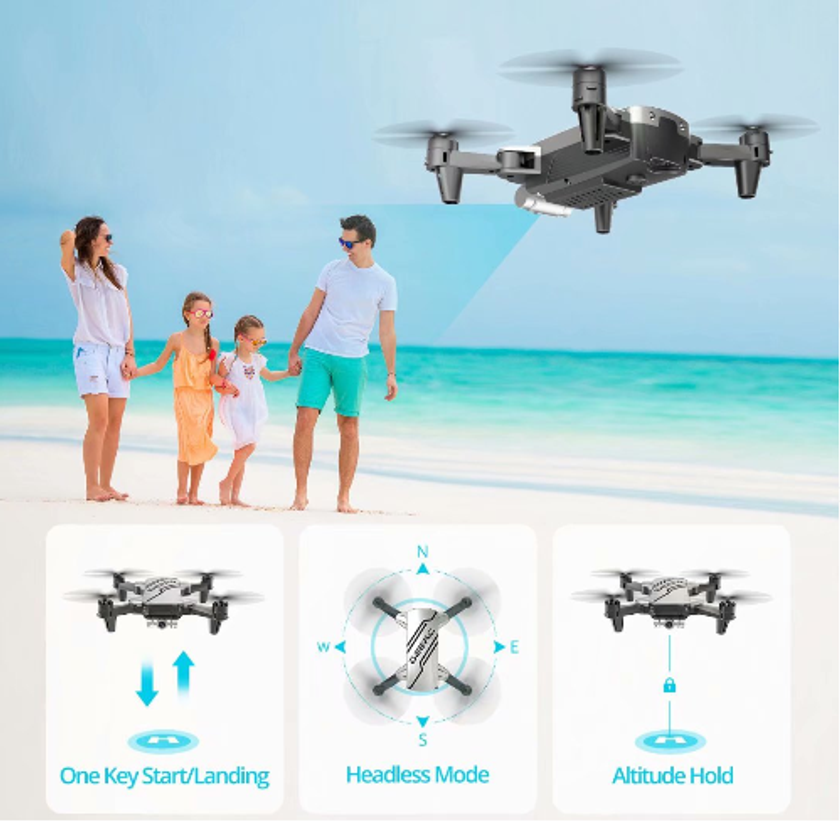 The DEERC D20 Foldable Mini Drone is an improved version of the previous model. This drone has 15 minutes of flight time, which is 50 percent longer than the previous. Two batteries in the box give you 30 minutes in the air. This drone is under $100 and is simple to use, durable, safe, and equipped with a 720p camera. Headless mode makes piloting as simple as possible. In this mode, you don't need to concentrate on the controls. The drone has propeller guards, which protect the propellers from crashes into tree branches and other obstacles.
3. Eachine E010 Mini Quadcopter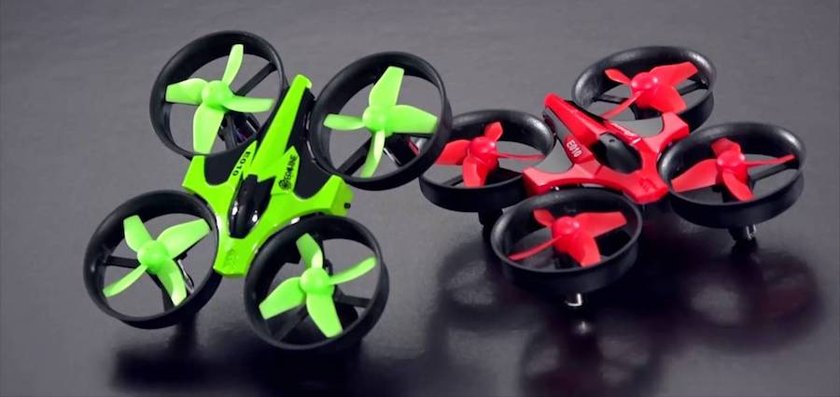 One more important characteristic of drones for kids is compactness. A children's drone needs to be lightweight and easy to move. The E010 Mini Quadcopter fits into an adult's hand. It's easy to take this drone on a picnic or a long walk, and the drone itself is easy to use: Just push two buttons to make it fly. The Eachine E010 Mini can perform 360-degree rolls and 3D flips. It has two speed modes and a compass mode, in which it will change direction based on the direction of the remote control. One-key return makes this drone impossible to lose. It will come back to the pilot after one button press. With the Eachine E010 Mini, kids can easily learn to fly and crashes won't be too disappointing.
4. JJRC H2O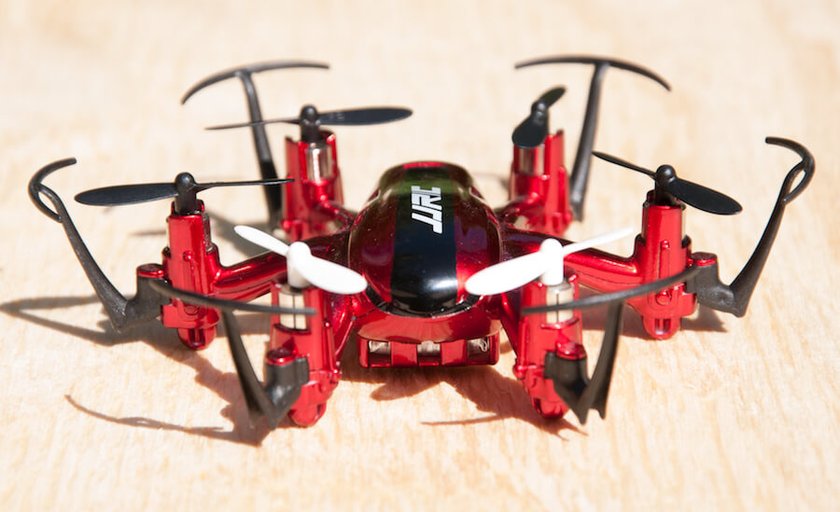 Some drones take a few hours to charge. This is a long time, especially for a young pilot who wants to fly and fly and fly. The JJRC H2O charges in 45 minutes. It's possible to fly this drone at night thanks to white LED lights. It looks fascinating in the night sky. Compactness is one more advantage. It can fit in a backpack, which makes carrying it comfortable. With one button press, the JJRC H20 can return to the pilot. It weighs only 11.7 ounces, which makes it convenient to transport.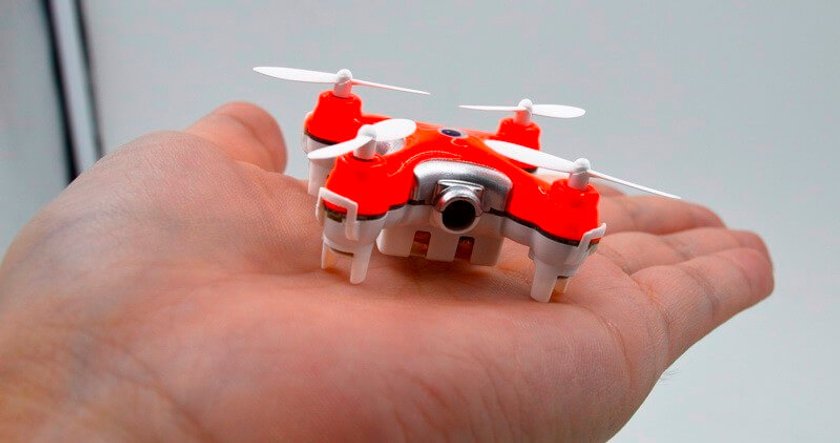 If you want an entertaining flight, choose the Cx-10C Mini. This drone is equipped with 4 LED lights and looks amazing in the night sky. It's a quiet, compact model with three speeds that's easy to take with you and carry around all day. The low-voltage alarm will inform you about a low battery to prevent a crash. The Cheerson Cx-10C Mini has everything for the first steps into the world of flight. It's simple, affordable, and compact. Reviewers on amazon recommend the Cheerson Cx-10C Mini for indoor flights too. So during rainy or windy weather, you can fly at home. With a headless mode, there's no need to adjust the position of the drone before flying.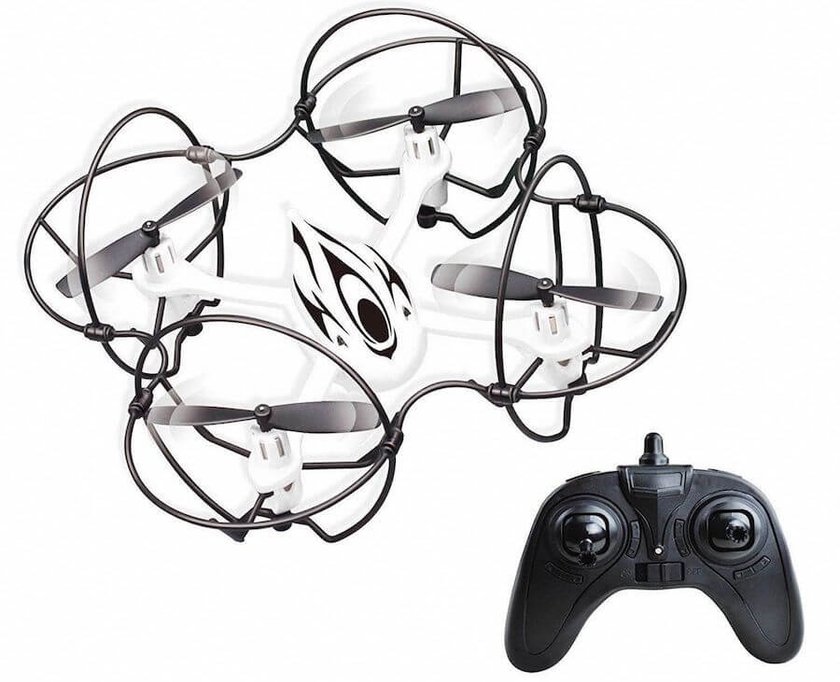 This is one of the fastest charging drones, requiring only 20 to 30 minutes for a full charge. It's also a lightweight model at only 1.2 pounds. The Dragon Drone comes with headless mode, one-key return, and three speed modes. It's specially designed with a full guard for kids and beginners. This drone's body and propellers are protected with a special circle frame, which reduces damage from collisions. But the fast charge speed is combined with a short flight time of just six minutes. The Top Race Dragon Drone is good for both indoor and outdoor flying. And at 5.5 x 5.5 inches, it's easy to take with you.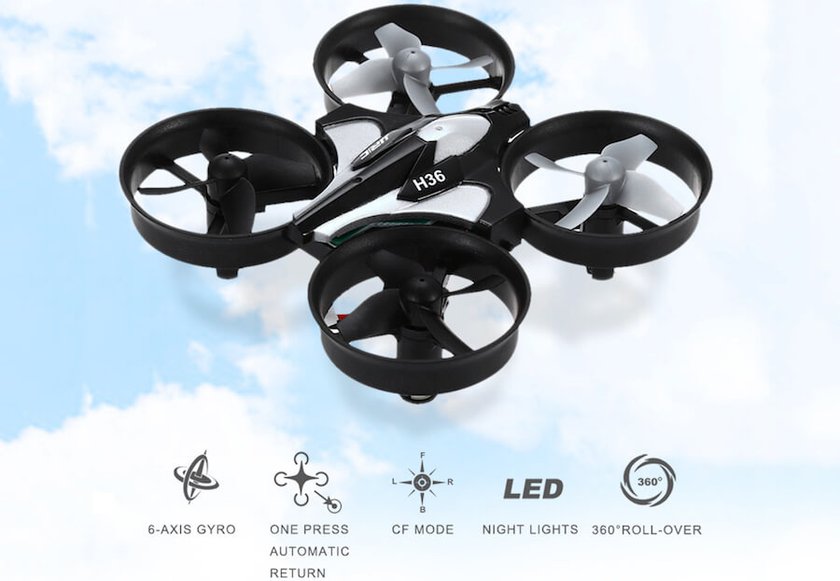 The JJRC H36 Mini is a safe, compact, and easy to control drone. Its propellers are protected, which is good for kids. The JJRC H36 Mini looks fascinating in the night sky thanks to LED lights, which give a nice bright glow. Flying with the JJRC H36 Mini is exciting. It can perform 3D rolls. And at 22.5 grams and 3.74 x 3.74"x 1.96inches, the H36 Mini is handy to take with you. You can fly it both indoors and outdoors. A short 30- to 50-minute charging time lets you fly as much as you want.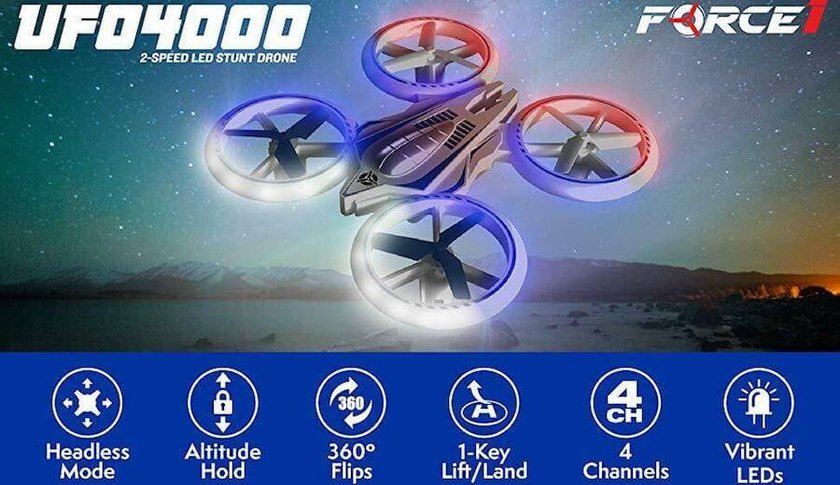 When people see the Force1 UFO 3000 Quad in the night sky, they think it's a spaceship. This drone is decorated with LED lights, which give a bright and multicolored glow. The LED lights also provide additional safety, as the drone is easy to see. It has a nine-minute flight time, which is high for the price. An extra battery in the box gives you an additional nine minutes in the sky. The UFO 3000 Quad weighs one pound, is compact, and can be flown indoors and outdoors. It has high and low speed modes and performs 3D stunts and tricks.
9. Wonder Chopper RC Stunt Drone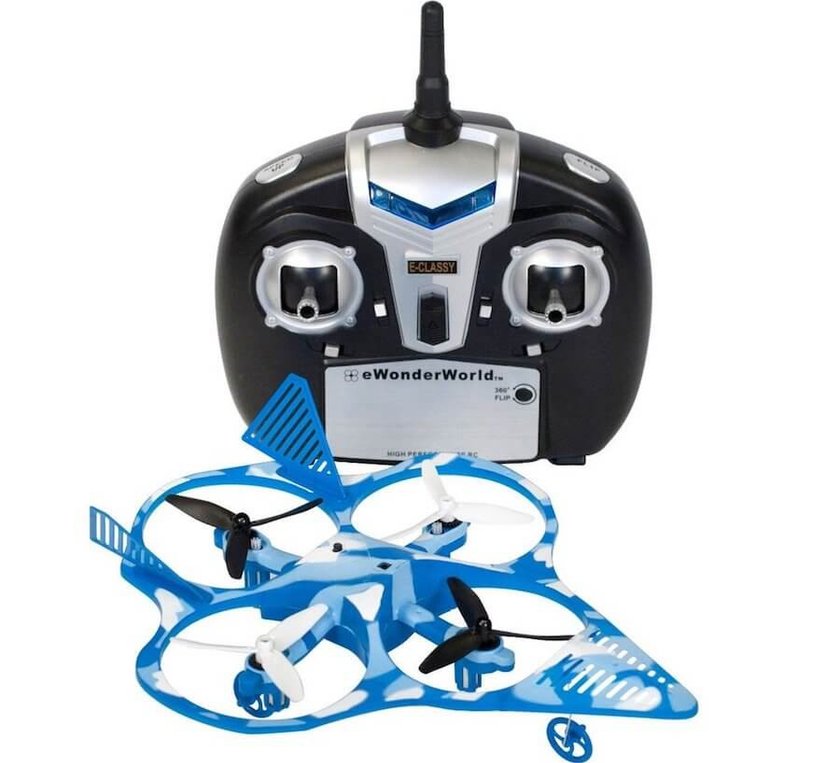 This quadcopter is durable and crash-proof, with screw-reinforced three-bladed propellers for better thrust and energy efficiency compared to two-bladed propellers. The flight time is about 6 minutes, with a range of 50 feet. The charge time is 60 minutes per battery. With two fully charged batteries, you get a total flight time of about 12 minutes. The Wonder Chopper is designed for all users and is easy for beginners: its six-axis design makes the gyroscope adjustable and stable. The controller uses the 2.4GHz frequency for fast control while consuming less battery.
This drone can do:
360-degree flips

Has adjustable speed modes

Comes with LED Lights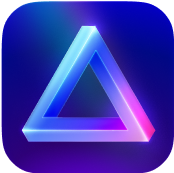 Advanced yet easy-to-use photo editor
view plans