Are you searching for the best free and paid Photoshop actions? It doesn't matter if you're a professional or novice photographer, Photoshop actions will help you do everything faster. Using them, you can save hours and do your work in a matter of a few clicks.
Are you searching for the best free and paid Photoshop actions? It doesn't matter if you're a professional or a novice photographer, Photoshop actions will help you do everything faster. Using them, you can save hours and do your work in a matter of a few clicks. So, if you're looking for Photoshop actions, just read this article and find the best options.
What Is a Photoshop Action?
It is a set of actions that you can write down in Photoshop and then apply to any image. This feature helps photographers automate post-processing and avoid performing the same steps over and over again. Using the set of Photoshop actions is very easy, you just need to make a few clicks and the desired effect will appear on the photo.
Retouching Photoshop actions are great helpers for anyone who knows how to use Adobe photo editor. Action works with Photoshop very simply. This tool is able to repeat specific steps and apply them to an open image.
Even free Photoshop actions will allow you to change the color of a photo, apply effects to pictures, additional shades, and more. Photoshop actions include many post-processing steps. With just one of them, you can perform even complex post-processing, which usually takes about an hour.
So, with just one click, Photoshop action lets you create colorful and cool photo effects, regardless of your level of experience with the software. Today we're going to talk about the best Photoshop actions. You will also learn how to install and use any Photoshop action set.
How Do Photoshop Actions Work?
Essentially, action is the perfect ability to record the sequence of all your work in Photoshop. You opened a file, resized it, and applied a filter – different Photoshop actions will record all of these steps in detail. Actions save exactly how you resized and what filter settings you applied. Just click the Record button to save the action with your favorite edits. And you can find many ready-made actions with different effects created by other photographers.
This way, Photoshop action will transform any image in just a couple of clicks. You skip long hours of processing and get the final result right away. With a great collection of Photoshop actions, you don't need to learn how to use graphics editors such as Photoshop CC. This tool is very easy to use, plus it saves a lot of time and allows you to maintain a consistent post-processing style. It is also worth noting that Photoshop actions are free or paid, you will find many options not only in this collection but also on thematic sites on the Internet. Free Photoshop action is perfect for beginners and professionals alike.
Best Photoshop Actions: 50 Collections
What's so special about Photoshop Actions? In fact, an action is a part of the programming code that is applied to your design or picture automatically. In this way, you can quickly change your design or picture based on the action you use.
Looking for free color fusion Photoshop action or another great option? Fortunately, there are plenty of them to pick from. Here, we have selected the best free and paid Photoshop actions that you can download and use straight away. Be sure to check out our list of free Photoshop actions.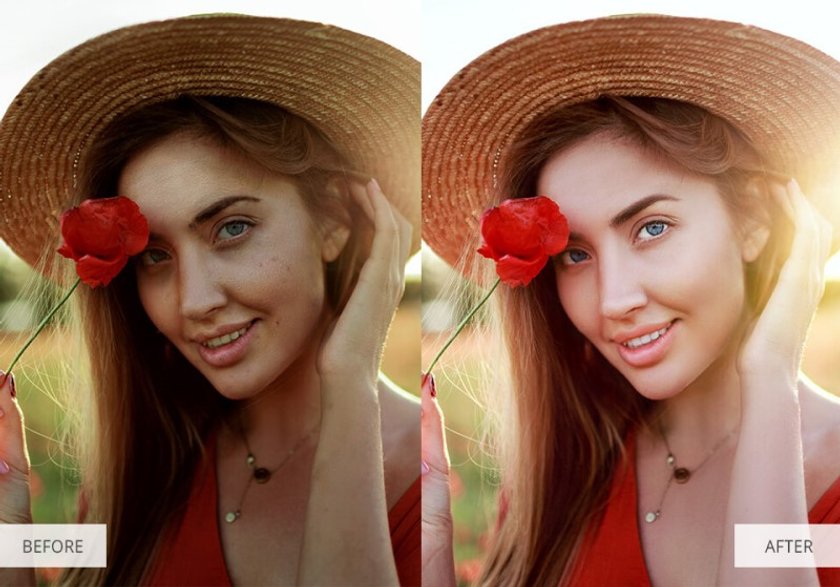 This collection offers all the basic and artistic filters to improve your portraits, considering all the special features of this type of photography. The best Photoshop actions for portraits. These actions will help you simplify your work. The collection contains 200 actions that you can use for editing eyes, skin, hair, makeup, and lips, adding a special look and vibe to your photos, and highlighting the bright details. You can adjust light, brightness, and many other parameters.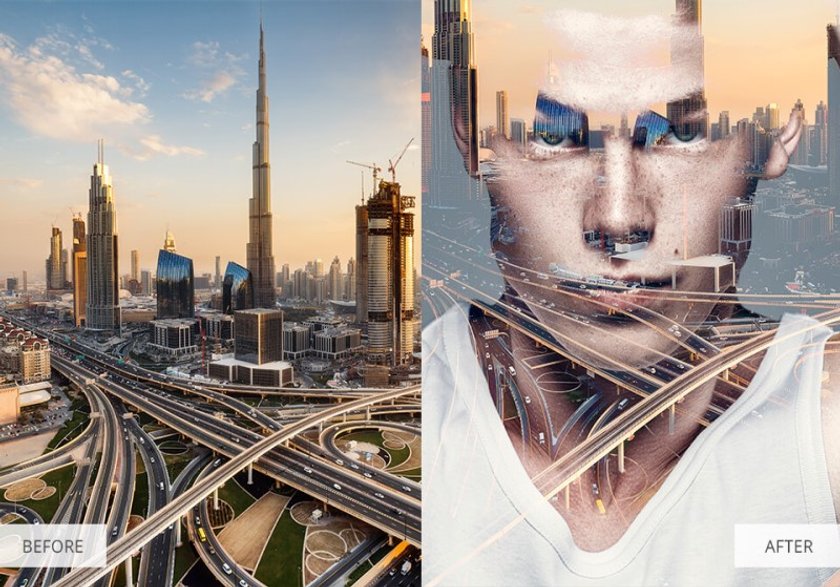 For this collection, creators combined picture editing tools with a rather well-known effect – double exposure and dispersion. The Double Exposure effect is achieved by merging 2 different pictures that create an interesting and unusual image. The actions will help you achieve this effect and give you some tips on how to adjust and enhance these tools. The collection contains 26 actions using which you will be able to create the desired look very fast.

Cartoon Effect Photoshop actions will help you turn basic photos into magical or comic book pictures. Choose a photo and watch it become a cartoon with interesting and unique effects. This collection has 7 actions and 40 additions, such as Digital Paint Background, Pixel Background, Comic Overlays, Comic Speech Bubbles, Frames and Paper Textures for achieving amazing pictures. Using these actions, you will be able to express your imagination and creativity.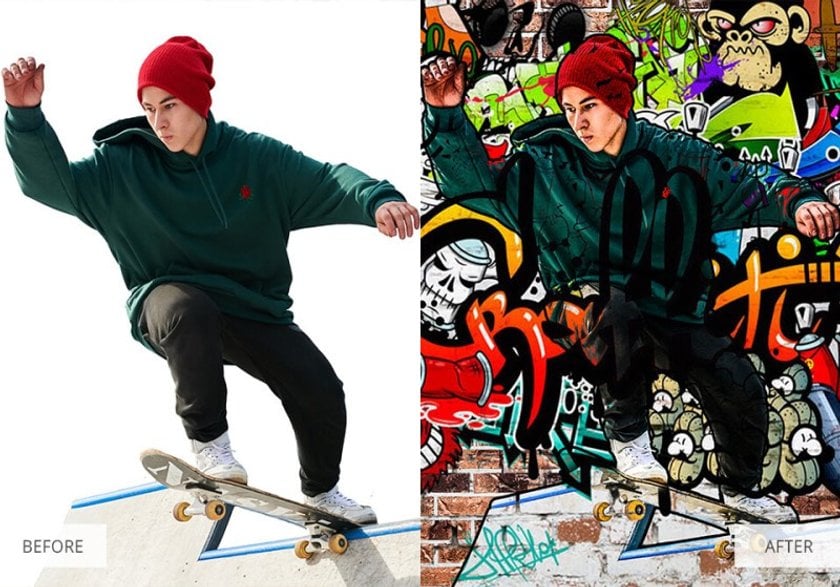 This action will give your photo a pop-up effect. You will achieve a bright and contrasting picture. For a better result, use it with portraits shot outdoors.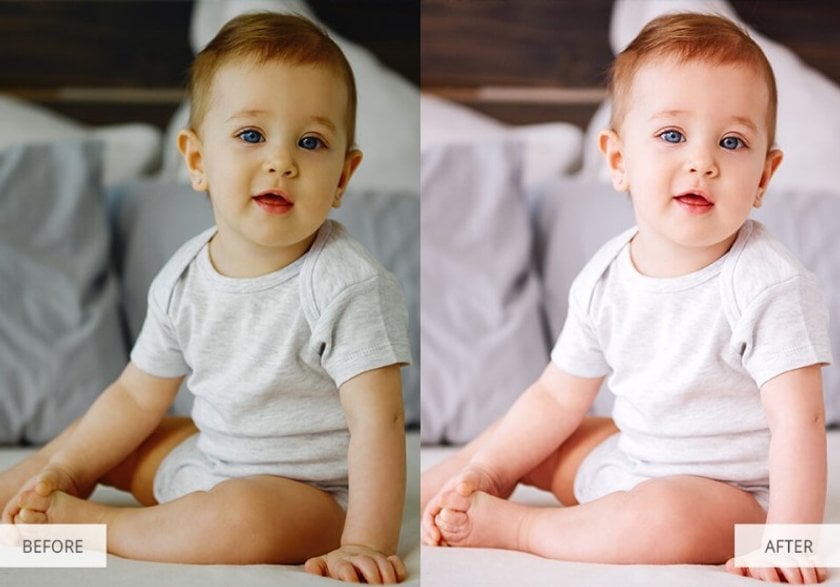 With this action, you will be able to add a great gold look to your images. It's perfect for landscapes, nightscapes, portraits and cityscapes.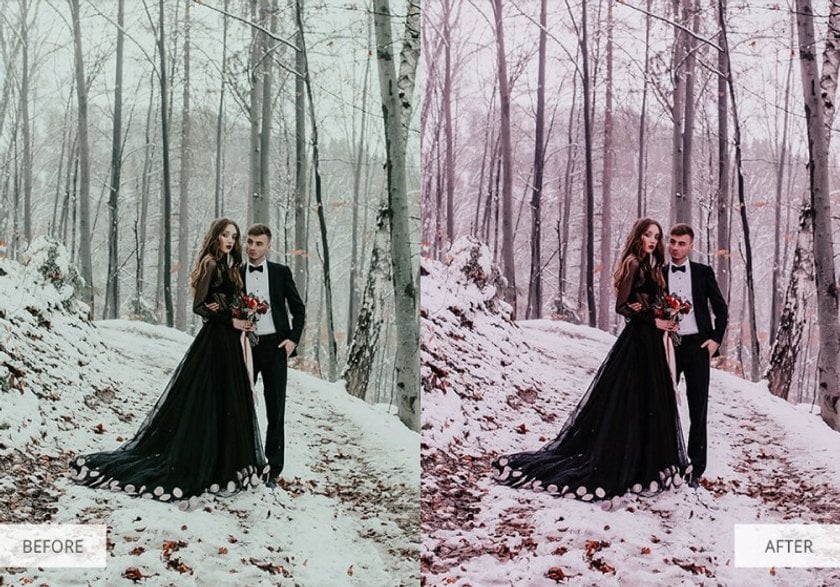 One of the premium Photoshop actions. Using this collection, you will be able to create truly unique pictures. It will add a magical light to your landscape photos, create a beautiful purple haze and turn dull landscapes into a mysterious fairytale.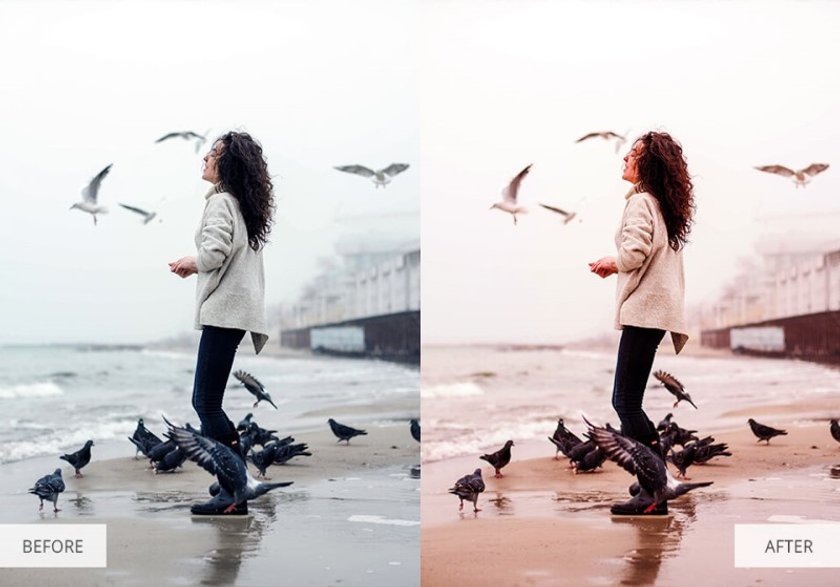 With this Photoshop action, you will create outstanding photos as it will add a gentle touch of bright pink color to them. The action will look especially great in landscape and portrait photos. It is easy-to-use and adjust.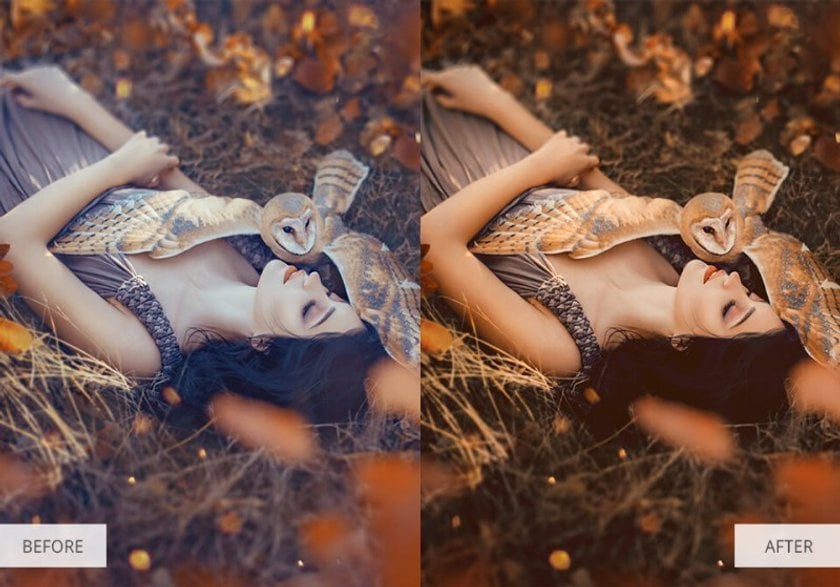 With this free Photoshop action, you will be able to add a nice copper tone to your photos. You can easily customize this action to your taste. It's ideal for portrait and landscape pictures.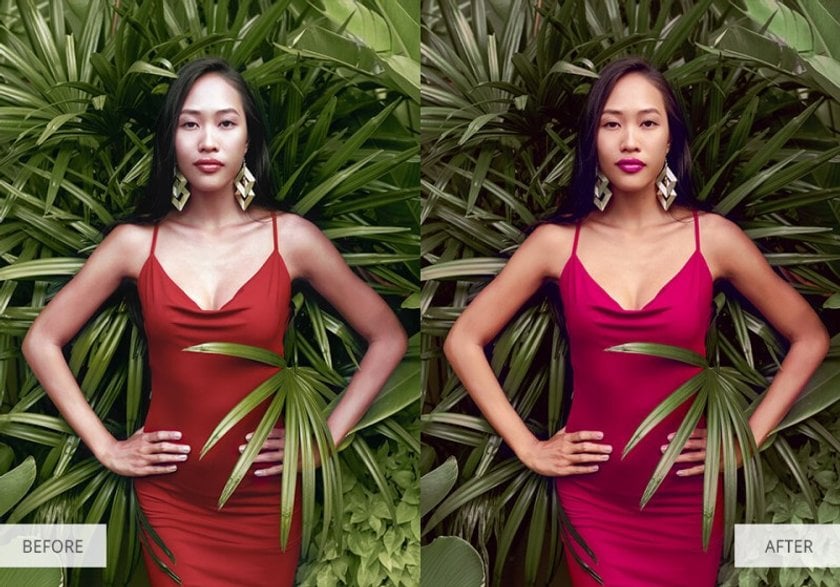 Fantasy Photoshop actions are special as they add gorgeous bright tones to your portraits. Such an effect is perfect for editing your images for Facebook and Instagram.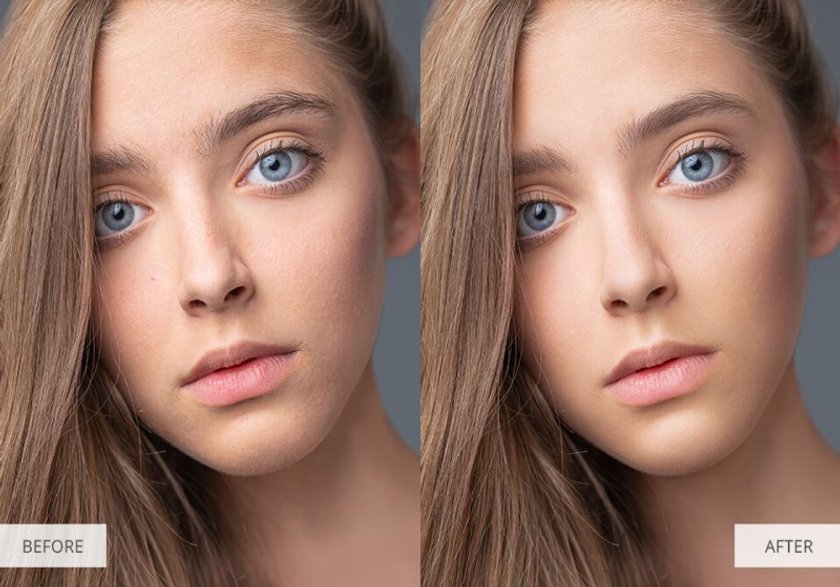 One of the best free Photoshop portrait actions. This bundle will save hours of photo editing work and help you retouch your portraits faster. With this collection, you will be able to retouch the skin and improve your pictures in a matter of several clicks. This is the easiest way to add a fashionable Dodge & Burn effect to your portraits. You can get these free Photoshop actions for portraits right now!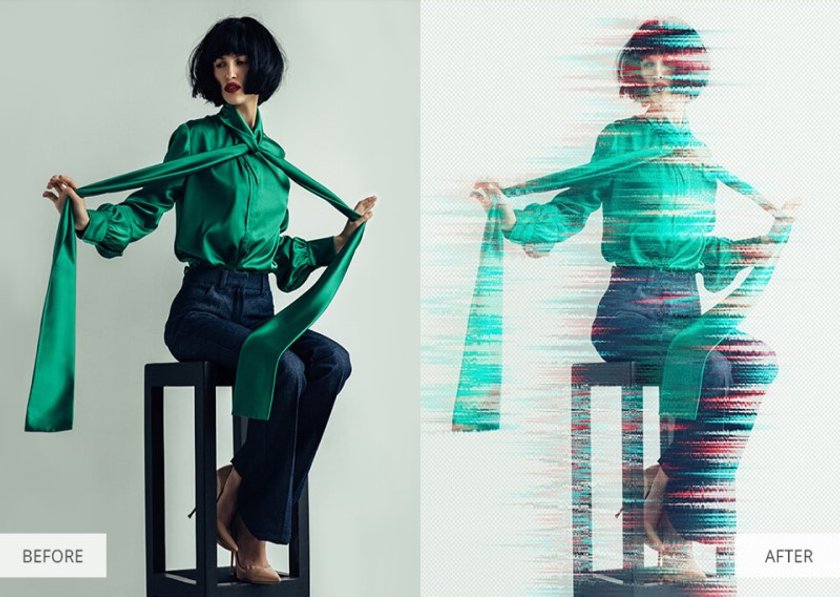 With this collection, you will have the chance to create an animated GIF with a glitching effect. This Photoshop effects pack will be suitable for those who want to achieve interesting animated graphics for businesses and advertising purposes to attract everyone's attention.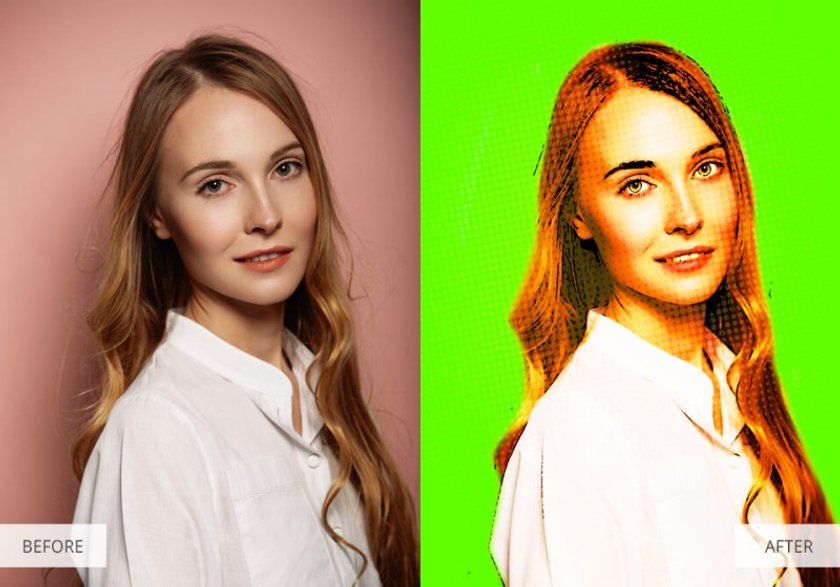 Want to get more creative landscape photography? Using these actions for Photoshop, you will be able to turn your basic pictures into pages from comic books. They are very easy-to-use and can be applied to portrait and landscape photos. Be sure to try this poster Photoshop action!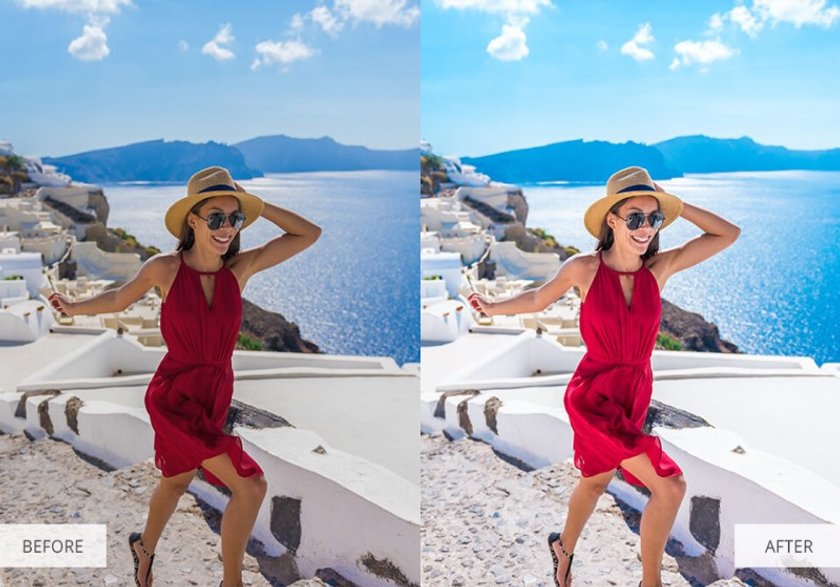 This is one of the best free Photoshop collections. It offers different variants of actions to add warm summer colors to your pictures. Even if you apply them to photos shot in winter, they will look as if you have taken them in summer. Use these free Photoshop actions.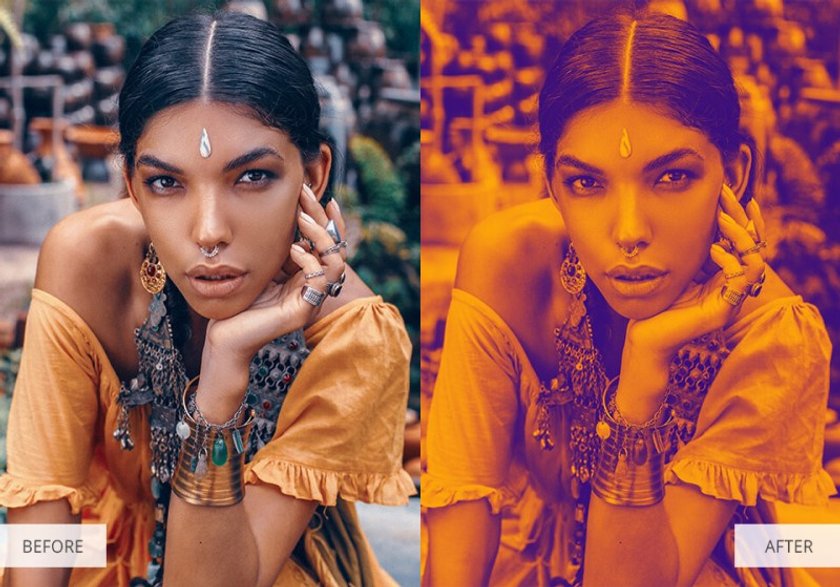 This collection contains 7 actions, using which you will be able to give your photos a stunning look. These actions will add bright colors, contrast and sharpness.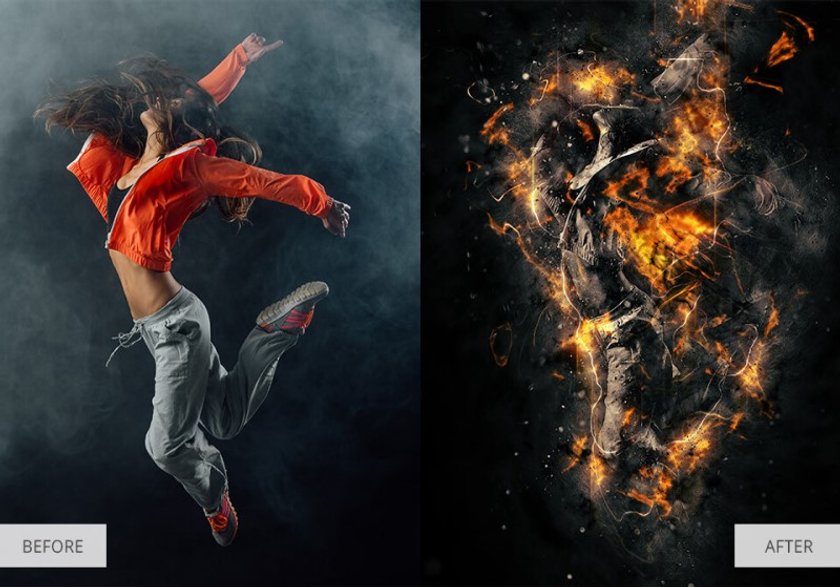 This collection is perfect for making photos more tender.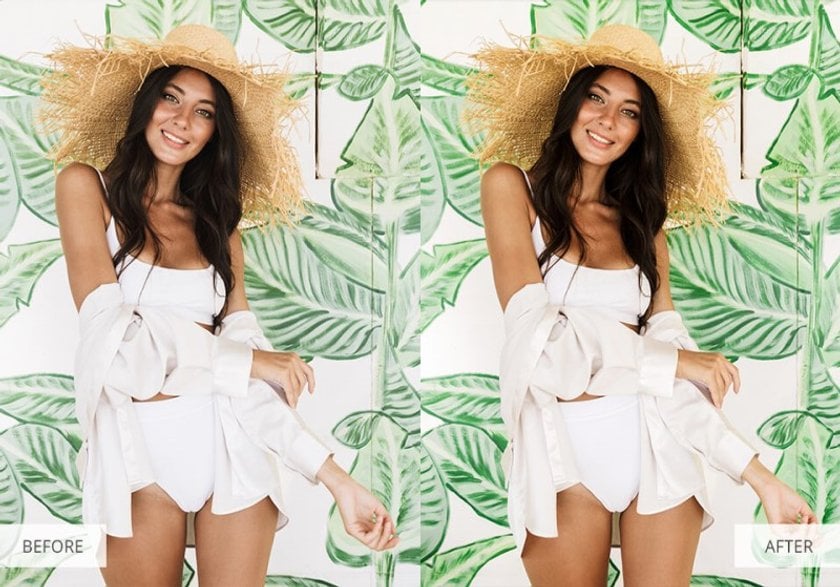 These free actions for Photoshop are perfect for bloggers and social media users. These actions will be suitable for improving pictures shot outdoors.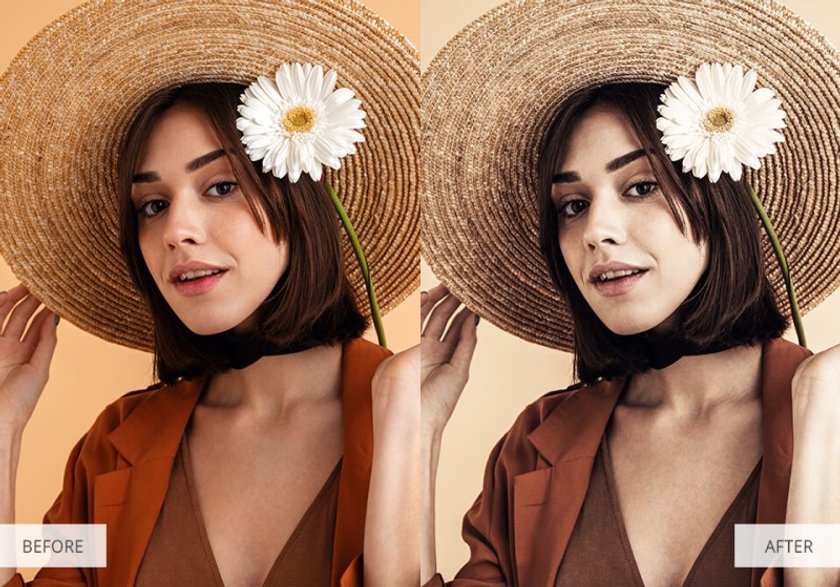 Want to find a beautiful retro effect? This collection bundle will add a retro look to your photos. These effectswill look great in portraits, automotive and other types of photography. You are sure to like the results of actions in this pack!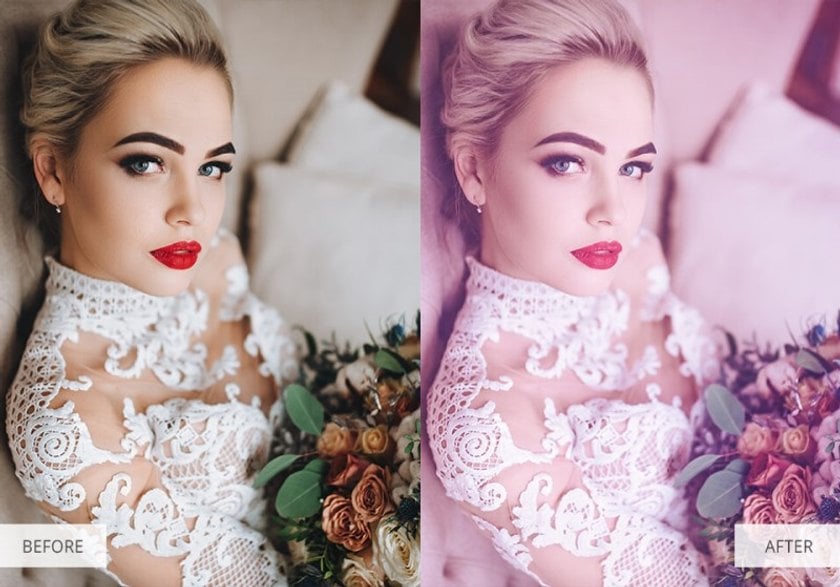 These are great free Photoshop actions for weddings. They will give your bridal shots a stylish vintage look that has always been very popular in this photography genre. This collection includes top-quality, elegant, colorful actions that will make your photos brighter. These actions will be suitable for both professional and beginning photographers.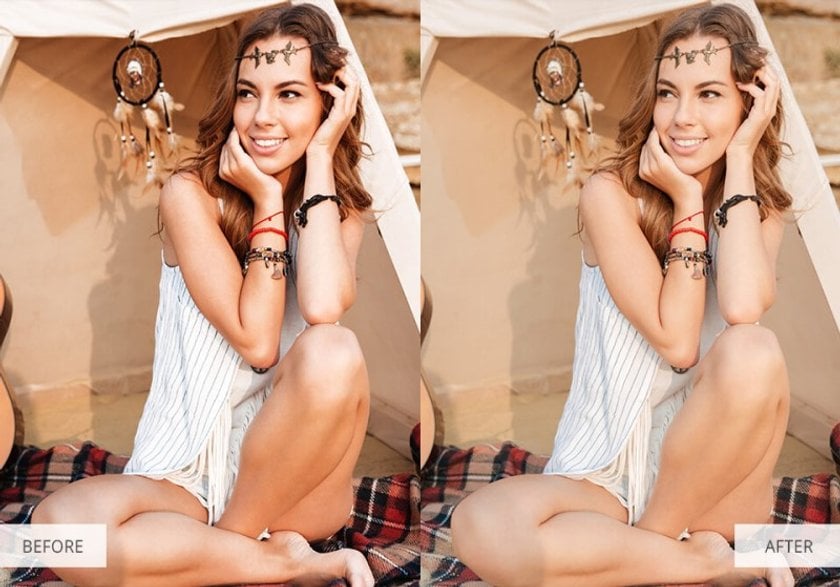 This is a great collection of actions for newborn and family photography. These actions will add beautiful pastel colors to your photos. You can also apply them to pictures for your Instagram and food photos.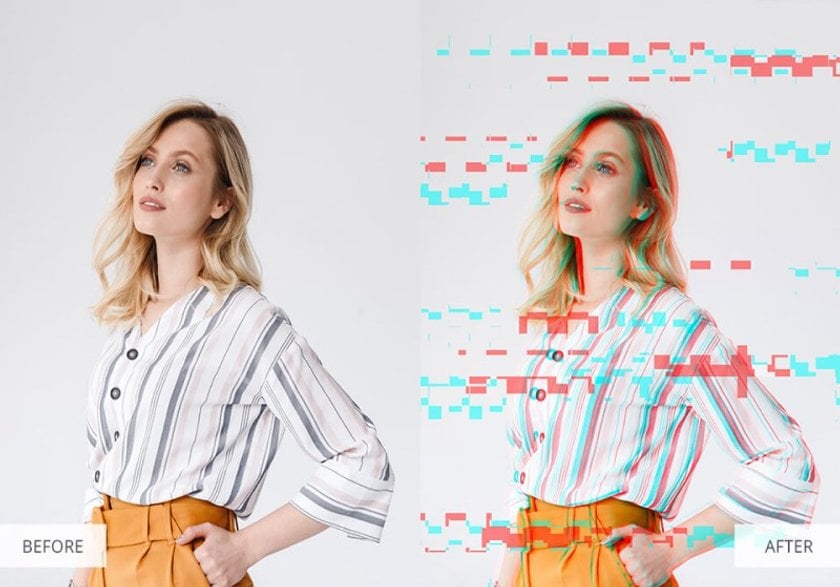 This action will give your photos a great 80s glitch effect, which is very similar to the hologram Photoshop action. It's simple to use and you will definitely attract everyone's attention with your pictures!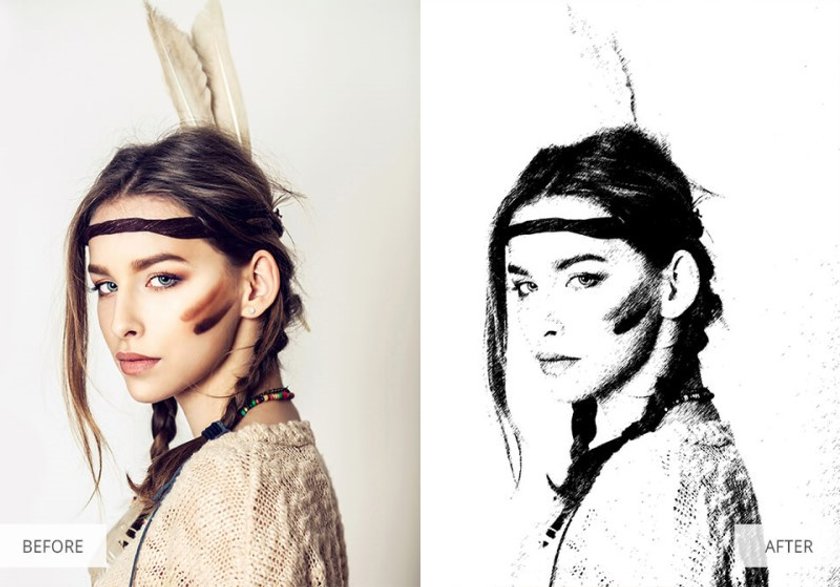 The Pencil Draw Photoshop action will make your photo look like it has been drawn by a pencil. The action puts a sketch layer onto the original one. Using this free Photoshop action, you will be able to adjust the degree of blurring of the new layer. If you adjust the blur to the left, your picture will look more drawn. When adjusted to the right – the picture will look more realistic and will acquire black and white colors.
This action is ideal for urban photography. It will add a beautiful blue tone to your picture and make it more contrasting. You can use this option for portrait photography.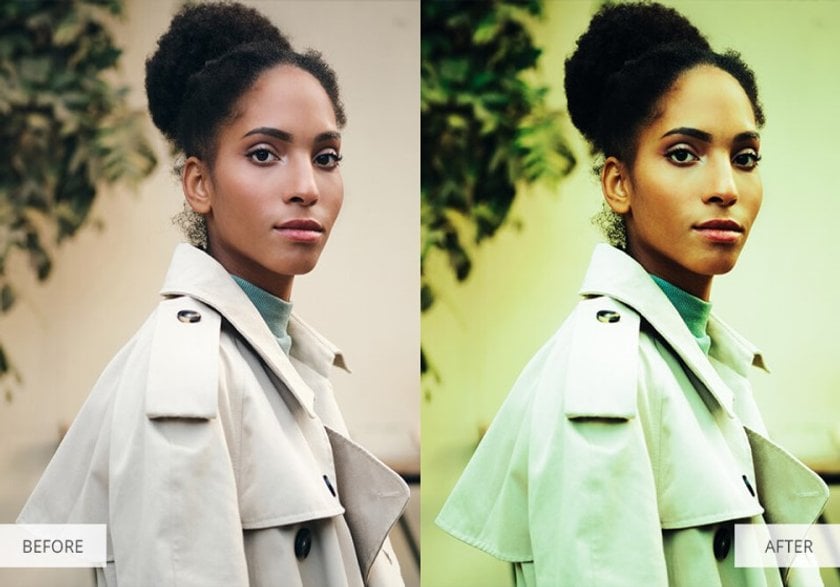 This action will take the colors of the photo and put a blue shade on them. It will make the main object of the photo more outlined and the whole picture more detailed.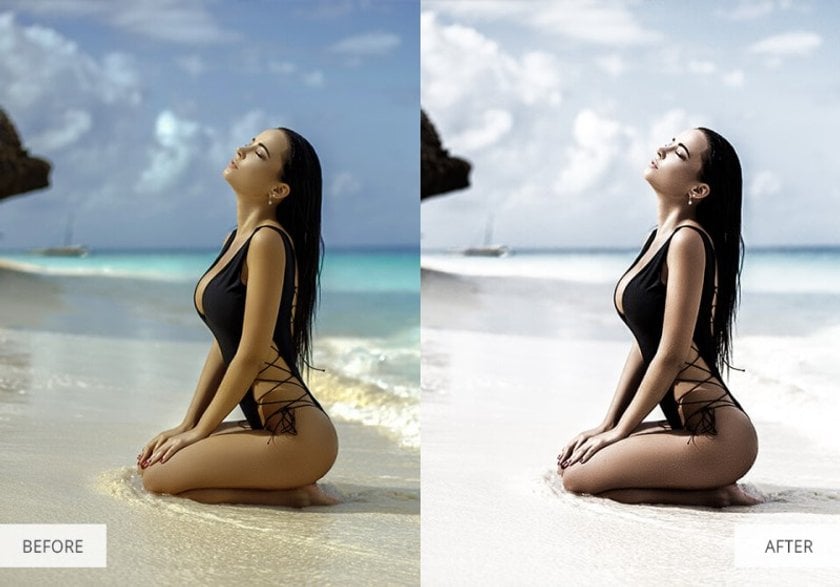 With Bright Photoshop actions, you will be able to perform fast color correction. Besides, this collection has a few actions for skin retouching. All the tools are customized – your only task is to apply them to the problematic zones.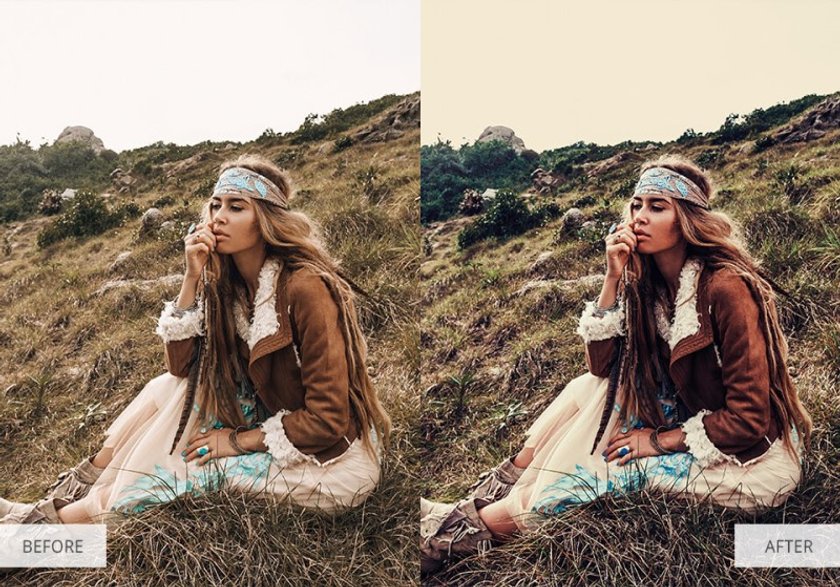 Using this action, you can turn your boring photos into eye-catching masterpieces that will definitely be popular with everyone who loves digital art and the Golden Hour.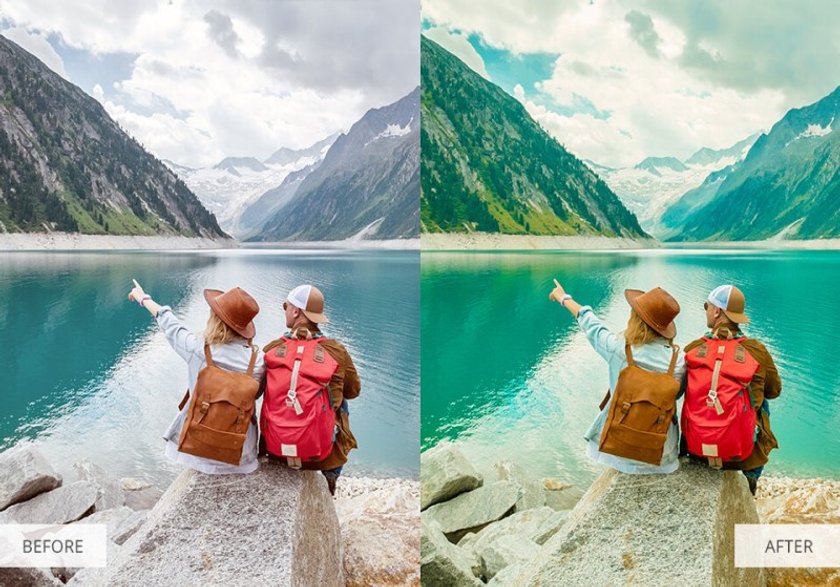 If you need an action that can add richness, brightness and sharpness, this is exactly what you need. The action works best for landscape and travel photography.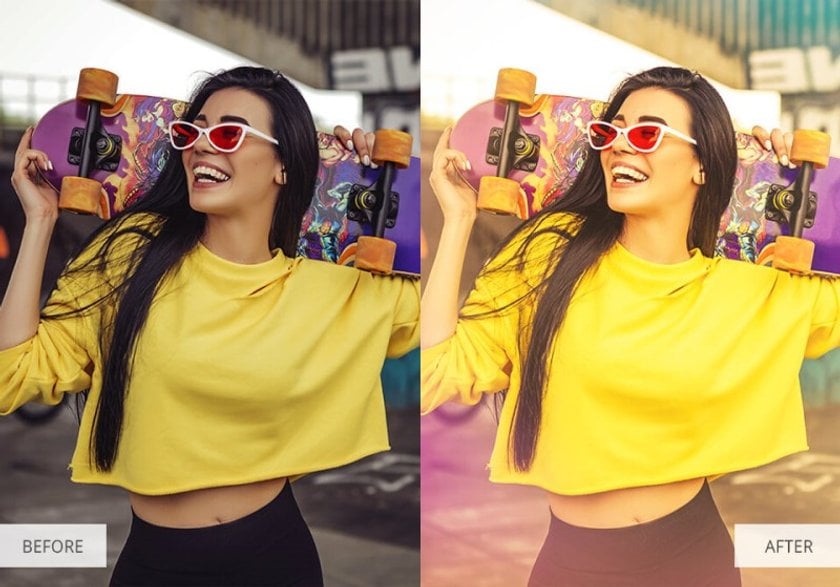 Go Boom is a bundle of free professional Photoshop actions that can give your image a nice retro look. This collection includes such tools as Gaussian Blur, Gradient Fill, Curves, Hue/Saturation and Vibrance. When you apply the changes to your photo, it will look like a new Smart Object layer and the initial layer will not be affected.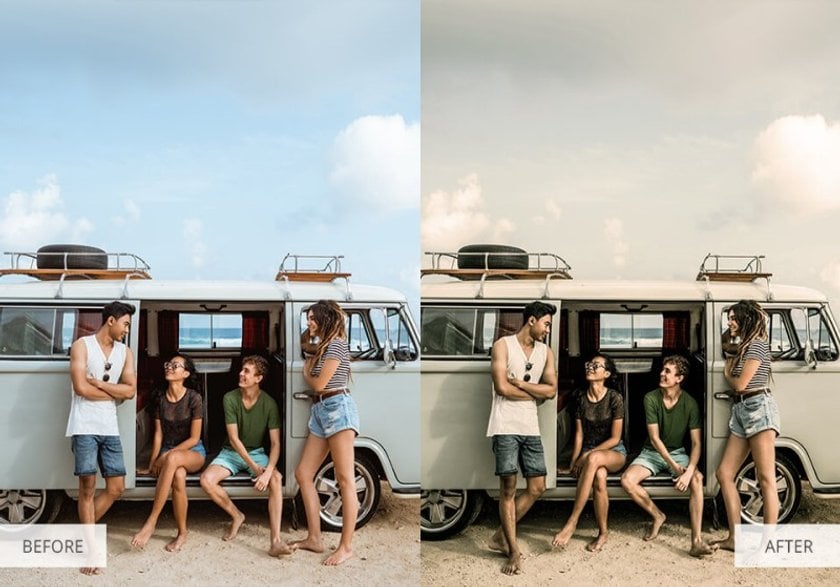 This action will change the tones of your photo, add grain, make it sharper, create adjustment and fill layers for stunning effects.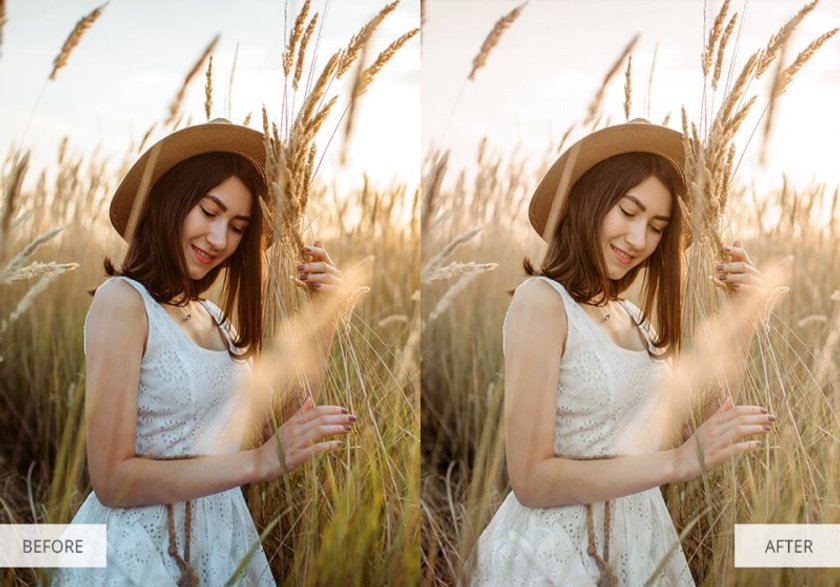 Want more free portrait actions for Photoshop? With this one, you will be able to easily add beautiful light rays to your picture in a matter of a few seconds. This is an ideal variant for portraits shot outdoors in the summertime.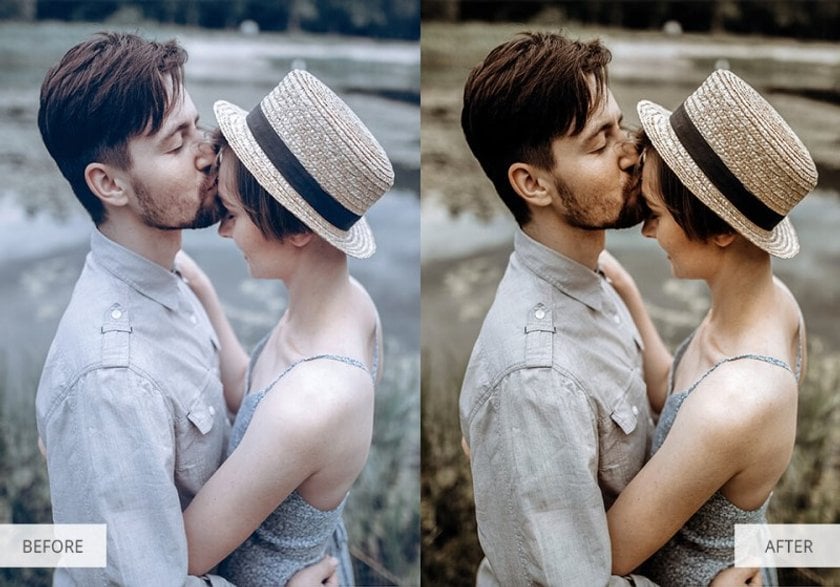 These actions are similar to Instagram filters and they will give your photos a film camera look. You can use them for any genre of photography.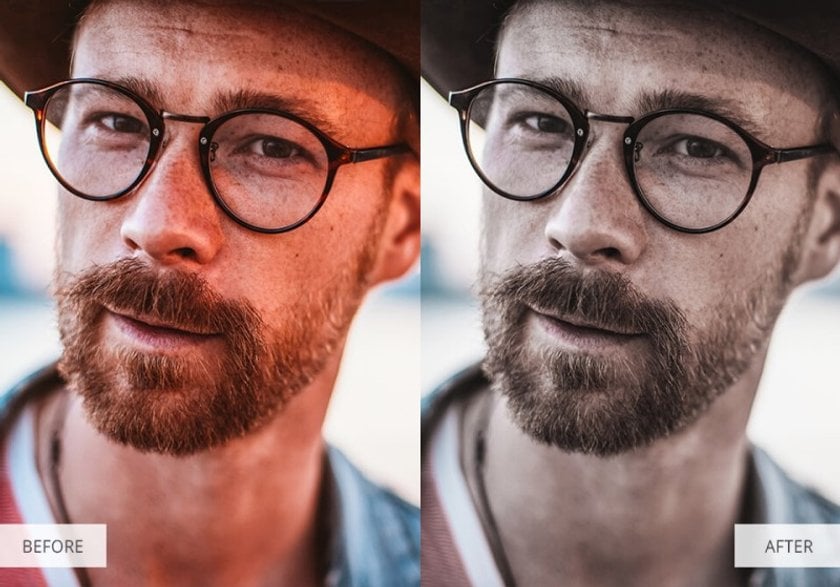 These are amazing free Photoshop actions for portraits. You can adjust sharpness and saturation yourself. In this way, the same photo can have different filters according to your wishes and how you customize it. This is a great option if you want more free portrait Photoshop actions.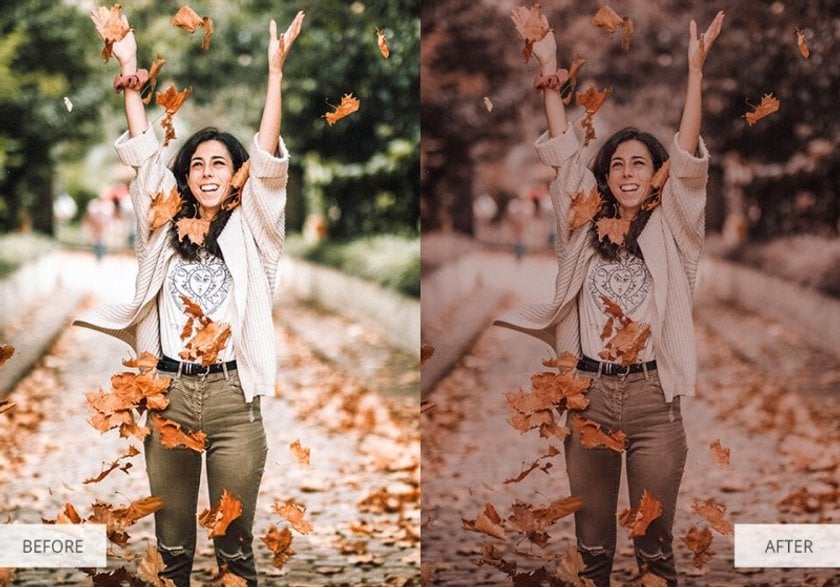 This free Photoshop action allows you to add a film effect to your outdoor and landscape photos. You will get a very warm and calm shade. You can use this action for any genre of photography.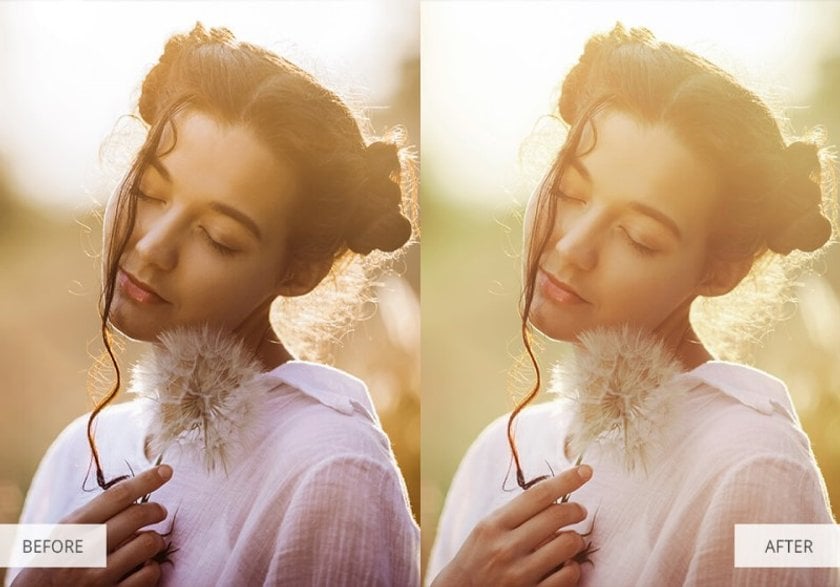 The Break of Day Photoshop action will give your picture an old and dusty look. For better results, apply this action to a square photo. If you don't do it when the action is applied, you might have to change the size of the top layer in order to make the gradient less vivid.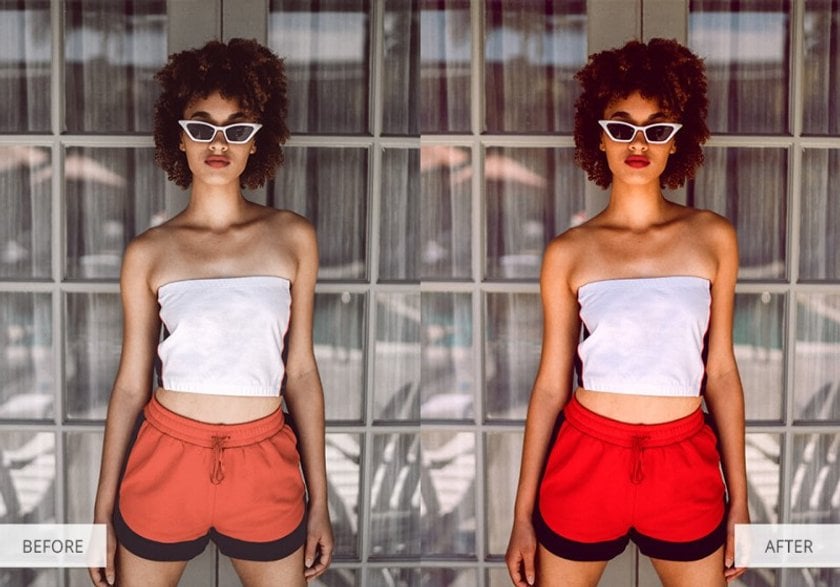 With Red Lips Photoshop Actions, you will add a red tint to the lips of the models and make them look even more beautiful.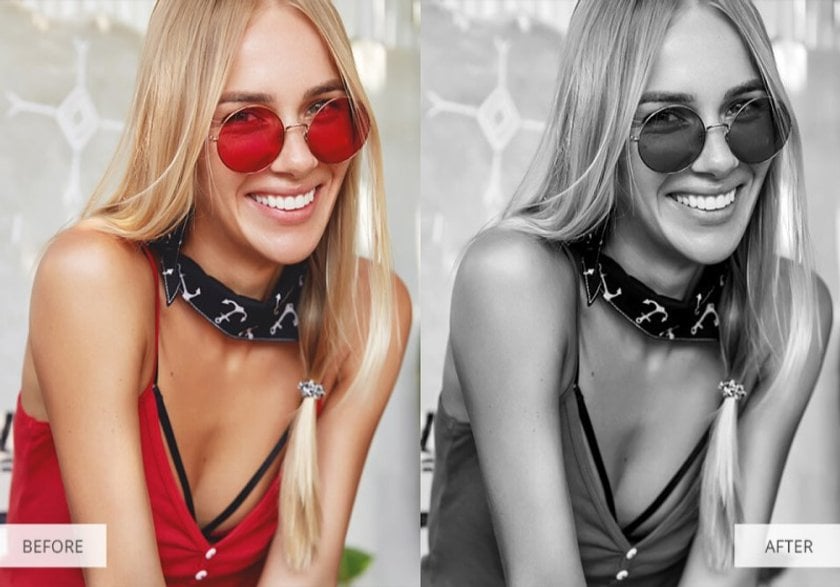 It's not easy to work with black and white actions as sometimes your picture can turn out to be too contrasting or, on the contrary, too bleak. These are the best free Photoshop actions for creating monochrome photos. Using them, you will be able to achieve a perfectly balanced image with great mono conversion and ideal grey shades.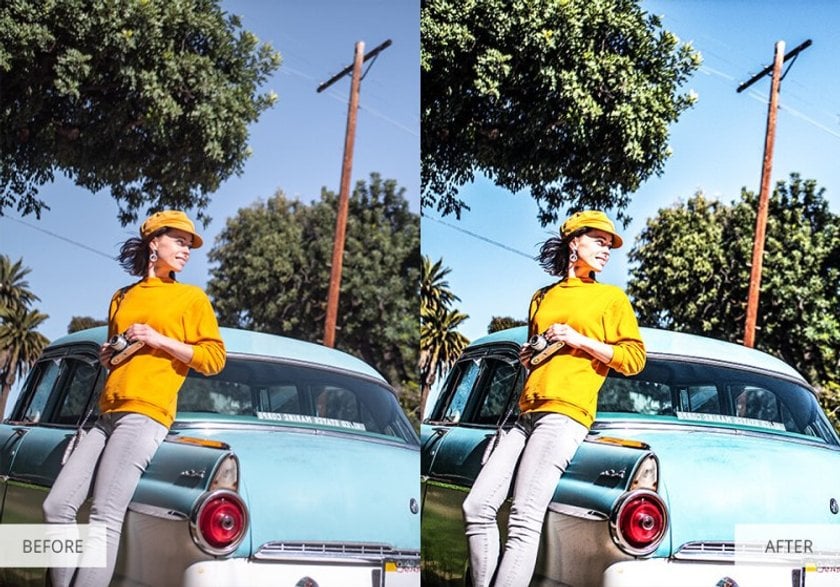 These are perfect actions if you want to quickly achieve an HDR effect. Based on your wishes, you can adjust the level of this effect and make it more or less severe. Just try this HDR Photoshop action!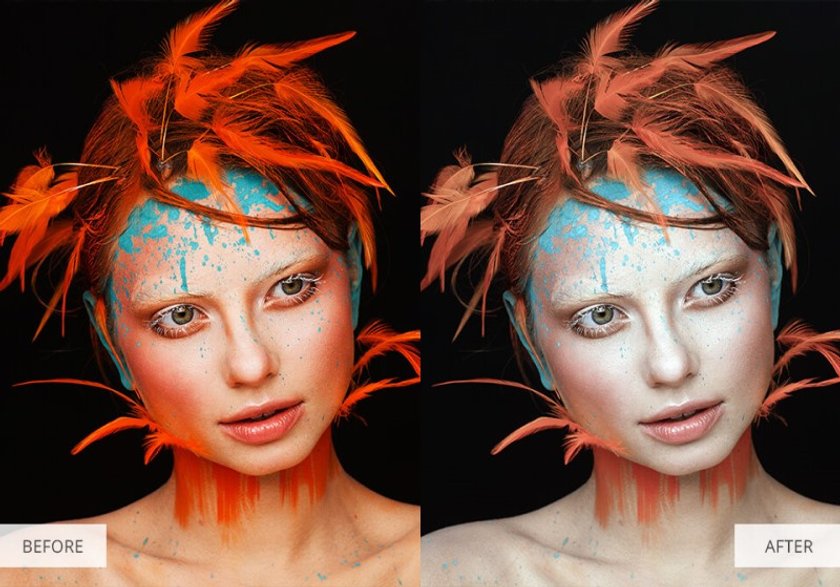 With these actions, you will be able to add amazing pastel colors to your portraits and make them even more beautiful. This collection contains various toning effects that will be ideal for portrait photographers and graphic designers. You can also use it for enhancing your Instagram photos taken in dim light.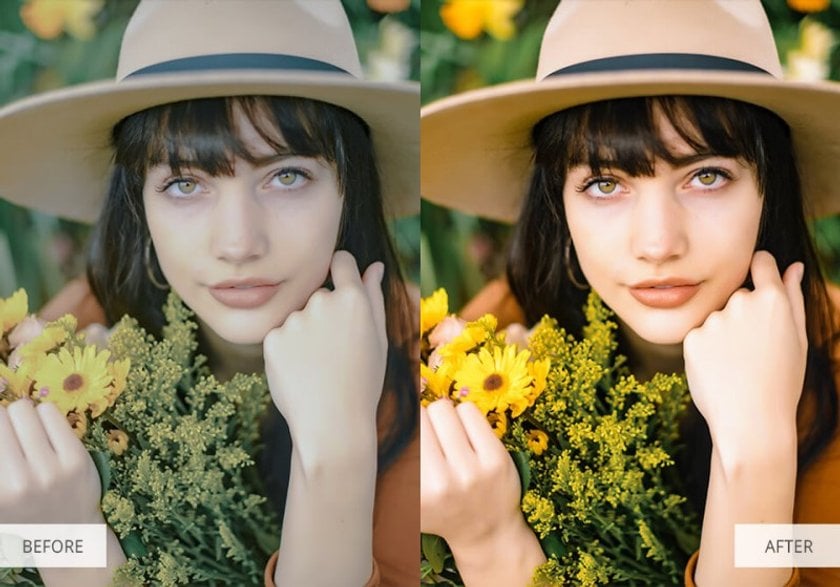 If you want to make the photo more sophisticated and with Hollywood vibes, this Photoshop action is exactly what you need. It will add a slight vintage look to your image and make it seem as if it has been taken on an old camera.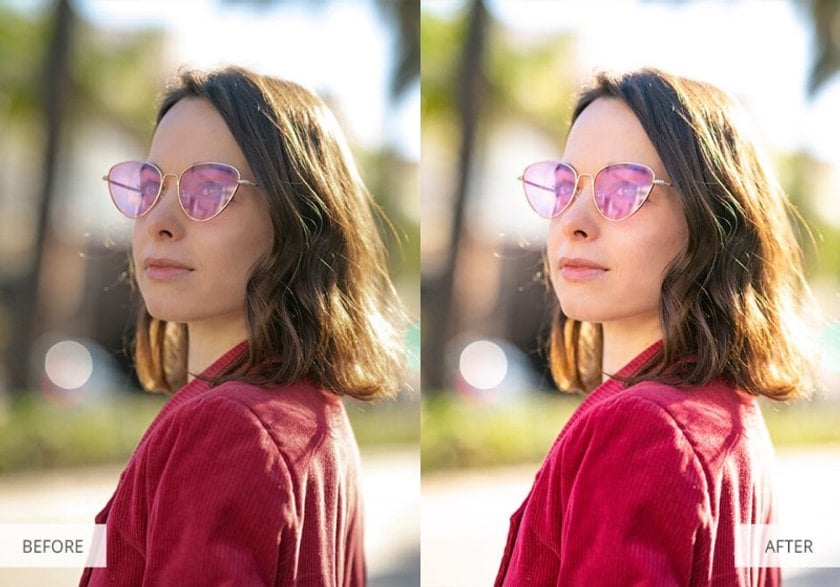 This is a great Photoshop action free collection for wedding and street portrait photos. Using these actions, you will make your pictures look more romantic and warmer. If you are a family photographer, you should know that these actions are also suitable for baby photography.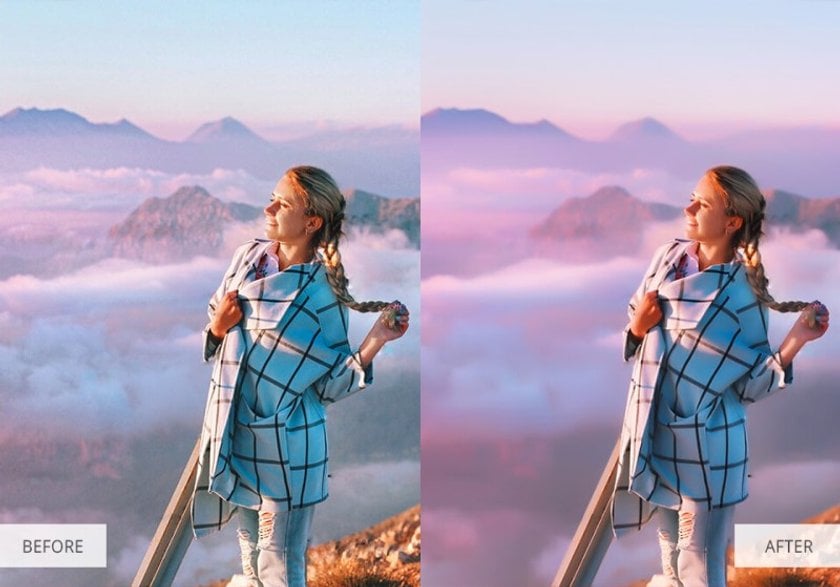 If you are interested in working with colors, you will like this collection. It will add warmth and an antique look to your pictures. Get this set of free Photoshop actions right now!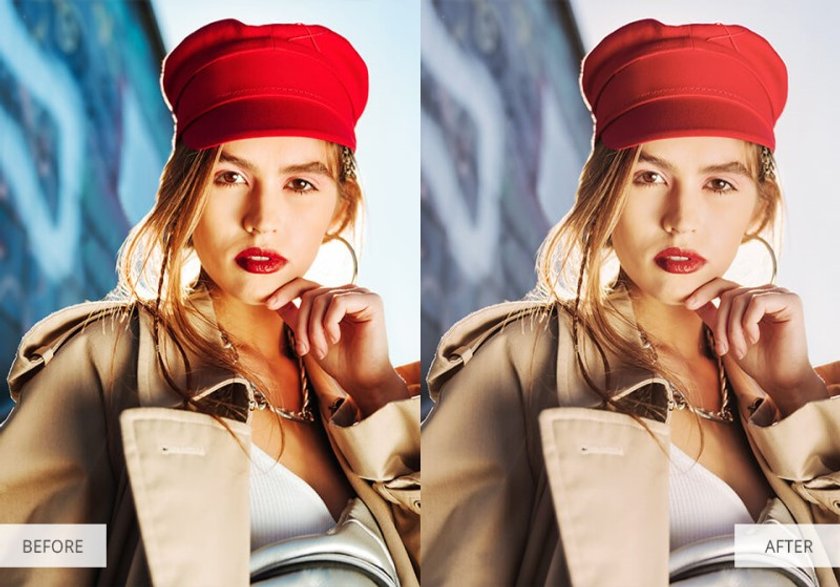 Using this collection, you can quickly and easily add a vintage vibe to your images without the necessity to over-compromise the message in your photos. It will be perfect for those who are willing to create photos with old-school values. There are 3 different vintage effects in this collection: Light Pink, French Mauve, and Cool Retro. This pack includes only the best actions.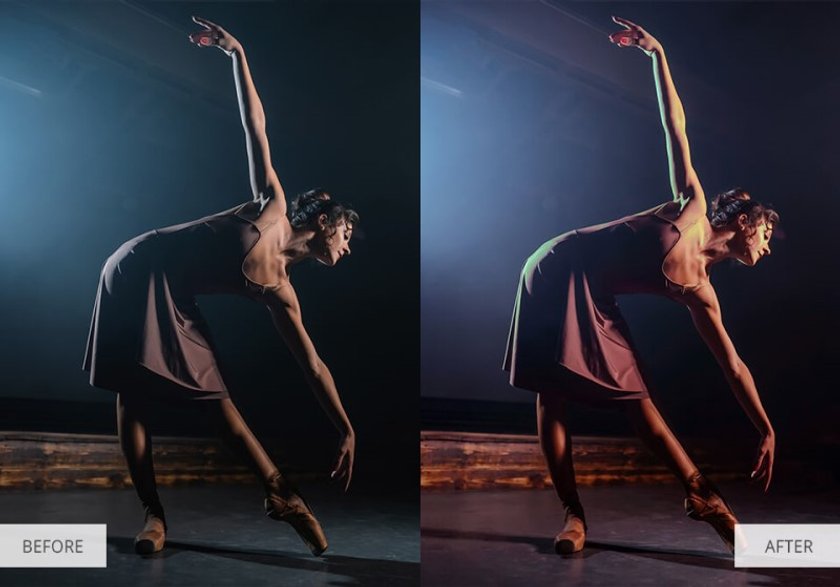 Using this free Photoshop action, you will be able to highlight the details in your picture and make them more contrasting, emphasize the colors of your smartphone photos and add brightness to them.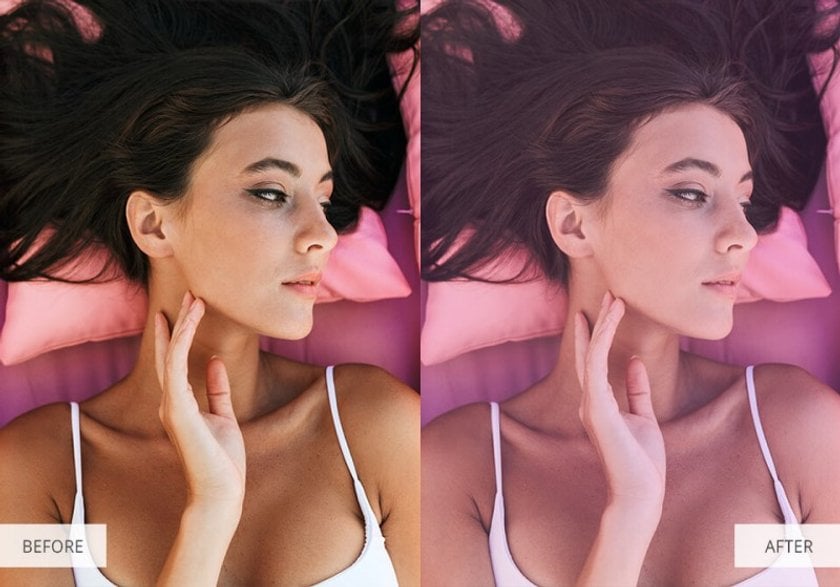 These free actions for Photoshop will improve the look of your images by making them sharper. There are 48 actions in this collection. You can use them for photos taken both on a smartphone and a digital camera. Just process your photos with this free option!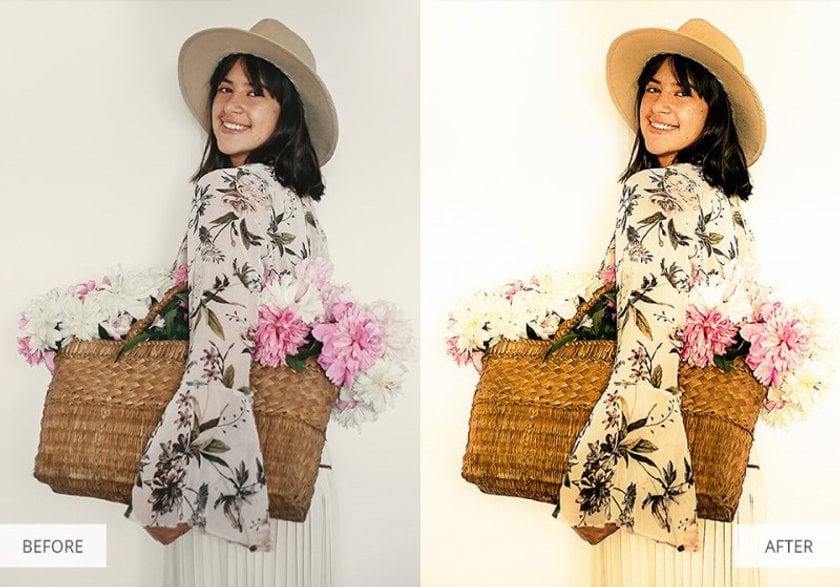 This free action will add a cinematic effect to your portraits and make them look like scenes from a film.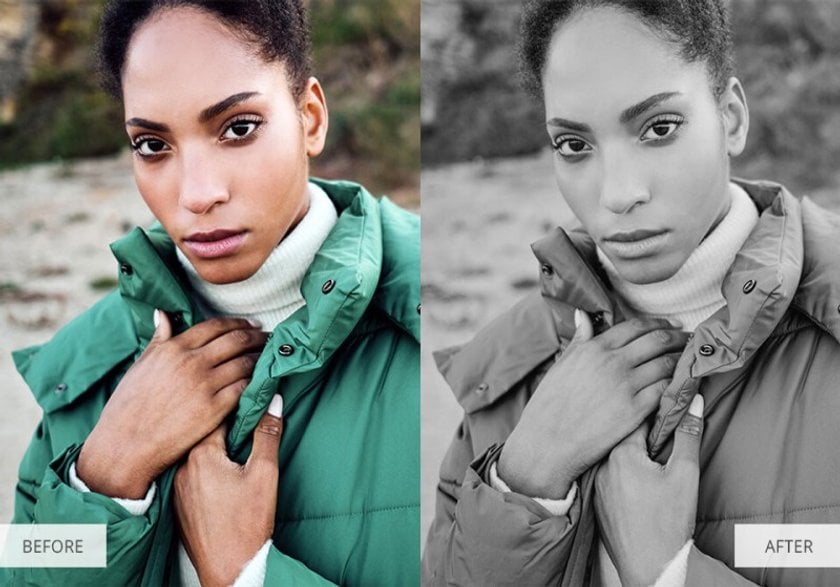 These free Photoshop actions will add a beautiful matte effect with a light leak to your photos. Such an effect is popular among newborn and wedding photographers. But you can use these actions for any type of photography.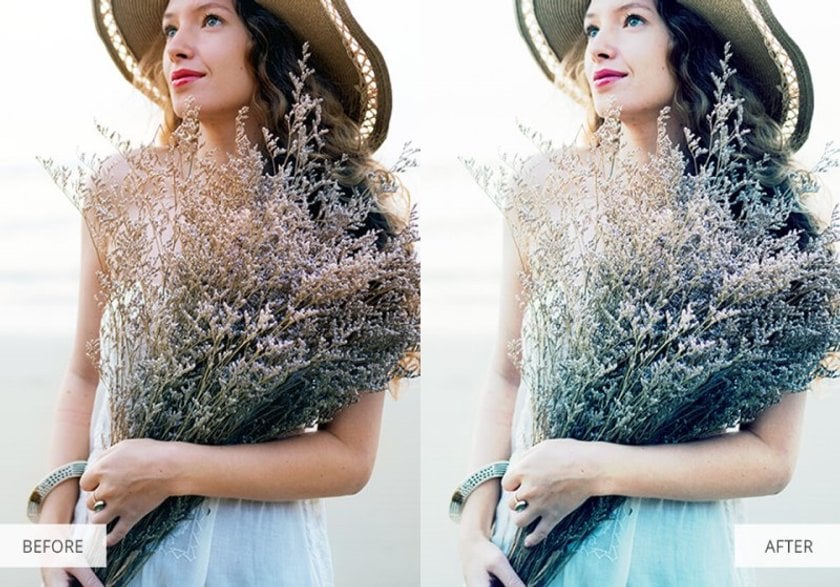 These actions are similar to Instagram filters. Because you use them in Photoshop, you can adjust all the effects and use them without affecting the quality of your photos, like on Instagram.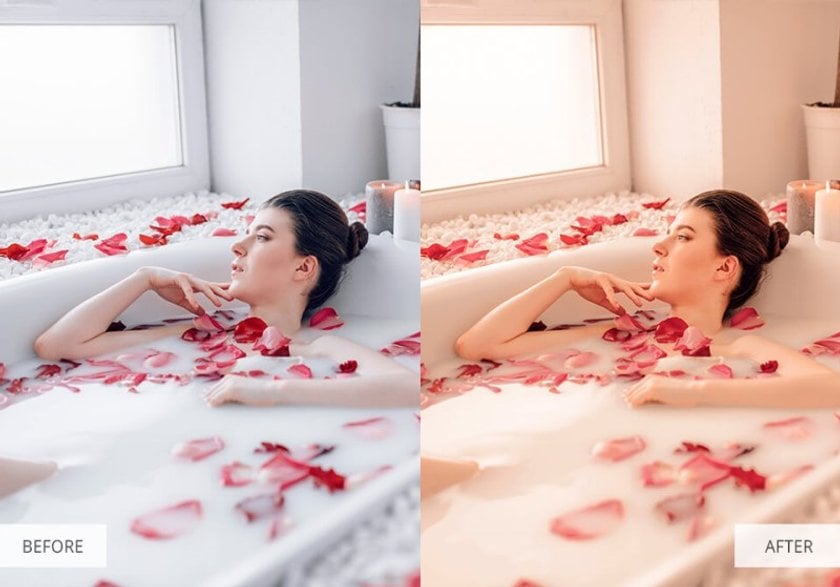 Use this unique Photoshop action. This is a perfect collection for studio photos. It includes actions for color correction, using which you can easily decide how you want your picture to look. Besides, you will see actions for photo retouching that will work with layers so that you may just use the brush and adjust the texture of the skin, hair, and fabric of clothes.
If you have difficulties taking landscape photos in poor weather conditions, then these actions will be of great help to you. With their help, you won't have to adjust the settings according to the weather in order to make water, trees and mountains look organically in your picture. These actions will turn your photos into contrasting, sharp and saturated ones.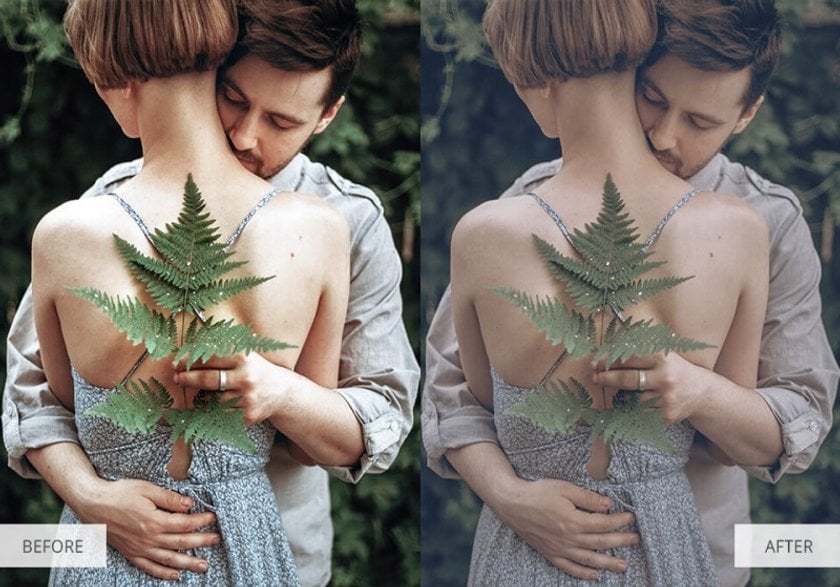 This is a nice action to help you enhance your close-up portraits. This free action for Photoshop will add a rich matte effect and make your picture deeper and more atmospheric.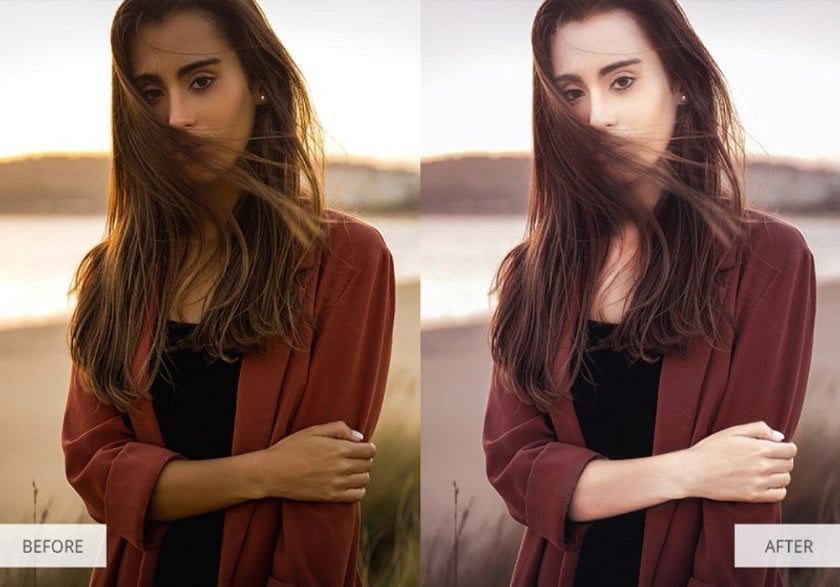 This is a truly unique action that is suitable for all kinds of photography. It adds brightness and a gentle blue tint to the photo.
FAQ about Free and Paid Photoshop Actions Packs
If you want to use these free Photoshop actions, but you still have some questions, now we will quickly answer them.
How to Use Action in Photoshop?
Here's a brief description of how to use the best actions for Photoshop:
First, download and install the action (ATN file).

Select your original image and open it in Adobe Photoshop.

Load the action in the Actions panel, and select Load Actions from the drop-down menu.

Once the action is loaded, simply select one of the options in the Actions panel and then click Play to see the effect.

Allow the action to complete its work and make any necessary adjustments to the result.
As you can see, everything is very simple, even a beginner who does not know much about editing photos can manage. Now you can find many Photoshop actions for free.
Do you want to install Photoshop actions faster? To do that, you need to open the folder with the action and just double-click the file. Photoshop will launch and the new tool will appear instantly. That's it, the installation is complete.
How to Download Free Photoshop Actions?
Did you find what you were looking for in the free Photoshop actions Download request? Download the action to your computer and choose a folder where you want to save it. Right-click on the archive file to select Extract contents from ZIP file archive, and unzip the action – you will find a file with the ATN extension inside. That's it, the downloaded Photoshop effect is ready to use.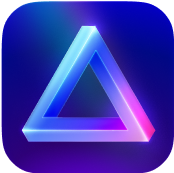 Advanced yet easy-to-use photo editor
view plans