In today's digital age, where photography has become more accessible and popular than ever before, having the proper photo-enhancing tool is crucial to elevate your image-capturing skills.
Photography enthusiasts have long appreciated Adobe Lightroom, but it's not the only player in the game. We're here to explore a range of alternatives to Lightroom for Mac and Windows users so it is possible to choose the perfect photo editing tool to rely on during your exciting creative journey.
The following article will help you discover photo editing software like Lightroom that offers powerful editing capabilities, innovative features, and user-friendly interfaces. Whether you're a professional photographer looking to switch or an enthusiast eager to explore new options, the information about the best Lightroom competitors will be extremely useful for achieving new horizons in your photographic art.
We will also talk about Luminar Neo and its modern AI features in the context of Lightroom replacement and whether this tool deserves the title of the best Lightroom alternative in 2023.
Adobe Lightroom: Pros And Cons
Before diving deeper into the world of programs like Lightroom, we need to understand what makes this particular software so loved by photo editing enthusiasts.
Lightroom distinguishes itself through its vast editing tools, catering to a wide spectrum of photographic needs. These tools range from fundamental adjustments like exposure and color correction to more sophisticated techniques such as gradient filters and spot healing, empowering photographers to undertake comprehensive transformations of their images.
Furthermore, Lightroom's organizational prowess is a boon to users, streamlining the process of importing, cataloging, and managing their complete photo collection. With features like applying keywords, tags, and star ratings, locating and organizing your images becomes effortless and efficient. This robust organizational framework simplifies the management of your photography library and ensures that your creative assets remain readily accessible and well-organized.
Lightroom offers cloud storage and synchronization across devices, a significant advantage for photographers working on multiple devices. This feature ensures that your edits and organization are accessible wherever you go, whether on your computer, tablet, or smartphone.
As Lightroom is considered a commonly used photo editing software, it has a big community of users and a lot of helpful resources that will help you integrate within it easily. You can find tutorials, presets, and tips from fellow photographers, which can significantly speed up your learning curve and enhance your editing skills.
It is also compatible with other kinds of photo editing software, which allows photographers to take advantage of this software's retouching and compositing capabilities without leaving the workflow of Lightroom. For instance, Luminar Neo, one of the alternatives to Lightroom we will observe later in this article, can also serve as a plugin for Lightroom. So why choose if you can take advantage of both?
At the same time, Adobe Lightroom has its drawbacks that make users consider Lightroom replacement for photo retouching,

For example, its subscription-based pricing model. To access the full range of features, users must commit to a monthly or annual subscription, which can become expensive over time.
The extensive feature set of this tool may need to be revised for newbie photo editors. It is also very resource-intensive, so upgrading your computer for the software to work smoothly might be necessary. Also, the AI-powered functions of Lightroom may not be as advanced as those offered by some newer alternatives. If you rely heavily on AI-powered editing features, you might find other software better suited to your needs. Which one? Let's see in the next section.
Top 10 Windows and Mac Lightroom Alternatives
1. Luminar Neo
According to the users' reviews, one of the main advantages of this software is its cutting-edge AI enhancements: Luminar Neo's AI-driven features are at the forefront of photo editing technology. It simplifies complex editing tasks, such as enhancing skies or improving portraits, with remarkable ease.
Luminar Neo is also praised for its user-friendly interface, designed to be intuitive, making it accessible to those photography enthusiasts who are completely new to enhancing pictures. It provides a streamlined editing experience. But this software is for more than just newbies and hobbyists. It also offers advanced retouching capabilities, including AI-driven skin smoothing and background replacement.
While Luminar Neo excels in photo enhancement, it may not provide the same extensive organizational features found in Lightroom. However, as stated above, it is possible to incorporate Luminar Neo into your Lightroom workflow by installing a plugin.

Luminar Neo's price starts at $59 for a one-time purchase, offering a cost-effective alternative without recurring subscriptions.
A 7-day Free Trial of Luminar Neo with No Obligation
Get it now!
2. Capture One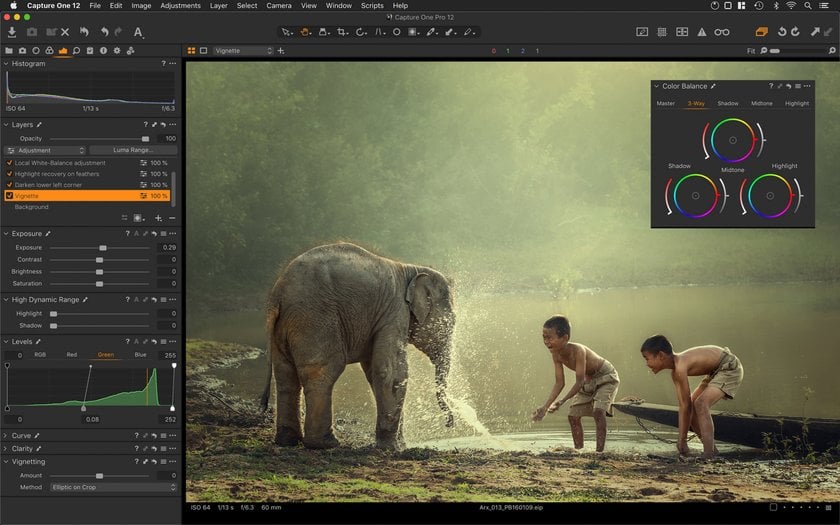 Capture One is renowned for its exceptional color grading tools, allowing photographers to achieve precise and nuanced color adjustments. It offers robust tethered shooting capabilities, essential for studio photographers and those requiring immediate image transfer. This photo editing tool also handles high-resolution files seamlessly, making it a preferred choice for medium format or high-end DSLR users.
However, compared with Lightroom, the learning curve of Capture One may need to be clearer and more complicated, especially for those new to photo editing.
The pricing plans for Capture One start at $20 per month, with a perpetual license option available for $299.
3. DxO PhotoLab
DxO PhotoLab's highly efficient automated correction features make it an excellent choice for photographers who want to edit their pictures quickly without being forced to compromise their quality. This tool excels in noise reduction, particularly with its DeepPRIME denoising technology.
However, it is necessary to note that DxO PhotoLab may not offer the same level of local editing tools found in Lightroom, limiting detailed adjustments to specific areas of an image.
Regarding price, the Essential edition starts at DxO PhotoLab at $129.99, while the Elite edition is priced at $199.99.
4. ON1 Photo RAW
ON1 Photo RAW seamlessly combines photo organization and editing in one package, simplifying the workflow for photographers. This photo editing software provides a comprehensive solution, from image import to final edits, making it an efficient choice for photographers seeking an integrated experience.
But as an advanced photo editor, remember that beginners may have a steeper learning curve.
ON1 Photo RAW 2023 is available for $99.99, with upgrade options for previous users.
Your Solution for Effortless RAW Image Transformation
Apply it Now!
5. Affinity Photo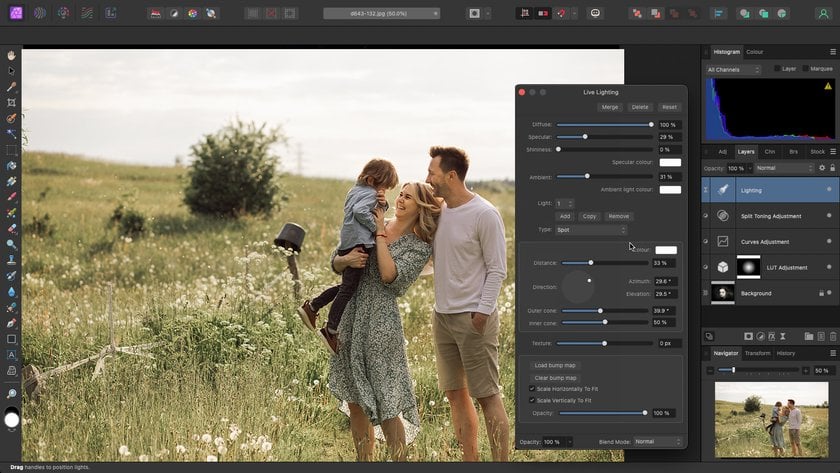 Affinity Photo is a professional-grade image editor with advanced retouching, compositing, and support for various file formats. However, Affinity Photo is primarily an editing tool and may not provide the extensive organizational capabilities of dedicated cataloging software like Lightroom.
A one-time purchase at $54.99 makes Affinity Photo an affordable alternative for those looking for powerful editing capabilities for a limited budget.
6. Exposure X7
Exposure X7 stands out for its film emulation and creative editing tools, making it perfect for photographers seeking a vintage or artistic look. However, this photo editing software may offer different advanced file management and organization features than Lightroom, which can be a drawback for photographers with large image libraries.
Exposure X7 is priced at $119 for new users, with discounts available for upgrades.
7. Darktable
Darktable is a free, open-source photo editor and organizer, making it a cost-effective option for photography enthusiasts who are not ready to spend money on photo editing, whose budget is limited, or those who edit pictures casually occasionally as a hobby.
The user interface may not be as polished as some commercial alternatives. The differences in the interface performance may be significant, depending on the platform the software is used on.
8. ACDSee Photo Studio
ACDSee offers robust organizational capabilities, allowing photographers to manage their image collections efficiently. But as for advanced editing features, they are less extensive than those found in Lightroom or other specialized editors.
The pricing plans for ACDSee start at $89.95 for a perpetual license.
9. Zoner Photo Studio X
Zoner Photo Studio X provides an intuitive interface, which makes it a great option for beginners and hobbyists. But Zoner Photo Studio X is not the best variant for photographers of the advanced skill level, as some of the advanced retouching features found in more specialized editors are absent here.
This tool is affordable for low-budget users because it starts at $4.99 per month or $49 for an annual subscription.
10. ZBrushCore
ZBrushCore excels in 3D sculpting and modeling, making this tool an excellent option for artists and designers who want to create intricate 3D models. This tool allows for high-resolution detailing with fine details. ZBrushCore offers various brushes and tools, making it versatile for artistic styles and projects.
ZBrushCore can have a steep learning curve, especially if you are new (or not interested) in sculpting and modeling. So, if you want to retouch a picture, you will easily get lost. This software can be resource-intensive, so users may need a powerful computer to handle intricate projects.
ZBrushCore is available for $179 for a perpetual license.
Bottom Line
The world of photography offers many options for seeking the best Lightroom alternative. While Lightroom is still a powerful choice, it has plenty of rivals in the modern photo editing software market. That is why everyone who wants to integrate into the world of photography should know how to make an informed choice that suits their unique needs and preferences.
We strongly urge you to explore the alternatives we've outlined and put them to the test, ultimately discovering which aligns most seamlessly with your unique photography journey. It's important to keep in mind that the perfect Lightroom replacement is the one that amplifies your creativity and empowers you to craft remarkable and unforgettable images. Therefore, embrace experimentation to elevate your photography to unprecedented heights and unlock your full artistic potential.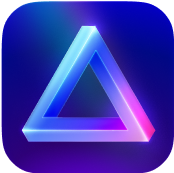 Advanced yet easy-to-use photo editor
view plans