Experts say that by 2020, unmanned aerial vehicles will make up one-third of the world's military aircraft. Today, hundreds of companies are involved in the creation and production of 600 types of drones.
LEARN WHAT'S NEXT!
And never miss the most exciting updates from Skylum.
Congrats, you're in!
Don't forget to check your inbox from time to time.
Sorry!
Looks like you're subscribed already
Error! This is sad. Looks like you've earlier unsubscribed from Skylum emails. Please resubscribe here.
Drones are intended for a wide range of investigative functions. They are autonomous, capable of moving in places completely unsafe for a human, and can remain without support for a long time (some drones can even be charged from the sun). Future progress will lead to the ability of drones to perform many important functions: monitoring weather conditions, delivering goods, and conducting other activities autonomously.

Experts say that by 2020, unmanned aerial vehicles will make up one-third of the world's military aircraft. Today, hundreds of companies are involved in the creation and production of 600 types of drones.
However, drones are conquering not only the military sphere. These devices are used for commercial purposes as well as for personal entertainment. Drones can perform many tasks: shooting video and photos, interfering with radio signals, fighting fires, and performing other mechanical work. The two main reasons why these sorts of tasks will increasingly be trusted to unmanned aerial vehicles are economy and safety.
Due to the wide popularity of drones, they've captured even the lowest price segments, becoming a product available to the masses.
There are a large number of quadcopters manufactured by many brands; they differ in design, functionality, and cost. This article will help you understand which drone is right for you.
Types of consumer drones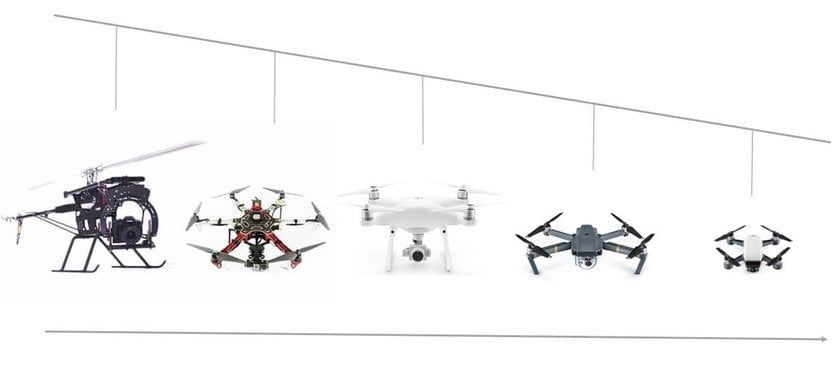 Consumer drones can be roughly divided into five categories:
Mini or beginner drones

Hobby drones

Professional drones

Selfie drones

Racing drones
Let's look at each type in detail.
Mini drones
These are tiny palm-sized devices. They have excellent maneuverability but can fly only for short distances. This type of drone is meant for beginners, though sometimes they're used for filming indoor events.
A distinctive feature of all quadcopters is the presence of four rotors. The term mini is applied to drones with a weight of less than 100 grams (3.5 ounces) and a length/width of no more than 15 centimeters (5.9 inches). Mini quadcopters can be useful for flying in a limited space, for example in an apartment. Most have a purely entertainment purpose.
Among mini drones, the Altair Aerial AA108 deserves special attention.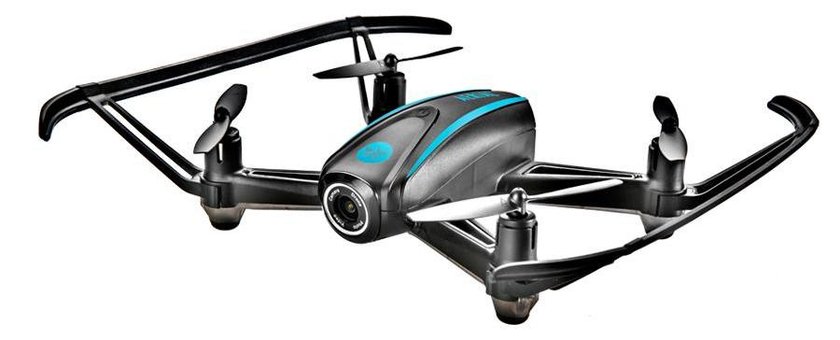 The AA108 is the perfect drone for operators of any skill level and comes complete with modern features and long-term customer support. The AA108 is durable, easy to fly, and features innovative usability functionality like one-button takeoff and landing, headless mode, and multiple flight modes.
This drone is made of strong plastic and can easily withstand crashes. The excellent design gives this drone a more stable flight than similar models, and it can even land itself when the battery's about to die or there are issues communicating with the controller. You'll also be surprised by the camera quality.
Features:
120-degree wide-angle 720p HD camera

Low battery alarm

Good altitude hold

Custom route modes

3 skill modes
Specifications:
Dimensions: 25.7 x 23.1 x 11.2 cm/10.1 x 9.1 x 4.4 in

Charging time: 30–50 minutes

Flight time: Up to 20 minutes

Control range: Up to 100 meters/328 feet
Hobby drones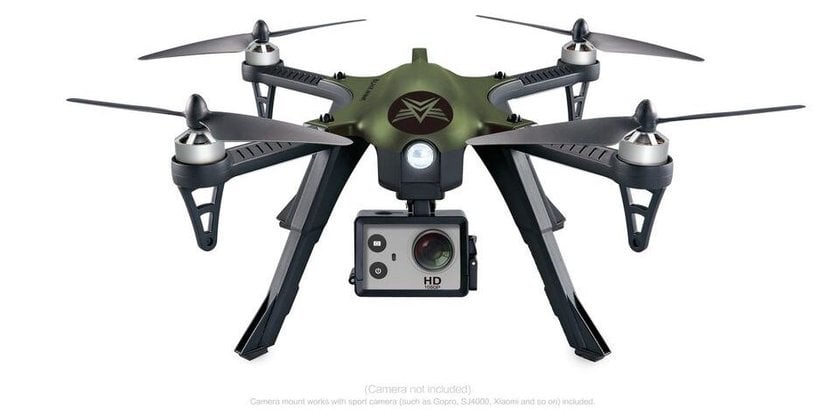 Drone flying is becoming a popular form of entertainment. There's a growing band of amateurs piloting machines above our heads. Hobby drones are usually mid-sized vehicles with large propellers and wider frames. Most of these models have a camera, but you shouldn't expect high-quality pictures and video. Newer models include features like headless flight mode, altitude hold, and takeoff/landing buttons for easier operation.

One of the best drones in this category is the Altair Aerial BlackHawk.

This quadcopter is perfect for pilots with intermediate to advanced skill levels and is good for long flights, extreme speed, and great control. However, it actually comes with no camera at all – just an attachable mount for an action camera. But unlike some of its competitors, the Blackhawk doesn't exclusively work with GoPros; it's designed to work with any similar action camera.
With a heavy metal frame, significant speed, and a long range, the Blackhawk is the fastest and most fun drone you can have for a decent price.
Features:
Brushless motors

Extreme speed and handling

GoPro compatible

Wind-resistant

Easy to control
Specifications:
Dimensions: 35 x 33 x 16 cm/13.8 x 13.0 x 6.3 in

Battery: 1800mAh

Flight time: 15–17 minutes

Control range: 300–500 meters/328–1640 feet
If you're a more experienced pilot, you may look at the Altair 818 Plus.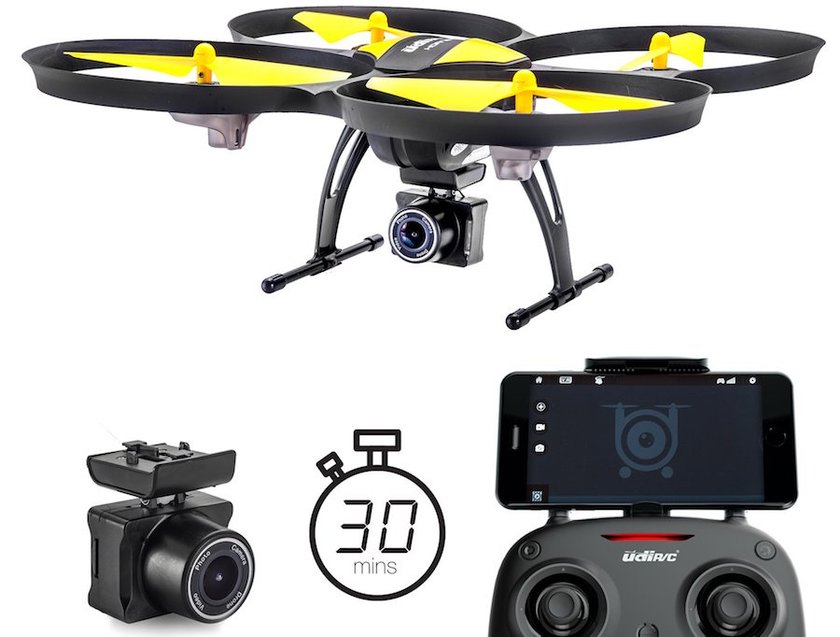 The Altair 818 Plus is a brand-new drone that immediately impresses you with its appearance and construction quality. It can be bought at a relatively affordable price. The 818 Plus is very easy to fly. The auto-takeoff feature works well, as does the altitude hold. You can fly it up to 15 minutes, which is perfect for longer photography shoots or even just for playing with it as a toy. This quadcopter is a perfect introduction to the world of video and photography.
Features:
Long flight time

720p camera

Stable flight

Durable construction

Altitude hold mode

Heading hold mode
Specifications:
Dimensions: 36.6 x 36.1 x 12.7 cm/14.4 x 14.2 x 5.0 in

Battery: 1000mAh

Flight time: 15 minutes

Control range: Up to 150 meters/492 feet
Professional drones
Professional drones are the pinnacle of technology. They're equipped with a host of functionality, made from high-quality materials, and capable of staying in the air for a longer time while filming high-quality videos. The most advanced models are equipped with cameras capable of shooting in 4K resolution which, combined with a number of other features, allows you to broadcast online and produce high-quality shots for large media projects. Professional quadcopters are used in shooting TV shows and movies and for reporting. These devices will be of interest to videographers and professionals doing high-quality shooting, tracking territory, performing agricultural surveys, and fulfilling other tasks. Such drones can be used even by a beginner, as they're protected from crashes and have GPS sensors.
It's possible to buy a professional drone at an affordable price, but professional models of the most popular brands are much more expensive than their simpler analogs.
One of the most popular professional drones is the DJI Phantom 4.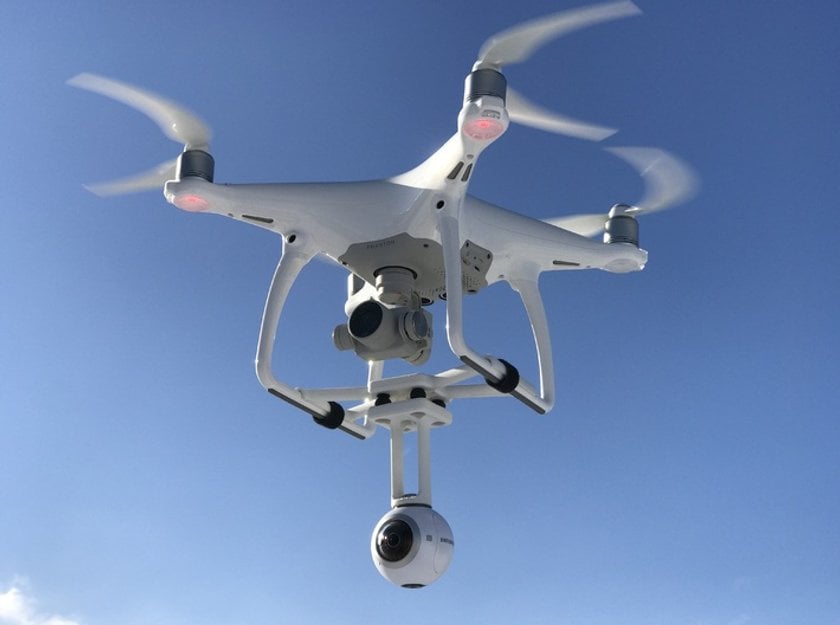 The Phantom 4 has become incredibly popular, as it's a well-thought-out aircraft with a large set of features and innovative technologies.
You'll enjoy shooting videos and photos from the air with this quadcopter. It's simply perfect for capturing pleasant moments (weddings, birthdays, and other celebrations), is capable of recording from a non-standard perspective, and is widely used for business purposes:
- to create extraordinary videos to advertise businesses, real estate, and residential complexes;
- to diagnose the state of remote objects (roofs, towers, supports);
- for assessing crops and forests.
Features:
High-level aerial photography

4K ultra HD video

Auto return home button with GPS control

Gimbal stabilization technology

Built-in video editor
Specifications:
Dimensions: 38.1 x 22.1 x 7.1 cm/15.0 x 8.7x 2.8 in

Battery: 5350 mAh

Flight time: Up to 28 minutes

Control range: Up to 3.5 kilometers/2.2 miles
Selfie drones
Quadcopters for selfies are drones with a follow-me function. These drones are able to take selfies and record wonderful video while following the pilot. Drones for selfies follow a control panel or a smartphone. Some smarter drones, like the DJI Phantom 4, are able to follow an object without being tied to a console or smartphone. You just need to select an object on the tablet and the drone will record while following it.

Selfie quadcopters can be used for competitions, when riding bicycles or driving, and for getting beautiful shots while sailing or surfing. In this case, the drone follows you and takes great photos or stunning video.
Selfie drones are the most compact; they're often pocketable. They're controlled by smartphones but not designed for long flights. Their main task is shooting photo and video of a person. Often, selfie drones are purchased by people who like to travel alone. These quadcopters are quite affordable.

We recommend the DJI Spark for selfie photos. The Spark is a small drone but has a lot of smart features. It's able to recognize gestures and avoid obstacles. As it's small, lightweight, and portable, it can get into the air very quickly. The DJI Spark has some safety features that you normally see only on bigger drones: functions like return home and precision hovering and landing, not to mention obstacle avoidance, which until the Spark was unheard of in a quadcopter of this small size.
It's not an exaggeration to say that the Spark is probably the most user-friendly selfie drone on the market today.
Features:
Lightweight and small

Supports gesture control

Takes automated shots

GPS stabilization

Smartphone controlled
Specifications:
Dimensions: 14.3 x 14.3 x 5.5 cm/5.62 x 5.62 x 2.16 in

Battery: 1480 mAh

Flight time: Up to 15 minutes

Control range: Up to 2 kilometers/1.24 miles
Racing drones
This is a separate type of quadcopter with small dimensions (around 25 cm/9.8 in) aimed at high-speed track transmission. Racing drones are controlled using a first-person view. This system includes a camera, video transmitter, and receiver, which converts the signal into a video. Thus, you can observe what's happening in real time and, control the drone by receiving video from the camera.
When selecting a racing drone, first of all, pay attention to the size of the frame, the controller, and the power of the motors. Criteria such as range is hardly taken into account, since flights are carried out mainly at short distances.
Thanks to the powerful brushless motors that quadcopters are equipped with, they're not afraid of large gusts of wind and transmit high-quality video without interference and delays. Racing drones transmit video instantly so that pilots can respond immediately to obstacles.
We recommend paying attention to the Walkera F210.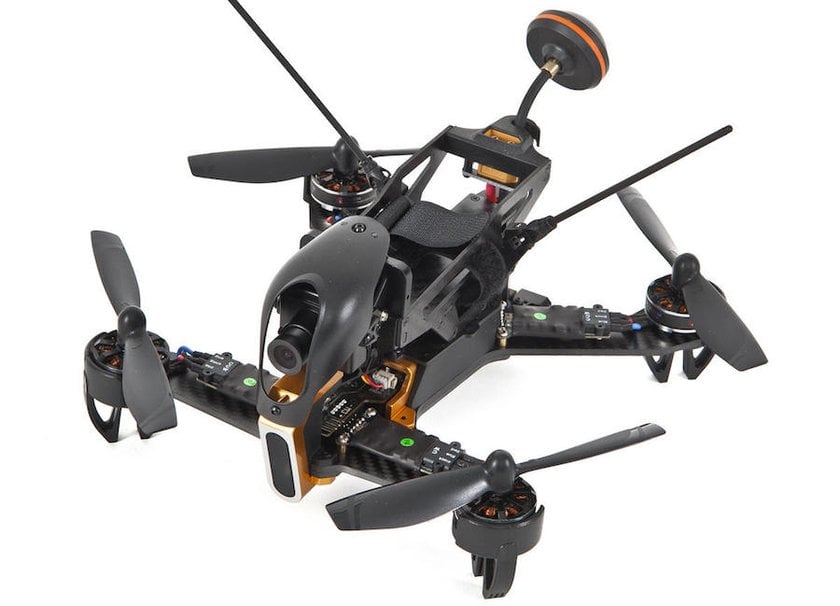 The Walkera F210 is a lightweight, fast, and maneuverable quadcopter for professional FPV racing. It's equipped with 2500KV motors and a 4-cell battery, which gives an amazing thrust-to-weight ratio.
The small size of the F210 and its low weight are natural protection against damage from falls, and the durable carbon fiber frame helps to keep safe not only the quadcopter itself but also its on-board technology.
The FPV system of the Walkera F210 deserves separate attention.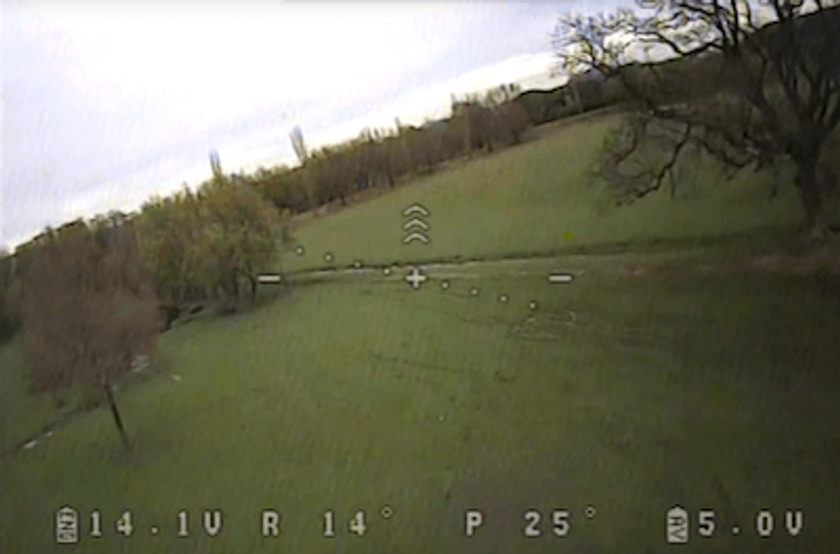 The camera installed in front of the drone has 700TVL resolution. This is quite enough for excellent video transmission to the FPV monitor or pilot's video glasses. A distinctive feature of this camera is the night vision mode, which enables night flights.
You can easily master flying with the F210, as the quadcopter is controlled through a modern SP Racing F3 sports flight controller that has special settings for both calm flights and extreme races.
Features:
High speed and small weight

700TVL FPV HD camera

Stable flight

Durable construction

Resistant frame design

Real-time video transmission
Specifications:
Dimensions: 45.7 x 36.3 x 14.0 cm/18.0 x 14.3 x 5.5 in

Battery: 1300mAh

Flight time: Up to 9 minutes

Control range: Up to 800 meters/0.5 miles
When choosing a drone, pay attention to the following features:
Flight range. Range varies from 30 meters/100 feet to a kilometer or more. A quadcopter with a short range is well suited for beginners or for those who plan to use it indoors.
Flight speed. You're unlikely to find the maximum flight speed of a quadcopter in its characteristics, but it's logical that lighter models without a huge number of accessories will be able to accelerate much better than cumbersome devices. So decide for yourself what you need more: speed for racing or additional equipment.
Flight time. Most models have a flight time of 10 to 15 minutes, after which you need to recharge or replace the batteries. The charging time is about an hour on average. Expensive models have the longest flight times of up to 50 minutes. If you need more time to shoot, buy a more expensive model or have a spare battery.
Number of blades. Models with four blades are the most popular and probably the most comfortable to use, but there are also models with two, three, six, and even eight blades. When choosing a drone, decide what power you need and you can easily determine the number of blades. But don't forget: the more power, the faster the battery is discharged.
Size. If you're buying a drone for children, choose a mini drone. For amateur shooting or for beginners, small and medium-sized drones will fit perfectly. And for professional filming, buy a larger drone.
Gyroscope. Not all models have a gyroscope, which is a sensor that allows the drone to fly more steadily. For example, in windy weather, a quadcopter with a gyroscope will simply hang in the air; without such a sensor, it will pull away and may crash.
Camera. Not all quadcopters have a camera. If you buy a drone simply as a flying machine, for example for a child or for racing, then you won't need a camera. But if you plan to shoot photos and video, then you have to choose among models with high-quality cameras to get good results.
Repairs and spare parts. No matter how sad it may sound, everything can break. When buying a drone, check whether there are spare parts for this model and if there's a service center nearby. Many stores now provide this service as an extension of the warranty period, which is a good solution at an affordable price.
If you've purchased a quadcopter, then don't forget about the basic rules of use:
Before the first flight, set up the drone properly and check that there are no spare parts left in the box.
If you're going to use the drone away from home, be sure to bring extra batteries. If you have a car, you can use it to recharge batteries.
If you're a beginner, it's best to start flying in an open space. It will be easier for you to manage the drone and not collide with any dangerous obstacles.
For beginners, it's recommended to use a stable control mode for a while so you can quickly learn your new device.
Don't use drones in very windy weather.
Avoid flying in crowded places until you have completely mastered the drone.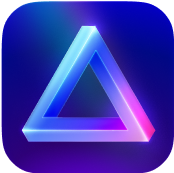 Advanced yet easy-to-use photo editor
view plans