With Luminar's noise reduction module, you are able to effectively reduce the amount of noise.
Noisy images are a real pan for photographers. No matter how expensive your gear is, chances are you still get some noise in your photos taken in challenging lighting situations. This noise, while subtle at times, can turn an otherwise great image into a visual mess.
Luckily, if you shoot in RAW, you can easily recover some of the detail that is lost to noise. There are a number of very capable noise reduction programs available for Macs. Some of these offer the very basic of options that you have to tweak to get the best possible results, while others are much more advanced. However, if noise reduction is your primary concern, chances are most people will vouch for the excellent Luminar – a software which prides itself on easy and automated noise control.
Corrections Without Moving a Single Muscle
If you don't shoot in RAW and would still like a program to fix your images for noise, Luminar has got you covered on that front too. While not nearly as dramatic as with RAW files, Luminar also has a number of noise-correcting modules for Jpeg images.
More than Noise Reduction
Luminar is not only great for noise reduction, but is also a very capable RAW image editor. It has all the necessary controls and sliders that you find in the competition. You can fix your images' colors, exposure, contrast, saturation, white balance, temperature, and much more. You can go further with your images by using film effects and the various presets within the program.
Noise reduction is by far one of the best features of Luminar, and that's why the company provides an affordable solutions to use that feature on other software as well. You can add Luminar' correction plug-in to the Lightroom or Photos app that comes installed on your Mac.
Image noise can become a real problem when you have to shoot in very dark situations with moving subjects or have to make large prints of your photos. You can use other programs for noise reduction as well. Lightroom, Capture One, Affinity Photo as an alternative, and a lot more can help you get the noise in your images under control. These programs provide similar overall image adjustments for RAW files, but if you want a software that is known for its noise reduction capabilities and can handle the work on its own, then it becomes difficult to beat Luminar.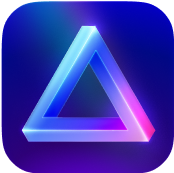 Advanced yet easy-to-use photo editor
view plans