Check out how Luminar will empower your creative process.
Do you already own the Skylum Creative Kit and Aurora HDR? Are you wondering if you need Luminar, and what it will do for you? Perhaps you have seen a lot of news, screenshots, and sample images from Luminar and are getting curious about this new product and where it may fit into your workflow. Luminar is a wonderful addition to the Skylum family and you will see immediate benefits from using it. Let's discuss that a bit.
First things first: Luminar is an entirely new product
Upon using Luminar for the first time, it's immediately obvious that this is a very capable product that bundles a massive list of features and capabilities into an intuitive interface that's fun to use. It gives you a lot of control right at your fingertips. Although it may appear that Luminar shares some similar capabilities with the CK apps, Luminar is an entirely new product that goes well beyond what you might expect. This is not just a collection of features from the various CK apps. It's an entirely new way of doing things.
You can go from basic to advanced editing techniques in just a click or two, so that you can finely control the look of your photos. Use Luminar for simple edits, or dive into the advanced technology and apply more sophisticated techniques to your shots. Luminar will adapt and grow with you according to your needs.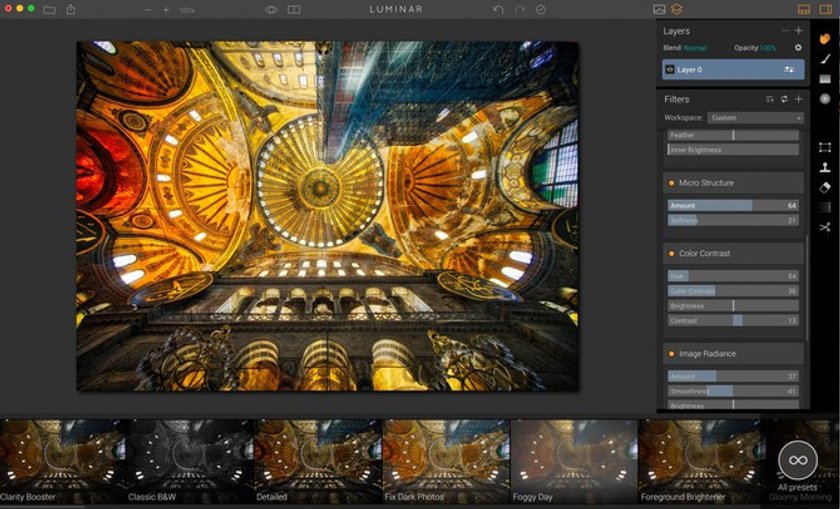 In addition to common tools, there are plenty of new tools and reimagined processes for refining your photos. You have Workspaces to quickly access common filters for specific types of photos. You have an extensive collection of filters, including new ones that are not available elsewhere. You have innovate filter masking as well as gradient and radial masking. You have the History Menu. You can easily access powerful object removal, clone and stamp, crop and transform and even noise reduction. There is a whole lot in Luminar to take advantage of, and your only limit is your imagination.
Amazing features and tools in Luminar
Luminar was designed from the ground up to be a single solution for your photo editing needs, and a very powerful one at that. But if you already have the Creative Kit and Aurora, you may wonder why you should purchase a new app. Here are some key features that really make Luminar a stand-out addition to your photo editing arsenal:
Extensive, innovative imaging filters
Workspaces for streamlined workflow
Professionally-created presets
Powerful editing tools
Basic to Advanced editing modes
Layers, blend modes and layer masking
Luminosity masking
Filter masking
Radial and gradient masking
Essential photo fixing tools such as crop, clone & stamp, spot healing and more
It's a very comprehensive photo editor that you will love using. It can adapt to your skill level and grow with you as your skills develop. As a novice user, start with just using presets on your photos and as your skills develop you can explore all the possibilities of workspaces, luminosity masking, filter masking and more. I suspect you will find yourself using it almost exclusively. It's that good.
Complete photo editing experience
Although Luminar is primarily a single exposure editor (it does not merge brackets like Aurora), it can be a part of your HDR workflow. You have the flexibility to use the powerful tools in both Aurora and Luminar to completely edit your HDR photos from start to finish. You no longer need anything else to complete a photo. This is a very powerful combination of the two best standalone editors on the market. Aurora is by far the best HDR photo editor and when you combine it with all the power of Luminar, your workflow and results will be impacted in a very positive way.
I have been creating and stylizing my HDR photos in Aurora, and then taking them over to Luminar for further development and inspiration. The breadth of tools in Luminar gives me new ideas to experiment with and I am finding myself taking my shots in all sorts of creative directions. If you use Aurora for single exposure editing, you can continue to do so and then perform touch up and other "end of the line" edits in Luminar (spot healing, clone and stamp, etc), though of course your single exposures can be edited in Luminar as well.
As the two flagship products from Skylum, you can rest assured that they are very complementary towards each other. Using them both has helped my workflow as well as my outcomes.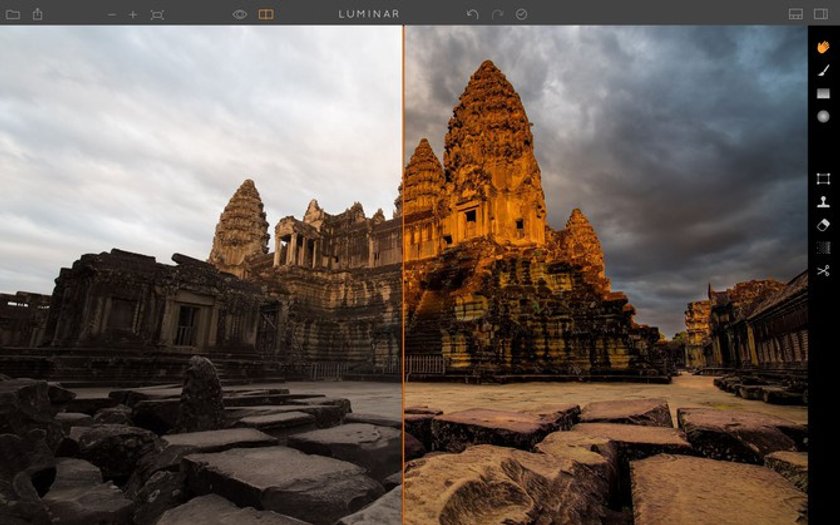 Unlimited creative flexibility. All in a single app.
What I am saying here is that the extensive capabilities built into Luminar give you unlimited creative flexibility, all in a single app. It's well worth experimenting to find what works best for you and your particular habits and needs. You may find yourself heading in new creative directions and employing techniques that you never considered using before. You will find that Luminar makes you want to process more and more images, because the results are fantastic.
So take advantage of the pre-order offer and add Luminar to your arsenal today. You will get some great bonuses at the same time, but more importantly, you will be in possession of an amazing product that you will literally cherish. It's a real game-changer and your results will speak for themselves.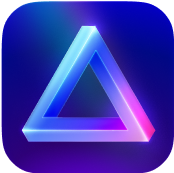 Advanced yet easy-to-use photo editor
view plans