Nicole S. Young shares ways to turn your art into side hustle or full-time business.
Most of us create photos for ourselves. Maybe we enjoy being outdoors, or just having a beautiful photo we can share online at the end of the day. But one of the benefits of photography is that it can also be enjoyed by others, either in the form of prints or posted online. And now, it's easier than ever to list your work for sale on the Internet.
Selling prints
Prints are one of the most obvious choices for selling photographs online, and there are so many ways to set this up. If you photograph portraits or images for clients and want to set up an easy way to sell your work to those clients, an online portfolio where they can review and order prints is the easiest way to go. Plus, they can share the link with family members who might be interested in prints of their own. Websites like SmugMug allow you to create private folders to make the experience personalized for your client.
SmugMug allows you to create your own public portfolio and also host private folders of images for clients.
For fine art photographers, you also have a lot of options as well. SmugMug also works as a place to sell, but if you are looking for something with more discoverability and a wider audience, you might want to consider Pixels.com (also known as Fine Art America), Darkroom.tech, or Society6.com. These websites allow you to create your own portfolio of images that can also be explored by users looking for prints but are not looking at a specific artist.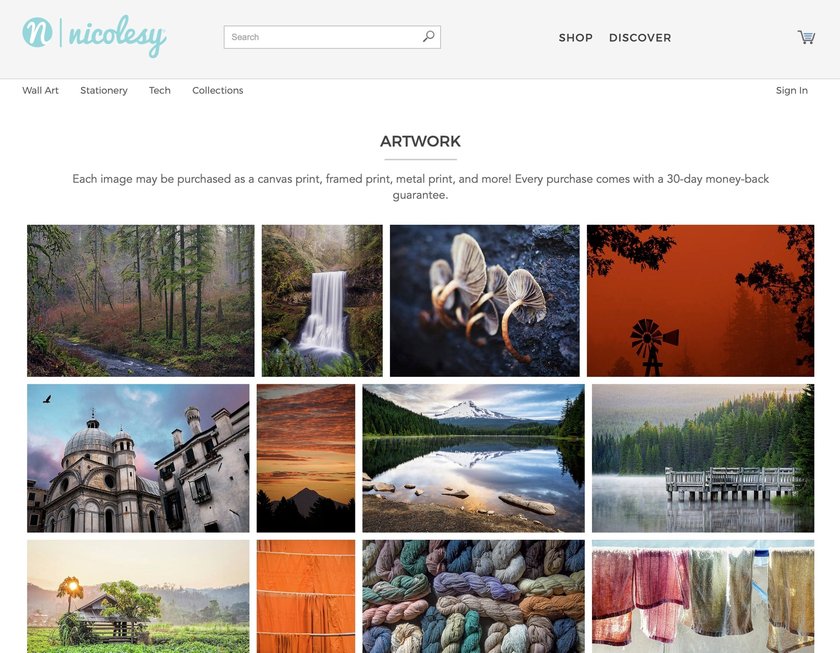 With Pixels.com you can create your own custom print site, and your photos are also available in the database for anyone to discover.
Another way to sell your prints online is to combine them into a coffee-table-style book. Websites such as Blurb.com allow you to do this very easily and without any book design knowledge. They have options to create soft-cover or hard-cover books and have excellent print quality.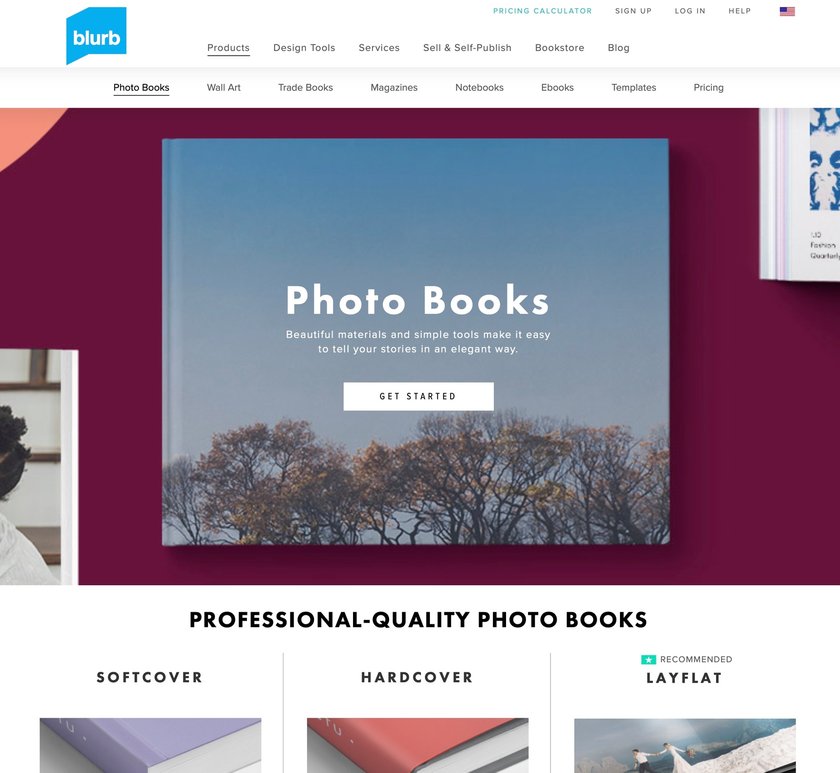 Creating photo books is easy with Blurb.
Etsy is another popular place for artists to sell their work. You can do a lot of different things and really make your creative vision shine by hand-printing your own photographs, framing, mounting, and giving your photo your own unique touch. (There are also services online that allow you to set up a print-on-demand option that does all of the backend work for you.) If you'd like to see a beautiful photography Etsy shop, take a look at Patricia Davidson's Etsy page Patricia Davidson's Etsy page. (She also has prints and other photographic items for sale on her website). Not only are her landscape images absolutely gorgeous, but she uses approachable thumbnail images, showing what her photos would look like when framed and on the wall.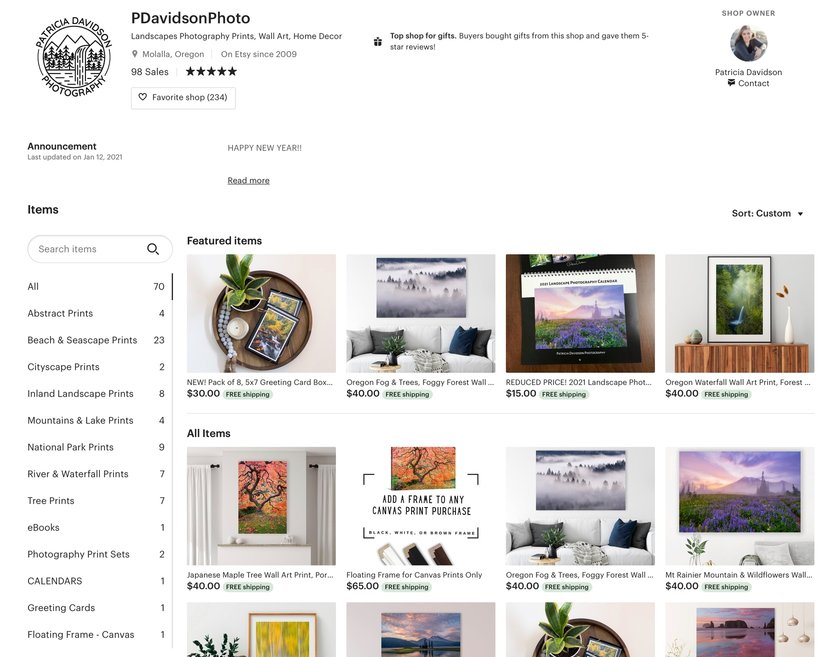 Patricia Davidson has a beautiful (and successful!) Etsy shop.
Stock photography
A nice way to earn a little bit of passive income is to contribute to a stock photography website. There are so many websites available these days that it's not difficult to find one that works for you. I got my start with photography by contributing regularly to a stock website, iStockphoto.com. I have since moved on to Stocksy.com Stocksy.com and while I no longer work as a stock-photographer full time, I still contribute to my portfolio.
The portfolio I currently contribute to is Stocksy.com.
Some may say that it's not possible to make money with stock photography, and that is not entirely true. Even with little effort, you can still earn a few dollars a month, setting you up with some good side-income that can be saved for a new lens or camera. However, starting now with stock and earning a full-time living is much more challenging. Photographers who make the majority of their income through stock are dedicated to what they do. They are not just uploading random photos from outings. Instead, they work with models, stylists, and create their photos on-location to create specific concepts and a series of photographs that are relevant and well thought out.
One of my most popular series of a utility lineman working on a power line took planning and coordination to make it happen.
If you are interested in earning money through stock photography, I recommend being deliberate with your photos, shoot specifically for stock, and try to build up a portfolio of over 1,000 images to start. That's likely when you will begging to see results.
Unique opportunities
If you're looking to work with clients to create photos, and need somewhere to start, or you just want to make a few extra dollars on the side, consider a unique site such as Fiverr or Snappr. While I've never personally used these services, they can be a good stepping stone for photographers who want to see what's out there.
Fiverr.com is a website that allows freelancers to offer services, starting at only $5.00, and the prices can go up from there. You can offer custom photos or even photo retouching services, all from the comfort of your home. Snappr.com, on the other hand, is a place for would-be-clients to book photographers on-demand, and has been dubbed by some as the "Uber of photography". While it's guaranteed that you will be paid considerably less than you would have you booked the client on your own, it's a good way to get your feet wet with working with clients and might be worth trying out if you're considering starting your own photography business.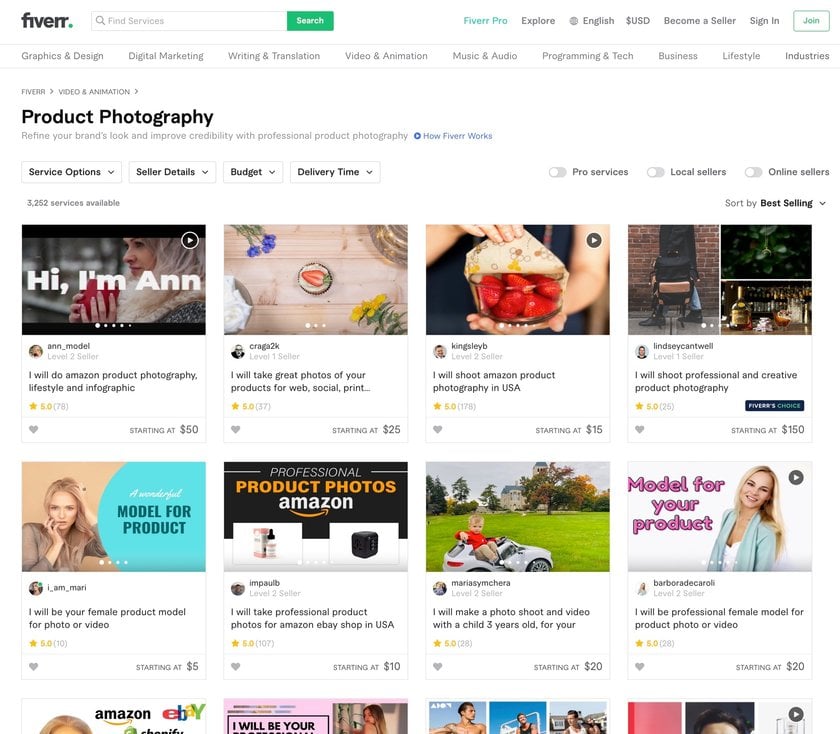 Market your work!
Regardless of how you earn money with your photography, one of the most important aspects is marketing. It doesn't matter if you sell prints, stock, or are working with clients, emails and reminders are a great way to make sure that your work gets noticed. You can use social media to spread the word, but my personal preference is with an email newsletter. There are several email marketing companies out there (I recommend MailChimp if you are just getting started), and a lot of them offer free accounts for a certain number of subscribers. Staying engaged with your audience helps them get to know you, and also they can see that you are actively working towards your craft, making it more likely that you will book clients and make sales.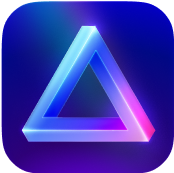 Advanced yet easy-to-use photo editor
view plans