When it comes to stock photos, many people frown upon their authenticity. There are also a lot of options, but how to choose the right one? Now we will tell you about the best stock photography sites.
Special offer! Right now you can buy Luminar Neo, the latest photo editor for Mac created by Skylum with a discount using the link below:
When it comes to stock photos, many people frown upon their lack of authenticity. However, if you've ever needed an image "yesterday," you're probably already well aware of its usefulness. Not everyone has the time or wherewithal to take their own photos or hire a professional photographer. And in these days of social media, even the smallest business can find themselves in frequent need of professional-looking photos. If this is you (and you haven't yet taken the time to find your favorite stock photo site), then you're probably wondering which one to choose. Here are a few of our favorites.
And by the way, if you want to find not only top stock photography sites but also easy photo editing software, check out our blog.
Paid Stock Sites
Images on paid sites generally are there because they deserve it. The searching and organization of these sites are excellent and the images are of the highest quality.
1. 500px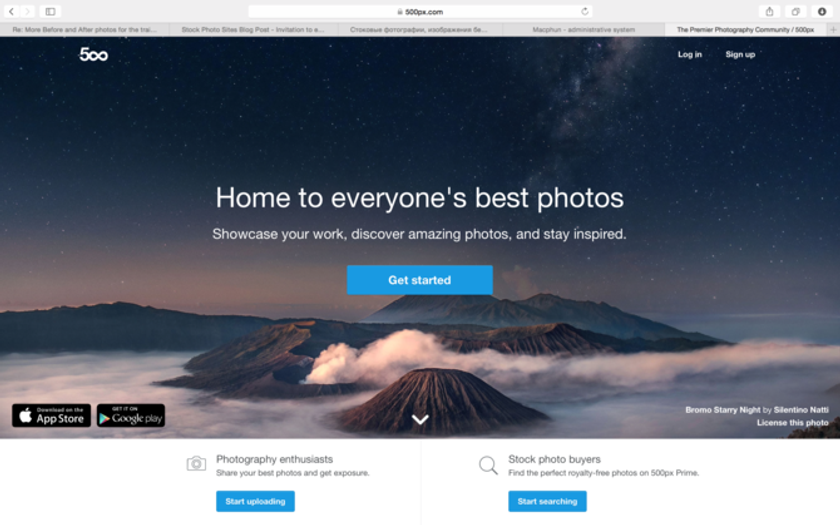 For original, high-quality images, 500px is our top choice. Just about every serious photographer in the industry has some kind of presence on 500px, and many participate in their marketplace. They have a number of high-end curated collections, and you can see how well each photo does in a large, long-standing community of photographers and buyers alike. Prices vary by size and collection.
Prices at the time of writing: For unlimited uploads, you can choose an auto-renewal option on a yearly basis at the regular price of $59.88. The Pro Membership is available at a monthly rate of $9.99.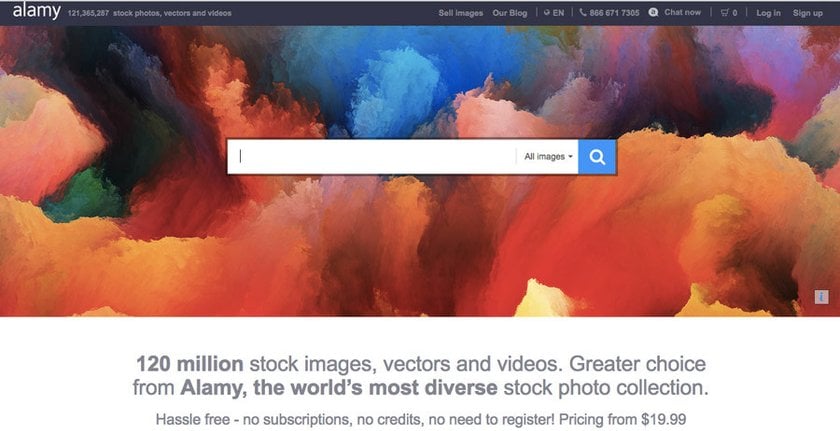 If you're looking for a culturally diverse selection of photos, Alamy can't be beaten. Every day they add more than 80,000 new stock images from photographers based in 173 different countries. Navigating through their site is easy for both the buyer and the photographer, and they offer both phone and chat support. They only sell per image, however, so no subscription plans are available. Their prices can be a bit steep, so if you need a high volume, they probably won't be your first choice. Still, for international and culturally diverse images, Alamy really is the best option.
Prices at the time of writing: $19.99 per image (for personal use). No subscriptions are offered.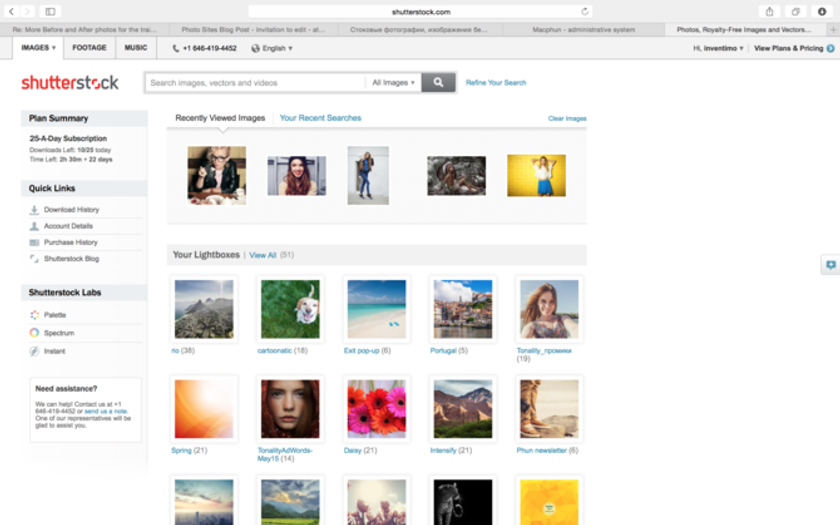 If you're looking for the best place to buy stock photos, this site is widely considered a top choice for its extensive collection and high-quality imagery. Prices at the time of writing: Shutterstock has three main options: On Demand, Individual Subscriptions, and Team Subscriptions. If you're only looking for one or two images, the on-demand option will be the cheapest at $29 for two photos. If you need images regularly, then a monthly subscription is your best bet with prices starting at $29/month for ten images per month. Like 500px, Shutterstock also offers enhanced licenses, which basically just give you more legal protection and more overall usage of the images you purchase. Check out one of the best stock photo and video sites!
4. iStock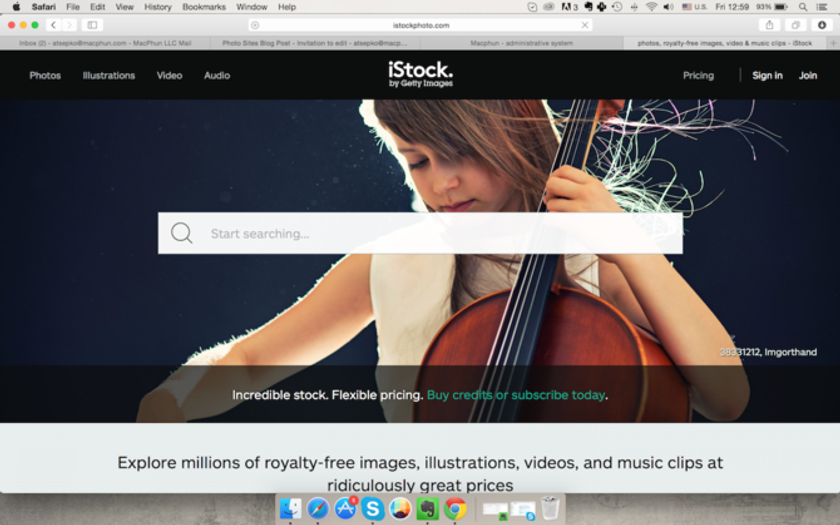 If you're looking for a high volume of royalty-free, low-resolution images for websites or e-newsletters, iStock is a great choice. While its parent company, Getty Images, specializes in high-res photos for traditional media, iStock tends towards the low-res end of things. If that works for you, their low prices, image variety, and versatility might get you hooked. So, when it comes to the best site to buy pictures, iStock is often recommended as a top choice for its extensive collection of paid stock photos, ensuring access to high-quality, professionally curated imagery.
Free Stock Sites
Free sites are great for quickly grabbing images to mock up web pages, storyboard ideas, user manuals, brochures, and similar projects. When downloading images from free sites, pay attention to the image usage rights. For example, some sites require attribution, some images may be for personal use (but not commercial), etc. You can find more information on stock photography at Stockphotosecrets.com – a real treasure chest for anyone related to photography craft.
By the way, you can't do most creative projects and sell them on the best photo stock sites without the best software for photo editing, so check out our blog for the best options right now.
1. Unsplash
Though Unsplash is fairly new, it's now one of our favorite free stock sites. Their images are all high resolution, and many of them are truly quite beautiful. So, Unsplash is known as one of the best stock photography websites that offer free, gorgeous pictures for personal and commercial use. All photos are released for free under the Unsplash license. This is one of the largest stocks today.
2. Burst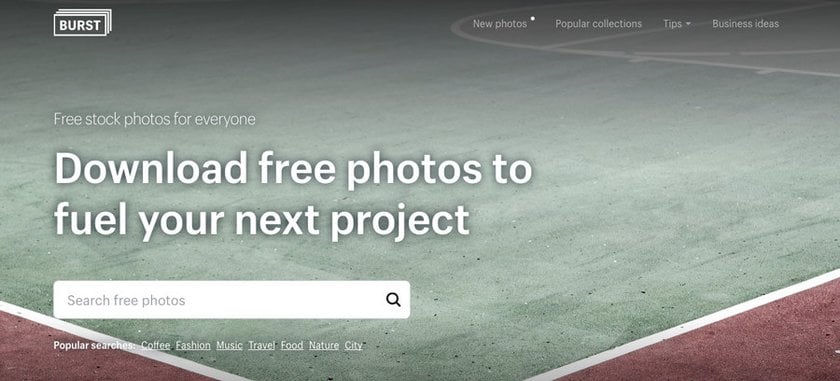 Burst was created by Shopify as a free resource for entrepreneurs. It has quickly gained popularity and is now regarded as one of the most popular stock photo sites, offering a diverse range of high-quality images for various creative projects. Most of their photos were taken in-house and are based on business themes. And, as all of their photos are licensed under Creative Commons CC0, you can use them for personal and commercial use with no attribution required!
3. Pexels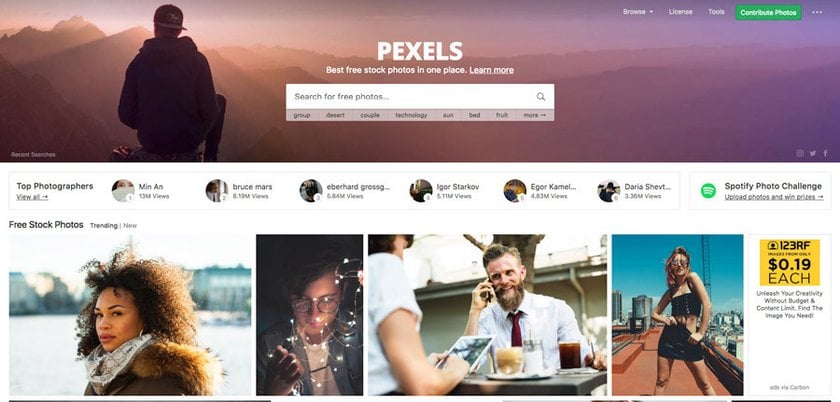 This site features curated high-quality photos without a lot of junk. Sometimes free sites are loaded with images that will likely never be used; this is not the case with Pexels. The site is loaded with top-quality images that represent a variety of settings and people. Like Burst, the usage rights are also Creative Commons CC0. So, Pexels is a top choice among photography stock websites, known for its vast collection of high-quality content and convenient photo packs that provide creative professionals with a cost-effective solution for their visual needs.
4. Negative Space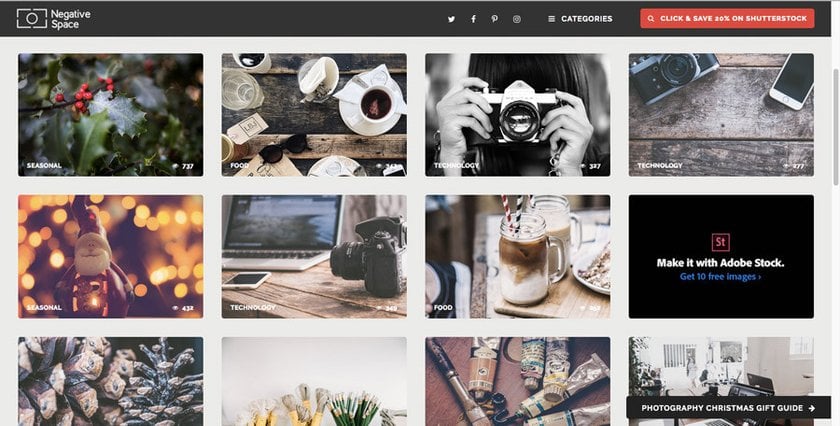 Negative Space is fairly new on the scene, so is still building its collection. That being said, they do add new photos every week, all without copyright restrictions. Their navigation is nicely done, with photos sortable by category, color, and copy space position. If you're looking for new stock photo sites to explore, Negative Space is an excellent choice, offering a fresh and diverse collection that can inspire your creative projects.
5. Freerange Stock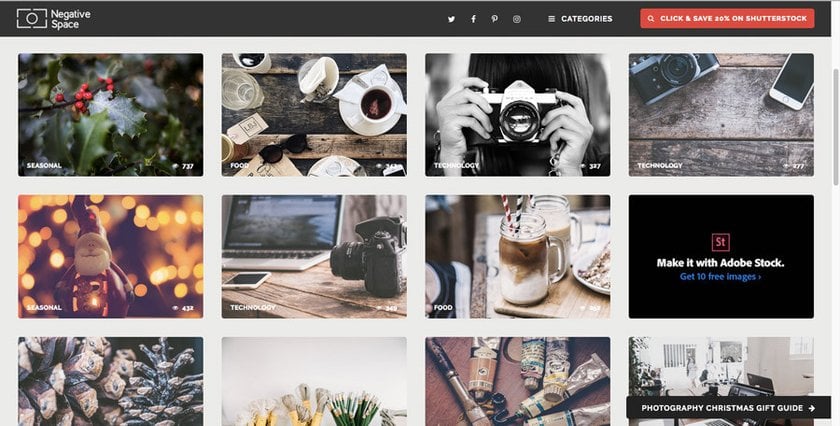 Freerange Stock is a different sort of free stock site. Its photographers "get paid when users click on the ads that appear next to their submissions." The collection of free stock photos includes photographs and illustrations available for free download, making it an attractive option for those seeking cost-effective visual resources for their creative endeavors. Images are shot both by Freerange Stock as well as by a large community of photographers. While their photos are of good quality, their illustrations can be particularly delightful and unique.
6. Magdeleine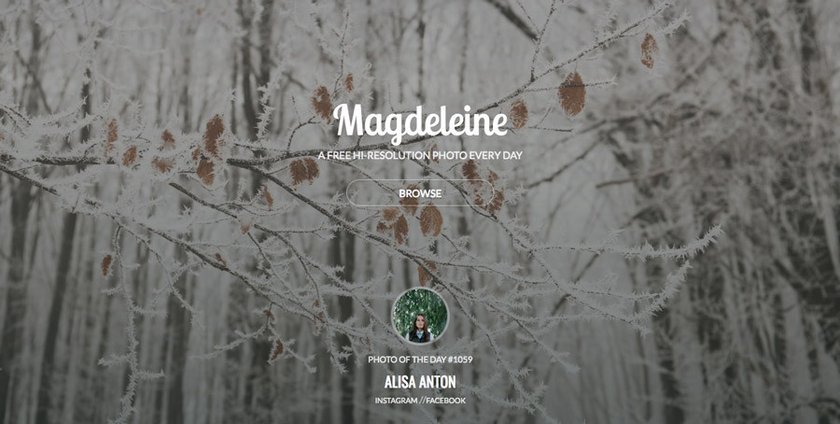 Magdeleine is made up of crowd-sourced photos, uploaded every day. The awesome thing about this site is that they bring you new featured photos every day, so you can use it to find new photos, as well as meet new artists. This is absolutely the best place for stock photos! There are good search capabilities and filtering to find the right images quickly. But, just as with other free stock photo sites, the selection is limited. Usage rights vary by image.
7. Stocksnap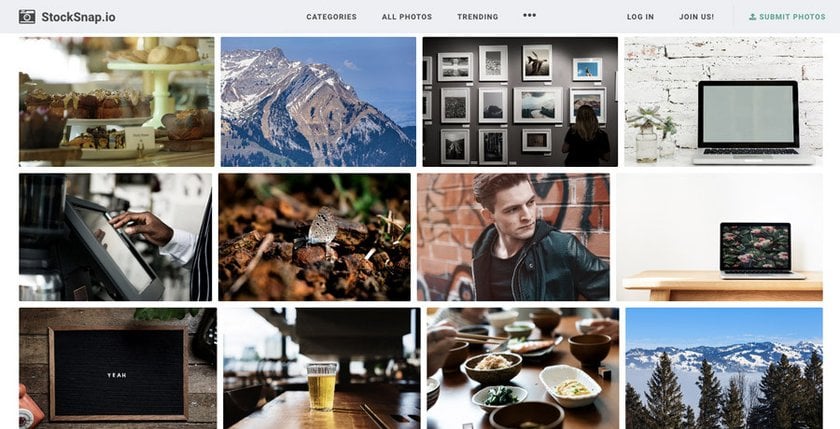 There is a high volume of images added every week with Stocksnap. The usage licensing rights are standard throughout the entire site — Creative Commons Zero — and their search function works particularly well. They also track the views and downloads so you can see the popularity of each photo.
Prices at the time of writing: All images on StockSnap are free to use for both individual and commercial purposes.
8. Adobe Stock (Now Including Fotolia)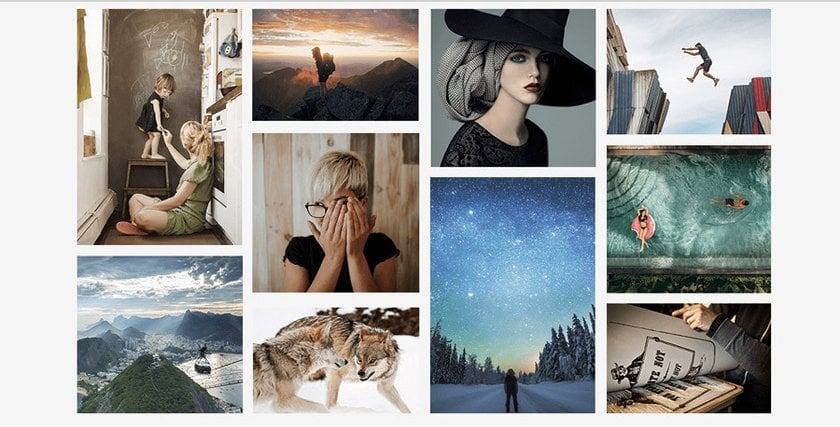 Adobe Stock is new to the scene, having been launched in 2015, but they hit the ground running. They've since acquired Fotolia and now boast over 40 million royalty-free photos to choose from. What's more, if you design using the Abode Creative Cloud apps, Adobe Stock is fully integrated. You can preview the images first in any CC program and then license, access, and manage them directly through the CC app you're using. A big plus if you do your design through Adobe products (and let's face it, many of us do).
Prices at the time of writing: Starts at $29.99/month for 3 assets. If you go for the annual plan, you get a month free and still pay $29.99/month, except this time you get 10 assets. Videos are also from $29.99/month.
9. Bigstock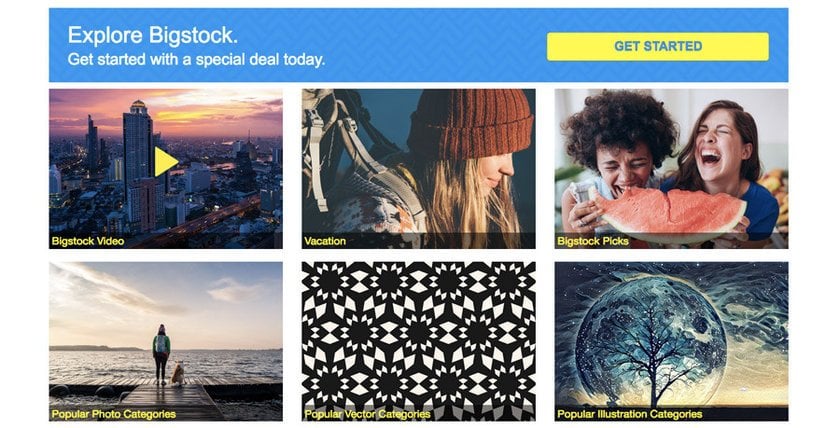 If you regularly need a high volume of photos, Bigstock is one of the best options out there. Their subscriptions are somewhat more expensive, but they offer many more photos per month. And while their images aren't 500px-stunning, they're more than adequate for the majority of online use. Another plus is that their customer service department is pleasant to work with. One downside, though, is that their vector images are quite pricey. If that's what you're looking for, best go elsewhere.
Prices at the time of writing: Prices on one of the best stock photos sites in the review start at $79/month, which gives you either 5 images a day ($.53 per image) or 50 per month (no daily limit).

Depositphotos offers some of the best prices around, but being relatively new on the scene, they haven't yet amassed a huge collection of free photos. Still, if you can find the image you're looking for, the price will be right. One bonus is that they have a user feedback option that can help guide your search. They also regularly offer deals and coupons on specified image sets. Also, if you don't use all your downloads in a month, they get transferred to the next month, so you never lose out.
Prices at the time of writing: The standard subscription price of one of the best sites for stock photos starts at $59/month for 75 photos, but if you're looking for something cheaper, you can try out their new "Flexible" plan for $29/month — It includes just 30 photos a month, but every additional photo after that is only $1 dollar each. On-demand starts at $42 for 3 images.
11. Dreamstime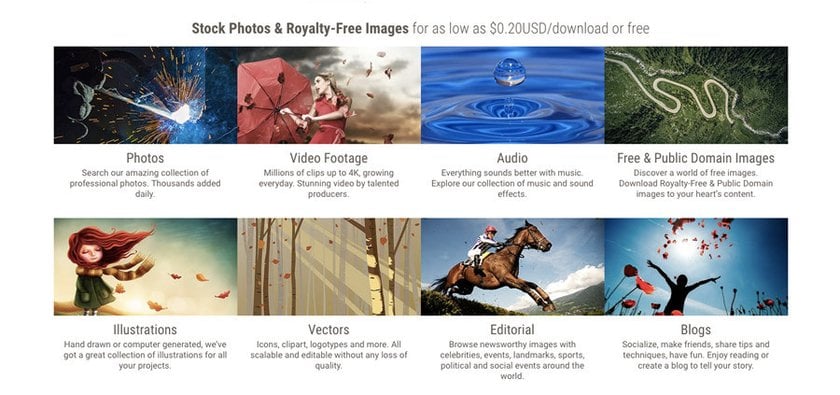 If you like directly connecting with your photographers, Dreamstime offers a community-based experience. This is one of the best stock photo websites! As a member, you have access to more than 200,000 photographers from around the world. They have customer service support (phone), a referral program for users, incentives for photographers, and great search options. Their editors review each photo before it gets accepted, so their image quality is quite high.
Prices for high-quality stock photos at the time of writing: Subscription plans range from $0.23 to $5.00 per image, while credit packages have prices ranging from $0.88 to $51.78 per image.
Conclusion
So, what is the best stock photo site? The right option for you depends on factors such as your specific needs, budget, and the type of content you are looking for. We encourage you to explore the platforms above and compare their features to find the one that's best suited for your creative projects.
Experience the Power of Luminar Neo
If you want to expand your creative capabilities and create really high-quality content, you should definitely try Luminar Neo AI photo editor. From AI-powered adjustments to intelligent sky replacement and skin retouching, Luminar Neo offers a comprehensive set of tools to bring your vision to life!
Check Out Luminar Neo Now
Whether you're a professional photographer or a hobbyist, Luminar Neo's innovative features can take your photo editing to the next level, so try this image editing software today!
FAQ
Are There Good Stock Photo Sites That Offer Free Images for Commercial Use?
Platforms like Unsplash, Pixabay, Pexels, and Burst by Shopify offer a wide range of high-quality photos that can be used in commercial projects with no (or minimal) attribution required. These top stock photo websites give you access to a diverse collection of images so you can find the visuals you need to enhance your commercial projects without breaking the bank.
Can I Find Unique and Niche-Specific Images on the Best Stock Photo Websites?
Of course! While popular sites offer a wide range of general imagery for a variety of subjects and themes, many platforms also provide specialized collections or categories that focus on specific niches. And with Luminar Neo, you can make the best stock pictures unique. For example, add a bold preset, crop the image, or try black and white filter. It's incredibly easy and fast, and you'll be pleasantly surprised by the results!
How Much Do Photostock Sites Typically Charge for Premium Images?
Such platforms charge for premium images through subscription plans, credit-based systems, or on-demand purchases. Prices can range from $10 to $500 per month for monthly subscriptions, about $1 per credit for credits, and $5 to $50+ for individual image purchases. Pricing varies by platform, so it's important to compare the best websites for stock photos.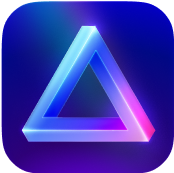 Advanced yet easy-to-use photo editor
view plans