What associations do you have with the phrase "best analogue camera"? I'm sure you've seen it more than once. But what this device is and why its popularity does not subside, you will learn in our article.
Let's return to the associations. You probably think of those fascinating film scenes where the photographer meticulously processes his films. So what does a photographer experience when developing images? This exciting moment is no substitute for any digital analog.
Why Film Cameras Are Still Relevant Today?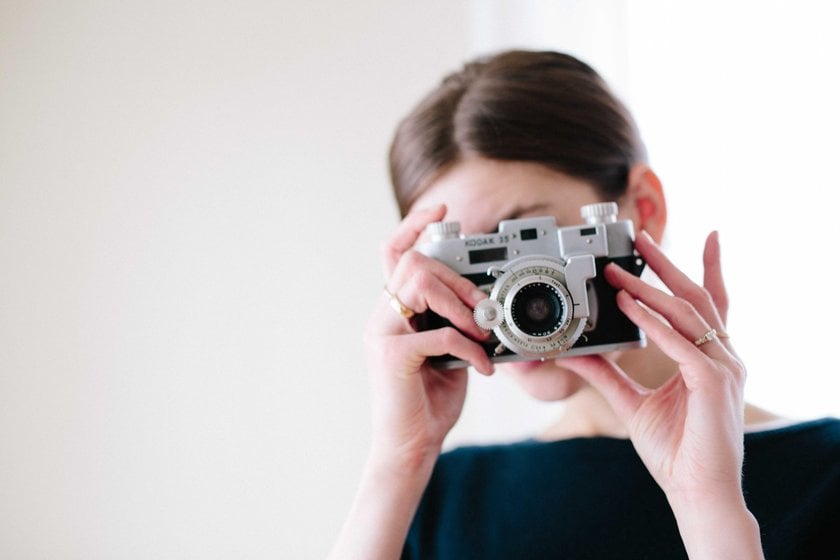 The first thing worth mentioning is that the film is certainly not a new trend; it is a well-researched and not forgotten past. In the age of image editing software, not every photographer would pick up such a machine and start taking pictures. And frankly speaking, the film is not suitable for every case, because in the case of sports photography, for example, all your photos will just be blurry. And even a high-quality film camera will not save the situation. But at the same time, if you want to capture something in contrast or with not very good lighting, good film cameras will make your photos as realistic as possible.
We can even mention the fact that more and more professionals are now turning to film photography. So, why should you pay attention to it:
The shading part is almost not updated, and despite that, they work perfectly. All you have to do is maintain your machine properly, and it will last for decades.

There are a lot of different formats of film available right now. And that means that if you want perfect detail on large formats, you won't be disappointed. And mind you, you won't leave all your money in the store for such a treasure. Even among the best film cameras for beginners, you can easily find an option to suit your budget.

Color saturation. Some films, such as Kodak Portra, are so good at rendering color that Photoshop has incorporated the film effect into its post-processing. And not just Photoshop. For example,

HDR Merge software

also uses this trick. This character and color captivate everyone.

It will show you that it is better to start with it in your long journey as a film photographer. It doesn't forgive mistakes. You'll learn how to be accurate, to compose, to catch the light, and to understand the depth of field. Unfortunately, there is no way to apply

mask layers

here to cover the errors. So it teaches you everything a photographer needs to know to create the perfect pic.

Polaroid is the most famous representative of these devices. Not everyone knows there are still film cameras, but everyone knows what Polaroid is. It's a great way to have your picture in a minute after you take it. It is so popular that it is still among the most popular film cameras among bloggers and has always been and will always be on the radar.

A digital camera can never reproduce without post-processing the grainy texture and color reproduction that film possesses. And imitation to the connoisseur is like replacing vinyl with a CD. It's not the same tune.

Printed photos last much longer than digital ones. There is also always the possibility that the storage device will fail and all your work will be lost, which will never happen with film.

Until digital devices learn how to work in bright sunlight, film will be at the top of the list. After all, they are the only ones that work in any kind of light without problems.

Processing is the whole interesting process. You'll need chemicals and a separate room, but it's worth it. Substances affect negatives in different ways and by preparing. This is a very important step when working with the best film photography cameras. After all, you, as a photographer, may want to control the process from start to finish and evaluate the result. For example, you can illuminate or

remove parts of an image

and all with knowledge and reagents.

The most important advantage is that there is no need for batteries or electricity. You don't have to gather in the torture of calculating how many batteries you're going to need. That's why a lot of pros take not only digital but also film cameras on trips. And not only do they not need to be recharged, but they are also sturdier than their digital competitors. They are not afraid of dirt and water, they have a more rugged body.
Film photography is ideally suited for training novice photographers and improving professionals. What are the best film camera advantages? You don't need post-processing. These images are already perfect. They are ideal for travel as an additional or main device. This camera, with hard training, will turn you into a top-level professional capable of working in all conditions and creating unique images.
A 7-day Free Trial of Luminar Neo with no obligation
Get it now!
Factors to Consider When Choosing a Film Camera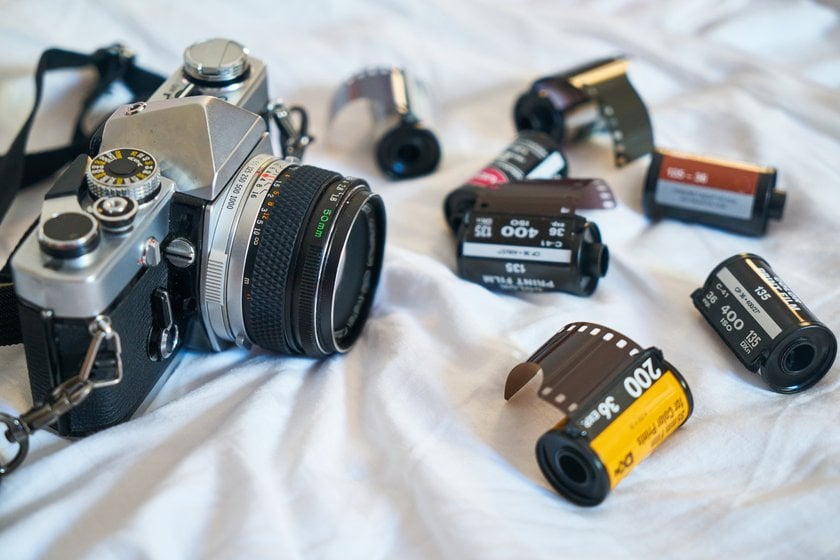 If you've reached this point, you've probably already got the idea of looking for and buying a film camera in your head. And that means you should know some things to look out for when buying.
Important points:
Quality of the image. It must be better than that of your phone.

Handiness. Of course, it is advisable to come to the store and personally check whether all the buttons are conveniently located, it is convenient to hold in your hands. If not, you should thoroughly study the reviews and examinations about the best film cameras to buy before purchasing.

The camera size. Everyone has his own needs. Some people need a compact and lightweight camera you can easily carry in their bag, while others need a large-format camera for close-up pictures. Variety and affordability allow the buyer to choose the desired unit.

Lenses. Of course, not all cameras have a fixed lens, which means you may want to change to a more powerful lens, for example.

Condition of the camera. You can take one of the best vintage film cameras, and it will be in perfect condition, or it could be the opposite. Defects in the body, the smell of the camera, the condition of the light traps, viewfinder, and shutter, and defects in the glass. This is the same product as everywhere else, and as always, here are possible defects that will interfere with your creativity in the future.

Budget. Of course, great film cameras do not cost three cents, but there is a variety. There are more affordable 35mm cameras and more expensive ones, but both of them are of excellent quality. And, of course, there are monthly expenses for consumables, but it's worth it.
All I'm saying is that before you buy any device, whether it's a film or a digital camera, you should thoroughly check your future purchase. This is especially true for vintage models, as there are often no replacement parts.
Types of Film Cameras: Which One Is Right for You?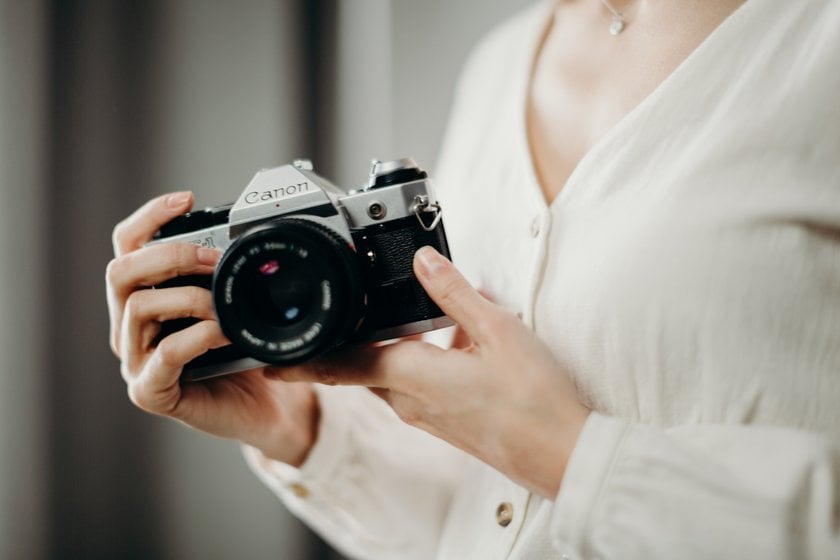 To begin with, it is worth noting there are many varieties of such cameras. The most important one is the one from which all the others are derived:
Reusable cameras. This is a more extensive category. In this device, the film from the cassette is wound onto a receiving reel and then turned in and processed, but in this case, you can insert a new roll of film. This exact category is the best analog camera.

Disposable cameras. The name says it all. It is used once, as the film from the reel is coiled in the cassette, which is then taken out and processed, but the camera can no longer be used. Such cameras come with a built-in flash and are even waterproof.
The main reusable cameras include:
Rangefinders. This type is lighter and more compact than 35 mm SLRs. They create a unique aura, thanks to which they were in demand by all street photographers and correspondents. The quiet clicking sound makes them the most inconspicuous among the others. And another important difference. Unlike SLRs, they don't have a mirror that jumps out, which means that they have fewer defective and blurred images.

Point-and-shoot camera. These are simple devices with a focusless lens with a fixed aperture. They have a self-timer and flash. Some have special lamps to reduce red-eye effects. Among point-and-shoot film cameras, it is better to choose the more modern models. The film camera quality is much higher than their younger brothers.

Single Lens Reflex (SLR). The main advantage is the ability to use lenses with different focal lengths, for example, capturing images with powerful telephoto lenses during sporting events. You can assess the depth of field, as well as the result of the use of filters and nozzles.
Of course, these are more vintage versions of film photography cameras, now, they are more advanced and have more options for getting beautiful pictures.
Top Picks for the Best Film Cameras for Beginners in 2023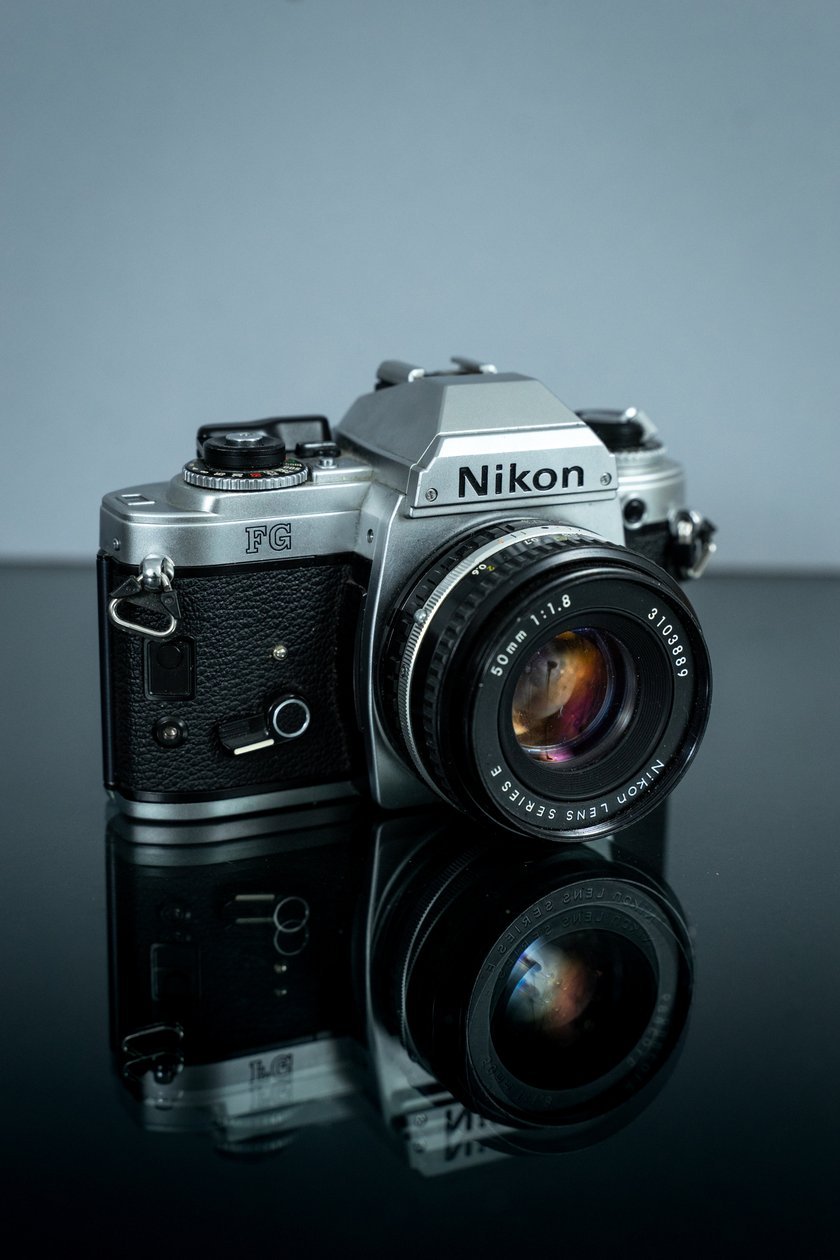 We finally got to the most interesting part. Now you can choose among the beginner film cameras of 2023, the device that will probably be your companion. Of course, we can not describe every best film camera created at the moment because there are a huge number of them. But below, we've left you a list of the best cameras to choose from according to the experts.
Top 10 film cameras:

The Fujifilm Instax Mini 11. If we talk about film devices, of course, it is worth mentioning the most recognizable kind nowadays, the instant print camera. Of course, compared to a film, this is more of a toy than a serious device. The flash and exposure process is automatic. This device runs on batteries. Unfortunately, a huge disadvantage of them is not quite good photos at the beginning of use. But even here, you can train and get incomparable footage.

The Canon AE-1 is the most popular model of Canon to this day. The large and bright viewfinder shows the recommended aperture values. The lightweight plastic body is a plus when traveling, as the camera weighs a little. But there is a minus, you have to be careful with it; its body can not withstand a fall. Despite this disadvantage, the photos come out perfect and clear. For those starting in photography, there's a range of Canon lenses for beginners.

Yashica FX-103. This is a good film camera and a great budget option that every beginner should try. Thanks to its holder, you can use a variety of lenses Contax Zeiss. Beginners will definitely appreciate it.

Nikon F3 is not only a 35mm film camera. This is one of the most reliable devices, thanks to its sturdy body. It is a professional film SLR with a DE-2 viewfinder. In addition, this model is famous for its ergonomics. Also among the pluses is a built-in exposure meter, which does not require a huge viewfinder. The shutter has an electronic control, so the camera runs solely on batteries. But is it a problem nowadays? And in general, we can say that the reliability and quality of the mechanical and electronic models are almost identical, so do not be afraid to choose an electronic model.

Canonet G III QL17. This is one of the quality film cameras that many photographers and collectors are proud of. Its compact size is one of the main advantages of this camera. You can easily carry it around and catch the brightest moments walking around. The fixed lens with f/1.7 aperture provides sharpness even in macro and low light situations. And the cherry on top of this cake is the Creative Assist feature. Background blur, brightness, contrast adjustment, and that's not all. You can easily customize your camera to suit your needs.

Leica MP is a nice film camera. The perfect model for walking around with a historical device. The sturdy metal body not only looks stylish, but it's also solid at the same time. This means with good maintenance, it will last you for decades. It is suitable for any lens with a bayonet M. The photos with it are simple but beautiful. The only downside to this machine is its price. But its performance is well worth all its money.

Fujifilm GW690. If you want to get clear and detailed negatives, this camera is ideal for you. All you need is a 120 film (it's called medium format) and your desire. You won't need batteries with it. The fixed 90mm lens and wide aperture range are good for fast-moving subjects. Vivid and contrasty photos are assured.

Leica M6. If you're just starting your journey into analog photography, this simple and rugged device is your perfect option. Robust body, easy to use, classic design. It doesn't come cheap, but you won't regret your choice.

Pentax K1000 is one of the best 35mm film cameras. It is one of the top film cameras for beginners. It is also mechanical and requires no batteries at all. No advanced settings, just pure education on how to shoot film. To find out how dark or bright your photos are, the K1000 has a built-in meter. To put it in a nutshell, this is an inexpensive camera that teaches you how to operate your camera and get great photos.

Nikon FM-10 is one of the best beginner film cameras. If you're still looking for an affordable, quality device, you've already found it. There are a huge number of lenses that fit it, so don't worry about variety. There is also a plus in easy repair and maintenance, as many parts are interchangeable. And unfortunately, there are issues with focusing on small objects, as well as the brightness of the viewfinder. But in general, Nikon has a lot more pluses than minuses.
You may also like: Beginner Mirrorless Camera
Conclusion: Choosing the Best Film Camera for Your Needs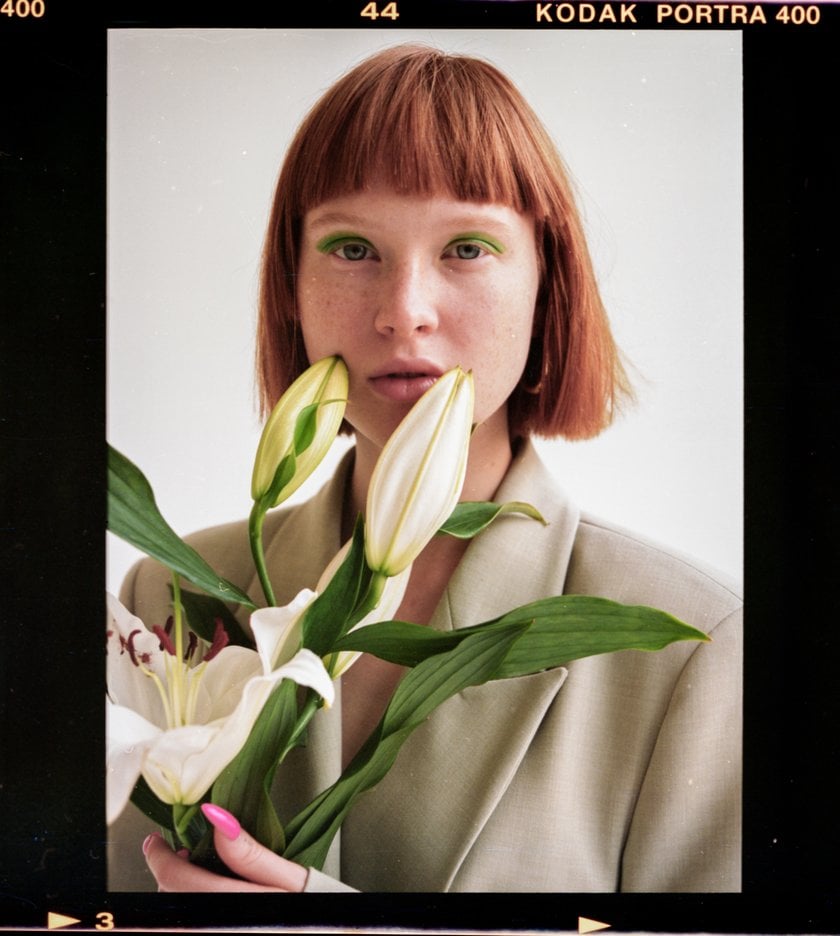 To summarize, we can draw the following conclusion. If you have already decided what is the best beginner film camera for you and whether it is even worth trying. This device is not suitable for those who are not ready to develop and learn patience. No matter how new it is, it has certain properties that attract and repel. But there is one thing you can only understand when you start using a 35mm film camera. No matter what the disadvantages are, its advantages are worth it for such a camera to become your additional, and perhaps the main assistant in fixing all the important events in your life.
If, after reading this, you're still not sure if you should change your digital to film, then remember about post-processing. By the way, if you want to know about the best alternatives to Lightroom, for example, Luminar Neo, you will find all the necessary information by following this link.
FAQ
What Is the Best 35mm Film Camera for Beginners?
It's very hard to choose the best 35mm film cameras for beginners at the top of our list. Each of them has certain features that place it among the best-selling ones.
Which Film Camera Is for Beginners?
Ideally, cameras like those in the list above. This means that they will have no extra settings, interchangeable parts, and a sturdy body. Preferably, you can take pictures in almost any lighting conditions.
What Camera Should I Get for Film School?
In this case, it is desirable to take a digital camera, as there is an opportunity to preview. But if you still prefer a film, it is better to take one that supports a medium format.
How Much Does a Decent Film Camera Cost?
A good device can cost $200 or $5,000. Of course, when choosing a camera, you should rely on the features, reviews, and personal preferences, not only the price.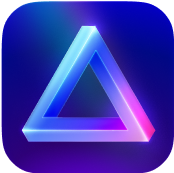 Advanced yet easy-to-use photo editor
view plans