In the fiercely competitive real estate industry, where each click holds immense value and the minutest details carry significant weight, crafting property listings has transitioned into a precise science. A solitary image can decide when sealing or shattering a deal. In today's digital property searching era, your photos are the primary point of interaction with prospective tenants or buyers, emphasizing the importance of creating a compelling first impression.
When sellers see the effort put into presenting the houses and apartments the best way possible, they are more likely to be satisfied and refer you to others. Likewise, future clients are more likely to engage with listings that feature high-quality photographs, knowing they can trust what they see.
Imagine a potential buyer scrolling through listings, eyes scanning for that one property that feels like home. They stumble upon a listing that immediately catches their attention, showcasing perfectly illuminated rooms with crisp details, enticing them to explore further. What you see is more than a reflection of the photographer's professionalism from the real estate perspective — it results from precise work.
The secret weapon in your arsenal is post-processing. And today, we will explore how it can elevate your real estate listings to new heights. The following article also delves into the world of the best photo editing software for real estate photography, with a special spotlight on Luminar Neo. This tool can revolutionize your approach to editing real estate photos.
Create Eye-catching Real Estate Photоs with Luminar Neo
EXPLORE
The Art of Retouching Real Estate Photos
The primary objective of real estate photography revolves around portraying the property's attributes in the most authentic manner possible. However, a skilled photographer wields considerable influence, turning an ordinary space into an alluring and irresistible environment that appeals to potential renters or buyers.
Editing real estate photos encompasses a meticulously planned sequence of actions. Each step is paramount, from fine-tuning exposure and color balance to rectifying lens distortions. The goal is to present the property in the best possible light. Retouching involves fine-tuning the details that might go unnoticed at first glance but make a significant difference in a property's overall appeal.
Ensure to include crucial details such as aligning vertical lines, eliminating unwanted elements, and refining the overall image clarity. Picture this scenario: You've captured a striking living room, but there's a minor blemish on the wall or a distracting reflection in a mirror. Although seemingly inconsequential, these imperfections can subliminally influence a viewer's perception of the property. Thus, the success of your real estate business is intrinsically tied to your proficiency in photo editing.
However, it's important to remember that subtlety in enhancements is key in real estate photography. A photographer must exercise restraint and avoid distorting the depiction of the property. Excessive alterations can lead to disappointment when potential buyers or renters view the apartment or house in person, as the actual space may differ significantly from what was portrayed in the images.
In most severe cases, the sellers or landlords may face fraud accusations that will bury their business instead of boosting it so that it will spoil your reputation as a photographer. Commercial photography, in general, and real estate photography, in part, depend more on trust between you and your client rather than aesthetically flawless photos.
But how to maintain the balance? A good photo editing software is what you need to retouch your real estate pictures perfectly. Look at the section below and learn how to choose such software.
The Best Photo Editing Software for Real Estate Photography
Consider the scale of your real estate photography projects, the complexity of edits you commonly perform, and your level of expertise. Decide whether you prefer to control every step manually or don't mind delegating boring, repetitive tasks to artificial intelligence.
The hallmark of a distinguished photo editor lies in its diverse array of advanced editing tools. Regarding real estate photography, the editing software should encompass indispensable features. These should include capabilities for fine-tuning exposure, rectifying color imbalances, addressing distortion issues, and retouching imperfections. Furthermore, the software should boast the convenience of batch processing to streamline the editing process, particularly when dealing with multiple property listings.
Your chosen software should also present an intuitive interface, enabling swift and efficient editing. Including features such as presets, templates, and the capacity to save customized editing workflows can prove invaluable, saving you substantial time and effort — attributes of particular significance for those with limited or no prior experience in photo editing.
Maintaining a consistent look across all your property listings is essential for building a professional brand. Ensure that the software supports batch editing and synchronization of edits across multiple photos so your listings have a cohesive appearance.
Consider the compatibility of the software with your existing hardware and operating system. Additionally, check if it integrates with other software or platforms you use, such as photo management tools or online listing platforms. Pictures should be high-quality and optimized, saved in a mobile-friendly format, as users often look through listings using their smartphones or tablets rather than PCs.
Luminar Neo is an AI-based photo editing tool that makes it possible to regulate the level of human interaction in the editing process. Its interface is user-friendly, and its features include many advanced enhancing tools. It is compatible with different types of hardware and software. For example, it can be easily incorporated into Photoshop or Lightroom workflow as a plugin.
If you are looking for a real estate photography editing tool, Luminar Neo matches all the parameters. In the following section, let's learn to edit your real estate photos with this software.
Editing Real Estate Photos with Luminar Neo
1. Import Your Photos
Start by importing your real estate photos into Luminar Neo's user-friendly interface. You can choose individual images or import an entire batch for efficient processing.
2. Assess and Enhance Lighting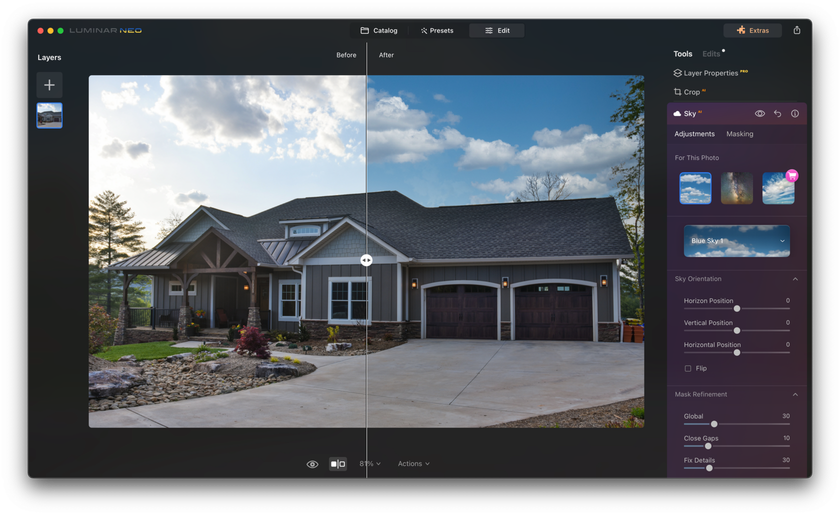 Begin by focusing on lighting, the cornerstone of exceptional real estate photos. Utilize Luminar Neo's AI Sky Enhancer for outdoor shots, making the sky vibrant and clear. For indoor spaces, use the AI Accent AI 2.0 to balance exposure and illuminate the room, showcasing its best features.
3. Fine-Tune Colors and Tones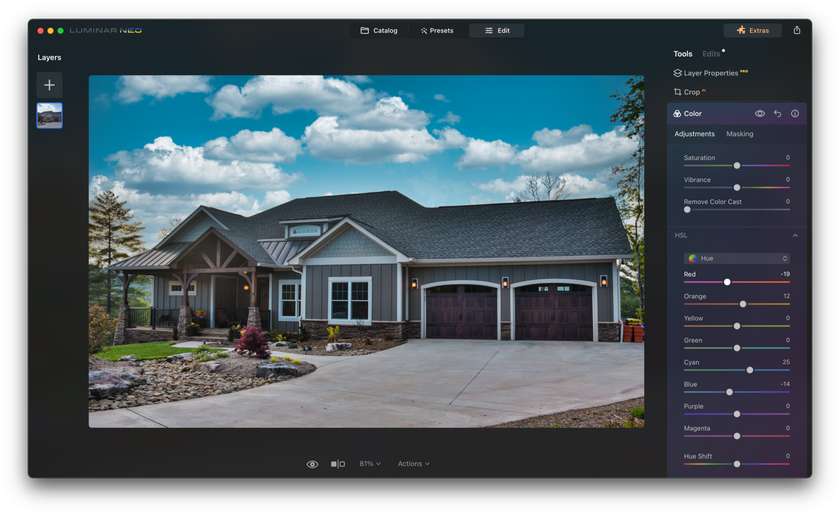 Ensure your photos accurately represent the property by fine-tuning colors and tones. Luminar Neo's Color Harmony tool lets you adjust color balance and saturation for a harmonious and inviting look. Experiment with the Tone & Contrast tools to strike the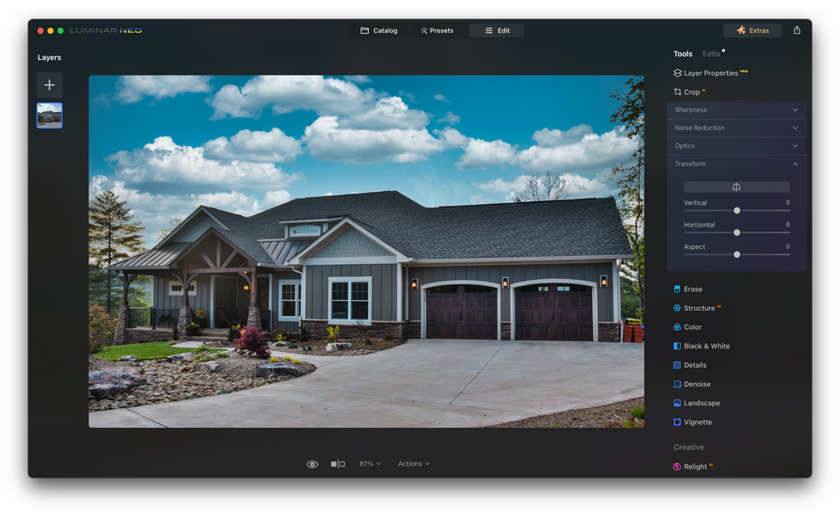 Straight lines and well-composed shots are essential for professional real estate photos. Luminar Neo's Perspective Correction tool allows you to rectify distortions or perspective issues, ensuring your images present the property in the best possible light. Use cropping and rotation options to achieve perfect composition.
5. Apply Finishing Touches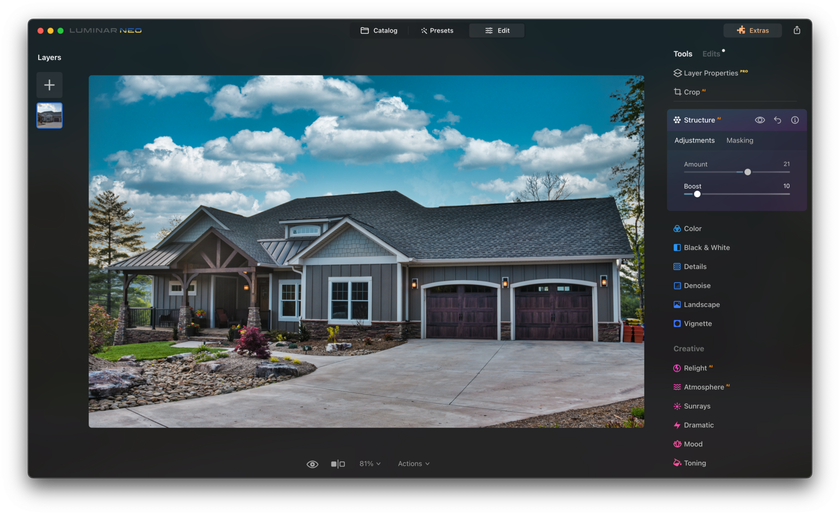 To add that extra touch of finesse, consider using Luminar Neo's selection of presets and filters. These help maintain a consistent and attractive style across all your real estate listings. Use the software's retouching capabilities to remove minor distractions or blemishes. Also, check the whole specter of Luminar AI tools, which can help you to achieve your goal.
6. Save and Export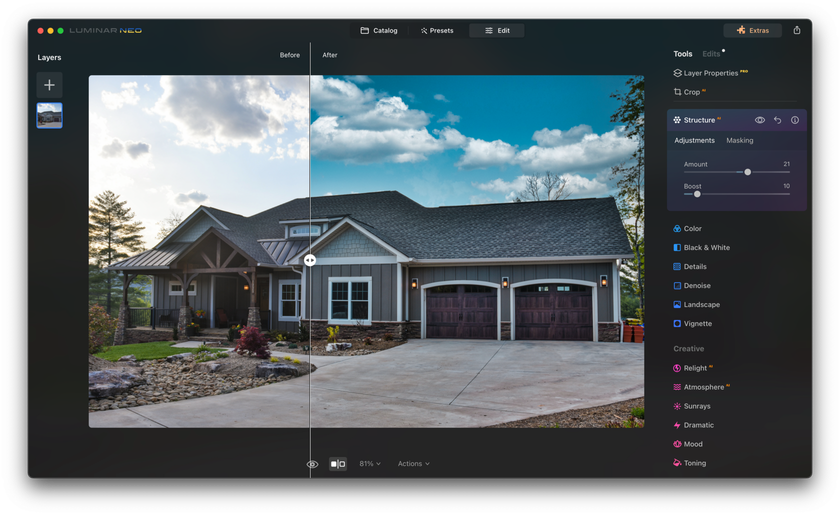 Once you're satisfied with your edits, save your work and export the images. Luminar Neo offers various export options to suit your needs, whether you're preparing images for online listings, print materials, or social media promotion.
A 7-day Free Trial of Luminar Neo with No Obligation
Get it now!
Bottom Line
In the competitive world of real estate, where every click counts and first impressions are everything, mastering the art of post-processing is a paramount skill to master. We have embarked on a journey through the captivating realm of real estate photography, emphasizing the transformative power of post-processing in creating the perfect first impression.
With Luminar Neo at your disposal, we have walked you through the step-by-step process of transforming your real estate photos into stunning visual narratives. From enhancing lighting and fine-tuning colors to correcting perspective and composition, every element of your image can be meticulously adjusted to ensure your listings make an unforgettable first impression.
So, go ahead, let your creativity flow, and make your mark in the world of real estate photography.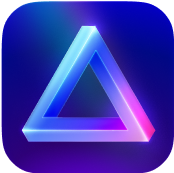 Advanced yet easy-to-use photo editor
view plans