Navigating through the myriad of photography gear options for newcomers can feel overwhelming. But it doesn't always have to be. While it's true that a photographer's skills are not solely determined by the equipment, having the right tools can make the learning process much easier. With that in mind, we have compiled a list of recommended gear and camera accessories for beginners.
Newbie photographers are often tempted to buy everything the specialty stores have to offer. It seems like all that separates them from masterpieces is a couple of extra flashes all over the room and a pair of expensive lenses, each with a filter on it. In this case, you can completely forget about the need to buy additional accessories, without which it is simply impossible to get a quality picture, especially if you work in the genre of landscape photography.

There is also the reverse situation where beginners think they don't need to buy anything but an entry-level camera and a lens. This is also a big mistake because you are depriving yourself of the opportunity to learn new techniques in photography.
So, the process of deciding what to buy can quickly become confusing for the newbie photographer. However, this material aims to provide a practical solution by presenting a comprehensive photography equipment list for beginners. From cameras and lenses to flashes and storage options, we cover all the essential pieces you need to consider to get started. And by the way, in our blog, you can also find the best online photography courses for beginners.
Why Is It Important to Have the Right Beginner Photography Equipment?
The notion that "your skill is more important than your equipment" is a common belief, but it's not entirely accurate. Of course, if you don't know enough about proper composition and other important aspects of the theory, even expensive lenses won't help. However, it's important not to let this perspective dominate your thinking, because the gear you use plays a significant role here are the main reasons:
Starting with the right equipment will help you learn and understand the basics of photography. Having a good camera with manual controls and a couple of lenses allows you to experiment with different settings, techniques, and compositions.

The quality of your photos depends largely on the capabilities of your equipment. The

best beginner mirrorless camera

and lens combination can produce sharper images with accurate colors, better dynamic range, and less noise.

Having the right photography kits for beginners can boost your confidence. When you produce high-quality images with a capable camera, it validates your efforts and encourages you to continue exploring and improving your skills.
While it's important to start with beginner-friendly equipment, you'll need to choose devices that offer room for growth. Investing in a camera system that offers a wide range of lenses and accessories ensures that you can adapt and expand your gear as your skills and interests evolve. This approach can save you money in the long run by minimizing the need for frequent equipment upgrades.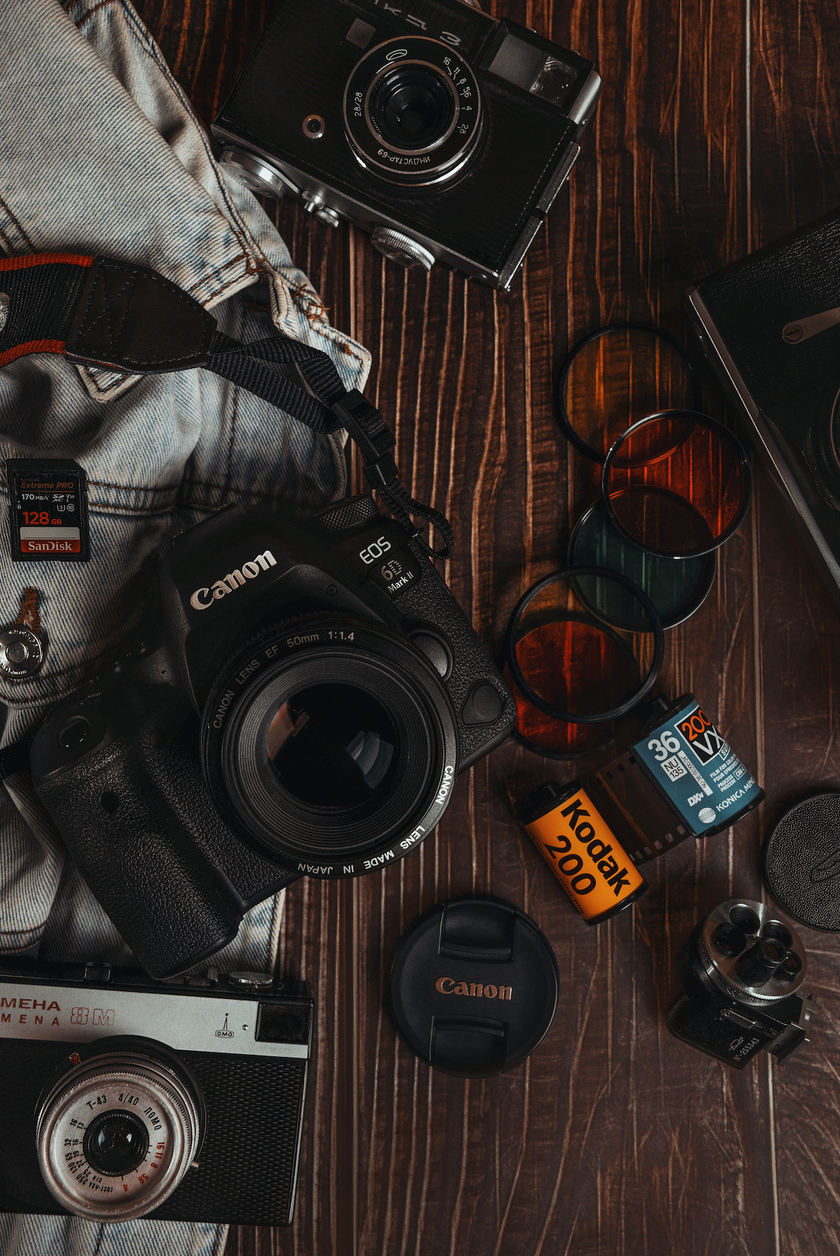 And remember, if your current budget doesn't allow for high-end gear, don't worry. Accept what you can afford and focus on making the most of it while saving up for better tools in the future. The most valuable camera is the one that is always at your fingertips!
We also encourage you to check out our photography tips for beginners in our blog, where you can find some recommendations that will inspire you and help you achieve success faster!
Photography Equipment for Beginners: Everything You Need To Get Started
So, photography is an exciting hobby that allows you to capture beautiful moments and express your creativity. If you're looking to build your beginner photography kit, there are a few essential items that can help you capture stunning photo shots.
By the way, the list of things you need is not limited to gadgets, which we'll talk about a little later. The list of must-haves will also include an editor for post-processing your best pics. You can learn more about the best beginner photo editing software in our blog.
Cameras: Finding the Best One
The most important piece of gear is, of course, a camera. There are different types to choose from, such as DSLR cameras and mirrorless models. Both have their advantages:
DSLRs are known for their optical viewfinders, wide selection of lenses, and longer battery life.

Mirrorless cameras, on the other hand, offer smaller and lighter bodies, electronic viewfinders, and advanced autofocus systems.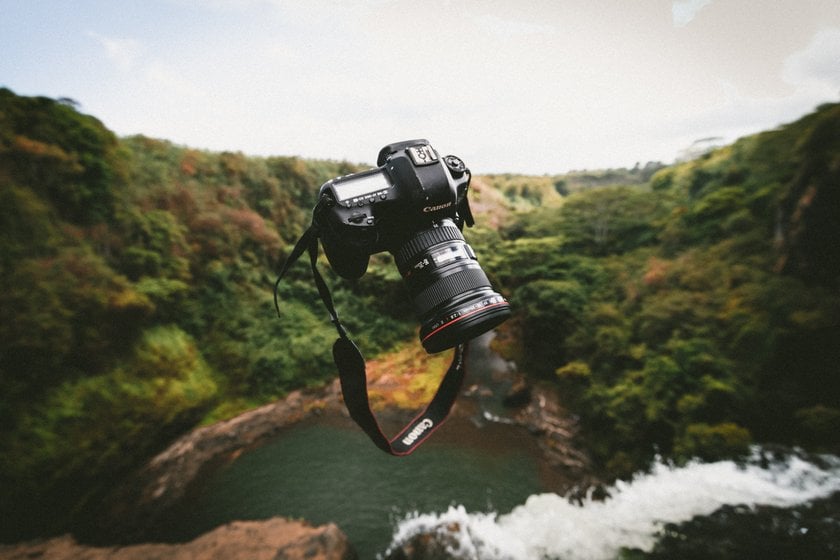 The next big thing in your first camera is the sensor. So, full-frame options offer excellent picture clarity but tend to be more expensive. At the same time, APS-C and Micro Four Thirds are smaller but still deliver good results, especially for beginners. Also, consider the availability and variety of lenses for the camera body you'll want to buy. And as a rule of thumb, a 16-24 megapixel model is more than enough for most novices.
And there is one more thing when you choose starter photography equipment. Look for options with easy-to-use interfaces and controls that suit your photo style. Check features like autofocus performance, burst speed, ISO range, video capabilities, and built-in image stabilization.
Lenses: Improving Your Vision
It can significantly affect the quality and feel of your photographs. For novices, a versatile optic such as a standard zoom lens (e.g. 18-55mm) is a great place to start. It allows you to capture a wide range of subjects, from landscapes to portraits. As you progress, you can consider investing in additional options, such as a prime lens or telephoto optic that fits your equipment.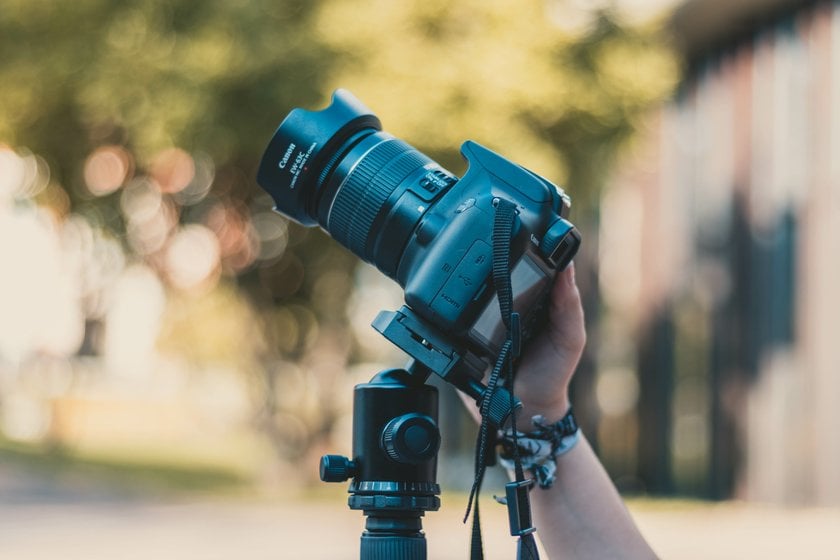 There is also a point to be made here. Prime lenses have a fixed focal length, meaning it does not zoom in or out. They tend to have fewer optical elements, resulting in less distortion, sharper images, and less chromatic aberration. In this case, 35mm and 55mm are classic choices for newcomers.
It's also important to understand that no matter which lens you choose, you'll still need to retouch the image a bit. For quick post-processing, you can use Skylum's Luminar Neo online image editor.
Tripods: Stability for Clear Pictures
This is an essential tool for achieving sharp and steady shots, especially in low-light situations or when using slow shutter speeds. Use a tripod that can support the weight of your basic photography equipment. Also consider its height, weight, and portability for ease of use when photographing outdoors.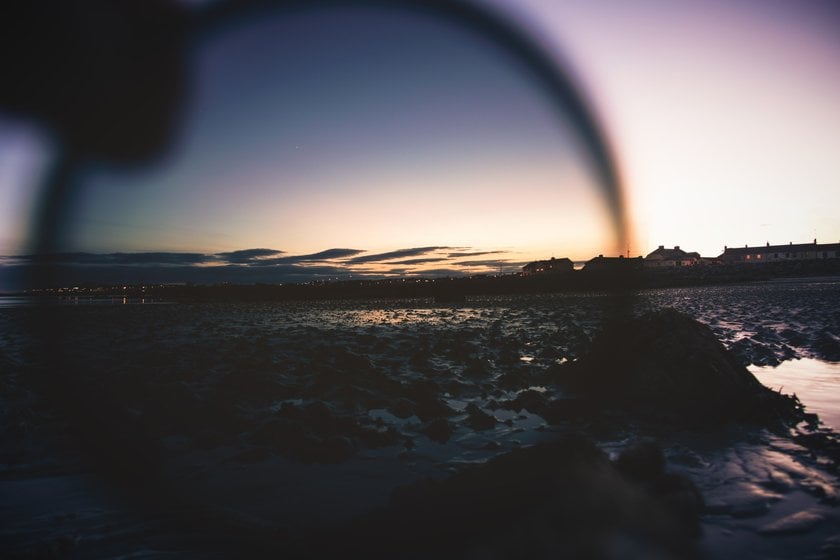 Some tripods offer additional features such as a center column that can be reversed for low-angle shots, a built-in spirit level, or a hook at the base to add weight and increase stability in windy conditions. These options can add convenience and versatility to your gear.
Even if you are taking pictures of landscapes with a tripod, you'll love the Luminar Neo photo editor. It includes AI tools that can automatically analyze and enhance your photos. For example, the Sky AI can detect the sky in your shot and make adjustments to improve its look.
Filters: Expanding Your Creative Possibilities
All beginners know that they need to purchase a lens, but they also forget that there are versatile accessories that can enhance your photographs:
UV filter adds extra defense to your optic, shielding it from scratches and dust. So, if you want to protect your lens, consider getting a high-quality one.

Also, a polarizing filter helps reduce glare and enhance colors. It is particularly effective for landscapes, where it can deepen the blue sky and make hues more vibrant.

ND filters reduce the amount of light entering your camera, allowing you to use slower shutter speeds or wider apertures in bright conditions.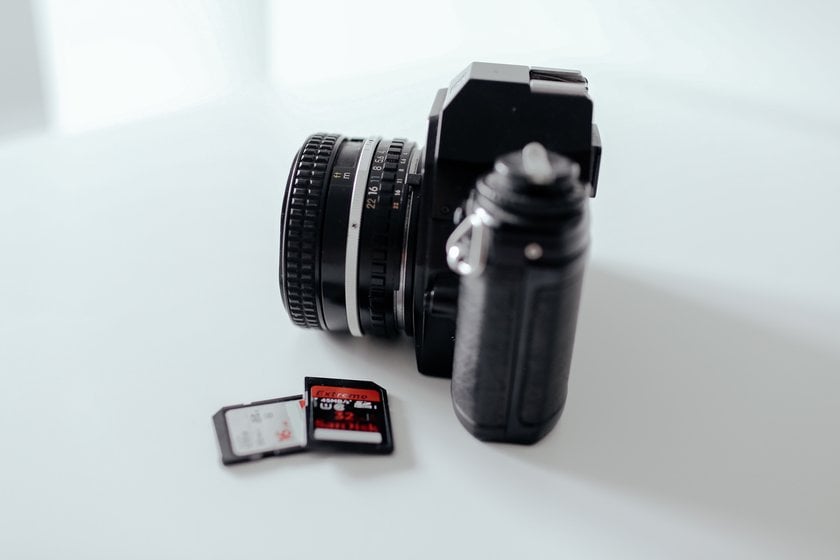 You may think that these are not the most necessary items that photographers will need in the first stages of their work. However, these are the things that can make a big difference in your photos.
Memory Cards: Storage for Your Favorite Scenes
This is also one of the most important photography tools for beginners, so invest in high-quality memory cards with plenty of storage capacity. Look for Class 10 or UHS-I options with fast read and write speeds for smooth operation and fast data transfer. It's a good idea to have multiple cards so you don't run out of space during long photo sessions.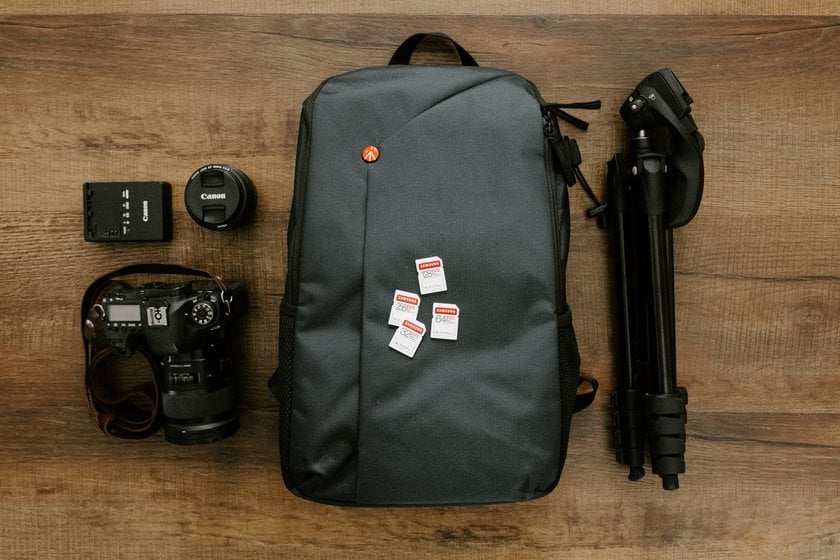 In addition, you need to manage a large number of pics. You don't need to study Adobe's interface, just try the simple and intuitive Luminar Neo. You can also choose a free photo editor like Lightroom in another article from our blog.
Camera Bags: Keep Your Camera Gear Protected and Organized
Specialized backpacks and bags are essential for keeping your camera gear protected, organized, and easily accessible. They come in a variety of sizes, styles, and designs to meet a wide range of photography needs. For those who travel long distances, especially by air, this is the most important purchase.
A camera bag should be made of durable materials that can withstand the rigors of daily use. Look for cases made of sturdy nylon or polyester with reinforced seams and high-quality zippers. Water-resistant or weatherproof options can provide additional protection from the weather.
Battery and Charger: Enhancing Your Photography Experience
It's important to have spare batteries, especially for long sessions or when traveling. Most cameras use specific proprietary types, so be sure to purchase the correct battery model that is compatible with your device.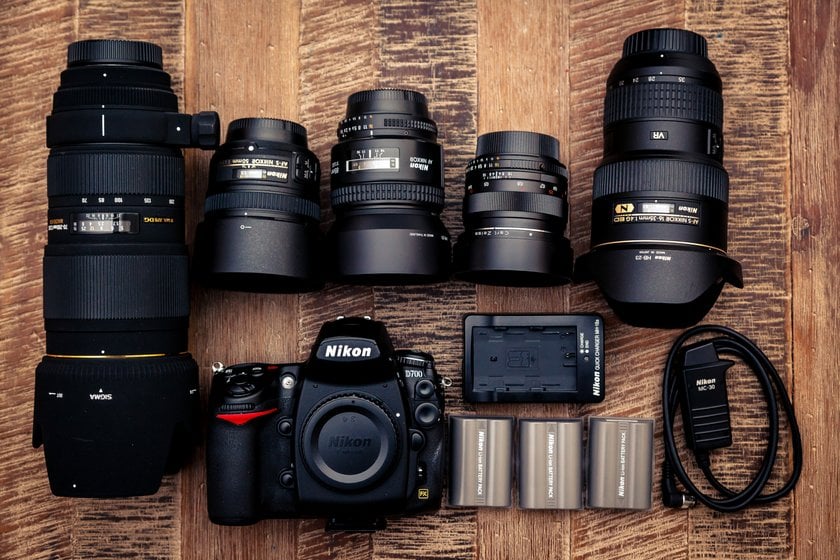 Camera battery chargers are designed to efficiently recharge your camera batteries. This is also an important element that can affect your productivity. Look for one that provides reliable and fast charging, while incorporating safety features to prevent overcharging or overheating.
Photo Editor: Taking Your Shots to the Next Level
Many guides to photography essentials for beginners miss an important point: the need to buy post-processing software. And if you're just starting, you don't have to buy expensive apps and spend a lot of time learning how to use them. So you can check our blog if you want to find Photoshop free alternatives.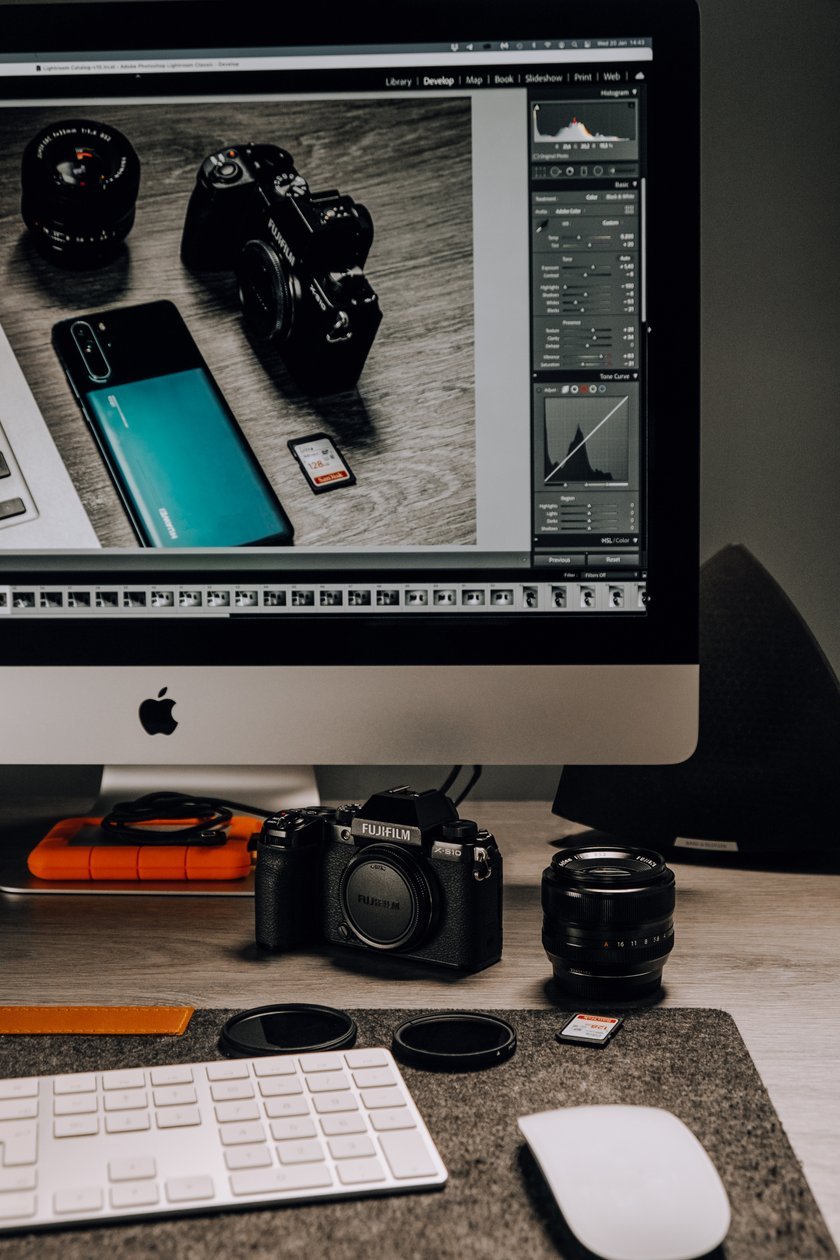 Of course, Luminar Neo is the best choice for beginners. This AI-based editor gives you extensive control over many aspects of your image, including exposure, color, tone, and detail. Take the time to experiment with these features and find the right balance for your photos. Plus, Luminar Neo can make complicated tasks much easier, and you will feel it when you use the AI Background Remover.
So, with the right tools and techniques, you can transform your best pictures and bring your creative vision to life. For example, in post-processing, photographers can selectively brighten or darken a portion of an image to enhance contrast and draw attention to specific elements.
The Bottom Line
It's easy to get overwhelmed by the plethora of photography equipment available for novices. However, it is crucial to start with a simple setup and master its use before moving on to more advanced devices. Avoid getting caught up in the idea that buying a certain item will magically improve your photos. Instead, focus on developing your skills through learning and practicing. We wish you the best of luck!
FAQ
What Essential Photography Equipment Do You Need as a Beginner?
You don't need the most expensive equipment to start your business or hobby. Consider buying gear that fits your budget, including a camera body, a few lenses, a tripod, a memory card, a camera bag, and batteries.
Are There Any Specific Camera Brands or Models Recommended for Beginners?
There are several camera brands and models that are often recommended for beginners because of their user-friendly features, affordability, and availability of learning resources. Some popular options include Fujifilm X-T30 II, Canon EOS M50 Mark II, and Nikon D5600.
What Accessories Can Enhance My Photography Experience?
Improving image quality doesn't always require big, expensive, or complicated camera accessories. The best ones can be simple and affordable, while still providing valuable support for your photography. You can consider purchasing an external flash, remote shutter release, and lens cleaning kit.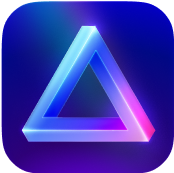 Advanced yet easy-to-use photo editor
view plans