Looking for the perfect camera for vlogging? We have prepared for you the top of the best options — from budget models to high-end ones.
Nowadays, thanks to a great number of opportunities and different social networks, everyone can start vlogging. It would seem that this is not difficult at all, you only need a phone. However, if you want to create high-quality content, you have to consider buying different equipment, and the camera will be in the first place in this list. Of course, deciding on the most appropriate model isn't easy at all, especially if you're on a tight budget. And even if not, you probably at least once wondered, what cameras do vloggers use, and which one to choose to avoid a mistake. Today we'll help you to understand this question because even if you're a professional and use the best DSLR camera for HDR photos, vlogging is completely different. In our top you will find options for all tastes, so read carefully, choosing the best one is up to you!

Top 9 Cameras for Vlogging of 2023
So, we've already established that great vlogging requires good equipment. This approach is comparable to the work of photographers. Professionals, even with the best equipment, still use image editing software to achieve the best results. It's the same with videography. Picking a camera is the first, but most important stage before you start. To make it easier for you to choose, we have prepared a list of the nine best options, dividing them into three categories according to the price segment. Well, let's get into a detailed review!
Entry-Level Cameras
First, let's talk about the models most suitable for newcomers and at affordable prices. They are perfect if you are just at the beginning of your creative journey.
1. DJI Pocket 2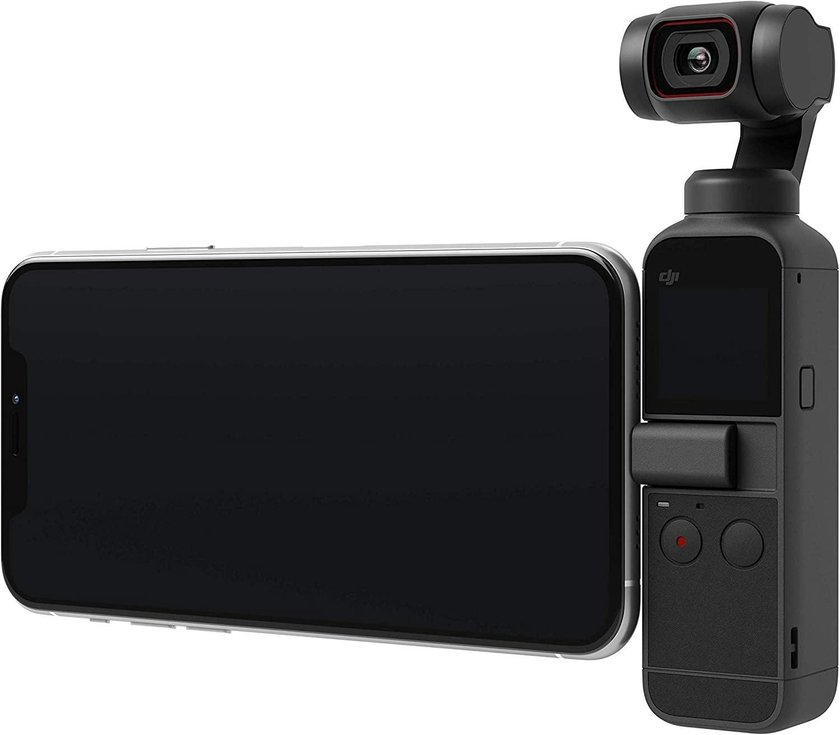 Do you want a camera with impressive features and a small size? Here is one of the best models. It has a three-axis gimbal stabilization system that ensures smooth and stable footage even when you're on the move. The camera can shoot 4K video at 60fps and capture 64MP photos, making it suitable for vlogging, travel, and content creation. It also has a range of modes, including ActiveTrack, Timelapse, and Slow Motion. This one of the best cameras for vlogging comes with accessories, including a wireless microphone, a tripod mount, and a do-it-all handle.
Pros:
compact and portable design, easy to carry around and use;

high-quality 4K video and 64MP photos;

multiple shooting modes;

comes with a range of useful camera accessories;

the easy-to-use touchscreen interface and intuitive controls;

built-in camera settings and editing tools;

affordable price compared to other high-end cameras.
Cons:
the small sensor can affect low-light performance and image quality;

limited manual control over settings;

no interchangeable lenses;

limited battery life, especially when using high-performance shooting modes;

the touchscreen interface may not be as responsive as physical buttons in certain situations.
This model is an excellent choice for anyone who wants a portable and easy-to-use 4K vlogging camera with high-quality video and photo capabilities.
2. Nikon Z30

This entry-level mirrorless camera offers a range of features for vloggers and amateur photographers. It has a 20.9MP APS-C CMOS sensor and EXPEED 6 processor that delivers high-quality images with excellent detail and dynamic range. Using it, you do not need skin retouching, as the quality of the picture is really high. The camera also features a 209-point autofocus system that covers almost the entire frame, making it easy to focus on your subject. It has a 3-inch tilting touchscreen display that is ideal for taking pictures at different angles and comes with a built-in electronic viewfinder (EVF) for accurate framing. This good vlog camera can film 4K video at 30fps and Full HD at 60fps and has a microphone input for better audio quality.
Pros:
compact and lightweight design, making it easy to carry around and use;

provides high-quality images with excellent detail and dynamic range;

209-point autofocus system covers almost the entire frame;

can shoot 4K video at 30fps and Full HD at 60fps;

compatible with a wide range of Nikon Z-mount lenses.
Cons:
no in-body image stabilization;

limited battery life, with only about 300 shots per charge;

the single card slot may be a limitation.
Overall, this is a good camera for vlogging for those who want to start their journey with a capable and versatile model.
3. Sony ZV-1F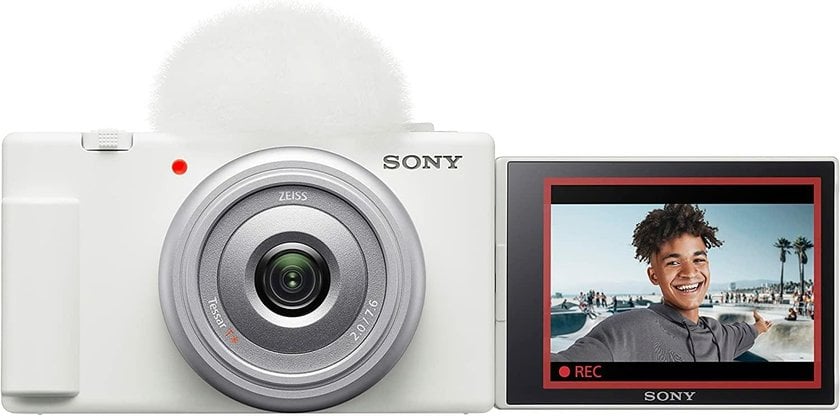 Looking for a compact camera capable of producing quality content? Then this model is perfect. The user interface is intuitive, with a touch screen and quick access buttons at the top, but navigating the menu system for advanced settings may be challenging for beginners. Sony's automatic modes are useful in such cases.
With SteadyShot stabilization technology, this easy-to-use camera is capable of producing excellent results. The sound quality is adequate for regular recordings, but professional content creators would require an external microphone.
Pros:
the design is compact and lightweight;

Intuitive user interface with quick access buttons;

Sony's SteadyShot stabilization technology;

the 1-inch sensor performs great in well-lit environments and manages to produce decent footage even in contrasting lighting;

a good choice for everyone who starts vlogging.
Cons:
navigating the menu system for advanced settings is not easy;

Sony's automatic modes may limit customization options for experienced videographers;

may not be powerful enough for professionals.
The camera's size and ease of use make it an ideal choice for smartphone users transitioning to dedicated equipment.
Mid-Range Cameras
Now we suggest you consider cameras that are suitable for both professionals and beginners, but the price policy is slightly higher.
4. DJI Action 2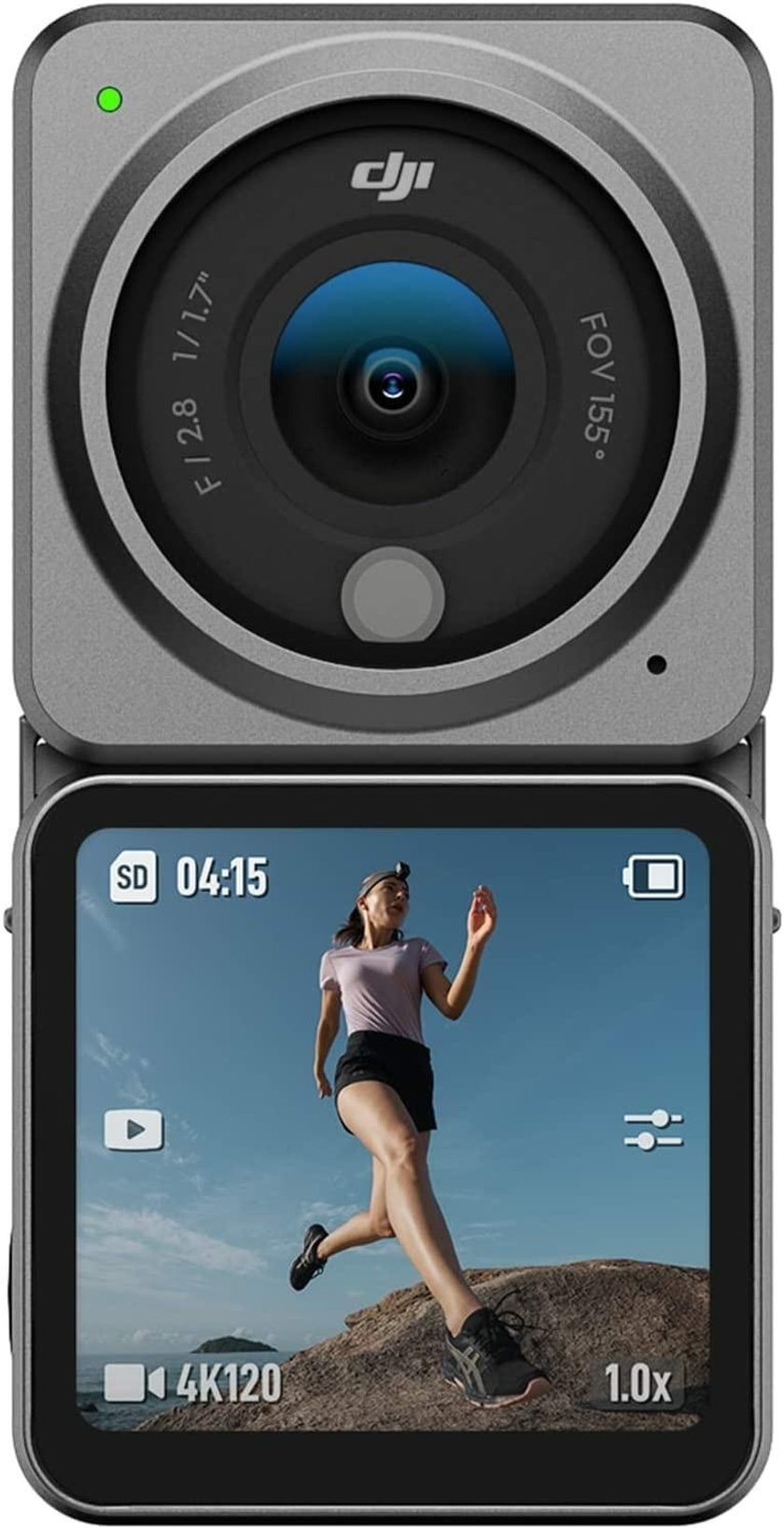 This is one of the best vlogging cameras that is designed to capture stunning videos and photos even in extreme environments. It is equipped with a 155-degree ultra-wide-angle lens and can record 4K video at 60fps and 1080p resolution at 240fps. It also features HyperSmooth stabilization technology, which helps to eliminate camera shake and create professional-looking footage. With a 9-meter waterproof rating and a 4-hour battery life, this model is ideal for capturing underwater adventures or long days of outdoor activities. Additionally, the camera is compatible with a wide range of accessories, making it easy to customize and enhance its capabilities. Whether you're an action sports enthusiast or a professional vlogger, this is a versatile option.
Pros:
high-quality 4K video resolution;

HyperSmooth stabilization technology;

155-degree ultra-wide-angle lens for capturing more of the scene;

9-meter waterproof rating without a case for underwater filming;

4-hour battery life for extended use;

compatible with a wide range of accessories;

voice control and touchscreen display for ease of use.
Cons:
higher price point compared to some other action cameras on the market;

limited zoom capabilities;

limited internal storage capacity, requiring a microSD card for extended use.
Overall, the DJI Action 2 is one of the best vlogging cameras with many benefits. However, it may not be perfect for those on a budget or who require extensive zoom capabilities.
5. Sony a6400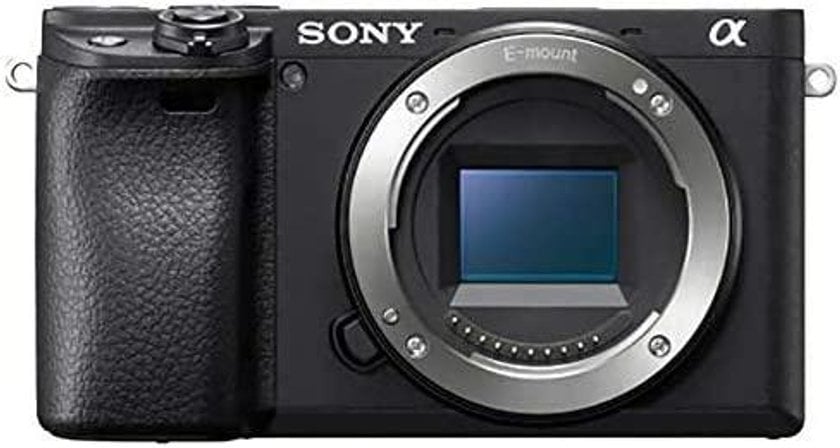 The Sony a6400 is one of the best mirrorless cameras that offers impressive capabilities for both photography and videography. It features a 24.2-megapixel APS-C sensor, an advanced autofocus system, and high-speed continuous capturing of up to 11 frames per second. The camera also offers 4K video recording with full pixel readout, producing high-quality footage with exceptional detail and clarity. It is also equipped with a 180-degree tiltable LCD touchscreen display, making it easy to capture selfies and vlogs. This model is also one of the best cameras for portraits. Additionally, it offers Wi-Fi and Bluetooth connectivity, allowing for easy sharing and remote control via a smartphone or tablet.
Pros:
24.2-megapixel APS-C mirrorless camera for high-resolution images;

advanced autofocus system with real-time tracking;

high-speed frame rate;

4K video recording with no pixel binning;

180-degree tiltable LCD touchscreen display for easy selfies and vlogging;

compact and lightweight design for easy portability.
Cons:
limited battery life compared to some other cameras;

no built-in flash, requiring the use of an external one for low-light situations;

limited weather sealing, making it less suitable for harsh outdoor environments.
With its powerful features and compact design, this is the best camera for vlogging and an excellent choice for both amateurs and professionals.
6. Canon PowerShot G7 X Mark III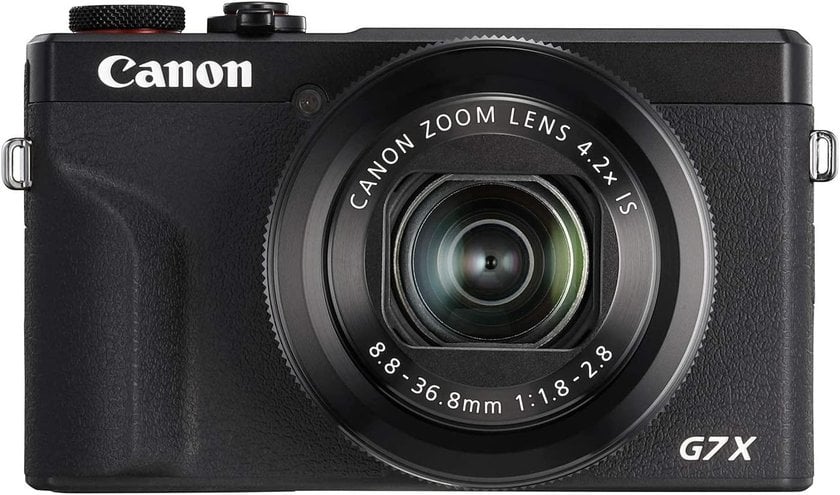 This compact vlogging digital camera is designed for everyone who needs a high-quality device. It is easy to use and it can produce professional-looking content. It features a 20.1-megapixel 1.0-inch stacked CMOS sensor, a fast f/1.8-f/2.8 lens, and an advanced DIGIC 8 image processor, allowing for high-quality photos and videos in a variety of lighting conditions. The camera also features 4K video recording, making it ideal for vlogging and creating high-quality video content. The PowerShot G7 X Mark III also includes built-in Wi-Fi and Bluetooth connectivity, enabling easy sharing and remote control via a smartphone or tablet. The compact design and lightweight construction make it easy to carry on the go, making it an excellent choice for those who need the best vlog camera for everyday use.
Pros:
20.1-megapixel 1.0-inch for high-quality images;

f/1.8-f/2.8 lens for low light situations and shallow depth of field;

DIGIC 8 image processor for excellent picture quality and quick performance;

4K video recording for high-quality content;

built-in Wi-Fi and Bluetooth connectivity;

this small camera for vlogging is perfect for everyday use.
Cons:
no viewfinder, requiring the use of the LCD screen for framing;

limited battery life;

no microphone input jack.
Overall, this is a versatile and powerful option that offers many benefits for those in need of a high-quality camera for regular use. While it may have some limitations, its compact design, excellent image quality, and 4K video capabilities make it the best digital camera for teenagers and an excellent choice for vloggers.
High-End Cameras
So, how serious are you about finding the best vlog cameras? Are you already a professional in this field? Then the last three positions will definitely not leave you indifferent. Let's choose the best!
7. Panasonic Lumix GH6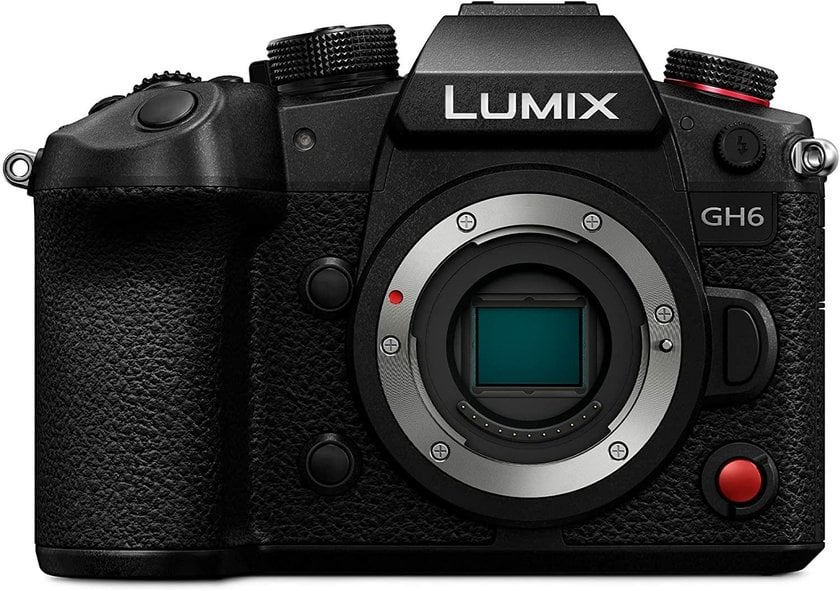 For really excellent vlogging, this option is perfect. It is a highly regarded camera for filmmakers and is renowned for its advanced video features. Despite its smaller MFT sensor, the Lumix GH6 is considered one of the best options available, with only its price and complexity preventing it from being the best vlogging camera on our list. It is not aimed towards casual vloggers, as it boasts a stacked sensor with incredibly fast readout speeds, allowing for high-quality video recording without the need for external equipment. The Lumix GH6 is capable of internal 5.7K 30p video in ProRes 4:2:2 HQ, 4:2:0 10-bit Cinema 4K 60p video, and 5.8K 10-bit anamorphic using the full sensor area.
Pros:
advanced video capabilities, including a wide range of video formats;

lightning-fast readout speeds, which can enhance the camera's overall performance;

professional-grade autofocus system;

a wide range of lens options available;

durable and rugged design;

high-quality sensor with a wide dynamic range.
Cons:
potentially high price point, which may be a barrier to entry for some photographers and videographers;

complex controls and menu system, it may take some time to learn and navigate;

limited battery life, which can be an issue when shooting for extended periods.
Undoubtedly, this is one of the best cameras for YouTube vlogging and an exceptional choice for professional videographers seeking advanced video capabilities.
8. Fujifilm X-S10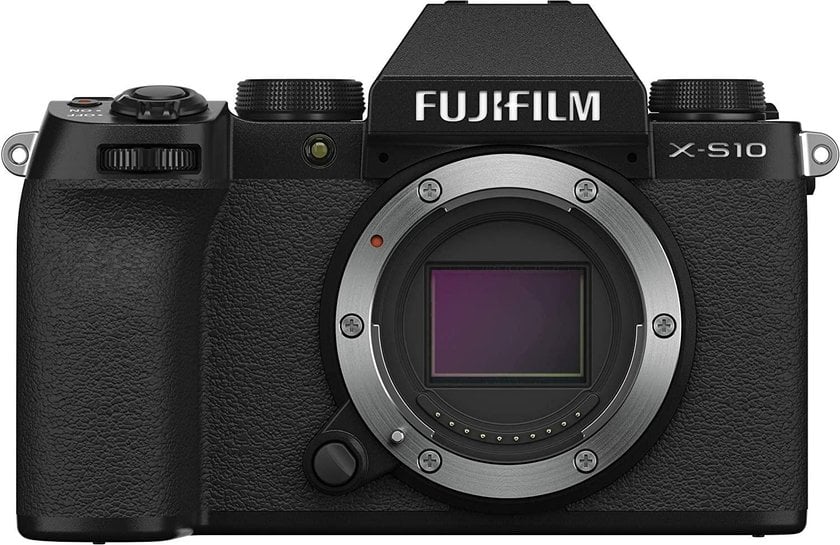 This camera is actually one of the best compact options that pack a powerful punch. It boasts a 26.1-megapixel APS-C sensor, which delivers excellent image quality with vibrant colors and sharp details. The model also features Fujifilm's signature film simulations, allowing users to achieve unique looks reminiscent of classic film stocks. One of the most notable features is the built-in image stabilization system, which works in conjunction with both the camera's sensor and lenses to minimize shaking and produce smoother, more stable footage. Additionally, it offers fast and accurate autofocus, making it well-suited for capturing action and movement. The compact size and user-friendly interface make it a great option for photographers of all levels, whether they're shooting stills or videos.
Pros:
lightweight design, which makes it easy to carry for extended periods of time;

26.1-megapixel APS-C sensor;

built-in image stabilization system;

fast and accurate autofocus;

user-friendly interface and controls;

compatible with Fujifilm's signature film simulations;

you can use this camera for both high-quality stills and video capabilities, making it a versatile option for a range of photography and videography needs.
Cons:
comparatively small battery life, which can limit the amount of time you can spend shooting without needing to recharge or swap out batteries;

no headphone jack, which may make it difficult to monitor audio while filming;

single card slot.
To sum up, it is a highly capable and versatile camera that delivers excellent image and video quality in a compact and user-friendly package.
9. DJI Mini 3 Pro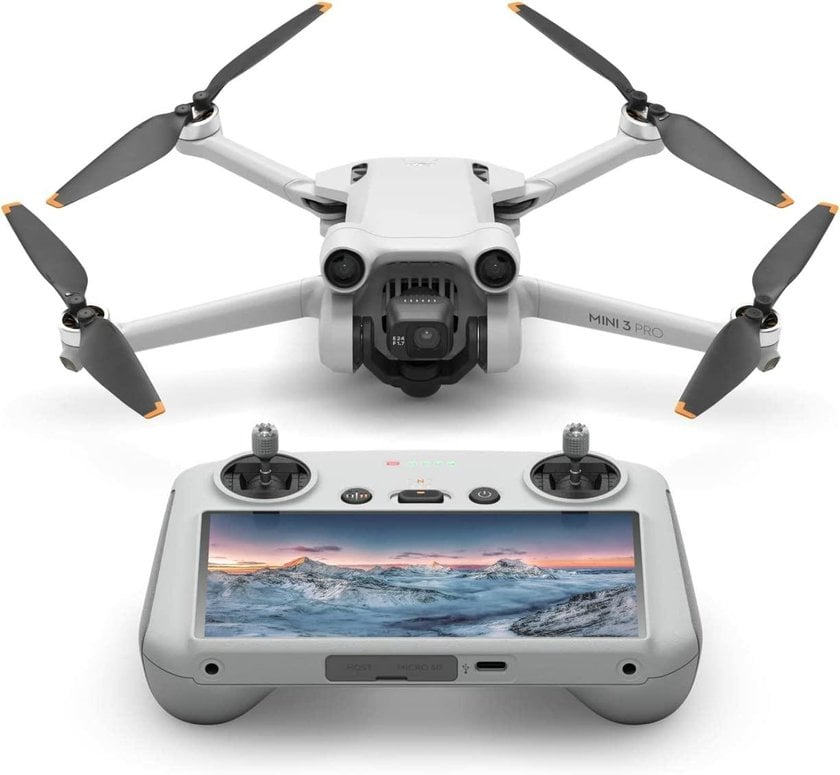 Are you tired of just good vlogging cameras? This drone is a game-changer for users looking to incorporate high-quality aerial videography into their content. Despite its compact size, it packs in the advanced features and capabilities of higher-spec options. With an aerodynamic design and larger propellers, it boasts an impressive 34-minute maximum flight time. The 1/1.3-inch sensor delivers excellent image and video quality, especially in low-light conditions. The stabilized camera on the front can now be tilted to capture portrait video, ideal for social media platforms. Additionally, built-in obstacle avoidance sensors and automated QuickShots make it easy to shoot cinematic content solo.
Pros:
compact camera body and lightweight design make it highly portable;

impressive flight time, more than thirty minutes;

advanced features and capabilities;

the larger 1/1.3-inch sensor for excellent image and video quality;

built-in obstacle avoidance sensors make it easy to avoid collisions with trees and other obstacles;

automated QuickShots helps to capture cinematic footage single-handedly.
Cons:
higher price point compared to previous versions;

limited range and flight capabilities.
The camera's small size and professional capabilities make it an attractive choice for vloggers seeking to elevate their aerial content.
Factors To Consider When Choosing the Best Vlogging Camera
In order to be fully confident in your decision, you should not be in a hurry and choose hastily. Even among the best cameras you can buy right now you can get confused. To prevent this situation, take a closer look at the factors that you should always consider when making your choice.
Image Quality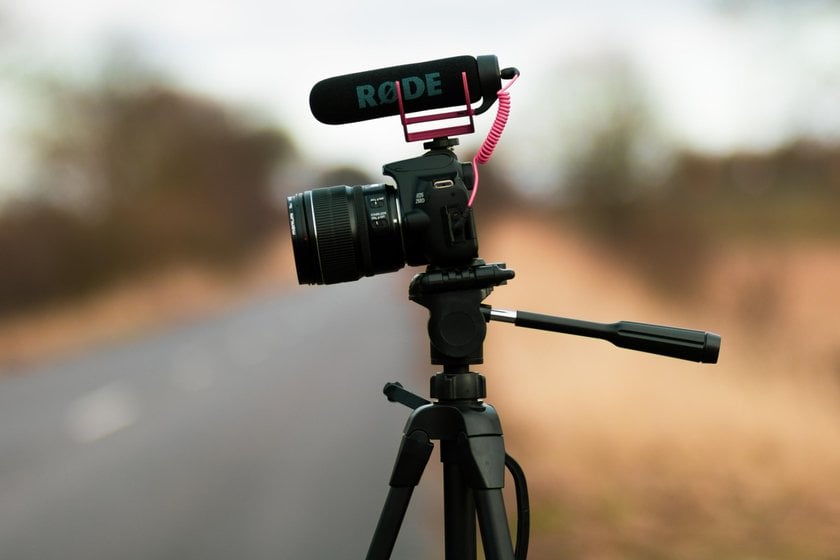 When it comes to vlogging, the importance of image quality cannot be overstated. You should always remember that content is your brand and your camera is the tool you use to capture and share that footage with the world. Poor quality can make your video look amateurish and unprofessional, while high-quality images can help you stand out from the competition. Factors such as resolution, dynamic range, and low-light performance are critical. Therefore, it is important to carefully consider these aspects when choosing the best camera for a vlog so that your content looks its best and resonates with your audience.
Autofocus
It is an important feature to consider when choosing a camera for vlogging. You should be able to move freely knowing that your shots will stay sharp even if you or your subject are in motion. With an effective autofocus system, you can concentrate on creating content instead of worrying about camera settings and adjustments, making your vlogging experience much more enjoyable and hassle-free.
Video Stabilization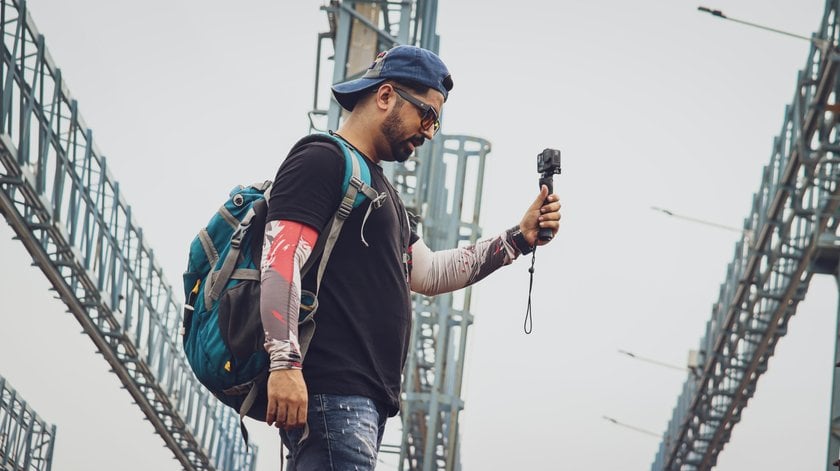 When choosing the best video camera for vlogging, stabilization is a crucial factor to consider. To achieve the best image, you need to be confident that the result will be smooth, not shaky footage. Stabilization is going to be a key factor in this issue. No matter whether you choose a DSLR or mirrorless camera, the most important thing is to study this aspect carefully. Look for customer feedback, or better yet, check out video reviews. Before making a purchase, make sure you will be thinking about the quality of the content and not about how to properly hold the camera so it does not ruin the video.
Audio Capabilities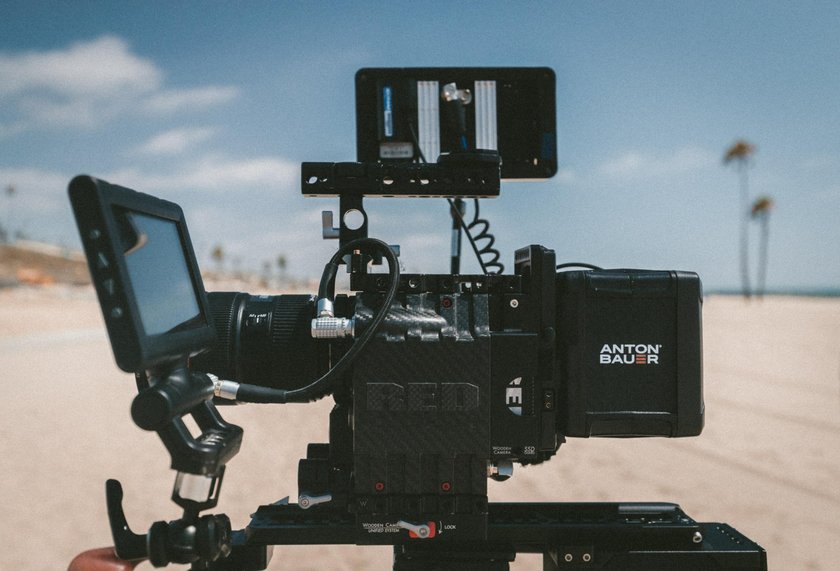 High-quality video is only part of the equation, as good audio is just as important in creating engaging footage. Viewers won't tolerate poor sound quality, as it can make the content difficult to follow or outright frustrating to watch. A camera with excellent audio features, such as a built-in microphone, external mic input, and noise-reduction technology, can make a significant difference in the quality of your videos. The model's ability to capture clear and crisp audio, even in noisy environments, is critical to delivering a polished and professional result. So when selecting a camera for vlogging, make sure to prioritize options with strong audio capabilities.
Budget and Personal Preferences
In addition to the above factors, there is one more, which we believe is the most important. It is a choice based on personal preferences. For example, we want to use artificial intelligence photo editing software to process photos, because it helps to achieve a perfect result. For the same reason, every vlogger tries to choose the best camera. When deciding for yourself, focus on what the format of your blog will be and choose based on that. There can only be one difficulty, and that is the price. If you are on a tight budget, look at the best cameras for vlogging and photography at the entry-level. If it does not suit you, we advise you to wait for a while, and then buy a more expensive model, with more advanced features and a front-facing screen, which will fully meet your needs.
Essential Accessories for Vlogging
You didn't think that just a new camera would be enough to be successful, did you? No, of course not. To achieve amazing results, you also need to consider the purchase of different equipment, and we will tell you more about that below.
Microphones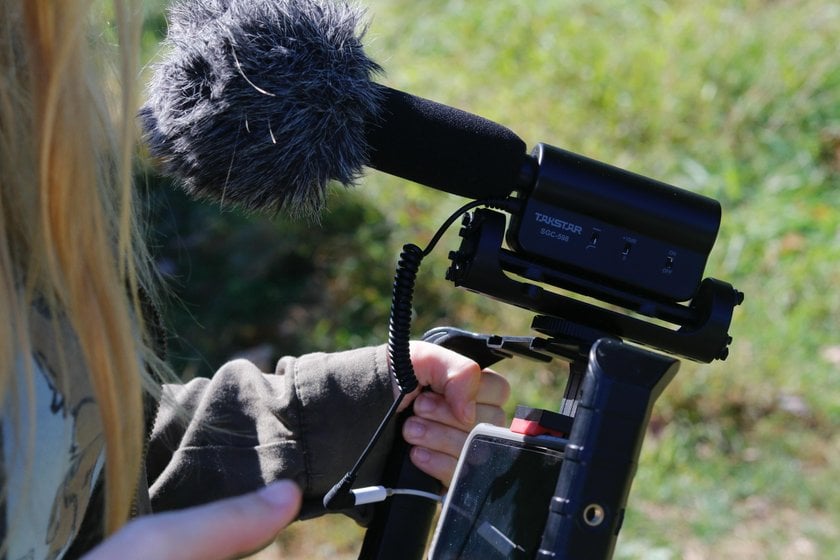 We already talked about the importance of sound in video recording, didn't we? An external microphone is not always a must-have purchase, but sometimes you just can't do without it. So in certain cases, why don't you have to buy this accessory? Top vlogging cameras already have good-quality built-in microphones. Not only do they give you great sound in the studio or just in a quiet room, but they can also be useful outdoors if they have wind noise reduction. However, if the camera microphone cannot boast good quality, buying an additional one can be an excellent solution. The only caveat is to make sure your camera has the right jack or wireless connection feature.
Tripods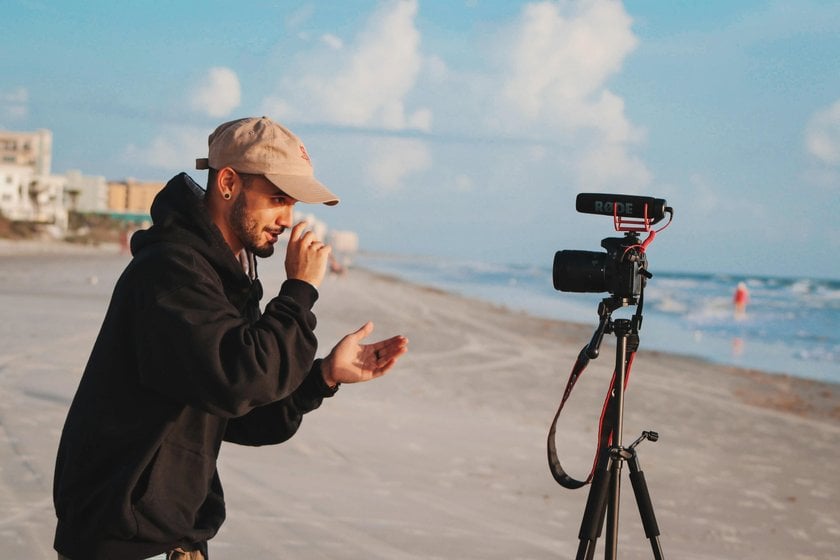 A tripod is undoubtedly one of the most essential accessories for good cameras for vlogging. It not only provides stability to your camera but also helps to produce high-quality and smooth videos. Even if you are constantly on the move and filming in various locations, it can still prove to be incredibly useful. It allows you to avoid shaky footage and create professional-looking content that your viewers will appreciate. When choosing a tripod, it's important to consider your specific needs and usage scenarios. For instance, if you plan to film outdoors, you'll need an option that is lightweight and easy to carry. Similarly, if you are going to use it in a studio or indoor environment, you might want to opt for a more robust and sturdy model. The material is also an important factor to consider, as it can affect durability and weight. All in all, investing in a good-quality tripod is definitely worth it if you want to take your vlogging game to the next level.
Lighting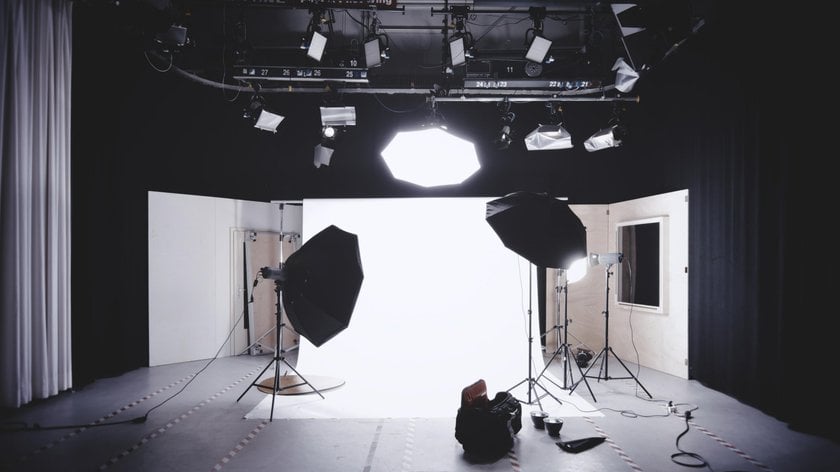 Lighting is one of the most critical factors to consider when it comes to creating high-quality vlogs. Without proper light, even the best cameras can struggle to capture clear and vibrant footage. A well-lit scene can make all the difference in how your content is perceived, highlighting details and creating a more professional look. Investing in lighting equipment can significantly improve the quality of your videos, whether you're vlogging indoors or outdoors. There are various options available, from portable LED lights to full studio setups, allowing you to choose the right solution for your needs and budget. Good lighting can not only enhance even the best vlogger camera and brighten a picture, but also help you establish your brand and make your vlogs more engaging and appealing to viewers.
Additional Gear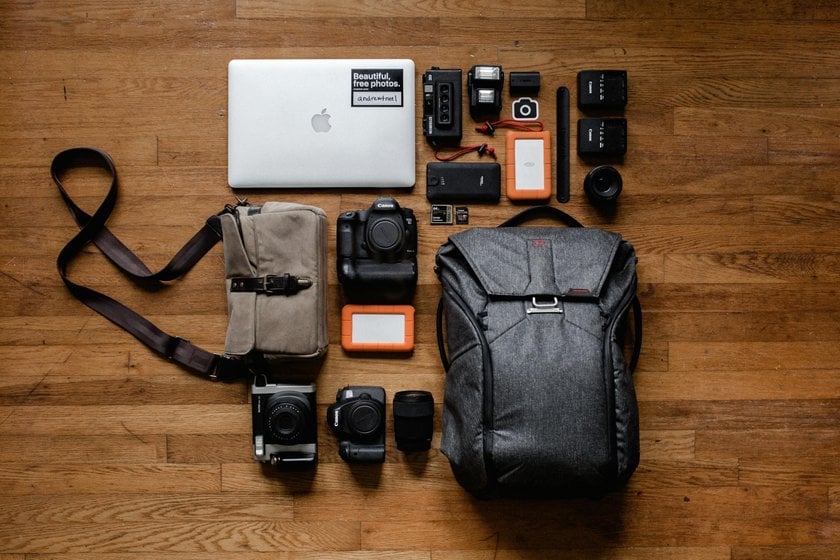 In addition to the basic gear mentioned earlier, there are other accessories that may be needed in the process. Among them, the following are worth mentioning:
A battery or power bank. You wouldn't want to end up filming at the most inopportune moment, would you? To avoid this unpleasant situation, make sure you have a power bank or extra battery, especially if you are outdoors.

Equipment bag. To keep your gear safe, you need a special case or bag. It will be useful not only on the road but also just for storing your equipment.

Lenses. Here, of course, everything depends on the model of your camera. If possible, purchase several options for different types of footage.
With these additional accessories, you can greatly facilitate your workflow.
Final Thoughts
So, what is the best camera for vlogging? We hope you found the answer to this question in our article. There are many different factors to consider when choosing the most appropriate model, so there is simply no universal option. Still, we hope that you have found the best camera on this list. If not, use our tips to choose the best one for you!
FAQ
Here you will find answers to the most popular questions.
How Important Is Video Stabilization for Vlogging?
Video stabilization is one of the most important factors in vlogging, as it can greatly impact the overall quality of the footage. Keeping your camera smooth is essential, especially if you're shooting on the go.
What Are the Essential Accessories To Improve My Vlogging Setup?
There are several essential accessories that can make it easier to create high-quality content. Some of them include a tripod to keep your camera stable and reduce shakes in the footage, a high-quality microphone to improve audio quality, and proper lighting.
Are Mirrorless Cameras Better Than DSLRs for Vlogging?
Ultimately, both options can be great options for vlogging, and the choice between the two comes down to your individual needs and preferences. Consider factors such as portability, autofocus, and low-light performance.
What Features Should I Look for When Choosing a High-End Vlog Camera?
Consider features such as a fully articulated screen, good low-light performance, fast autofocus, good image stabilization, and high-resolution video capabilities. Additionally, pay attention to the camera's portability, battery life, and microphone input options to ensure that it meets your specific needs for vlogging.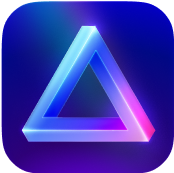 Advanced yet easy-to-use photo editor
view plans