Are you a photographer who wants to go beyond Auto mode to try different styles? We've prepared for you a guide with the 5 best Canon beginner cameras that combines simplicity, ease of use, and functional features, which will help you to immerse in art photography fully.
Have you played enough point-and-shoot models and realized that you dream to create real masterpieces using different lenses and wider functionality? So, you need the right camera, that is, one that makes a good first impression on a beginner, is intuitive, gifts incredible image quality, allows easily improving technique, and gives freedom of creativity. But which model to choose from the thousands of options on the market? In this article, we've selected the top Canon models that will help you find your good workhorse for your successful start.

What to Look for When Choosing a Beginner Camera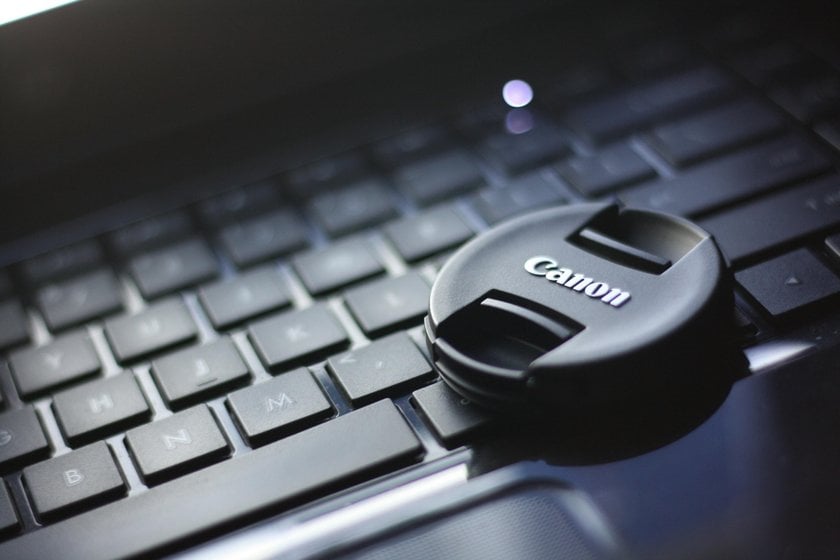 Finding a good Canon camera for beginners is a puzzle. After all, you need the workhorse that takes high-quality photos with excellent detail and color reproduction, is user-friendly, has the ability to try different lenses, contains manual settings, and is relatively affordable.
You're probably tired of scrolling through hundreds of pages of online stores and walking kilometers through shopping centers to find the right option among the huge amount of photographic equipment. Therefore, we suggest you take a breath and study the following factors that will help you filter out the unnecessary and choose exactly what you need:
Your purpose. Think carefully about what type of photo you want to create. Do you adore portraits with live emotions and pleasant bokeh? Then select the model with a good autofocus system. Is traveling your hobby, and you want to capture amazing sunrises in the mountains, incredible shadows of sand dunes at sunset, beautiful waterfalls, caves, and other moments of your adventure? The photography gadget with a wide or zoom lens is a nice choice for you.
Camera size. Selecting the Canon beginner camera, consider where you'll shoot with this gadget: indoors or outdoors during trips. If you want to master the craft of photography during long travels, select a lightweight model, as you'll need to carry this tool in your backpack the whole way.
Megapixels. Many factors influence image quality. The amount of megapixels is among them. The more of these small dots on the camera for beginners' sensors, the clearer and brighter the image. In general, the equipment for beginners already comes with a good resolution, namely 16-24 mp. The options with a bigger number of pixels fit you if you plan to process taken images on your computer with AI photo editing

tools for further their print.

Autofocus. If you want to shoot skiing, sports competitions, or wild animals, pay attention to this function. Using it, you don't need to stand with the camera for a long time to catch the desired object. It keeps the focus on it automatically.
Manual mode. This is where your true creativity starts. So, pay attention to the Canon camera for beginner photographers that has such a feature. What is its advantage? You can easily improve the frame by adjusting ISO, contrast, exposure, and other parameters. We recommend you choose an option with a wide range of ISO, which will give you more opportunities for creativity. For example, high ISO values are ideal for shooting concerts, portraits in a dark room, or other themes in low-light conditions. At the same time, a lower ISO gives you the ability to create beautiful nature shots in sunlight.
Interchangeable lenses. It is they that give you an opportunity to start your photography journey. So, select the Canon camera with several lenses included. You can apply them depending on the situation. For example, a wide option is excellent for shooting landscapes during your trip in the mountains, desert, or other amazing places. Zoom fits for capturing the bird in the sky or another remote object. And macro lens allows you to fix a beautiful pattern of a butterfly or leaf close-up.
Video. If you desire to create your own blog about travels, handmade, style, sport, healthy food, or on another topic, you should preferably have a Canon for beginners with a 4K function. You'll wonder about the natural colors, clarity, and brightness of images on the screen.
Budget. Decide how much you are willing to spend on camera. Keep in mind that DSLR models with advanced features are more expensive than simple mirrorless models. But you shouldn't skimp on equipment. After all, it is bought for many years. Find a middle ground depending on your needs.
Mirrorless or DSLR Camera: Which is Better for Start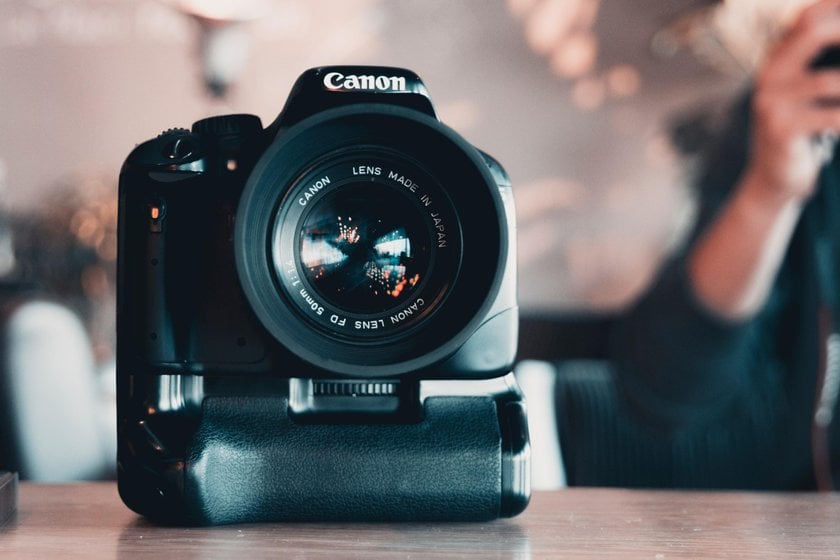 If you are just taking your first steps into the world of real photography, the market offers two types of gadgets: mirrorless and DSLRs. Both have common advantages, such as changing lenses, as well as different sensor sizes and resolutions. All of this gives you the flexibility to work with different locations, styles, and themes of your shooting, and then to add to ready-made images an interesting Lightroom preset.
Both options also have key differences. Thus, there is a special mirror inside DSLR models. It reflects light into the image sensor. Thanks to the optical viewfinder you can see the real picture of the scene you're shooting, whether it is a dense forest among the mountains, a glacier, or a person.
As for mirrorless Canon digital cameras for beginners, they haven't a mirror. These photography devices use an electronic viewfinder, which fits people who are used to taking pictures on their phones. In addition, a mirrorless system, unlike a DSLR one, allows you to take photos with a high frequency. This means that you can capture wild animals of the African savanna during their migration or capture the lively emotions and adrenaline from action moments such as jumping, skiing, and others.
Entry-level DSLR cameras have a longer battery life and a wider range of lenses. In addition, they are very ergonomic and user-friendly. When you take this photography device, it is felt like an extension of your hand. But due to the presence of a mirror inside, its weight is slightly higher than that of mirrorless devices.
At the same time, mirrorless cameras have autofocus systems and in most cases imitate the style of Canon DSLR cameras for beginners. They are compacter and lighter, which makes them the best choice if you want to carry the device anywhere in your backpack to catch spontaneous moments.
So, which type of camera to choose depends on your personal preferences and photography goals. If you like analog photography and plan to take portraits and other photos in different styles at a professional level, then select DSLR. And if a system similar to a smartphone one, compactness, and ability to take action photos are important to you, then think about a mirrorless camera.
Why Should I Choose a Canon Camera for Beginners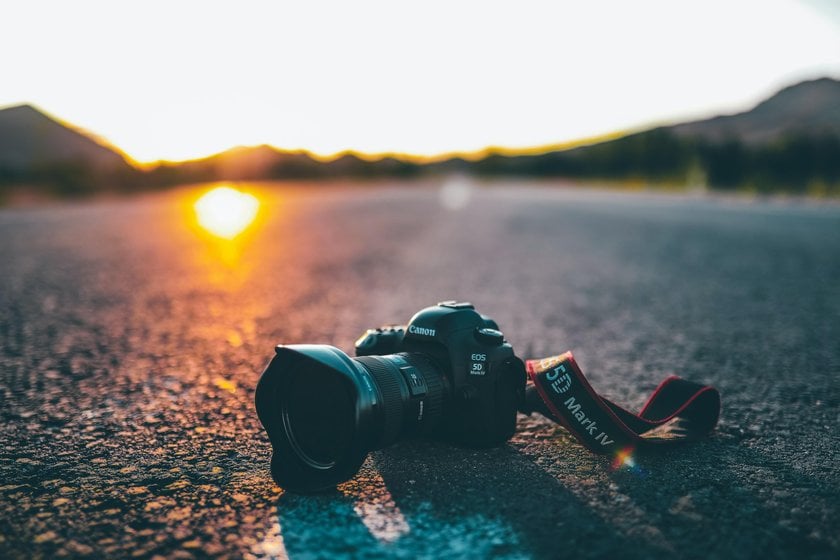 There are a lot of cameras from Sony, Nikon, Fujifilm, and other global brands that propose perfect quality and different functions. But why is it that Canon photography equipment is worth attention when it comes to selecting the gadget for beginners? Now we'll explain everything to you.
The popular Japanese brand produces one of the widest ranges of high-quality cameras in the world, moreover for photographers of all skill levels. In particular, there is a nice choice of compact, mirrorless, and DSLR entry-level cameras. They suggest an ideal balance between convenience and functionality. Such devices have user-friendly buttons and a menu that allows you to navigate the work the first time easily. As for the functional filling of cameras for beginners, they have technologies taken from high-level models, such as an advanced autofocus system or a powerful processor.
Besides high-quality images with clarity and rich colors, Canon DSLRs for beginners can surprise with the ability to shoot video in Full HD and 4K formats. It is great news if you want to realize yourself not only as a photographer but also as a YouTube blogger.
And just imagine that all the filling fits into a compact body with an ergonomic handle. This means that you can carry your photography gadget in your backpack without back pain everywhere, even during a multi-hour hike in the mountains. And all this pleasure is affordable for your wallet. You can choose a good DSLR camera for less than $500.
A wide range of models with functionality, manual modes, and the ability to connect different lenses from macro to zoom gives you the freedom to pursue your passion for photography. In particular, you can experiment with different techniques and styles on several models as you improve your photography skills.
5 Best Canon Cameras for Beginner Photographers in 2023
To make it easier for you to navigate the huge variety of photographic equipment, we've prepared a list of the best 5 models that are a great gateway to the world of real photography. In it, we have concentrated on the mirrorless and DSLR models, as they have everything you need for learning photography. So, let's go!
1. Canon EOS M50 Mark II
A perfect model for photos, vlogging, and live broadcasts.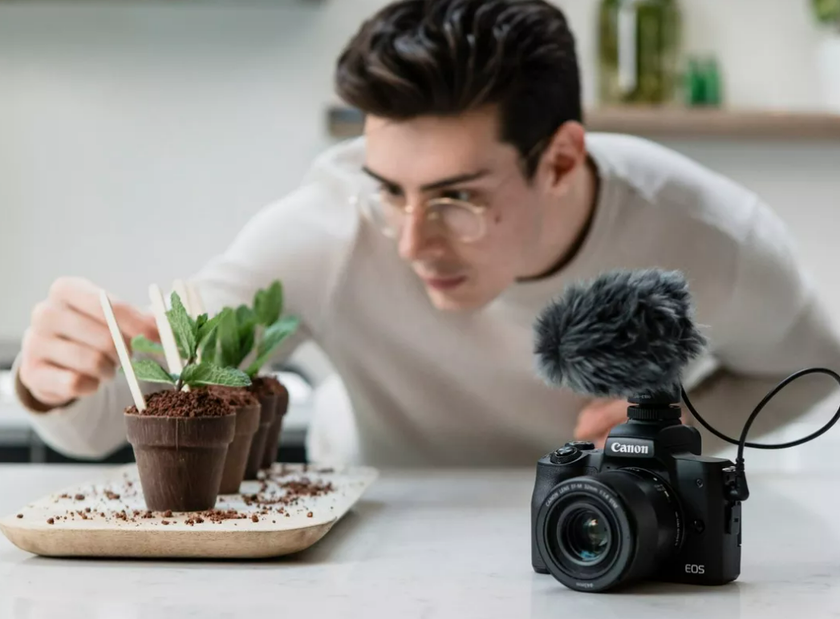 MAIN FEATURES
Type: Mirrorless
Processor: DIGIC 8
Viewfinder: Electronic
Sensor: APS-C
Megapixels: 24,1
ISO: 100 – 25 600
Screen: 3 in Vari-angle touchscreen
Burst mode speed: 10 fps
Video: Full HD, 4K
Dimensions (W × H × D): 116.3×881×58.7 mm
Weight: 387g black and 388g white
PROS:
Perfect image quality

Good built-in electronic viewfinder

Auto and Manual mode

Ability to shoot 4K and Full HD video
CONS:
A small range of lenses

Video in 4K format is somewhat cropped
This mirrorless model seems to have been created for beginners, as it has everything you need for mastering the basics of photography. It is a nice choice if you have played with your smartphone camera enough and want to go a few steps higher. In particular, thanks to the 24,1 mp sensor APC-1 you get images of food, clothes, interior items, portraits, landscapes, and other objects of amazing quality and with shallow depth of field. Each finished photo has its own individual touch and is perfect for your Instagram feed or even personal exhibition.
It is one of the best Canon cameras for beginners because it is also perfect for shutting the starry sky, a concert, a person's face in semi-darkness, and other objects in conditions of light weaker than even moonlight. Autofocus with a sensitivity of -4EV and an ISO from 100 to 25600 gives such an opportunity. In addition, you can shoot continuously at 10 frames per second, which allow you to capture sports competitions, wild animals, and other moments that are full of dynamics.
Canon EOS M50 will help you to realize the dream of blogging. It can shoot video at a professional level in 4K format thanks to the rotating electronic viewfinder. The picture in the frame is perfect with good sharpness, natural colors, and focus on the face and eyes because the camera has Eye/Face AF. In addition, you can turn your camera into a web camera using EOS Webcam Utility. Do you want to try yourself as a live streamer on YouTube? This one of the best DSLR Canon cameras for beginners gives you the opportunity to conduct broadcasts in real-time mode from anywhere in the world. And thanks to built-in Wi-Fi and Bluetooth connectivity, you can easily and quickly transfer your content to a smartphone or tablet to make automatic editing photos or just share your shots with friends.
2. Canon EOS Rebel SL3/EOS 250D
The smallest and lightest DSLR camera for capturing stunning portraits, wild nature, and street photography.
MAIN FEATURES
Type: DSLR
Processor: DIGIC 8
Viewfinder: Optical
Sensor: APS-C CMOS
Megapixels: 24,1
ISO: 100 – 25 600
Screen: 3in Vari-angle touchscreen
Burst mode speed: 5 fps
Video: 4K UHD
Dimensions (W × H × D): 122.4×92.6×69.8 mm
Weight: White 451g, Black/Silver 449g
PROS:
User-friendly and intuitive

The most compact DSLR camera

Good battery life

Vari-angle touchscreen

4K video
CONS:
Not convenient to switch between the viewfinder and the screen

Only 9 AF points
Do you want to immerse yourself in the world of high-quality photos? Then this is a good beginner Canon DSLR model that can be your reliable guide. Also known as EOS 250D, it offers images with 24,1 megapixels resolution and 4K video that impress with incredible detail and natural color reproduction. Moreover, even in low light conditions, for example during shooting night landscape, cloudy weather, or in a dark room. As a beginner who is used to a smartphone camera, you may find the optical viewfinder a little difficult to use. However, it is through it that you see a clear picture in real-time.
Despite the fact that EOS Rebel SL3 can shoot burst mode at 5 frames per second, it has an 18-55 mm lens. It allows you to start your way to the photography girt from shooting portraits with a focus on the eyes thanks to Dual Pixel CMOS AF Live View, landscapes, or street photography. And Vari-angle screen is your best way to shoot from different angles and even take selfies.
This Canon DSLR camera for beginners is great because it has a Guided mode, that proposes step-by-step tips on the LCD screen that will help you achieve a certain effect or navigate through settings. For example, you want to take a portrait with blurred background. In order to do this, the gadget suggests switching to Aperture Priority mode and setting the aperture to a lower value. After each of your choices, the camera gives you tips on how to proceed, which is very convenient if you don't understand the settings and other features at all. Once you've mastered all the basics, you can switch to the normal mode and practice your skills freely without prompts. You can also open your creativity with the Creative Assistant function. It allows you to adjust brightness, contrast, saturation, and other parameters, as well as add interesting presets.
Unlike other DSLR models, this entry-level camera is the lightest in the world. Its weight is only 449g. It means that you can carry it with you in your backpack everywhere to catch an amazing sunset, a rainbow, a bird in the sky, or other spontaneous ideas. Or you can take it on your travels without worrying about back and arm pain, as is often the case with bulky professional equipment. And with this "baby" you'll feel flexible anywhere because you can transfer photos and videos to your phone or tablet with Wi-Fi or Bluetooth, immediately share them on social networks, or process them in a photo editor.
3. Canon EOS Rebel T7/2000D
The cheapest DSLR Canon camera for beginners that make beautiful photos with nice bokeh and help you tell your stories in cinematographic videos.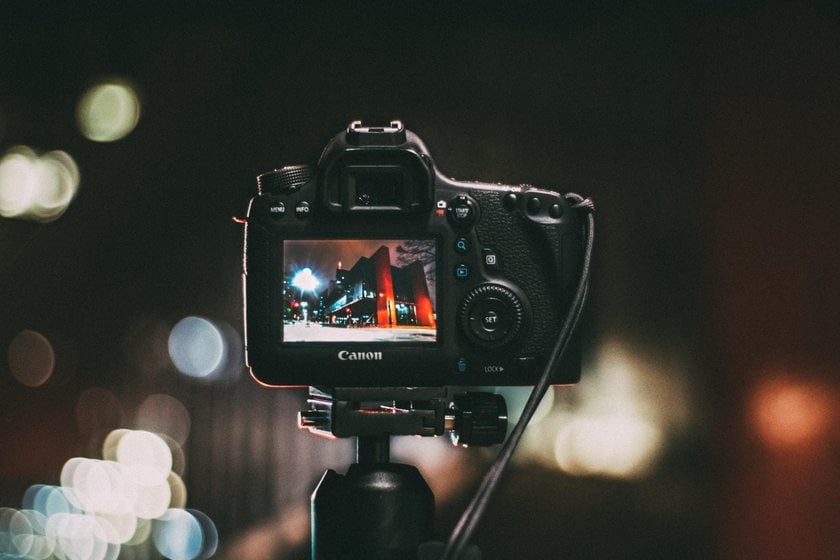 MAIN FEATURES
Type: DSLR
Processor: DIGIC 4+
Viewfinder: Optical
Sensor: APS-C
Megapixels: 24.1
ISO: 100 – 6400
Screen: 3-inch LCD
Burst mode speed: 3fps
Video: Full HD
Dimensions (W × H × D): 129.0×101.3×77.6 mm
Weight: 475 g
PROS:
Excellent image quality with a high level of detail and blurred background

Simple buttons and controls

Good battery life

Full HD video of cinematographic style

Ergonomic body
CONS:
No touchscreen

The AF system is somewhat outdated
Are you looking for something cheap and basic, without frills? We recommend you pay attention to this model. It is one of the cheapest DSLR cameras on the market. And at the same time, offers less for its price. In particular, you won't see the possibility of a revolutionary 4K video. But it is a good Canon DSLR for beginners because of the Full HD format that will be enough to unleash your potential. You can just shoot your spontaneous moments from your daily life or amazing places from your travels. Or you can feel yourself a beginner filmmaker getting beautiful cinematic clips for commercial projects, music videos, or your personal portfolio.
As for the photo, you get high-quality images with blurred backgrounds even in low light conditions. All this is thanks to the APS-C sensor with 24.1 pixels. And give freedom to your creativity thanks to Creative Auto mode, Creative Filters, and Scene Intelligent Auto.
Despite the fact that Canon EOS Rebel T7 shoots only 3 frames per second, you can still learn to take burst shots, moreover remotely, like other photography functions. Just connect the camera to an Android or iOS gadget with Wi-Fi, NFC, or Canon Camera Connect. You can also try to remove the portrait background or make other changes with your favorite app. And if you don't understand settings at all, the Canon Photo Companion app can help you to learn photography basics easily with the help of simple guidelines.
4. Canon EOS RP
Small, light, and convenient full-frame camera with wide creative possibilities.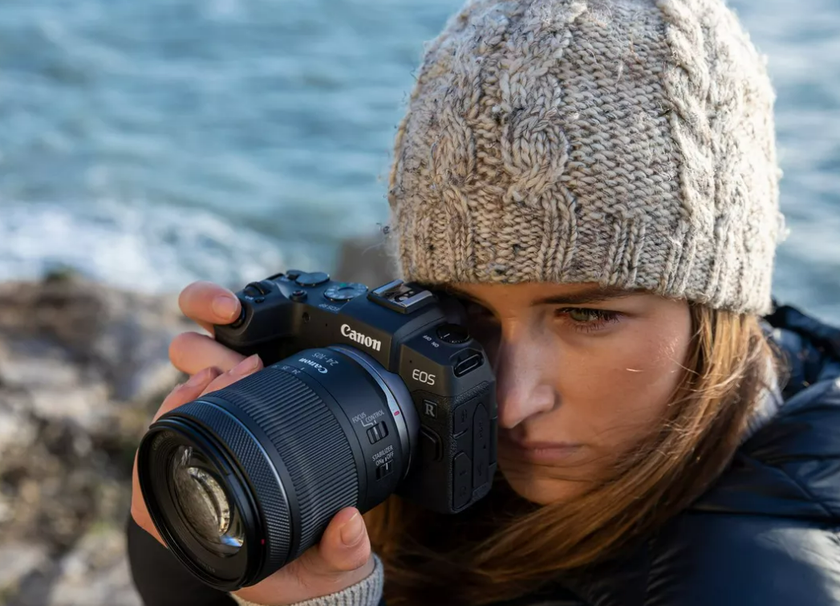 MAIN FEATURES
Type: Mirrorless
Processor: DIGIC 8
Viewfinder: Electronic
Sensor: Full-frame CMOS
Megapixels: 26
ISO: 100 – 40 000
Screen: Vari-angle Clear View LCD II touchscreen
Burst mode speed: 5fps
Video: 4K, Full HD
Dimensions (W × H × D): 132.5×85.0×70.0 mm
Weight: 485g
PROS:
High quality from full-frame shooting

4K video

The ability of Vari-angle touchscreen

Compact and easy to use
CONS:
Little battery life

1.6 x crop in 4K video
This model will become your reliable friend if you already know a little about the basics of exposure, were practicing on the best Canon Rebel models for beginners, and want to unleash your creativity to the fullest. The main features of this full-frame gadget are a 26.2 megapixel CMOS sensor and optical stabilization, thanks to which you get clear photos with incredible detail and color reproduction.
Dual Pixel CMOS autofocus technology gives you the opportunity to instantly focus on your eyes or other subjects and get a clear picture with a maximum depth of field. The camera delivers impressive results even in low light conditions, such as at night when shooting the starry sky. To take your skills to the next level, the gadget offers a variety of full-frame lenses from the state-of-the-art RF series.
Despite the burst rate of 5 frames per second, the camera perfectly captures jumping, running, cycling, and other ideas where there is movement. It also allows you to shoot 4K videos for your personal archive or blog.
This model is quite convenient for beginners. The Vari-angle screen allows you to quickly control the main functions and capture the highlights from different angles. The electronic viewfinder is easy to use for those who are used to taking photos with a smartphone. And thanks to its ergonomic design and lightweight, you can take the Canon starter camera everywhere in your backpack to capture interesting graffiti on a building, a rainbow in the sky after a rain, or any other moment.
5. Canon PowerShot SX70 HS
The bridge camera with good DSLR functions.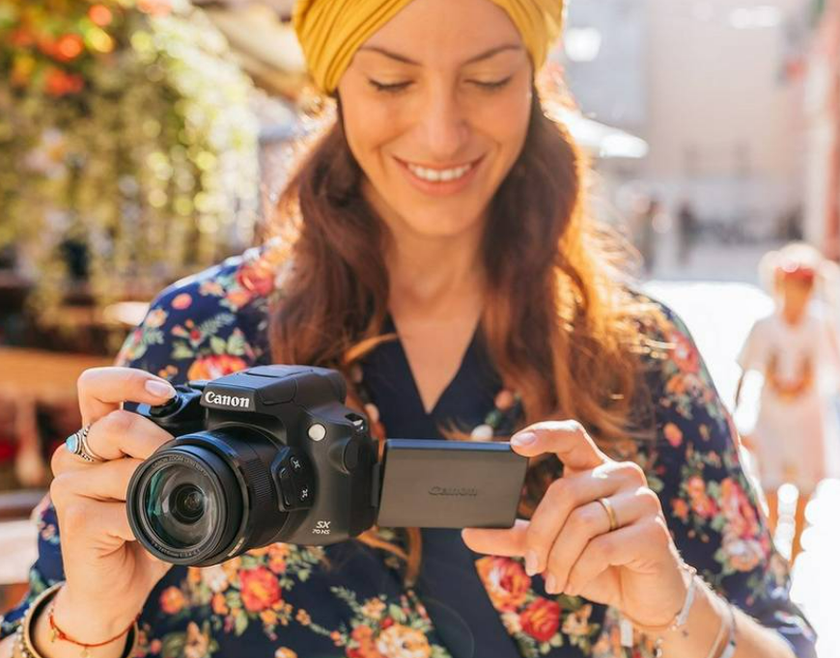 MAIN FEATURES
Type: Bridge camera
Processor: DIGIC 8
Viewfinder: Electronic
Sensor: High-Sensitivity CMOS
Megapixels: 20.3
ISO: 100 – 3200
Screen: Vari-angle LCD
Burst mode speed: 10fps
Video: 4K
Dimensions (W × H × D): 127×90.9×116.6 mm
Weight: 610g
PROS:
Nice quality for beginner level of photography

Optical image stabilization

4K video

Compact
CONS:
The quality of video and photos is not up to the professional level in low-light conditions

No touchscreen
Are you a beginner photographer who admires the incredible quality of photos taken with a DSLR, but want something more compact and simple? Then pay attention to this bridge camera. Although in this article we focus on the best Canon DSLR camera for beginners, we couldn't pass by this workhorse. It combines the compactness of point-and-shoot cameras and functionality and the style of DSLRs.
This photography equipment has only a 20.3 megapixels resolution, but it's still amazingly good. The fixed lens is even an advantage because you don't need to spend money on additional equipment. It delivers perfect wide-angle images of natural landscapes and 65x zoom, allowing you to capture dolphins, birds on the waterfront, or other distant objects in clear, detailed images. You can also take macro shots of nature to capture the beauty of insect patterns or leaves.
Canon has taken care of your mobility while using the camera. With Live View mode, you can connect the gadget to your smartphone to use it as a viewfinder or to change camera settings.
Another advantage of one of the best Canon for beginners that can not be found even in some DSLR models is the 10-fps burst shooting capability. It allows you to perfectly capture wildlife, sports, and other moving objects. And it's also a great way to start your vlogging journey, as it allows you to shoot 4K video.
Final Thoughts
Choosing the right camera is like looking for a needle in a haystack. After all, there are many nuances to consider, including your goals, image quality, and budget. Canon is the brand that will not let you down because it has a wide range of bridge, mirrorless, and DSLR models that have all the features you need for your successful journey into the world of photography.
FAQ
Is Canon or Nikon Better for Beginners?
Both brands are worthy of special attention, as each has a wide range of models with functionality and ergonomics that meet the needs of beginners 100%.
What Canon Best Entry-Level DSLR to Use if I Am a Beginner?
If you're a beginner photographer, we suggest you look at entry-level mirrorless and DSLR cameras. For example, there are such models in the Canon EOS Rebel series.
Is Mirrorless or DSLR better for beginners?
Both are good so you can choose either a mirrorless or a best beginner Canon DSLR. They are perfectly adapted to the needs of green photographers. Which one to choose depends on your preferences and photography goals.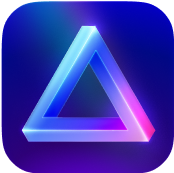 Advanced yet easy-to-use photo editor
view plans