Discover the 15 best photo editing apps for iPhone, specially compiled for iOS users and compatible with Android smartphones. Check out our top picks! This impressive selection includes mostly free options that will take your photo editing skills to new heights.
Nowadays practically every mobile device boasts a high-quality camera. Though, there is still a need for photo editing tools, especially if you want to create a specific effect. And, who does not like to experiment a bit to create distorted images every once in a while? Well, with the following photo editing apps you can fix any photo and get your daily fix of fun.
By the way, if you want to find more apps for photo filters for the iPhone, follow this link to another article in our blog.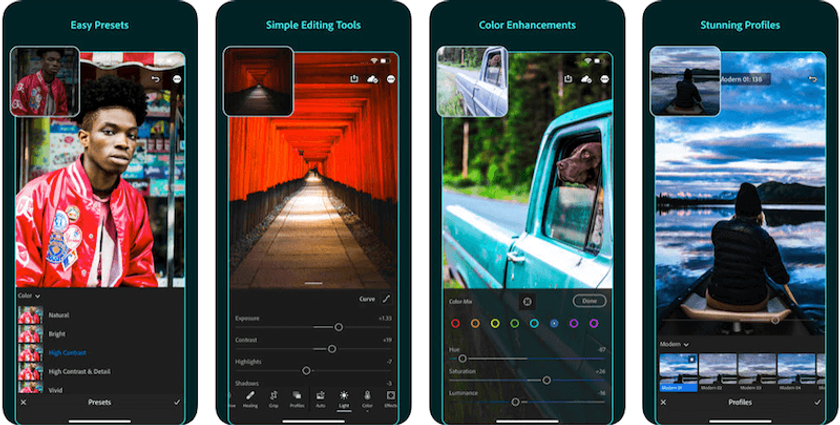 The Adobe Lightroom CC app is a great option if you find that Photoshop is just too intricate for your needs or skills. It has proven to be a very effective and reliable tool for editing your photos (just like the other software solutions in the Adobe suite).
One of its biggest pros is that you can shoot RAW photos in HDR mode. The app will then also sort these photos automatically in your cloud-based gallery which means that you do not have to worry about running out of space on your device. Plus, with the Group Albums feature you can share one of your albums or several photos via an invite. Your invitees will then be able to access these photos and even contribute too.
With Adobe Lightroom CC, you can also say goodbye to bad hair days (well, sort of). Another new feature is the texture slider that lets you smoothen or enhance details like hair, skin, and the bark of a tree. Also, you can find the best Lightroom plugins in our blog.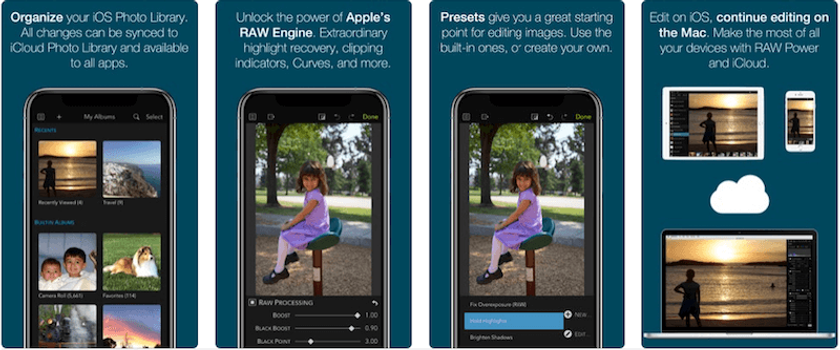 This is the best photo editor for the iPhone. Similarly to Adobe Lightroom CC, the RAW Power app also lets you shoot in RAW and can accommodate several RAW camera formats. The app was founded by iPhoto's previous Senior Director of Engineering, making it one of the top tools for iPhone photography. You can even create stunning photos when taking photographs with your iPad.
One of its most impressive features is that it lets you zoom in up to 800%. This will for sure help you when making adjustments. It also boasts a Depth Effect feature for your pics that you have taken with an iPhone that has a dual camera system.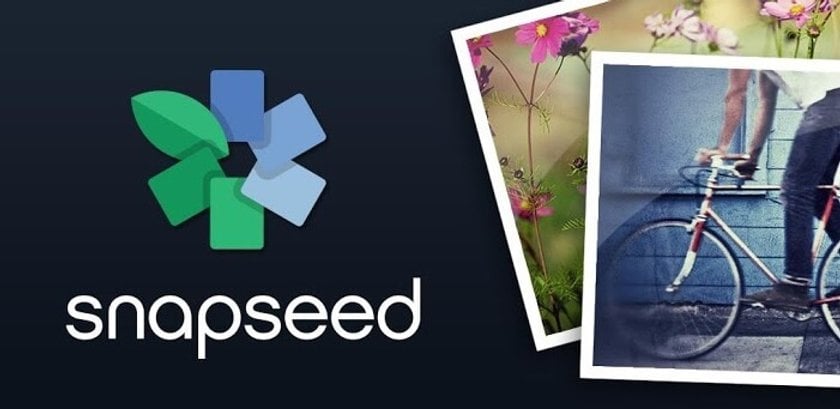 With Snapseed, you can edit your snapshots in a snap. The beauty of this app is that while it offers a wide range of features, it is not difficult to use. Thanks to its intuitive interface, editing your photos will be a fun experience as it should be. So, this is one of the best iPhone image editors.

As a matter of fact, Snapseed is regarded by many as the top phone app for editing photos. So, if you thought that free apps cannot deliver high-quality results, you would be very much mistaken. With this photo editing tool, you can adjust the curves, sharpness, color balance and saturation of your photos.
All in all, if you often post on Instagram, this is the perfect app. It lets you create presets which you can save and use in the future again. This way your Instagram feed will boast the same theme.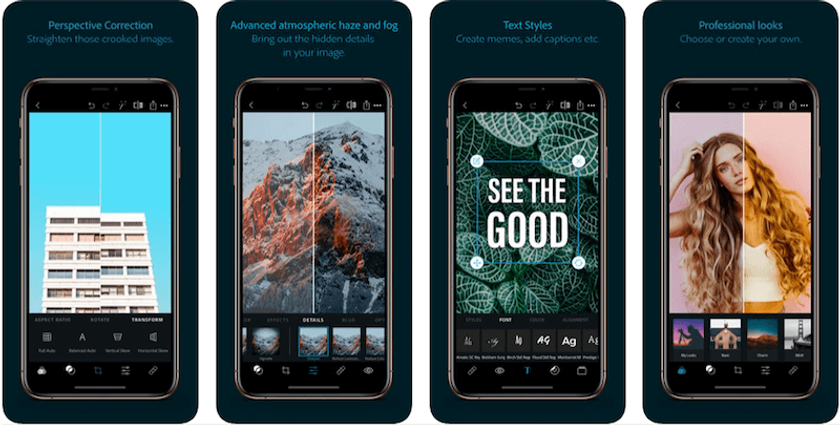 The Adobe Photoshop Express app might be vastly different from some of the other tools in the Adobe suite, but this does not make it any less effective. It has all the basic features that you need to crop, flip, rotate, and straighten your snapshots. Using advanced editing tools in Photoshop Express, you can effortlessly remove unwanted elements from your photo or erase people from photos and adjust its overall appearance to perfection.
If you like to create cool collages, you will love the Photoshop Express Collage feature. This feature boasts ready-to-use layouts, backgrounds, and gradients as well as a pop-color tool to make your works of art pop.
All in all, this app will help you to create professional photos and collages while you are on the go. It is the ideal app if you do not have a subscription with Adobe yet. And if you prefer to do most of your editing on your computer, follow this link to find more of the best Photoshop plugins and simplify your workflow. We also have a great selection of alternatives to the Photoshop app for Mac.

If you are not interested in signing up for an Adobe suite subscription at all, the Affinity Photo app is a sensible solution. Created by Serif Labs, it is for sure one of the most powerful photo editing apps available on the market. Use the money that you have saved to invest in lenses for your iPhone and you will be able to create stunning shots.
Some of its features include: panorama stitching, batch processing, digital painting, RAW editing and focus stacking. You will be blown away by the performance and power that this photo editing app can deliver!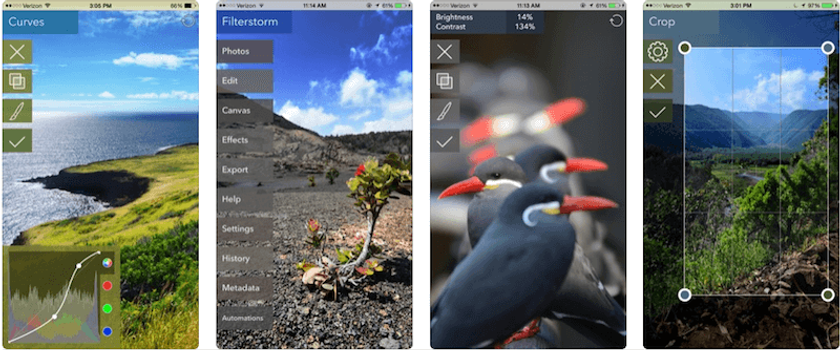 If you have tried the Filterstorm app but was not entirely sold, be sure to try the Filterstorm Neue app. In short, it is the classic version which has been revised to improve the speed and overall user experience. It also has a couple of features such as PNG export, tilt/shift effects and the ability to change red, green and blue curves at the same time that the classic version does not boast.
In addition to its filters and masking tools, some of its other main features include: the ability to edit your photos in back and white, tweaking the curves, contrast, clarity and brightness and blur effects. Just like Affinity Photo, Filterstorm Neue is a much more affordable alternative to signing up for an Adobe subscription.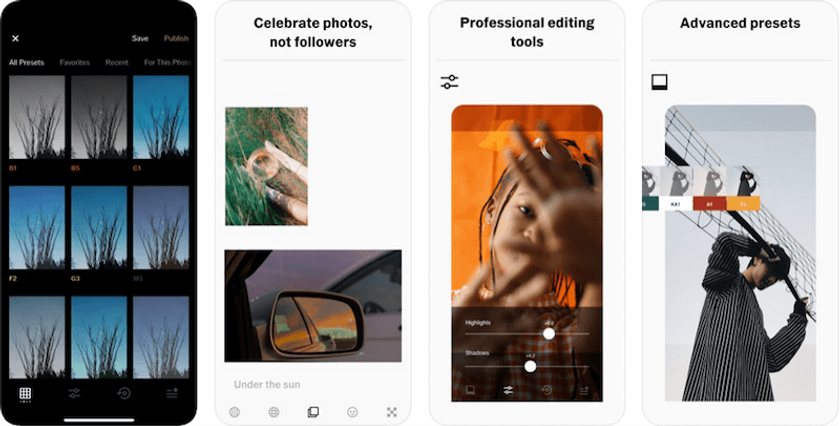 What's the best photo editing app for iPhone? Many people immediately think of this option, and we'll tell you why. The beauty of the VSCO app is its versatility. With this photo editing tool, you can adjust the contrast, sharpness, color balance and brightness. Rest assured, if you get stuck, there are many creative tutorials and community stories that can serve as useful sources of inspiration. Once your photos are ready, you can save your new masterpieces or alternatively share them right there and then with your friends and family or the VSCO community of creators.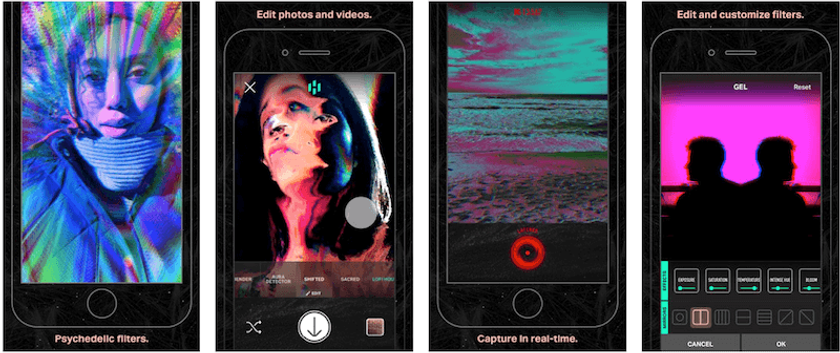 This is for sure not your ordinary photo editing app. What makes this app so unique is that it offers a wide range of filters that you can use to make drastic changes to your photos. So drastic, in fact, that you might not even be able to recognize your photos after you are done experimenting. If you like warped pictures and elements that are distorted, Hyperspektiv will have you sorted. So, Hyperspektiv is a powerful and innovative app to fix pictures on iPhone, allowing you to transform ordinary photos into amazing visual masterpieces with its unique and mesmerizing effects.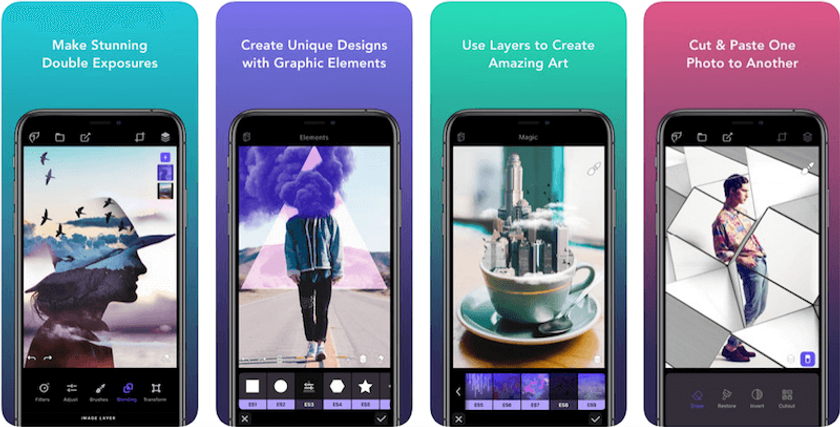 If you are looking for a photo editing tool that is similar to Hyperspektiv, be sure to check out Enlight Photofox. Just like Hyperspektiv, Enlight Photofox lets you transform your original photo into something that is completely different.
With this smart app, you can place other photos on top of one of your average photos. The end product - stunning surreal shots! The app also offers double exposures (which means double the photo fun). Then, once you are ready to move on to something slightly more inventive, you can play around with the transparency and perspective. This is a really great app to edit photos on the iPhone!

Although the Pixelmator app is similar to Affinity photo, it is less powerful. That being said, you will love its simplicity. In short, with Pixelmator you can sketch, enhance images, and create very impressive advanced image compositions. With the help of its innovative tools, numerous templates and effects, you can improve any photo instantly.
It also boasts a very nice painting application that will help you to unleash all your trapped creativity. With Pixelmator's painting application, you can paint an image right on your iPad or iPhone. There are over 100 brushes and countless painting techniques to choose from to create the perfect watercolor, pixel or crayon effect. Thanks to the double texture brush technology, your creations will boast unbelievable detail.
Become part of a thriving community of more than 150 million creators worldwide. Turn your imagination into reality with PicsArt's state-of-the-art AI photo and video editor. Now you can be more creative with AI-powered tools. Just effortlessly create high-quality collages, design stunning stickers, and quickly replace and modify backgrounds. Picsart is your ultimate all-in-one iPhone picture editor, intelligently powered by AI, giving you all the options you need to give your content a distinctive touch and make it stand out from the crowd.
So, whether you want to apply photo filters, adjust colors, add text, create collages, or use advanced editing features like layers and masks, PicsArt has you covered. Download the best picture editing app for iPhone and take your photos to the next level. And by the way, if you want to get a perfect result when replacing the backdrop of a picture, you can try the AI Background Remover in Luminar Neo.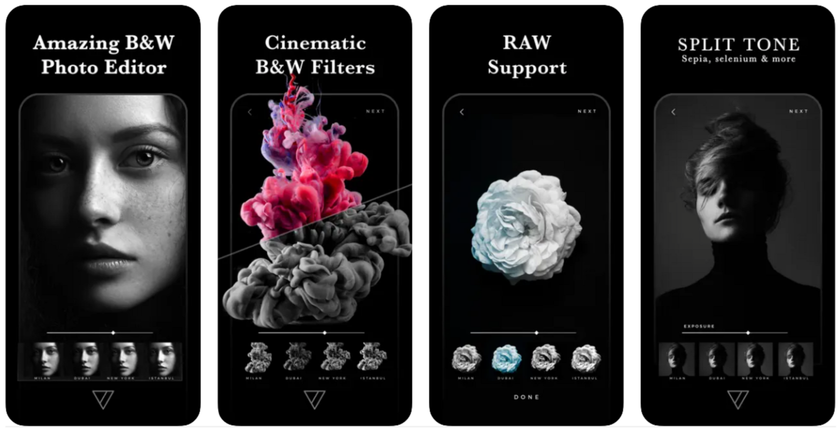 For black-and-white photography enthusiasts, Carbon emerges as the ultimate app. Its sleek and minimalist design allows you to effortlessly create stunning monochrome images without any editing experience. With just a tap, you can access a selection of more than 50 black and white filters, making it easy to find the perfect one for your photo.
You can also add textures and borders to your images to give your creations a unique touch with a wide range of editing features. Once you've got the look you want, add hashtags and seamlessly share your masterpieces right from the app. Carbon simplifies the process of creating beautiful black-and-white photos, making it a must-have tool for any passionate photographer.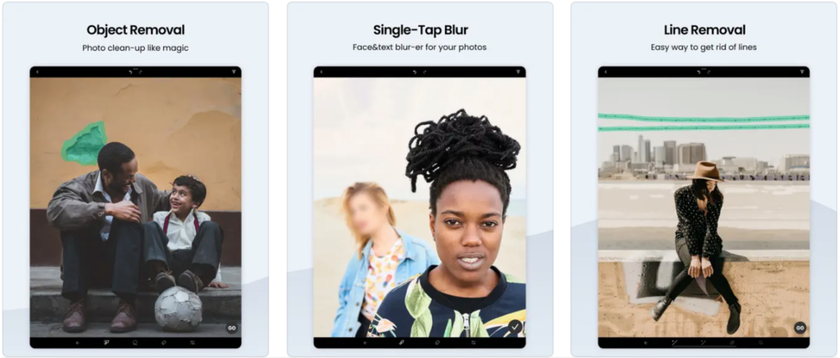 This is a specialized iOS photo editor that focuses on removing unwanted objects. Unlike apps that have limited utility, TouchRetouch offers versatile functionality that you'll find yourself using frequently. It is invaluable for portrait photography. With TouchRetouch, you can easily remove blemishes and create flawless skin. It also comes in handy for travel photos, allowing you to easily erase distracting objects from the backdrop and improve the overall composition. With TouchRetouch, you have powerful photo tools at your fingertips to refine your shots and achieve a polished, professional look. Also, in our blog, you can find more apps to remove people from photos.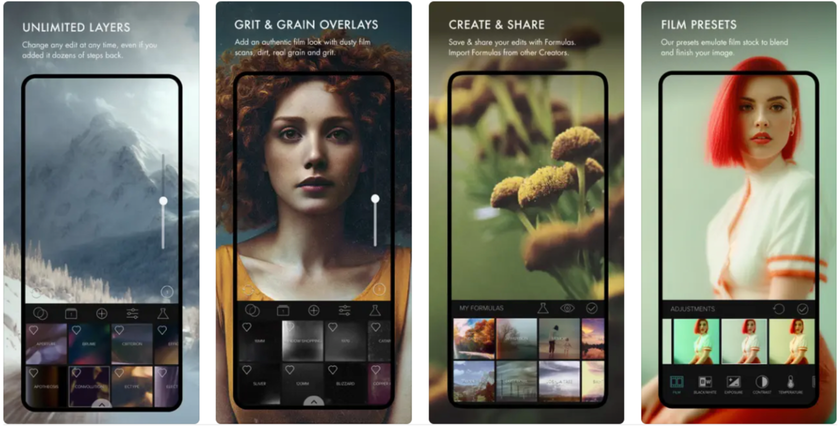 This is an exceptional iOS image editor designed to enhance your post-processing skills. Mextures gives you access to a wide range of textures, overlays, and adjustments to transform your images into stunning works of art.
The app offers a seamless and intuitive interface that makes it easy to apply and customize different effects to suit your creative vision. From adding vintage film grains, light leaks, and gradients to blending multiple layers for unique compositions, this app offers limitless possibilities. Plus, you can save your favorite editing options and share them with others to easily recreate stunning effects. Mextures is a must-have app for iPhone users who want to add depth, mood, and artistic flair to their photos with just a few taps.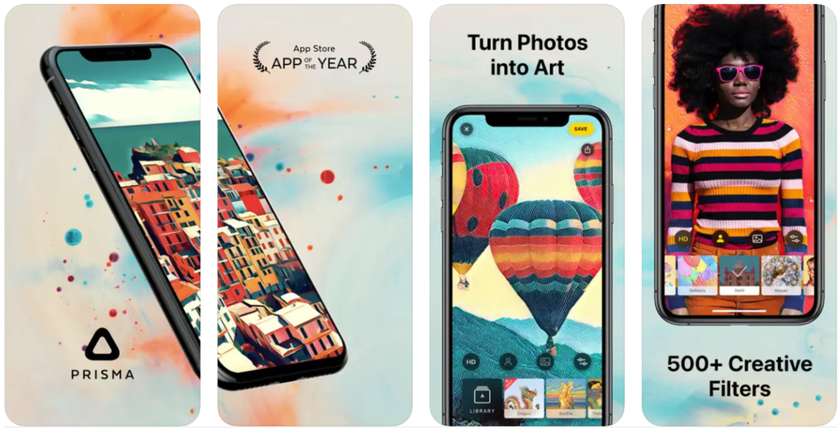 Release your inner artist and transform ordinary photos into stunning digital art with Prisma, even without any editing experience. This powerful photo editor for iPhone allows users to create mesmerizing enhancements in a matter of seconds.
Today, the Prisma app has a thriving community of over 120 million users worldwide. Whether you're looking to enhance common photos or perfect your selfies, Prisma offers a plethora of features tailored to your editing needs. Harnessing the power of AI technology, Prisma seamlessly transforms your photos into stunning artistic masterpieces. Embrace your creative side and download Prisma for a magical editing journey.
To Sum It Up
We hope our selection of the best iPhone picture editors will suit your taste. You'll be happy to know that most of these apps are also available for various other mobile devices, including Android phones and tablets, and iPads (follow this link to find more photo editing apps for iPad). Some options are designed for professional-level selective editing, while others offer quick and convenient one-click solutions. Choosing the best iOS photo editor is subjective, as it depends on your individual needs and skills. The key is to find the app that best suits your requirements and skill level.
FAQ
Which Is the Best Photo Editing App for iPhone?
The best option ultimately depends on your personal preferences and needs. Popular options include Snapseed, Adobe Lightroom, and VSCO, which offer a wide range of editing tools and features to enhance your photos. It's a good idea to explore these apps and choose the one that best suits your editing style and preferences.
Is There an App Like Photoshop for iPhone?
Of course, Adobe has created a mobile version of Photoshop specifically for smartphones. While it may not have the full feature set of the desktop version, it still offers a robust set of editing tools to enhance your photos on the go. With Photoshop Express, you can adjust colors, apply filters, retouch images, and perform other editing tasks right on your iPhone.
What Is the Best Free iPhone Photo Editor?
One of the best free options is Snapseed. It offers a comprehensive set of editing tools and features, as well as an easy-to-use interface with intuitive controls. This makes Snapseed accessible to both beginners and advanced users. With features like selective editing, healing brush, and perspective correction, Snapseed lets you enhance your photos with professional results.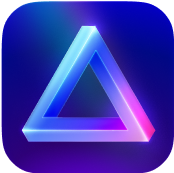 Advanced yet easy-to-use photo editor
view plans