Find your unique style of mobile photography using the best photo filter apps that we'll cover in this article!
Hey folks! We live in an amazing time when having an ordinary phone in your pocket, you can become not only a professional photographer but even make your own movie! Yeah, the 21st century opens up many opportunities for self-expression, including the creation of visual content. And photo filters play an important role in this matter. Seriously, can you imagine your life today without them? I can't, that's why I decided to write this article. Take a look at the list of the best picture filter apps for iOS and Android that can turn your photos into true masterpieces.
How To Use Filter Apps To Make Impressive Photos?
Using filters is a great way to imbue your shots with mood and emotion that your phone's camera can't convey. In addition, with the help of filters, you can create a unique style for your Instagram page, which will immediately increase the number of likes and subscriptions. This feature is often used by SMMs, photographers, and bloggers to promote their profiles.
Before we move on to reviewing the best filter apps, I would like to talk a little about how to use filters to create impressive photos.
I already said that filters help to control the mood of the picture, and this is their main advantage. Application developers often name filters according to the mood they add to the photo, such as "Drama" or "Autumn". Use this to express your emotions to the fullest, because a soulless shot will not impress anyone, even if it is technically good.
Unifying photos by applying one filter will allow you to create your own unique style. This works especially well if you create your own best filters for pictures (applications make it easy to do this). But keep in mind that photos taken in different lighting conditions may react differently to the filter, so first test a few shots manually, and only then start batch processing.
Most filters are unobtrusive, but there are some that give your image an overly garish tint. Use this when you want to emphasize the point of a post or just to grab attention. For example, if your post is about a situation that annoys you, feel free to fill the photo in full red and add a loud headline. This will immediately make it clear that something has angered you. If you are in a languid mood, you can use sepia photo filter to give your photo an appropriate narrative.
Discover The Best Photo Filter Apps to Install in 2023
So, the market for photo editing tools today is really huge. And finding the best app for you becomes an incredibly difficult task. After all, we are talking not only about a set of camera filters for Android or iOS, but also about the convenience of the interface, the cost of the application, other editing features, and its compliance with your requirements. For example, if you want to process selfies, you need some particular functions, and if you shoot streets, you need a completely different set of presets.
Talking about the best filter apps for pictures, we will try to avoid mentioning apps like Canva and other popular tools that you already know about.
1. A Color Story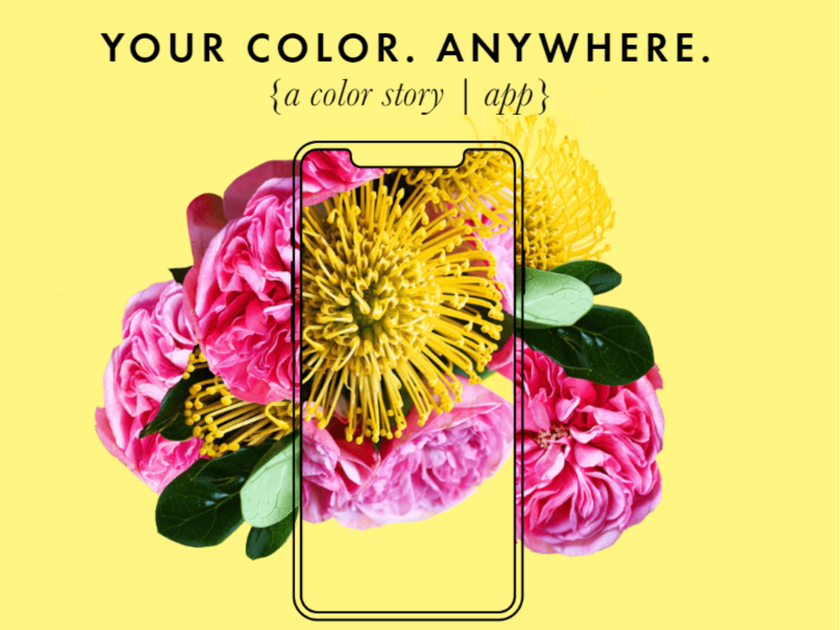 Probably the most aesthetically pleasing filter app I've ever seen. You can turn your pictures into almost renaissance paintings with just one tap. This is truly the MOST colorful story you can imagine, with over five hundred filters at your disposal! Is there anything else that needs to be added? Okay, how do you like the user-friendly interface and the ability to create your own combinations of presets? This one of the best photo filters for iPhone is also available on Android.
Specifications (Android, iOS)
500+ pre-made filters that will turn your photos into true works of art.

Automatic detection of low-quality areas and their correction when applying a filter.

You can create your own filters by combining different settings.
2. VSCO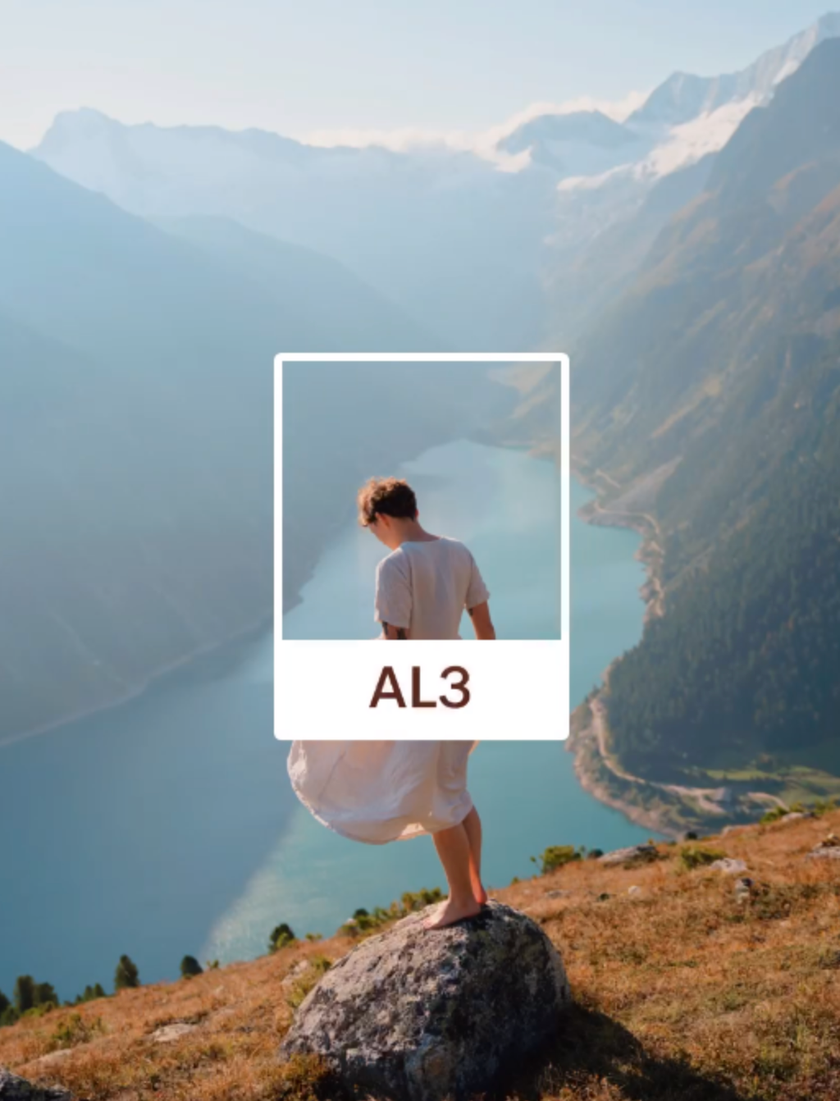 Okay, I admit it. One mainstream app will still be on this list. But it deserves it. VSCO is one of the most popular applications today, so it is one of the best free filter apps. With it, you get access to 130 stylish filters for your wonderful photos. But the main features of the program are a convenient set of presets for your experiments and the ability to shoot directly from VSCO in order to quickly process and publish a photo. It's the convenience and simplicity that made this app so famous, and it makes sense.
Specifications (Android, iOS)
Probably the most user-friendly interface in the history of the best photo filter apps for Android and iPhone.

A weighty set of 130 unique filters.

Extensive photo editing options.
3. FixThePhoto App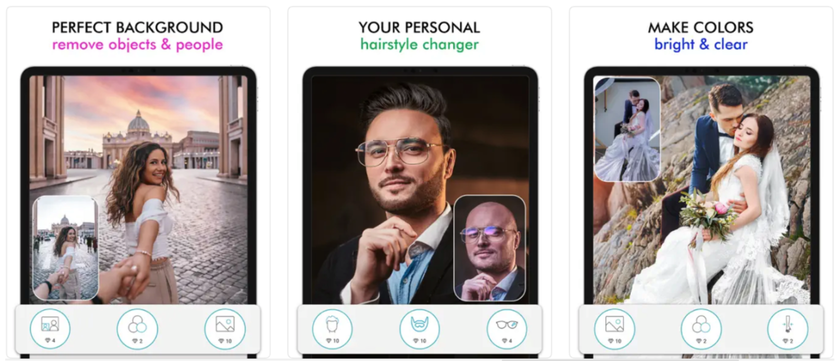 This an exciting startup for those who are not photographers, but want their pictures to look like the work of a professional. In addition to being one of the best camera filter apps, FixThePhoto also allows you to send your photos to TOP retouchers for retouching. That is, you do not have to choose the right filter for a long time. Just upload your photo, specify the requirements and get amazing results in no time.
The app is free for a trial period. That is, you can test the skills of retouches who will process your pictures. By the way, here you can even select certain areas of the frame that you want to be corrected. Need to make your face look better? Just indicate the places that do not suit you - the result will satisfy you!
For me personally, a huge advantage is that the photos in this one of the best photo filter apps for iPhone are not processed by AI, but by real people who know their stuff. This is almost a 100% guarantee of great photos on your social media profile.
Specifications (Android, iOS)
Realistic output image.

Processing images by a professional in manual mode.

Ability to specify areas for editing.

Free trial.
4. Retrica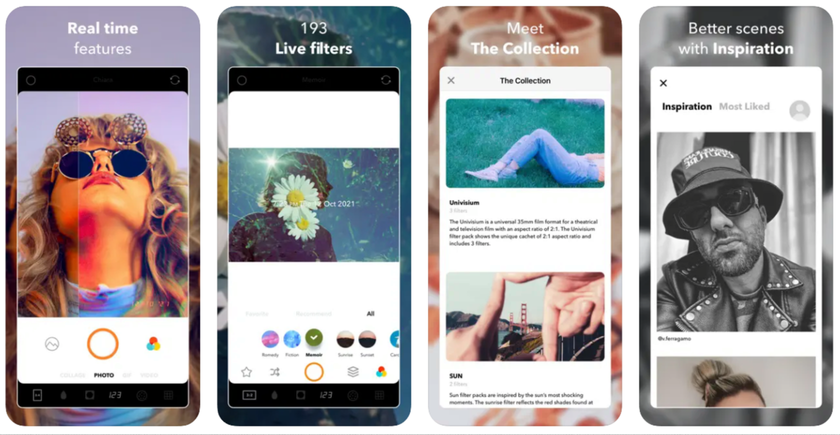 I love film photography. Therefore, the Retrika service is special for me in this list of the best filter apps for Android. The tool allows you to apply more than 190 film filters right at the time of shooting the photo, so you don't even have to process the picture after. Well, if you still want to play around with the image and create a real masterpiece, the post-processing functions will also be available to you.
From time to time, developers release unique filter sets for premium users, which is very interesting, as some new features will always be available to you. Unfortunately, the application is not free, but the annual subscription is not very expensive. A seven-day trial period is also available.
Specifications (Android, iOS)
Over 190 filters are applied in real-time.

Tools for post-processing images.

Makes your photos look like they were taken 20, 30, or even 100 years ago.

Cheap annual subscription and a free trial period.
5. StoryChic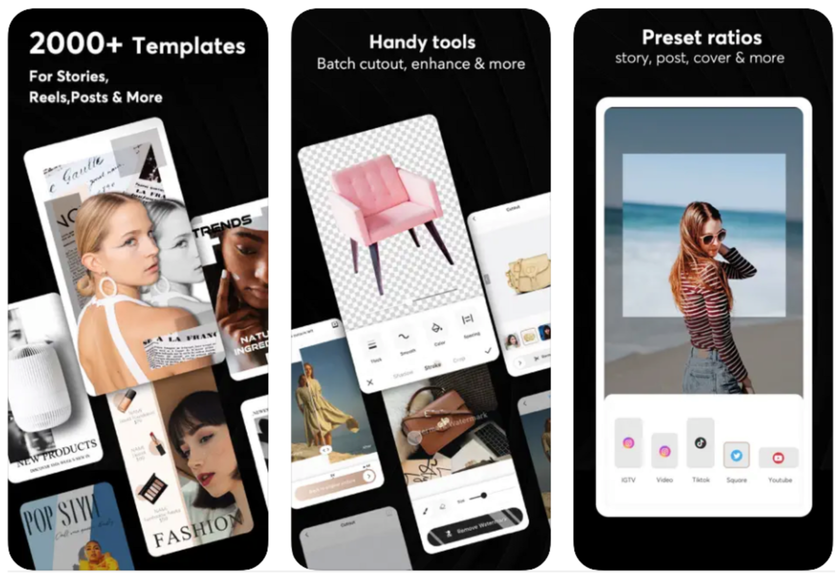 StoryChic is one of the most complete story makers for Instagram today. Create quality content with a wide range of templates and other tools.
With the StoryChic app, you can quickly and efficiently edit stories for Instagram. You will have the most stylish and trendy story templates, photo collages, amazing effects, and fonts at your disposal. It's a complete story design lab to help you grab your audience's attention and get tons of likes on Instagram.
An intuitive interface and the ability to preview stories make this tool one of the best for creating spectacular stories. The only negative for me personally is that the application automatically adjusts the content to the aspect ratio for stories, that is, it is problematic to use it for other purposes, although it is possible.
I would also like to note probably the most spectacular sharp filter I have ever seen.
Specifications (Android, iOS)
Over 500 both static and stunning animated story templates.

Huge selection of filters and fonts, as well as photo frames.

Ability to create collages from photos and videos.

The function of previewing the created Instagram post and convenient story scheduling.

Stunning effects to make your stories stand out.
6. Darkroom
One of the best free filter apps, that's for sure! Like Retrico, this application allows you to apply a filter in real time. All filters here are divided into categories for the convenience of finding the right one. As with many other programs, the intensity of the effect can be adjusted.
The peculiarity of this tool is that one filter can be applied to several images at once to create a cool collection in just a couple of minutes. The application also allows you to create your own filters and save them for future masterpieces.
However, only 12 filters are available in the free version, while the paid Darkroom app allows you to use 50 filters.
Specifications (Android, iOS)
12 free filters forever.

Edit photos in real-time.

Batch photo editing.

Ability to create your own filter and save it as a preset.

Free app.
7. Polarr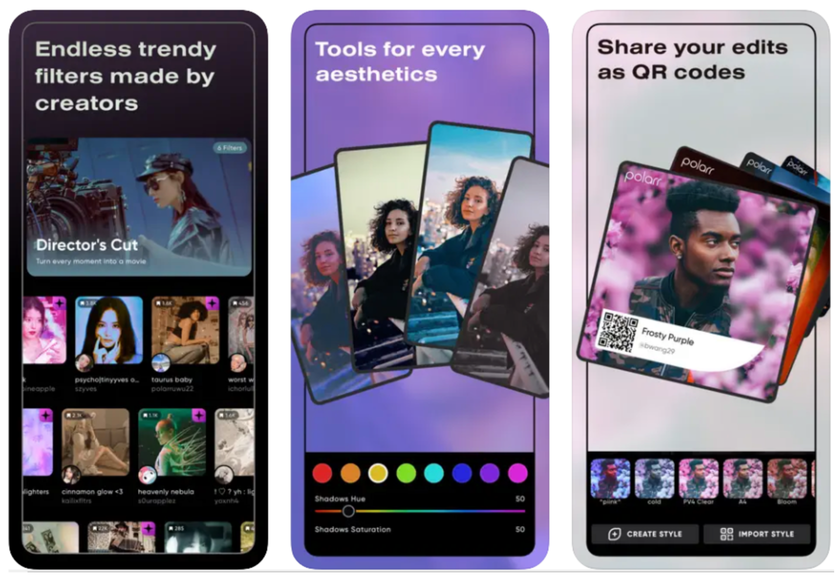 Does the name of this app remind you of anything? Oh yeah... Polaroid. It is immediately obvious that the creators of this great program have a passion for retro, especially for the era of instant cameras.
The application contains 150 filters with a retro effect and more. Here you can also create your own filters and (!!!) share them with your friends so that everyone can appreciate your creative streak. You can also add various weather effects to your photos, such as snow, dew, rain, etc.
The app is free, but when you buy a paid version, you can also install Polarr on your computer desktop, which is very convenient for working with a large number of photos. It is important to note here that there is no annual subscription, so you will have to pay monthly.
Specifications (Android, iOS)
A set of over 150 filters.

High-quality imitation of weather conditions.

The ability to create your own filters and share them.

Desktop version.
8. Collage maker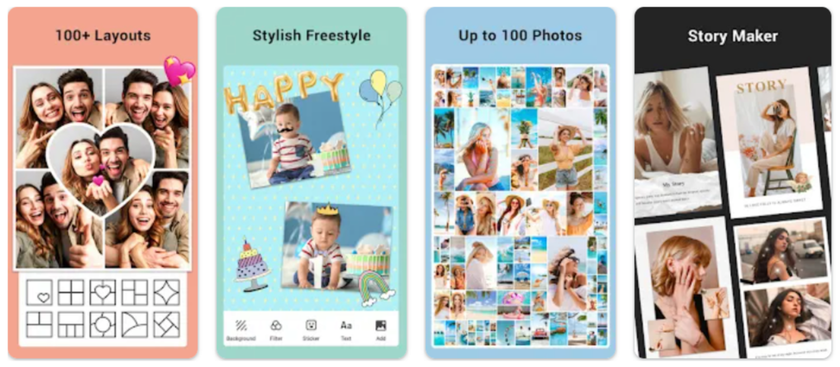 An undeservedly neglected app that should still be on this list of the best filter apps for iPhone and Android. As the name implies, Collage Maker was designed primarily to create spectacular collages. But it also has an excellent image editor with many filters, which is not inferior to the same VSCO in its functionality. I use this particular application the most and have never regretted the money that I pay for it annually.
The Collage maker can work in five different modes. These are photo editing, creating a collage using a template, creating a collage without a template, batch editing multiple pictures, and using ready-made photo frames. In each of these options, the user has access to an editor with a set of more than 100 filters and other standard settings (brightness and contrast, graininess, vignette, etc.).
Specifications (Android, iOS)
Five operating modes.

Over a hundred filters are available in any of the modes.

Additional options for editing pictures.

A set of unique frames and backgrounds to edit your photos.

Available for iPhone and Android smartphones.
9. Photo Editor Pro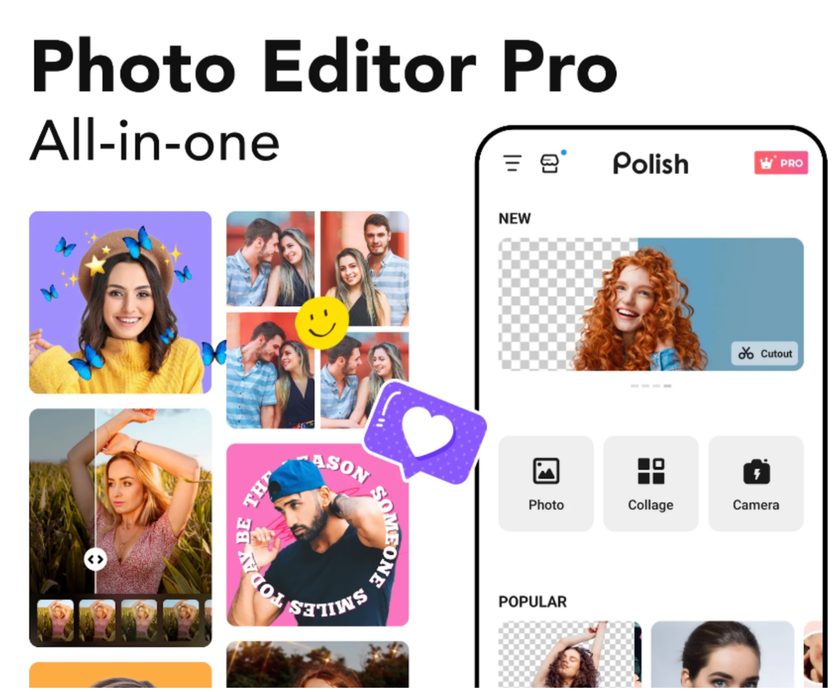 The first and last application on the list is designed only for the Android OS, but it also cannot be ignored because perhaps it is the best camera filter app for Android.
Photo Editor Pro is a humble application that can surprise you by making your photos as good as any professional photographer's. This app like A Color Story can improve certain areas of photos where your camera's sensor didn't have enough power, such as in dark places.
The set of filters built into the program does not surprise you with its variety, but all of them fit your photos as carefully as possible without creating color and light distortions.
You can also add captions to your photo if you like.
Specifications (Android only)
Automatic correction of image quality in certain areas.

Adding filters without distortion.
10. Lensa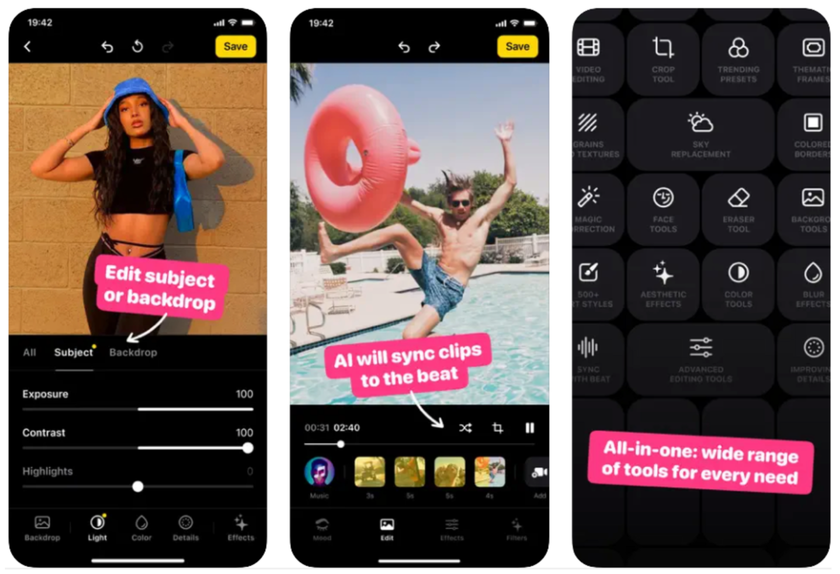 Lensa is the flagship app for selfies and portrait photography. Lensa filters help to remove skin irregularities, hide wounds and wrinkles, and emphasize the expressiveness and depth of the look.
There are also editing tools for blurring the background and other features to help you make a truly outstanding portrait. For example, you can edit the background and the face separately, resulting in a layered and deep image that will impress your followers.
Of course, the developers did not ignore other areas of photography. There are separate filters and settings for photos of nature, food, animals, etc. However, not everyone is willing to pay for basic features, so if you are a professional blogger who needs to show a lot, Lensa is unlikely to suit you. But if top selfies are your main goal, then this app is definitely for you!
Specifications (Android, iOS)
There is the possibility of batch editing.

A multifunctional tool for editing portraits and selfies.
Conclusion: How To Choose The Right App
As you can see, different applications have different benefits, so the choice is still difficult. Answer these questions:
What is your purpose for using filters?
What genre do you shoot in most often?
Are you ready to pay for the app?
Are you ready to pay monthly?
What results do you want to achieve using this or that application?
Finding the best one for you starts right here. It is important to understand that there cannot be a uniquely best filter for photos, since everything depends on the needs of the user. In this article, I talked about those that I myself used and which, it seemed to me, were superior to others. I rate the application on the following parameters:
price;

editing options;

the degree of image distortion when applying a filter.
Which app to use is up to you. And I hope that my recommendations will help you choose the best option.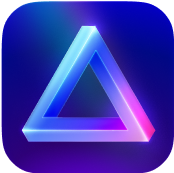 Advanced yet easy-to-use photo editor
view plans