Instagram used to be an app where people simply shared significant events from their lives. Now it is often used to create marketing pages or superstar blogs.
Either way, Instagram is about looking good. Don't you already use special apps to make your photos look better? You should! Today we're going to tell you about 9 Instagram photo editing apps that will help you create real photo masterpieces.
Why Do You Even Need a Photo Editor for Instagram?
The total world population is about seven billion. Back in 2018, the number of Instagram users reached one billion, and that number is only growing. At the same time, the number of public accounts is also growing, which means that if you want to become a superstar, you have a lot of competition. That means you need the best app to edit photos for Instagram in order to break out of the gray masses. It's the one that will help you make your pictures so eye-catching.
Although Instagram itself has photo editor functions, its capabilities are very limited. It takes much more to make your photo look like a masterpiece. In addition to the standard filters and effects, modern apps can help you resize images without dropping quality, make original frames, and even add fun effects.
The 9 Best Powerful Photo Editing Apps For Instagram That Will Make You a Star
Want to get millions of followers? Read our article about the best editing apps for Instagram! In it, you'll see 9 of them and you'll be able to choose the one that suits your taste.
1. Snapseed
The app, created for Android and iOS users, is one of the most popular. It is most often used by professional photographers, although beginners will need to spend a little time understanding its functions. You can use the app to make really stunning photos.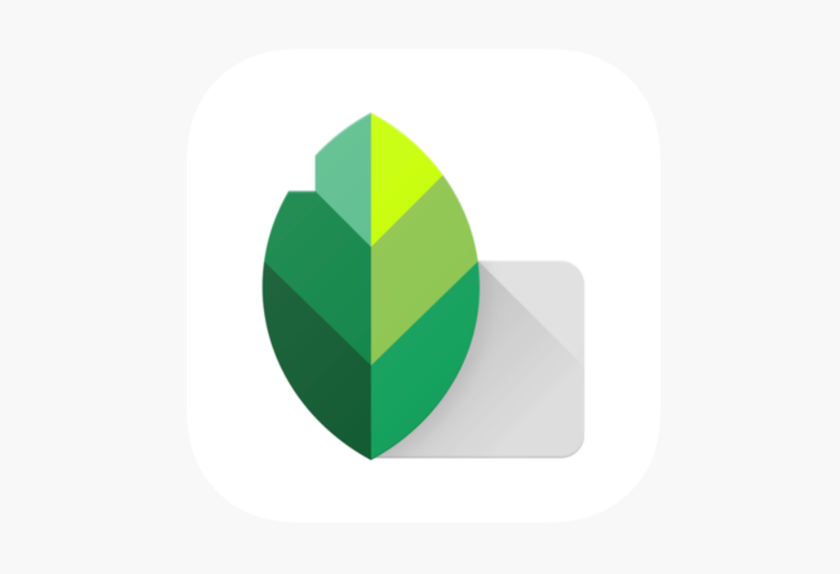 Specifications
Now it is one of the best Instagram photo editing apps and includes a wide range of features. It has over 29 features and that's enough to make your Instagram posts really mesmerizing. Some of its features include:
Lots of filters can make a tired face look like you've spent half your life in a spa.

Automatic editing. You just need to select a picture and the application will apply the selected filters to it. This can save you a lot of time.

Basic and advanced tools to help you edit photos. The former includes

cropping

and rotating. The latter include white balance, change contrast, and blur.
Reasons to use
All the main advantages of one of the best photo editing apps for Instagram we have already named. Users highlight another one, namely the possibility to send the finished photo directly from the app to another user. This will allow your friend to evaluate how well you have coped with the task of editing, and whether it is possible to post the picture on the social network. In addition, Snapseed is free to download and use.
2. VSCO
This option would be an excellent choice for beginners. All thanks to its simple and minimalistic interface, which is very easy to understand. Some features of one of the best apps for Instagram photos are available absolutely free! This will help you decide if you like it and if you want to buy a paid subscription.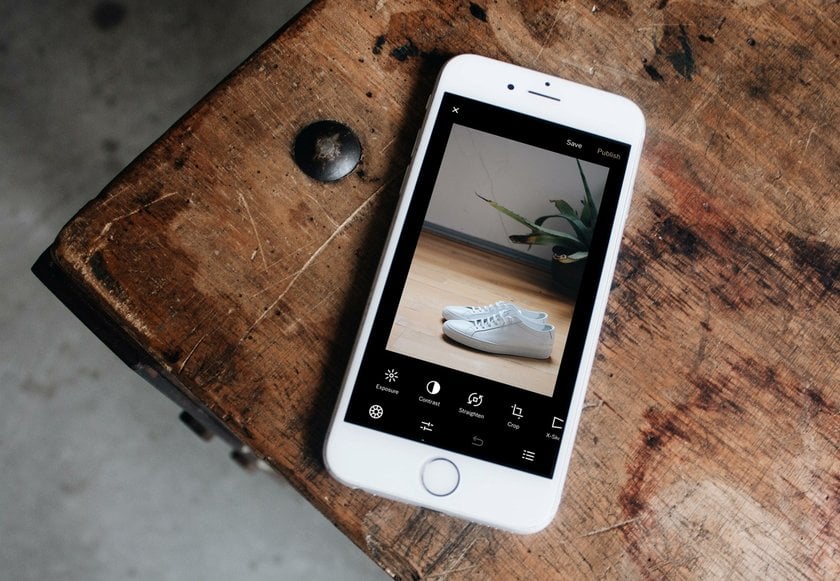 Specifications
An app is a wonderful option if you want to do some quick basic editing. It has these features:
10 presets a built-in camera with controls, and the ability to access a community of photographers, all in the free version.

If you are an experienced photographer and want access to more advanced tools, you can buy a subscription. Here the number of presets goes up to 200 and the tools are much more.

The user can easily focus on the desired point of the photo. Just stretch it on the X or Y axis. Try it, it's so easy!
Reasons to use
The first thing that will please users is versatility. One of the best apps for Instagram photos is available for iOS and Android users. The second is the wide range of features and accessibility. If you want to do fast photo processing, the free version is enough, but if you need an advanced one, choose a subscription.
3. Canva
Canva is a graphic design application, but that's not its only purpose. It is now increasingly used by users to make stunning and enchanting Instagram stories.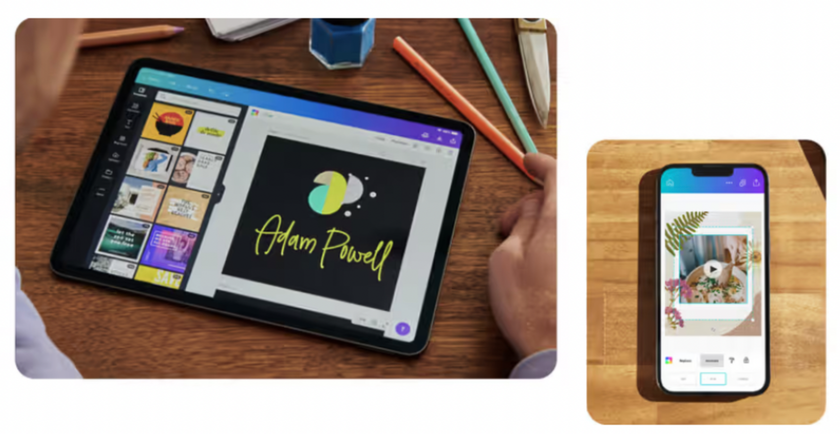 Specifications
This is one of the best apps to edit photos for Instagram. It's available on Android and iOS. These are the most popular operating systems today, so almost every user will be able to appreciate its potential:
It is free to download, but there is a paid subscription. In the first case, you can evaluate whether it's right for you and do some simple editing. If you like it, buy a paid subscription and enjoy the expanded set of effects.

Ability to create collages

, as well as crop photos, and add effects.

Working with textured backgrounds, it is possible to make a monochrome background or add funny little drawings to it.
Reasons to use
This app includes many filters with which the user can create thoughtful or soft photos. For those who want to make pictures delicate and dreamy, there is also a surprise called a blur slider. That said, the interface is quite user-friendly, making Canva one of the best photo editing apps for Instagram. Another plus is the ability to work on images with an entire team! Isn't that impressive? All you have to do is allow access to the project to those with whom you want to work together.
4. Adobe Lightroom
Absolutely deservedly, this application is rated very high, although it has recently had many worthy alternatives. It has gained popularity thanks to a wide range of editing features, with which you can definitely become the star of any social network.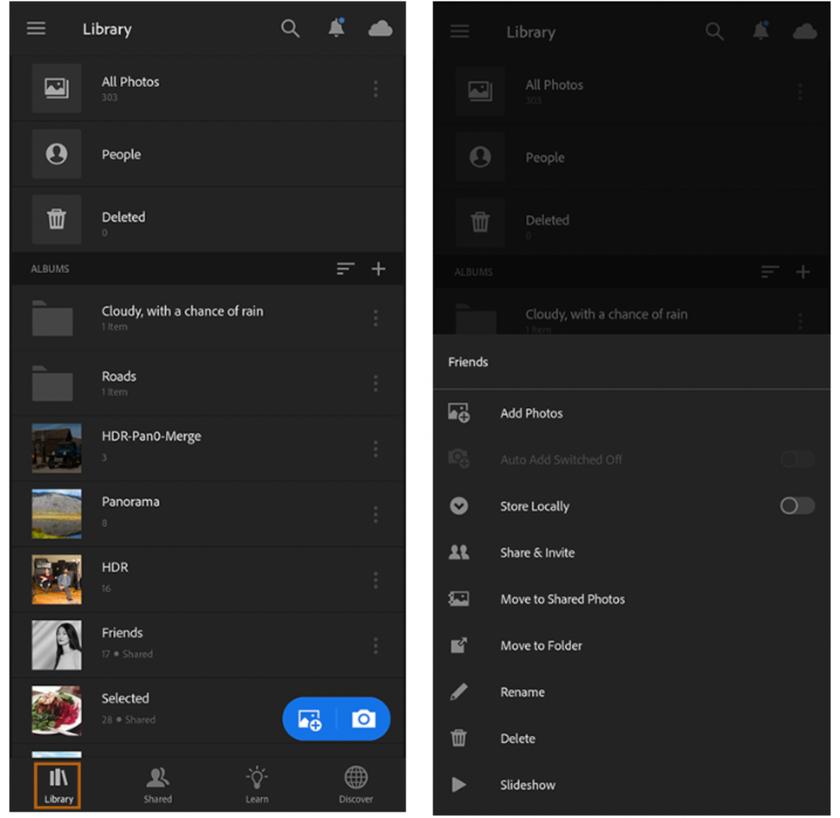 Specifications
The application is available not only for smartphones but also for desktop version. If you work on a smartphone, any changes you make on it will be automatically saved in the version installed on the PC. It has other features as well:
The free trial version provides

presets

that are very popular with beginners and experienced photographers. All users also can rotate and crop photos.

This app was designed for the most part for those users who are professionally involved in photography. For this reason, it has everything for editing pictures: changing color, exposure and contrast,

sharpening

, and a special brush for removing unnecessary elements.

Imagine you have not just one picture, but many, and they all need to be edited. Then batch editing comes to the rescue, with which you quickly get a whole series of perfect pictures.
Reasons to use
Adobe Lightroom is a great choice for those who need semi-professional or professional editing. This application is very user-friendly and its tools are quick to understand. A paid subscription provides many more features than a free subscription, but those who don't want to make the purchase will also have something to do. That's why this is one of the best free photo editing apps for Instagram.
5. Instasize
Don't you think its name sounds suspiciously like Instagram? No wonder! After all, this app was created specifically to make photos on this social network really amazing!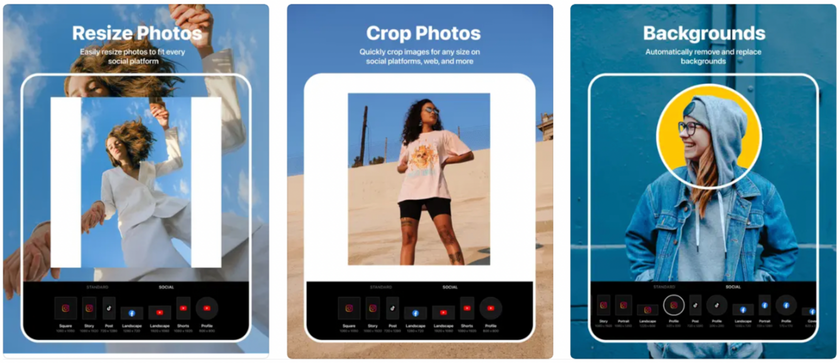 Specifications
If you always want more than perfect, this app will be a great choice for you, because it is capable of so much:
Choose the best filters. Instasize provides 80 filters, each of which can make your picture look incredible and make you stand out from the crowd. The main feature is the ability to choose the filter intensity. The user can also apply multiple filters to one picture. Amazing, isn't it?

Ability to adjust the glare, saturation, sharpness, brightness, tone, and warmth of photos. Achieve more in vignetting mode.

Quick and easy collage creation, available even in the free version.
Reasons to use
The app is absolutely deservedly popular with users. Even the free version has many editing tools, and the paid subscription will pleasantly surprise even sophisticated photographers. For example, it gives you the ability to add text and change its font. Many options are available. Power Beauty is a powerful tool that allows premium users to make their faces look younger and fresher. It allows you not only to whiten your skin and get rid of wrinkles but also to add a glow to your eyes and lips.
6. Colorcinch
One of the most popular photo editing apps for Instagram. And for good reason: its use does not require any special knowledge, so even those users who are not too well versed in photo editing can work with it. Just try it and it will work!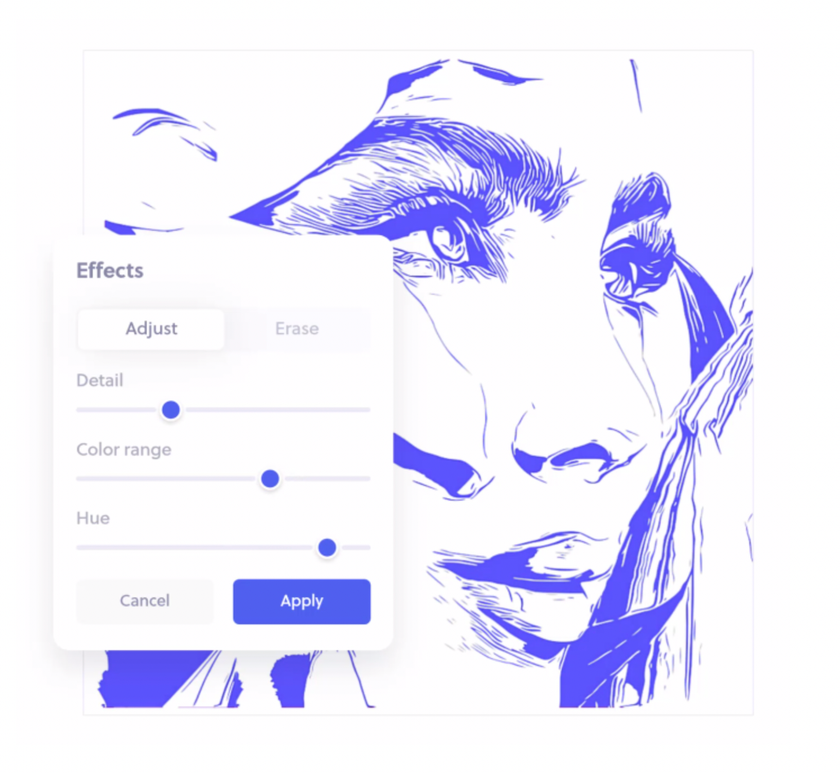 Specifications
Experts say that one of the main advantages of this powerful Instagram photo editor is that there is no need to install it. You can work directly in your browser, which means you can be sure that no computer virus will get on your PC. Of course, the app has other features as well:
Pretty generous demo compared to what the other heroes on our list offer.

A large number of filters and effects. You can also work with images using manual tools like brushes if you want.

The ability to add texts before you upload a photo to Instagram. You can change the size and color of the fonts. Pick the best one!
Reasons to use
One of the main advantages is the ability to save the picture in several formats, so you can not only add it to your social network but also download it to your device. Experts also highlight the cartoon mode, with which you can make your stories unforgettable.
7. Superimpose X
This is an app with which you can make your group and individual photos look great. It is very simple, so beginners won't have any problem using it.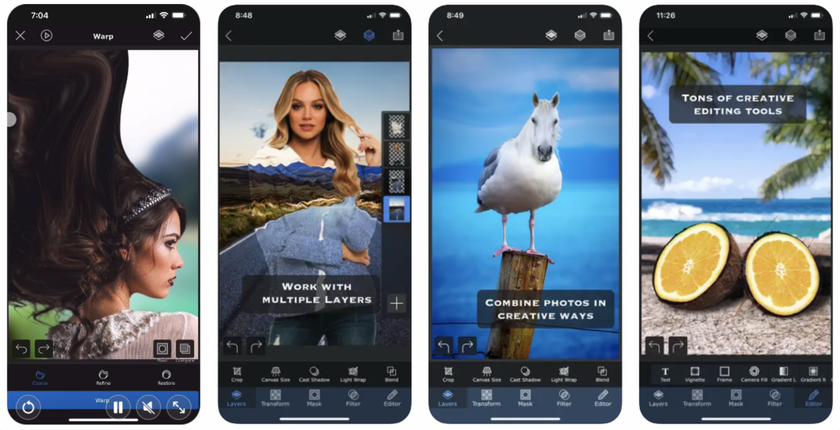 Specifications
According to the users, this application has many useful features:
Installation on devices based on Android and iOS makes the program very versatile.

The possibility of working with layers.

Saving finished and current works in the media library. This allows you to return to editing later when you're inspired to continue.
Reasons to use
Superimpose X is powered by a powerful AI that can make your pictures stunning. A wide range of tools allows you to achieve the desired result as quickly as possible. It's also worth mentioning that a much wider set of tools is available to premium subscription customers, although the basic version also offers a great variety of them.
8. Facetune
This is the best photo editor for Instagram for those who can't imagine their life without selfies. Admit it, you love taking them and it can make them look perfect.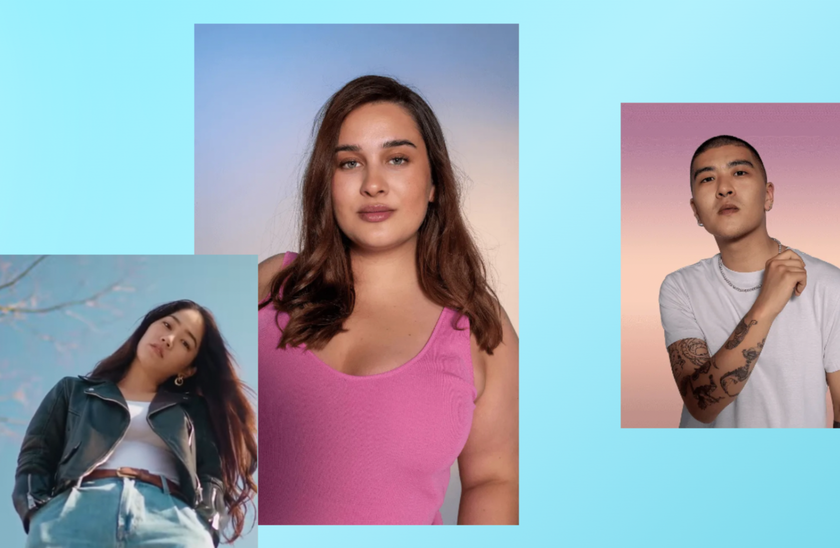 Specifications
Start using the 7-day free version, and if you like it, buy a permanent subscription. Show off your perfect self with just a few moves with features like these:
Special tools can whiten anything. Make your teeth perfectly white or lighten your sneakers!

Make your photos shine. Choose the angle from which the light falls, or use the ring light function.

Change your eye or hair color, even if you've never done it before. Feel free to experiment. It might be the look you've always been looking for.
Reasons to use
Making bold experiments is a good thing, especially when it only stays in the photo. This photo editor is capable of more than you think. It also can modify the video. Apply the effect to one frame, and if you like the result, apply it to the whole video. If not, you can always undo the changes.
9. Pixlr
Our list would not be complete without this app, as it is chosen by many users around the world. One of the main features is that it is completely free to work with.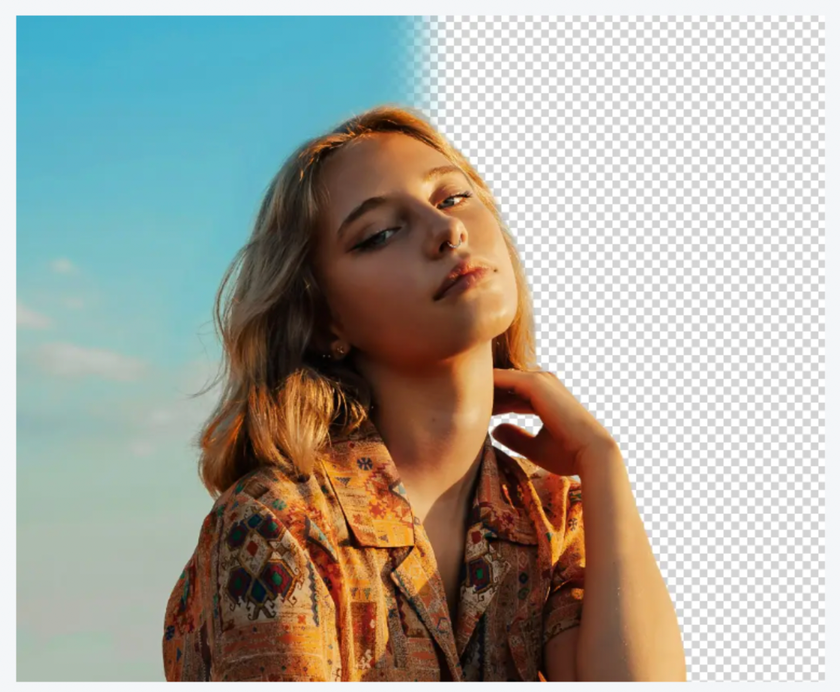 Specifications
This app has a lot of features, so at first glance, it seems like it would be hard to figure out. But once you try it, you won't be able to stop because of the features:
A wide range of filters and effects will not leave indifferent not only beginners but also professionals.

In addition to the basic tools, stickers are provided. You can use existing ones or make up your own.

If you want creativity, Pixlr offers it. You can turn a photo into an ink painting or a pencil drawing in one swipe.
Reasons to use
Functional and easy-to-use Pixlr has won the hearts of photographers. The official site has tutorial videos to help beginners create true masterpieces. If you decide to increase your already considerable set of tools, buy premium and enjoy the results.
Final Thoughts: get more Instagram followers with a photo editing app
All of the applications we have listed have many advantages. The choice will depend on what you need. Don't be afraid to experiment and you're sure to find what you need. Well, get started, and become a real Instagram star!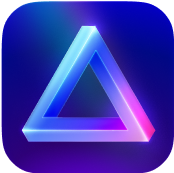 Advanced yet easy-to-use photo editor
view plans