Want to create a stunning photo collage but don't know which software to choose? Not a problem, in this article we have prepared a list of the best photo collage applications for iOS and Android to help you.
When you swipe through the photos on a smartphone, you're flooded with memories, the most important and happy moments come to mind. Sometimes you don't want to dwell on a single photo, you want to see them all at once so that you can look at the whole story. In that case, the most appropriate solution is to make a picture collage. But how to choose the right application?
There are a few important details to think about. First, of course, you need software with a good selection of layouts for combining images beautifully. But it is also important to be able to edit pictures and add filters, collage backgrounds, photo frames, stickers, or text. We have come to the conclusion that it is not enough to combine several pictures into one, it is essential for a high-quality effect to have a wide range of different functions for correcting your arts. Let's take a look at the top of the best photo collage apps in 2023.
What are the best photo collage apps in 2023?
Nowadays, there is a huge number of photo collage apps available. We've compiled a list of 10 software programs in which you can find exactly what you're looking for. Let's take a closer look at each of them.
1. Canva
Canva is one of the easiest and most user-friendly apps to make collages of pictures. You can choose from a huge number of layouts that are suitable not only for an amateur but also for professional use. In addition, this graphic editor has a very wide range of functions that will allow you to edit each photo perfectly.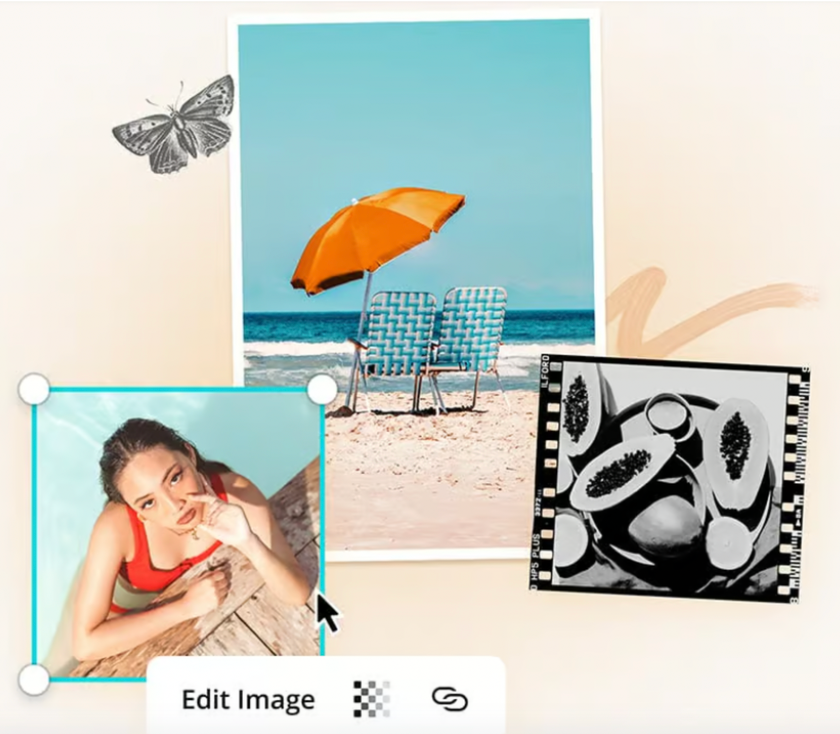 Specifications
The program is suitable for both Android and iOS users, making it possible to use Canva on different platforms. You can choose between a free version of the app or a paid subscription. The free access offers a really wide range of tools for graphic design, photo retouching, and photo collage creation, but if that's not enough for you, buy a premium subscription and enjoy!
Best features of Canva
Although creating collages is not a core feature of the software, Canva's capabilities are truly amazing. Want to unleash your creativity? Create a perfect photo that's truly extraordinary and unique? You can express any idea you want, and find all the essential functions. Cut a single extensive photo, play with colors and contrast, and tell a whole story in a photo collage - it's now available for everyone, try it and you'll get it!
2. PhotoGrid
This simple and easy-to-use application lets you quickly create a collage of pictures. Yes, you won't find any unique features here, but for simple processing and amateur work, this software is more than enough.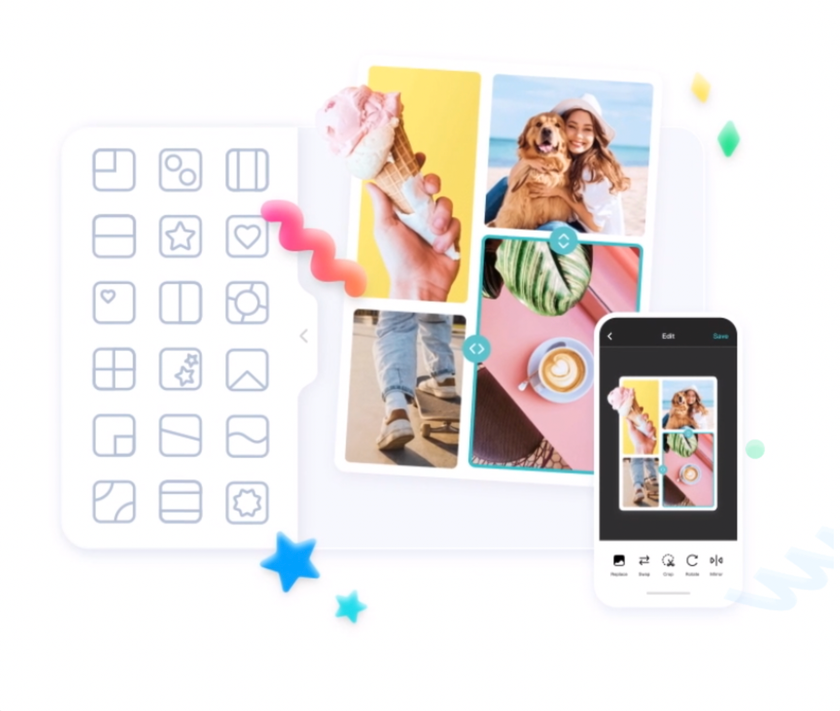 Specifications
Undoubtedly, a huge plus is the ability to work in the app for free. However, by purchasing the software, you can extend the functionality of the application. It should also be noted that PhotoGrid is suitable for the most popular platforms, which means it doesn't matter which smartphone you use.
Best features of PhotoGrid
The program has some really interesting features. In addition to dozens of collage layouts, the following are also worth noting:
The ability to remove the watermark for free. Programs that can't do that are annoying, aren't they? Well, PhotoGrid doesn't have that problem.

Layouts with the ability to choose the aspect ratio. It doesn't matter if you're making a collage of photos to print and hang on your wall or to share on Instagram. Choose the size you want and enjoy the result.

Tired of monochrome frames? The program allows you to choose a background with interesting patterns. Is it Halloween coming up? Or a birthday party? Set the theme for your collage with a matching background.

Decorate your collage with stickers and captions, as PhotoGrid has everything for it!
3.
PicsArt Photo & Video Editor
PixArt is great for sharing your artwork on social media. Creating collages is just one of its many features. You can be sure it's one of the best collage maker apps out there.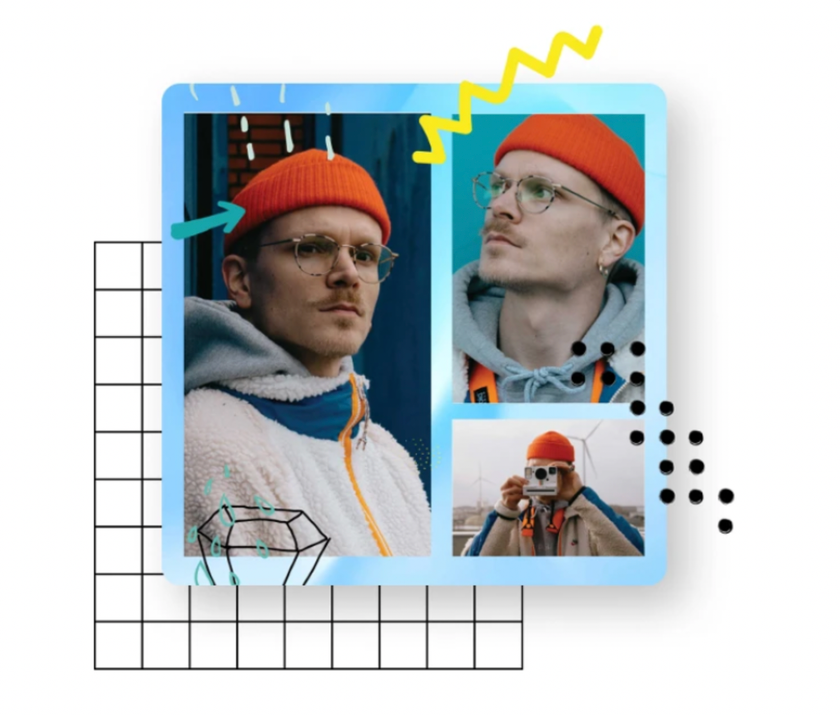 Specifications
One of the reasons for its popularity is that PicsArt can be used on both iOS and Android devices. If you're missing a pic to complete the collage, or maybe looking for inspiration, there's plenty of stunning artwork to choose from. If you want to create a collaborative project with other users, you'll find it here. For professional use, PixArt would also be a great solution. The premium version offers extended functionality and access to all premium objects for a full year. And no more advertising.
Best features of PicsArt Photo & Video Editor
The app lets you edit each image perfectly. Adjust saturation, brightness, and contrast, add individuality using existing stickers or create your own. A great advantage of creating collages is the huge number of layouts, backgrounds, and frames. Apply filters and add effects to images, don't be afraid to create collages and share your artwork with other users.
4. Moldiv
Looking for the best free collage app? Here's one of them. Moldiv offers all the features you need to bring your ideas to life.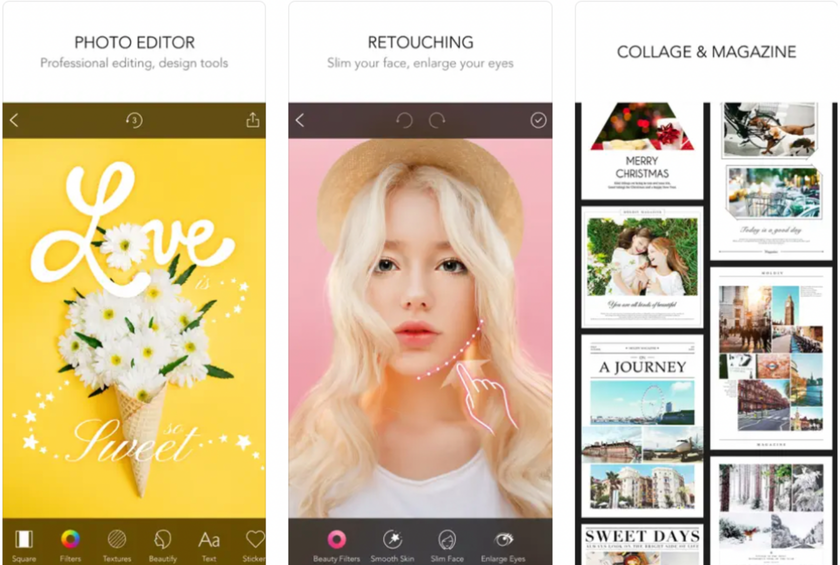 Specifications
The software's interface is intuitive and easy to use. Even if you haven't used an app like this before, it won't take you long to get the hang of it. All the basic editing functions are also available. The app can be downloaded from the App Store and Play Market.
Best features of Moldiv
Moldiv has many features, but one of them is really interesting. Even before uploading images into a collage, it organizes your library by applying the various effects, frames, and templates available in the application. You can take a look at the different ways to transform ordinary images by running them through the Moldiv toolbox.
Moldiv also has everything you need for typical image editing. You can crop them, make them "cleaner", add bright colors, use brushes to smooth out skin, etc.
A huge range of stickers and filters are also available for in-app purchases.
5. Layout from Instagram
It's a free mobile collage tool from the creators of the most famous photo social network. It probably doesn't have any new and unique features, but still is one of the best picture collage apps.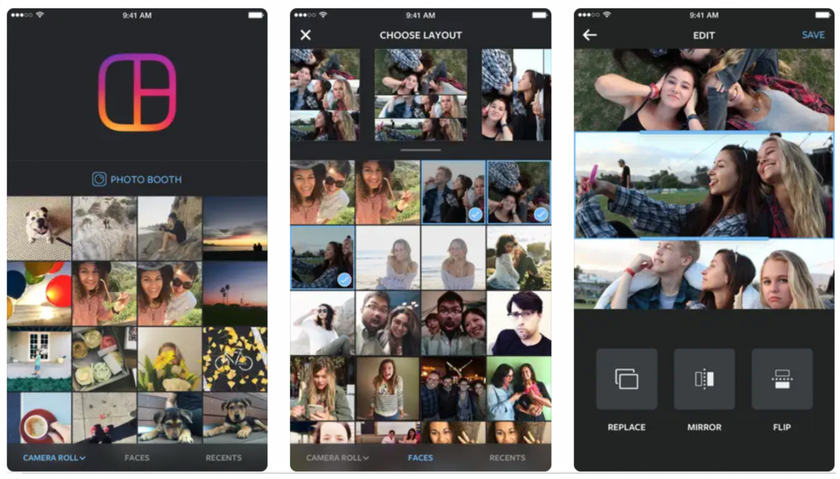 Specifications
It should be noted from the start that this is not a built-in photo editor for Instagram, but a full-fledged collage software. Its main advantage is that it's completely free to use, you get immediate access to all the features and don't even need to watch the ads. Simply upload a photo to the app and with a few clicks, you get the result you want.
Best features of Layout from Instagram
A simple program for creating grid collages as well as vertical and horizontal collages. Layout settings are quite flexible and there are no superfluous elements. For many people, this tool is a favorite for creating collages on mobile devices. There are no restrictions on use, all the features you need are always available. Yes, there are no features like in professional programs, but you can still create an interesting collage for your profile page.
6. Diptic
Quite an interesting app to make a photo collage. Its special feature is the ability to work not only with photos but also with videos.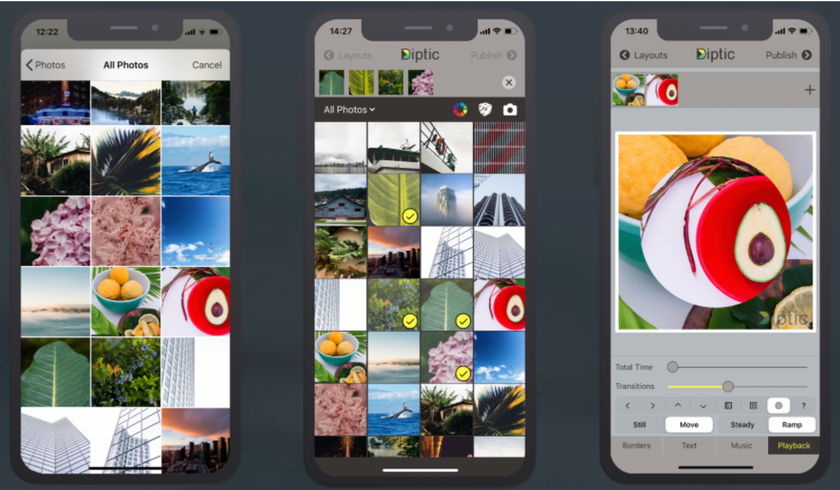 Specifications
With its ability to create collages in a unique, individual style, Diptic is one of the best photo collage programs available. But, unfortunately, it can only be used on the iOS operating system. You should also note that it's a paid app, so it's more suitable for experienced users who often make collages and are ready to pay for it.
Best features of Diptic
The collage templates in this app are completely unique, you won't find similar ones in other programs. You can customize not only the arrangement of elements in the collage but also the individual details of each element. Diptic has lots of templates. Some of them are divided into categories. There are more classic patterns as well as animated ones. This application is perfect for creative people who want to try something different and completely new. Rest assured, the result will be a unique photo.
7. Fotor
Talking about the best apps for collages, it's also worth mentioning Fotor. It's a very simple program, but it has a number of all the features that you need.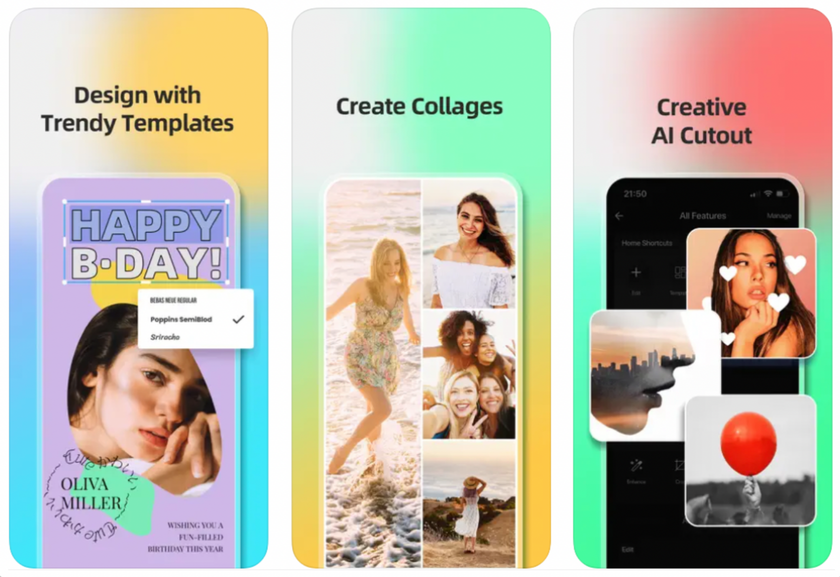 Specifications
If it's important to you to be able to edit images and create collages on both your smartphone and computer, Fotor is an excellent choice. The basic version of the software includes all the necessary features, but if that's not enough you can buy the advanced version for an additional fee. A drawback of the free version is the ads, but they are not intrusive and do not interfere when you work in the program.
Best features of Fotor
Fotor has a number of attractive features, among which we can highlight the following:
The option to upload a series of photos at once, which will automatically be placed according to a pre-selected template.

Discover section where you can view the work of other users.

For photo-editing enthusiasts, a wide range of functions are available, with the ability to edit every detail of the image.
This program can be called one of the best free picture collage apps.
8. Pic Collage
Another well-known app for making quick collages is Pic Collage. What's interesting about the tool is that it allows you to make a really impressive collage with a cool design from photos, GIFs, and videos in just a couple of clicks.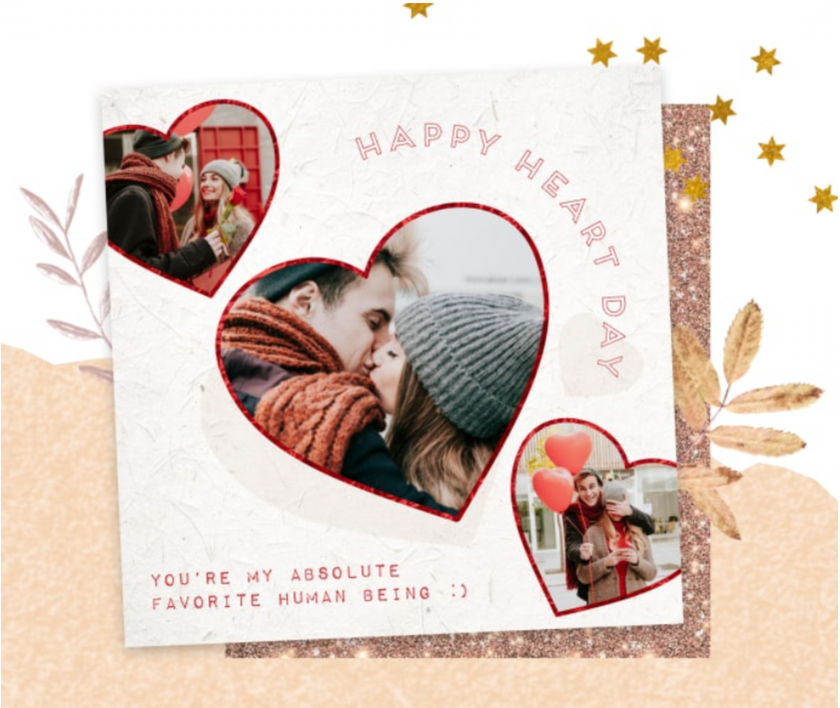 Specifications
Both Android and iPhone users can enjoy all the benefits of the Pic Collage. The app does not require registration and you can start using it immediately after installation. As in much other free software, there are ads, but not too many. However, if they disturb you, you can buy a premium version and remove them, at same time extending the functionality.
Best features of Pic Collage
A great feature of this software is the tooltip, so even a beginner can quickly create an interesting collage from images. The interface is very easy to navigate thanks to the colorful, memorable icons. PicCollage has over 60 templates. Some of them are even designed to be published on social networks. This means you don't have to spend a lot of time customizing. Almost everything in PicCollage is automatically configured. This means it takes a minimum of time to create a collage and makes it different from any other program.
9. Pic Stitch
Among the best free photo collage apps, we would also mention Pic Stitch. Its special feature is the ability to put not only a photo in the layout but also a video. Do you want to add music? Great, do it! A full-featured video editor is always at your service.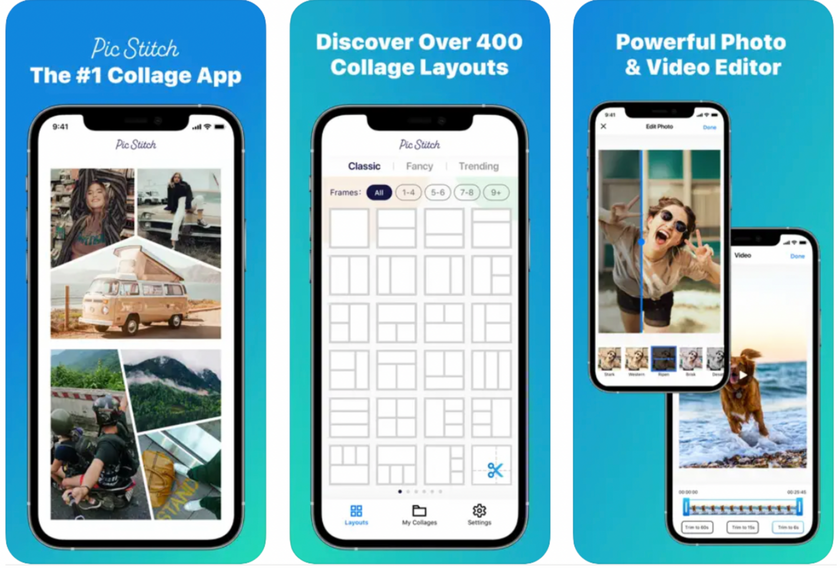 Specifications
Pic Stitch is available to all smartphone users. The free version of the app provides a comprehensive photo and video collage suite. If you're fed up with adverts and want to expand your use of the app, take out an annual subscription or make a one-off payment for premium access.
Best features of Pic Stitch
The app has all the features you need to create collages. With a wide selection of layouts, frames, stickers, and filters, as well as the ability to edit both photos and videos, the software has all the options you need to create a stunning collage!
10. Photo & Shape Collage Maker
Do you like creating something out of the ordinary? Use non-standard shapes? But a simple and easy-to-use interface is important? Then take a look at this software.

Specifications
This is one of the best apps for photo collages to use on Android smartphones. Although it doesn't have as much functionality as its competitors, it does a great job. In addition, the software is completely free. Thanks to its user-friendly interface, anyone can create art quickly and easily. In addition, the software is completely free.
Best features of Photo & Shape Collage Maker
The program allows you to add eight images at a time. There are layouts of unusual shapes as well as the standard, classic variants. Add effects, apply filters and choose fun stickers - don't be afraid to experiment, and create a collage that's guaranteed to be cool!
Conclusion: How to choose the best photo collage app to use?
To summarize, after a review of 10 different apps, we can conclude: the choice of software depends entirely on your personal preferences, the functionality offered by programs, the cost, and the compatibility with your device. The main thing is to get started, choose one of the applications and try it out. Don't like it? Try another one! Develop your imagination and creativity, experiment, and enjoy the process and you will get the hang of it!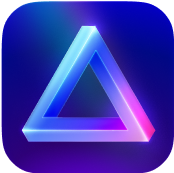 Advanced yet easy-to-use photo editor
view plans