You don't need to be a professional user to change the background of an image in Photoshop or another app. All you need to do is to download the appropriate app to put backgrounds on pictures and read our guide.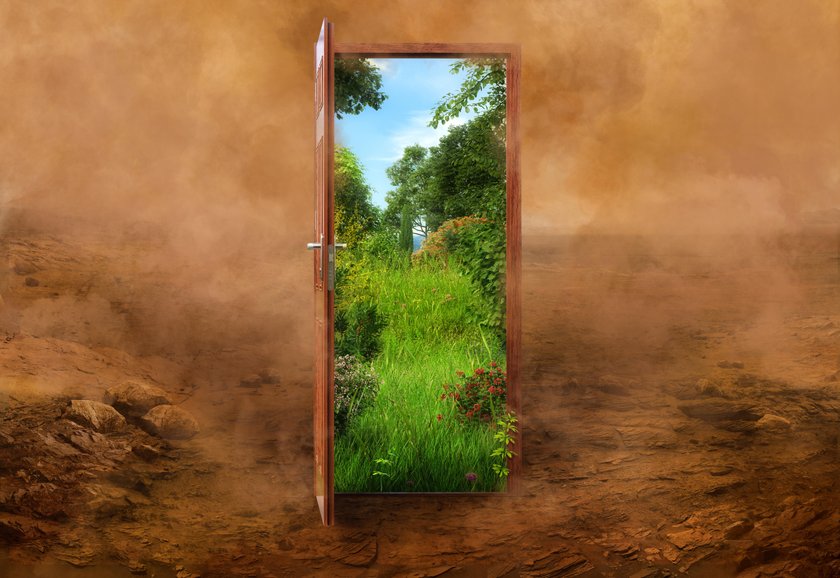 There are many reasons to change the font of your photos. Sometimes the backgrounds of your photos are either too plain or too saturated. This means that the compositions have a wallpaper that we want to completely change with the wallpaper remover.
In other cases, we may use the font to make the subject stand out. For example, a white wall behind our product might look too dull. So we can edit background color to a more appealing social media color.
11 Best Apps to Change the Background in a Photo
Whatever your reason for needing a font change application, check out our guide to see what to look out for.
We will also share our opinion on the best apps for such a task and tell you about the typical mistakes made by beginners.
1. Auto-Background Changer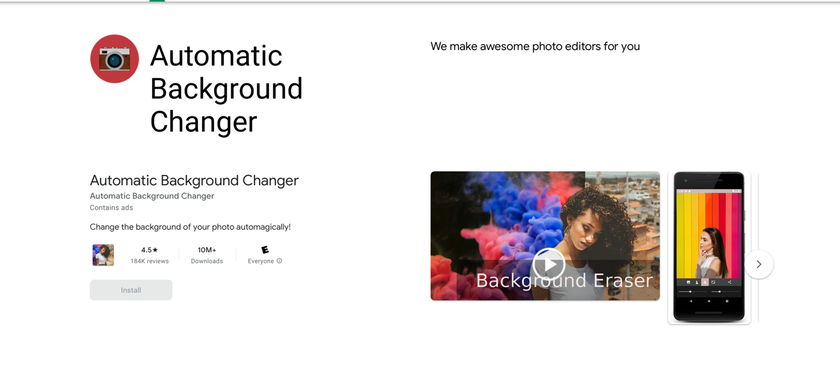 Although many people use the app solely to apply beautiful effects, it has a much greater range of functions. The application is suitable for devices with Android and iOS. It supports JPEG and PNG formats. As the name suggests, this is an automatic free app to change photo backgrounds. No wonder! This is the best free app you can find for font removal. It's very easy to use. The auto tool removes even the most complex wallpaper, but it may take some time to achieve perfect results.
You can also smooth out the lines between your subject and the background when you select it. This is a great feature that makes editing look smooth.
Sometimes the app either hangs or closes. It's frustrating and ruins a good app. But that's the price you pay for free use.
Features
Easy to use;
Smoothing functions;
Composition;
Blurring;
Free to download;
Color addition.
2. Fix The Photo Editor & Retouch
FixThePhoto App is a robust photo editing app, known for its commitment to natural, realistic results achieved through manual editing by experienced retouching experts.
Its standout feature is the precision of manual background editing, offering the ability to change, remove, or blur backgrounds realistically. In a visually-driven age, this sets it apart from AI-based editors by ensuring images stand out with authenticity.
Customized retouching orders cater to your specific needs, providing a personalized approach to photo editing.
Download Fix The Photo Editor & Retouch for iOS and Android
Features:
Manual background editing
Enhanced visual appeal
Realistic results
Natural lighting matching
3. Simple Background Changer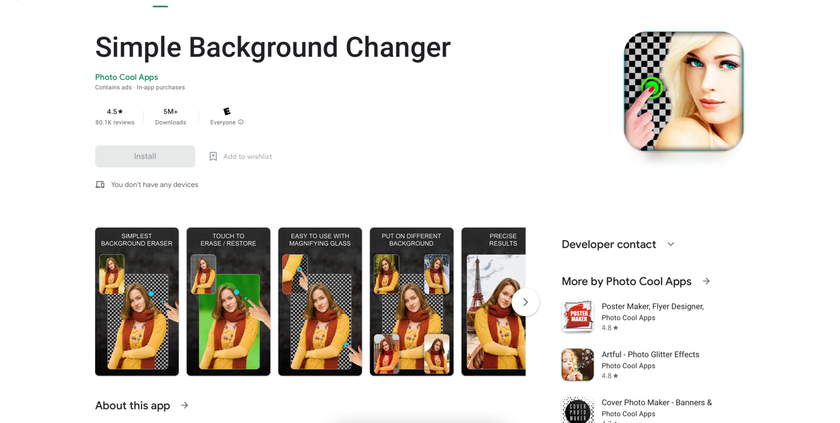 It is an incredibly powerful application that has an important feature compared to other free photo apps. Simple Background Changer allows you to process your photos with filters you've already set up or take advantage of professional tools.
The only disadvantage of this app to change background is that it the only available only for Android users, and the only format available is JPEG.
This app has thousands of positive reviews. It is exclusive and one of the best photo editing apps for Android users.
As the name suggests, this app is easy to navigate. The zoom feature helps you make more precise edits when using the font eraser. The app automatically gives you a transparent background. But you can also replace it with photos of gorgeous places from around the world, or use your own images.
You'll have to deal with ads and watermarked photos if you use the free version. This is a problem that many have complained about, and it ruins an otherwise excellent app.
It would be better if you were also careful when clicking on notifications. The app doesn't save your work when you check a message or email! Be careful! The app does not automatically save your results! Make sure you save after you finish editing, so you don't lose your progress.
Features
Easily superimpose the background with presets and templates in the app;
It is easy to restore details lost due to user errors.
4. Background Eraser Pro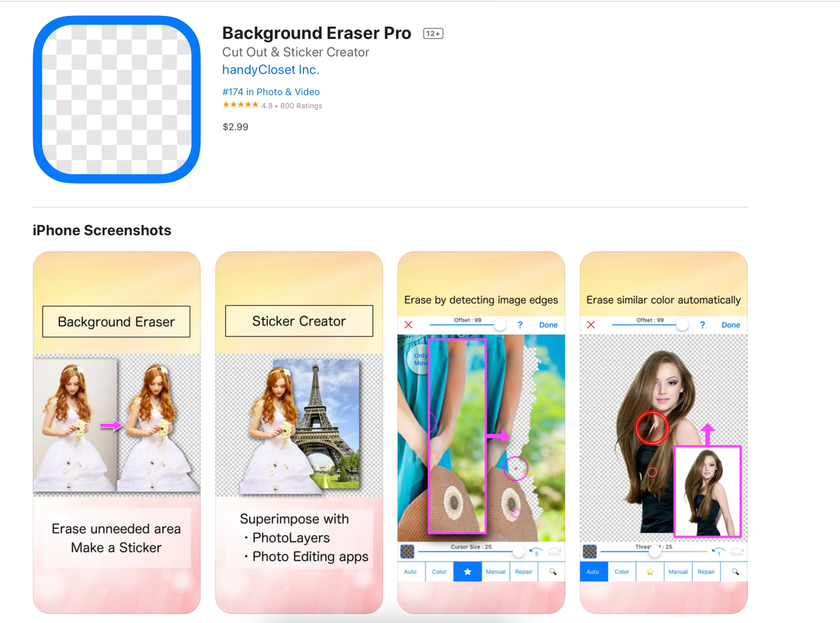 This free app to change the background of the photo allows Android and iOS users to get perfect images. It has always stood out from its competitors with a huge library of built-in filters that you can customize by a degree of blending. True, some styles are not available in the free version, but even without them, there is a lot to choose from.
Background Eraser Pro is one of the top-rated applications for adding transparent backgrounds. This app works as an automatic app to change the background. Click on the areas you want to remove, and it will instantly erase the background.
Once you cut out the foreground image, you can save it as a sticker. This is useful for pasting a specific image onto multiple photos. It's also useful if you haven't taken those photos yet and want to quickly edit them in the future.
I like the assortment of fonts that the app provides. You can quickly and easily sort through the different categories and find a new background for your photos! The application is abundantly equipped with editing features.
This app to change the background of a photo is a free version for Android. But there are only paid versions for iOS devices. Also, this photo app allows you to save customized settings that you can apply to any photo. It also includes a set of tools usually found only in a desktop image editor: tools such as a brush to correct imperfections, and a lens blur option for focusing.
Features
The convenience of entering, saving edits, and the ability to return to a previous version of the file;
Easy and fast editing;
User-friendly built-in eraser;
Free app.
5. Facetune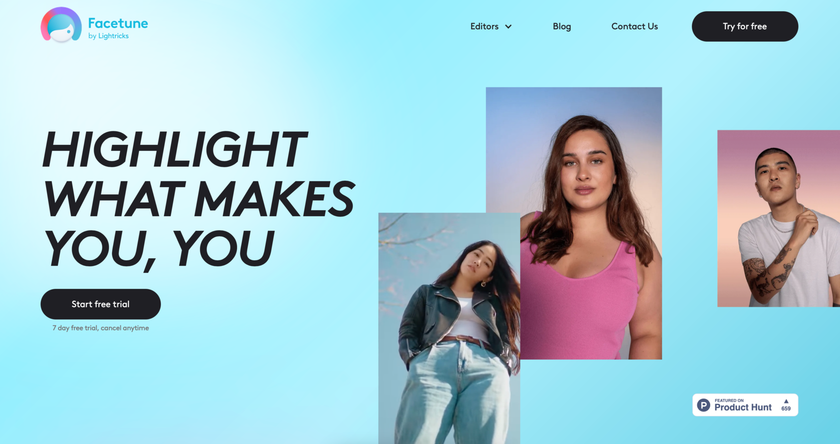 Facetune is one of the most popular apps for editing selfies. Many free photo apps allow you to process most pictures perfectly, and Facetune focuses only on portraits. The app performs photo retouching quite professionally.
There is a function to create a smile on the face, manual correction of the figure, blurring the background, and so on. You can pixelate, rotate and crop images, remove red-eye effects, apply a variety of filters, and more. If you're stuck for inspiration, the app has several autocorrection options that improve your images using the most appropriate settings for the type of image. The available options begin with the expected: cropping and resizing photos, adjusting brightness and contrast, changing saturation and warmth, and enhancing shadows in the image.
This handy app to change backgrounds provides the user with a wide range of editing tools. It is available on both old and new versions of Android and iOS operating systems.
Facetune is known for its enhancement tools. It also has several sections that can improve boring backgrounds. You can change the font in your photos by adding superimposed textures. The iOS version has an additional section called Backdrops — more options than the Android version. But it doesn't allow you to completely change the background. Instead, it simulates a shallow depth of field, and other features help remove unwanted objects from the background.
Facetune now has a newer app, Facetune 2. But many people prefer the old version because of the number of ads and subscriptions in the update. But the old version is only available on iOS platforms. The advantage of the new app gives many advantages, for example, a background that fills solid colors and a magic brush. The two areas of the application where you are likely to spend most of your time are presets (an elaborate set of filters) and correction (point tools, like blur effects).
Features
Each tool has a mini-tutorial;
Simple functions for a simple application.
6. Apowersoft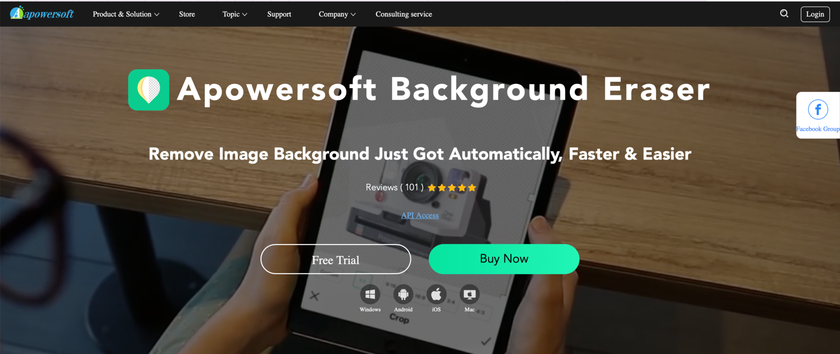 Spend a few minutes with Apowersoft and you'll realize that this application is as much like a professional photo editor as possible. It has a minimalistic design, but it's packed with features. This app to add background to photos can be installed on devices with operating systems Android and iOS. It`s one of the best apps on this list. It uses artificial intelligence technology to make its edits more accurate.
Instead of manually selecting an object in an image, artificial intelligence determines the object based on what you select. Currently, you can select a person, a product, or a logo. This simple app not only provides a seamless background removal. It also provides other great artificial intelligence features.
But the most useful feature of this app is the batch editing feature. The application allows you to remove the background for multiple photos at the same time!
Features
AI technology;
Quick batch editing;
With the purchase of the paid package, additional tools and image packages will open;
You can add your wallpaper.
7. Superimpose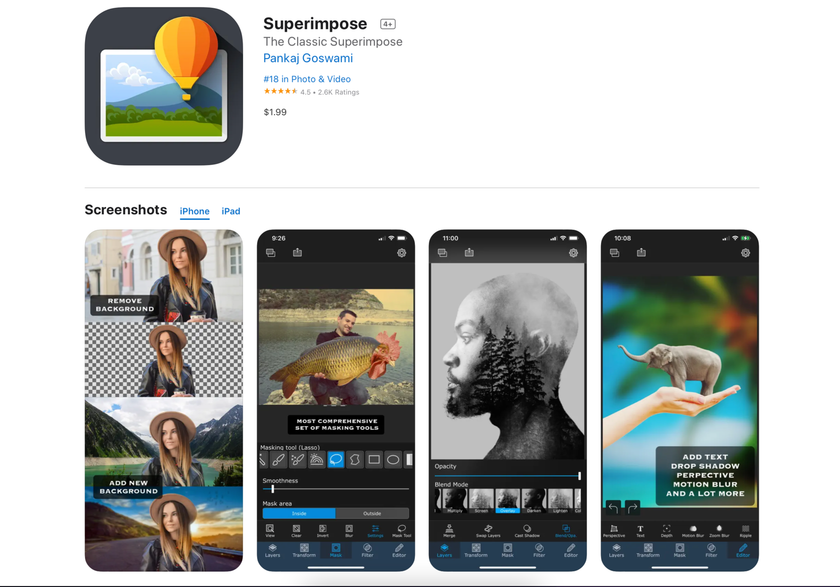 Superimpose is a powerful application. It will help you create simple backgrounds. But you can also make something so complex and fun.
Unlike other apps, Superimpose offers advanced tools. It includes different blending modes and a double exposure feature. This app to add background to photos allows users of Android and iOS operating systems to process images in various formats, such as JPEG, PNG, and HEIK.
You can even create shadows to make your results look as natural as possible! And the background erase tool is simply indispensable for a mobile editing app.
This simple font changer app has lots of features that aren't hard to navigate. If anything, the features make the app easier to use.
Features
Offers advanced tools for adjusting exposure, saturation, etc;
The application is easy to use, despite all the advanced features.
8. Adobe Photoshop Express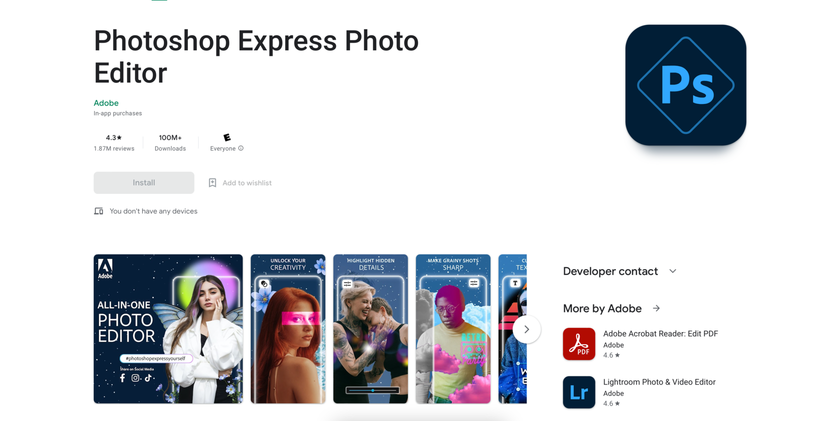 Of course, this list of background changer apps includes the mobile version of Adobe Photoshop. Since the beginning of photo editing, Photoshop has been the original program for removing backgrounds.
Photoshop Express is a fantastic app if you need an easy way to change the font. All you have to do is load the image, select "Cut" on the bottom toolbar, and you're done!
You can see the mask of the area to be removed and edit it accordingly. After that, you can easily create composites and edit them using multiple layers. Probably the best app to change backgrounds.
The best thing about Photoshop Express is that you have a whole range of other edits you can make to the image. Some people may have a hard time navigating it. So if you only want to remove the background, there are probably better options. Many professionals still prefer the unchanged classic — Adobe Photoshop. No wonder the software includes a full set of functions necessary for comprehensive photo processing — basic and artistic. However, paying a significant monthly subscription fee can be very hard on the wallet.
Features
In the toolbox of this application, you can find everything you need;
A powerful app that works quickly and accurately;
Adding color and lighting effects;
Creating Adjustment and Mask Layers;
Applying Smart Filters;
Selective color correction;
Download additional brushes, masks, and effects;
Instant selection of photo areas by color palette;
Creating artistic effects with your own hands;
Embedding watermark;
Supports batch file processing.
9. LightX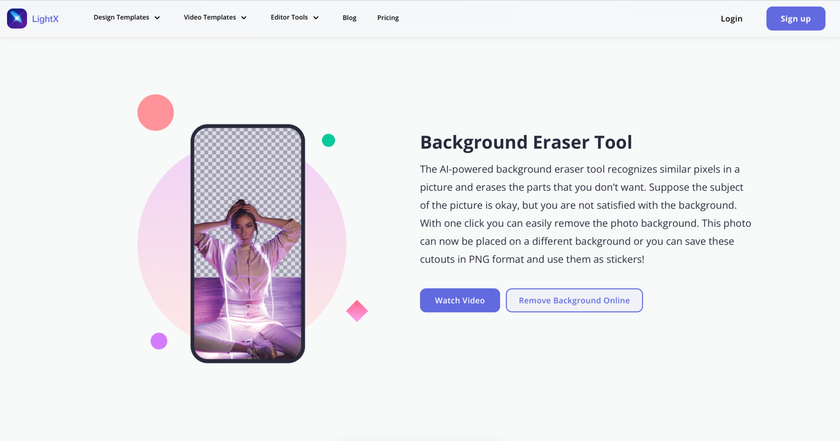 LightX offers many editing options and executes them professionally. The app is well organized, and the background wipe tool is surprisingly accurate for a free app.
After creating a transparent font, LightX makes it easy to move on to changing the wallpaper image. You can also save your changes so you can easily apply them to other features. With this app that changes the background color, you can make perfect pictures!
These features include adding frames, stickers, and text to your photo. You can also edit videos and change the shape of your subjects. One of its key features is the Magic Brush tool. It changes the background without affecting the foreground. This means that you can easily remove the font within minutes.
Although LightX is a paid app on this list, it's worth its money. You can do more than just change the background of a photo. You can use it as a general photo editor. It is similar to Lightroom or VSCO. What made this app stand out from the others was the smoothness of the tools. In most other apps, brushes are hard to control.
LightX goes beyond these limitations. It offers a simple user interface that will make any editing workflow more efficient.
Features
Easy to use and well organized;
Multiple functions.
10. Snapseed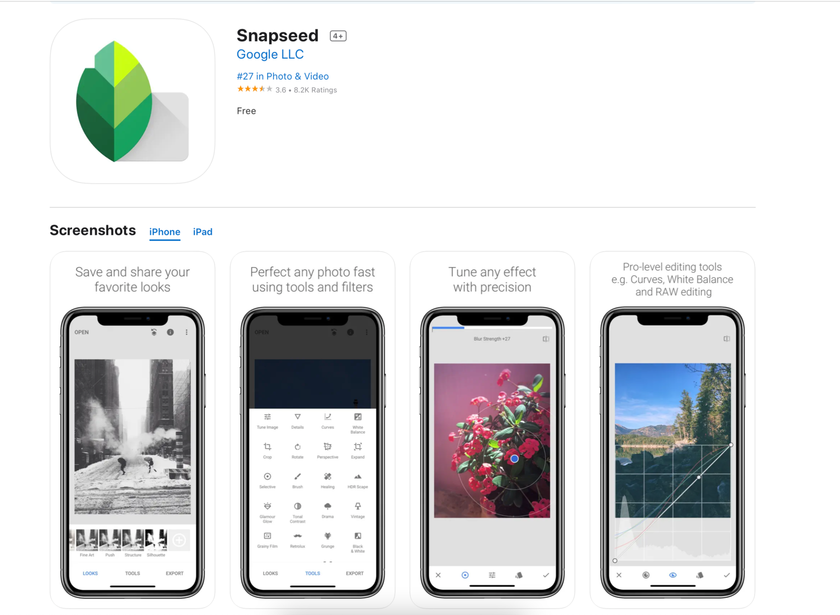 Snapseed is a very easy-to-use and versatile photo app. The app has all the basic tools: from correcting brightness, contrast, shadows, saturation, cropping, and rotating to darkening and brightening photos, spot correction, brushes, and erasers like in Photoshop.
This photo editor app that changes background has won the favor of many users because of its useful features and pleasant design, RGB curves, white balance, and a dozen other useful tools.
Immediately after opening a photo, you'll see a menu for selecting styles — this, we might say, is "lazy" image processing. But if this is not enough for the user, you can open the "Tool" menu, where you can find a lot of various tools. For example, you can adjust sharpness, work with RGB curves, find the optimal white balance, and correct light/dark areas. Additionally, there is a perspective editor, contrast adjustment, blurring, and so on. The application is not inferior in terms of features to desktop solutions, and the edited image can be saved in memory or sent immediately to the recipient.
Features
A set of styles for every taste;
An impressive arsenal of tools for in-depth image processing;
You can compare the edited frame with the original in one menu;
Simple and intuitive interface;
No paid features, tools, and advertising.
11. Luminar Neo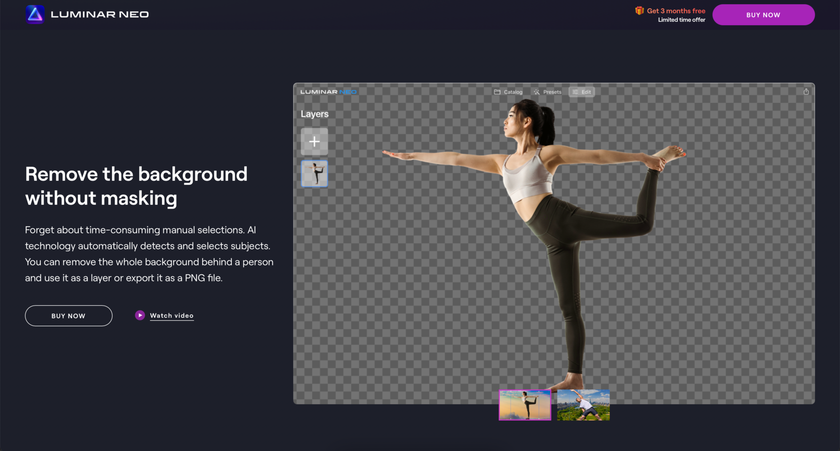 You can safely say, Luminar Neo is one of the richest arsenals in the niche of photo editors, but directed function applications for creativity, not the dry editing of image parameters. Like all of the apps on our list, it allows you to change the background. It also has other useful features.
This photo editing program changes the background and works with a vast list of file formats, such as Raw, DNG, HEIF, etc. Here it is very easy to work with colors, shades, saturation, and brightness, there are curves RGB, and the ability to adjust many image parameters. Additionally, you can sharpen details, and adjust light, contrast, and exposure. Of the decorative elements, there is only the possibility to impose styles to quickly process the photo, and most likely, you will use it.
The app comes with an impressive list of features: crop, rotate, exposure, contrast, highlights, shadows, white balance, saturation, sharpness, blur, haze removal, and geometric tools, to name a few. Luminar Neo also lets you work with selections to edit just part of the image. It will take you a considerable amount of time to explore all that Luminar Neo has to offer. The application allows you to change colors in an image, create effects such as adding double exposures, flip photos, and change image layers.
Features
Good work with colors, shades, and exposure;
Absence of decorative tools that are not always needed;
It is possible to save the history of changes and then apply them to other frames;
Conclusion: Which App Is the Best
No more annoying searches for the right software on the Internet! These apps to change the background of a picture, free and commercial, simple and complex, will allow you to improve the quality and make your photos like a masterpiece and decorate them to your liking.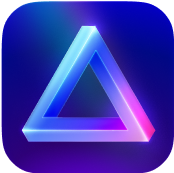 Advanced yet easy-to-use photo editor
view plans