If you've spent a large sum of money on the photo and video equipment, it makes sense to keep it safe during your journeys. That's what cases are for.
A standard shoulder bag or backpack will only provide sufficient protection against light impacts. But to avoid equipment breakage due to the more serious collisions and falls to which checked luggage at the airport is often subjected, you need something more durable and reliable. This is the choice of traveling camera bags and cases we will talk about.

Why You Need a Travel Camera Case for Your Camera Gear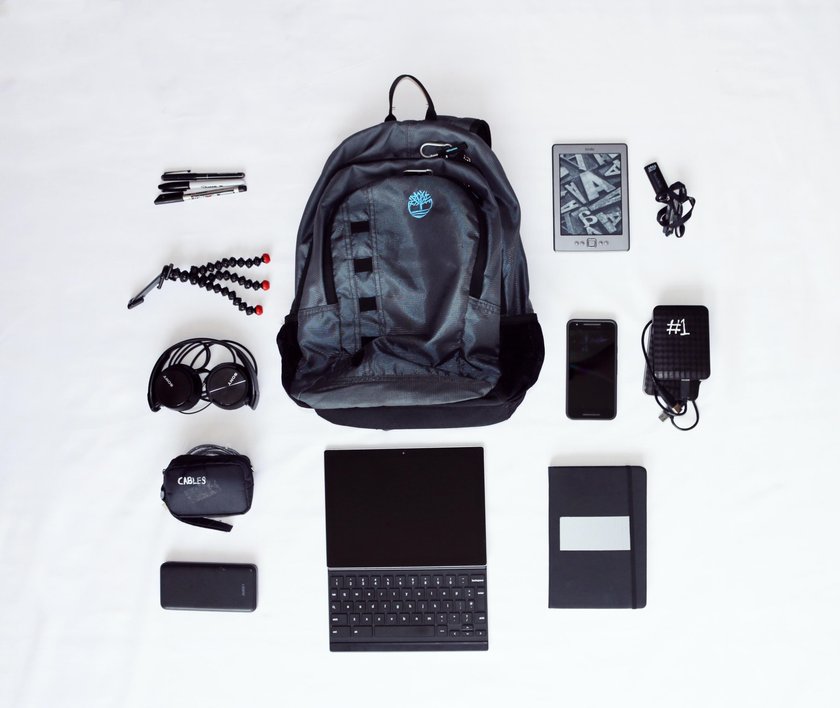 Every photographer will tell you that to buy a quality camera, you have to spend a lot of money. For some, such expenditure may be insignificant, but some have to save every penny to become the happy owner of a dream device. With a good device, you can take great photos without having to sharpen an image.
Expensive equipment requires a lot of care and attention, especially if the buyer got it the hard way. So before you go shopping, you need to know how to choose a travel case for camera gear.
Here are some cons of it:
Keeps all contents intact;

Prevents the case from being tampered with;

Prevents minor scratches and abrasions;

Easy to use and care for;

Performs a decorative function.
A case can be cleaned and washed in a washing machine, retaining its original features and design. Spandex is quite elastic and when stretched produces a uniform, symmetrical pattern. Some models are made of a stronger material – neoprene.
Protection for Your Camera and Accessories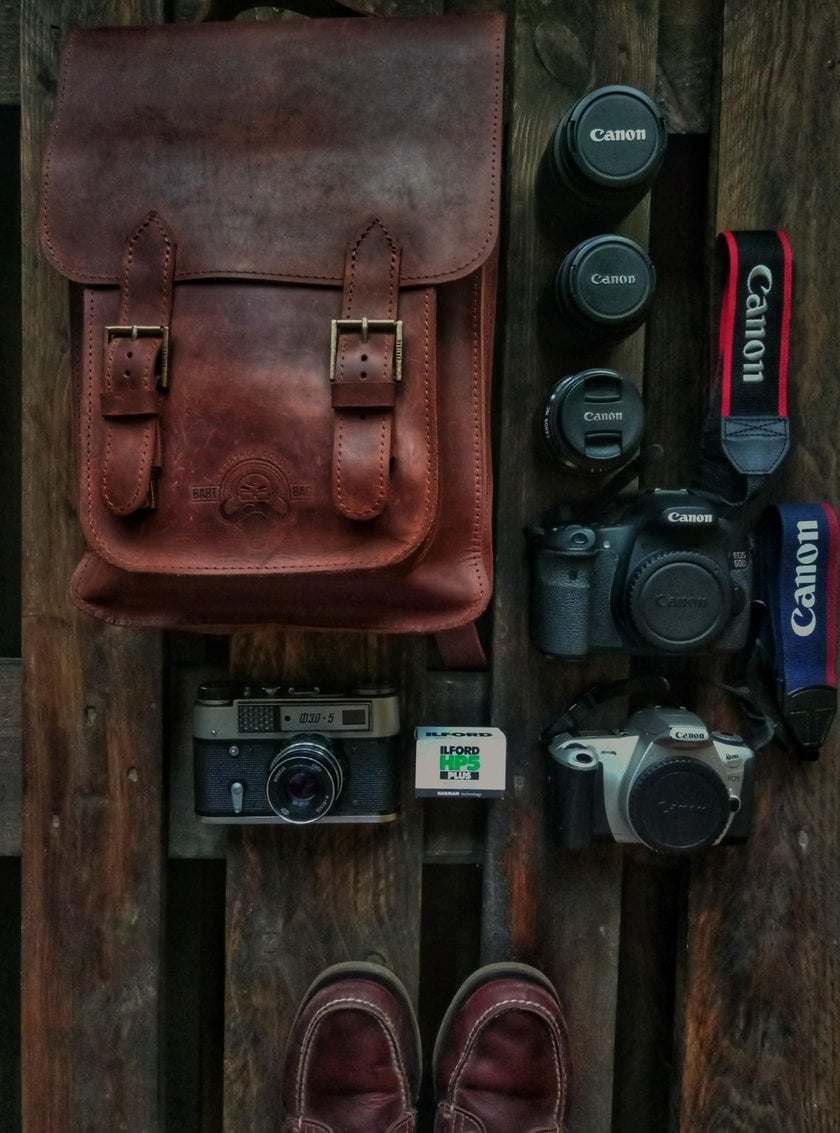 Many factors can affect the camera equipment and it's very important to protect it from mechanical damage or weather conditions. Here we introduce some of them.
Lens cap and lanyard for protection. Transportation is the most innocuous thing that can happen to a camera;

Blenda. A lens hood helps protect the lens from damage if you accidentally bump it against an object. If you decide to purchase, check carefully to ensure that this hood is the correct size for your camera and lens;

Spare battery. Your spare ammunition is your guarantee that you won't be left alone, disarmed in the photographic fields, and all your caught "ducks" and "hares" you take away with you. So when going on a trip or just walking around with your camera, always stock up on 2-3 charged batteries in your travel bag;

Protective light filter. A "bullet-proof " waistcoat for your lens, designed for those who like to get their camera in the palm of their hand;

Macro rings. This a great alternative for those starting or trying their hand at macro photography, and buying expensive macro lenses is not seen as the only option for salvation;

Protective glass for your camera. A protective camera accessory prevents your camera screen from dirt, moisture, and scratches;

Remote control. While there is a wealth of them to choose from, their primary function is to trigger the camera shutter. There is one more important key opportunity in this mode – you can use

panorama stitching software

linking different photos in one common piece. Besides after such camera manipulation, you can use special

image editing software

for your needs for changing pictures. You can find more information in our article.
To protect it all from damage you need to choose a good quality case, e.g. SKB camera travel case for GoPro. It should be water-resistant and solid to avoid damage.
Convenience and Organization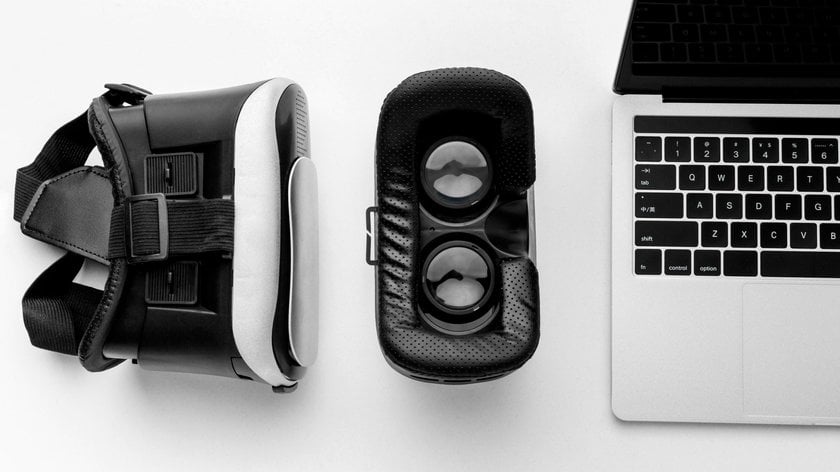 When we talk about the best camera cases for travel, the choice for everyone will be different. The first thing to look at is the amount of stuff it can hold. There should be enough space for everything you want to put in. Also look at the size, because the case has to fit in your luggage. And when you've taken great photos, come home and view them, you can use desktop Lightroom presets for enhancements.
Types of Travel Cases for Camera Gear
When you're buying a professional DSLR travel camera bag, you'll want to make sure it's stored and transported properly from the outset.
Hardshell Cases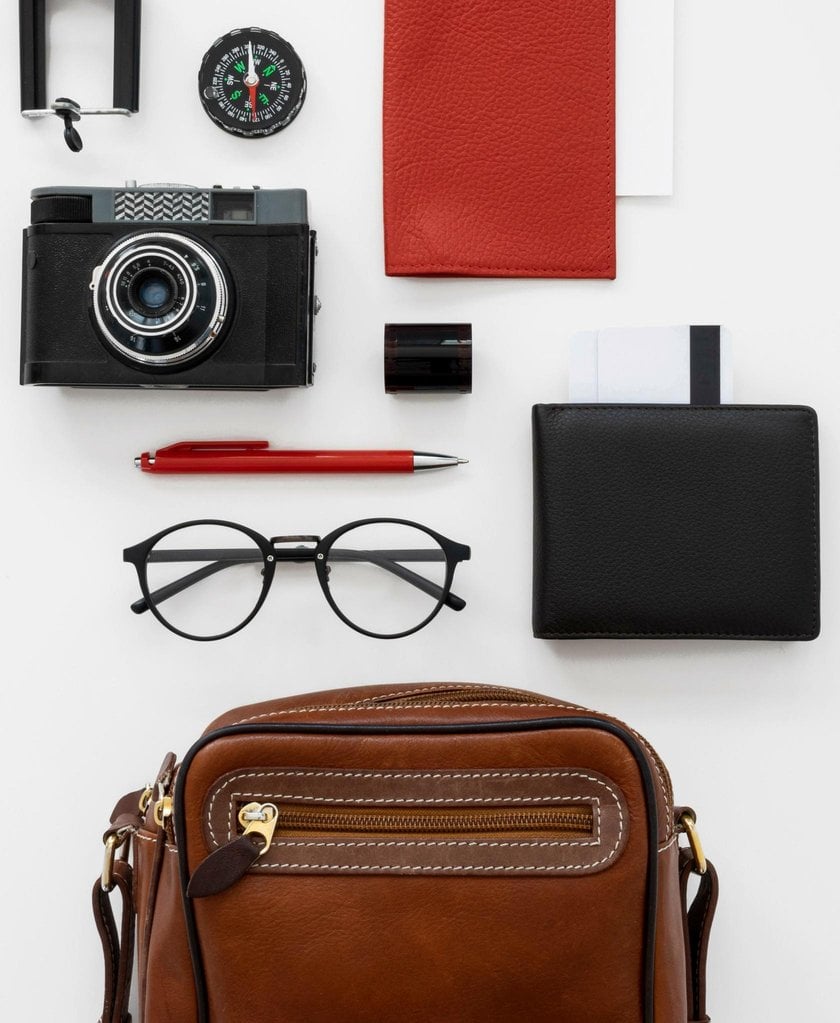 Ultimate professional camera travel bags. They are designed for air travel and long journeys where there is a high risk of breakage of expensive equipment. They are equipped with a rigid body, often even suitcase-shaped with a handle and wheels for comfortable transport of the contents. In addition to your camera, the briefcase can hold all the equipment you will need for any photo shoot.
Pros:
Sturdy;

Expansive;

Versatility;

Weatherproof.
Cons:
Soft Cases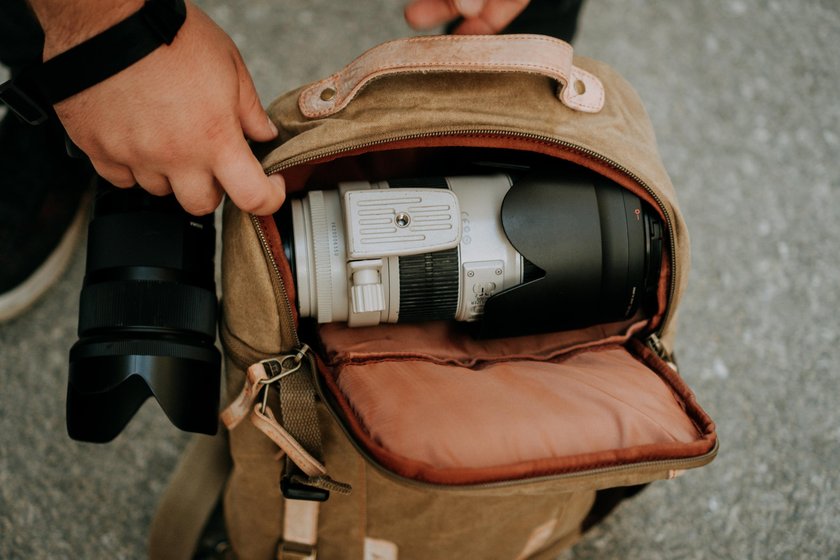 A camera bag is a classic carrying option for both professional and amateur photographers. In most cases, they are equipped with a large number of pockets of varying sizes that can hold a variety of small items. Many also offer additional compartments for lenses and a charger, ensuring your gear is always at the ready. These small travel camera bags are very popular.
Advantages:
Large selection of models;

Lightweight;

Customizable shoulder strap;

Versatility.
Disadvantages:
Lack of strength;

Uneven distribution of the load on the shoulders when carrying.
Backpacks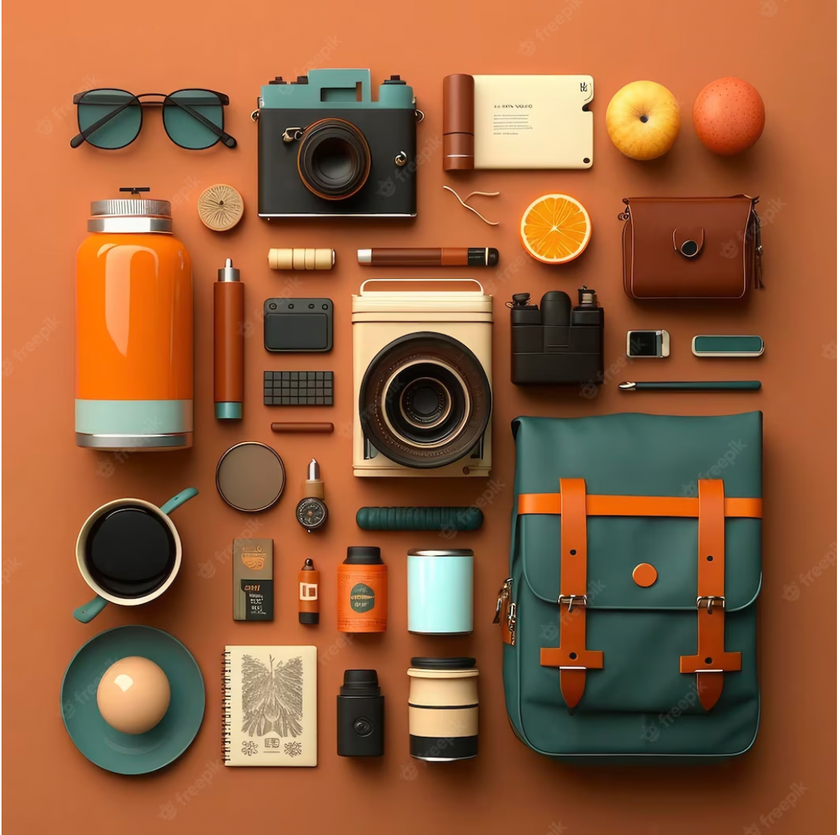 A backpack is ideal for travelers who need to combine comfort and functionality.
There are five types of backpacks:
Tourist;

Universal;

Classic;

The sling backpack;

Billingham bags.
Each meets the individual requirements of its owner. The Hiking Backpack and the Universal Backpack are virtually identical in appearance. They are equipped with many compartments, which fit almost everything you need for a modern tourist: from a camera and a laptop to a change of clothes and a toothbrush.
While a Lowepro backpack might not offer the same versatility, it allows you to better prepare for your next photo shoot by carrying as much gear as possible. And a camera backpack lets you get your device out in the blink of an eye so you can catch a clear shot while others are slipping out of their harness. From the large variety, choosing the best camera backpack for airline travel is no problem.
Benefits:
Comfort;

Uniformly distributes the weight on your shoulders;

Versatility;

Roomy.
Disadvantages:
Soft exterior of the body;

Lack of visibility of the owner (theft of equipment).
How to Choose the Right Travel Case for Your Camera Gear
Modern photographic equipment is vulnerable and therefore requires extreme care. Minor impacts, exposure to moisture or dust, shaking, and other external aggression can cause serious damage that will require costly repairs. That's why you need the best travel camera bag.
A special case or camera travel bag may help protect your device from such exposure. It is an accessory that not only completely covers your delicate equipment from damage, but also allows you to carry the necessary small items (memory cards, batteries, etc.). It is available in various versions.
Size and Capacity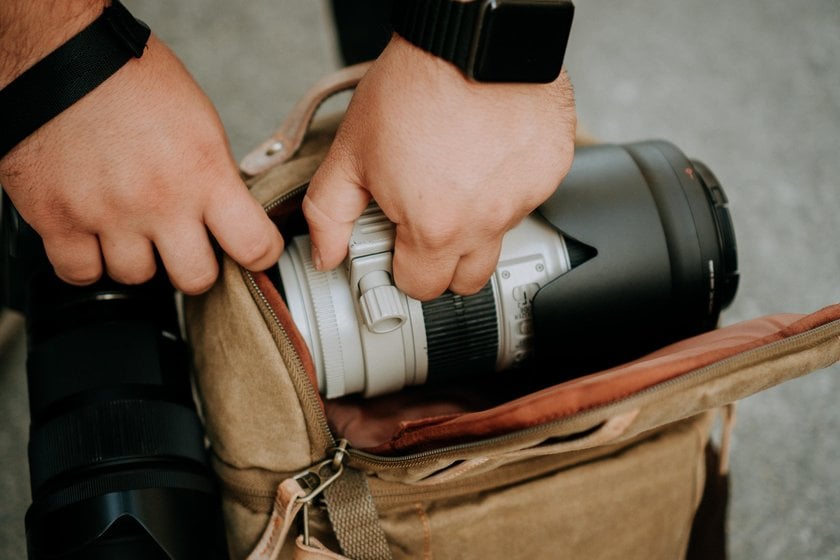 There are as many varieties of cases as there are cameras, so it's impossible to classify them unambiguously. Now let's look at other criteria for distinguishing them.
Naturally, a digital point-and-shooter would need a much smaller case than a DSLR.

Women may opt for subtle colors for a camera day bag. Men prefer a comfortable form and strict colors like black, gray, and brown. Who cares about status or style, buy a product made of leather. Cases for children's equipment rather resemble bright boxes for a toy.

Density depends on the material. Who cares about minimum weight – choose a case made of fabric, if you need shockproof functions, pay attention to the hard case with a soft inner layer.

In addition, the holster can go with shoulder straps and a loop to wear on the hand. The holster case sits on your belt, the sling bag sits in a regular bag, and the slingshot sits on your shoulder (single strap backpack version). It's no exaggeration to call it the best carry-on camera bag.
Durability and Material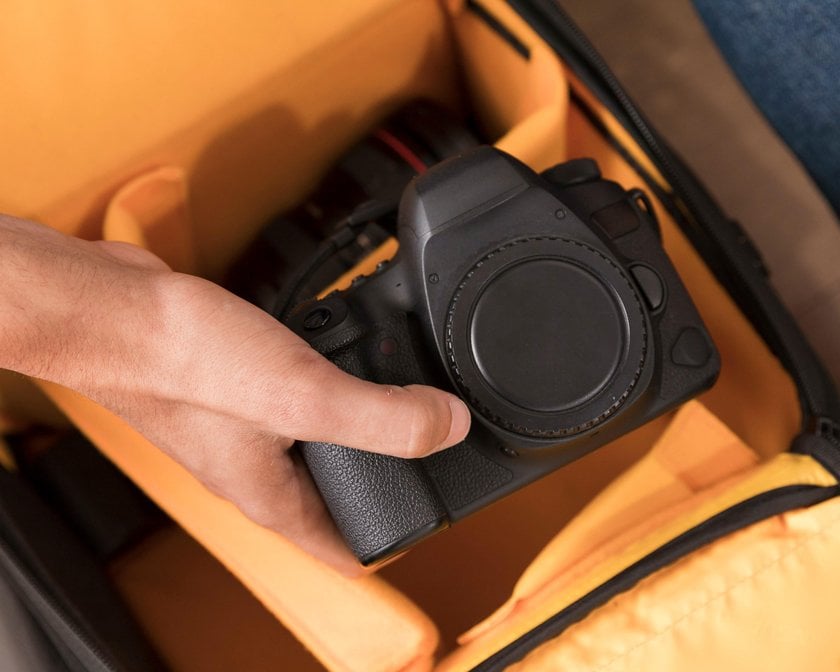 The material determines the shape, appearance, prestige, and protective qualities of the cover.
Textiles are the most common cover material for camera carry-on bags. The most durable, hard-wearing synthetic fabrics are selected, allowing the product to last a long time. Some cover models are water-repellent.

Silicone/rubber is the most common material used to cover compact cameras. It is a tight-fitting case with an opening for the lens and control buttons.

The idea is to use plastic to make camera cases for compact cameras. The advantage is the durability to protect your equipment from bumps. It also allows you to create a lot of design options for cases.

Leather. This material is used to make image model covers for compact cameras. It can be used in both natural and synthetic leather.
Features and Functionality
A laptop pocket is an option for placing a laptop or tablet in a pouch. The most common accessories include backpacks and large DSLR bags.

Side zip provides the fastest possible access to your equipment. Side-zip access is important for backpackers or those who take snapshots.

The tripod holder lets you attach a folded tripod to your bag or backpack. Great if you're planning on spending a lot of time on the road.

Waterproof textile cases are made with water-resistant fabric.

A mackintosh allows your travel camera bag to have a special cover that fits the size of the case or backpack. It protects your gear from snow and rain.

Special wheels convert a big duffel bag into a wheeled duffel bag. They're perfect for carrying heavy gear.

Carrying handle – some models can only be carried on the shoulder. This accessory allows you to carry the pouches in your hands.
Top 5 Best Travel Camera Cases for Camera Gear
1. Pelican Air Case 1535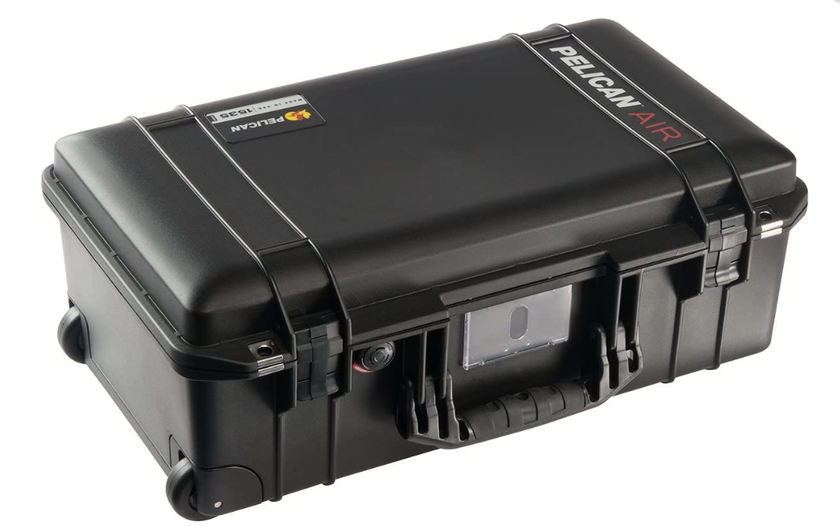 One of the best camera hard cases for travel. The Peli Air range has been designed to make the models 40% lighter than the brand's traditional hard cases of the same size. It weighs just 3.95kg, although this is only the weight of the plastic case. If you load it up with foam plastic or dividers, the difference in weight between it and a similar-sized Peli Protector 1510 hard case is less significant. In terms of strength, the Air 1535 flexes slightly more under pressure than the Protector 1510.
The inside of one of the best camera hard cases for travel is foam plastic with cubic slots. You can also use Velcro-covered soft separators or Peli's innovative TrekPak partition system, made from cellular plastic sandwiched between layers of porous material. It comes with U-shaped studs and a special blade for cutting strips so you can adjust the dividers to the size and shape of your photographic equipment to ensure safe transport. TrekPak is a carefully engineered, robust rigid divider system, although not as soft as conventional Velcro dividers, it's sleeker and more secure.
Pros and cons:
Very light for its size;

Optional TrekPak insert;

Additional spacer inserts can be expensive.
2. HPRC 2550W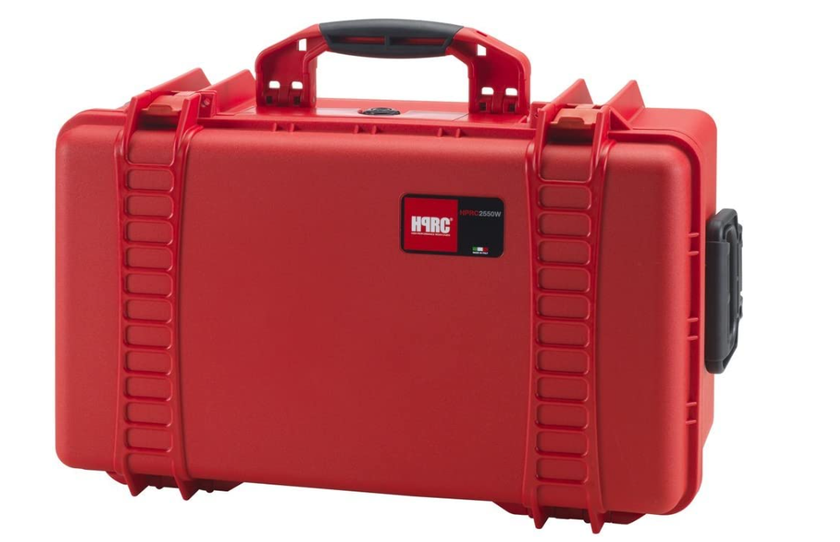 Italian manufacturer HPRC has proven that hard cases can be not only reliable but also stylish. Proof of this is the 2550W model with colored accents (blue or red). There is even an all-red version called Ferrari Red for those who like to show off.
Other benefits include:
Ergonomic two-step lid closures;

A nifty retractable handle lock;

Sturdy and the smoothest spinning wheels of any hard case.
The 2550W fully meets the basic requirements of hard cases – it's just as unbreakable but weighs only 5kg. That's thanks in part to its Second Skin interior, a one-piece pad insert that conforms to the inner contours of the case. Inside, the case divides into panels using regular, Velcro strips to maximize interior space measuring 51×29×20cm and ensure safe and secure transport of bulky gear. Measuring 55×35×23.6 cm in external dimensions, the case does not exceed the hand luggage restrictions.
Briefly about the model:
Well-designed;

First-class rigidity;

The foam interior would have been softer;

Designed for rolling cameras.
3. Vanguard Supreme 40F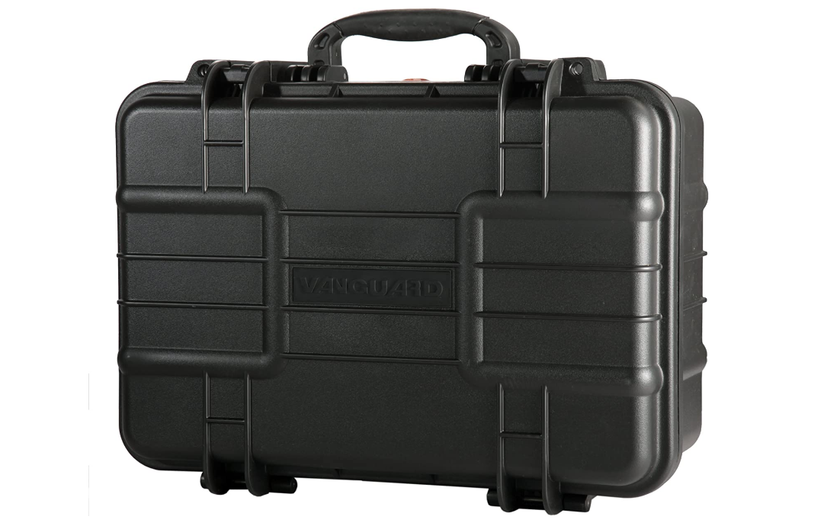 One of the best travel camera bags. This waterproof hard case will keep your photo and video equipment safe when submerged in water to a depth of 5m, although some may wonder if this lightweight plastic and foam case with cubic slots can dive that deep. Measuring 43×29.5×17.5cm, the interior of the case is quite sufficient to accommodate a full-frame DSLR camera and three or four lenses. However, don't expect this case to fit a telephoto lens larger than 70-200mm f/2.8. On the other hand, it has a very transportable exterior size of 46.5×36.5×19.5cm and a low weight of 4.4kg, including foam inserts inside the plastic body.
A sheet of foam with cubic slots is included in the price of the kit. Vanguard also offers a separate removable divider insert at extra cost for greater versatility. Despite its reasonable price, a good camera bag for travel has several advantages, such as a comfortable handle and non-slip rubberized feet at the base of the case. In terms of top-notch durability, Supreme is every bit as sturdy as renowned manufacturers such as Peli. Supreme 40F is designed to withstand a total weight capacity of up to 120 kg and a temperature range of -40 to +95° C.
Pluses and minuses:
Optimal for small cameras;

Very good price;

Not suitable for carrying large lenses;

No castor wheels.
4. Manfrotto ProLight Reloader Tough-55 HighLid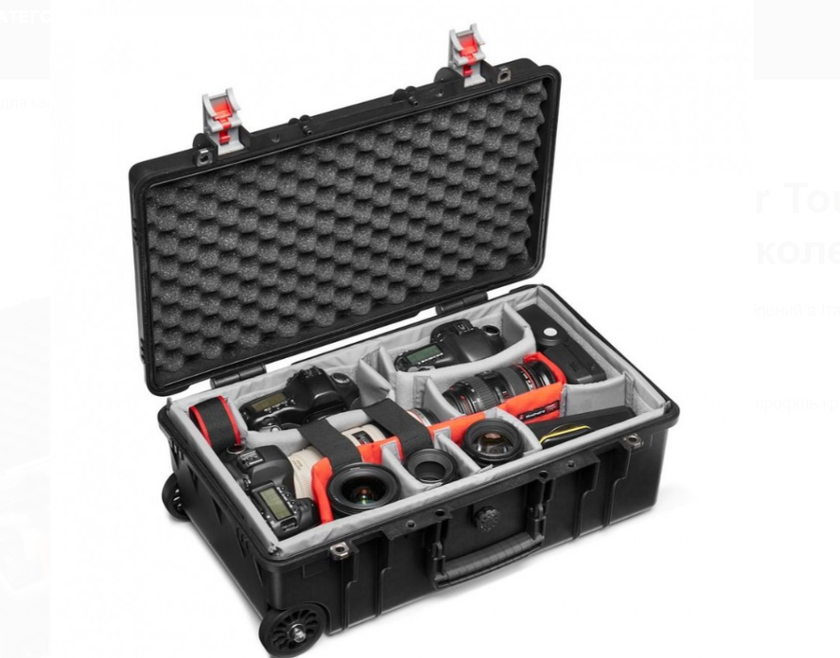 One of the best camera bags for travel. The specifications of the HighLid version may not make the internal dimensions seem very impressive - 50×26×17 cm but these are stated taking into account the thickness of the soft liner, while many manufacturers declare unrealistic internal dimensions of an empty case. For additional safety, the lid is secured with snap fasteners that close in two steps. It also comes with a safety strap that can be used to attach a tripod to the front.
Not too significant disadvantages are the overly rigid latch for securing the retractable handle and the more noticeable flexing of the body compared to the competition.
Pros and cons:
High capacity;

Good internal divider system included;

Neat appearance;

High price.
5. Vanguard Supreme 53D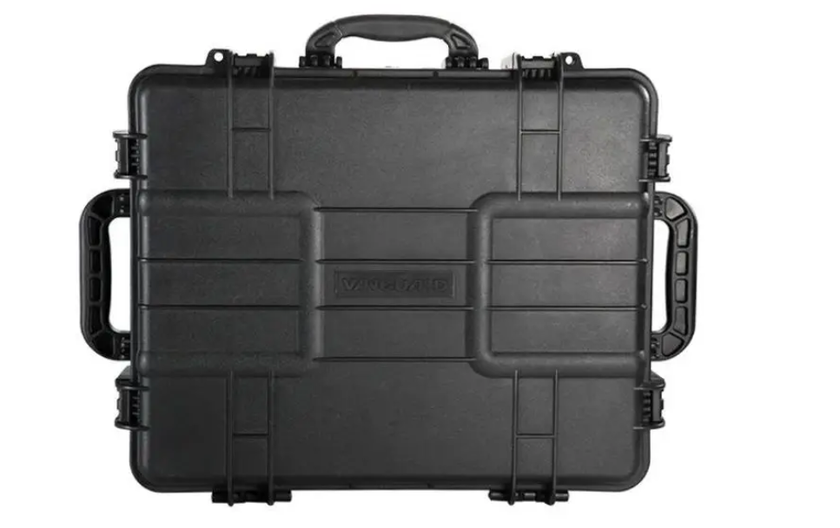 For flights, it will have to be checked as luggage, as its outer dimensions - 63×52×24 cm – exceed the hand luggage restrictions. On the other hand, the ample interior space of 56×45×20 cm accommodates a fair amount of photographic and video equipment. In addition, the case is equipped with sturdy wheels – indeed, a necessary detail, as even an empty case weighs more than 10kg.
Despite its impressive size, the 53D is as strong and durable as the smaller cases in this review. It has a 6-latch lid. One of the best camera bags for travel is designed to withstand a load of up to 120kg and remains water resistant to a depth of 5m.
Advantages and disadvantages:
The separating insert does not add much cost;

Very robust;

Very heavy, even when empty.
Final Thoughts and Recommendations
When choosing a dedicated camera bag, it is important to remember that the future purchase must meet three main criteria: reliability, safety, and compactness. In addition, each variety meets specific requirements: professional photographers who have to travel long distances are better advised to opt for protective cases. But for the simple traveler who wants to get good photos, a roomy backpack will be indispensable. Unfortunately, choosing a bag for travel that is suitable for absolutely any situation is unlikely to succeed. But trying to find a backpack, sling, or pouch that best suits your needs is a realistic proposition.
There is an enormous number of camera bags and backpacks available around the world. Thanks to our article, you can determine in advance the requirements for purchasing such a product. However, you can only experience all the nuances in practice. Ideally, the person who will use the photo bag or backpack should try it out. It is then that the right choice will be made.
We wish you pleasant travels! When you've taken great photos, don't forget to use the best photo-sharing sites to show them to everyone.
FAQ
What Defines the Best Camera Bag?
It should suit you best in terms of size, weight, style, and safety. Also, camera bags for travel should hold all the camera gear you need.
What Is the Best Travel Camera Bag for Professional Photographers?
We have listed them all in our article. If you're looking for the best option, check out the travel camera bags from Peli, HPRC, Vanguard, and Manfrotto.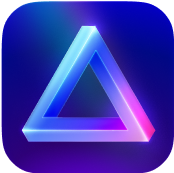 Advanced yet easy-to-use photo editor
view plans