Nowadays you don't even need a separate desktop application to edit your photos.
When it comes to photo editing, we have two choices. We may go to one of several websites and edit our images online, or install an editing software on our computers to do it offline.
While both options have their own benefits, many people get confused about the right one.
Let us have a look at the differences.
Online Apps are Free:
Most of the online photo editors found on the internet are free. There's no sign-up fee and the interface is also very easy. All you have to do is open the website, choose a tool, that you want to use, like basic image rotate online instrument, once you upload your picture and with few clicks you're good to go

Online editors provide less options:
You can't edit your picture like a pro if you're using an online editor. The reason is that online tools lack a lot of advanced functionalities that a full version of desktop photo editor provides. Online editing tools generally offer you limited functionalities.
You can't apply knee deep effects or change the background of a picture or go into technicalities of a picture on most online apps.
Online photo editing apps don't give you the luxury to adjust fine details of a picture, that is something only a good Mac photo editor offers. Desktop tools also come with plugins and advance features that give your pictures a professional look.
You need an Internet connection to use an online editor:
The only thing you need to edit pictures on an online editor is an active internet connection. If your connection is fast and good then you won't face any problems. However, if your connection is weak then you might face difficulties in saving the changes you have made.
In addition to this, you may even lose all your work if your internet dies down in the middle. This would result in a loss of everything from hard work to time.
Online Editors fail to Keep up with quality of the image:
Online tools usually degrade image quality. There are many reasons for that. You might have to reduce the size of a image before uploading it. This results in a decrease in quality. Plus, you may not have the option to download high quality image, as a result you have to compromise on quality.
It is clear that desktop tools are a better choice than online tools. While they take a few minutes to install and take up a few hundred MBs of your storage, it is totally worth it.
Some of the most used online editors include: Befunky, Picmonkey and Picnic. When it comes to desktop photo editing then there's Adobe Photoshop and Skylum's Luminar. Both of these tools are great to use and offer some great features. While Photoshop is widely used, if you're on Mac we'd suggest you to go for Luminar as it's exclusively made for Apple users.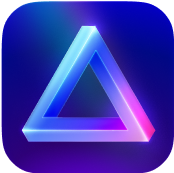 Advanced yet easy-to-use photo editor
view plans