What is the best wedding photography software in 2023? Overview of professional photo editing services.
Most photographers use Lightroom and Photoshop to edit their photos. These are excellent programs that suit wedding photographers for most tasks. However, even they are not perfect. For example, you probably know that one of the significant advantages of LR is the ability to batch process. This simplifies the photographer's work, but the RAM of your Personal Computer will unlikely be delighted with such loads. PS is not so "heavy," although it has more functions (it's all about the previews that Lightroom temporarily creates). However, using this editor is difficult due to many features that can take years to learn. In short, there is no limit to perfection. That's why we've compiled a list of Photoshop and Lightroom alternatives that you might find more appealing.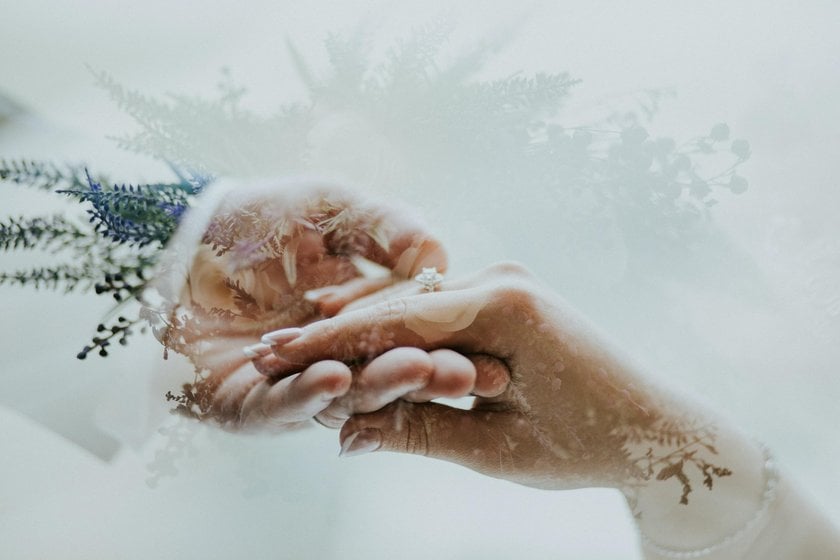 What features do you need for professional wedding photo retouching?
If you take wedding pictures, most likely, each shooting is not 10-15, but hundreds of photos, from which you must select the best ones and process them in a single style. Therefore, I would say that one of the vital wedding photo editing software options is the ability to batch edit.
Also, an important point is a convenient navigation through folders with photos directly from the program interface. Yes, this is not essential at first glance, but when you process a hundred or more images, it can significantly simplify your work and save a lot of time. For example, Photoshop doesn't have this option, and if you've edited wedding photos in PS before, you know what I'm talking about. It is very uncomfortable.
Having ready-made templates and filters is also very important for wedding photo editing software. Yes, you can hardly get by just this because each shooting is unique. Even changing the lens or the sun's position in the sky can make a particular filter unsuitable for your photos. However, such filters can be an excellent starting point for further manual processing. First, it can inspire you and refresh your vision. Secondly, the template can reveal problem areas that require more attention. That's how I work, so I think it's essential.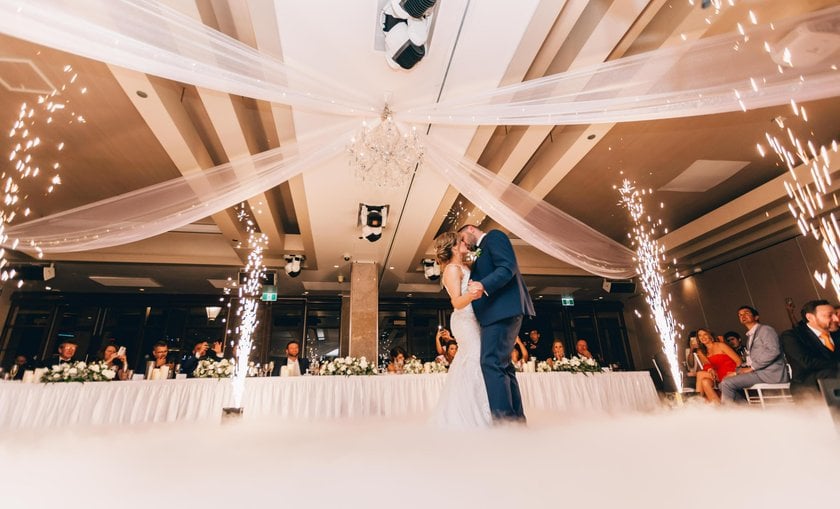 Today, more and more software developers are betting on AI, as this technology allows you to do with just one click what takes hours to do manually. Some photographers fundamentally do not use such opportunities, they say this limits the creative process. However, if you are a wedding photographer, this feature would be very useful for you since your task is to process the photo in such a way that the newlyweds will like it. Leave bold experiments for your photo book or exhibition, and give the customer beautiful and romantic photos without frills. AI allows you to do this much faster and more efficiently.
Of course, the price of wedding photo editing software is essential. I would recommend paying once. It may seem like a significant expense, but you don't have to pay monthly to use the software.
This is what I consider the most important when it comes to editing software for weddings. It is clear that you will need more for a broader range of tasks. But to capture the most sensual moments of the wedding ceremony, this is enough. You hardly have to bend the shape of an object or change its color. Therefore, I will focus on the above features, reviewing the software.
Top 10 wedding photo software to process like a pro
So here we are! Let's finally take a look at some great software that you may not have known about before but is definitely worth trying!
1. Luminar Neo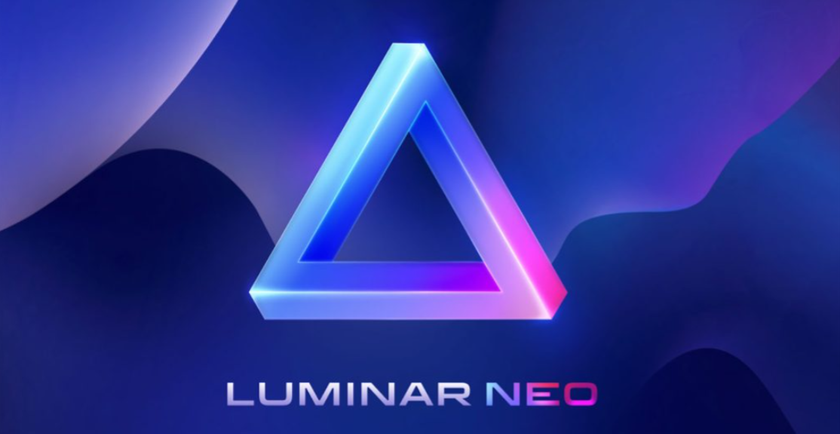 Of course, the first thing I want to do is talk about Luminar Neo and recommend this program. I will not conceal anything: Skylum did it, and I am writing about this in the first place. However, this is not the only reason: Luminar Neo is really excellent wedding editing software, and now I will tell you why!
So, the first is a monthly or annual subscription. There are several options, so you can choose the appropriate one. There is also a lifetime license. Just pay once and enjoy!
The second is the usual key combinations that you already know from LR. As for me, a perfect solution because mastering the program will take much less time. As soon as I installed Luminar Neo on my Personal Computer, I immediately began to process the photo without thinking for a long time about where I needed to click.
You could use Luminar Neo as a standalone wedding editing software or as a plugin for already familiar Adobe programs, which is also very cool if you bought a PS or LR before.
By the way, it is very convenient to navigate through your photo library. I would say that it is even more convenient than in LR since everything is clear at a glance. And in general, the interface of the program is very intuitive, which I like.
A considerable advantage of Luminar Neo is the extensive library of presets for your photos. All presets are sorted into categories for easier searching for the right one.
Manual settings are also sorted into categories. There are Essential, Creative, and Professional tabs. There is also a separate set of portrait tools, which is very good for marriage photo editing software. The AI designation next to the tool's name means you can quickly use artificial intelligence to improve the photo. For example, there are Face AI, Skin AI, Body AI, and Portrait Boke AI tools. Also, when you subscribe to Luminar Neo, you get access to a constantly updated collection of Extensions, which also fall into a separate category of settings on the Edit tab. You also can use unique features like Sunrays or Fog to accents to your photo. This will make your photos not only beautiful but also very expressive!
At the layer level, Luminar Neo implements the principle of non-destructive editing (the same code works in LR, but there are no layers at all). This means any changes can be easily rolled back if you made a mistake somewhere, while all other changes will remain.
2. Capture One


Another excellent marriage photo editing software for wedding photos is worth your attention. You can also use this program as both a post-processing tool and a library for navigating through your images. What makes it unique is that Capture One makes it easy to sort photos by shooting session, making the workflow more convenient if you need to give pictures to a customer quickly.
There is also an exciting feature for adding tags to photos to make it easier to find them. For example, you can add the March weddings tag to quickly find all the images you took that month.
As for the retouching options in Capture One, they are standard here. Nothing is poorly done, but nothing is done better than in Lightroom or Luminar Neo. However, I want to draw attention to one significant advantage of this software. Capture One works without freezing, even if you create many layers or process heavy raw files.
3. DxO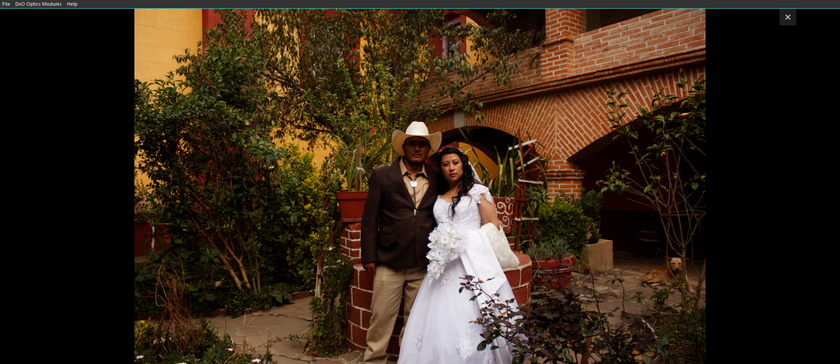 The DxO Photo Lab is an excellent alternative to the legendary LR, which many photographers appreciate for its simplicity and lack of unnecessary features.
The main advantages of this software are:
customizable workspace to make the program convenient for you;
compatibility with Windows and MacOS systems;
DeepPrime tool for smooth noise reduction (uses artificial intelligence);
a collection of presets for quick photo editing.
As in the previous case, there is little to say about the functionality here. This is a good program that does an excellent job with the tasks for which it was created. However, there are no outstanding features here (they are not needed in general). For example, AI-based noise reduction is also in the Luminar Neo, and it works just as well and maybe even better.
Wedding photo software DxO Photo Lab has a trial period, so you can test it right now!
4. Corel PaintShop Pro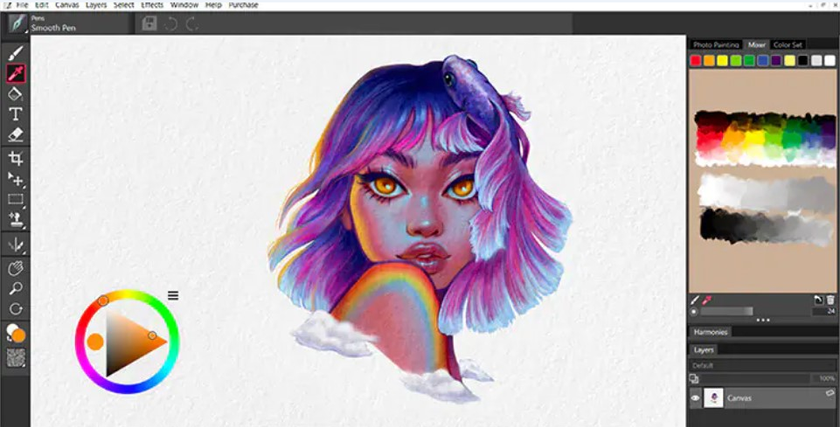 Corel Corporation is best known for its vector editor CorelDRAW, a serious competitor to Adobe Illustrator. However, these guys also have something to compete in the raster field.
At first blush, Corel PaintShop Pro may seem like a bland attempt at Photoshop greatness, but that's not the case at all. This lighter program provides its users with the full range of tools for professional photo editing but does not overload your workspace with unnecessary functionality.
It seems to me that the most exciting feature of Corel PaintShop Pro is that this software supports touch control, which means you can edit photos on a tablet just as easily as on a computer.
It also has some exciting features like 360-degree photo editing and SmartClone technology.
It is also vital that a one-time fee is charged for this software. No subscriptions and extra spending.
5. ON1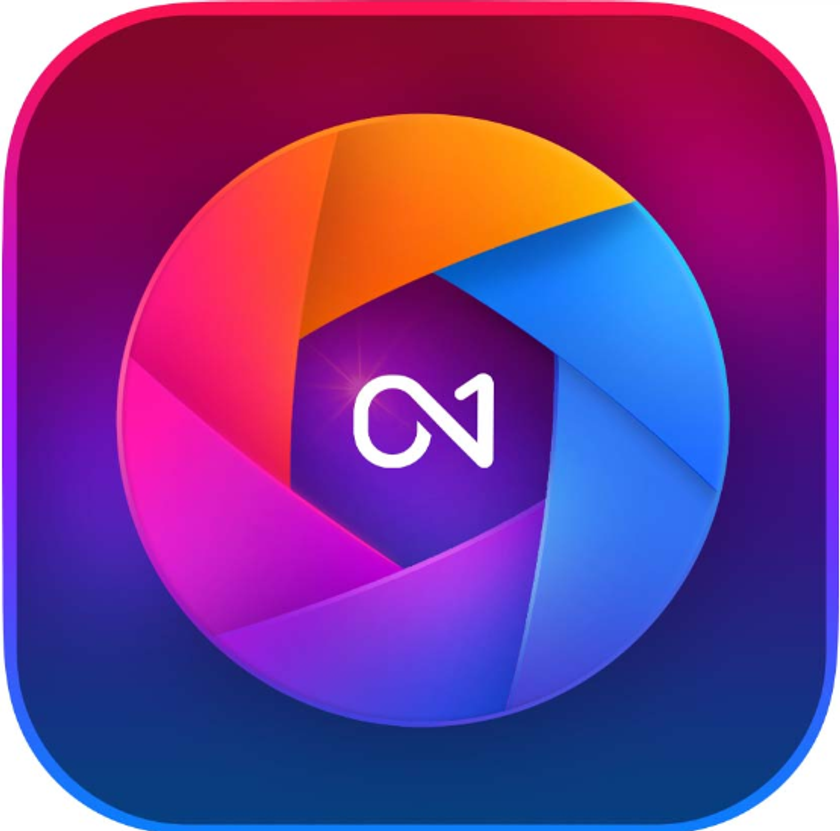 The full name of the wedding editing software is ON1 Photo RAW. From this, it is clear that this program is designed specifically for processing photos in raw format. Its main feature is that you do not need to load raw images directly into the program. Instead, they can be opened from a folder on your Personal Computer. Thanks to this, you can work in ON1 very quickly. No glitches or freezes were noticed!
I was also impressed by the presence of video tutorials sewn into the program, which is very cool for beginners. Since there are a lot of tools in ON1 Photo RAW. There are hundreds of presets, filters, and settings, but understanding them is not as difficult as it seems at first glance (PS is more complex).
By the way, this program can be a plugin for Photoshop and Lightroom if you want. And the developers provide their creation for free for a trial period, so go ahead!
6. GIMP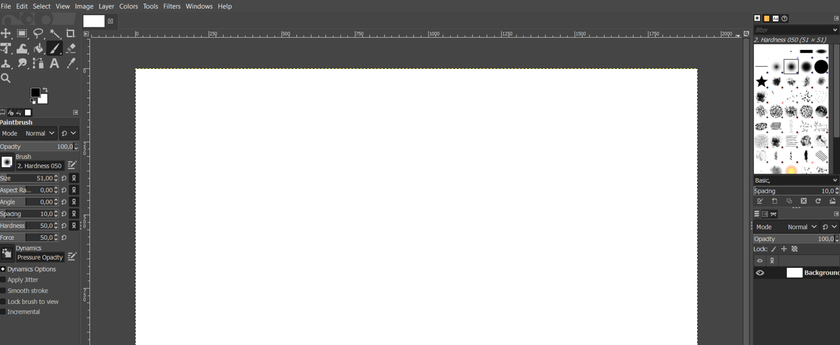 GIMP is the most powerful free marriage photo editing software that can completely replace Photoshop. In addition to all of the above, one of the main advantages is that the program supports files in RAW format.
However, you must "prepare" the program by downloading updates to open the required formats.
GIMP is an open-source photo editor. You can modify the program yourself, fix bugs, and add your own tools.
The program has layers, customizable brushes, filters, and automatic actions for faster photo editing. I really like the ability to open PSD files and edit them. Users can access many lessons and training videos, so mastering this program is not difficult.
7. Movavi Photo Editor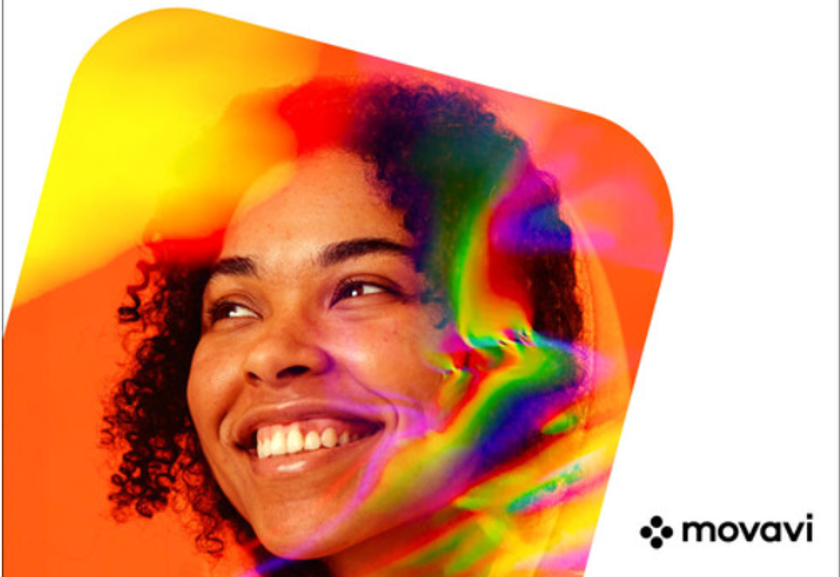 Movavi Photo Editor belongs to a group of photo editors aimed at users who don't want to learn complicated programs and master advanced video editing techniques.
Movavi Photo Editor has a section with brightness, contrast, and sharpness settings as tools for selecting and removing unwanted objects from the image, rotating, adding and adjusting text, replacing the background, resizing, etc. After you have finished your work, you can export the result with a simple mouse click.
8. ACDSee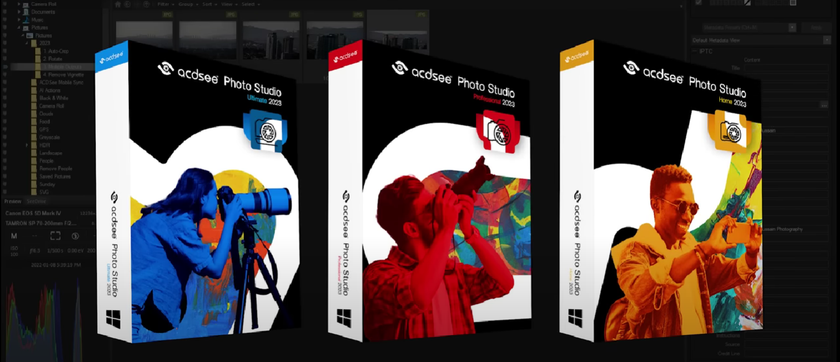 ACDSee is a good wedding photo editing software. Developed by ACD Systems, it does a great job of displaying and managing extensive photo collections. Here you will find many photo editing tools, including batch image editing. ACDSee Photo Studio is a semi-professional application for previewing, editing, and publishing digital images.
In addition, the photo editor provides direct access to files and folders with the ability to update their contents in real-time. Thus, you can save time by importing images into a separate library.
The biggest problem is the price. Despite the number of photo editing features and tools, the cost intimidates many users. It's better to download Photoshop or Lightroom for a lower price.
9. InPixio

This wedding photography software boasts advanced image editing and organization, stunning special effects, and top-notch photo projects - all in one program.
With this software, cropping, straightening, and correcting color, brightness, and removing imperfections will become a simple and quick task. You can easily handle cropping, straightening and correcting color, adjusting brightness, and removing blemishes. In addition, you can make your skin smoother, brighten your teeth, eliminate dark circles under the eyes, and improve and even restore old photos.
10. FSViewer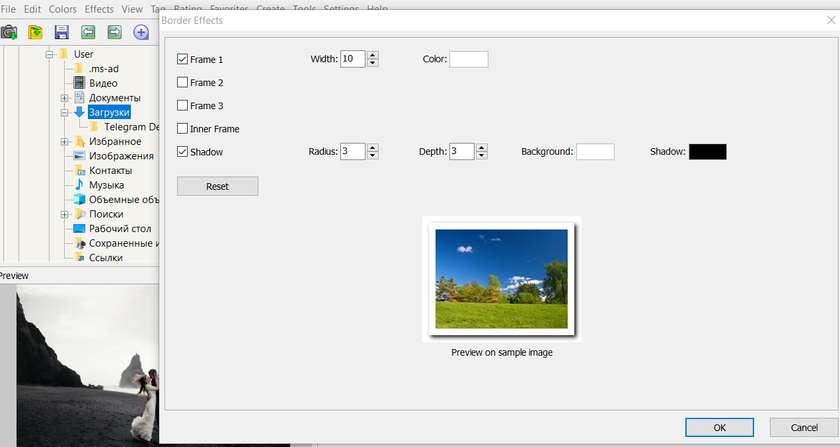 This photo editing service is more of an organizer than a photo editor. However, for some reason, I have an inexplicable love for this software. FSViewer is simple and fast. It has essential photo editing tools such as curve correction, watermarking, cloning, etc. As a photo library, this is very handy! And besides, FSViewer is free so you can enter the world of photo editing at no cost at all. I processed my first shots in this program, and despite fewer functions here, I achieved a fantastic result!
The bottom line
Today, no photographer can do without programs to improve their work, and this is not shameful because otherwise, you will not be able to compete in the market (unfortunately, even if you did everything right, the limitations of technology do not always allow you to make a masterpiece on the spot ). Therefore, the choice of wedding editing software should be approached very carefully. I hope my article helped you outline some of your options and get you one step closer to a solution.
FAQ
In what format is it better to process wedding photos: raw or jpeg?
The raw format gives you more options because it's not really a photograph but rather a set of image data. What you see on your Personal Computer screen is a preview of how the image will look after processing. The lack of final rendering in the RAW format gives you maximum control over colors and light.

Can I get wedding photo software for free?
Yes, there are many free photo editing software, but their functionality is often limited. The most powerful of the free ones is GIMP. Also, many paid programs are available for a trial period if you doubt whether they are worth the money.

Can you give a definitive recommendation for wedding photography software?
It is difficult for me to recommend one thing since this is a matter not only of functionality but also of habit or taste. Personally, I use Luminar Neo and Lightroom in tandem, but it's up to you which you use.

According to what criteria can I choose the perfect software?
If this is only about wedding photography, you should remember that there is no place for ambiguous experiments and too bold decisions. Your clients want beautiful photos that remind them of the happiest day of their lives, not Francesca Woodman-style psychological portraits. Based on this, the main selection criteria are:
availability of all standard photo editing tools;
possibility of batch processing;
user-friendly interface and navigation;
the presence of artificial intelligence for faster work.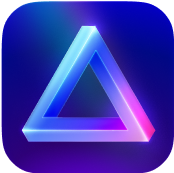 Advanced yet easy-to-use photo editor
view plans