Windows Photo Viewer is a very simple program with basic possibilities. Someday you may need more functions to work on your photos, that's why we made this list of Windows Photo Viewer Alternatives.
Windows Photo Viewer is an image viewing program. Via it, you can open the most common image formats like JPG, PNG, GIF. You can view pictures in full-screen mode, reorient them in 90° increments and display all pictures in a folder as a slideshow. It is a very simple program with basic possibilities. It doesn't allow you to edit or manage pictures. Someday you may need more functions to work on your photos, that's why we made this list of Windows Photo Viewer Alternatives.
The list of the 5 best Windows photo viewer alternatives
Viewing, organizing, and editing a lot of images in different formats are the most common actions among photographers and designers. But good old Windows Photo Viewer doesn't satisfy these needs fully because of scarce functionality. And with the release of Windows 10 in 2015 performance of this program has deteriorated. In particular, it takes more time to view photos normally. And this is extremely annoying and discourages the desire to work with images at all.
So, creative people begin to look for programs better than Windows Photo Viewer. But there are difficulties here because the abundance of alternatives makes the head spin. That is why we have compiled a list of the 5 best Windows Photos Viewer alternatives that can boast of wide functionality and high performance. Get acquainted with them and choose the one that best suits your needs.
Luminar Neo is a powerful application that stands out as an excellent replacement for Windows Live Photo Gallery. Fundamentally, it serves as an image editing and photo management software. In terms of interface and features, Luminar Neo is reminiscent of Adobe Lightroom, boasting a spacious workspace with an array of sliders and switches positioned on the right side.
What truly sets Luminar Neo apart is its incorporation of Artificial Intelligence Technology. This alternative to the traditional Windows photo viewer possesses the unique capability to edit images almost autonomously, delivering quality results without compressing the original image. The application's AI simplifies the editing process, turning routine tasks into effortless automatic actions.
One of Luminar Neo's notable advantages is its ability to be established as the default photo viewer. This enhances the user experience each time they view their photos. It's also worth mentioning that Luminar Neo seamlessly supports and opens a myriad of formats, including the high-resolution RAW format, an area where traditional Windows viewers often falter.
In addition to its core features, this alternative to Windows Photos boasts a Sky AI Replacement tool. This tool is specifically designed to enhance the appearance of the sky in photos, accentuating cloud structures, boosting contrast, and refining colors. Furthermore, its Skin AI and Portrait Enhancer tools streamline the retouching process. With just a click, these tools can eliminate blemishes, wrinkles, and acne, harmonizing skin tone and color. As a result, users can achieve a polished, professional-grade portrait without delving into intricate brushwork or masking.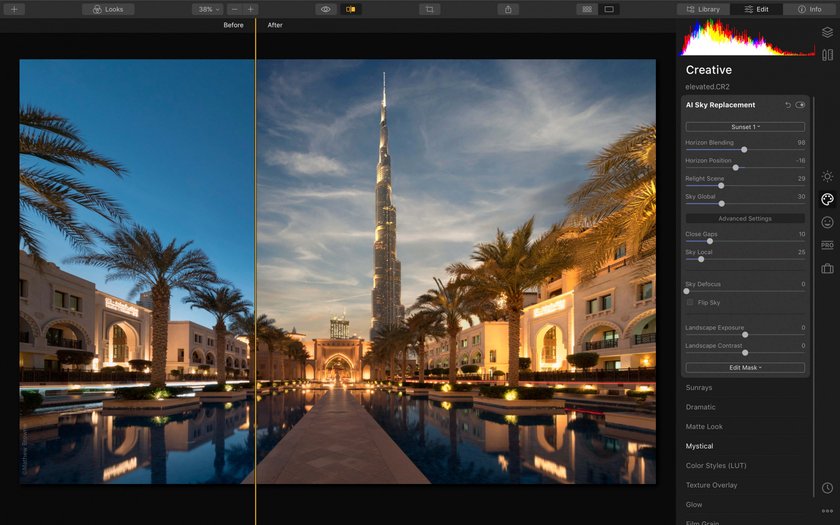 IrfanView is more than just an image viewer. This is a good Windows Photo Gallery replacement that helps you to sort, organize and edit pictures. IrfanView supports multiple image formats from familiar JPG and PNG to TIFF and RAW formats. The program will come to the rescue when you will have your drive full of unsorted pictures. You can group pictures by name, format, size, tag, batch rename and convert images, and set rename patterns. And using this Windows Photo alternative doesn't cause so-called glitches because it's very light for the operating system. It weighs only 3 MB. The friendly and clear interface is next IrfanView's advantage. Also, the program is equipped with simple retouching and editing instruments.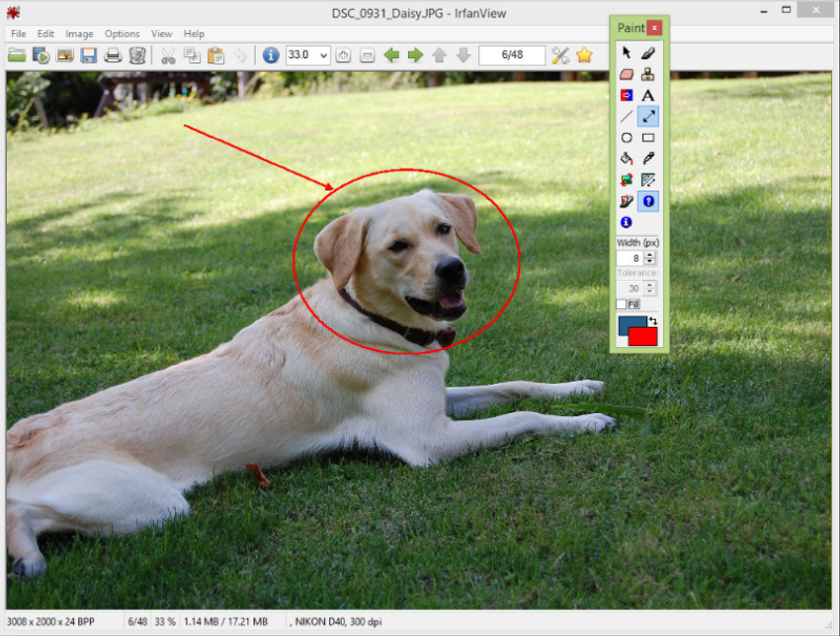 It is hard to pick 2-3 best pictures from 300, right? XnView makes organizing and managing simple. It supports around 500 image formats including TIFF. This replacement for Windows Photo Viewer gives the ability to view files in two modes: full-screen and slideshow. The most interesting thing is that being in full-screen mode, you can work with several files simultaneously in one window, which greatly facilitates the work. After all, you can compare images with each other. This is the same feature of this Windows 10 Photo Viewer alternative, which is rarely found among other similar programs.
You can also edit images, easily resize, rotate, and crop (including lossless JPEG). Work with brightness, contrast, levels, and color depth. XnView's library includes the most common filter effects such as blur, sharpening, and noise reduction. Batch processing of this Microsoft Photos alternative is a useful tool when you need to edit a series of pictures in one style. It allows you to resize, add watermarks, and produce overlay text work with tones, shadows, and colors.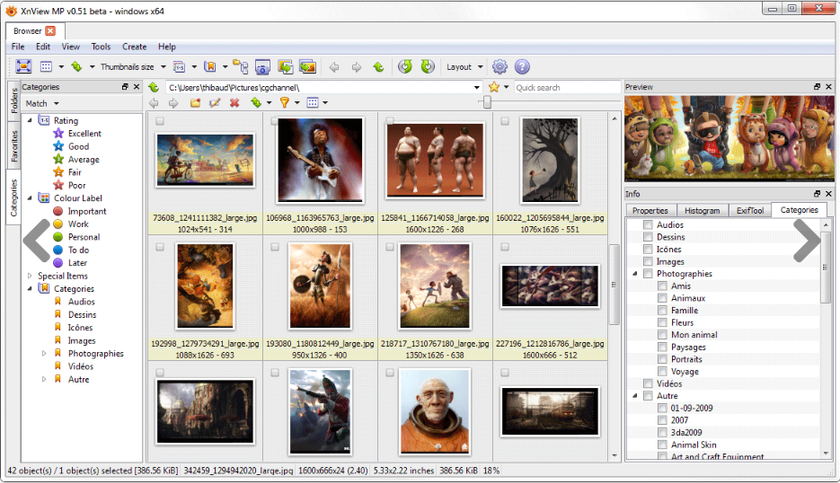 Are you looking for a good Windows Photo Viewer replacement, in which you'll easily process images of different formats? With FastStone ImageViewer you can convert, manage and edit your images. The good part of FastStone Image Viewer is a full-screen mode when the image is displayed by itself, but moving the cursor to the edges of the screen brings up a variety of tools and options. It has a nice array of features that include image viewing, management, comparison, red-eye removal, emailing, resizing, cropping, and color adjustments.
Other features of this replace for Windows Photo Viewer include a high-quality magnifier and a musical slideshow with 150+ transitional effects, as well as lossless JPEG transitions, drop shadow effects, image annotation, scanner support, and histogram. It supports all major graphic formats including BMP, JPEG, JPEG 2000, GIF, PNG, PCX, TIFF, WMF, ICO, and TGA. If you like Windows Live Photo Gallery replacement on FastStone will be easy because this program has a similar interface.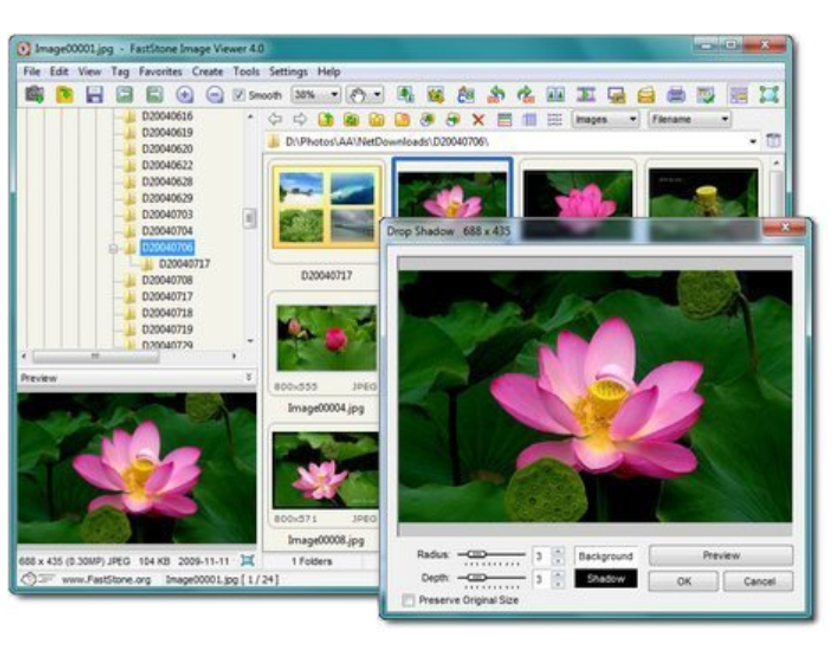 PhotoStudioUltimate is a powerful image editing and organizing program similar to Adobe Photoshop. The software makes the navigation simpler and helps you to orientate in a big number of pictures. This Windows Photos alternative has two modes. In Manage Mode, you can open the folder which you want to work with. In Edit Mode, you are able to work on different layers. Here you have almost all the Adobe Photoshop tools: from crop and resize to brushes, filters, and masks. Supports RAW format.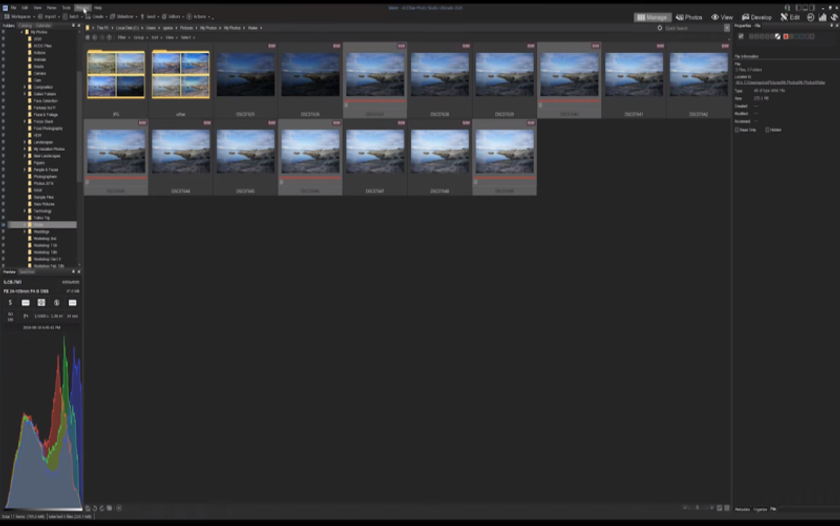 Pick Your Favorite Windows Photo Viewer Alternative
Windows Photo Viewer is a simpler program with limited possibilities. This software is suitable for rotating and viewing images. What alternative to Microsoft photos can be your best friend? It all depends on what exactly you want from the program. If you need to edit and manage photos, use Luminar Neo - it makes the process automatic thanks to AI Technology, one of the best alternatives to Windows Photo Viewer. XnView allows you to work on more than 500 image formats and has a batch processing tool that gives the possibility to edit a sequence in one certain style.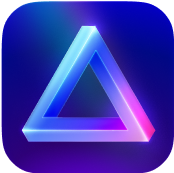 Advanced yet easy-to-use photo editor
view plans