If you carry your camera in your bag, you probably know that this is not always convenient. If so, consider getting a 3-point slinger.
When you buy a camera, it may often come with a strap for it. However, how comfortable is it to use? It would seem that on-strap camera lockers are designed only for tourists. You can't just stand with a camera around your neck, and as soon as you bend over or take a quick step, it starts to swing around. If you use a shoulder strap, there is a huge chance that your device may fall and it will turn into a real disaster.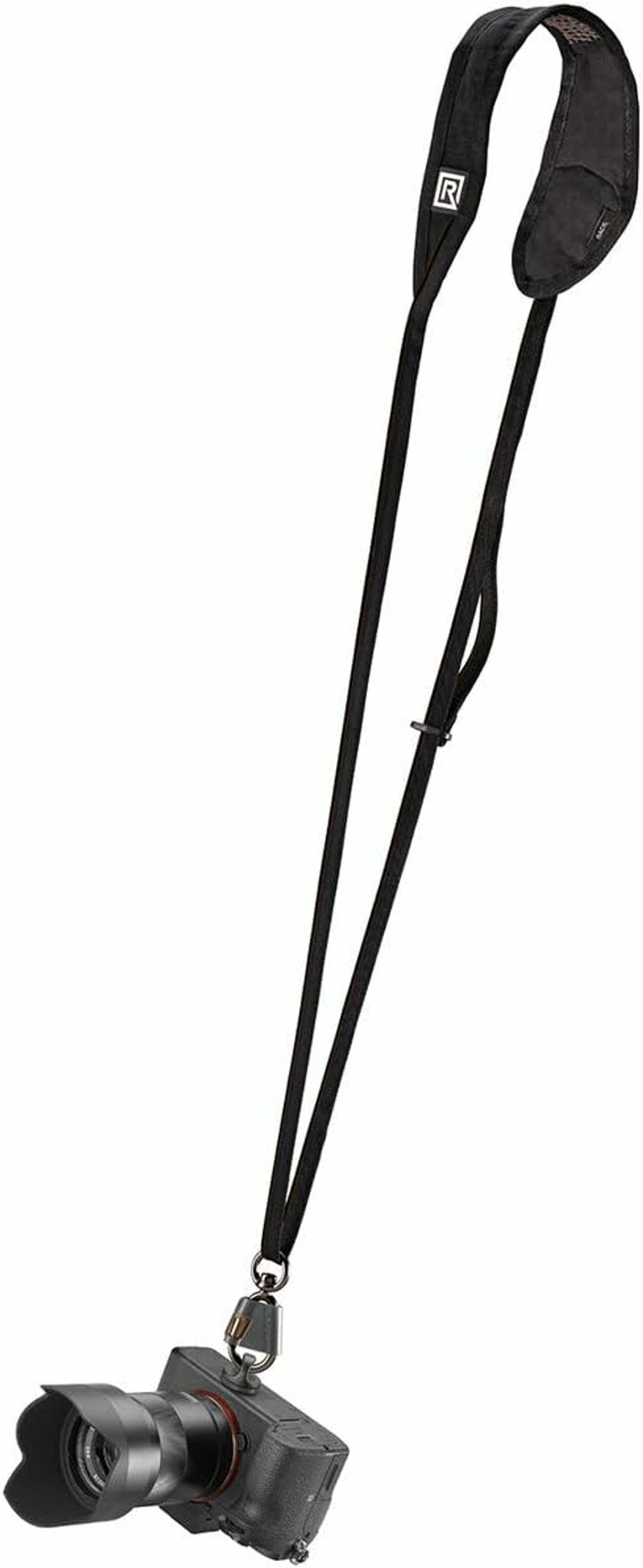 Are you scared to imagine the situation when the camera is dropping? Fortunately, there is a great alternative to a camera bag or standard strap. The 3-point slinger for a camera is a very popular product among beginners, amateurs, and professional photographers alike. With its ease of use and secure attachment, you'll be confident in the safety of your equipment. This accessory goes over one shoulder and holds your device securely. Your hands are completely free at this time. As soon as you decide to take a picture, you can do so as quickly as possible. In this article, we take a look at the best slingers for a camera in 2023 and the features they offer.
3-Point Slinger or 2-Point Slinger?
The difference in using a 2-point and a 3-point slinger is quite noticeable. The second allows you to capture excellent quality shots without concentrating too much on the position of the camera, as it is securely locked in place. Also worth noting is that the 3-point slinger allows you to take the picture from a long distance and provides a much wider angle of view. When it comes to convenience, the 2-point slinger is a drawback as well — it can't lock your gear as securely as the 3-point slinger.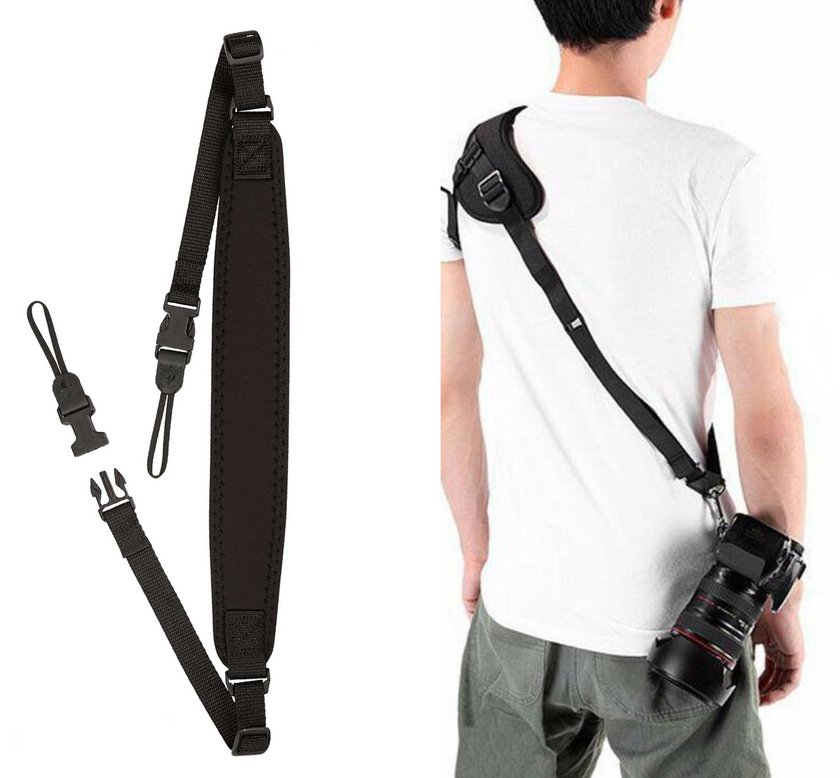 How to choose a 3-Point Slinger for Camera
There are several key factors to consider when buying this accessory:
the type of camera;
comfort and security in use;
its adaptability and design.
Let's look at each of them in detail.
Camera
The most important factor is, of course, your device for photographing. Whether it's a DSLR or mirrorless camera, or perhaps a rapid camera, you have to consider the specifics of your device in any case. Depending on the size and weight of your instrument, choose a slinger that will hold your gear firmly. If you have more than one device, look for a universal variant. Also, consider products that allow you to carry more than one device at a time.
Comfort vs Security
You no longer have to choose one of these concepts. The 3-point slingers are ideal for carrying cameras comfortably thanks to their padded straps. The even weight distribution of your photo equipment is also an advantage over conventional straps or bulky bags. All this freedom of movement means you're no longer holding the device in your hand the entire time and you're still able to get the shot you want. The three-point safety strap system secures your camera so you can get it out the quickest way when you need it. When it comes to safety, this accessory is considered one of the most reliable for carrying photo equipment. Of course, much depends on the quality of the material, so check the reviews before purchasing and choose the most suitable product for the price and quality.
Adaptability
For the comfortable use of three-point slingers, some details should be thought out beforehand:
Firstly, check whether the accessory is suitable for your height.

Secondly, consider its capacity. If you need to take extra lenses or even an extra camera with you, make sure there are no problems with it.

Third, if you're also using a bag for your photo equipment, check whether you'll be comfortable carrying several items at once. Perhaps you'll need a shoulder pad.
Paying attention to all these points will ensure your comfort during the photo shoot, no matter how heavy a camera is.
Design
When buying any item, the customer always pays attention to its look and the 3-point slinger is no exception. In addition to all its useful functions, it can also be a stylish addition to your image. There is a variety of colors and designs for this accessory. You can choose basic neutral colors like black and white as well as something unusual to express your individuality. You can also choose the material you like best, whether it is nylon or leather. Of course, you should not forget about the functionality of the product, but the choice is wide enough to find a suitable one both in terms of look and functionality.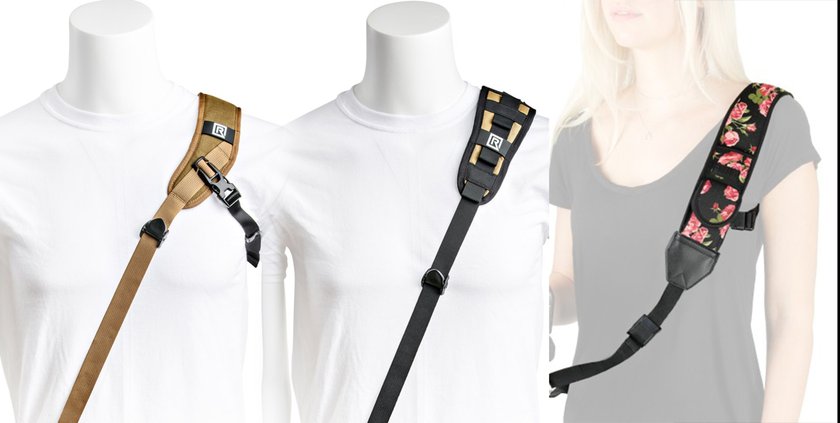 7 Best 3-Point Slingers for Camera User
In this part of the article, we will look at several different types of 3-point slinger camera straps. You can find them in many online shops. By taking an in-depth look at each model, you'll be able to make your choice more easily. In this list, you will find both expensive and budget ones, but all of them are of high quality and reliability.
Waka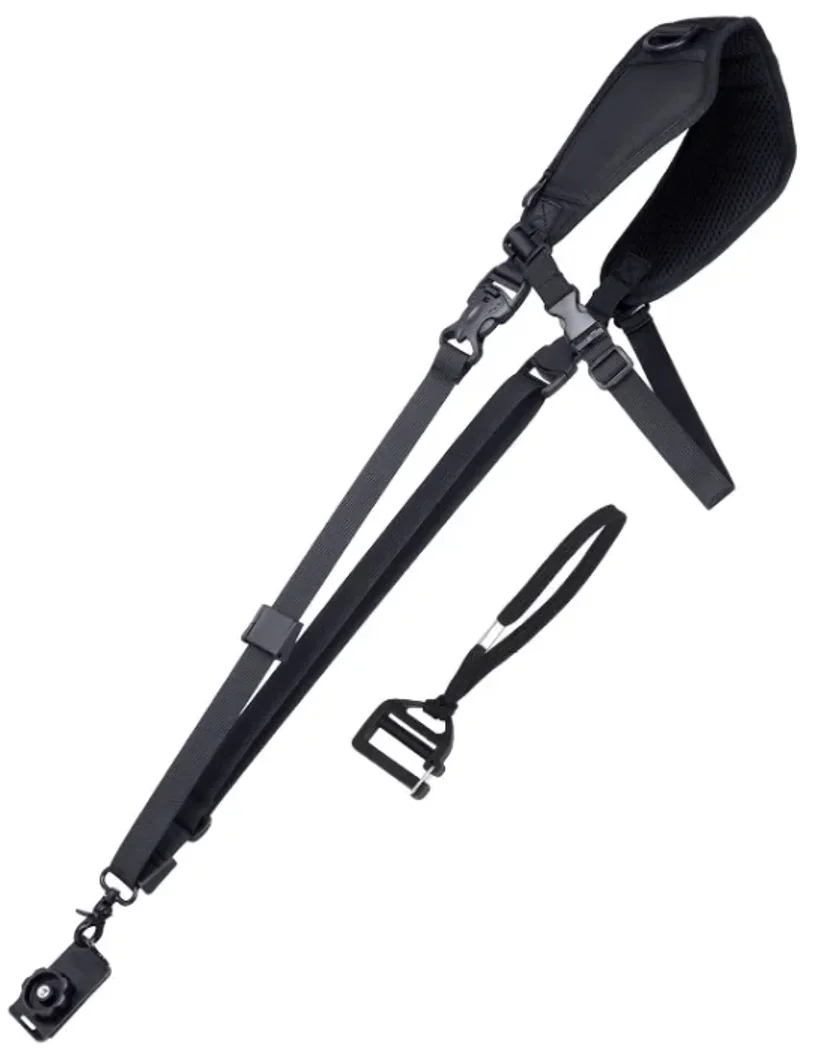 This model ensures complete safety for your equipment thanks to its durability. The device's stability is achieved thanks to the underarm strap and locking elements attaching camera to your body. Unlike a camera bag, the 3-point camera strap distributes the weight evenly. An optional safety strap prevents the equipment from falling. There's also a pocket to store extra batteries, memory cards and other accessories.
BlackRapid Breathe Sport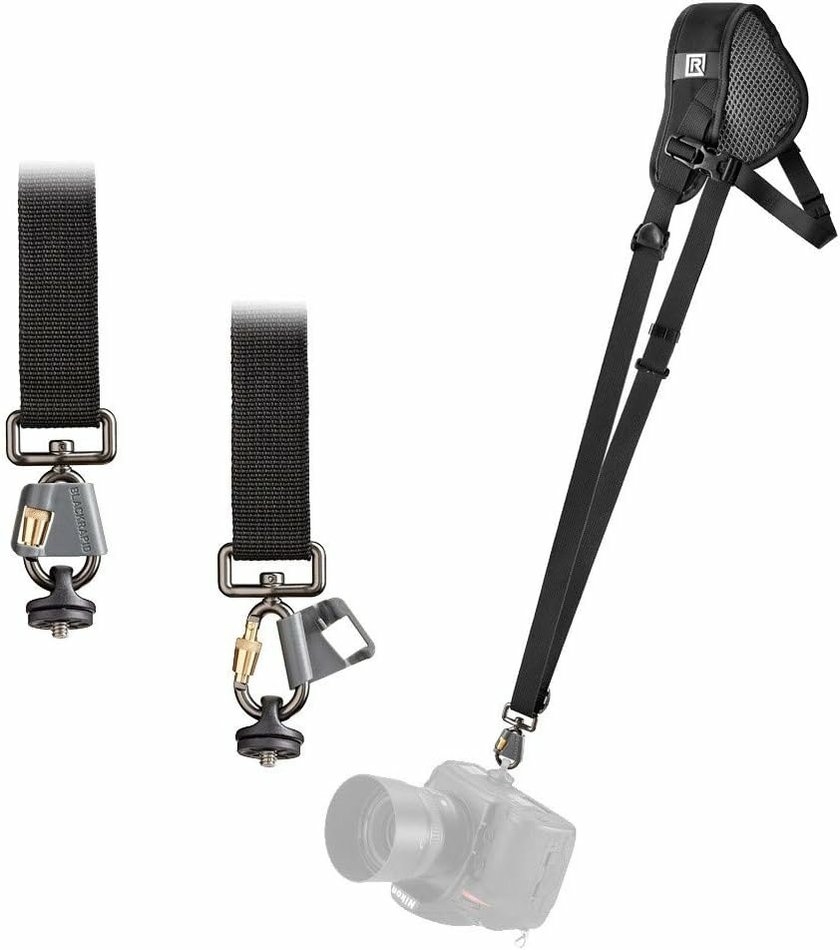 This is one of the best 3-point slingers for any type of camera. The accessory is made of elastic nylon so that its length can be easily adjusted. This sling strap is quite sturdy, not only because of the material; its metal fasteners ensure total safety for your equipment. The moisture-repellent lining makes this camera shoulder strap indispensable for outdoor shoots in any weather.
BlackRapid Curve Breathe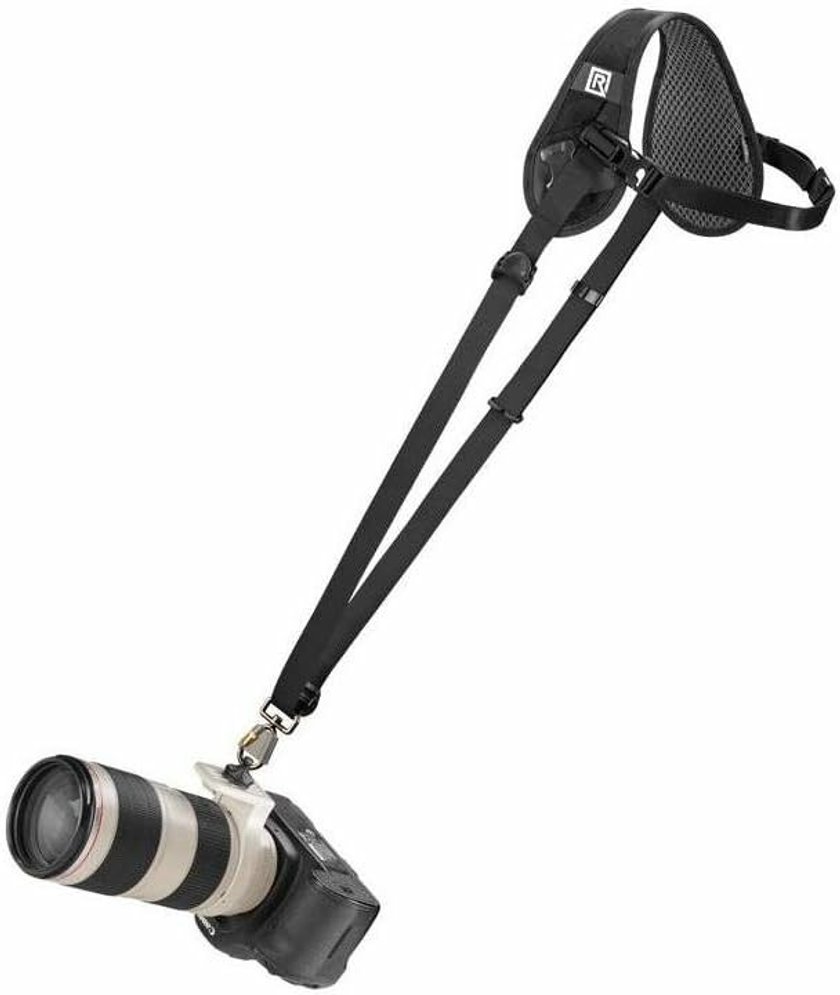 Like the previous two models, this slinger will provide a secure grip and prevent your equipment from accidentally falling over. It also has the advantage of versatility, meaning it can be used with professional DSLR cameras as well as smaller digital cameras. The comfortable padded shoulder allows you to wear the accessory for long periods of time without any discomfort. With the equipment secured to your hip, you'll be able to reach for your device and take pictures quickly and easily.
USA GEAR TrueSHOT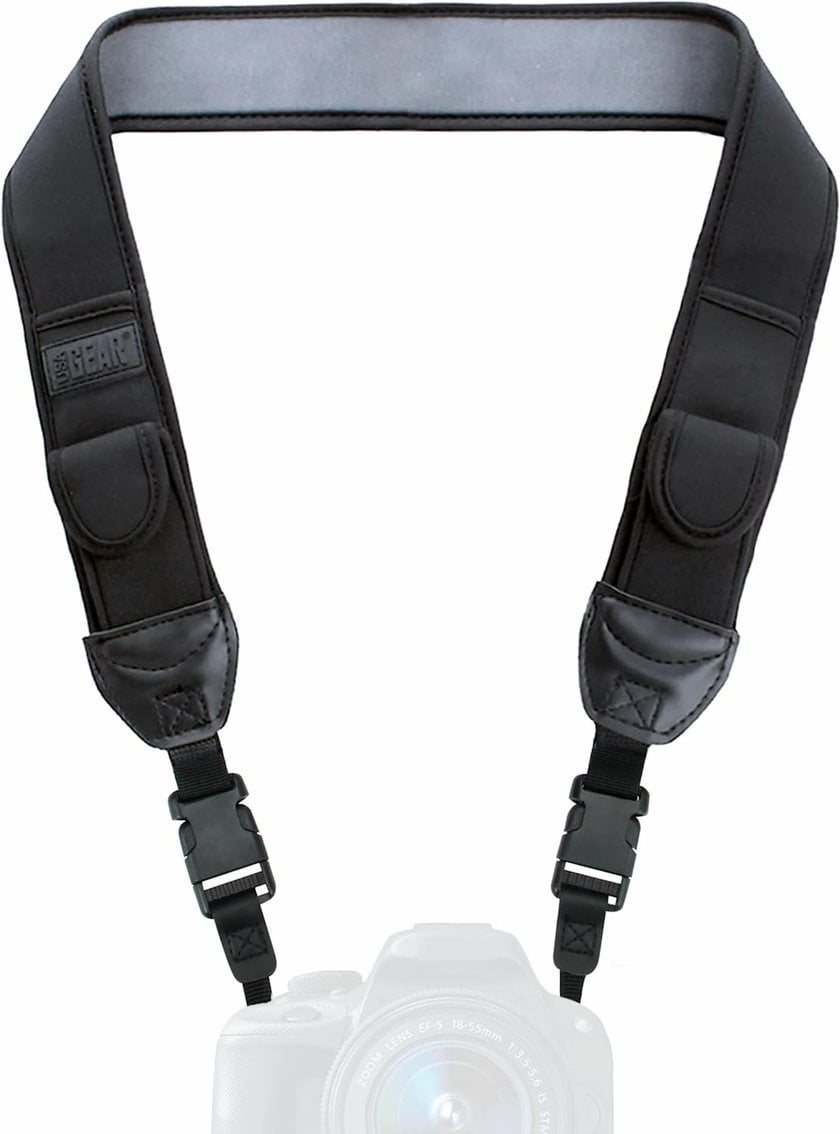 If you're interested in the original look of your accessory, this model is ideal. Against the backdrop of black and grey slingers, this variant looks unusual and very stylish. But the benefits don't stop there. The design allows you to carry more than one camera at a time, or a camera and lenses. The pockets also make it easy to hold memory cards and other necessities. You don't have to worry about the safety of your equipment as the high-quality product will keep your device in safe and secure condition.
Cotton Carrier Skout G2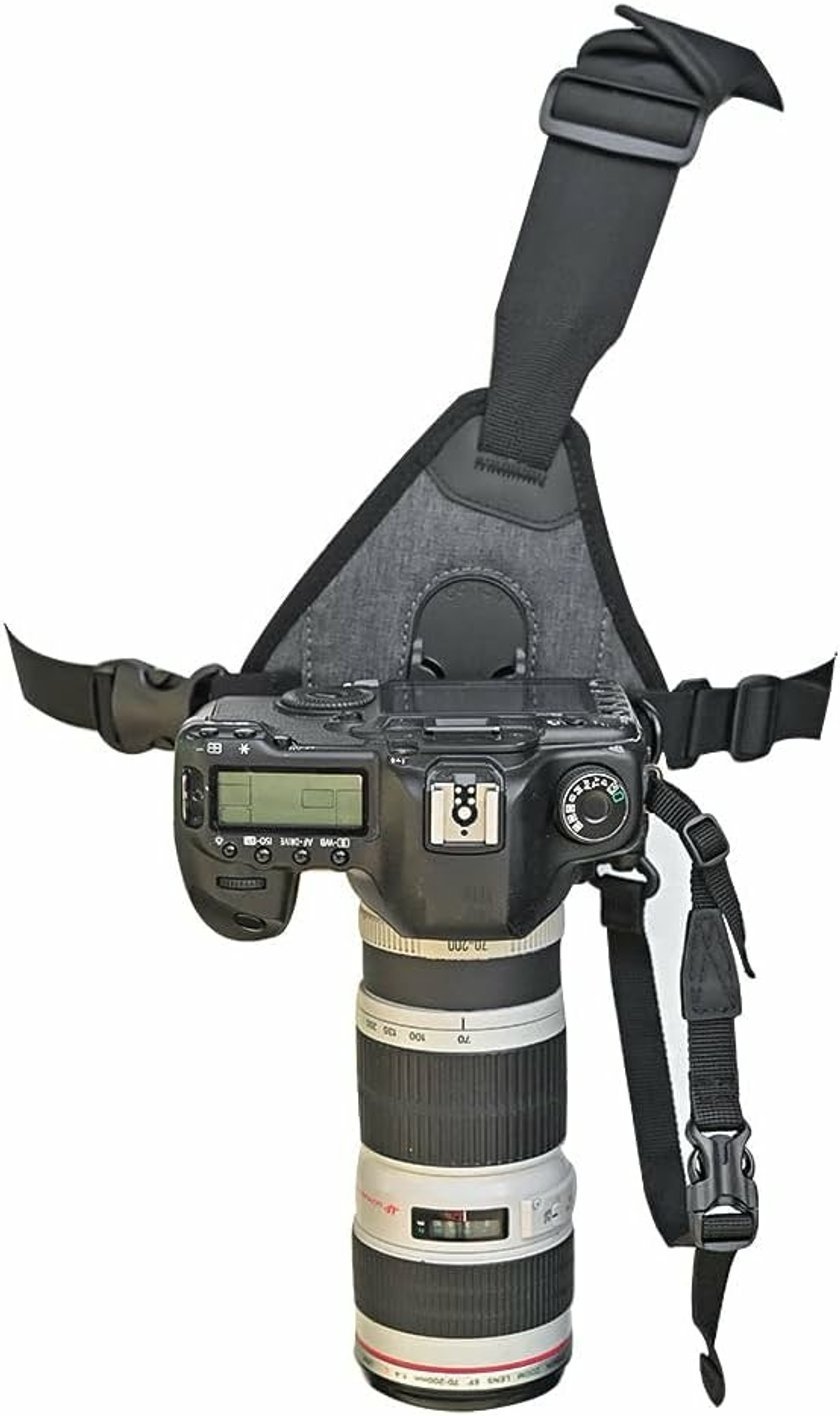 This model has an interesting feature. The device is not attached near the hip, as with most similar equipment, but fastens to the chest piece. This makes it even easier to take a picture — you just have to slide the camera. Another advantage is that the base plate is threaded for a tripod. You can also get extra mounts so you can carry your equipment in a variety of ways. A lens pouch is also included.
JEATHA Dual Shoulder Leather Harness

This slinger is great for carrying two cameras at once. They are attached at hip level, lock in a comfortable position, and do not twist. The construction is made of durable leather, which not only holds your photo equipment securely but also retains its visual qualities for a long time thanks to its durability. The slinger has metal buckles on the straps, allowing you to adjust the length for the most comfortable use.
PiuQ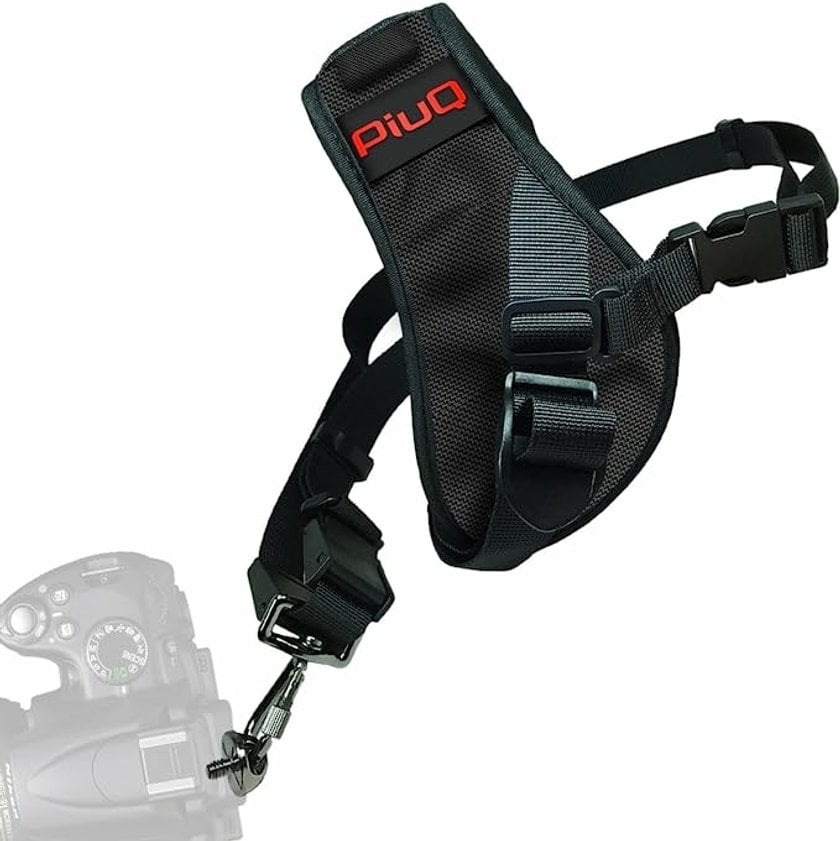 This is budget-friendly, yet a good option for your camera sling. Comfort is provided by the padded shoulder strap, while protection is provided by the sturdy product material. The scratch protection is a nice and useful addition. Also, the adjustable length of the strap is an advantage. Unfortunately, there is no safety strap, but for a lightweight device, this is a suitable variant. In addition, the price is not expensive at all.
As you can see, the choice of slings is truly great and allows you to find just the right tool to suit your needs.
How To Use The 3-Point Slinger For Camera: Practical Tips
Using a 3-point slinger is quite easy. The first thing to do is attach it to your device. There are a variety of attachment options, such as screwing it into the tripod mount in your camera or attaching it to a special carabiner. Also, an important step is to adjust the sling tension. It needs to be tight enough to hold the camera firmly but also so it's not difficult to move. The tension of the sling is a factor that determines how easy it is to use.
There are different ways of using the 3-point slinger. For example, in combination with a tripod, it will ensure that the equipment is stable and stationary when it is crucial. Or when shooting with a long exposure you can hold the device in your hand, which is handy when using a zoom lens.
This accessory can be indispensable for short journeys. If you can't carry a big bag, a 3-point sling is just right for you. Choose models with pockets that can hold two devices. The balanced weight distribution helps you feel less tired while carrying a large camera and move actively without being restricted in your movements.
Conclusion
The 3-point camera slinger is a very useful accessory for beginners and professional photographers alike. Its convenience and usefulness will be appreciated by everyone. It securely attaches your camera to your body without blocking your ability to move freely. This device will also be very useful for carrying more than one device, with the weight of the equipment distributed evenly and much easier to wear than a standard strap.
A variety of items makes it easy to find the right slinger for your model. Study the product you're interested in carefully and try to think about all the different nuances of use beforehand. Consider your height, weight and size of the camera, the material of the product as well as the functions that are important to you. The versatility of designs allows you to emphasize your own unique style with unusual patterns or vivid colors. You are free to choose, so all doors are open to you. With the 3-point slinger, make your passion for photography even more exciting!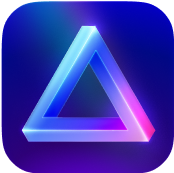 Advanced yet easy-to-use photo editor
view plans