If you need some tips on choosing between Affinity Photo and Lightroom, this review will provide valuable insights, helping you make an informed decision.
If you're interested in an app with the ability to organize your photos, Lightroom will be a great option for you. Also, it will become a great assistant for color-correcting pictures and simple processing of photos.

As for Affinity, it can handle the same functions, and even more advanced and detailed picture retouching. However, it has no file organization capability.
An important point is that both applications support working with files in RAW format, which means that your original sources will be preserved and unchanged.
Still, Affinity Photo vs. Lightroom, which one is more suitable for your particular situation? It depends on many criteria, such as the level of professionalism, needs, and financial capabilities. In this article, we'll focus on each of these factors so that you can choose the perfect option.
Affinity or Lightroom: A Detailed Comparison
In order to find out which photo editor suits you best, we'll look at the most important aspects that can affect your decision. So, let's get started!
1. General Information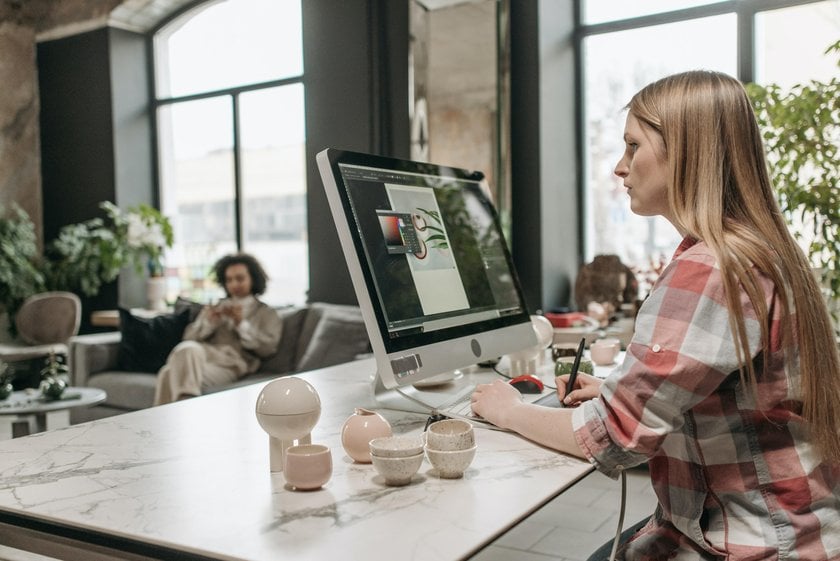 First of all, we suggest you read the general information about Affinity vs. Lightroom.
Let's start with Affinity. It's a versatile picture editing app that has many useful and handy tools. Especially pleasing is the possibility to use RAW files. The software is suitable for both beginners and professionals. The latter will be able to appreciate the high-level layer adjustment, which is useful not only for photographers but also for illustrators and designers.
So, the main advantages include:
processing RAW files;

advanced raster image processing on a multilayer level;

clear user-friendly interface;

a variety of editing tools for various professional needs;

one-time (and relatively low) price.
As for the drawbacks, the following should be highlighted:
Now let's move on to Adobe Lightroom. It is difficult to find a person who is interested in photography and does not know about this software. It is considered not only popular but one of the best.
This app successfully combines file system management and simple picture editing. Users have the ability to create collections to keep their photos organized, which makes workflow as enjoyable as possible.
You have the ability not just to sort pictures, but also to search based on metadata and add grades.
In addition, Lightroom allows you to perform detailed color correction and use presets to process multiple images in a couple of clicks.
To summarize the key benefits, let's note the following:
easy to use and navigate;

the ability to sort photos, create collections and add ratings;

available on different devices and operating systems;

the use of presets to process

multiple images at once

.
As for the weaknesses, we should mention:
cannot work with layers;

high cost without the possibility of making a one-time payment;

autorun of Adobe applications, even when it is not necessary.
Now, having considered the general information, let's move on to more specific issues for choosing Lightroom vs. Affinity Photo.
2. Usability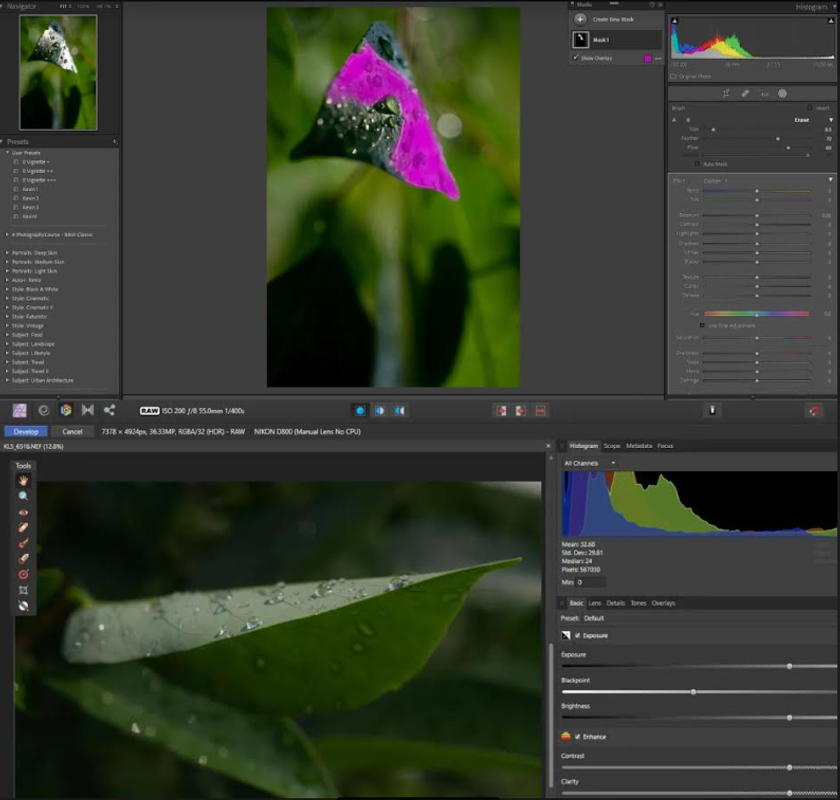 It's hard to pick a leader on this issue, each software is good in its own way. However, it should be noted that beginners, in any case, will have to spend time learning and then practicing, because the applications offer a large selection of tools, and it is impossible to deal with all of them in one go.
If you are already familiar with one of these options, the situation can develop in two ways: either it will be easier for you to master the other, or you will find another application inconvenient due to the fact that you are not used to it.
We want to give you one piece of advice: Don't rush, take enough time to learn. Find a tutorial you like and start practicing. No matter which one you choose, Affinity vs. Lightroom, you can master any of them.
We also want to add that there are two layouts of Lightroom. It depends on which software you use. For example, if we talk about Lightroom Classic, this one has a more functional interface. The CC version, on the other hand, has a simpler and even more elegant layout. But the essence of the application does not change from the visual aspect, in general, it is the same.
If we talk about Affinity, there is only one version of the interface, regardless of the device you are using.
3. System Performance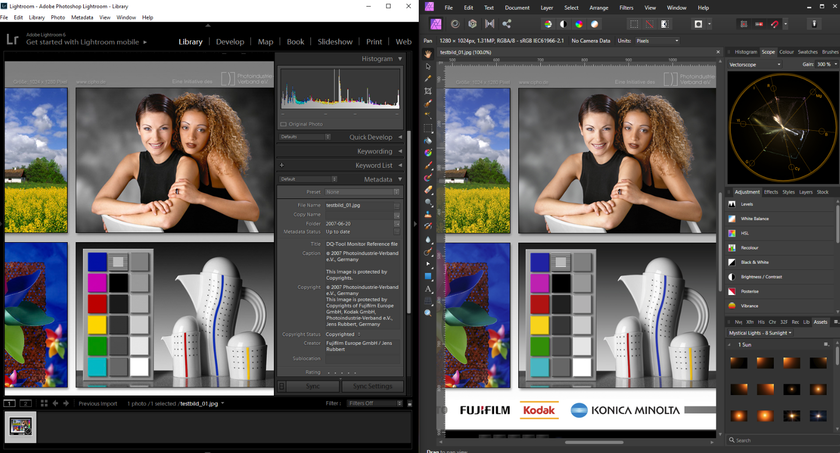 Do you have any experience with Adobe software? If so, you probably know that it is quite resource-intensive. And even when you're not using it at the moment, Adobe runs background processes. When you start the app, the system resources are depleted very quickly. There can only be one conclusion: you need a powerful and up-to-date device.
Is Affinity Lightroom replacement in this situation? Probably. Its system requirements are a bit lower. We can definitely say that Affinity is a simpler application to run.
However, if you need to process photos on a permanent basis, you should think about getting good hardware, because the new software requires high enough performance of the device in any case.
Yes, Affinity can be a replacement for Lightroom if needed. But in any case, a good PC or laptop is essential.
4. Organizing and Sorting Pictures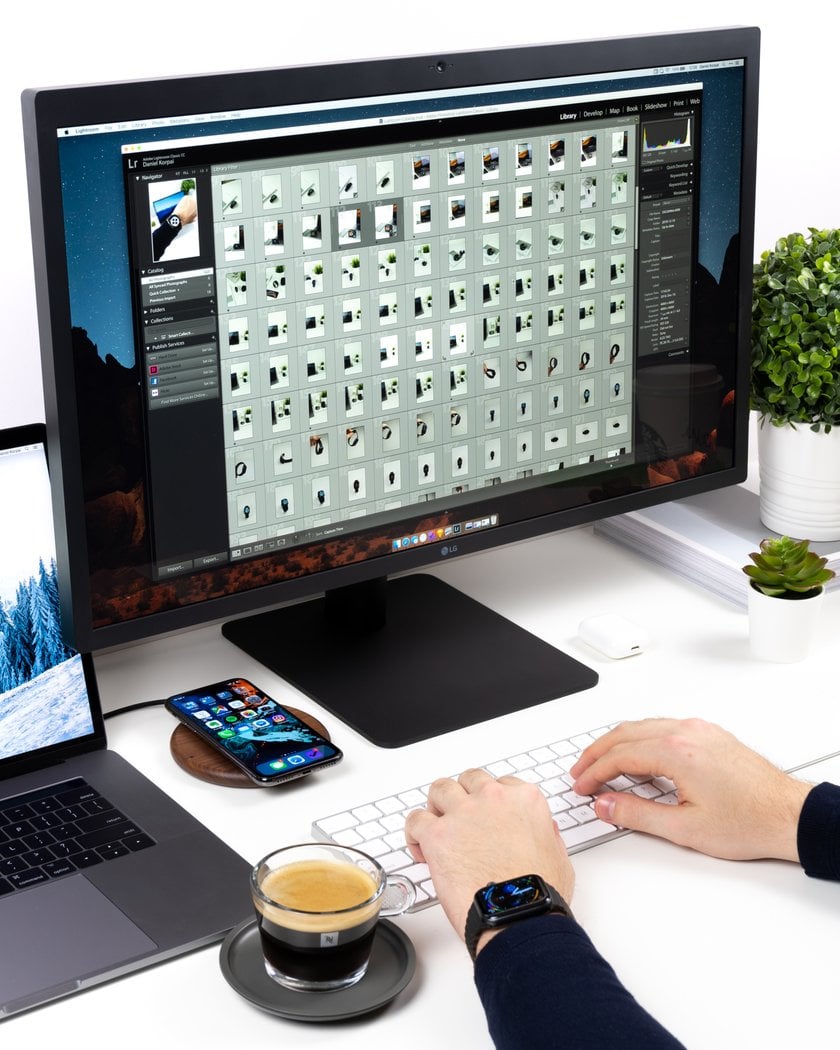 As we continue to compare Lightroom vs. Affinity Photo, we can't skip such an important point as the ability to organize images. And here there is a clear winner.
Of the two apps, only one has this feature. And as we said earlier, it's Lightroom. Its catalog function is very handy and will be appreciated by every user. You can mark, group files, compare several images side by side, and much more. Undoubtedly, this feature made it one of the most popular picture editors.
Unfortunately, Affinity isn't a Lightroom replacement in this matter. It simply doesn't have that capability. The only way out is to install additional software to create catalogs or try to do without it.
5. Specifics of Picture Processing
The Adobe app is undeniably excellent at what it does. It has all the tools you need for simple processing, correcting exposure, color adjustment, object removal, masking, and much more. An indisputable advantage is the possibility of applying presets, which greatly facilitates the processing of a large number of pictures at the same time.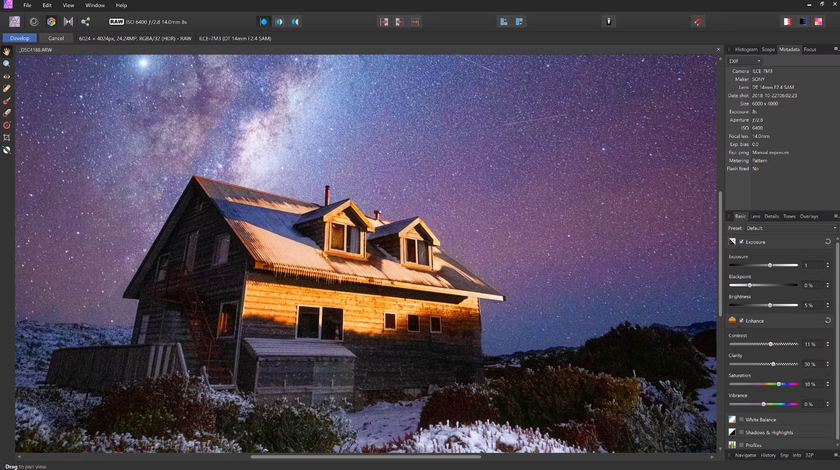 If you take Affinity Photo vs. Lightroom in comparison, then the former still wins. Here are several reasons for this:
layer-based editing;

working with several photos at once;

applying masks;

using filters;

editing text;

working with vector images.
As we can see, in terms of processing, Affinity offers more advanced possibilities for users. However, depending on your goals, you may choose one or the other option.
6. Pricing Policy
In this section of our Affinity Photo vs. Lightroom comparison, we'll quickly and easily determine the leader. Affinity takes first place. Why? It's very simple. Adobe's pricing policy requires regular payments for the use of its products. Yes, you get access to several applications at once, which seems convenient. But if you don't need it, you overpay. Unfortunately, it is not possible to buy access to software with a one-time fee.
Affinity, on the contrary, offers to pay just once and constantly get all updates without having to make additional payments. Moreover, from time to time Serif (its developer), offers lucrative discounts.
Of course, if you want to get access to several apps, the option from Adobe will suit you better. But if you need a single photo editor with great functionality and a nice price, Affinity will be the perfect solution.
7. Affinity and Lightroom — Using Together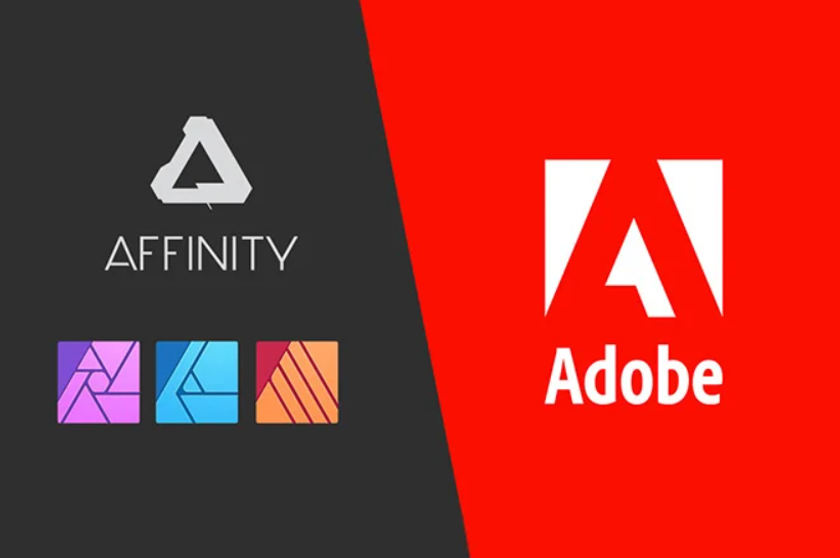 Why do you have to choose one of the apps when you can use them together? The whole point is that each software is good in its own way, and you can use them for different purposes.
Start your workflow by using Lightroom. Sort through the images, choose what you need, and make some easy edits. Done? Great, now you can go to Affinity. Here you have much more professional retouching tools at your disposal to help bring every picture to perfection. You no longer have to choose between Lightroom vs. Affinity. With this approach, you can achieve amazing results!
There can only be one disadvantage to such a solution, and that is the financial side of the issue. For many users, it can be too expensive. If you know that running two apps at the same time will not suit you, take advantage of each software's free trial period to choose the one that best suits your needs.
Final Thoughts: Who Wins?
After reviewing Lightroom vs. Affinity Photo, we can say that they are both powerful photo-processing software, but they serve different purposes. Here's a breakdown of their key features:
Affinity Photo:
it is a professional-grade photo processing software with a wide range of features for editing, retouching, and enhancing photos;

it has an extensive set of tools and options;

it supports a variety of image formats, including RAW;

Affinity Photo is a one-time purchase software, which means that you pay once to own the software forever.
Lightroom:
it is an image sorting and editing software that is designed for advanced users;

it has powerful tools for managing large collections of photos, including tagging, rating, and keywording;

Lightroom's editing instruments are focused on non-destructive adjustments, making it easy to experiment with different processing techniques without harming the original image;

the app also offers a range of

presets

and profiles that allow you to quickly apply specific looks or styles to your images;

Lightroom is a subscription-based software, which means that you pay regularly to access it.
So, Lightroom vs. Affinity, who wins? It really depends on your needs and preferences. If you're looking for a versatile picture editor with a wide range of features, Affinity Photo might be the better choice. However, if you're primarily interested in managing and organizing your images and want an app that is tailored specifically for photographers, Lightroom might be a better fit.
FAQ
Here we prepared answers to popular questions.
Do Professionals Use Affinity Photo?
Without a doubt, yes. This application is becoming increasingly popular among pros, thanks to its powerful functionality and pleasant price.
What is Lightroom Alternative?
If for any reason this software does not suit you, we advise paying attention to Luminar Neo. It boasts amazing functionality, unique AI tools, and an incredibly user-friendly interface.
Luminar Neo offers users a greater variety of features and the ability to do more detailed photo editing.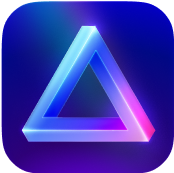 Advanced yet easy-to-use photo editor
view plans