Have you ever thought about buying a lightbox? The standard version is a box lined on the inside with a light-colored fabric, but there are other modifications nowadays.
Product photography, like any other, requires the right conditions. Photo boxes will help to create beautiful and high-quality pictures of small objects. No unnecessary glare, highlights, or shadows! Your photos will not be spoiled by cords or wallpaper that got into the frame. Lightbox for product photography is a complete mini photo studio, which will replace a set of lighting devices, photophones, and other studio accessories. A photo box will be useful in such spheres of life:
Hobby. Are you a cook whose Instagram is filled with interesting dishes? Or maybe an artist? A handmade creator? Everyone wants to share their creativity with others. That's why you need a photo box. Any bracelet, statuette, or cupcake in your social networks will look as if they were shot in a professional studio!

Business. Trade is an art. Statistics show that after opening a page, the user evaluates its content for 3-5 seconds. This time is enough to get interested ... or disappointed and close the tab. That's why it's important to have a good photo of the product.

Photography. If photography is not your hobby, but your work, you can't do without a portable light box too. The closer you are to the object, the harder it is to control the light and shade pattern. And it is important to prevent spoiling the frame with glare and deep shadow! The light box helps to solve the problem. It is compact, lightweight, and will be useful not only in the studio but also at

outdoor photo

shoots.
Let's look at the definition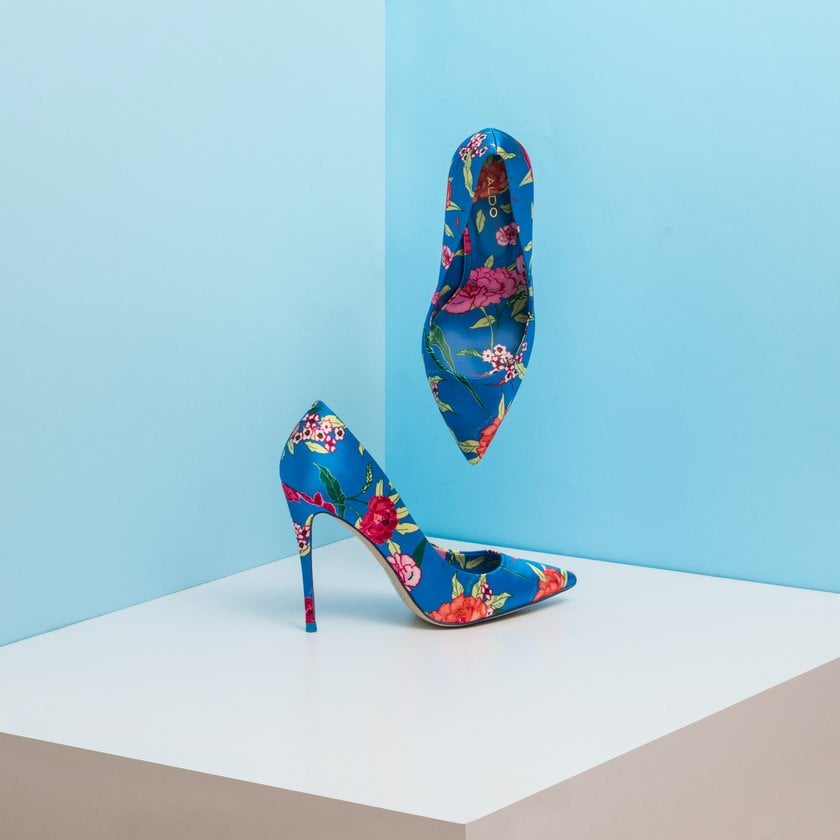 A light box is a unique device for shadowless photography, a mini photo studio. It helps to make the object in the picture as expressive and presentable as possible. Such a technique is often used for products in online stores so that customers can view the object of interest in all its detail.
Usually, a light box for photos is a small structure that can be placed on a table or stand. The shape is a cube or rectangle. Also on sale, you can find boxes in the form of tents. In most cases, the walls are transparent or white. Through the transparent material, light is diffused and falls softly on the object. Things placed inside are illuminated from all sides which allows multi-angle shooting.
A photo box for taking pictures consists of a sturdy metal frame, over which the fabric is stretched. You will also need light sources for taking pictures. If you use simple constructions, two or three sources will be enough (they are placed on the sides and top).
Depending on the chosen model, the walls can be both straight and curved. The same applies to the corners. They are made rounded or straight. In some boxes, the front wall is missing or simply removable. Other walls can also be removed.
Due to the special design and the light walls, shadows and glare are eliminated, and the soft light evenly covers the object. The monochromatic background makes it possible to focus all the attention on the product and take the best photos from different angles. Any item can be photographed in a professional light box. The main thing is that it should fully fit inside the construction.
Choosing the best photo light boxes
There are different factors to consider when buying light boxes for photography. To make the right choice you should carefully think about what purposes you need it for, and on that basis, you should focus on the most suitable models. We suggest you look at a few key factors that will help to avoid making a mistake:
The size of the photo box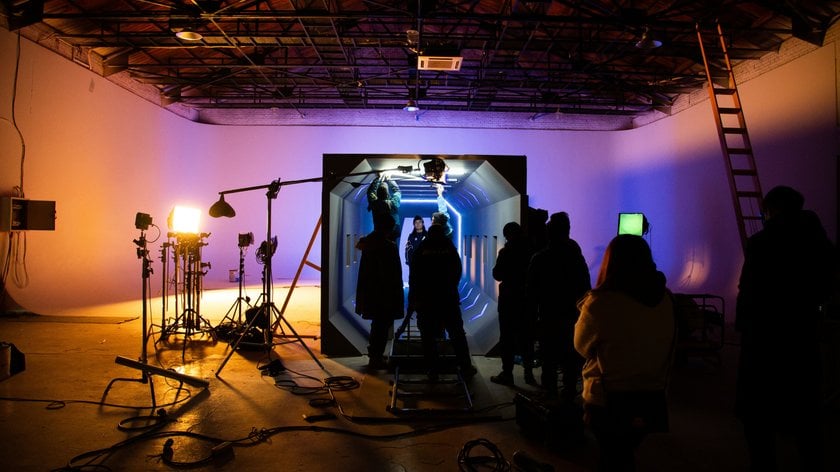 This is quite a controversial issue. On the one hand, if you're going to shoot small objects, you wouldn't seem to need a large model. But on the other hand, your ideas for shooting may change and then the intended item may simply not fit into the small light box. In that case, we advise you to choose a larger version than you were originally going to buy. In addition, the extra space will save you time spent on post-processing the photo, you will not have to redraw the background. As for storage, you can buy a foldable model. It is easy to disassemble after use, and it will not take up too much space.
Lighting availability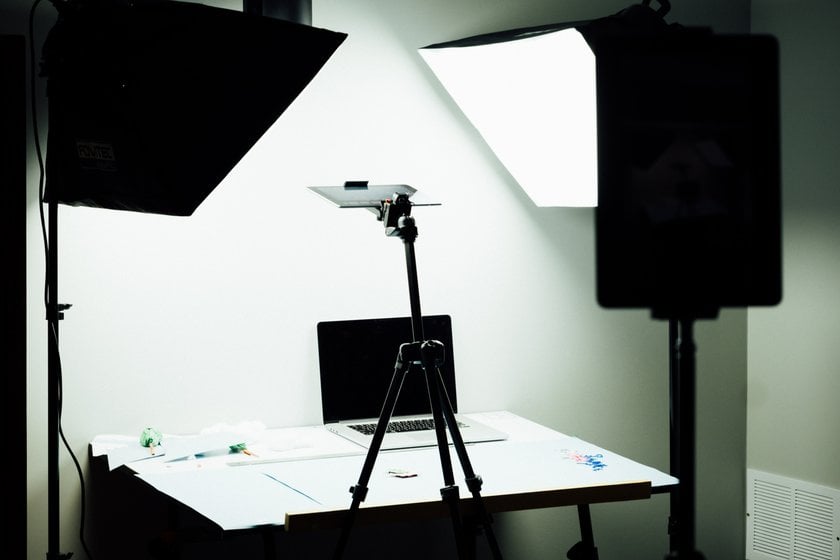 Some photography light boxes have built-in lights, they are integrated into the design. Other models do not have lamps, but the walls of the box are made of light-scattering material. To understand which option is right for you, it is worth considering the pros and cons of each. A model with built-in dimmable lighting simplifies the shooting process because the led light and its intensity are already set properly. And if you also use a tripod for the digital camera - then you will not need to strain at all. However, there is a disadvantage - for example, the probability of breakage of one of the lights and the difficulty in replacing it. Variants without illumination are suitable for more experienced users, for whom it is important to fully control the process and unleash their creativity.
Backgrounds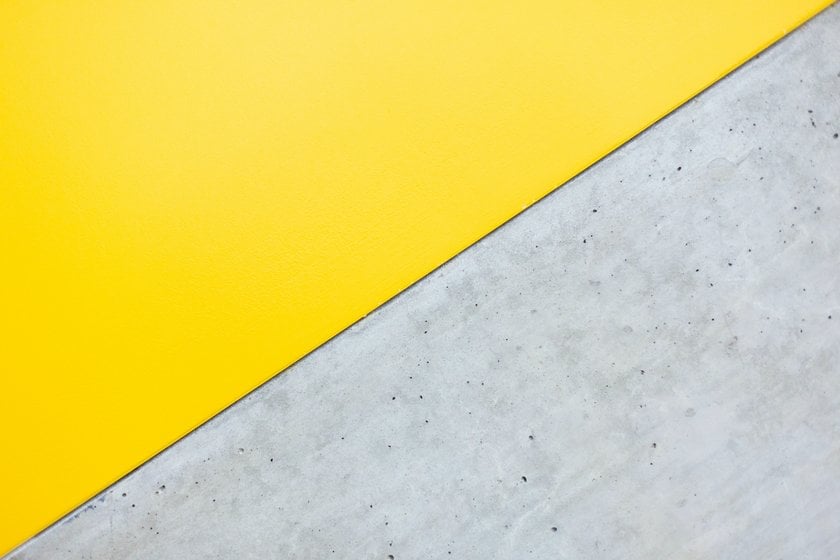 One of the most important parts of the shot is the background. Here everything depends on the goals and preferences of the photographer. Some of the best light boxes for photography come with a built-in white background that cannot be changed. Other models allow you to use interchangeable backgrounds of different materials (paper, plastic, or fabric). Finally, you can make it yourself, but if saving time is a priority, it's better to buy a light box with a set of interchangeable backgrounds.
Portability of the photography boxes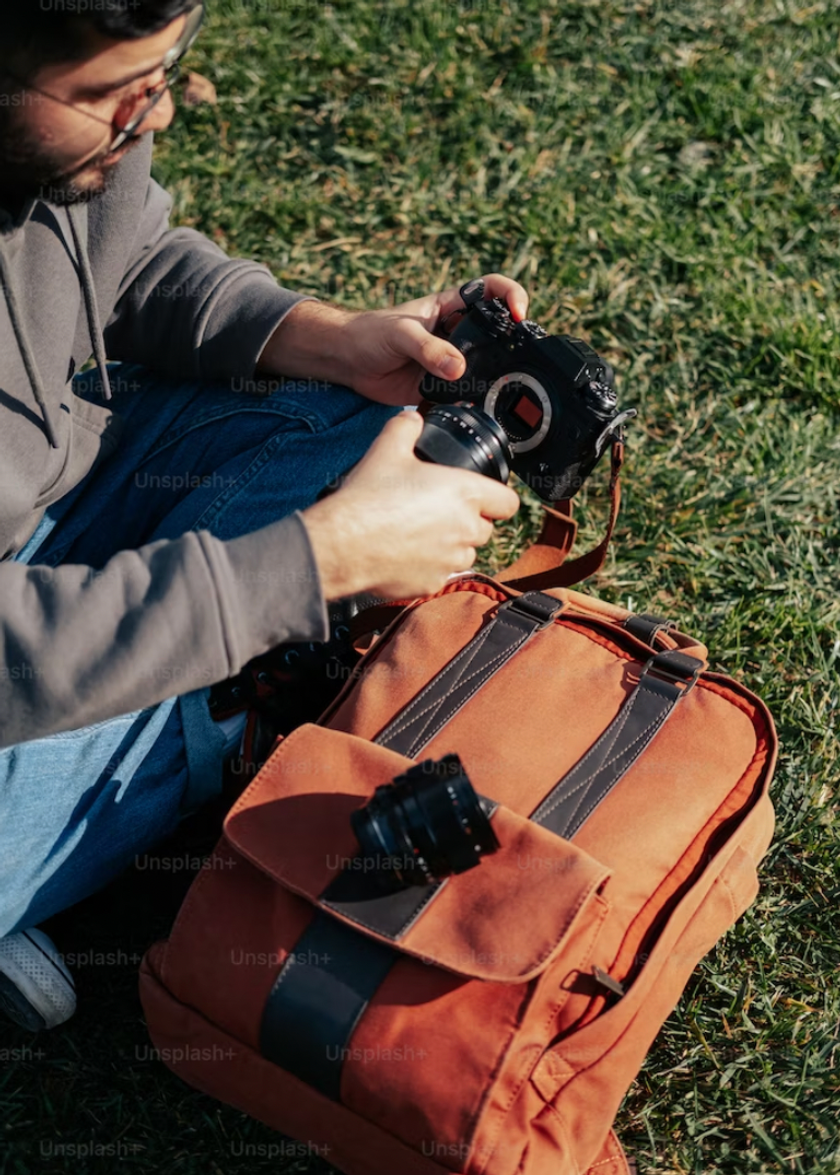 Portability, of course, is a very important criterion in the choice, such product photography boxes are easy to take with you if necessary. However, it should be understood that due to portability such models are inferior to their capabilities as stationary light boxes. If you have a place where you can keep it set and leave the box without folding, it will be a great solution. If you're not willing to choose between portability and the capabilities of the model, however, it's better to choose a sophisticated setup. Although it will take a long time to put it together, such a model should still be portable and the quality of your pictures will be perfect.
Positions for taking pictures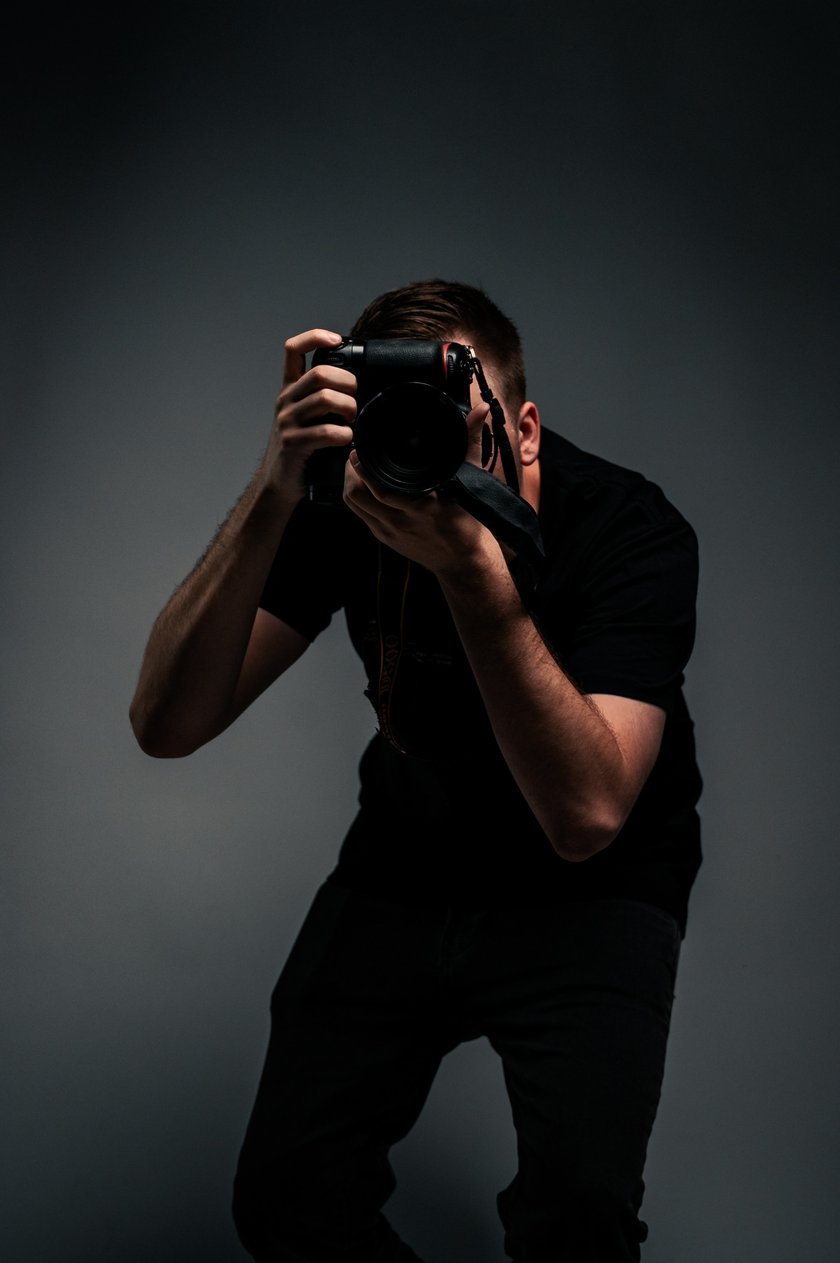 Most often, objects placed in the lightbox are shot at a right angle using the opening in front of the box. Some modern models have several holes that are located on the sides and at the top of the product photo box. This makes it possible to take pictures from different angles. For basic use, the first type will be enough, but if you are looking for a variety of images, it is better to choose a model with several openings.
Now the most important aspects of the choice have been considered, let's move on to an overview of the best light boxes for photography.

Top 10 Best Photo Boxes
A photo box can be an excellent tool for product photography, but even if you know what features are most important to you, it can be difficult to decide. Let's look through a list of the best boxes of 2023.
1. Fositan Photo Box - make perfect shots easily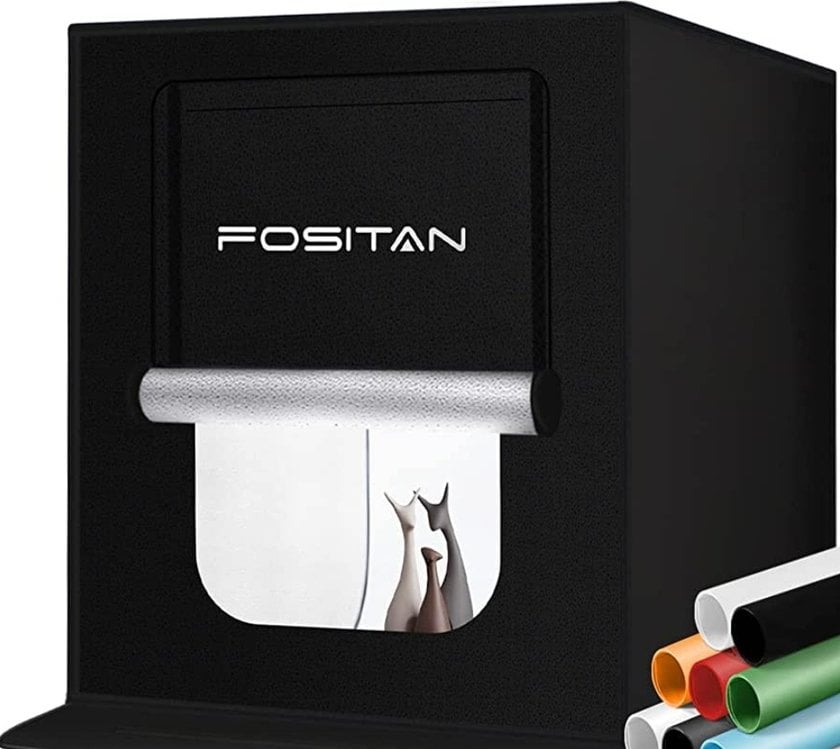 Here is one of the best variants - this light box for product photography will provide you with a lot of successful shots! Even lighting is provided by the LED strip, and the opaque walls prevent external light from affecting the frame. The light box features brightness control and several openings for easy shooting from different angles. This device folds into a carrying case and is quite portable. It comes with 4 backgrounds, but if that's not enough, you can order more.
2. BrightBox Portable Mini Photo Studio - durable and high quality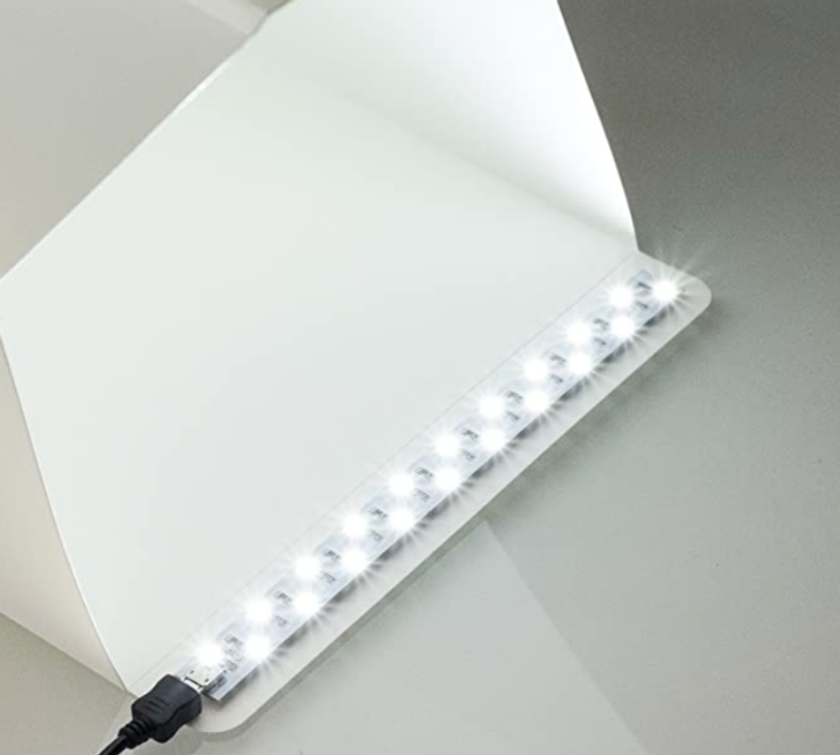 If you're particularly concerned about the quality of the equipment, this model is exactly what you've been looking for. Made of rigid polypropylene, this lightbox for photos is very durable and, compared to its fabric analogs, less susceptible to damage. Built-in LED lamps provide natural light. The kit comes with two contrasting backgrounds, black and white, and also with a free electronic manual with tips from professional photographers, which will be very useful for beginners. Using the tips you'll easily get great shots.
3. HAVOX HPB80XD Photo Studio Light Box - the best light for the perfect shot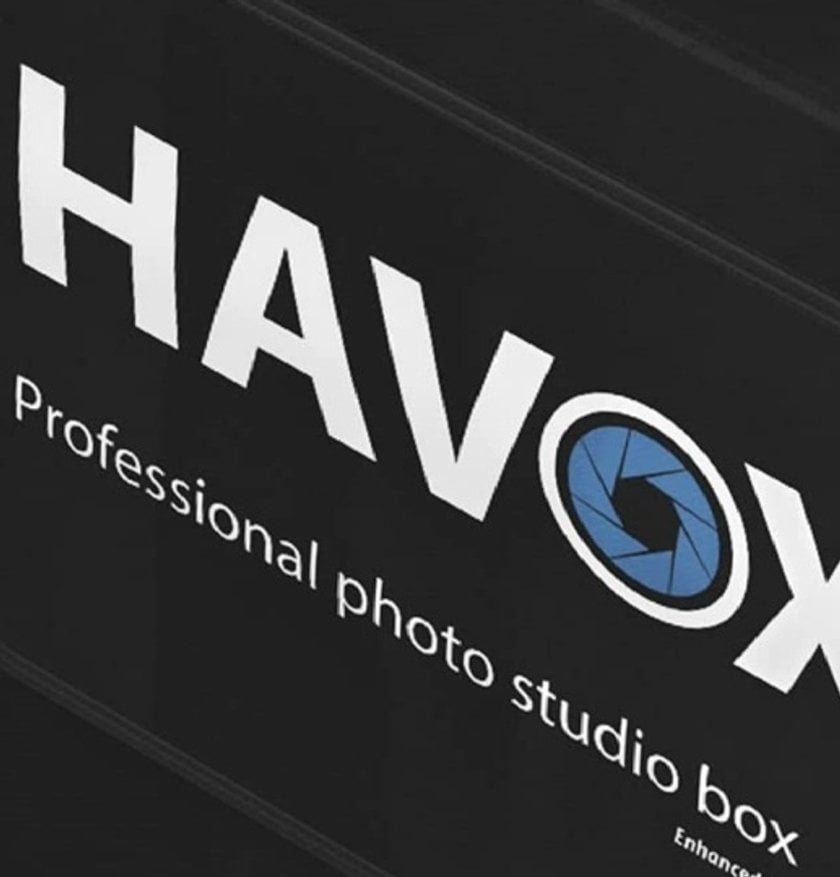 Good lighting is an essential part of a successful shot. This is one of the best lightboxes for photography that will provide stunning results thanks to its 5500k color temperature and adjustable LED ramp system. With this type of light, your pictures will look professional. Multiple openings allow you to shoot from different angles, and the light-scattering fabric will ensure no glare. It comes with three excellent quality backgrounds with waterproof, anti-scratch, and dustproof properties. This model has everything you need to take great pictures.
4. SAMTIAN Photo Light Box 32 x 32 x 32″ - for large light box photography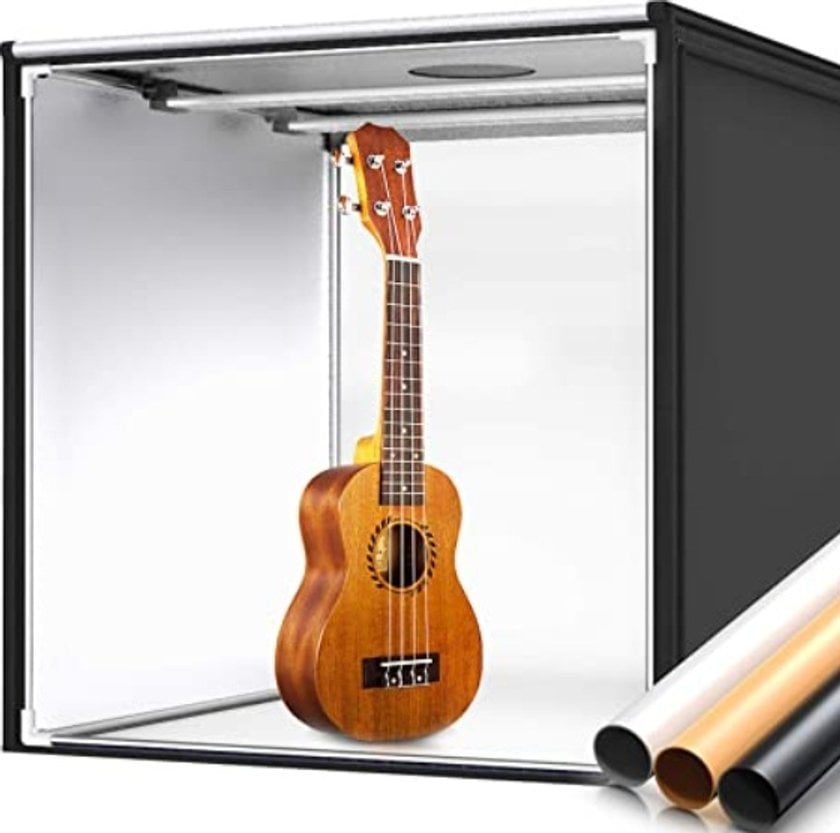 If you've been looking for a really big model, here it is. It has 126 LED bead lamps that provide daylight-balanced lighting. Another advantage of one of the best photo light boxes is the ability to adjust the brightness to achieve the desired effect in the picture. Take off the front completely or leave just a small window to keep the light out and experiment to create great-looking shots. It is also worth noting the possibility of shooting from different angles. Take pictures from the top or the side, shoot from the front, or even from up above - with this model your possibilities are unlimited!
5. LimoStudio 16" x 16" Table Top Photography Studio - affordable price and good quality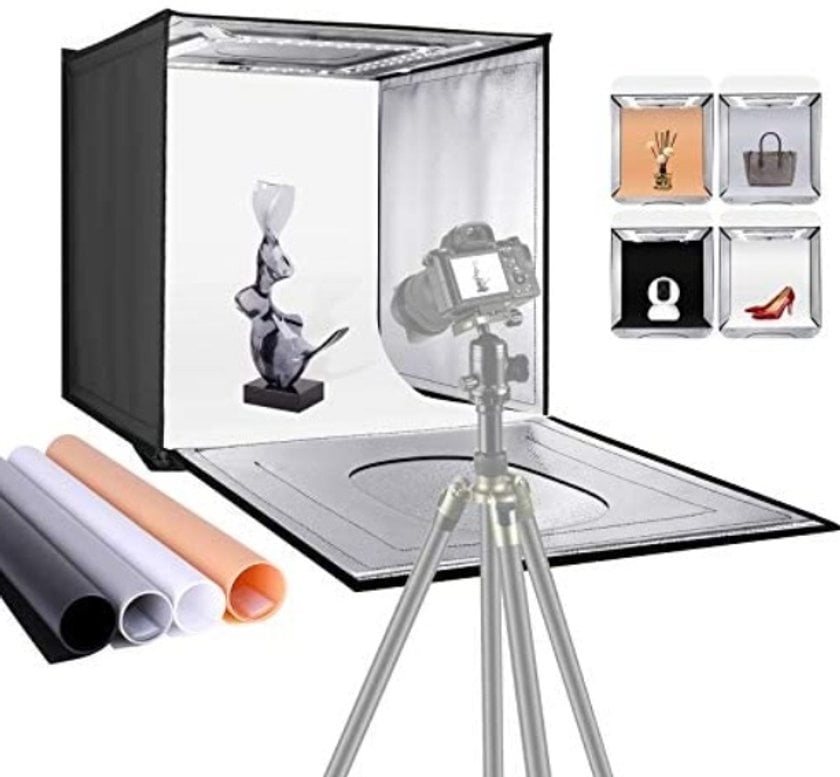 We can't call this white box for product photography the cheapest, but its price is the most affordable with all the features you need. In the kit, you will find the light box itself, backdrops, and a tripod. It also comes with a handy carrying case. For the beginner, this model will be a real find, its features are enough to gain experience in product photography. Yes, with time the backgrounds may get wrinkled and need to be smoothed out, and the lighting is inferior to more expensive variants, but for practice, it will be a good deal.
6. JHS-TECH Mini Photo Studio Box - make your photos bright!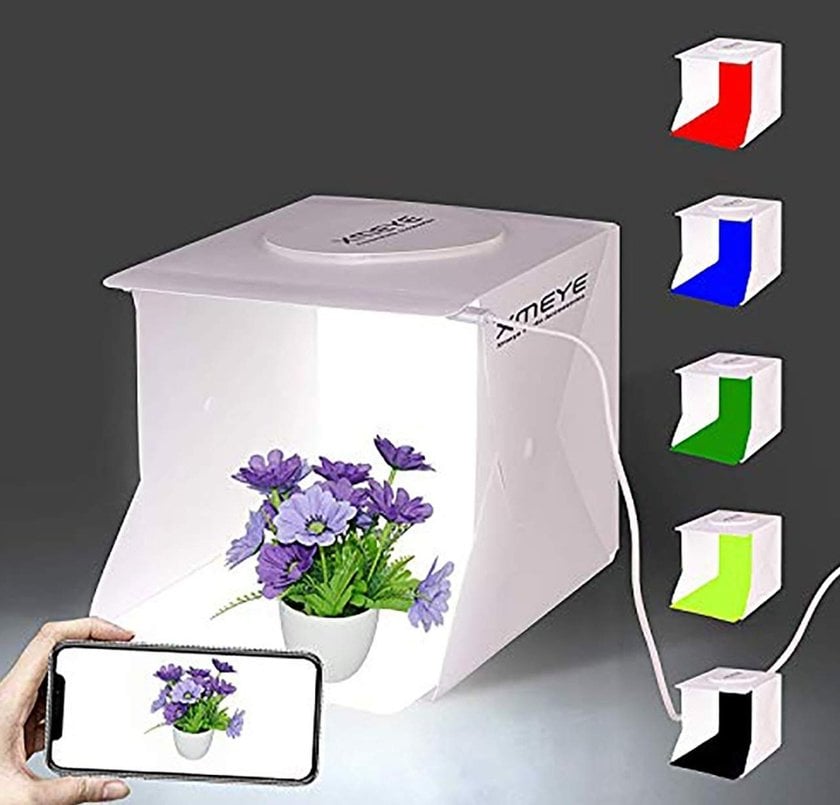 Do you like bright, memorable photos? With this white photography box for products, your pictures will be unique and unrepeatable! You'll find 6 colorful backgrounds in the kit, from classic monochrome colors to lime green. Keep in mind though, this model is small (9 x 9 x 9 inches), so make sure you can put the object in it beforehand. This lightbox has two sets of lights with a USB port, which is great for charging with a portable battery. Take shots at right angles or from above, the bright backdrops and good lighting will make your work comfortable.
7. PULUZ Mini Photo Studio Box - comfortable and easy to carry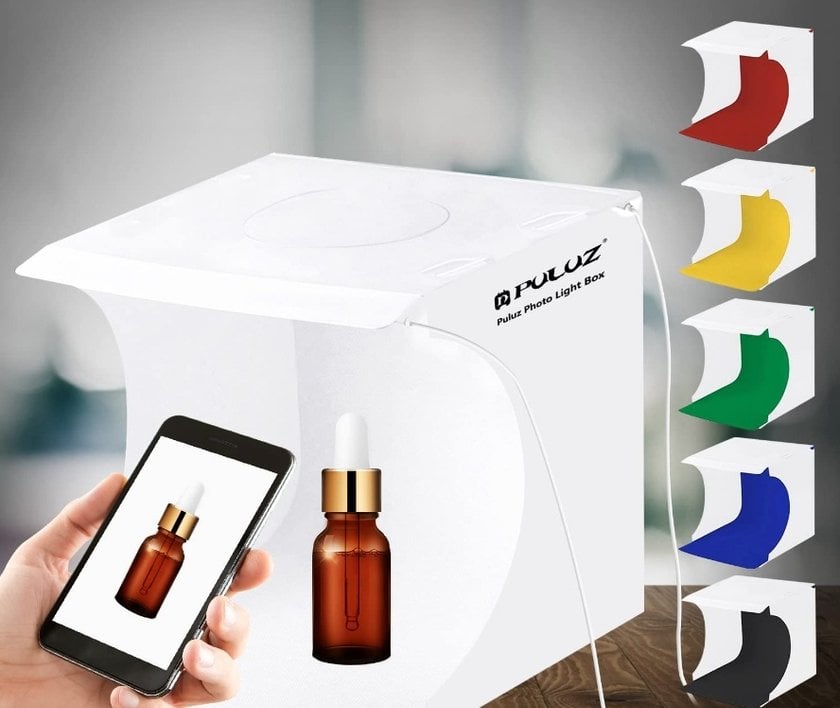 It is portable and compact in design, it's great if you need a model you can carry with you. But despite its small size, it can easily hold a few little items. The built-in LED strip provides high-quality illumination, resulting in excellent photos. This one of the best photography light boxes is equipped with vertical and horizontal openings, which allow you to take pictures from different angles. This model will be an indispensable assistant to a professional photographer who appreciates quality and portability. This light box is fully removable and fastened with Velcro.
8. MyStudio PS5 Portable Studio Lightbox - change backgrounds easily!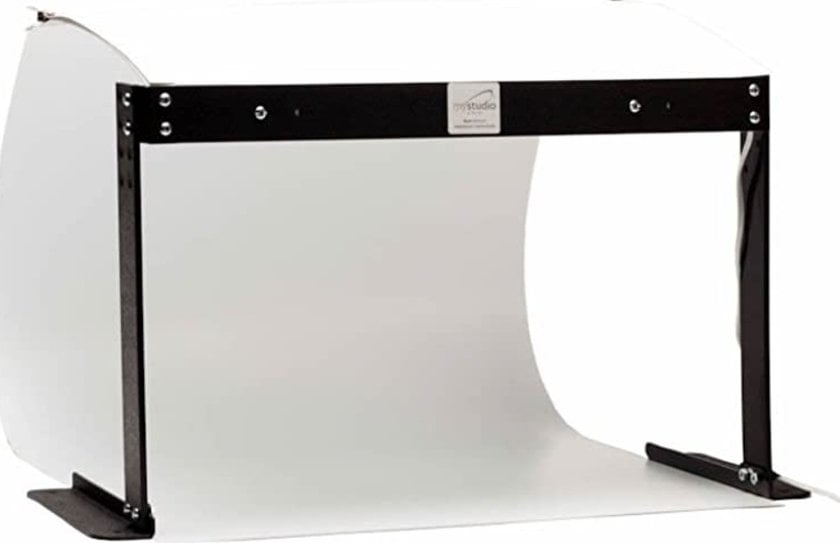 This white box for photos is one of the best basic kits to work with. Yes, you are buying not only a light box but also lighting with color correction and the ability to use any background you want. That gives you more creative space. What's more, it's a great choice for beginners, because you also get a manual with tips on how to take photos. Yes, it's a small model, but it's very handy and easy to take with you.
9. MyStudio MS20PRO-LED Tabletop Lightbox - for stunning results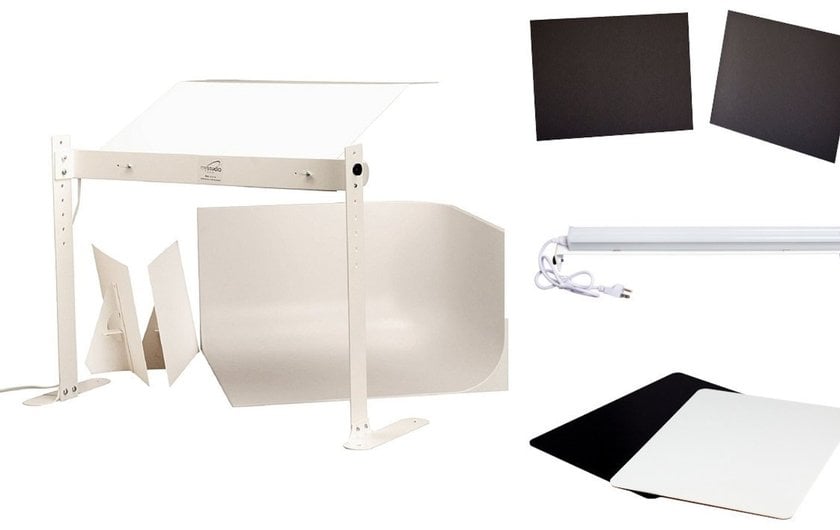 This photo box for products cannot be called compact or portable, but it is perfect for users who can set it up in a designated location. This light box belongs to the MyStudio MS line. They are made with different sides, but this particular model is considered the most versatile for most people. But if you like this variant but would like a different size, there is an opportunity to choose. Take pictures with pleasure, the powerful lighting and quality seamless backgrounds will help you get the results you want!
10. Emart Studio Box Kit - for changing the lighting color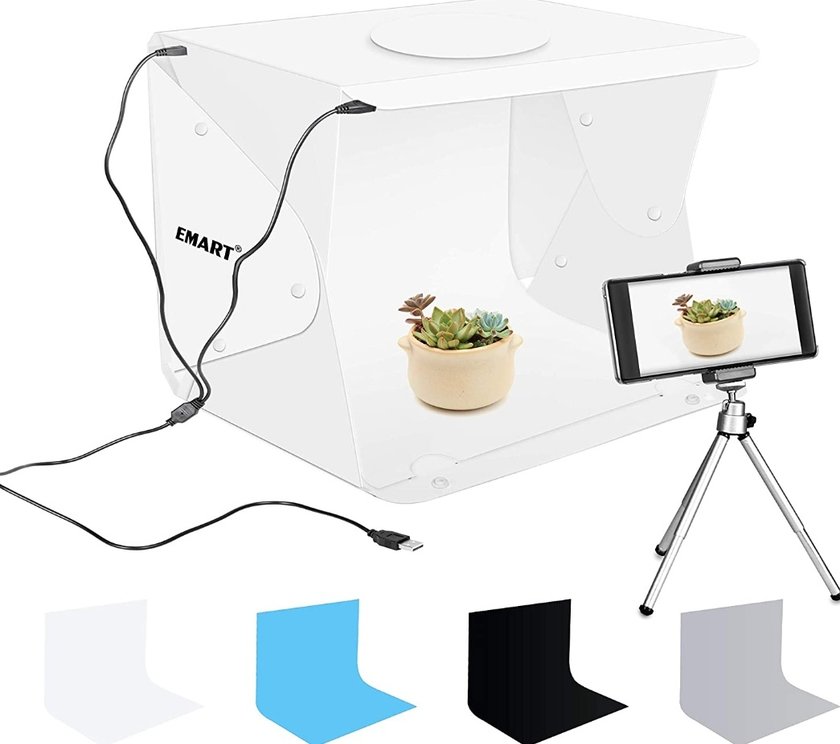 It's one of the best photography boxes with a very interesting kit. In addition to the 4 different colored backgrounds, you also get 4 color gels which change the color of the lighting. The LED lights do not overheat even for extended use, ensuring comfort and safety while shooting. Also, the advantages are the portability of the box and its easy installation. It comes with a mini tripod with a smartphone adapter. This model will be a great helper if you need space for creativity and the ability to use it anywhere you want.
Final Thoughts
When choosing a lightbox, you must pay attention to the following parameters:
Fabric. Materials differ in strength, durability, and color. We recommend choosing products with fabrics that are easy to clean and do not lose their shape.

Size. Shooting large-sized objects will need a roomy box, but it will take up much more space than a small-sized one. Folding models that are easy to assemble and transport with you are very popular.

Frame. It should be strong, but lightweight at the same time. Manufacturers often use special metal alloys.

Lighting. In order not to buy additional light sources, it is recommended to take the box with lighting. You should also take into account the type of lighting devices used.

Background. Things can be photographed not only on a white background. Many manufacturers offer boxes complete with removable colored walls. To determine the ideal variant for each item, you will have to experiment.
Among all the models discussed, every photographer can find a "helper" for getting perfect pictures, with no highlighted areas, shadows, or glare that can spoil even the best photos.
For high-quality post-processing of the pictures, we advise using Luminar Neo. In this program, you will find all the necessary tools for quality retouching and you can achieve the desired result. We wish you a successful shoot!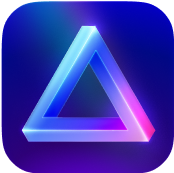 Advanced yet easy-to-use photo editor
view plans