In order to easily carry all the photographic equipment, it is not necessary to buy a massive uncomfortable bag. Photo vests and jackets can be the perfect solution.
Comfortable clothing that does not restrict movement during the photo shoot is very important. Not sure what to choose? A photographer's jacket or vest is exactly what you need. It makes it easy to carry your camera equipment and accessories. With straps and different-sized pockets, the jacket is the perfect solution for situations where a camera bag is not convenient. These vests are especially useful for nature photography, and long trips, they will also be appreciated by photojournalists.

In our photographer vest review, we will look at the best models and tell you about all their advantages.
Let's Talk About the Benefits
The photographer's jacket is a versatile piece of clothing that can offer several features. It will be especially useful for those who have to carry a lot of equipment while making photos. Before going on to photographers' vest reviews, let's look at some of the benefits of using it:
Convenient storage: The jacket usually has several pockets and compartments to conveniently store camera accessories such as lenses, memory cards, filters, and batteries. This makes it easy to access all your equipment without having to carry a separate bag.

Enhanced mobility: Carrying a camera bag can be cumbersome, especially if you move around a lot. The photographer's vest distributes the weight of your equipment evenly over your body, making it easier to move and take pictures from different angles.

Protection from outside influences: Many jackets are made of durable materials that can protect your equipment from dust, dirt, and other elements. This can be especially useful if you're photographing in harsh weather conditions.

Professional Appearance: Wearing a photographer's vest and jacket can help you look more professional and stand out from the crowd. This can be especially helpful if you're taking pictures in a public place and want to be taken seriously.

Comfort: The best photographer vests are usually designed to be comfortable and breathable, making them ideal for photographing in warm weather.
Generally speaking, a photographer's vest is useful for any photographer who has to carry a lot of equipment while taking pictures. It offers convenient storage options, increased mobility, protection from the outside, and a professional look, as well as comfort and breathability.
Camera Vests Review: Top 8 Options
In order to make the right choice, you need to consider many criteria such as quality, material, style, and of course the price. We tried to take all this into account and compiled a top of the best vests for photographers.
1. Rothco Uncle Milty Travel Vest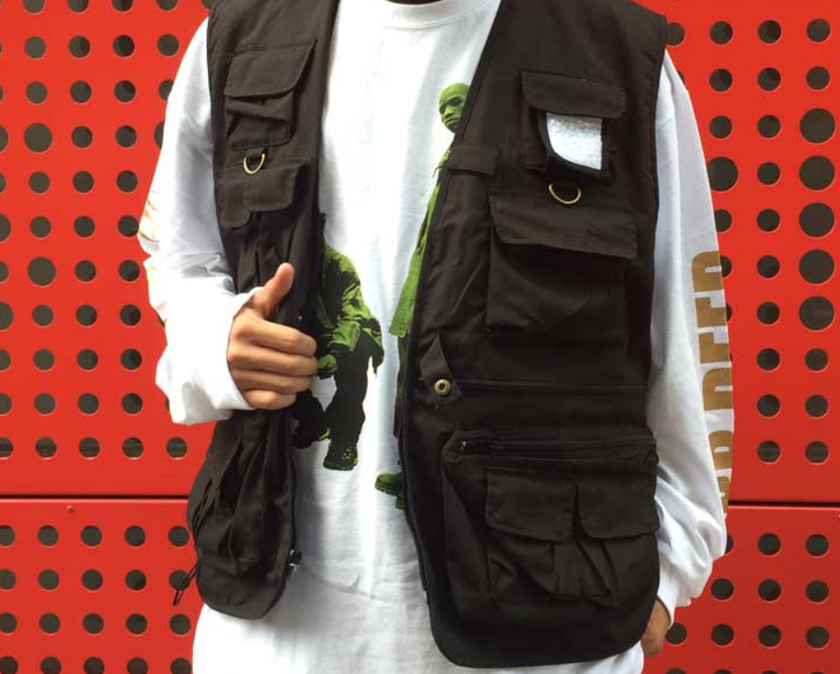 With enough pockets to hold everything you need, this one of the best photo vests is a must-have for any professional on the go. It's perfect for carrying lenses, small camera bodies, and even a laptop computer.
In total, it has 16 pockets, including 13 in the front and three on the inside, which makes this vest a perfect fit for any photographer. The expandable pocket on the back, accessed through a side zipper, is great for storing large items.
Equipped with D-rings on both sides, it allows you to clip small things on and carry them with ease, saving you from wearing a bulky bag. And with the available colors — olive, black, and khaki, you can choose the one that best suits your style.
Made from cotton and polyester, it may not have a luxurious look, but it's sure to stand the test of time, making it a practical and dependable choice for any photographer.
2. Humvee Cotton Safari Vest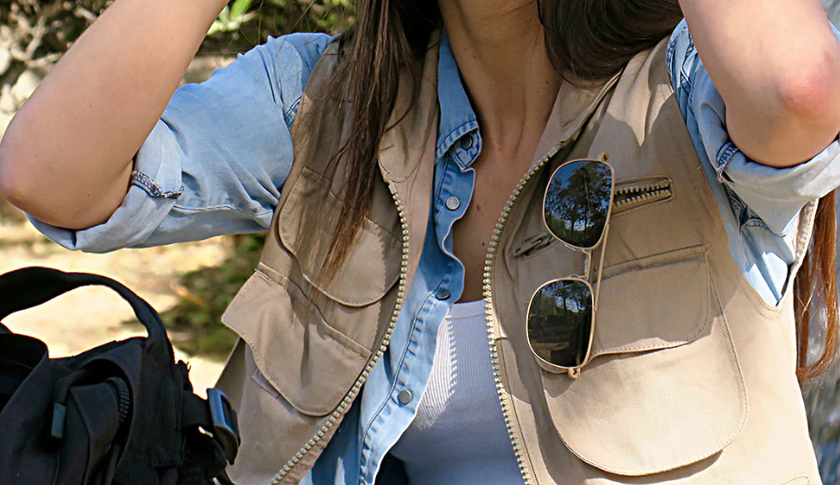 One of the best models in our photo vest review is the Humvee Cotton Safari. It is a versatile choice for outdoor enthusiasts and photographers. With 21 pockets in total, this model offers plenty of room for all your gear. Nylon-lined pockets keep your valuables safe and dry, while hooks, D-rings, and elastic and snap pockets on the shoulder straps make organizing your gear easy.
Available in khaki and black, this vest for photographers is perfect for all conditions. The black version goes great for street and interior shooting, while the khaki blends seamlessly into nature.
Note that these vests are oversized to fit all 21 pockets. If you don't plan on carrying a lot of gear, you may want to order a smaller size for a better fit.
3. Gihuo Men's Reversible Outdoor Travel Vest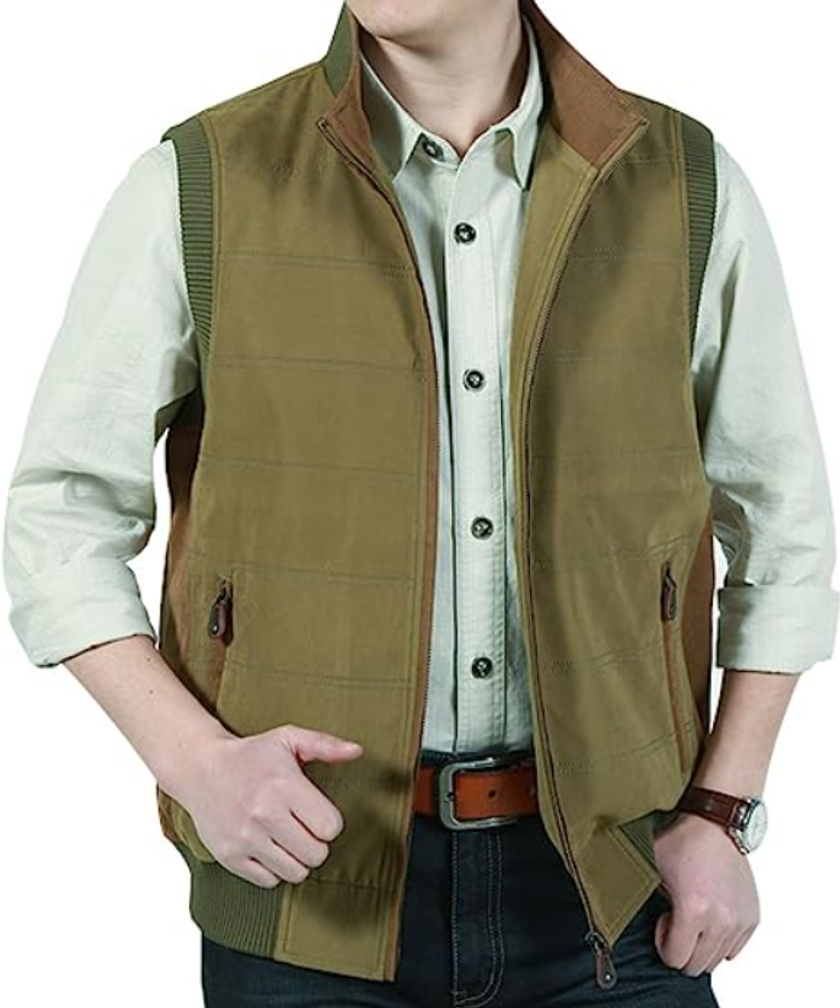 For those looking for a jacket that can be used for photography and beyond, this is one of the best photography vests for men. Because of the design, it's like having two vests in one!
The khaki beige color is perfect for wildlife photography because it blends well with the natural surroundings, while the black version is more suitable for taking pictures at formal events.
Although it is not specifically designed for photographers, it is versatile enough to be used for travel, sports, camping, etc. Made of cotton, it is comfortable to wear in all conditions and easy to wash at home.
This one of the best photo vests has a total of 10 pockets, including 7 exterior and 3 interior pockets that are perfect for storing your most valuable accessories or personal items. Thanks to its functional design and stylish appearance, this model is indispensable for any outdoor enthusiast and photographer.
4. SCOTTeVEST Women's Q.U.E.S.T. Travel Vest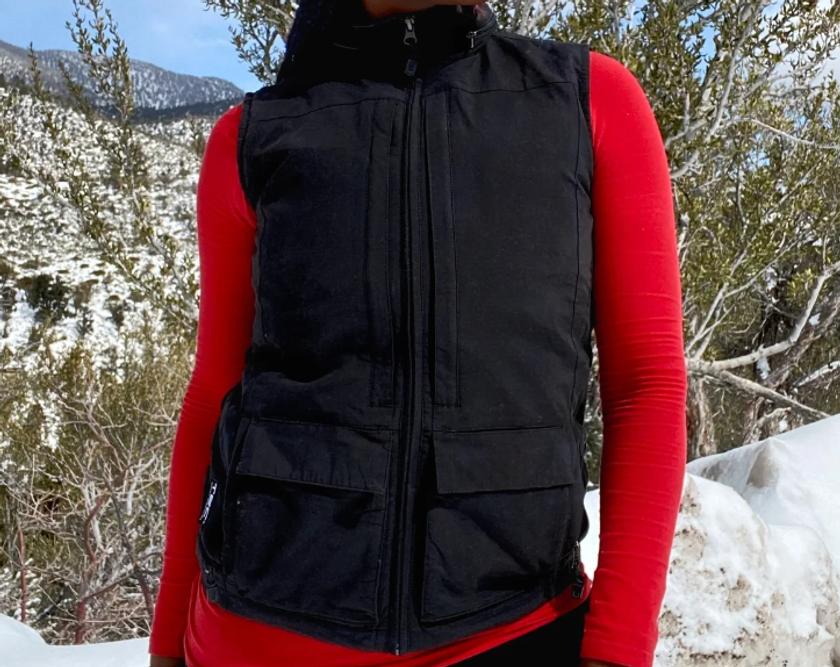 We certainly couldn't pass by the female models in our photographers' vest reviews.
While it may seem simple at first glance, this vest boasts an impressive 42 pockets that are perfect for storing all your essentials. A unique feature is the RFID wallet pocket, which helps protect your credit cards from skimming technology.
This model is available in beige and black. Both options are elegant enough to wear on a variety of occasions, including important events.
This one of the best photography vests will become an essential item for any woman looking for a practical and stylish solution to carry all her gear. Designed with travel photography in mind, this vest has 18 interior pockets. In addition, small practical elements such as a goggle cleaning cloth, a removable key chain, and a water bottle holder make it even more functional.
5. Billingham PhotoVest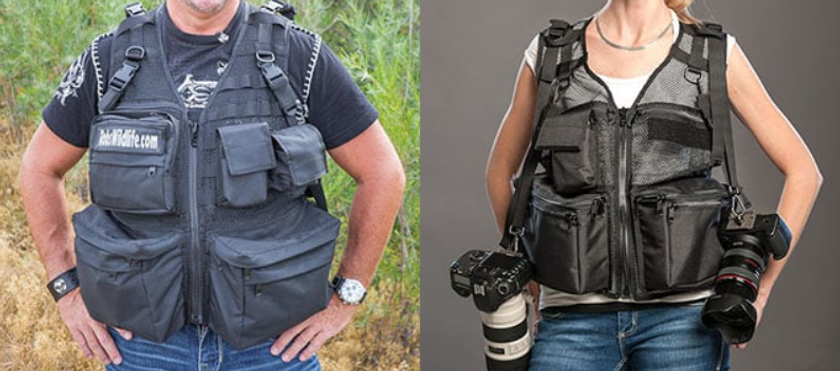 This is one of the best photographer vests for those who want to look more stylish and elegant while still being able to carry all the necessary accessories. One of the advantages is that it is comfortable and lightweight. It's also slightly shorter than most other models, so the equipment in the bottom pockets won't bump against your legs.
This model also has identical pockets on both sides, making it easier to distribute weight evenly. This is a useful feature that reduces strain on your back and shoulders during long photo sessions.
6. Simms Freestone Fishing Vest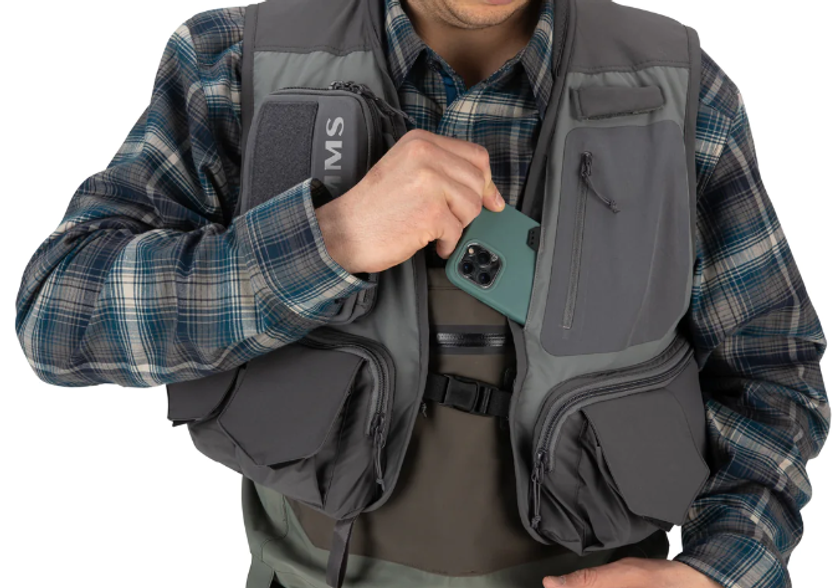 One more versatile option in our photo vest review. Pay attention to this model, as it is also great for completely different purposes, such as camping, fishing, and even long trips. While the name may lead one to think that it is only intended for one purpose, it is actually a practical and stylish option for the photographer.
Available in khaki and gray, both colors are perfect for the outdoor photo session. With 19 pockets including 5 inside pockets, you can keep all your valuable gadgets safe and handy. Made of nylon fabric with a polyester mesh lining, it's both lightweight and breathable but can keep you warm when needed.
Whether you wear it in hot summer or cooler weather, this model is a solid choice for any adventure.
7. Country Innovation Raptor Waistcoat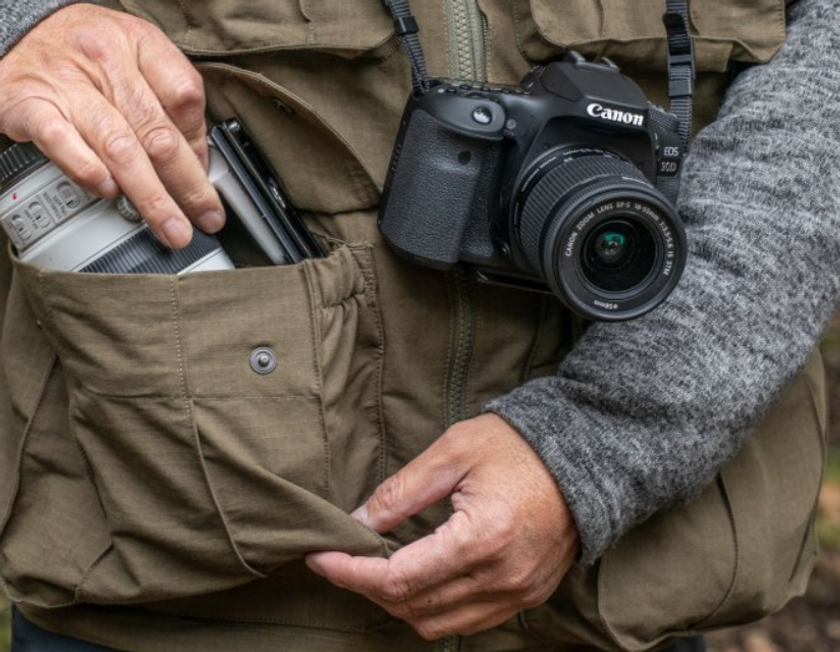 Are you searching for the best photographer's jacket that will fit all your gear? Check out this awesome vest.
Made from military-grade Rip-Tec ripstop reinforced material, this model boasts 15 roomy pockets that can hold all the accessories you need. The two expandable cargo pockets are large enough to hold your camera and lenses, while the chest pockets on top can be used for smaller items.
This vest is ideal for outdoor photography as well as birdwatching. The sturdy construction and roomy storage compartment will allow you to handle any photographic task with ease.
8. The North Face Men's McMurdo Parka III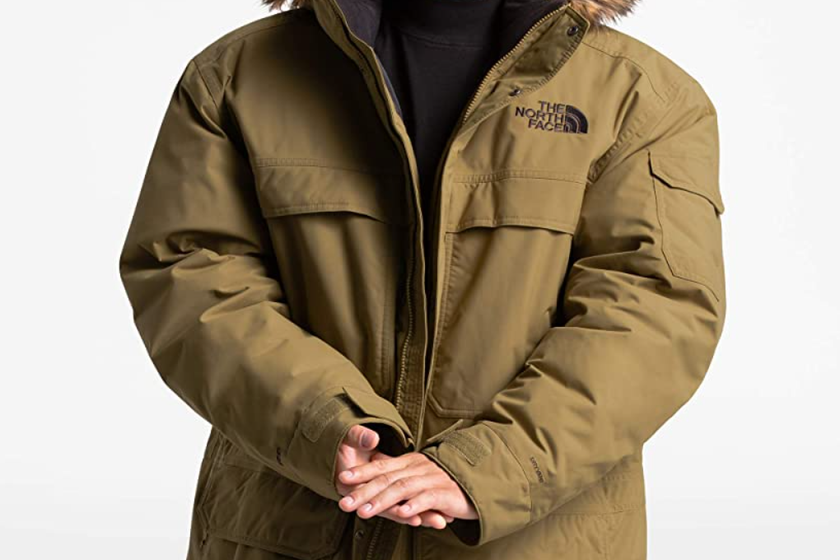 The North Face Men's McMurdo Parka III is a photographer's dream when it comes to cold-weather clothing. In the photographer vest reviews it often gets to the top of the list. It not only looks cool, but it's also incredibly practical.
The interior pocket is perfect for storing important items that need to stay safe and warm, while the large exterior pockets are great for carrying essential gear. Even though it may not be enough to carry multiple camera bodies or lenses, it's still great for one camera and its accessories.
The hand pockets are also a nice touch, as they keep your hands warm and comfortable while shooting in cold weather.
Overall, this one of the best photographers' jackets is a fantastic choice for everyone who is looking for a stylish and practical model.
Final Thoughts
After looking at a variety of interesting options, we can say the following: It is impossible to choose a universal model that is perfect for everyone. Much depends on your preferences and financial capabilities. You may even want to buy several jackets for different purposes. In any case, we hope that our camera vests reviews will help you make the right choice.
FAQ
Here we prepared answers to the most common questions.
Do Photographers Wear Vests?
Yes, many photographers wear vests as they offer practicality and convenience when carrying and accessing the equipment. Photo jackets typically have multiple pockets designed to hold different camera gear.
Why Do Photographers Wear Vests?
One of the main reasons is that vests provide additional storage space for camera equipment.
Additionally, photo vests can help distribute the weight more evenly across the body, reducing strain on the neck and shoulders.
And finally, the best photographers' vests can protect from the wind, rain, or sun, making them useful for outdoor photography in various weather conditions.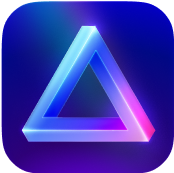 Advanced yet easy-to-use photo editor
view plans