Create stunning HDR photos with a powerful PSE 11 plugin: a tone mapping algorithm plus advanced photo enhancement features.
Photoshop Elements 11 is a fast and easy tool for arranging your photos and editing them. Launch PSE and choose one of three modes: Quick, Guided or Expert. Their names give you a hint of how complicated your workflow will be.
Make HDR photos with PSE 11
Elements 11 creates a kind of HDR photo with the help of its Photomerge Exposure tool. For more advanced results, use third-party plugins together with PSE.
A new image will appear in the PSE app window. You can edit it further, save it to your Mac or share it with others. Or, try using plugins for adding more one-click effects to your pictures.
Launch Photoshop Elements, open the photos, click on the Enhance drop-down and select Photomerge Exposure. Click Done and enjoy the result.
Make an HDR photo with the Aurora HDR plugin
Aurora HDR Pro is specialized software for creating and processing HDR photographs. It can be used as a standalone application, plugin for HDR photos in Photoshop CS5 or as a Filter tool in Photoshop Elements.
Download Aurora and install the plugin for Photoshop Elements 11:
Launch Photoshop Elements 11 and open the photo. Right-click on it, select Skylum Software and Aurora HDR Pro. Take two more actions: click Create HDR and Apply.
Photoshop Elements 11 Guide to Modes
Let's have a closer look at its three main editing modes. Right below the menu line you will see three modes: Quick / Guide / Expert. These modes are designed for users of different levels: beginners to experienced photographers.
1. Quick. The name speaks for itself. Here you can find basic and the most commonly used tools. So on the left panel, we see the following instruments:
Magnifier is to zoom the picture on your screen;
Hand - to move the image on the screen when the image is larger than the size of the working area;
Quick Selection is a very handy tool to extract the necessary part of the picture;
Red-eye correction;
Text goes for the labeling;
Spot the attending brush - for quick retouching small defects on the photo;
Crop Tool.
On the right side we can see the icons for adjustments. Which open up access to the following: photo fix, exposure controls, levels, color balance, temperature and tint, and sharpening. Move the cursor over one of the proposed options to immediately see how the photo will change after applying the setting. Click on the icon to adjust.
2. Guided (with tips). If you want to proceed further, it's highly recommended to check HDR tutorial section, since the second operating mode is for more experienced users. You can use a set of tools plus advice how to use them. It will greatly facilitate the work of amateurs with the program.
All correction tools in the right column are divided into sections. Each operation offers step by step instructions.
Touch Ups is the major instrument with tonality, color, framing, and sharpness.
Ready photo-effects are fast ways to get the required result.
3. The third editing mode is called Expert. There is only the left sidebar among the tools as in Quick mode plus additional controls for modifying colors and tone. This mode is for more experienced users.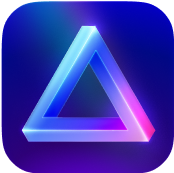 Advanced yet easy-to-use photo editor
view plans