If you're looking for new and unusual ideas for your photo shoots, use the reflection effect and see the world from a new perspective!
By studying the art of photography, we discover new and exciting techniques and learn how to use familiar tools from entirely new and unexpected angles. Thanks to this, images become unique, and imagination and creativity develop. The mirror is one of those tools for which interest never wanes. On the contrary, creative photographers are finding more and more ways to use different reflective surfaces such as windows, screens, or water. Most ideas using reflections are simple to implement but give excellent results. We have prepared some reflection mirror photography ideas for getting great photos. Let's get started.
Tips and tricks for reflection photography
Any photo that uses a reflective surface, regardless of the genre of photography, falls into this category. The process of using mirrors in photography is not too difficult, just try to be creative. Here are some tips for doing this kind of shooting:
Use water surface. Water is most often used to capture reflections. It's easy to find even when you're in a city. Fountains, puddles, and even a bathtub can help with your shots. Another mirror photography trick is to take a bottle of water with you and create a reflective surface exactly where you need it.

Use mirrors and mirror surfaces. Mirrors are great for both studio and home use because they're inexpensive, come in a variety of shapes and sizes, and offer many ways to enhance your portraits.

Try to use as much light as possible when shooting mirror portraits, as this will allow you to shoot at the lowest

ISO

to minimize noise, and use a short shutter speed to prevent camera shake.

Position the mirrors at the right angle to keep your reflection or the reflection of a light source out of the frame (unless that was the intent of the shot).

Supervise your subject. When working with people, it's important to communicate with them during the shooting process. Explain what you have in mind, so they can easily follow your instructions. Creativity is especially important in this kind of photography, listen to people, and they are likely to come up with interesting ideas to try.

Don't be afraid to experiment with different ideas. Reflection mirror photography doesn't usually follow a set format, it's all about testing things out, so be prepared to try out different angles and mirror positions before you get something good. Once you find the right angle, keep shooting until you're sure you've got the best shot.
12 Creative Mirror Photography Ideas
Using the possibilities of reflections, you can create original images in a variety of genres. A mirror is a great tool that can be used for the most daring experiments. Here are 12 interesting ideas for mirror image photography.
1. Multiple reflections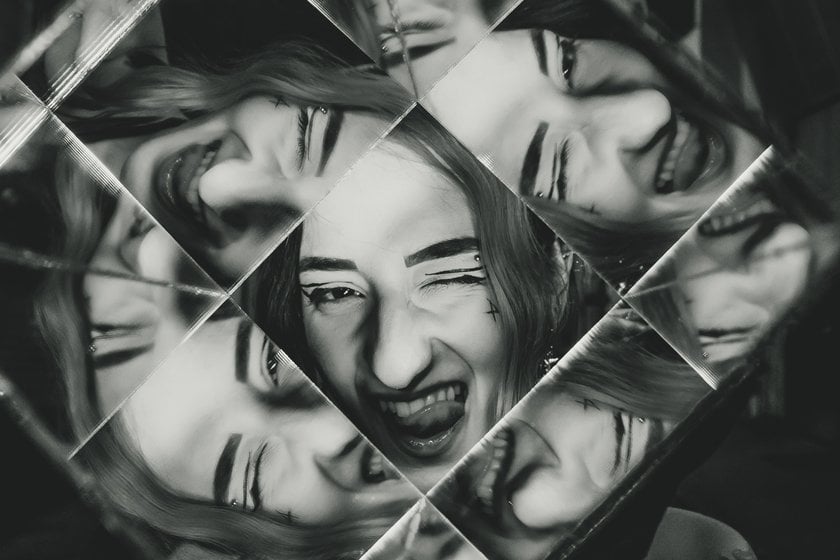 An intriguing mirror photo idea for shooting to create photos with a "cloning" effect. The technique allows you to show the model from different sides. Mirror portrait photography with multiple reflections helps to catch the viewer's attention. It is important to correctly set the mirror and choose the angle to get a stunning picture. Sometimes you need to take a series of photos at once to capture multiple reflections.
2. Use the car mirror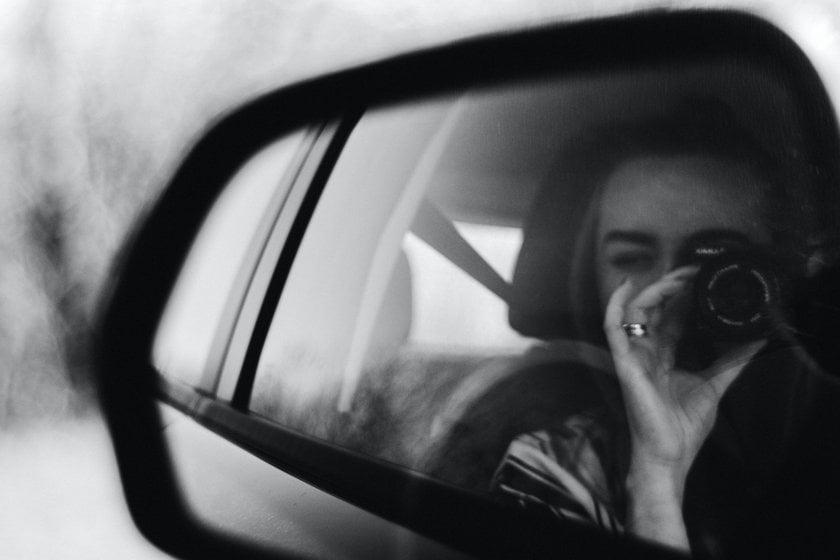 The favorite mirror pictures ideas of travel photographers. The idea of the photo allows you to fill the frame with the atmosphere of travel and the spirit of adventure. When taking a photo, you need to focus on the car mirror and defocus everything around it. This will allow you to capture character and emotion without losing the entourage of the photo. Do not forget to follow safety procedures during the photo shoot on the road.
3. Nature photography with a mirror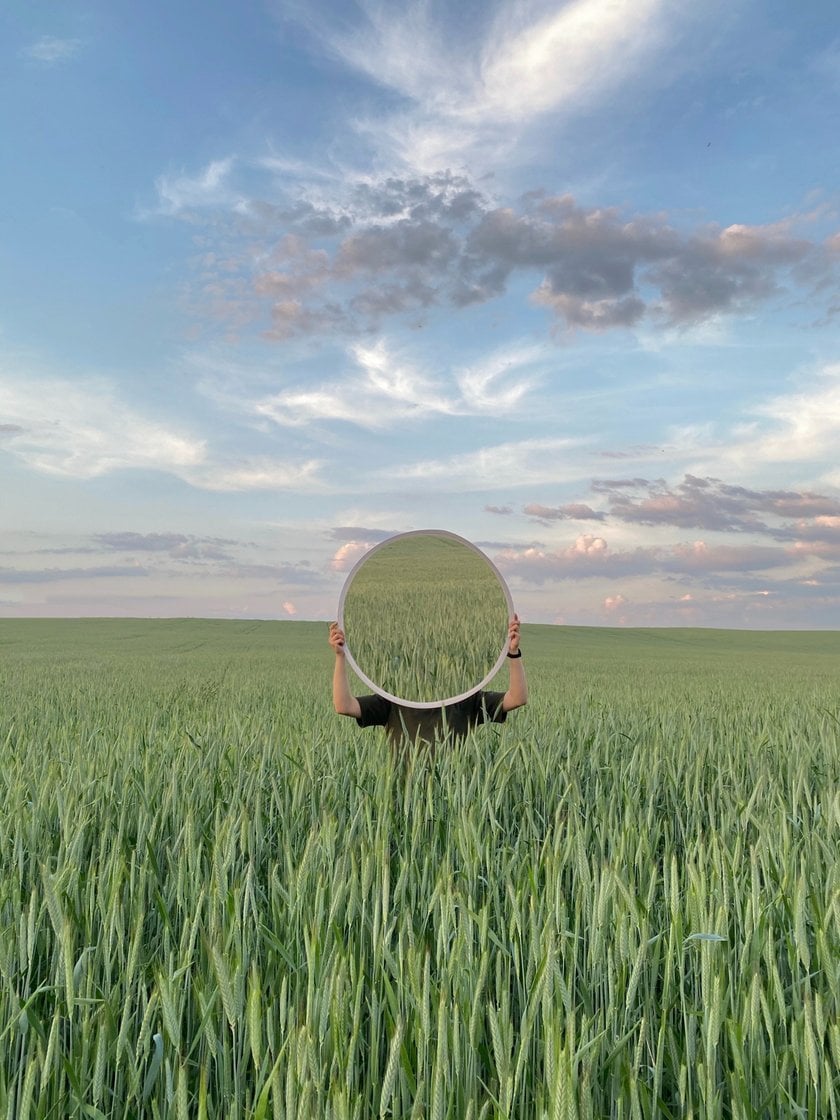 The idea of using a mirror outside has become a classic and is popular with girls seeking to recreate the atmosphere of mystery, secrecy, and magic in a photo. A large mirror in a vintage frame is used for the photo shoot. It is unfolded "facing" the photographer, thus creating a surreal effect. When taking a photo it is important to find the right angle, so that the reflection does not show unwanted details. This kind of mirror photoshoot can take place in a field, in the woods, on the bank of a river, in a lake, etc.
4. Surrealism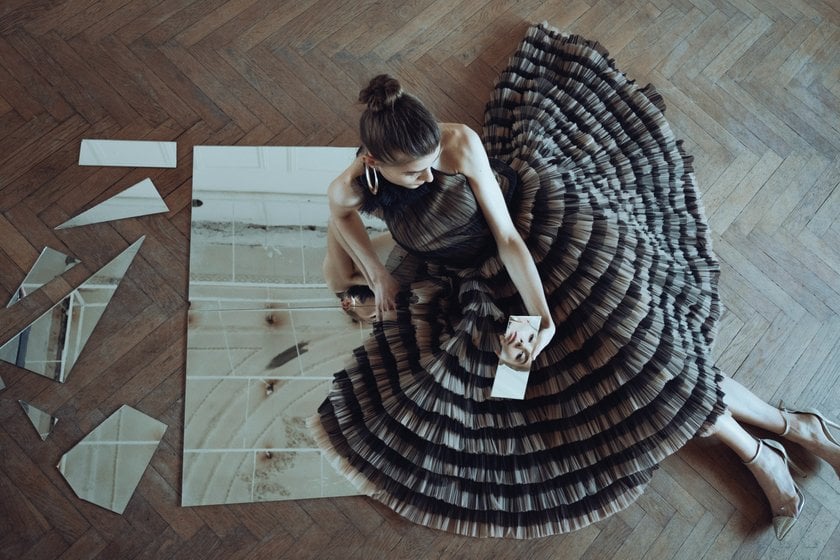 A mirror is a mystical attribute that is believed to be a corridor to other worlds and is used in various rituals. For photographers, it is primarily a creative tool for creating cool mirror pictures. For example, with the help of splinters. By breaking a mirror, you can use its shards to reflect and refract light in certain areas of the picture. Often these are abstract images that attract attention with their aesthetics, harmony of color, or shape. A mosaic effect on a photo is also easily made with a broken mirror.
5. Vintage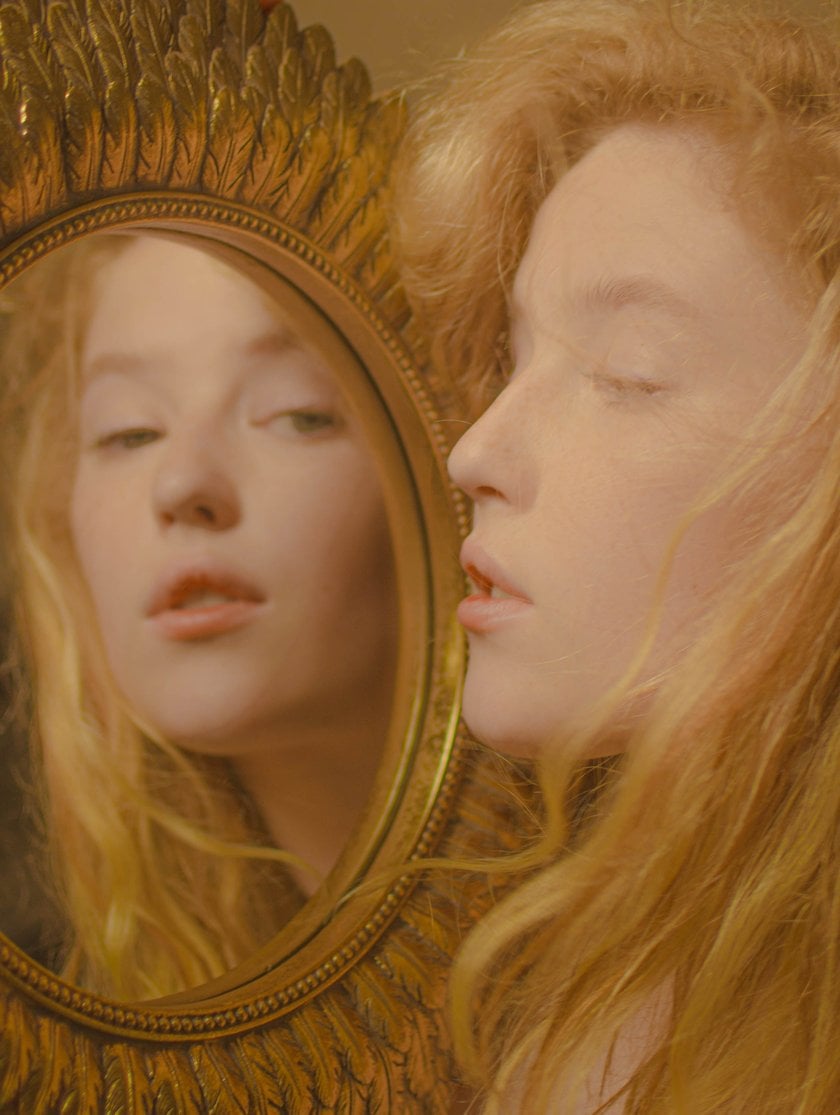 Creative mirror photography in vintage style does not lose its popularity and can be used not only for mystical photography. Such photos open up the composition of the frame and the coloring from a new side. Photographers give preference to massive table mirrors with a relief frame. You can complement this type of mirror image photography with classy jewelry, flowers, and books. Do not forget about a unified color scheme. Some prefer a concept built on contrasts.
6. Product Photography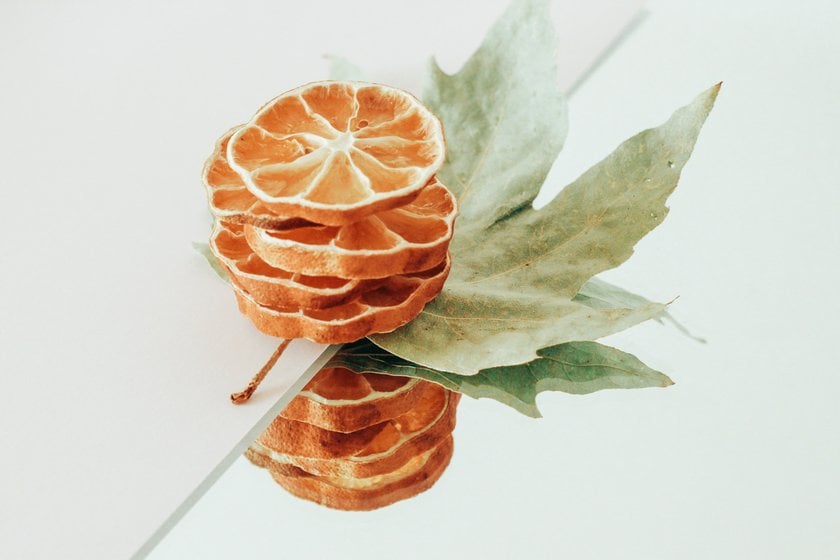 When taking pictures of products it is important to focus on the small details. When creating photography with mirrors, it's easy to miss something that can ruin the shot. Some items do not "fit" into the concept, and others do not harmonize with each other. Quite often you can find vintage photos, the atmosphere of which transports us, for example, to the era of the 50s. However, the presence of a cell phone in the photo irrevocably spoils the picture. Therefore, professional photographers recommend that during a photo shoot with a mirror, you should be serious about the composition of the frame.
7. Making the space bigger
When doing a mirror photo shoot indoors, you can "play with space" by taking a photo with a mirror placed on the side. This includes taking a photo in an elevator or bedroom. Don't be afraid to crop the frame, so you visually expand the boundaries and create the illusion of a wide space. You can also use large mirrors to move away from the model and leave more room for posing.
8. Mirror Labyrinth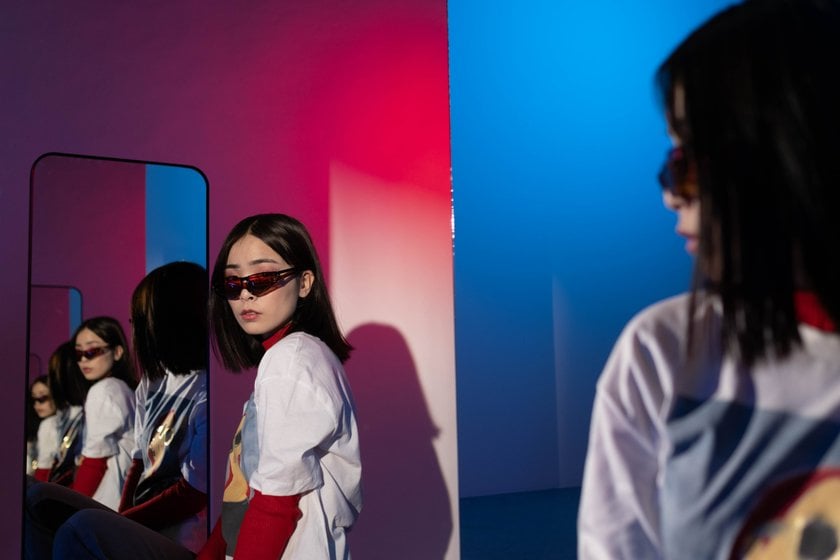 This mirror photoshoot idea will allow you to get non-standard surrealistic photos, the fascinating game of forms and shadows. The photographer's main tasks are to set the lighting correctly and choose the right angles so that the model looks aesthetically appealing in all reflections. It is also recommended to make sure that there are no prints and stains on the mirrors. These defects will be difficult to remove in post-production.
9. Taking pictures at night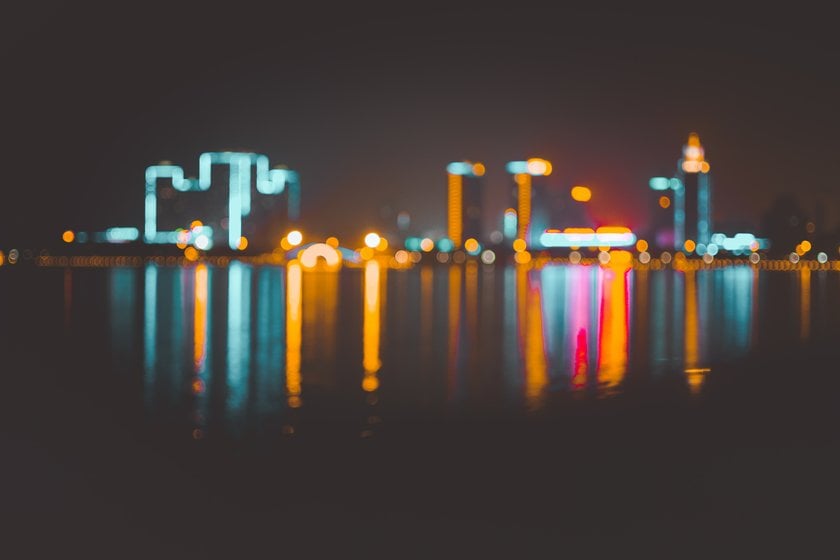 Try photographing in the dark to get a mesmerizing effect of the nighttime city reflections. You'll need to use a tripod for this shot. Taking pictures at night means using a slow shutter speed and camera shake can ruin your shots. When it comes to settings, try taking pictures in manual mode. Keep ISO as low as possible, slow down the shutter speed and open the aperture. Also, use different ideas for your photo shoot, catch reflections in water, puddles, fountains, and windows to get the perfect frame.
10. Abstract portraits in a small mirror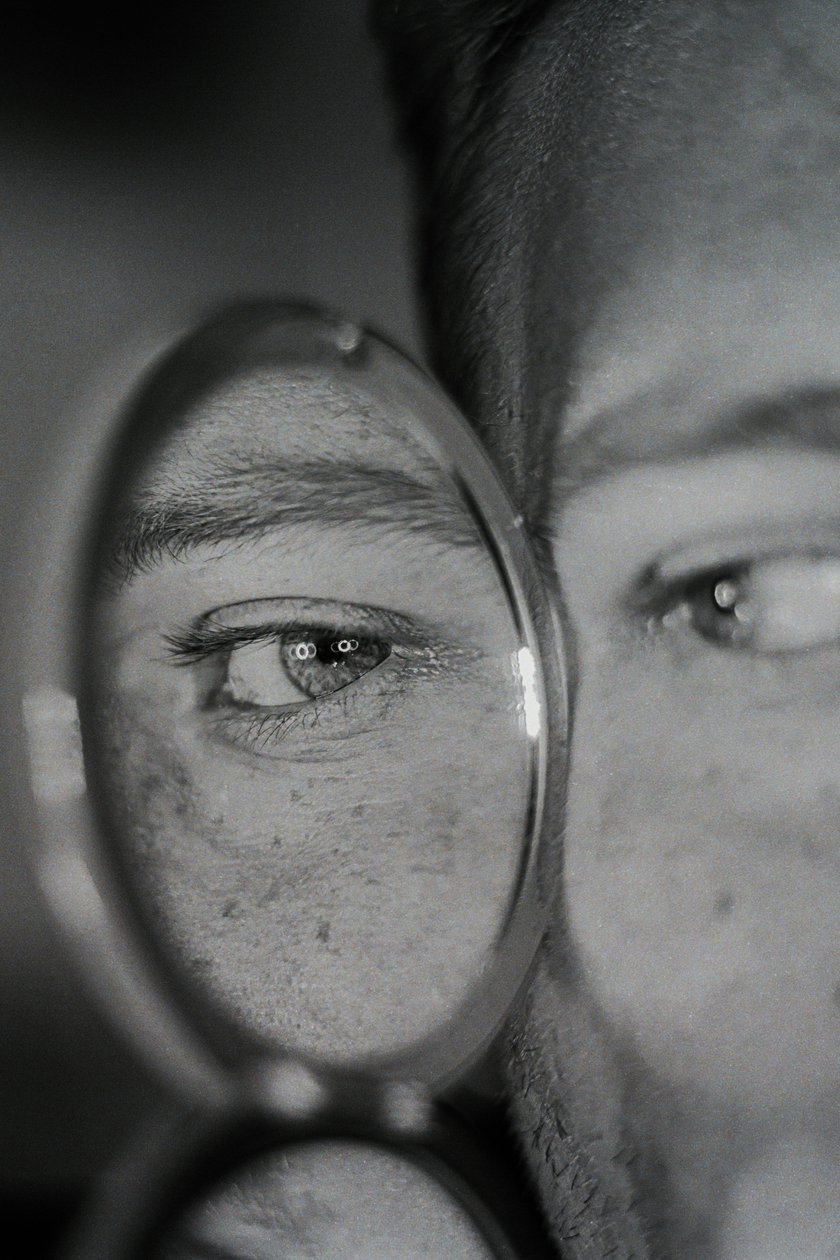 Another idea for creative mirror reflection photography is to use a small mirror. You can create unusual and eye-catching portraits with them. A prism will also work for this, making for an interesting distortion effect. It is important to focus carefully to achieve the desired effect. Photograph the entire face or highlight one particular part, such as the eyes or lips.
11. Self-portrait in the mirror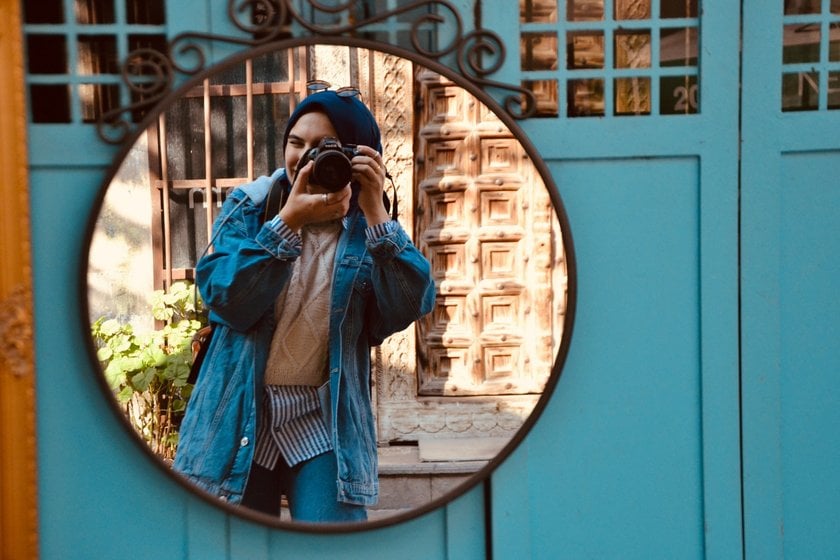 Learning how to do self-pictures in mirrors beautifully is the most difficult because it is impossible to set the right angle and give the right expression to your face at once when taking such photos. Simple selfies are no longer interesting. However, taking pictures of yourself is a popular trend, so you can try to learn how to take good self-portraits.
For the perfect portrait mirror photography you need to:
Wipe the mirror and get rid of streaks;

Provide maximum natural light (preferably shoot in the daytime);

Choose the right angle by looking at the DSLR camera display;

Look into the camera lens, not at yourself in the mirror;

Change your position and facial expression: the more different pictures you take, the more likely you are to take at least one good photo.
12. Mirror photoshoot ideas at home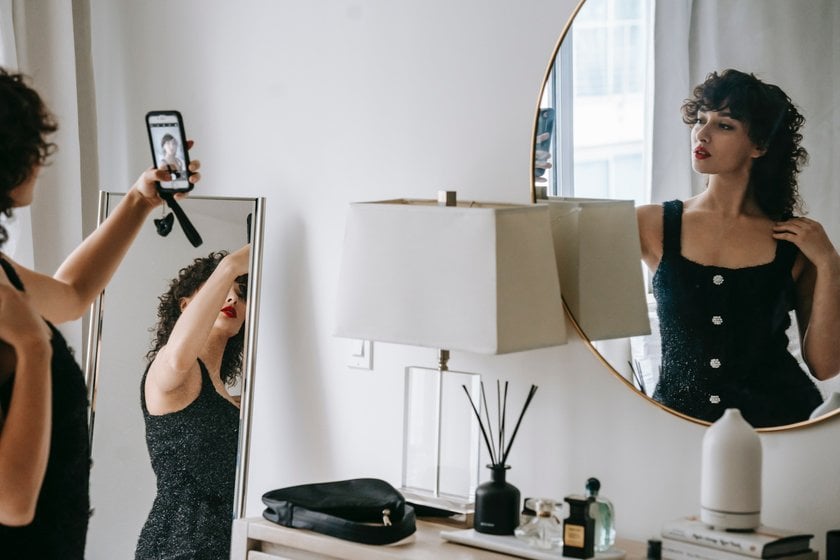 You don't necessarily need to go to the photo studio to take pictures. There are a lot of ways to make creative photos at home. Use your imagination and think about what you want to show in your images. Take a small table mirror to make an object photo on a countertop. Or create a playful mood by posing with your relatives in a family look. Another interesting mirror photography idea at home is to capture the photo of the model and the photographer with the camera at the same time. Also, use interesting interior details. The main thing is not to limit yourself, look for the most favorable angles to make that perfect shot.
Photo Editing in Luminar Neo
Post-processing is an indispensable step for getting the best results. Luminar Neo will help to make your pictures perfect. This AI-powered photo editor has all the necessary tools for professional retouching. Thanks to the simple and user-friendly interface of the program, it is easy to understand not only a skilled photographer but also a beginner. Remove unnecessary details, improve the exposure, and even create your unique style and apply it to each photo - your possibilities are unlimited! If you need help figuring out where to start, AI will suggest the best templates to suit each image. It is available for Windows & macOS.
Conclusion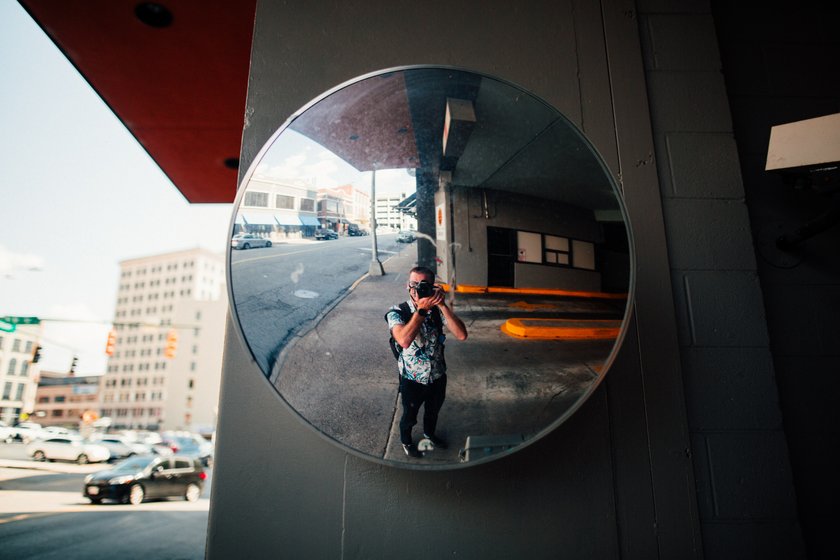 Reflections allow you to take unique and impressive photos. You can use a reflective surface to make a predictable shot more interesting, photograph a stunning living landscape, or experiment with angles and lighting to create stunning abstract art shots. Mirrored photography is an endless space for the imagination. The joy is in the variety of potential pictures; now it's your turn to go and get creative photos!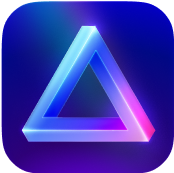 Advanced yet easy-to-use photo editor
view plans