If you are looking for a portable display that you can take anywhere, this guide will help you decide on the best option.
In today's fast-paced world, where work and entertainment often require flexibility and mobility, having the right tools to be more productive on the go is essential. One such device that has proven its effectiveness is a lightweight monitor that can be easily carried around. It has revolutionized the way we work, allowing us to create a more efficient workspace wherever we go.

The market for portable laptop monitors has continued to evolve, offering a wide range of models to suit various needs. Whether you're a student, a creative professional, or simply someone who desires a multi-screen setup on the move, there is undoubtedly a perfect option for you.
In this comprehensive guide, we'll take a look at the best models available in 2023, carefully selected for their performance, capabilities, design, and overall cost-benefit ratio. We'll talk about their specifications, connectivity, image quality, and additional features that set them apart from the competitors. If you're looking for a model with a stunning 4K resolution, an ultra-fast refresh rate, or exceptional color accuracy, we will help you.
Don't forget that one monitor is not enough to make real photographic masterpieces. You definitely need a handy post-processing app. We recommend you try Luminar Neo. Its number of features will impress even the most experienced users, and AI tools will reduce the time spent on routine actions.
Take Your Work Anywhere: Best Travel Laptop Monitors
Even if you have the best laptop for photo editing or for some other purposes, a travel monitor also can be useful. However, given the number of models on the market, it is not so easy to decide on the right one. Consider our monitor review so that you can choose the best option.
1. Asus ZenScreen MB16AC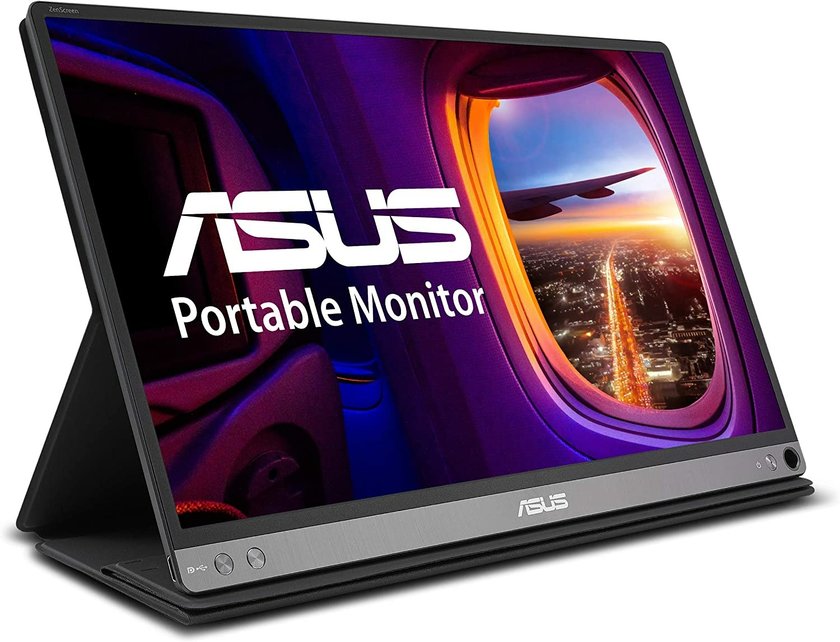 This portable screen for a laptop is the best choice for travelers looking for a high-quality, versatile display. This 15.6-inch model features a slim and lightweight design that makes it easy to fit into a laptop case or backpack. Full HD resolution provides crisp and vivid images, and the IPS panel guarantees wide viewing angles and accurate colors. ZenScreen MB16AC features a hybrid USB Type-C connector that delivers power, eliminating the need for extra cables. It also includes a smart cover that can be used as a stand, providing flexible positioning options. Its sleek design, impressive display quality, and user-friendly features make it a fantastic companion for productive work and entertainment on the go.
2. ViewSonic ColorPro VP16-OLED Portable Monitor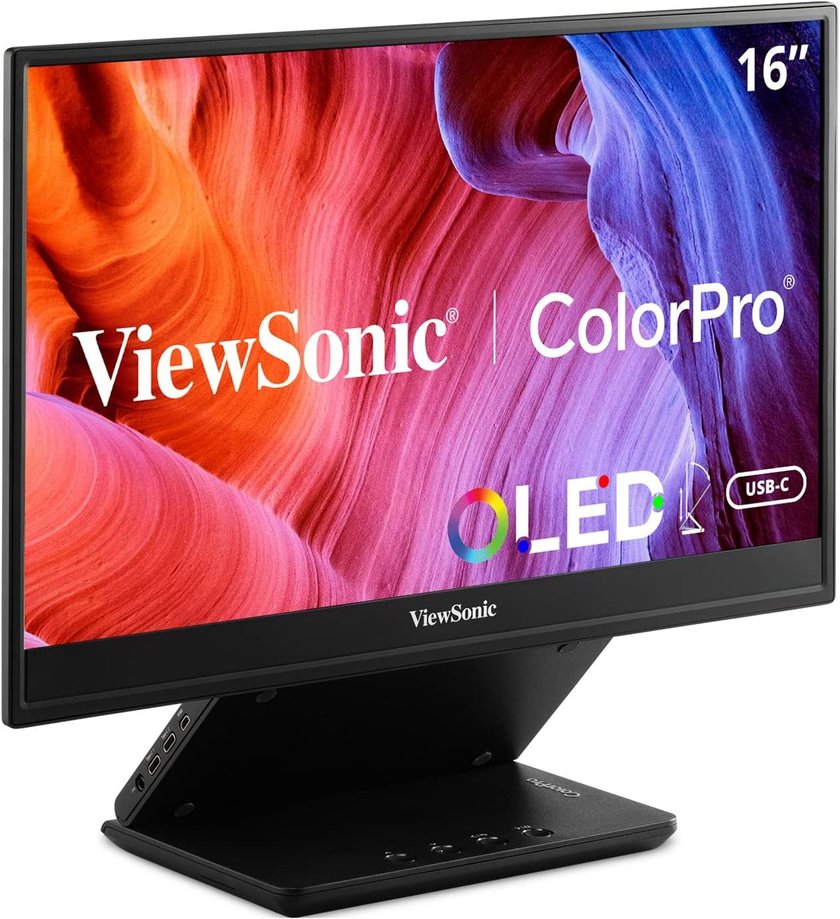 This portable extra monitor is a remarkable choice for travelers who prioritize color accuracy and image quality. With its OLED panel, it delivers stunning visuals with deep blacks, vibrant colors, and excellent contrast.
The model supports a 4K UHD resolution, ensuring sharp and detailed images for professional tasks like photo editing and graphic design. The monitor is equipped with multiple connectivity options, including USB-C, HDMI, and mini DisplayPort, allowing easy compatibility with various devices. It also features a built-in kickstand that provides multiple viewing angles. Designed for professional creatives and color-critical tasks, this portable monitor for a laptop is a premium choice that combines exceptional image quality and color accuracy, making it an excellent investment for travelers seeking top-notch performance on the road.
3. Intehill 17.3 Portable 4K Monitor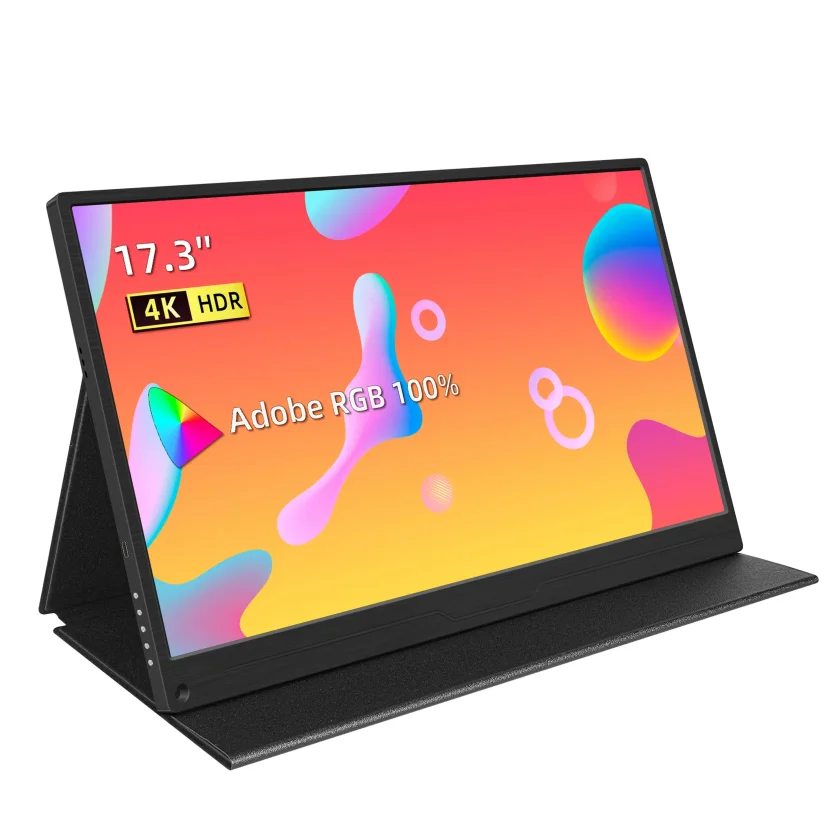 This is a fantastic option for travelers who want a larger display and impeccable resolution. With its expansive 17.3-inch screen size, this portable monitor delivers stunning visuals with incredible detail and clarity. Whether you're working on intricate design projects, using online photo editors, or watching movies, this device ensures a captivating visual experience. Despite its larger size, it remains slim and lightweight, making it easy to carry in your travel bag. This portable monitor for laptops offers multiple connectivity options, including HDMI and USB-C ports, allowing you to connect it to a variety of devices. Additionally, it features built-in stereo speakers, eliminating the need for external audio equipment. With its versatility, this option is an excellent choice for travelers seeking a portable solution without compromising on visual quality.
4. InnoCN PU15-PRE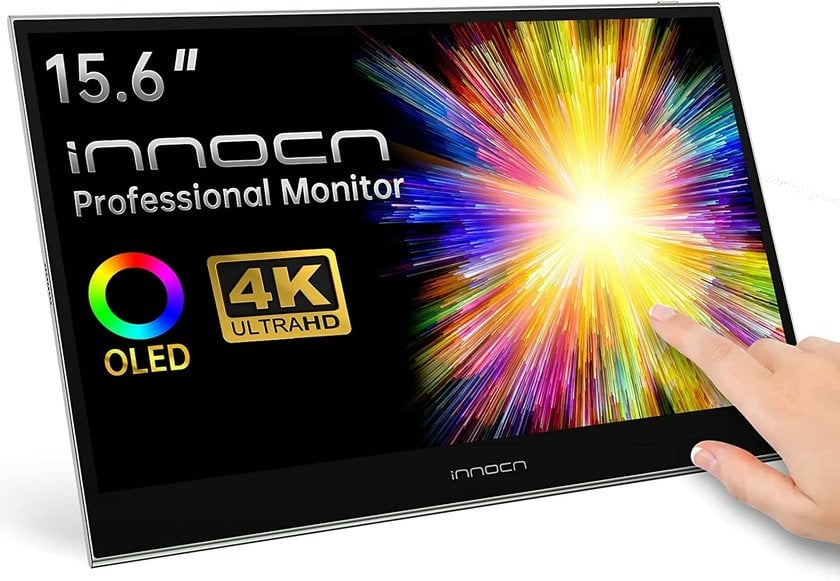 This is a high-end model designed specifically for professionals and traveling creatives. With its 4K OLED touchscreen display, users can enjoy magnetic, true-to-life colors, low latency, and an impressive contrast ratio, including deep blacks, even while on the move. The model's integrated battery is not only capable of powering itself but also smartphones and tablets.
While the InnoCN PU15-PRE may come at a premium compared to other portable monitors, its 15.6-inch panel, sleek aluminum frame, and three-year warranty make it a worthwhile investment.
5. AOC I1601P 15.6-inch Portable Monitor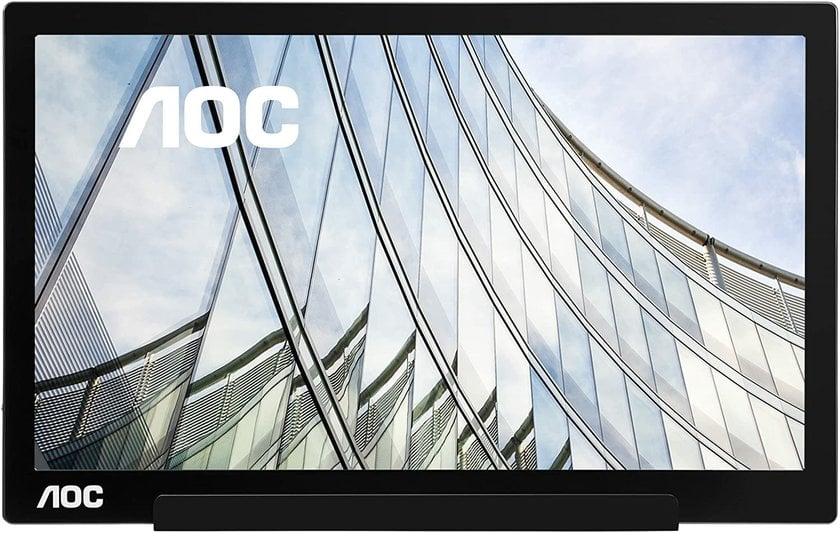 This one of the best mobile monitors offers a compact and lightweight design, making it convenient for traveling or working remotely. It is designed for users who require a secondary display on the go.
The monitor features a 1080p resolution, providing sharp and clear visuals for productivity tasks, working with top photo editing software, multimedia consumption, or casual gaming. It utilizes an IPS panel, offering wide viewing angles and accurate color reproduction, ensuring a satisfying visual experience. Connectivity options include USB-C and HDMI ports, allowing for easy compatibility with a wide range of devices such as desktop computers, laptops, tablets, and smartphones.
Additionally, this model comes with a foldable smart cover that serves as a protective case when not in use and a stand for different viewing angles. This feature enhances portability and convenience while ensuring the monitor is well-protected during transportation.
Understanding the Benefits of Using a Laptop Portable Monitor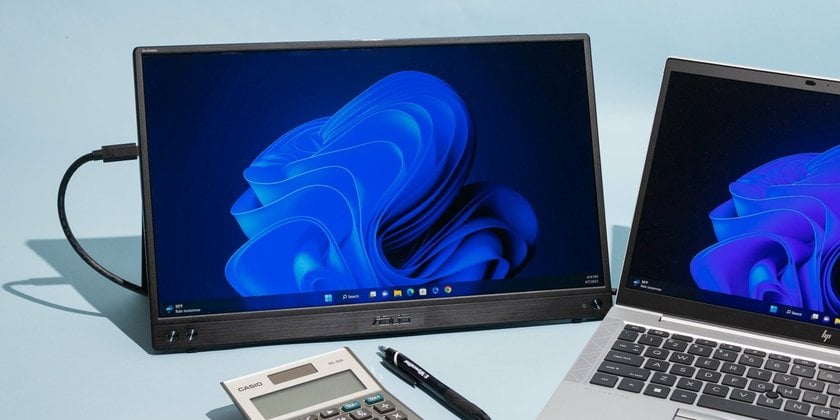 Using a portable monitor with a laptop provides a number of benefits that increase productivity and overall computer performance. Among the main ones, let's highlight the following:
It provides additional screen space, allowing you to work efficiently on multiple tasks with several windows or applications open at the same time.

You can set up a dual-screen workstation anywhere, whether you're in a coffee shop, co-working space, or on a business trip.

When working with your team, a portable monitor allows you to share your screen easily, enhancing collaboration during meetings, presentations, or group projects.

Artists, designers, and content creators can benefit from a portable monitor's extended workspace, allowing them to have reference material displayed alongside their work.

With a portable monitor, you can adjust your setup to reduce eye strain and neck discomfort by positioning the screens at optimal heights and angles.

Portable monitors usually require minimal setup and are plug-and-play devices, making them user-friendly and convenient to use.
The ability to extend your desktop monitor with a portable display offers convenience, productivity, and versatility, making it a valuable accessory for professionals and casual users alike. It will be especially helpful for photographers who often use picture processing software. If you are looking for the best AI image editor, Luminar Neo is the right choice for everyone. Thanks to its many easy-to-use but powerful tools, this app is a top option for professionals and beginners alike. Use it on your Windows PC or on the best MacBooks for photo editing to get stunning results.
Key Features and Specifications of the Best Portable Monitors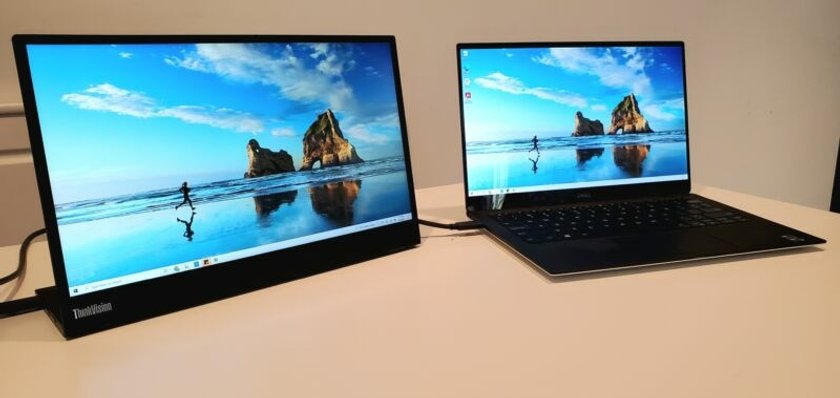 When you make a choice, it's essential to look at their key features and specifications. Here are some important factors to consider:
Display size and resolution. Portable monitors come in a variety of sizes, usually from 13 to 17 inches. Choose one that fits your portability needs. Also, look at the resolution to get a crisp, clear picture. You can choose Full HD (1920 x 1080 pixels) or a higher resolution such as 4K.

Look for portable monitors that offer multiple connectivity options to ensure compatibility with your devices. Common ones include mini-HDMI, USB-C, and DisplayPort. Check that the monitor supports the necessary ports and cables for seamless connectivity.

Some portable monitors feature touchscreen functionality, allowing you to interact with your content directly on the screen. This feature can be especially useful for drawing, designing, working with

photo editors

, or navigating touch-based applications.

If you plan to use the portable monitor for gaming or multimedia purposes, consider the refresh rate and response time. A higher refresh rate (such as 60Hz, 120Hz, or 144Hz) ensures smoother motion, while a lower response time reduces ghosting and motion blur.

Look for a travel monitor for a laptop that offers an adjustable stand, allowing you to set it up at various angles for comfortable viewing. Some monitors also support portrait mode, which is useful for reading documents or coding.

Check how the portable screen is powered. Some models draw power from the laptop or device they are connected to, while others have their own source. Consider the battery life, as it allows for more flexibility.

Choose portable monitors with sturdy construction to withstand travel and everyday use. Durable materials and protective features, such as scratch-resistant screens or reinforced edges, can ensure longevity.

Some of the best external monitors for laptops may come with extra features like built-in speakers, headphone jacks, USB ports for charging other devices, or even integrated webcam functionality. Assess these additional features based on your specific needs.
When choosing a portable screen, it is important to pay attention to the sphere of its usage. If you work with images and prefer Apple devices, we recommend the Luminar Neo app. It is one of the best Photoshop alternatives for Mac with unique AI tools for professional image retouching.
By considering these key features and specifications, you can find the best option that meets all your requirements.
How to Set Up and Connect a Portable Screen to Your Laptop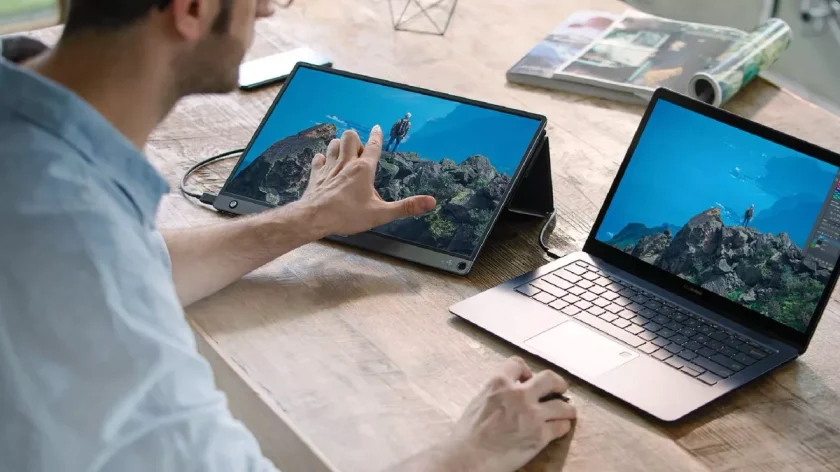 Setting up and connecting a portable second monitor to your laptop is a straightforward process. Here's a step-by-step guide to help you.
Check the Connectivity Options
Ensure that your laptop and portable monitor have compatible ports for connection. Common options include HDMI, USB-C, or DisplayPort. If needed, acquire the necessary cables or adapters.
Power Off Both Devices
Before connecting any cables, power off your laptop and portable monitor to prevent any potential damage.
Connect the Cable
Take the appropriate cable (HDMI, USB-C, or DisplayPort) and connect one end to the port on your laptop, and the other end to the corresponding port on the travel screen.
Power on the Devices
Once the cable is securely connected, power on your laptop and then the portable monitor. The last one should detect the connection automatically.
Adjust Display Settings
Depending on your laptop's operating system, you may need to adjust the display settings to ensure the portable monitor is recognized and set up correctly. Here's how to do it on popular operating systems:
Windows – Right-click on the desktop and select "Display settings." From there, you can identify and arrange the displays according to your preference. Adjust resolution, brightness, orientation, and other settings if necessary.

macOS – Open "System Preferences" and go to "Displays." You can then arrange and configure the displays as per your requirements.

Linux – Display settings may vary depending on the Linux distribution and desktop environment you are using. Look for display or monitor settings in your system settings or control panel.
This step is not necessary, it is possible that the automatic settings will work for you. If not, use our tips.
Test the Connection
Ensure that the portable monitor is functioning correctly by dragging a window or moving your mouse cursor to the extended display area. If everything is set up correctly, you should see the content displayed on the screen.
That's it! You have successfully set up and connected your portable monitor to the laptop. Now you can enjoy the expanded screen area and increased productivity.
Expert Tips for Maintaining and Caring for Portable Monitors for Laptops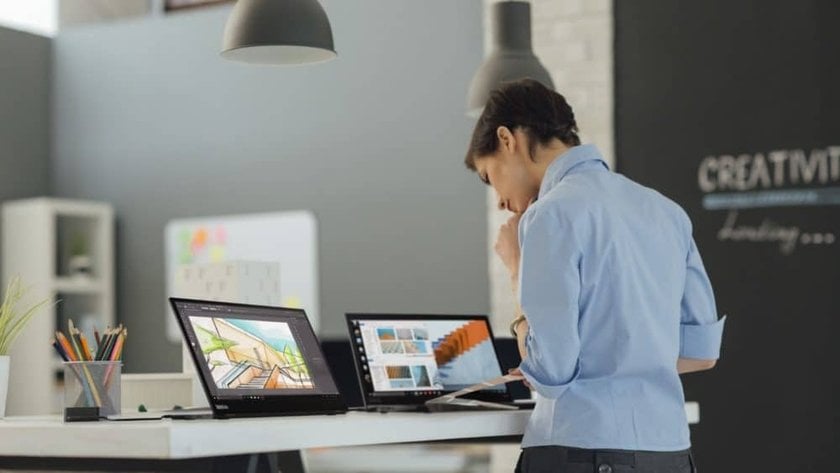 Maintaining and caring for your monitor can help extend its longevity and ensure optimal performance. Here are some tips to keep in mind:
Clean the screen properly. Use a microfiber cloth or a screen cleaning solution specifically designed for electronics. Do not use harsh chemicals or abrasive materials that could damage the monitor's surface.

Protect the screen during transport. When carrying the portable monitor, use a case to protect it from scratches, dust, and accidental bumps. Make sure the case provides adequate cushioning and secures the monitor firmly in place.

When disconnecting the portable monitor from your laptop, do it safely and gently. Avoid pulling on the cables or applying excessive force that can damage the ports or connectors.

Portable monitors, like any electronic device, are sensitive to temperature changes. Store and use the screen within the recommended temperature range specified by the manufacturer.

Treat your portable monitor with care to prevent accidental drops or impacts. Avoid placing heavy objects on top of it and be mindful of any pressure applied to the screen.

Use proper power supply. If your portable laptop screen requires an external power source, ensure that you use a compatible one recommended by the manufacturer. Using an incorrect power supply can cause damage to the monitor.

Regularly check for firmware or driver updates. They can improve performance, fix bugs, and enhance compatibility with different devices.

When not in use, store your portable monitor in a dry and dust-free place. Avoid exposing it to excessive humidity or direct sunlight, which can cause discoloration or damage to the screen.

To prevent image retention or burn-in, avoid displaying static pictures or leaving the same content on the screen for extended periods. Periodically change the content or use screen savers to minimize the risk.

Always refer to the manufacturer's guidelines and instructions for specific maintenance and care recommendations. They may provide model-specific advice to ensure the longevity and performance of your portable laptop monitor.
By following these tips, you can maintain and care for your mobile monitor for a laptop effectively, ensuring its durability and optimal performance over time.
FAQ
Why Would I Need a Portable Monitor for My Laptop?
A portable monitor for your laptop provides additional screen space, allowing you to multitask more efficiently, work with complex software, and enhance productivity. It is particularly beneficial for professionals, content creators, and gamers who require a larger display and improved collaboration.
How Do I Connect a Portable Monitor to My Laptop?
To connect a portable monitor to your laptop, use a compatible cable, such as HDMI, USB-C, or DisplayPort. Power on both devices and the screen should be automatically detected and ready for use. Adjust display settings if necessary to optimize the extended setup.
Are Portable Monitors Compatible With All Laptops?
The best attachable monitors for laptops are compatible with most laptops that have compatible video output ports. However, it's important to check the connectivity options and requirements of both your devices to ensure compatibility before making a purchase.
Do Portable Monitors Require External Power?
It depends on the specific model. Some portable monitors draw power directly from the laptop or device they are connected to, while others may require external power delivery through a separate adapter or USB connection.
What Features Should I Consider When Choosing a Portable Monitor?
Consider such features as display size and resolution, connectivity, portability, adjustable stand, touchscreen, refresh rate, and response time. Also take into account additional capabilities such as built-in speakers or USB ports, and brand reputation.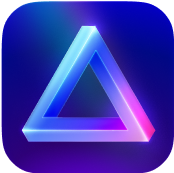 Advanced yet easy-to-use photo editor
view plans