Read this material to learn how to pose for pictures while sitting down. We will offer some valuable tips that will be helpful for models and photographers alike.
Let's talk a little bit about photographers. Even if you're just starting in this field, you may have noticed that the same model can be displayed differently. You've probably seen one photographer get good shots and another not so much. And that's with the same lighting and even with the same model! It turns out that a big part of the success depends on the model's pose. It's time to talk about the most successful poses, which are done in the sitting poses.
The basics of a great photoshoot
Every person has advantages and disadvantages in appearance; this truth is known to everyone. But, leafing through fashionable glossy magazines, sometimes you can't help but wonder if this is true. To begin with, let's highlight a few basic components that underlie the creation of a successful photograph:
First, the key to a good picture is the high level of skill and professionalism of the photographer.

Secondly, the ability of the model to pose and the knowledge of some of the secrets and subtleties of this business.
These nuances will be discussed below. To master the art of posing, and not make mistakes when choosing sitting poses for photoshoots, you do not need to finish special classes and take lessons in skills, unless, of course, you plan to do it at a professional level. We just need to stand in front of the mirror and get a good look at ourselves to begin with. If you get into the hands of an experienced master of photography, in principle, he will always tell you how to behave in front of the camera, what pose to take, where to look, and how to turn your head.
What is the right way to pose while sitting?
Normally, sitting positions have advantages and disadvantages. They suit some people more, and some people less. Some guys or girls, for example, don't like them at all because of their non-photogenic legs.
However, many photographers like to use sitting poses for models who have large calf muscles. Sitting photo poses relaxes them and significantly reduces their volume. There is nothing complicated about doing a sitting pose. Just consider our options, read our tips, and repeat. Everything will work out, you've got the opportunity to experiment and use your full creative potential.
1. Facing the camera
A great option if you're looking for something classic. The model may crouch looking at the camera. Knees should be high and pressed against the body. This will give a frame from below. Hands should be folded in a casual style, and fingers can touch the face. This is a fairly basic and versatile option, which is also very easy to repeat. Be sure to try chair poses photography, before moving on to other variants.
2. Facing the camera in a chair
This is the same pose as in the previous paragraph, but it is performed on a chair, which helps to fold the legs and arms even more and get very sharp angles in the limbs. It's one of the good solutions to set some great accents in sit pose. The model can relax while leaning back on the chair.
3. Facing the camera with a chair and table
A table can also be added to the seated mix with a chair if you experiment with sitting poses for photos. Then it makes more sense for the model not to sit on the chair, but to place the model half-lying, forming a classic diagonal, which is the golden ratio in sitting poses photography.
4. Hiding half of your face
If the model has props or just articles of clothing, you can ask her or him to cover one side of the face. It looks quite effective in combination with the pose sitting. This is one of the cute sitting poses for pictures.
5. With profile rotation
Very good look photos where the model is sitting in profile, but her torso is turned towards the camera lens. The head angle does not have to be in profile either, the head can be shot in the full face as well. Such sitting poses for photography always look great.
6. Leaning down
If the model is wearing beautiful clothes and you don't want to hide them in the picture, but you want to take the picture sitting down, ask her to sit down and lean forward. Photographers often use such couch photoshoot ideas if the photo shoot is held at home.
7. In a fetal position
Ask your model to sit sideways, with her back fully straightened and her legs and arms as close to her as possible, like an embryo. Such a knee pose looks quite spectacular in the background. To enhance the visual impact you can additionally model should put a head on the knees.
8. On the armrest
If you have an armchair or chair with an armrest, ask the model to sit on the armrest sideways to you. This also can be played as one of the cute sitting poses.
9. At an angle
Tell the model to sit at a 45-degree angle from you, but her feet should be visible in the frame. The model should then look back over her/his shoulder, holding her hair with her hand.
10. Pretzel pose
Many people now think of yoga, but it's not a bad idea for a photo shoot either in the studio or outdoors. If you don't know how to properly cross your legs for this posing variant, you can be inspired by the works on the Internet. If you are a model reading this article, be sure to consult with your photographer and suggest that he try this option. Be sure that you sitting comfortably.
11. Simple and graceful
Ask your model to assume a comfortable sitting position with her knees together. One hand rests loosely on her or his knees and the other is placed near the neck. And don't forget to remind her to keep her/his back straight. If you are a model and the photographer did not offer you a similar pose, then try doing it yourself. The main thing is to do everything simply and casually.
12. Hands placed between the legs
It is one of the options for model sitting poses with two hands placed between the legs. Notice that the arms are slightly bent at the elbows, not completely straight. It is also best when the feet are on tiptoe or the model is sitting in high-heeled shoes, this is needed to raise the knees a little. The same version can be photographed from the side. A slight modification with the place will allow you to get a new shot and extend the range of creativity. It also makes a great close-up portrait if the model's gaze is down, away from the camera.
13. Leg over leg
Another very simple sitting photography pose. But you have to be careful: if your model isn't perfect in terms of body shape, it's better to take bigger shots and exclude the legs from the composition. You can take a shot from a different angle. For example, when the model just turned her head to the camera, without changing her pose. This change is a very good variation of this position.
14. On the floor
An easy-to-reproduce option when the model sits on the floor. You can use it for sitting on-ground poses. According to most professional photographers, it's much better without shoes. The pose is quite natural and easy to reproduce, with the model looking relaxed. After reproducing the basic option, you can experiment with different hand positions.
For example, when the model lifted her clasped hands and put them on her knee. Try two more small changes from the original pose. The hand was raised to the hair, and the body was slightly bent with a slight lowering of the knee. The result is another friendly and natural stance. Sitting on the ground poses are a great idea too. If you are doing a photo shoot outdoors, you can use grass or lawn as a surface.
15. Portrait shooting on the floor
Even though only the face appears in the frame, this pose is easier to repeat while seated. Work on the concept of a portrait with your hands in front of your face and different head tilts. Try two options for floor poses photography: front hand up and resting on the knee, and both hands up and resting on the knees. This modification is good for close-ups.
To get a natural shot, ask the model to do different hand positions. For example, when the model has her hand in her hair you can take several shots and then choose the best one in terms of hand position. So with just one pose with a few variations, you can get many different shots. We encourage you to do this scenario completely, and you will almost certainly find even better poses and get great results.
Rules to follow when doing sitting poses for girls
The right poses for a photo shoot for girls will make the result of your photo shoot perfect. The right angle, idea, and image can turn any model into a real beauty so that everyone around you will be delighted.
How to learn cool sitting poses? There are standard rules to start from. It is necessary to prepare well and imagine what you want to achieve. If you are a model, then first of all relax and enjoy the process - your confidence will give you energy and beauty.
Photographs taken by a professional always have their own story, an idea, a reflection of which can be found in the model's outfit, in some special details, and even in the casual sitting pose. There are standard poses for photo shoots for girls, they are suitable not only for different types of female figures but also for different types of shoots. Photography can convey the uniqueness of the model. A girl who has taken a standard sitting down poses for photography should not forget three simple rules, thanks to which she will look photogenic in the frame:
It is necessary to keep your posture, and not to slouch in any way. To do this, bring your shoulder blades together (as far as possible), extend your neck a little, and lower your shoulders. Beautiful sitting model poses will add elegance, femininity, and attractiveness.

Pay attention to the correct curves of the body during the photo shoot. To emphasize all the advantages of the figure and the beauty of the female body, it is necessary to make a bend in the lower back, while beautifully extending the neck and, of course, straightening the shoulders. For sitting photography poses it's best to shift the weight on one leg, bending it slightly at the knee.

A well-chosen pose for a photo shoot for girls sitting down will help to emphasize the femininity, and elegance of the lines of the neck, back, hips, and buttocks, visually increasing the breasts and hiding the tummy. To do this for sitting picture poses you need to slightly tilt your body forward, bend well in the lower back, bring your shoulder blades together as much as possible, put your shoulders back (they should be below the chin level), and stretch the neck.
Sometimes sitting poses for pictures may not be entirely comfortable. But to make them look natural, it is very important to relax during the photo shoot. If the model is tense, it immediately catches the eye. The advantage of filming when the model poses sitting is the opportunity to hide certain flaws (for example, a crease on the tummy). How to take a beautiful pose for a girl for a seated photo shoot:
Relax your face and body (you don't need to be squeezed at the photo shoot).

Position yourself so that everything in a model sitting pose is about one line.

Your shoulders are slightly back, and your neck is stretched out.

Bend at the back.

During the filming process, change the position of your legs.

If you see folds you would like to hide, don't like the pose, sit differently.
To sum it up
If you didn't know how to pose sitting down before, this article will help you. From one point of view, we have collected useful tips for photographers, but in this article, there are also great tips for models. So you have no problem making a lot of good shots. Сreate a real photo masterpiece is now not difficult.
Regardless of what sitting-down poses for photography you use, don't forget about retouching and editing your shots. Many people immediately think of Photoshop, but you don't have to learn it. Just try other photo editor options, like Luminar Neo. It contains many professional editing tools based on AI, and the interface is very simple. You can try Luminar Neo for free for 7 days, buy a subscription, or get a lifetime license.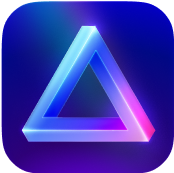 Advanced yet easy-to-use photo editor
view plans