Easy tips on how to pose the woman to turn her into a real photo model.
On the Internet there are various examples of images with extravagant model poses. But the problem is they don't work well if your client is shy and has never posed for a professional photo shoot poses for females before.
Luckily, there is an opportunity to make the experience comfortable for both photographer and subject. Let's take a closer look into the main photography poses for women that will work well with both an experienced model and someone who's never posed before.
When ordering a photo shoot, each of us wants to get beautiful pictures that emphasize the advantages of appearance. To do this, you need to know photoshoot poses for girls and be able to show yourself from advantageous angles.
By choosing beautiful poses for photos and practicing in front of the mirror, you will feel more confident in the shoot.
10 Best Photoshoot Poses for Female Portrait Photography
In this article you will learn how to pose for a girl's photo shoot, we will break down the most common mistakes. By sticking to these recommendations, you will always look great in photos!
Learn the basics of successful female body poses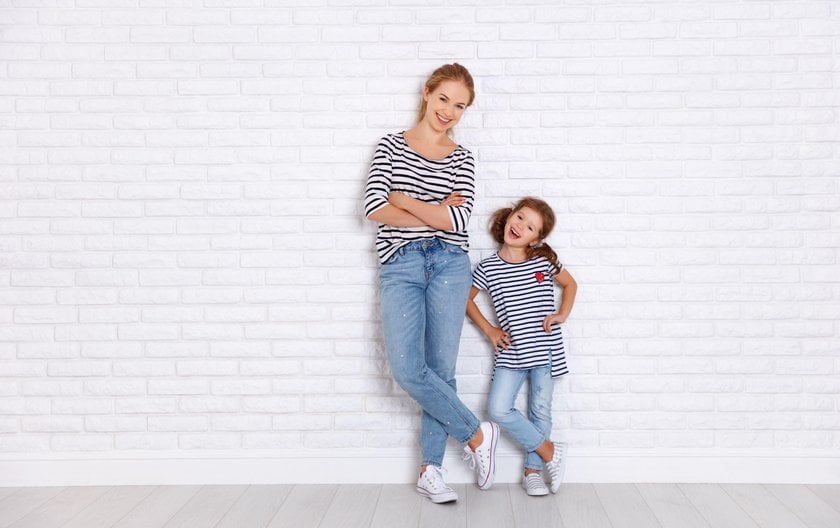 Among the different female poses, asking a model to stand straight on to the camera is both the easiest and the trickiest option. Because of the specifics of different bodies, and the camera angle, the result can be less than flattering. Thus, the basic rules of model poses should be taken into consideration.
To start with the proper light is important. Make sure that the lighting basics are included in your photo session: close and broad light sources should be soft, while distant narrow ones need higher density.
Moreover, be aware that straight-on female body poses work well only with athletic and skinny models. Otherwise, you need to pose your model to accentuate her best parts and play down any negative areas.
Finally, encourage your model to show different emotions on her face. Make her laugh, tell a sad story or involve her in the conversation – all these tricks help in revealing new and unexpected female poses that will reflect the personality of a model. They will also help her to relax and lose the awkwardness.
Tip: if your model's chin angle doesn't look good, ask her to point it slightly down and out. Also, there is an awesome material on the fundamentals of using a ring light (to add some nice effects on the female portrait), along with a program that can fix a lighting problem in your photos.
Ask your model to look over her shoulder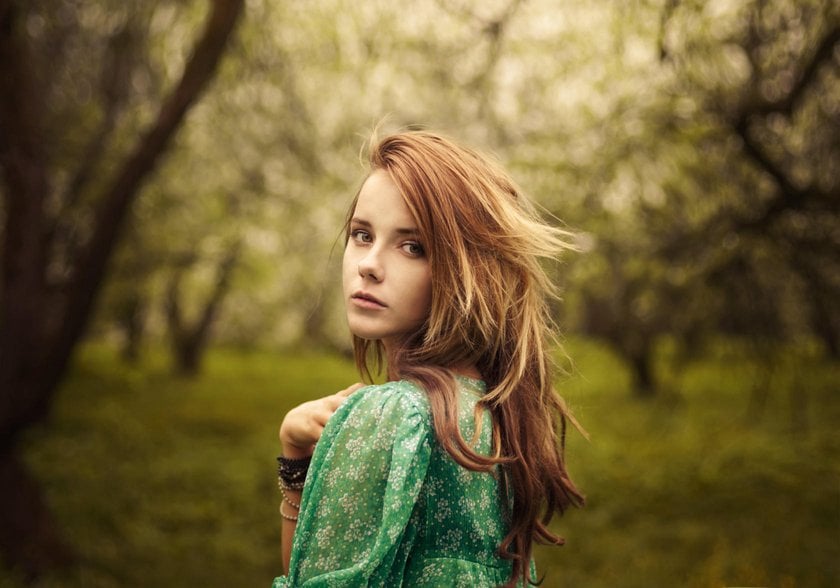 One of the simplest ways to make a nice photo is to ask your subject to look at you over her shoulder. Actually, it's one of the best female poses to try if a model is shy and stiff in front of the camera – a photographer does all the movement and just asks the model to look in the chosen direction. Besides, focusing on the eyes is always a top choice in various portrait poses.
Tip: do not forget to ask her to put a hand lightly on her waist while looking at you – this trick is mentioned in all the guides on effective female poses!
Check her hand position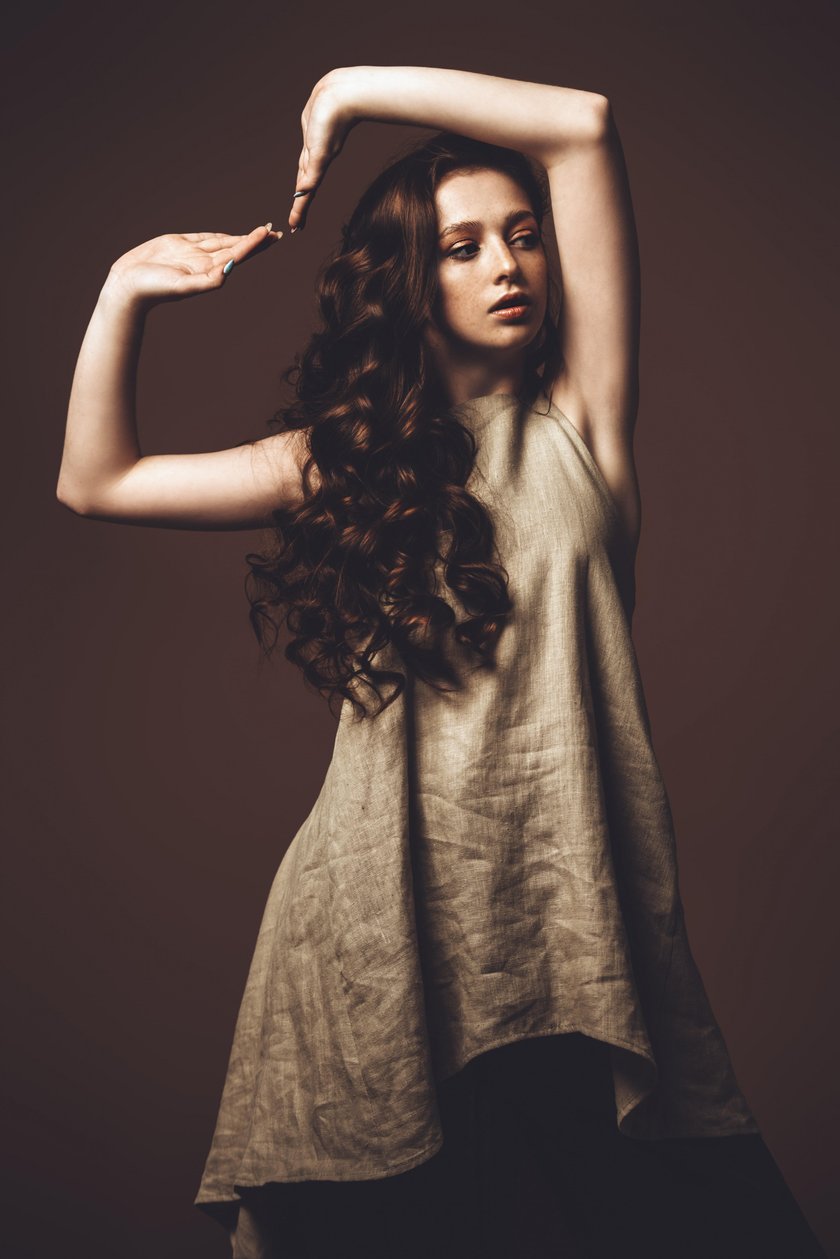 In the video for Vogue, by Madonna, the hand position of the dancers has a starring role, making this style beautiful and even hypnotizing. Why not use an insight from the dancing world for female model poses? The exact position of hands is up to your creativity and the comfort of the model – she can hide them behind her head or put the fingers on her face in a random way. Or even try to dance Vogue in front of the camera! The main thing is that the hands should be relaxed and add some dynamics to the photo simultaneously.
Tip: avoid shooting palms and showing the back of a hand on the photos – hands look distorted and too large when you do this.
Ask her to lie down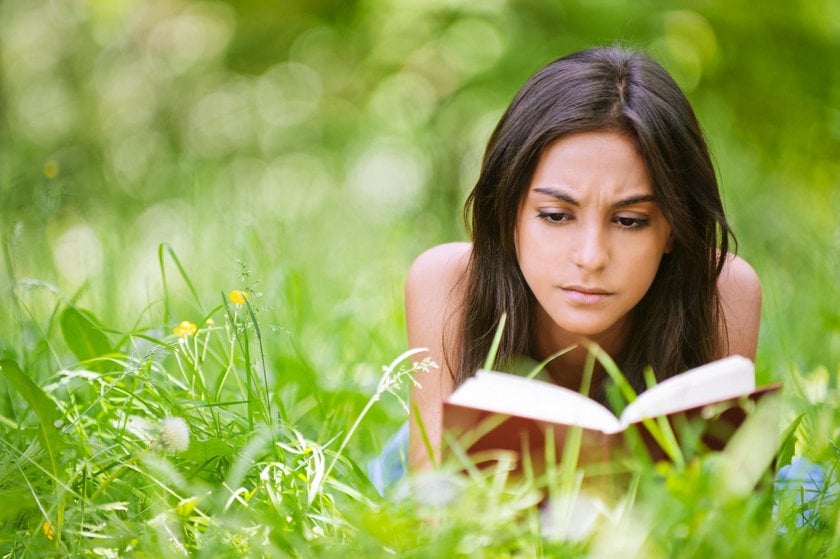 There is a variety of nice shots that can be made while your model is lying on the ground – and in interesting surroundings.
For example - it may be the classic among female poses – a girl reading a book on the grass. It could be one of the never-ending favorites among poses for women – a female shot from above on the background full of blossoming flowers. Or a portrait photographer lying next to a girl and asking her to look in the camera – the top choice among cute female poses. Why not try a photo of the whole body of a female with a focus on her face looking behind into the camera?
Tip: the range of posing options is huge – but not all the lying-down poses work well. For inspiration, check female drawing poses – artists have always been fond of representing women's bodies reclining or lying down.
Search for asymmetry in poses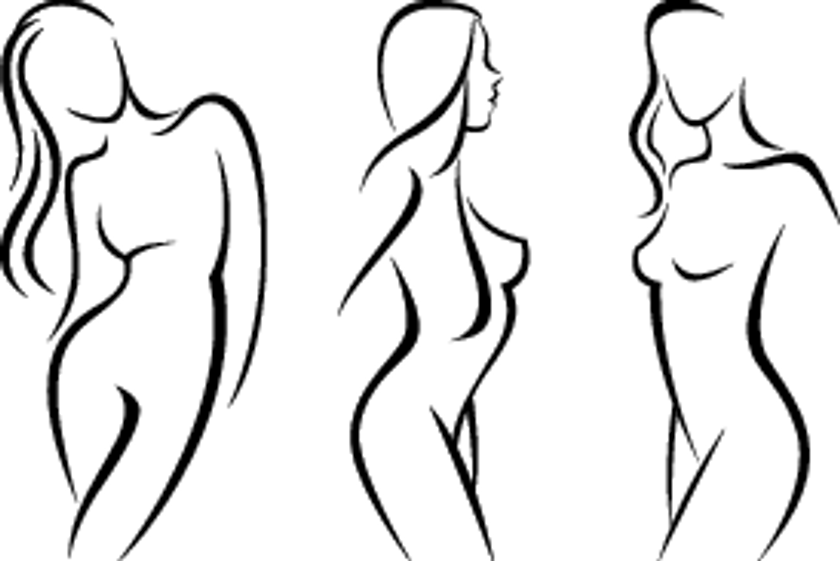 A nice asymmetry in female poses can be achieved in different ways. It can be "popping" a hip, asking your model to create different levels in hands' position, making one shoulder raised – or any other trick that reveals the beautiful S curve in the female poses reference guide. The easiest thing is to ask a woman to move her weight on one hip and bow her head in the opposite direction – and voila, an amazing curve on the body is created!
If your model sitting on a chair, some new options to create nice curves occur. Make your model feel more comfortable and slimmer. For example, she can put a hand on a hip or on one leg, or sit her on the front edge of the chair with her head leaning forward and look straight at the eye-level. Be open-minded and experiment with female portrait photography!
Tip: when your model is seated, ask her to point the toes down – this is a way to create a nice shape to her legs. Another way to get this effect is to get your model to wear high heels.
Get inspired by female action poses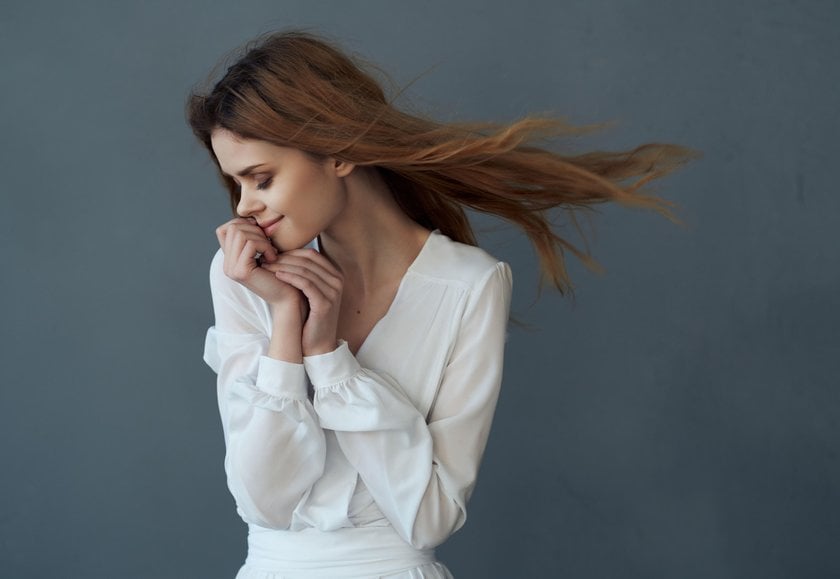 A girl jumping, tilting her head, and doing exercise stretching – all these postures are among top female poses both in the model world and among non-professionals. In this case, the role of a photographer is outstanding – you have a second to capture a beautiful movement moment and notice a nice facial expression. You need to be quick!
If you have tried this option before and realized this task is tough, there's a simpler way: ask your model to move slowly. In this case, a photographer should search for the best shots in what they see instead of relying on only on the poses reference guide.
Tip: Keep an eye on the fingers in all the moving poses for female photography – they can do strange things while the body is moving.
Use a wall to pose your model against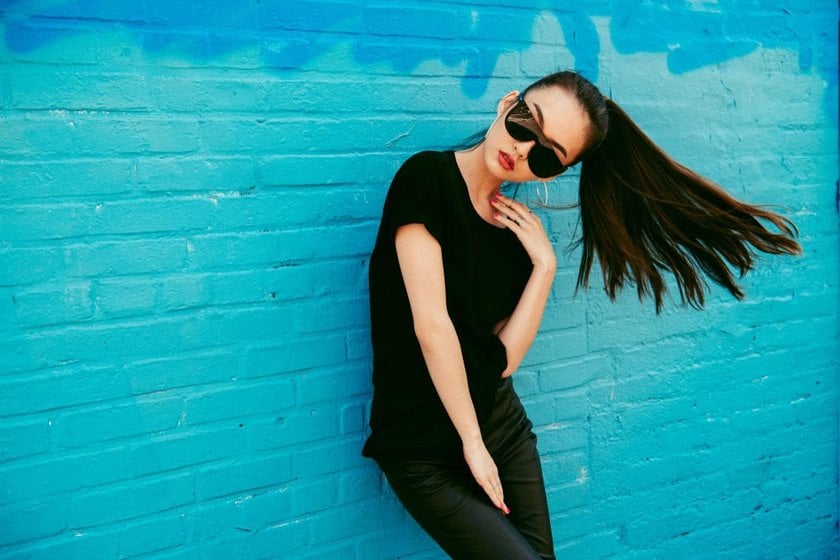 Commonly, posing near a wall is considered among the best solutions for the beginners in both photography and modeling. In this case, the most beautiful poses are achieved by asking your subject to lean on the wall, put her hands on it (in a relaxed manner!), or rest a leg against it. As another trick, ask a model to lean only one shoulder on the wall – this posture will reveal the nice asymmetry needed for the best posing female portraits.
Tip: Whatever the pose, pay proper attention to the separation between the critical parts of the body. Avoid the situation when a woman's legs appear together in one mass, (by creating various levels in the position of the knees) or when the elbow is held too close to the body.
One Hand on Hip
Your model should put one hand on her hip. The other hand can hold something. It could be an umbrella, sunglasses, or a drink.
Tip: To make the pose relaxed, you can put the other hand on the free.
Hands in Pockets
Few people like to stand awkwardly in front of the camera, do they? This is one of the best female portraits poses for those who want to look stylish and relaxed in the frame. Plus, the model doesn't need to make any effort - just put your hands in your pockets! This option will look sexy and very lively.
Tip: Use this option for shooting in urban areas.
Squat (AKA Baddie Pose)
Do you know who Kylie Jenner is? Well, this is one of her favorite photo poses for women! It's also often used by other celebrities for photos in fashion magazines or social media. Your model needs to squat, extend one leg, and lean on the other at the same time. You have to be steady on one foot. Looks hard, but try it: it looks very beautiful and stylish!
Tip: Make a calm face or smile a little. It will make the photo even better. So the model look will be perfect.
Hands on Cheeks
Such a photo can look sexy or funny. It all depends on the facial expression you choose. It is perfect if you want to take an interesting close-up portrait. To get the perfect shot, you just need to put both hands on your cheeks.
Tip: Remember, you don't want to put any pressure or you will leave ugly marks on your face. They can ruin the whole impression!
Tips to make your photos perfect
We have some more useful position tips for great women photoshoot poses. Rule number one is rehearsal. Of course, a good photographer will always tell you how to pose better and find good women pose, but to feel more confident, before the photo shoot finds references with poses and practice in front of a large mirror yourself. That way you'll know which poses and angles are the best, and which are better to forget.
Rule number two is location and image harmony. The location always plays an important role and gives the photos a storyline you can use your best woman photo shoot ideas! If the chosen location matches the concept, style, you, and image, you will be pleasantly surprised with the results of the photo shoot.
The third and most significant rule for the best woman pose is to be in a good mood. If you feel insecure or uncomfortable, it will certainly affect the photos. So you should wear comfortable clothes and be in a positive mood. The prettiest dress, the prettiest hair and professional makeup won't matter if you slouch. Correct posture is the first thing to keep in mind when choosing a pose for a photo shoot. Each of the three parts of the spine affects the quality of the pose and the perception of the model.
Conclusion: Always edit your images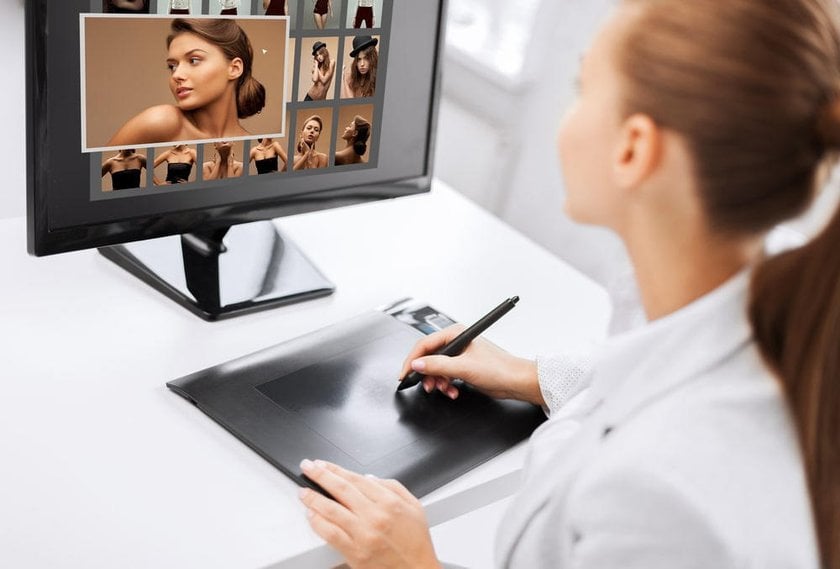 Finally, professional photographers use photo editors to achieve the best results. Choosing photo ideas for women is not enough - the picture must be perfect! The classic program for completing this stage is Photoshop or Lightroom – but there is a simpler option for beginners, as these programs can be confusing for those new to editing.
In Luminar Neo, the best photo editing software currently available on market, various presets and editing tools are available. There is also a toolkit for photo retouching for portraits. To try this amazing editor for yourself, buy the software (it's totally worth the price, with affordablemonthly or yearly subscriptions, or one-time purchase) or download the free trial version to try before you buy.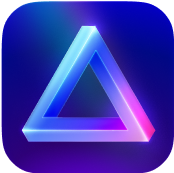 Advanced yet easy-to-use photo editor
view plans