All the secrets for the best photos in front of a Christmas background revealed
Christmas time is coming soon! So many incredible things come with this season: wintry landscapes, tasty food, Christmas lights, a festive spirit… These and many other things make us think about how we can get awesome photos.

But what if you feel you don't have the skills for Christmas shots?
If that's the case, just get started and follow our recommendations. Because in this Christmas post, we offer a selection of practical tips that can help anybody capture the best shots in front of a Christmas background. Whichever method you choose – designing a winter frame manually, preparing Christmas photo booth props, or shooting in front of a Christmas tree during a Christmas party – you'll get amazing pictures. Just follow this guide and see the results!
Method 1. Creating the whole Christmas background by hand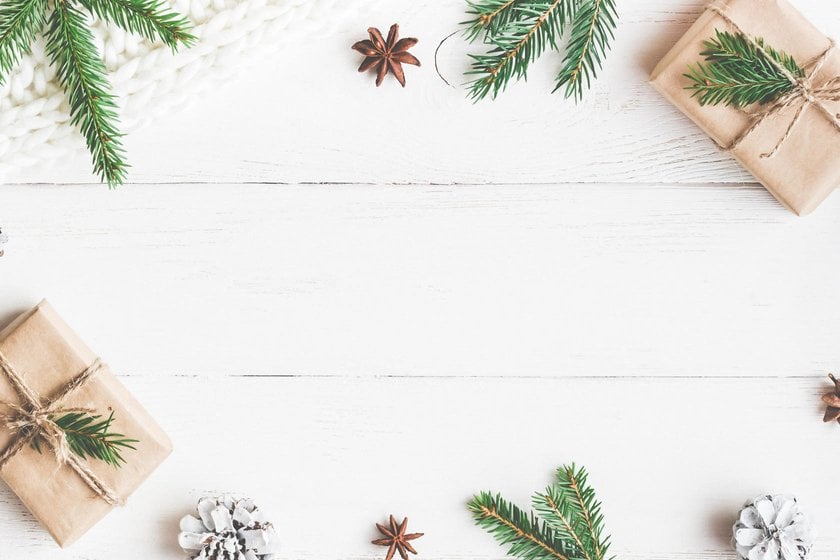 Design your photo frame with a winter background manually
To start with, there are numerous ready-to-use Christmas backdrops on the market. So there's no need for special photo studio arrangements before shooting.
As one method for awesome Christmas shooting, you can take portraits in front of a simple (white, preferably) background and work on the images in a photo editor. At this stage, Adobe Photoshop, Adobe Illustrator, or Luminar Neo are the most useful programs. In all of them, you can download a Christmas photo backdrop of your choice and then insert it into your images. Alternatively, you can combine images in a collage with two or more layouts.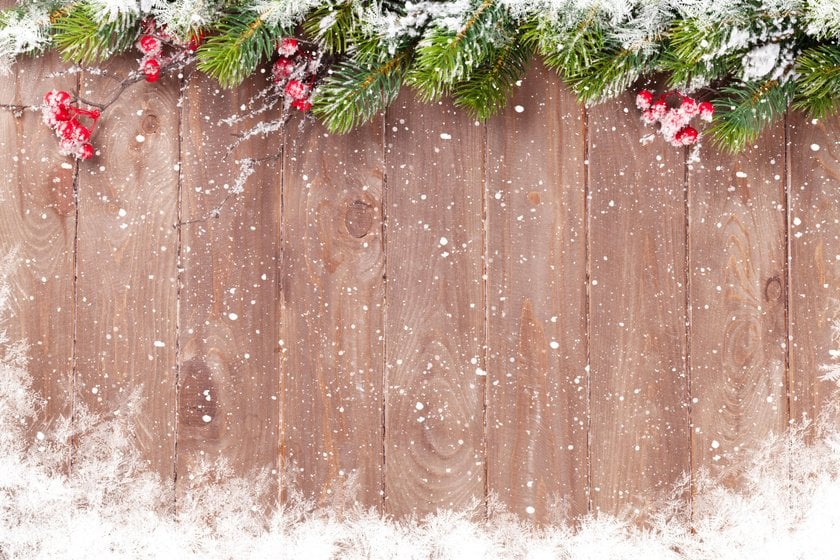 In addition, you can do post-processing. Beyond the widely known Photoshop, Luminar Neo is also capable of performing miracles with contrast and focus in your images.
Here are some options you can choose in this truly amazing photo editing software. To add a color splash effect, select the HSL Filter and to adjust Hue, Saturation, and Luminosity. Or use a background remover on your photo — just add a layer in Luminar Neo and fit the background of your choice in the image. Alternatively, you can play with portrait backgrounds — Luminar Neo offers various techniques to enhance your creativity in this case. Moreover, the software has various built-in Lightroom plugins including Aurora HDR '19, Photolemur, Focus Mask, Keyboard Timer, LRB Exhibition, and LR/Gmail.
To evaluate the full functionality of this software for yourself, click below!
Fabric and paper: the basic materials for making a Christmas background
To create the magic of Christmas in your photos, you can use just a piece of fabric that creates a Merry Christmas background. Alternatively, a roll of wrapping paper also works awesome – just make sure you have enough to create a full-scale Christmas background.
If you're looking for a canvas for your winter backgrounds, a piece of printed tarpaulin will work great. You can achieve the classic snowy Christmas backdrop by combining a blanket, loads of styrofoam, and glitter. Some creativity and the lovely winter background will be ready!
If you're interested in crafting Christmas backdrops by yourself, here's a simple way to start. For a nice and rich Merry Christmas background, use butcher paper with hanging strips and battery-operated lights. Simply mix all these ingredients in the way you like and get awesome photos in return (which you can take even with a selfie stick)!
Use a board with a Christmas background
In addition, you can create a complete Christmas backdrop board for your photoshoot. In other words, you can set a scene fully prepared for a mini session. There are numerous options available, from small chalkboards themed with lovely winter backgrounds to big boards designed as ready-to-use Christmas backdrops.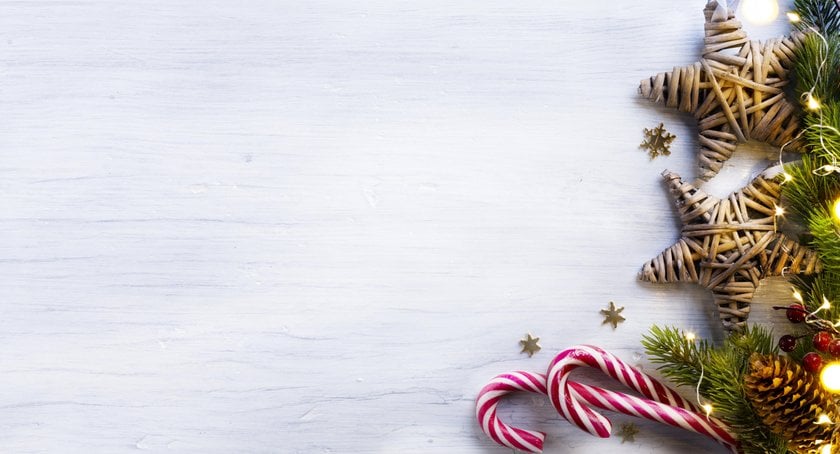 Whichever board you buy, you'll immediately understand the value of this Christmas photo backdrop. In particular, it's a wide frame that is put behind your back. Also, the Merry Christmas background on a board is always at hand and fully customizable so you can save time and effort on preparing winter background images and spend it on enjoying Christmas time without a camera!
Method 2. Shooting casual photos with Christmas décor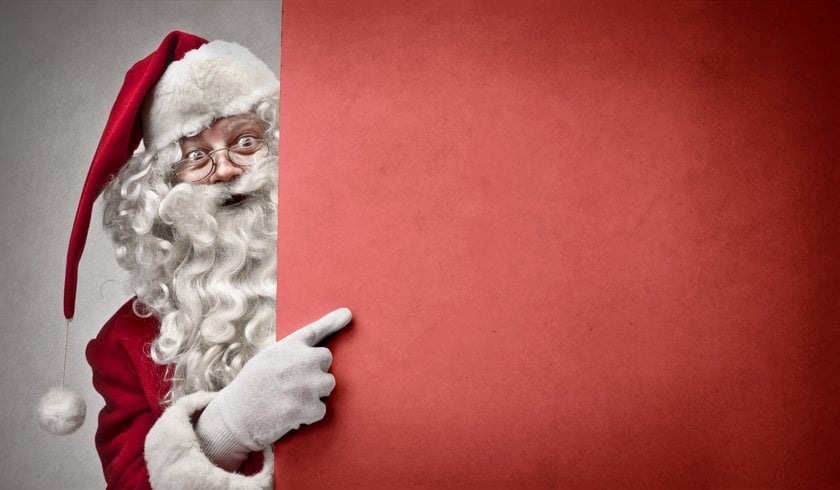 Buy funny Christmas photo booth props (or make them yourself)
As a nice way to introduce the festive spirit to your images, try using Christmas photo booth props. These cute items add lots of fun to your portraits and create a playful atmosphere during a photoshoot. Feel free to create them by yourself – try crafting Santa Claus beards, inventing cute deer masks, or writing thematic phrases your models will carry. Otherwise, order nice Christmas photo booth props online and reduce your time spent on preparation tremendously. Alternatively, you can look to a professional company to receive a complete set of Christmas props (reindeer ears, Santa hats, elf costumes), photo booth decorations (including snow sprays), and even a thematic winter background your guests can use on their smartphones.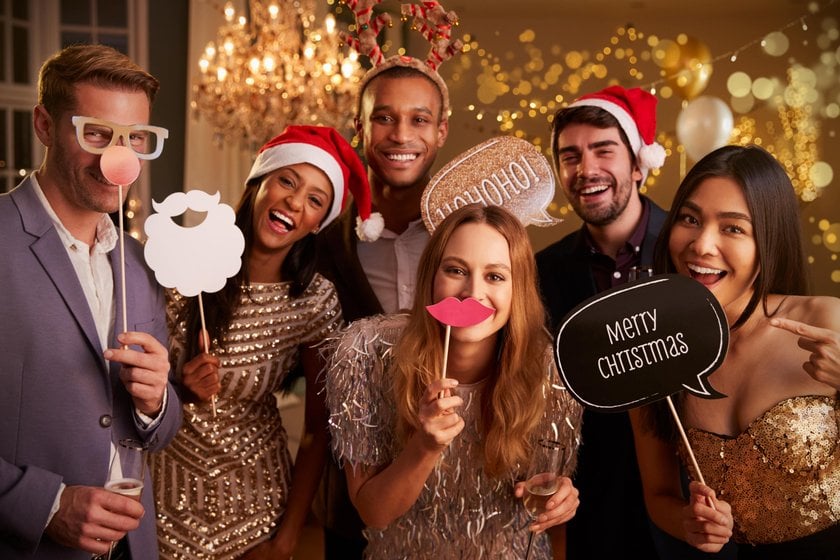 Whether you choose to buy props or make your own, check your closets first. It may sound weird, but there's a good chance you bought something crazy and funny some years ago. Now you can turn it into a Christmas costume! With a properly chosen background, the Christmas atmosphere will turn anything unusual into the best Christmas props.
You can make your own photo booth inside your house! The best place for this is your living room or an entryway. To create a Christmas backdrop, you can use even a solid colored background of walls and curtains. But don't hesitate to make it more entertaining — ask your guests to take self-portraits with a camera set on a short timer!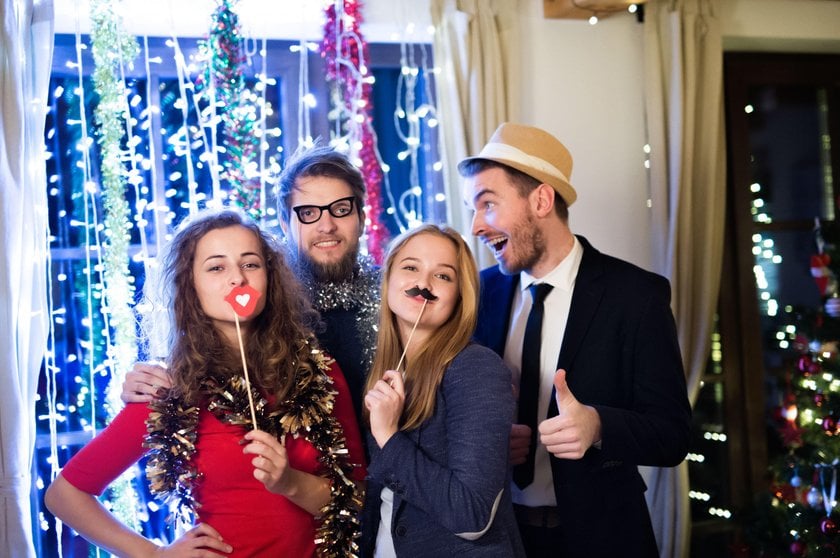 Christmas photo booth props are highly functional: they can be used as a small piece of decoration or an entire Merry Christmas background. A Christmas photo booth backdrop is a result worth achieving. But don't get too excited about combining everything you see! Keep in mind that the ultimate goal of crafting a Christmas background is to make the best arrangements for guests. In other words, your Christmas photo backdrop can be just a white background with a line of Christmas lights — if that's what helps your models look nice, then that's the best choice for shooting.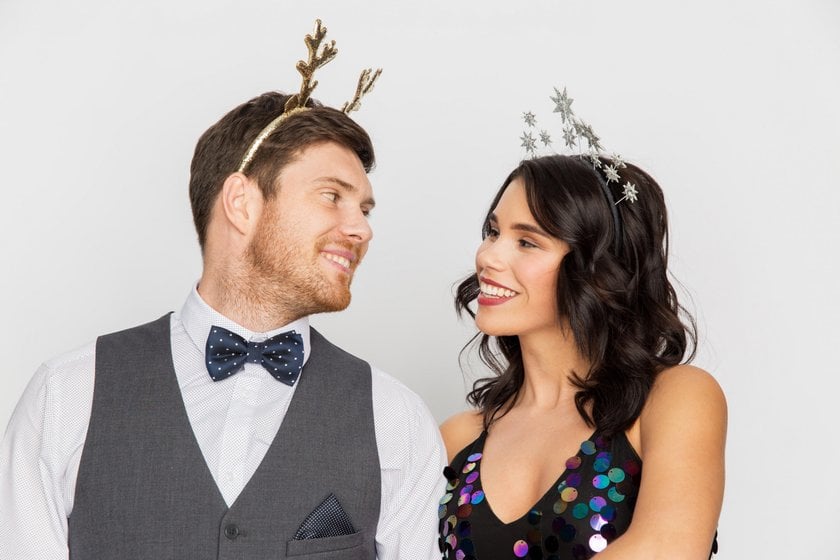 Arrange the best outfit for the Christmas background of your choice
As a photographer, you should also pay attention to the clothing for your models who will stand in front of the winter background. A traditional Christmas background is bright and colorful, so it would be better for your models to wear neutral tones. However, don't let people look similar to each other and get lost in front of the Christmas background. To fix this problem, advise your models to wear nice jewelry and creative hairdos. A classic patterned Christmas backdrop will fit perfectly into your image and won't spoil the quality of your portraits.
Boost your creativity, but aim at achieving harmony! Everything should work well together: your Merry Christmas background, funny items your models carry (like Christmas photo booth props), and the outfit for the photo session.
Method 3. Capture real photos without using any Christmas backdrop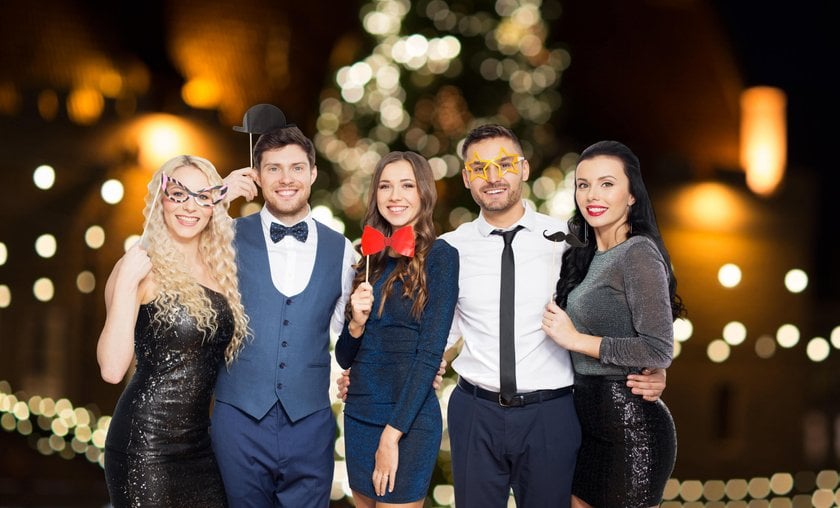 Don't underestimate the power of Christmas spirit against common winter backgrounds
When it comes to the celebration, there's really no need to design a background with special Christmas backdrops. Especially if you have a fully decorated Christmas tree. Or when the streets have enough snow for a snowball fight. All the preparation for Christmas dinner is also an awesome opportunity for an outstanding photo session.
Just find your models or interesting subjects and initiate a photo shoot!
In all of these cases, the images you'll get will be full of the atmosphere you want and, inevitably, with a lovely winter background. However, be attentive to the natural lighting in your Christmas portraits — that's the real problem for a natural Christmas background.
Here's a set of useful camera tips for shooting in front of a natural Merry Christmas background both inside and outside the house.
Shooting in front of a Christmas tree
In general, there are several rules for making awesome portraits in front of a Christmas tree. Simply turning off the main light and turning on the Christmas tree lights won't work well. To make this Christmas background better, follow this guide:
Set the camera's sensitivity (ISO) to 100 or 200. At the same time, avoid creating too much noise in your photos. The best way to avoid this is to put a bright source of light in front of the subject.
Don't hesitate to use flash. Avoid putting your subjects close to the major source of light (including your Christmas tree). Also, pay attention to the shadows on and behind your subjects.
Buy a speedlight. As a remote flash, this gear gives you more freedom and accuracy while working with portraits on a Christmas background.
Set the aperture to something between f/2.0 and f/2.8. For a zoom lens, the best choice is f/3.5.
Think of the proper focus. If your autofocus doesn't work well in the dark environment, turn on AF-assist (but not in continuous servo mode!).
Decrease your shutter speed to get more natural light in your images.
For more information on getting the best portraits in front of a Christmas tree, read this awesome article on the Photography Life blog.
Tips for shooting in front of a winter background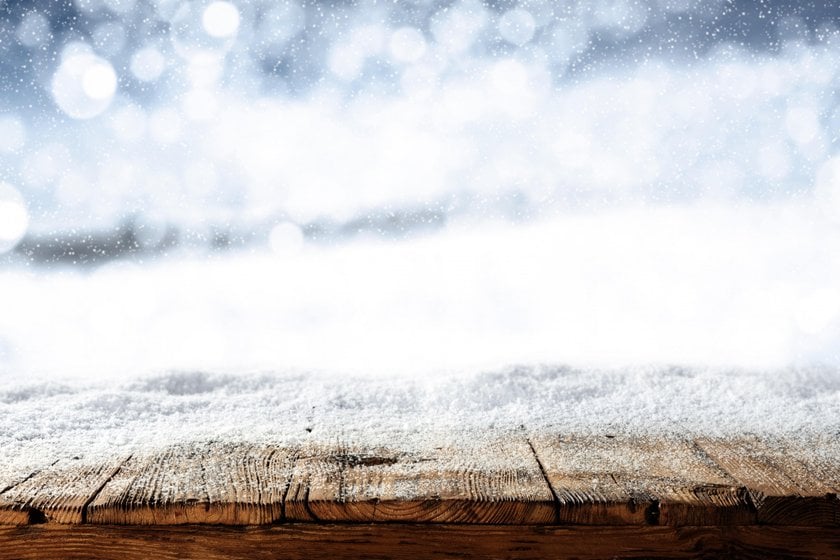 If you use snowy landscapes as Christmas backdrops for your photo sessions, take a look at these tricks for capturing awesome photos:
Think of getting a freezer bag for your gear. This will prevent moisture from condensing and save the quality of your camera work.
Get extra batteries. It's a known fact that equipment runs out of battery really quickly in cold temperatures, so be ready for that!
Don't let your body freeze to your camera. No comments; just watch your nose. And wear gloves!
Buy a really good tripod. The better the tripod, the more accurate your photos will be in low light and with long exposures.
Search for elements that stand out, like warm evening sunlight or a thin black tree trunk on a cold white background.
Avoid capturing models with red noses and red cheeks. To prevent this from happening, don't make the photoshoot too long and pay attention to safety!
Experiment with the flash. When it's getting dark, the wise application of flash can bring marvelous results. For concrete recommendations on flash work, check out the guide to capturing photos in front of a Christmas tree that we linked to above.
For inspiration, check out this collection of 20 best winter photos on BoredPanda. That's pure art!
Turn your Christmas party into a Merry Christmas background for photos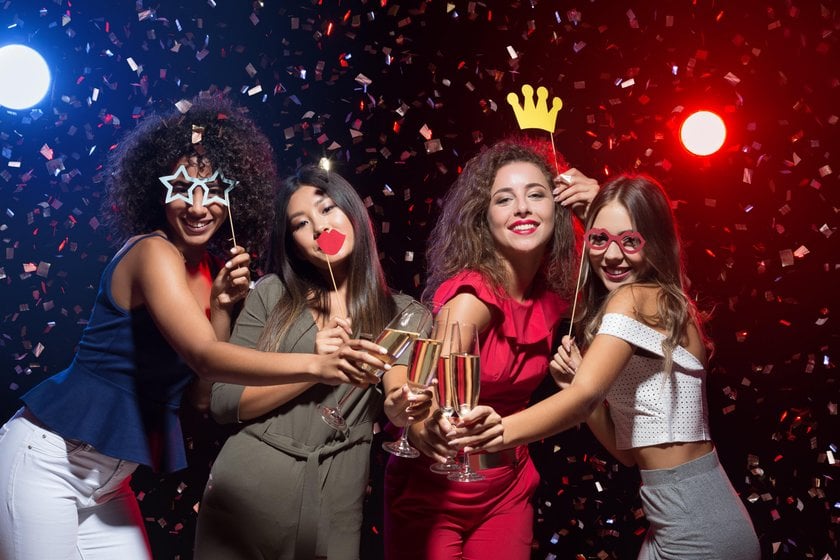 Finally, you can get some awesome photos with a Christmas background during your Christmas party! To use this setting as a Christmas backdrop in the best way, consider arranging a special photo area for guests. In this area, prepare various items of gear for the photographer and the models. Include a small ring light, huge umbrellas and softboxes, a chair, a camera, a tripod, and a container for Christmas props.
In addition, there are various options to create Christmas backdrops inside the party place. For decorations, use colorful streamers, Christmas lights, confetti, and sparkles. And, of course, think of Christmas props for entertainment. But don't forget to have fun yourself — it's a party, after all!
In short, to be fully prepared for a photo session in front of a Christmas background, check this list:
Pinterest or Shutterstock subscription to find awesome Christmas backdrops
Christmas photo booth props to add Christmas spirit to any winter background
Proper camera settings and gear depending on your background of choice
Luminar photo editing software (free trial version available) to adjust your photos at the post-processing stage easily and effectively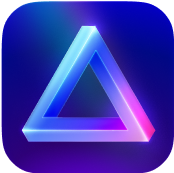 Advanced yet easy-to-use photo editor
view plans