Greetings, dear readers! Today we are going to talk about something that many of us love, namely cat photography.
When you go to any social network, the first thing you see are pictures of cats. There are hundreds of them on Pinterest and Instagram, and there are plenty of them on Facebook, too. There is nothing strange about it because these amazing creatures look great. Their charisma and charm can also be seen in photos, which is why many people like to take photos of cats.
Like any other kind of photography, there are secrets to feline photography. Today we will tell you about them. By following our simple tips, you can take amazing shots that will win the hearts of your audience.
Of course, cats are very cute, and their portrait photography is admired by everyone. However, even such pictures can be made better with a photo editor. We recommend you try Luminar Neo because with it you can bring all the best cat photoshoot ideas to life. Its AI photo editing tools can really do a lot. Just imagine: with one click you can make your cat's eyes sharper with the photo sharpening software or use Enhance AI to automatically improve the whole picture! And if you want quick post-processing, we recommend using Skylum's online photo editor.
Top 10 Best cat photography ideas
Do you love taking pictures of your beloved pet, but want something new? We have some of the best ideas for you! The most important thing you should remember is that cats always look great whether they're sleeping or playing. So if you don't get the shot you wanted the first time, keep it simple and try again. You might find a real treasure among what you think is a failed photo.
So, let's go!
1. On the windowsill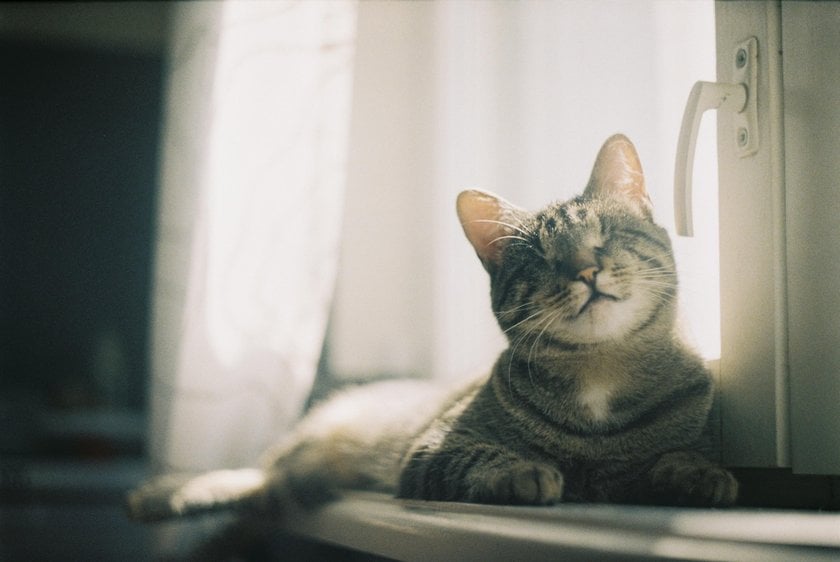 Have you seen how cats like to sit by the window? Do you see them lounging in the sun or staring thoughtfully out the window? You could make a whole cat photoshoot out of that! You can even make a whole story out of the pictures: One moment your pet is napping, and the next he's watching the birds.
2. An unusual family portrait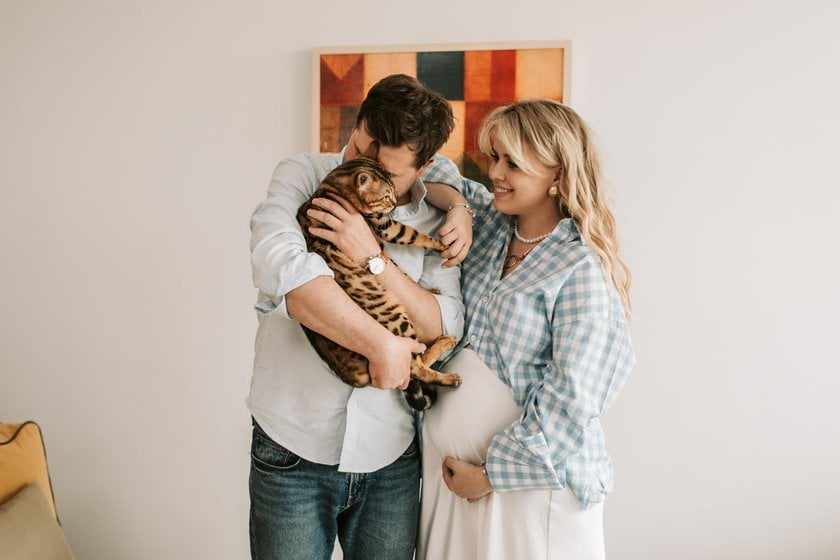 We think of a cat as a full-fledged member of the family. Do you agree with us? Then you can make a great cat photograph together with your family. Your main task is to make your pet the center of the picture. You yourself can be in the frame completely or not. Some photographers advise choosing an outfit to match your cat's eyes. We agree with them. If you do so, you won't regret it, because the shot will be great!
3. Christmas photo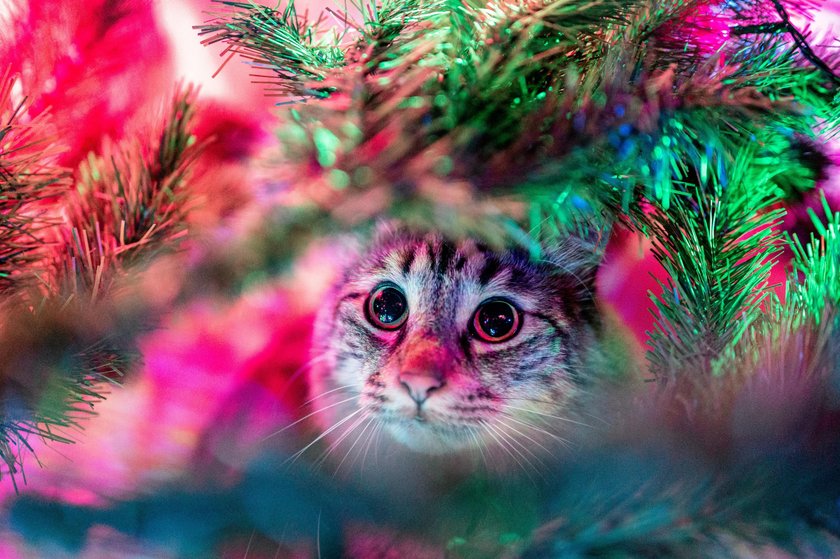 Does your cat like to climb up the tree and throw decor off it? We know it like no one else! Sometimes it's frustrating, but a Christmas cat photo shoot is one of the great options. You can take a picture of your pet against a beautifully dressed Christmas tree and holiday lights. And the way they look at the trees... It looks mesmerizing! To get a great photo you just need to set your camera and wait a little while.
4. More hugs!
We love holding our cat in our arms. Do you too? Then capture this! That way you can not only take a great picture but also give your pet an extra hug. This doesn't mean that you should just stand still holding your cat in your arms, not at all. You can cuddle her while lying together on the couch, or while she's sleeping.
5. Be like a ghost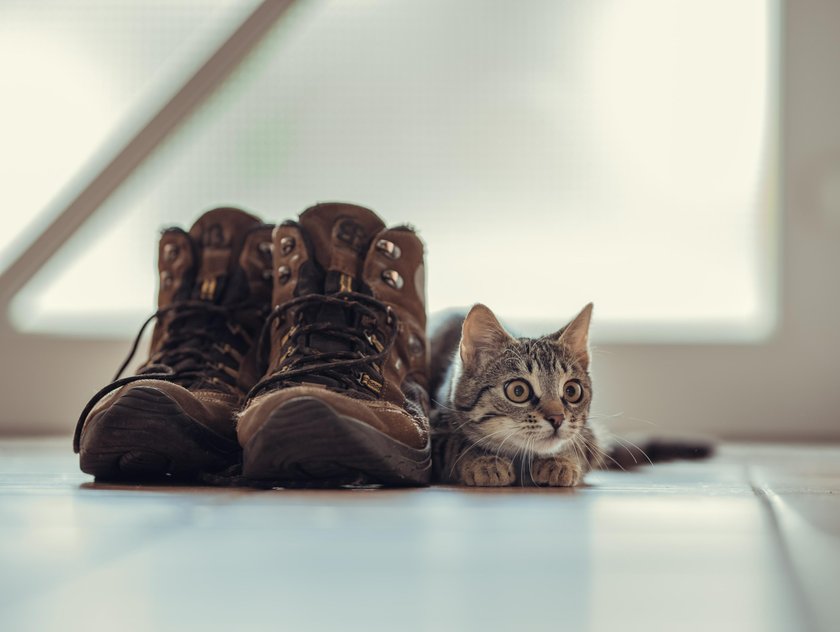 Have you ever noticed how quietly your pet walks? We're sure you have. Why don't you be him? Try pre-setting the camera settings and walking around the house behind your cat. We're sure you'll be able to take many masterpiece shots. This is one of the best cat picture ideas because your pet will feel relaxed and free. The main thing is not to scare him!
6. With cat toys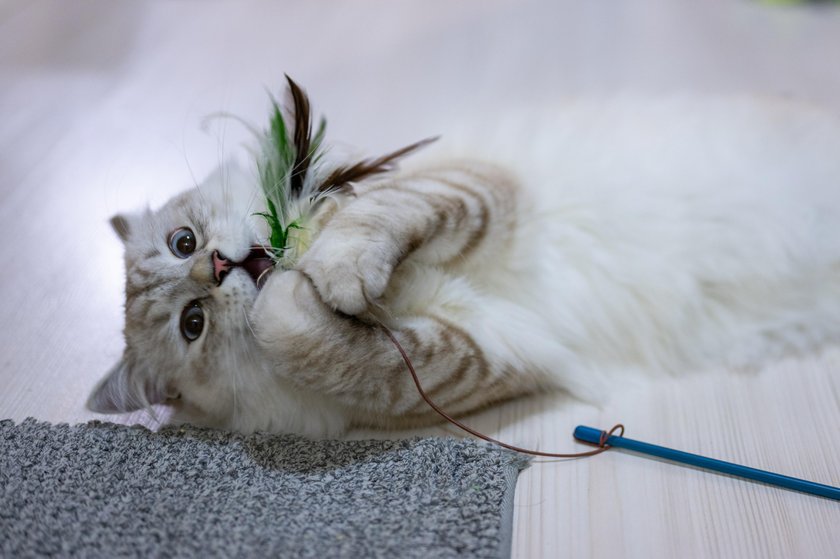 Does your cat have any favorite toys? If so, you can use them without fear. This option has two advantages at once:
The cat will feel relaxed and won't worry in front of the camera.
You will be able to have an amazing cat's face while playing. Such shots look very lively.
We recommend taking these photos against a light background so that nothing distracts the viewer from how much fun your pet looks. And don't forget that you're unlikely to get a clear picture the first time. It takes a little time to take a great shot, so be patient.
7. Take a close-up photo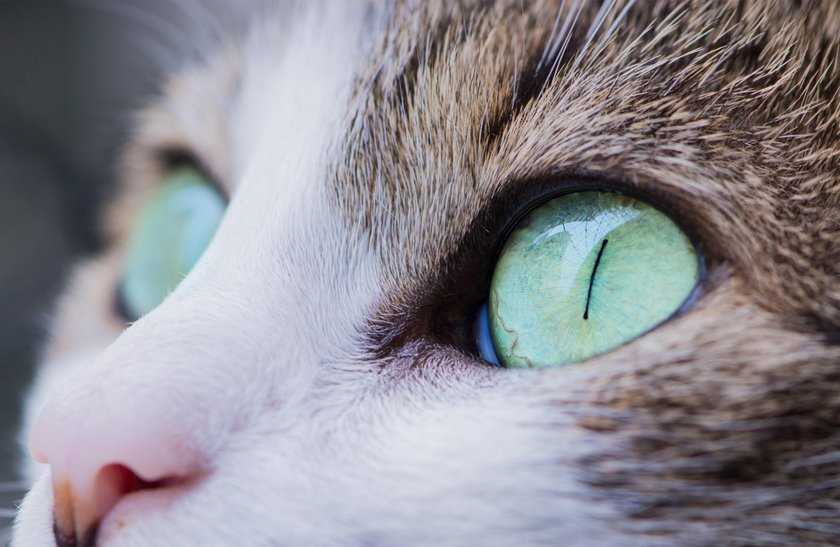 We think this is one of the best cat photoshoot ideas. Such photos are very personal, and they are the ones that allow you to look at your pet in detail. Focus on the eyes, because they are gorgeous! And don't use a flash because it can hurt them.
8. Use a mirror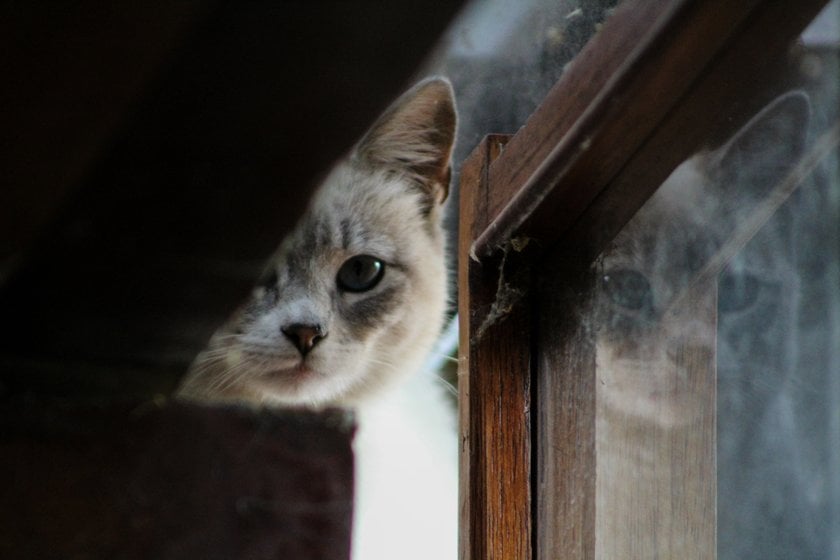 This is another great idea. Sit the cat in front of the mirror and see what it will do. Some pets will just stare into it, others will start playing. We suggest watching the cat for a while, and when you're ready to shoot, take a photo. You should remember that she will not always sit still, so it is important to choose the right moment.
9. Capture a funny moment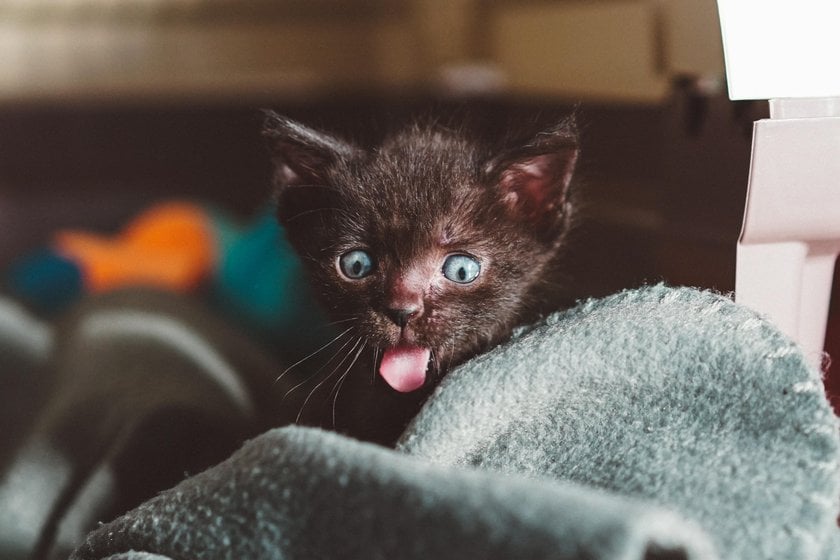 Great professional cat photos can come out if you manage to find a funny moment. We advise you to soften the lights as much as possible so that nothing distracts the viewer from what is happening in the frame. If your cat is playing or moving you may want to use the continuous shooting mode. You'd be surprised how many funny pictures you can capture this way.
10. Go to their habitat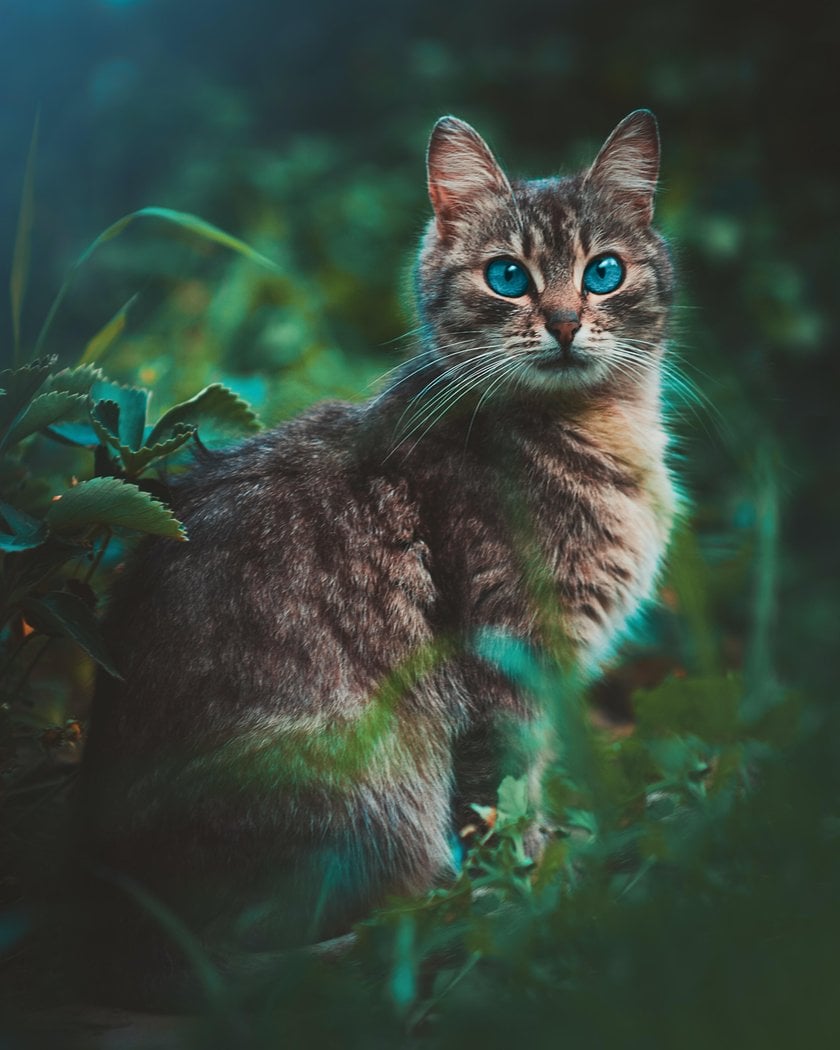 Some cats prefer to live outside rather than inside. Well, that gives you a great opportunity for professional cat photography. You can take pictures of them sleeping in trees, playing with other animals, or moving around. Either way, it will be perfect!
How to photograph cats? Best tips for stunning cat photos
We've told you the best ideas, and now let's talk about how to do it right. Here are some simple tips to help you get great pictures.
1. Choose the right gear
Unlike many other types of photography, you don't need a lot of equipment to take a professional cat photoshoot. All you need is a camera and a lens. Let's talk about them in detail:
We have good news for you: you don't have to spend money on an expensive mirrorless camera at all. You can take pictures with a DSLR, digital compact camera, or even a smartphone. Today's models are equipped with pretty powerful cameras, so you can take great shots. The only requirements are that you can adjust the shutter speed and have an autofocus mode.
We recommend using a mid-range lens to get great shots. They are the ones that allow you to quickly change the zoom to increase or decrease the size of the picture. The optimal range is 50-200 mm. The narrow aperture (f/16) is great for cat shoots when the pet is far away from the camera. With a wide aperture (f/1.4) it is exactly the opposite.
2. Set the correct camera settings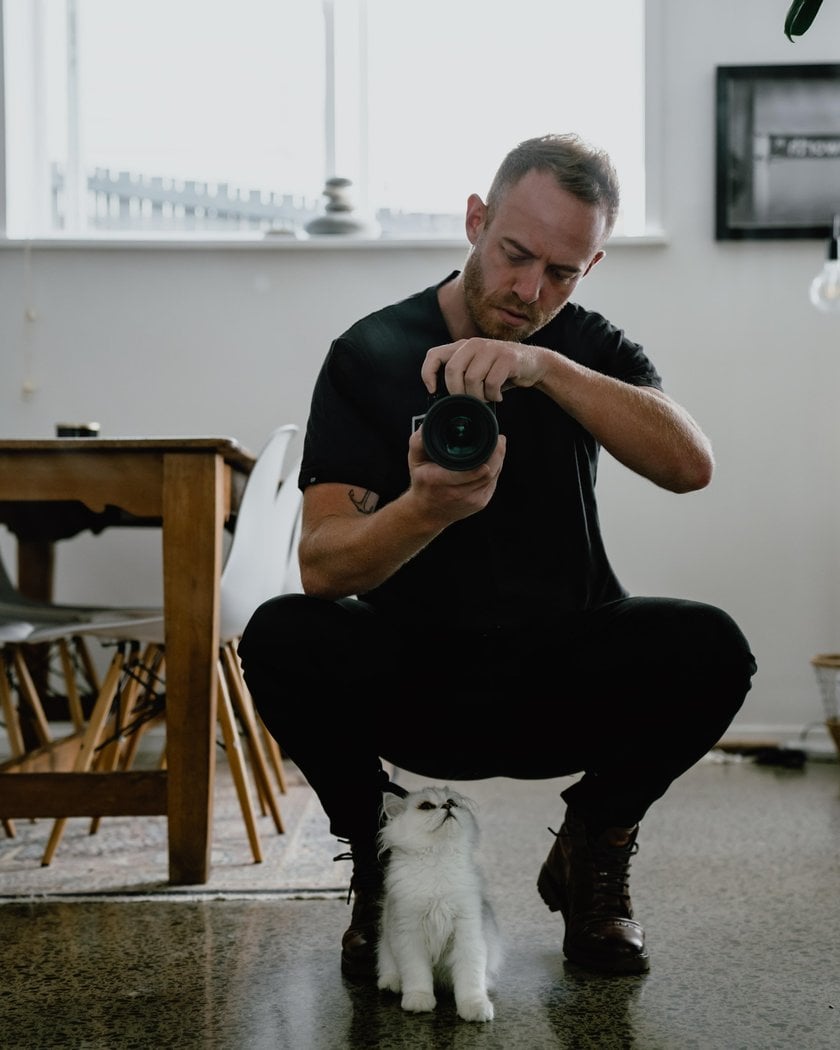 Professional photos of cats cannot be taken without the right settings. Here are the basic ones:
Aperture priority mode. It is indicated by the letters A or AV. You need to set it manually and the camera will do the rest for you. It will select the appropriate shutter speed and decrease or increase the ISO depending on the light level.
Shutter priority. You will recognize this option by the letters TV or S. Fast shutter speed is great if you are shooting moving subjects. For still images, the optimal value is between 1/60 and 1/125. Choose carefully between a fast shutter speed and a slow shutter speed for the best results.
3. Use continuous shooting mode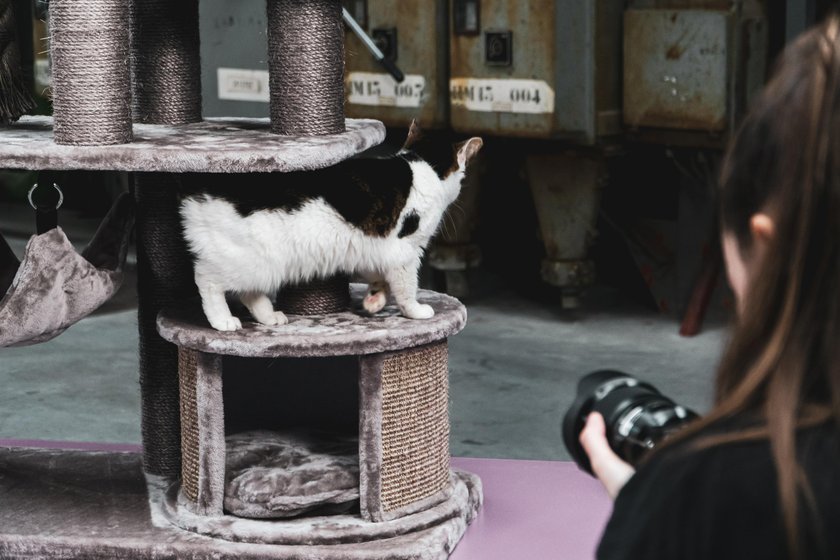 We've already talked about how cats rarely sit still. If your pet is moving your best friend will be a continuous shooting mode. Avoid using a mechanical shutter, because it can scare the cat, and then cat headshots are out of the question.
4. Gain their trust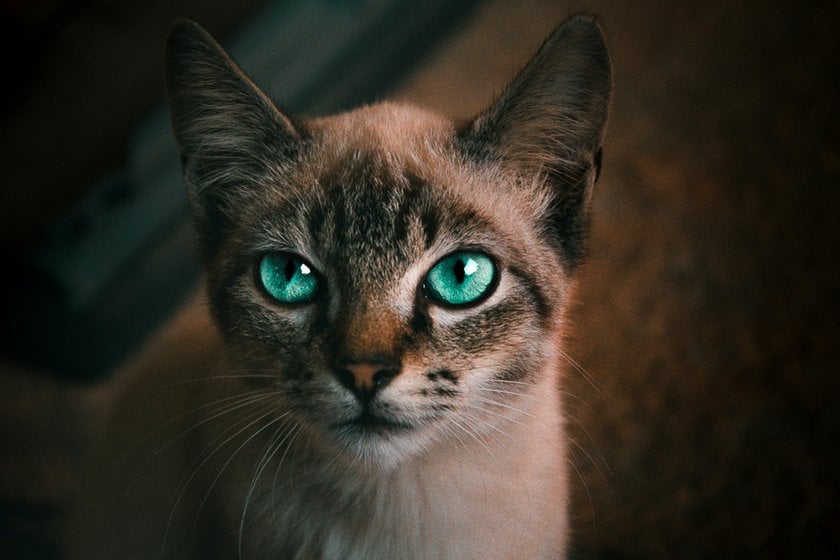 Of course, a photo shoot won't be a problem if you want to take pictures of your cat. However, what to do if the pet is not yours? We have prepared some tips on how to win their trust and get great professional cat pictures:
Sit down on the floor. Cats feel much more relaxed if you are on the same level as them.
Allow your pet to get close to you. It's also important to remember not to make any sudden movements, or you might scare him.
Talk to the cat. You may think this is strange, but they like human voices. They inspire trust. Speak in a low, quiet voice.
You can also play with their toys to get them curious. However, be careful and keep a close eye on the situation. If the pet is against it, stop doing it.
5. Do not use the flash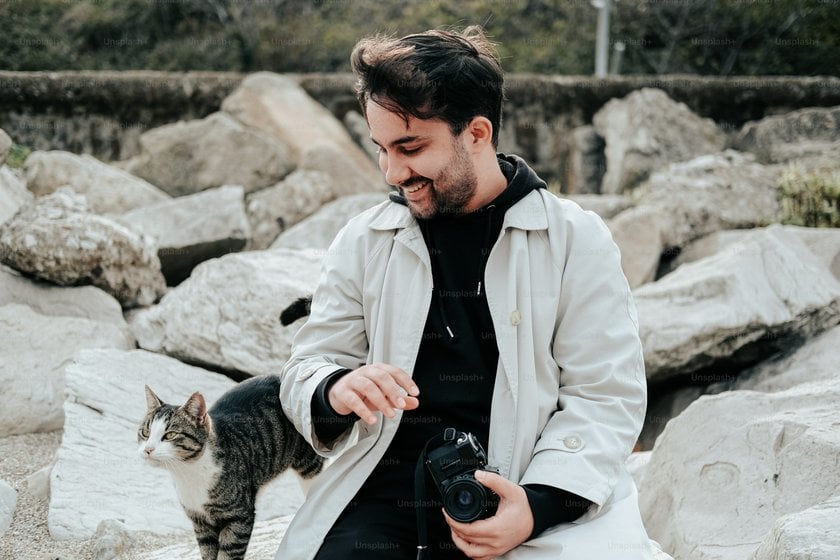 We put this tip at the end, but it should come first. Why? Because it relates to the issue of safety. If you are doing a photoshoot with cats, always remember that the flash can scare them. Then they'll run away, and you'll have to look for a better moment. When it comes to kittens, things are much stricter here: the flash can damage their delicate eyes.
If you have to shoot in low light conditions, we suggest increasing the ISO and shutter speed. The second option is to use a soft light, such as a wall lamp.
If you want to edit the resulting photo masterpiece, make sure you use a free photo editor like Photoshop or Lightroom alternative, which is much easier to handle for beginners. This software is great for photo editing on Mac and Windows.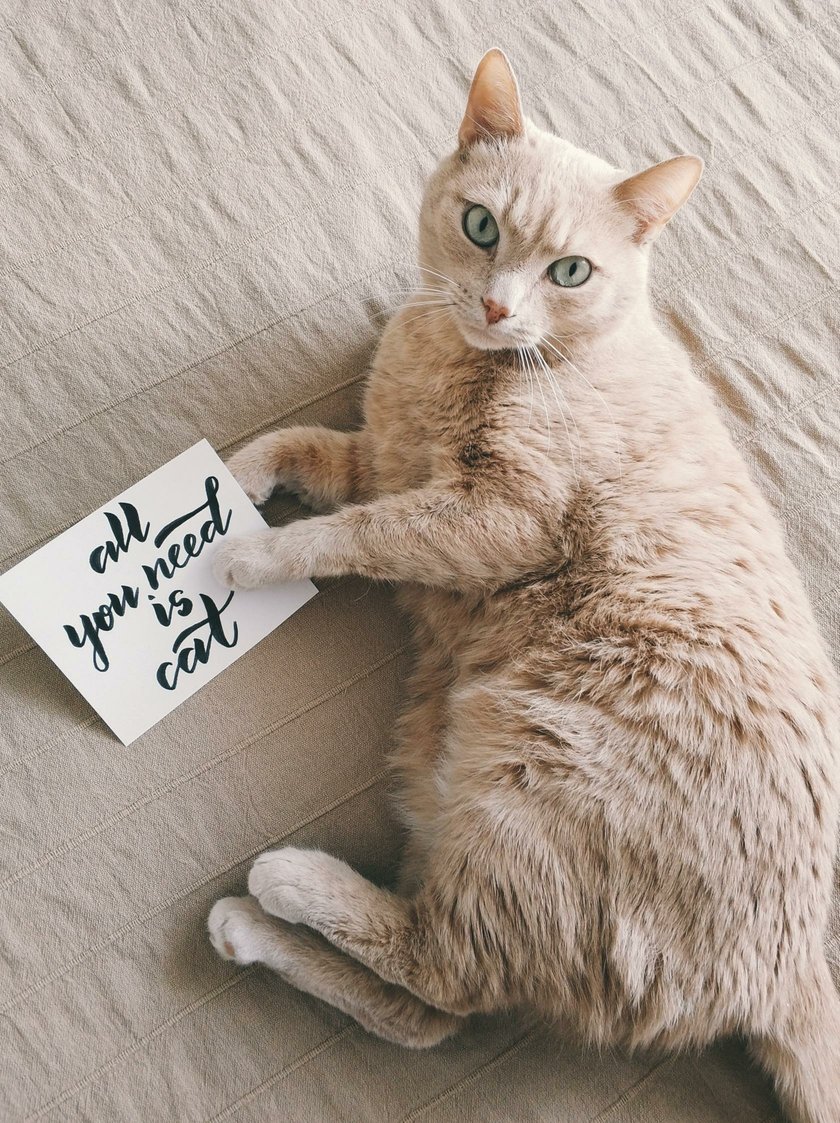 Planning a photoshoot with cats: creating a safe and engaging environment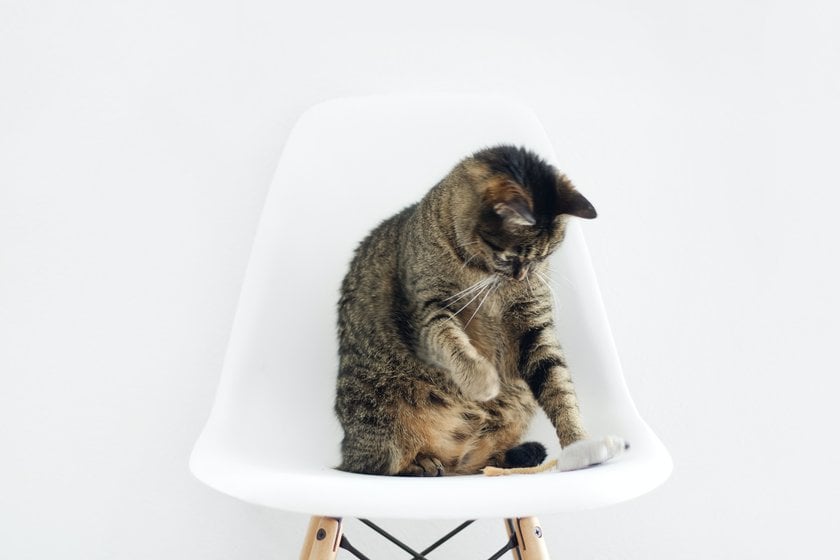 Well, some cats are very fond of being photographed and really enjoy it. Then all you have to do is have your camera with you and don't be lazy to take lots of pictures. However, I'm talking about the occasional photo, not a planned photoshoot. If you want to do such a photo session, you'll need to be well prepared especially if you're doing it for the first time.
So, here are some simple tips to help bring the best cat photography ideas to life:
The first thing you need to do is set the scene. Here it is very important to consider how comfortable your cat is. It can be a favorite rocking chair, a window sill, or a kitchen table. You need to make sure that the place you choose is free of any distractions.
To guide your adorable cat to the right place, show her your favorite treat or toy. Remember that you don't have to force your cat, as the most important thing is its comfort. In addition, cat photography requires sincerity.
If you want to use props, introduce the cat to them a couple of days before the photo shoot. Pets can take a long time to get used to new things.
Cat photo editing in Luminar Neo
Post-processing is an important part of the photography process. We recommend using Luminar Neo to get real photographic masterpieces. Thanks to presets and AI, you have the possibility to easily remove imperfections and improve your picture.
To make your cat picture better, you can use Relight AI. This tool allows you to bring light back to the image. You can also adjust your subject's exposure, foreground, and background. This will give you a better opportunity to highlight the object and put emphasis on it. You can also make the background cooler and the foreground warmer.
Luminar Neo's interface is very user-friendly, which makes the app convenient for experienced photographers and newcomers alike.
Final thoughts
So, we told you about the best cat photo ideas. Now it's up to you! We advise you to use the tips from our article, and then your skills will improve quickly. Have a great shoot and enjoy the cats around you!
FAQ
What equipment do I need for cat photography?
You don't need too much equipment to make cat picture ideas come true. As for the camera, it can be anything from a mirrorless camera to a smartphone. You will also need a prime lens of 85 mm. That's enough to create some real masterpieces.
How can I capture the cutest expressions and moments in cat photography?
Be careful and always carry your camera with you. It's quite possible that you'll see an unrealistically cute shot while your cat is sleeping or stretching. If you want to take a picture of your cat running or playing, use continuous mode. That way you won't miss a single important moment.
Are there any safety considerations when photographing cats?
Make sure the cat is comfortable, otherwise, she will be nervous. Try to shoot in places that are familiar to the cat and, if the cat is not yours, its owner should be there. You should also make sure the pet is familiar with the props you will be using.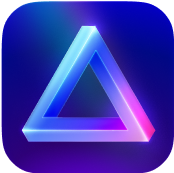 Advanced yet easy-to-use photo editor
view plans