An overview of the all-new Luminar 2018 by Rod Lawton from Life After Photoshop. Bonus: quick and easy Luminar workflow inside.
What is Luminar?
Luminar is a new type of photo editing software that can fix common image flaws, apply special effects with a single click and even create composite images blended with layers and masks – but it does all this in a very simple and intuitive way that means the job is no more complicated than it needs to be.
You can use it on a very simple basis to automatically enhance dull or dark photos, or develop your own unique effects presets for using again and again in the future.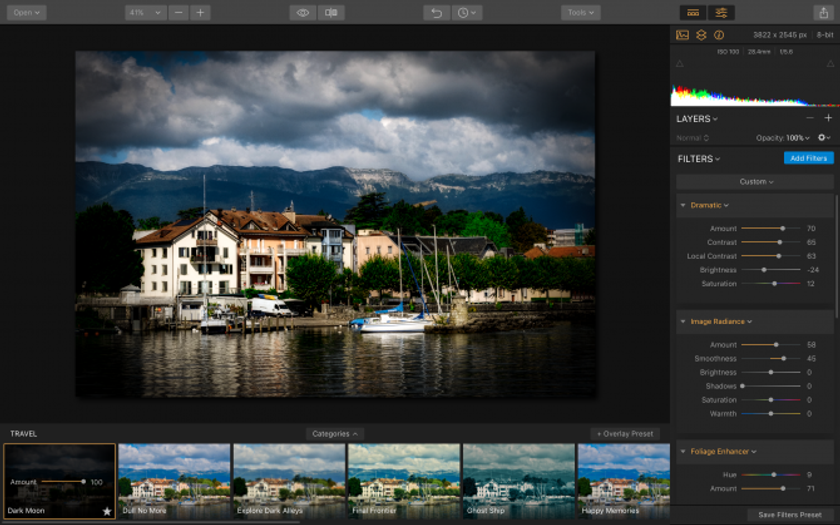 Luminar offers one-click presets to give your photos a completely new look in an instant.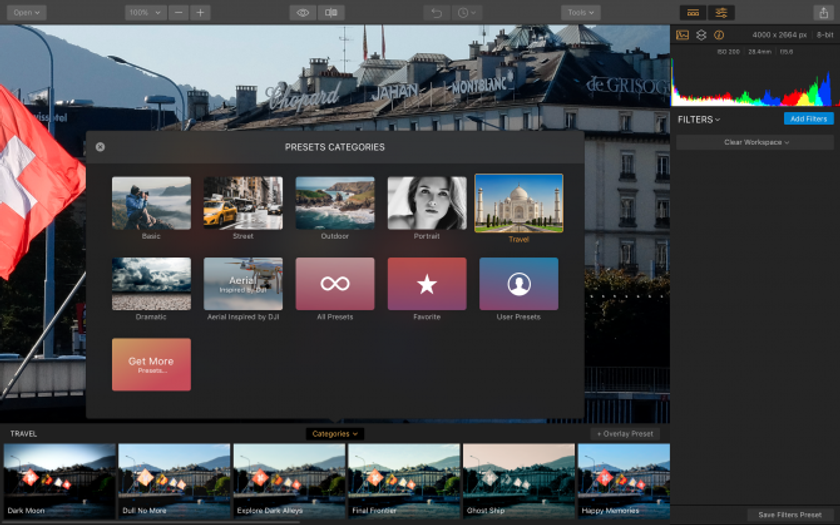 Luminar's presets are organised into categories, and you can get more preset packs here.
What are the main advantages of Luminar
Instead of having to wade through a whole bunch of tools to get to just the ones you need, you start with a workspace designed specifically for the job. Luminar comes with a selection of workspaces for Landscape, Portrait, Aerial, Street photography and more, and each workspace contains just the filters you need for that kind of photography. As you gain experience, you can create your own workspaces based on the filters you like to use most.
These filters are right at the heart of Luminar's power. Each one is designed for a specific job, such as black and white conversion, curves or texture overlays, and each has sliders for adjusting its effect. In Luminar 2018 there are no fewer than 50 different filters, many of them new in this version.
This might sound daunting, but you can just dive straight in with one of Luminar's many one-click preset effects, where the filters are selected and adjusted automatically. You can then see how the effect has been created and modify it yourself to produce your own version.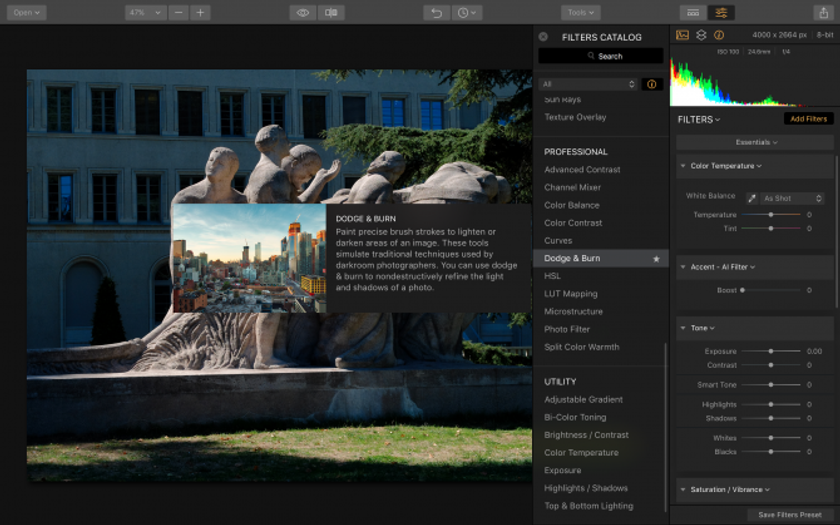 Luminar 2018 has many new filters, each displayed in the Filters Catalog complete with a sample image and a detailed description.
Luminar's main features
You can launch Luminar directly as a standalone application, or as a plug-in from within Lightroom or Photoshop.
All your work takes place in a single window. To see all the one-click preset effects, you click on the Preset panel button on the top toolbar to display them in a strip along the bottom. These presets are organised into categories, and you can swap categories using the drop-down menu in the panel's title bar. You can get more preset packs here.
Over on the right, you'll see the Side panel – if you don't see it, just click the button on the top toolbar to display it. The Side panel displays an image histogram, a layers panel (you can toggle this off if you're not using layers) and the Filters currently in use. These are stacked vertically in expanding/collapsing panels.
At the top of the Filters panel is a drop-down menu for selecting different workspaces or clearing the workspace entirely, and there's an Add Filters button which displays a pop-up Filters Catalog.
To Crop your photo, Transform (resize or flip) it, use the Clone & Stamp tool or use the Erase tool (for object removal), use the drop-down Tool button on the top toolbar.
Luminar 2018 uses 'workspaces' to display just the filters you need for that job. This is the B&W workspace.
Luminar 2018 - new features
Luminar 2018 brings some pretty big changes compared to the previous version and one of them is obvious straight away – its new, cleaner and simpler interface. You might also notice some speed improvements too, because Skylum has rebuilt Luminar from the ground up and tweaked some of its most popular filters for faster performance.
Luminar 2018 now offers real-time noise reduction and, for quality-conscious photographers using it as a standalone program, an improved RAW engine which can be seen at work in the new RAW Develop filter. This has additional tabs for lens corrections, including distortion and color fringing, and perspective corrections such as keystoning in tall buildings.
There are new filters too, including Sun Rays, a Matte filter for creating a faded vintage look, a Dodge and Burn filter for lightening or darkening areas of a picture (very popular in traditional black and white darkroom work) and Hue Shift and Brilliance/Warmth filters.
There's a new LUT filter too, which is especially interesting. LUT stands for 'lookup table' and its a way of 'remapping' the colours in images on to new values. It could prove especially useful for recreating analog film renditions, and there are third-party tools for creating LUTs from other programs' presets and your own image adjustments.
Luminar 2018's new RAW Develop filter also offers a Lens panel for correcting aberrations and a Transform panel for correcting perspective.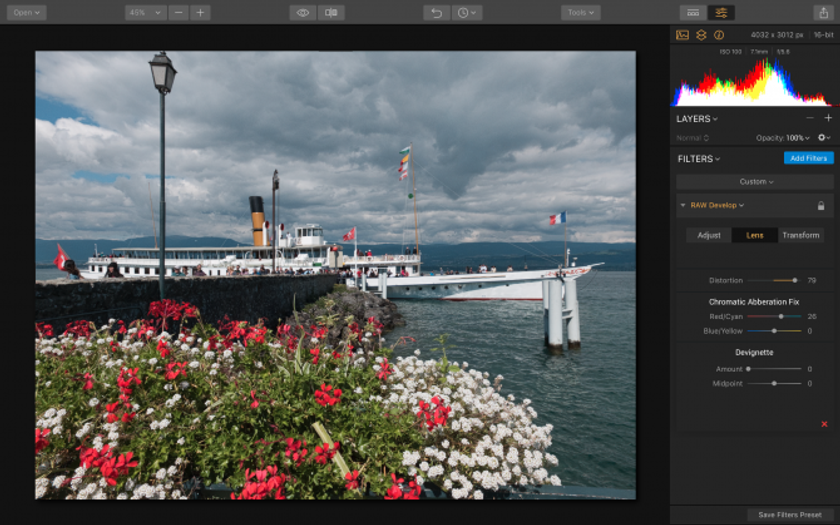 A quick editing workflow
It sounds like there's a lot to think about, but it's really very easy to get started, so let's go!
1. Opening a photo
There are a few ways of doing this, but we've just launched Luminar 2018 so that we can find our photo on our computer and drag it on to the Luminar window.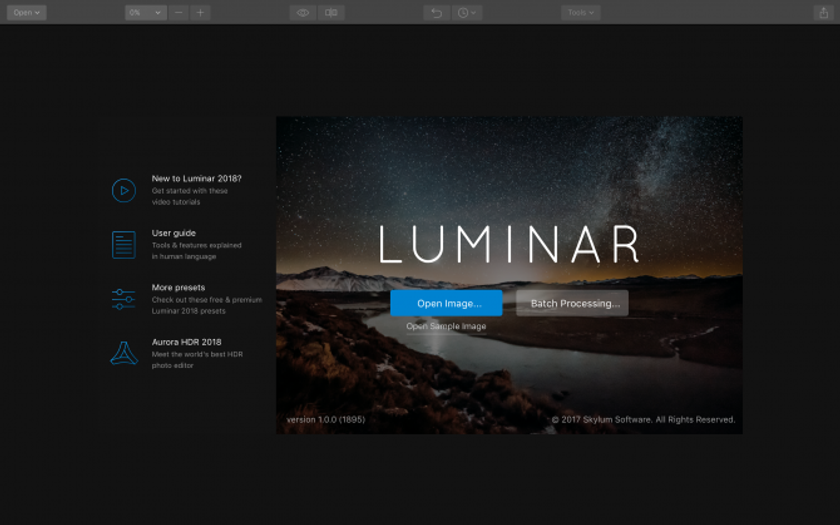 2. Browsing the presets
So let's have a look at some of Luminar's presets to see if there's one that's just right for our photo, and the Travel category seems a good place to start. Our photo is so dark it's almost a silhouette, though, and even this Warm Sunset preset leaves this beautiful baptistry looking rather dark.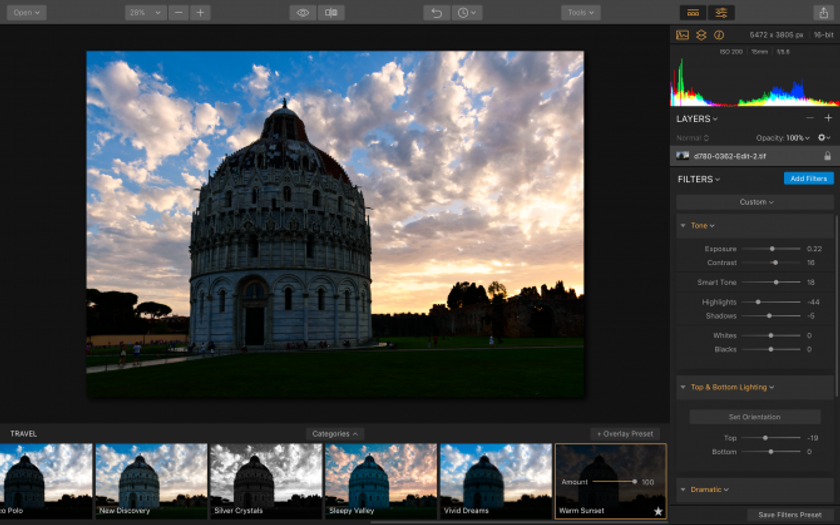 3. Choosing a workspace
It looks like this photo is going to need a little manual intervention, so we'll swap to the Filters panel and choose a workspace – when you do this, it clears any filters and adjustments previously applied by a preset. We know just the workspace we need – Quick & Awesome!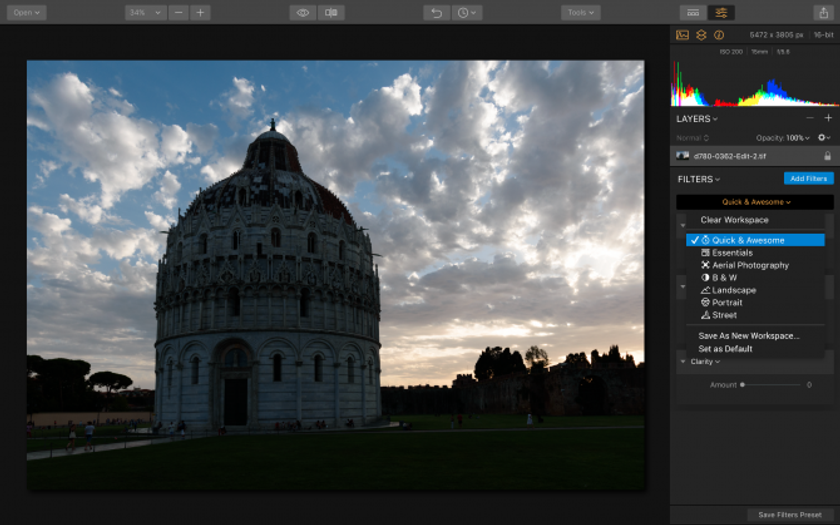 4. Using the Accent – AI filter
This is the first of the three tools in the Quick & Awesome workspace and the one that's going to do most of the work. It brings out the shadows and adds contrast to the sky, and a couple of tweaks to the Saturation/Vibrance and Clarity filters finish the job and really bring our photo alive.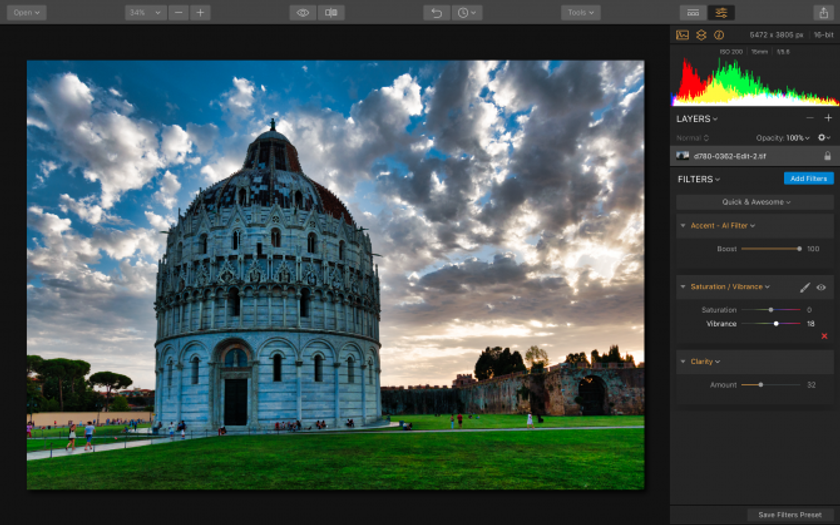 5. Adding Sun Rays
But it's a sunset, so shouldn't we have some sun rays? That's one of the new filters in Luminar 2018, so we add it with the Add Filters button. It's not quite in the right place to start with, so we click the filter's Place Sun Centre button to move it behind the clouds on the right where the 'real' sun is.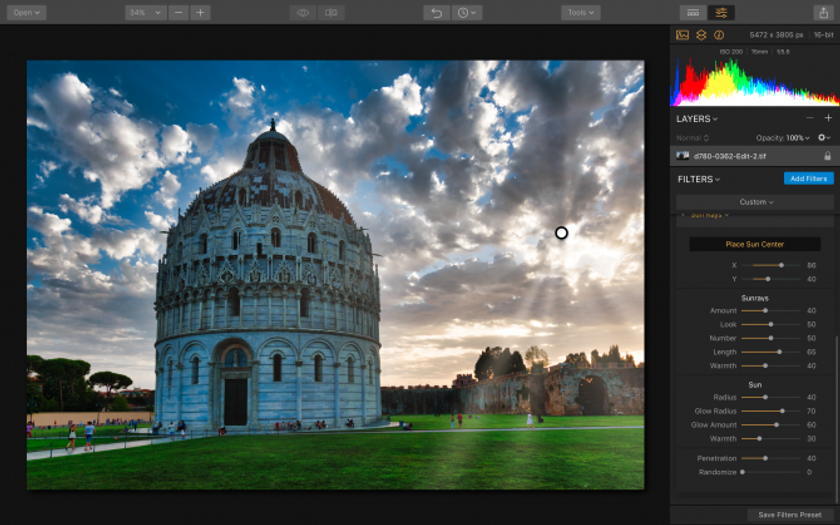 6. Masking effects
It's looking good, but the sun rays are visible over the foreground, which wouldn't happen in real life. That's easy to fix. Each filter has a Mask button, and we can use the brush to erase the filter effect over the foreground so that the rays only show up in the sky.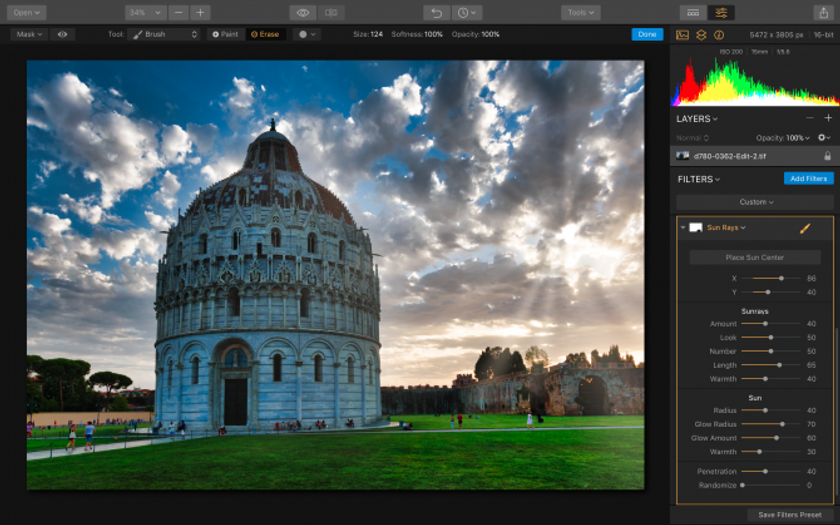 7. Using LUTs
LUTs (lookup tables) are another new feature in Luminar 2018 and you add them with the new LUT Mapping filter. Here, you load your LUT file (you get some free LUTs when you pre-order Luminar 2018) and adjust the Contrast and Saturation to fine tune the effect. Note, there's also an in-built collection of LUTs in Luminar.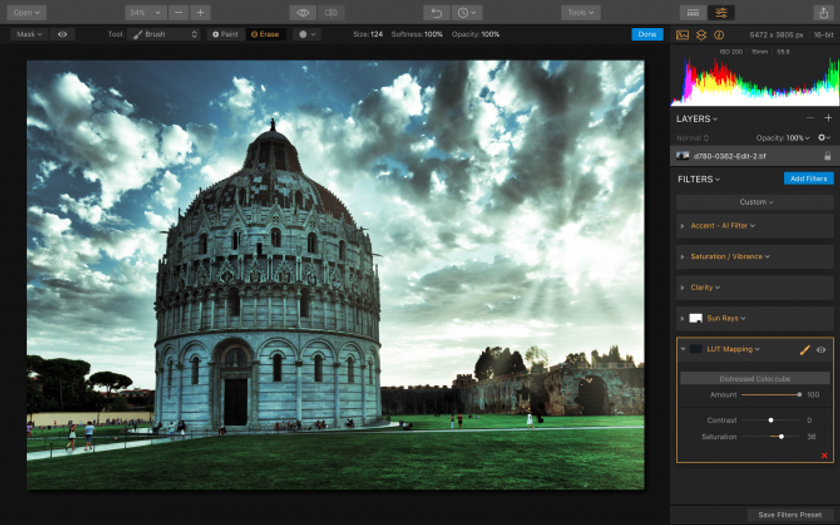 8. Using the Matte Look
Or for a vintage, aged look we can try out the new Matte Look filter. The Matte effect typically lifts the shadows just off a solid black, and the filter offers additional controls for Fade, Contrast, Vividness and Toning effects.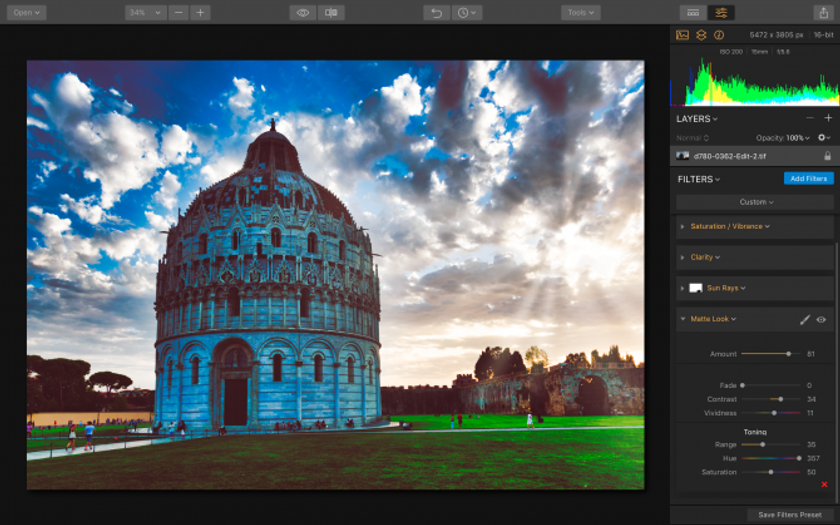 9. Removing unwanted objects
OK, so we'll stop with the filters for now and apply some finishing touches to our picture. We've got just a few too many people wandering about in the scene, and it would be nice to remove some of them, and we can do that with the Erase tool, which is on the top toolbar. It's so easy to use – you just paint over the objects you want to remove, hit the Erase button and Luminar fills in the gap automatically using details from the surroundings.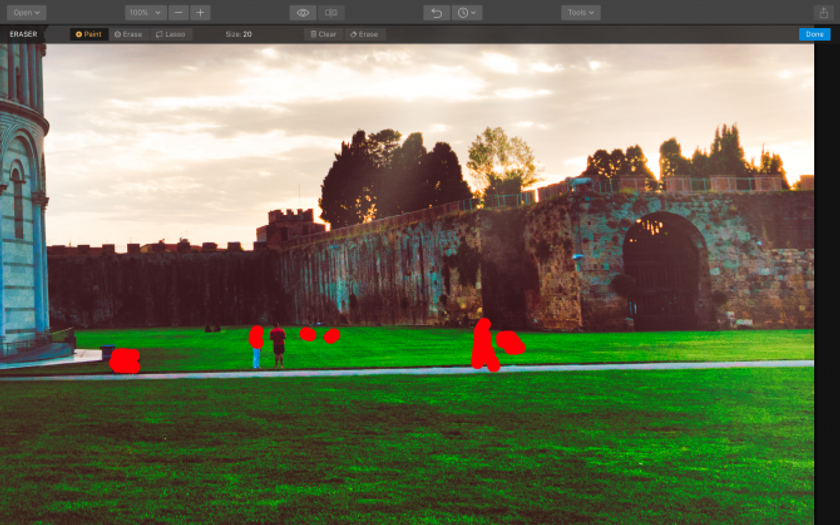 10. Exporting your image
The last job is to export a version of the photo we can share with other people. For that we just need the File> Export command, and in the Save As dialog you choose the file format you want. We'll save our picture as a JPEG, and our work is done!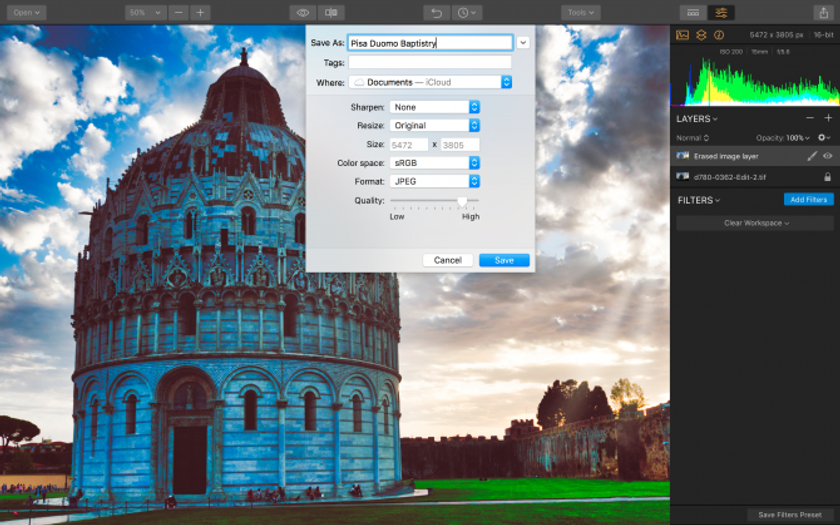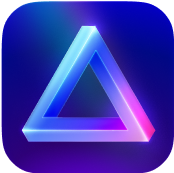 Advanced yet easy-to-use photo editor
view plans