It has been 2 weeks since we launched Luminar. And the future never looked brighter.
Today we release the first update of Luminar for Mac. The new version brings a number of important performance improvements and fixes in addition to the TouchBar support in the new MacBook Pro, improved speed and Raw processing. The update is free for all the current customers: here's a short guide on how to update to the next version.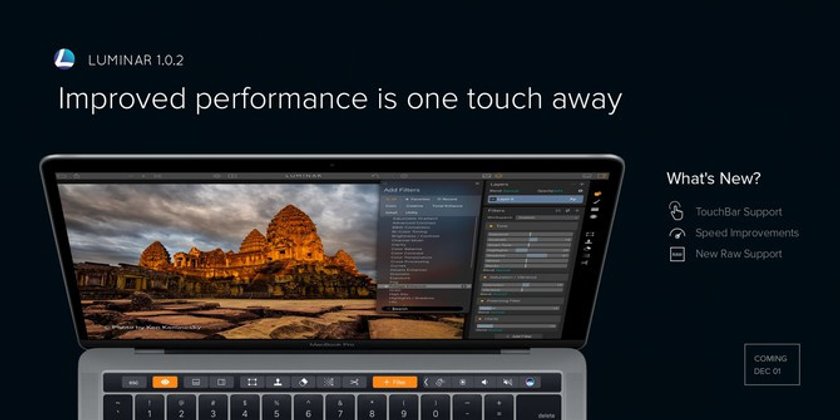 This is the first update of many that will support Luminar development. It was never a secret that we've launched this new photo editor to challenge Adobe Lightroom and Apple Aperture. And we understand that this will not be easy.
Lr is the current standard for photo editing on Mac, PC and Mobile for many, and Aperture is hands down the best photo software created for the Mac platform. But these several weeks of Luminar being available to the photographers worldwide have proved that we are on the right track. And the future is bright and promising.
When we were getting ready to launch Luminar, we knew it would appeal to many photographers. But we didn't expect the new software would make such a huge impact. Today dozens of thousands of photographers are already using Luminar. And thousands are very close to making Luminar their default photo editing software on the Mac.
At the same time, we understand that there are hundreds of thousands of hobbyists and professional photographers, who haven't heard about Luminar, who are hesitant to try it, who haven't got what they wanted from version 1 and those who can't even try Luminar because it is a Mac only software (for now).
So for people who already use Luminar, as well as for the future users, here are some of the things we will be doing to support and develop the new photo editor.
Expect the new update every 1-2 month in 2017. There are literally dozens of tools and improvements in the queue. You can compare and see that Luminar already offers more photo editing tools than Aperture or Lightroom, but there is much more yet to be added. We plan to roll out another free update as soon as December 18th with batch processing, new photo filter and more tools.
Expect fantastic exclusive Luminar trainings, presets and workspaces from some of the world's best photographers. You can already download free preset packs from Pro Luminar users, but even more is coming. We are finishing up the holiday photography tutorial, the aerial photo editing in Luminar and a lot more. In a word, there will be a lot to discover, learn and get inspired about.
Expect fun photo contests and creative challenges. You'll have a lot of opportunities to showcase your photos made with Luminar in 2017. The best photos will be featured on the covers of top photo magazines around the world.
Expect the PC version in 2017. We know we are late with this, and we really wanted to launch the Windows version earlier. But with the PC version launch we want to make sure we deliver you the highest quality and the best experience. And crafting a great product takes time.
Expect Digital Asset Management (DAM) in 2017. Photographers who are currently using Lightroom or Aperture have been very happy running Luminar as a plug-in to deliver many times the editing power of those host apps. A ton of early adopters have also asked us to add image browsing and management to Luminar, which we've committed to delivering next year.
So stick with Skylum. We'll keep trying harder than other guys to win your hearts. We're good listeners and we'll be doing our best to offer you more than anyone else. Great times are coming, and Luminar is just the beginning.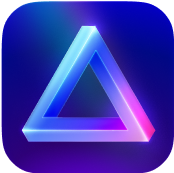 Advanced yet easy-to-use photo editor
view plans