Often photographers rent studios to conduct photo shoots in them. However, not everyone does. Many prefer to create a comfortable studio and enjoy working in the house.
Some people think that working from home is very difficult, especially for a photographer. I don't think these people have ever tried to make their own studio; otherwise, they would have realized they were wrong. If you're wondering: "How to create and furnish my photo studio in an easy way", I want to give you some tips and ideas. I started at work at home myself, and believe me, at first it was the best solution. Well, buckle up, we're getting started!

I would like to remind you that you not only need space and equipment but also a photo editor. I recommend you try Luminar Neo because it makes post-processing much easier. This AI photo editor saves a lot of time when transforming pictures. You can also take advantage of awesome presets and extensions that allow you to turn any picture into an incredible work of art. If you need to improve an image quickly, use Skylum's handy online photo editor.
What Are the Pros of a Photography Studio at Home?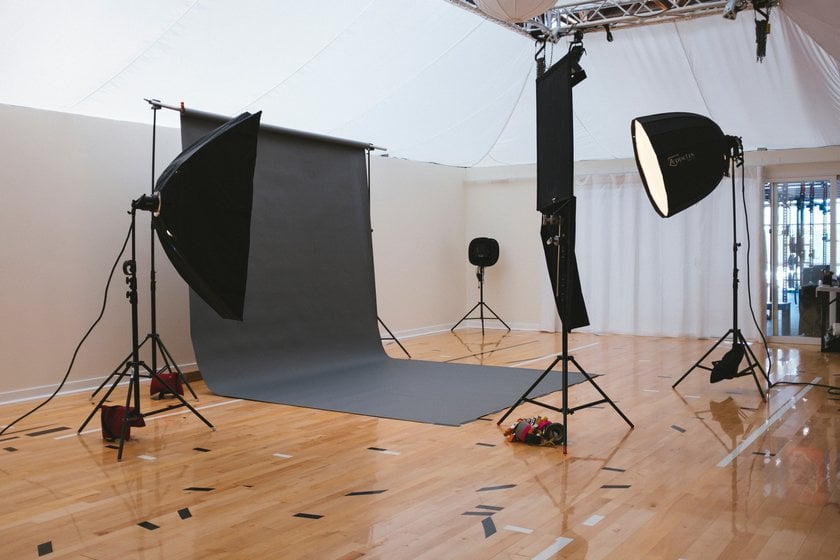 Of course, many photographers who have been working for many years would never agree to this option. However, it is great for beginners. What's more, I'm sure any photographer would appreciate the benefits. I'll tell you more about them:
Reduced overhead costs. When you're just learning how to do pricing, you're bound to run into this. Overhead costs include equipment, studio rental, and post-processing tools, for example,

software for noise reduction

. Of course, you won't get away with buying or upgrading equipment or purchasing a subscription to a photo editing app, but your rental costs will automatically go to zero. In this case, the financial burden, especially on the novice freelancer, will be reduced.

More flexibility and freedom. Now, many people are learning to work remotely. And that makes sense, especially for a photographer. You don't have to spend valuable time getting to the studio, so you can use it to do something useful, like pump up your skills.

The ability to solve problems and find creative solutions. The role of the photographer is not just to press the camera shutter. You can learn how to solve problems, such as easily organizing space in a small home portrait studio or figuring out what to do with lighting. Either way, it's very rewarding for you. As long as you are not earning large amounts of money, it is also worth looking for

free photo stitching software

and

photo storage sites

to improve your work.
Setting Up a Photography Home Studio: Creating a Professional Workspace
Let's take a close look at what to consider when creating a home studio in which you might be able to make real photographic masterpieces.
Decide Layout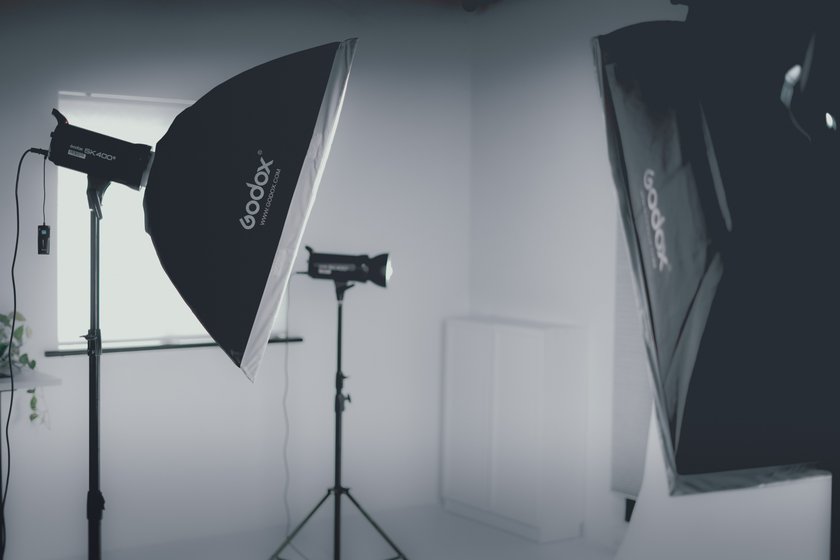 Of course, not all of us live in a large house, where there is an opportunity to allocate a separate room for a studio or have the opportunity to make an extension for this. If you are thinking about the location of a photo studio, choose an area with natural light. It can be either small or large. Let's take a close look at the layout for each option:
Small space. In this case, you can make a versatile studio. Most likely, the only genre you can't capture is model photography. Be sure to think about a suitable background and lighting.

Large space. If you have the ability to dedicate an entire room for a photo shoot, your potential increases. You should remember that for a large space, the background should also be large. In addition, you will need additional light sources.
Optimize Your Workspace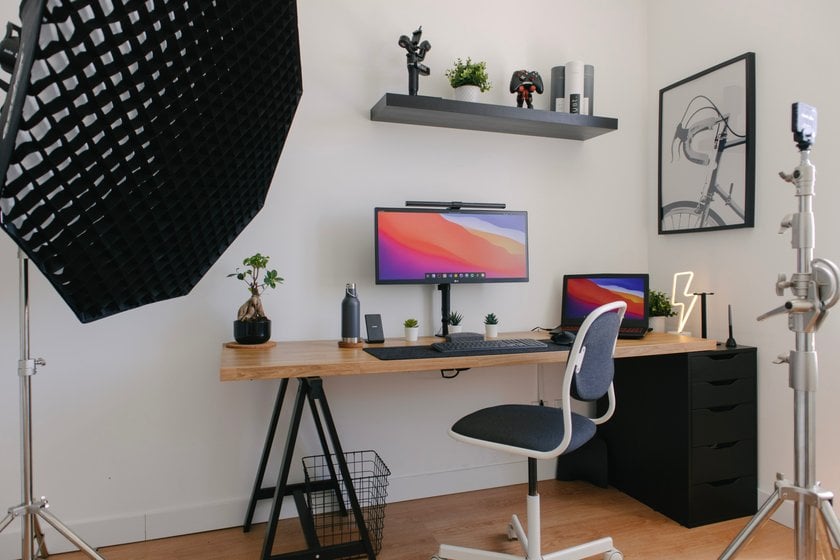 The workstation is something you can't do without in any photo studio for photography. The value of its convenience is revealed over time. I recommend buying a table and chair on wheels. You definitely can't do without them, because you need somewhere to put your PC or MacBook to edit photos and somewhere to sit while you do post-processing.
Also, think about a place to store your equipment. If there is enough space, use drawers. If your space is limited, make hanging shelves so you don't waste it.
Make a Pretty Atmosphere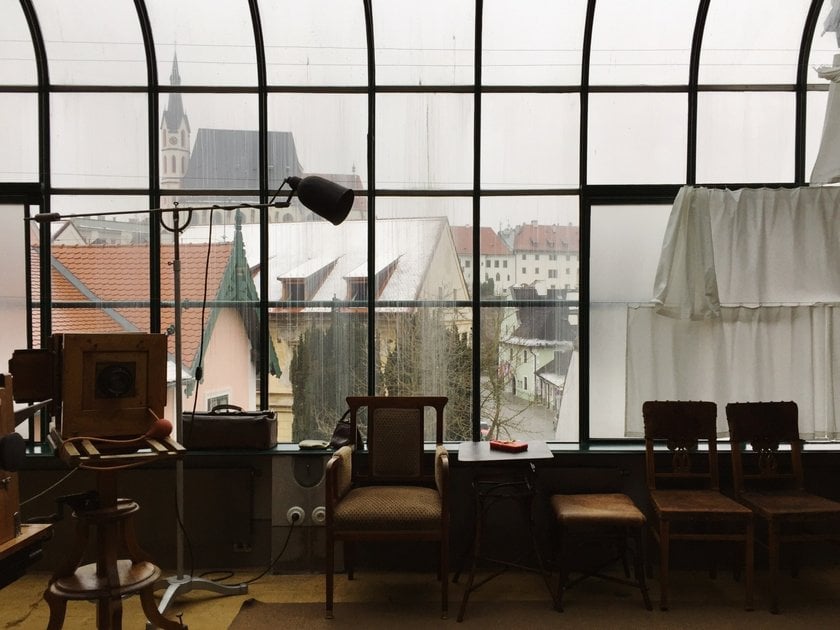 You've made a comfortable workspace, and now it's time to think about the mental comfort of your clients and models. You want to make a good impression, right? Here are a few tips to help you do that:
Take care of the cleanliness of the room. Dust and dirt should not be present.

Decorate the walls with your best artwork. Print out these pictures and place them where customers and models can see them.

Be sure to think about climate control and hot coffee. This will help you create a nice atmosphere.

Make sure the models have a private area to dress. Also not out of place would be a mirror, so that the model could look at herself before the photo session.
Essential Gear Every Photographer Needs: Building a Versatile Collection
Often newcomers think that they don't need anything other than a camera to create photography studio pictures. I have to disappoint them because every photographer needs additional equipment. Let's take a look at a list of what you might need.
Camera Gear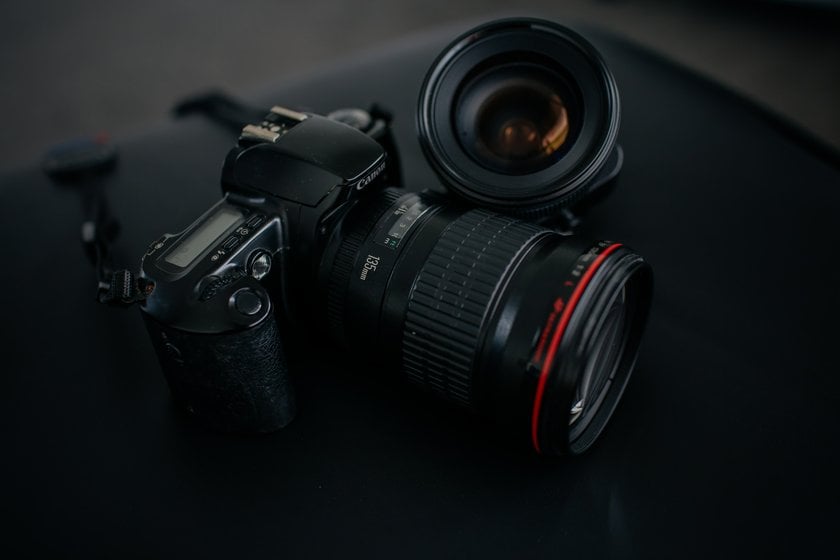 Well, of course, you can't do without a camera. Depending on your preferences, you can choose a digital or mirrorless model. Be sure to choose a camera with the ability to manually adjust the ISO, which is capable of working in low light conditions,
You should also take care to buy more than one lens at a time. 27-70 mm are lenses every photographer needs. They are designed for general photography, so if you are an amateur and haven't yet decided on a specialty, they will definitely suit you. But if you want to learn how to work with portrait photography, you will definitely need 85mm lenses.
Studio Gear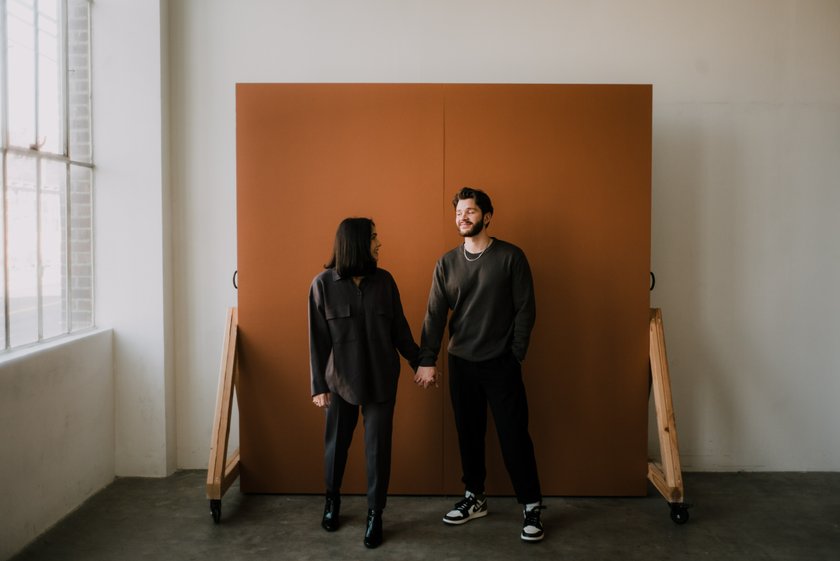 As you can see, it certainly doesn't end with the camera equipment. Let's move on to the other gear you'll definitely need.
Backdrop. Every professional and beginner needs it, regardless of the genre you choose. You can make do with a few rolls of heavy paper bought at the store or make unique backgrounds yourself.

Lightning. One of the most important things to forget is unforgivable. You'll need at least one Speedlight that fires via a remote trigger. Remember that you might not have only one lighting source. It depends on what genre you're working in and what tasks you'll be performing.

Light stands. Without this important thing, you can't control light sources if you have more than one. Buy them and place them in your home photo studio.

Light modifiers. These include softboxes, beauty dishes, and umbrellas. They make it very easy to change the way the light looks. Just attach them to your flash and enjoy.

Computer and post-processing applications. Choose your computer carefully. I suggest looking at models that can process RAW files. Also, the device should show high performance with applications like Luminar Neo or Adobe Photoshop.

Power supply. Many newbies forget this, but it's hard to overestimate the value of charging equipment. I recommend buying a powerboard that supports 4-6 standard outlets and a couple of USB ports.

Tripod. An indispensable thing, especially when it comes to product photography. If your budget is limited, you can buy a simple plastic model. For taking pictures at home, it will be enough, because you don't have to worry about it being blown away by the wind.
Analyzing Market Trends: Insights to Guide the Future of Your Photo Studio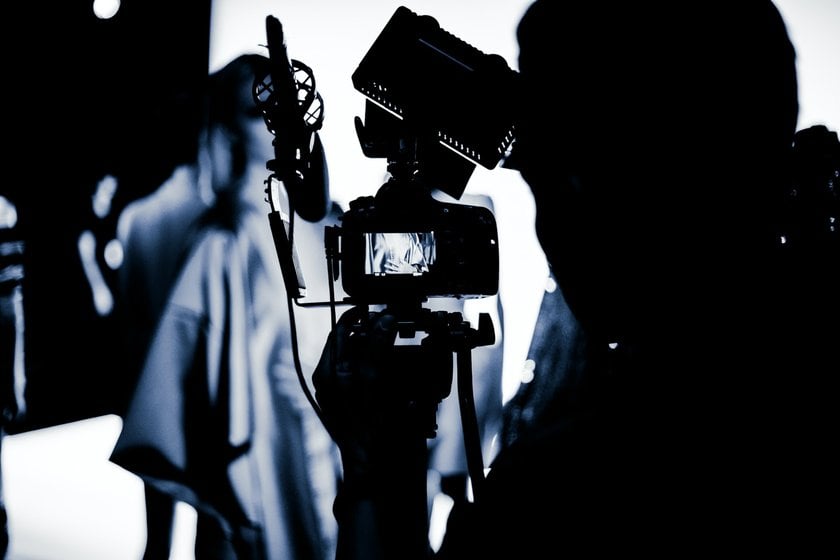 Well, equipping a photo studio can be quite a costly activity, but this activity can bring you a lot of profit. For example, look at these statistics: 1.81 trillion photos are taken worldwide every year, which equals 57,246 per second, or 5.0 billion per day. Every year the photo industry grows. It is predicted that by 2025 the value of the sector will be $44.07 billion.
Unfortunately, 60% of newcomers go bankrupt in their first year. In the second year, only 15% can pass. You should seriously think about how to be among them. What to do? I'll give you some tips that have helped me stay afloat:
Think about what genre you want to work in now and five years from now, and choose your equipment accordingly. Portrait photography is on the cusp of popularity, but that doesn't mean you have to become a portrait photographer. If you're a beginner, I recommend choosing a low-competitive genre and taking care of the advertising.

Determine what your budget allows for. Of course, you want to buy a premium camera and gear right away, and it's cool if you have that option. If you don't have it yet, think about making DIY equipment. Often it will serve you well, and you'll have a new experience without taking a hit to your wallet.

Think about promoting your personal brand. You should keep in mind that often newcomers go bankrupt precisely because they don't have any clients. I'll talk more about this below.
Building a Strong Brand: Creating an Identity for Your Photography Business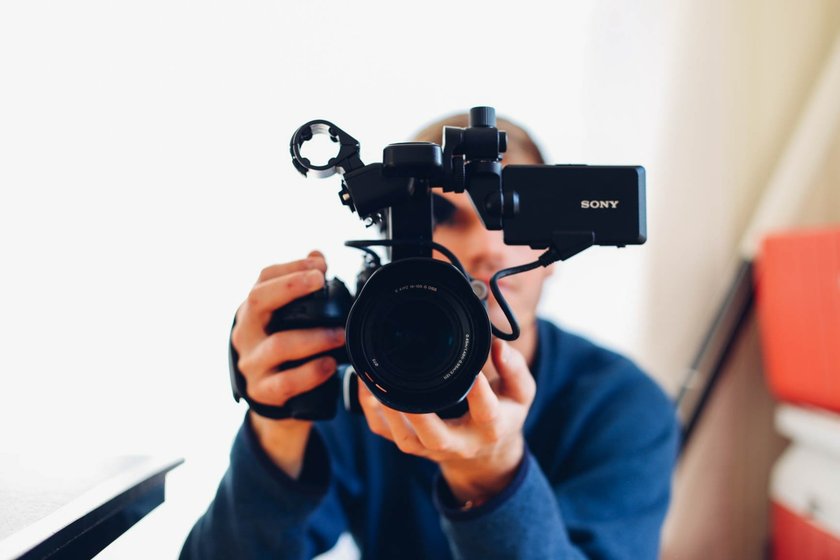 If you work from home, it does not mean that it will be enough for you to provide services only to your neighbors. You should definitely develop your brand to become better known, get new clients, and eventually make money.
The first thing you should do is decide on the genre in which you want to work, figure out who your target audience will be, and understand what makes you unique as a photographer. For example, those who take pictures of weddings focus on the fact that they can convey all the amazing emotions that the newlyweds will experience at this amazing and touching event. Of course, in this case, the target audience will be those who are looking for a photographer who can take amazing photos that capture the spirit of the wedding.
Be sure to think about the tools that help you stand out. These include:
Title;

Logo;

Colors;

Font styles;

Post-processing styles.
Remember that they should form a coherent image. For example, if you specialize in bold street photography, don't be afraid to experiment with colors and fonts, and come up with an interesting, provocative name. Don't forget that it shouldn't be offensive or insulting!
Remember that word of mouth is one of the best ways to make yourself known. If you are just at the beginning of your creative journey, ask each client to recommend your services to his acquaintances (if the client likes them, of course). Don't forget about social media advertising. In the end, you can lead courses and master classes, tell other users how do layer masks work, and reveal other secrets of post-processing and photography. That way, potential clients can understand that you are a true expert, and they will reach out to you.
My last piece of advice is to create a catchy website. There you can not only publish your portfolio but also talk about yourself as a professional and a person. Communicate with potential clients, show them examples, and you can definitely increase your popularity and, most importantly, start earning!
To Sum Up
I really hope that my practical advice will be useful to you. Always be prepared for the unexpected, but remember that it is also a new experience. I wish you great clients and creative inspiration!
FAQ
How Can I Set Up a Photography Studio at Home to Enhance My Professional Work?
You should make sure you have all the gear you need: a camera, tripods, lenses, lighting equipment, etc. Organize your space so that you are convenient, and don't worry about making sure the models are comfortable.
What Are the Essential Lenses That Every Photographer Needs for Their Studio Photography?
If you are just starting out, you will need a 27-70 mm lens. When you decide on the genre, you can consider other options depending on that.
Should I Consider Transforming My Home Into a Portrait Studio?
It all depends on your preferences. If you are comfortable working from home and want to reduce your overhead, this is ideal. But if your space is quite limited or you don't want someone you don't know visiting your home, it's better to prefer renting.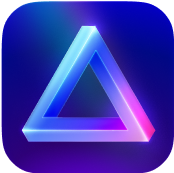 Advanced yet easy-to-use photo editor
view plans