In the world of photo editing, there's no doubt that Photoshop Express has been a popular choice for many. Its tools and features have helped countless users enhance their images and bring their creative visions to life. However, just like there's more than one way to capture a stunning photograph, there are also alternatives to Photoshop Express that offer unique advantages and features.
This article delves into five of the best Photoshop Express alternatives available, each offering capabilities for transforming your images. We will also talk about Luminar Neo and its modern AI features in the context of the best substitutes for the well-known Adobe product. Whether you're a professional photographer or a casual enthusiast, these alternatives allow you to achieve remarkable edits without complex software.
A 7-day Free Trial of Luminar Neo with no obligation
Get it now!
Embarking on this journey of discovery will not only introduce you to fresh avenues for photo editing but also provide a broader perspective on the ever-evolving landscape of digital image enhancement. So, let's dive into the world of these Photoshop Express alternatives and unlock a new realm of creative possibilities.
Photoshop Express As a Product of Adobe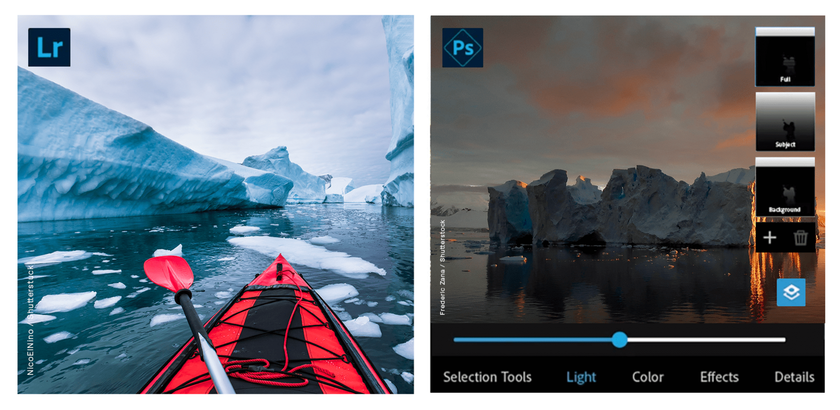 Launched in 2008 as a web-based application, Photoshop Express emerged as a streamlined iteration of Adobe's iconic Photoshop software. Geared towards a diverse user base, from novices to casual enthusiasts, it introduced a user-friendly platform for basic photo editing tasks. Initially free of charge, the tool facilitated fundamental adjustments such as cropping, color tuning, and filter application. Its user-centric interface contributed to its popularity among individuals seeking quick edits devoid of Photoshop's intricate features.
Adobe broadened Photoshop Express's influence over time by unveiling mobile applications compatible with iOS and Android devices. This expansion empowered users to refine their images on the go using smartphones and tablets. Moreover, Adobe introduced subscription plans that offered supplementary features, storage options, and premium content. This move catered to users seeking more advanced editing tools.
Regarding Photoshop Express price, Adobe offers Photoshop Express as a free-to-use photo editing software. It means you can download and use Photoshop Express without any initial cost. However, it's important to note that Adobe often provides additional features, storage, or premium content through in-app purchases or subscription plans. These offerings can vary and include options to access more filters, effects, storage space, and advanced editing tools.
Photoshop Express Review: Pros And Cons
When considering a photo editing tool like Photoshop Express, it's important to weigh its strengths and weaknesses. It can help you determine if it fits your editing needs correctly. After researching Adobe Photoshop Express reviews, we are ready to highlight for you the most popular points that users of this software drew attention to. Here's a breakdown of the pros and cons of using Photoshop Express:
✅ Pros:
Versatile Editing Options: Photoshop Express provides a wide array of tools to enrich and alter your pictures. It encompasses various tools catering to different editing needs, spanning fundamental enhancements like adjusting brightness and contrast to more intricate functionalities such as employing filters and utilizing layers.
Integration with Adobe Ecosystem: If you're already familiar with other Adobe software, using Photoshop Express can be seamless due to its integration within the Adobe ecosystem. It can streamline your workflow if you use multiple Adobe products.
User-Friendly Interface: Photoshop Express is designed with user-friendliness in mind. Its intuitive interface makes it accessible for beginners and experienced editors, ensuring you can easily navigate the software.
Mobile App: The availability of a mobile app allows you to edit on-the-go. You can edit your photos quickly using your smartphone or tablet, giving you flexibility and convenience.
❌ Cons:
Restricted Advanced Functionalities: While Photoshop Express offers a decent assortment of tools, it might lack certain more sophisticated features present in the complete version of Photoshop. The Express variant proves constrained when dealing with exceedingly specialized editing requirements.
Internet Connection for Cloud Features: Certain features and storage options might require an internet connection due to cloud integration. It can be a drawback if you're in an area with limited or no internet access.
Subscription Costs: While Photoshop Express offers a free version, some advanced features and additional storage may come with a subscription fee. Adobe Photoshop Express's price might concern those seeking a free editing solution.
Learning Curve: Although the interface is designed for ease of use, becoming proficient in the advanced functionalities of Photoshop Express might entail a period of learning, particularly for newcomers to photo manipulation.
As we explore alternatives, weigh these pros and cons to make an informed decision about the photo editing tool that suits your preferences and needs.
5 Great Alternatives to Photoshop Express for Photo Editing
While Photoshop Express has advantages, like an extensive array of editing possibilities and integration within the Adobe ecosystem, other options present diverse approaches that could align better with your preferences or specific editing requirements. Let's explore these choices, their features, user-friendliness, and what sets them apart. Whether you seek simplicity, advanced tools, or distinctive filters and effects, you'll discover an alternative that resonates with your editing style. These five substitutes offer a spectrum of options tailored to your preferences:
Luminar Neo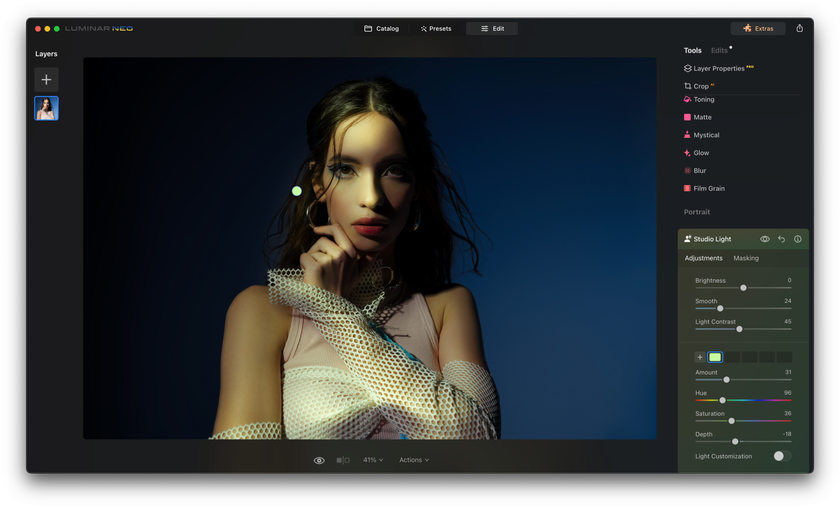 Luminar Neo is a cutting-edge image editing software offering many exceptional editing functions. It focuses on enhancing photographs with a more streamlined approach than Photoshop. It's especially popular among photographers for its robust editing features and organization tools. With presets, Luminar is a top choice for those who want to enhance their photography skills. This photo editor is also gaining popularity due to its advanced artificial intelligence features. With Enhance AI, you can add an amazing atmosphere to your pictures.
AI-powered templates swiftly enhance photos.

Advanced masking tools and layer support enable intricate adjustments.

The CompositionAI tool improves image composition.

Background replacement, sky enhancements, and relighting allow creative scene alterations.

Portrait tools offer precise retouching and facial feature adjustments.

AI Skin and Body tools enhance portrait subjects.

Professional-grade color grading, split toning, and advanced color correction options provide artistic control.
With its innovative AI technology and comprehensive toolset, Luminar Neo empowers photographers and artists to achieve stunning results while streamlining their creative workflows.
Canva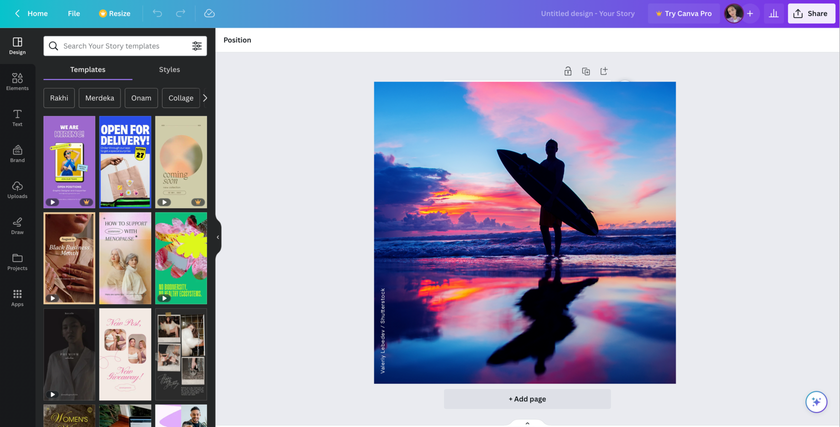 Canva boasts notable design capabilities while also housing potent photo editing tools. It excels crafting visuals for social media, presentations, and marketing content. Leveraging a drag-and-drop interface and an expansive template collection, Canva proves ideal for those blending editing and design tasks.
Its arsenal encompasses filters, cropping, and color tweaks for image enhancement. Guided by a user-friendly layout and an extensive asset library, Canva empowers users to produce striking visuals for diverse applications.
Photopea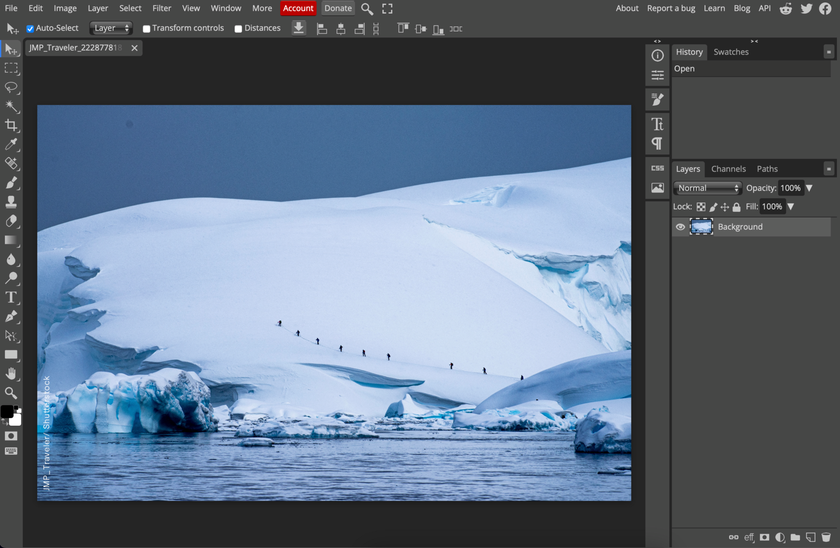 Photopea emerged as an online tool designed for photo editing, closely mirroring the user interface of Photoshop. It adeptly manages a wide range of file formats, facilitating swift modifications without requiring software installations. Despite operating within a web-based framework, Photopea surprisingly encompasses many editing possibilities, rendering it a flexible choice for various editing endeavors.
Precision is ensured through selection tools like the Pen and Lasso. Layer management, blending modes, and smart objects facilitate complex compositions. Enhanced retouching tools include the Healing Brush and Clone Stamp. Tonal balance is elevated through adjustments in curves, levels, and colors. Filters and effects stimulate imaginative transformations. Seamless workflows are assured by Photopea's support for diverse file formats and PSD compatibility. Its remarkable feature set and responsive performance establish Photopea as a versatile solution catering to professional-level photo editing and graphic design.
GIMP
GIMP is a powerful open-source image editing software with many features similar to Photoshop. With its extensive toolkit, you can perform tasks like retouching, color correction, and even advanced graphic design. Its flexibility and customizable interface make it a favorite among beginners and experienced editors.
Its robust toolset includes precise selection tools like the Magic Wand and Quick Selection, versatile layer management, and advanced color correction through curves and levels. The Clone Stamp and Healing Brush effectively remove imperfections, while Filters and Effects enable creative transformations. GIMP's text tools provide flexible typography, and its export options cover various formats. Additionally, its customizable interface and extensive plugin support enhance productivity. With these functions, GIMP empowers users to edit images with precision, creativity, and efficiency.
Pixlr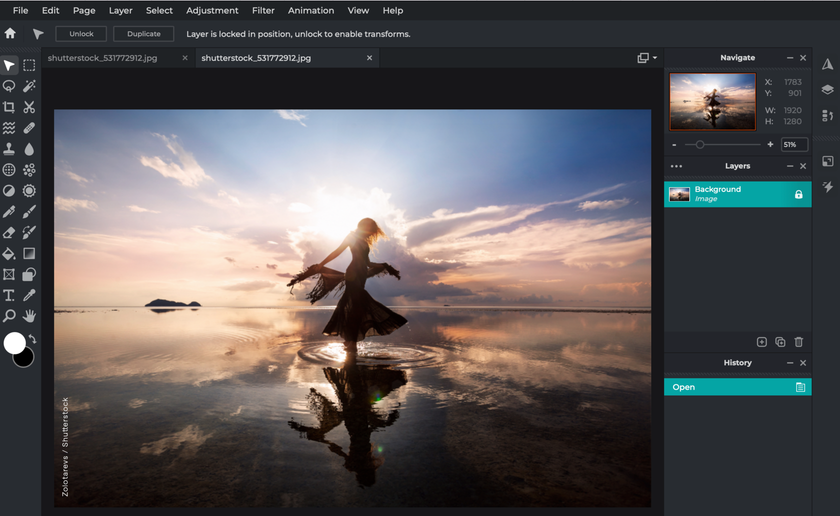 Pixlr is an online platform dedicated to photo enhancement, offering various tools tailored for swift and uncomplicated adjustments. Available in both free and premium variants, it accommodates varied feature preferences. Noteworthy for its user-friendly layout and extensive selection of filters and effects, Pixlr is an optimal option for individuals seeking to infuse creativity into their visuals.
Its versatile selection tools, including Lasso and Magnetic Wand, enable precise edits. Layer blending modes and masking support advanced composition. Color correction tools like Auto Fix and Curves enhance images. Creative overlays, filters, and effects provide artistic transformations. The Healing Brush and Clone Stamp effectively removes flaws. Text tools offer diverse typography options. Pixlr's user-friendly interface and real-time collaboration feature enhance convenience. With its simplicity and comprehensive features, Pixlr empowers users to edit photos efficiently while fostering creative expression.
Bottom Line
Regarding photo editing software, Photoshop Express by Adobe is a prominent name that has gained a significant user base. It presents a robust set of editing tools, especially for those familiar with the Adobe ecosystem. Its user-friendly interface and mobile app add to its appeal. However, its limitations in advanced features, potential subscription costs, and the need for an internet connection for certain features are factors to consider. If you're seeking a powerful yet accessible photo editing tool with a familiar interface, Photoshop Express is worth exploring. However, if your editing demands lean toward more complex tasks, you might find the full Photoshop software or other alternatives more suitable for your creative journey.
The five alternatives we discussed to Photoshop Express offer a range of powerful features for photo enhancement and creative projects. Each platform provides unique tools and user-friendly interfaces, catering to diverse needs and preferences. Whether you seek professional-level editing, simplified design tasks, or quick fixes, there's an option for you. These alternatives ensure accessibility and flexibility, allowing you to achieve impressive results without the complexity of traditional editing software. With choices like Luminar Neo, Pixlr, Canva, Photopea, and GIMP, you can confidently explore different avenues for perfecting your images and expressing your creativity.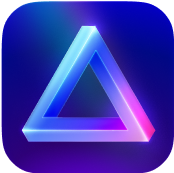 Advanced yet easy-to-use photo editor
view plans