Discover the best social media sites for visual artists who want to share their work and showcase their artistic journeys.
Every photographer wants to share their pictures, receive feedback from critics and the general public, and be recognized. But when your favorite social media channel becomes an ad machine and only shows promoted posts, it's time to look for alternatives.
The most popular social media platforms, Facebook and Instagram, are no longer the best places to display your photographic work and get appreciated. They've become the domain of corporations, advertising, politics, and influencers. Moreover, if you carefully read the terms and conditions of these platforms, you'll see that they can use your images any way they like. Instead of connecting people and making digital art visible to a large audience, the social media giants are struggling with big data algorithms, fake news, and paid services.
All the same, social media is an important part of our lives, and sharing your work on social media is still the easiest way to get noticed, showcase your portfolio, and receive feedback. All artists value people's reactions to their work. But sometimes, it takes too much time and effort to build a popular social media account. And sometimes, success isn't based on value but on the algorithm behind the most famous social media platforms.
Photo by

Goran Ivos, Unsplash
Why Facebook and Instagram aren't good places to share your pictures anymore
While Facebook is popular and can get your pictures in front of lots of people, many photographers prefer Instagram because it allows you to choose who can see your pictures and prevents people from downloading them. This helps to protect the intellectual property of visual artists.

Instagram has earned a reputation as a place where visual artists can sell their work and find clients. An Instagram account can serve as a portfolio, and the number of followers and likes adds to a photographer's credibility.
However, Facebook and Instagram need to manage loads of information and decide who sees posts. Moreover, the popularity of social media channels has generated a new problem: fake news.
Last year, Instagram launched a feature to hide digitally manipulated photos, but this has unintentionally blocked the work of some digital artists and photographers. Instagram's new algorithms get information from fact-checking websites and don't display images labeled as fakes. However, digitally manipulated art can get caught in this net, preventing artistic works from showing up on Instagram's Explore and hashtag screens and harming photographers' online reputations.
At the same time, promoted posts receive special treatment and are displayed to users. Omnicore reports that Instagram has about 2 million monthly advertisers and 25 million business profiles. And these numbers are expected to increase. The competition for followers and likes has become too much for average photographers trying to show off their portfolios and get recognition. It's no longer enough to manage keywords and tags. You need to be active, follow and comment on images by people with the same interests as you, know a thing or two about search engine optimization, manage online sales and marketing, and invest in advertising. When Instagram takes more time than taking pictures, it's time to look for something different. Or hire a social media expert.
In response, photographers are increasingly choosing alternative social media channels that promote creativity. In choosing these channels, they look for copyright protection and equal opportunities for all users. Photographers want to reach their target audiences and spend less time trying to figure out algorithms and marketing strategies. If you want an easy and efficient way to display your visual art, get feedback, and find opportunities to sell online, here are the best social media platforms for you.


Photo by Brooke Cagle, Unsplash
Alternative social media platforms for photographers and other visual artists
Over the last few years, a different type of social media channel has emerged. These new platforms don't aim to have the largest audiences but rather the best audiences for their users. Niche social media channels target a specific demographic. On a niche platform, you can share your pictures with photographers, artists, and others who are interested in digital art. While this reduces the size of your audience, it also leads to more useful feedback and creates a stronger professional community. Here are the best social media platforms for sharing your digital art.
YouPic
Dedicated to photography, YouPic is used by famous photographers such as Joel Meyerowitz, Steve McCurry, and David Hurn. This platform acts as an online portfolio and allows you to display and sell your photos.
Like any social media platform, YouPic encourages users to complete their profiles, add skills and endorsements, leave comments, share content, and follow others. Similar to Instagram and Facebook, YouPic uses tags for filtering and to provide relevant content. It also provides statistics to help you track your best photos.
On YouPic, you can add a description for each photo along with information other photographers likely want to know, such as camera model and lens, exposure, shutter speed, ISO, and shooting location. You can upload an unlimited number of photos to YouPic, organize them, and complete your portfolio with stories. To protect your photos, you can add copyright information or share your photos in private mode.
YouPic is free, but it provides monthly and annual paid plans for those who want a personalized website and custom domain, private galleries, and other advanced features. Pricing for these plans ranges from $4.99 to $29.99 per month.
Exposure
Exposure is a social media platform for photographers with a story. It not only provides a space to showcase your photos but allows you to share the story behind a photo series. You can use Exposure as your personal photography blog and a place to find inspiration for your next photo project.
Although Exposure only has a web version, the platform is interactive and allows comments, likes, subscriptions, and sharing. On Exposure, the story is as important as the photos. You'll find travelers, adventurers, photojournalists, portrait photographers, and storytellers on the platform.
Exposure gives you easy-to-use tools for adding photos, text, video, embedded media from other platforms, and maps to your posts. You can also choose design settings for your posts such as layout, colors, and typography. Exposure doesn't limit the number or size of images you can upload. At the same time, it doesn't protect your images, and anyone can download them.
You can join Exposure for free and publish up to three stories. To publish an unlimited number of stories and access more design tools, branding features, and business-related options, you can choose a paid plan at $9 a month for personal use or $99 a month for business use.
VERO
With the motto No Ads. No Data Mining. No algorithms. VERO aims to be a responsible mobile app that provides networking and sharing services for everyone. You can use VERO to share photos, videos, music, books, links, and places. Among its famous users are artists from various domains including Rankin, Greg Williams, Ben Staley, Clay Enos, and other famous photographers.
VERO allows you to upload full-resolution photos and organize them into collections. You can choose your audience, sharing your photos with everybody or a specific group. Like Facebook and Instagram, VERO provides in-app chat and tools for recommending, buying, and donating. It aims to be a community rather than a business, and people appreciate its authenticity and trust.
While it isn't just for photographers, VERO provides ad-free services and may be the easiest way to showcase your photos and build an audience. It's highly interactive and social, and some say it may be the new Facebook for artists.
You can use VERO for free. The app is available for Android and Apple devices.
Behance
Behance aims to be your online portfolio. It's been around for a while, and many artists have already built strong portfolios here. Behance covers all creative fields and provides easy tools for displaying your work. After all, it was designed for photographers, illustrators, graphic designers, architects, filmmakers, editors, and artists. It even has a jobs page where you can find creative jobs and kickstart your career.
Like any social media channel, Behance provides tools for networking, giving feedback, and following your favorite artists. It also counts views and likes so you can demonstrate your social media success. Owned by Adobe, Behance emphasizes editing tools and allows you to see what's behind your favorite digital works.
Because it's a dedicated social media channel, Behance includes professional visual artists, critics, and clients. Work published on Behance is available for everybody, and you'll get technical and professional critiques along the way. The platform won't alter your images in any way, and large images are allowed. But be careful, because anybody can download them.
Behance is free and easy to use. You can upload pictures from your device or Lightroom, add text to support your visual stories, and create an online gallery in seconds. Technical information such as camera model, lens, and exposure are available for each photo. Behance offers a web version as well as Android and iOS apps.
Tumblr
Another promising social media platform is Tumblr. Designed for the general public, Tumblr allows you to publish photos, text, audio and video files, and links in the form of blog posts.
Unlike other blogging platforms (WordPress, Squarespace, etc.), Tumblr is easy to use and focuses on networking. It follows the same principles as other social network platforms, supporting chat, providing tools for showing appreciation and sharing content, and working with tags and keywords. The best part about Tumblr is that it gives you tools to create an online portfolio while providing a large audience. If you want the public's feedback on your work, a space to tell your stories, and free access to a complete networking platform, join Tumblr.
Unfortunately, this platform doesn't allow you to upload large photos and has a limit of 10 photos per post. Moreover, everything is public, so you'll have to find ways to protect your work. Watermarking your images may be a good idea if you use Tumblr or another public platform.
You can use Tumblr for free. Custom themes and business accounts that include advertising space are available for purchase.

Photo by Eugene Chystiakov, Unsplash
Moving beyond Instagram and Facebook
The success of Facebook and Instagram has transformed them into business tools and created an entire industry around them. It's becoming harder and harder to beat the algorithms on these platforms and create an audience for your digital work. Achieving success is no longer about the artistic value of your work.

As a result, photographers and other visual artists are turning to alternative social media platforms that promote values such as authenticity, community, and equal opportunity. Yes, these platforms offer smaller audiences. But you can be sure those audiences are interested in what you have to share. Why spend lots of time and energy with a platform that doesn't guarantee it will display your work to your target audience? Or even display it at all?
Alternative social media platforms such as Behance, YouPic, Exposure, VERO, and Tumblr are designed for artistic communities and gather experts, critiques, and famous artists. Maybe you'll get fewer likes and comments, but you can be sure that those you do get will be worthwhile. If you want to be part of an artistic community, chat with people who really care about art, and create a valuable portfolio, you need to find the right social media channel.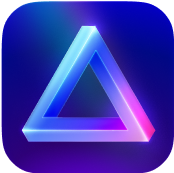 Advanced yet easy-to-use photo editor
view plans