Are adventures your passion? Are you looking for the best budget camera for traveling that will capture your moments in the best way? We've created a guide with detailed tips on how to choose a good workhorse and have selected the best affordable models.
Do you like to explore the world through your phone camera? Capturing amazing mountains, waterfalls, canyons, authentic streets, sea adventures, and other unforgettable moments on a smartphone is certainly convenient. But it doesn't provide the same professional quality, good brightness in low light, and aesthetic appeal, as a camera. So, you need a good workhorse. But selecting such a device can seem like a puzzle, especially if you have a limited budget. Therefore, we've prepared a detailed guide to the best budget models to help you easily navigate among the variety of options.

The Perfect Camera for Travel: What Exactly Makes It So?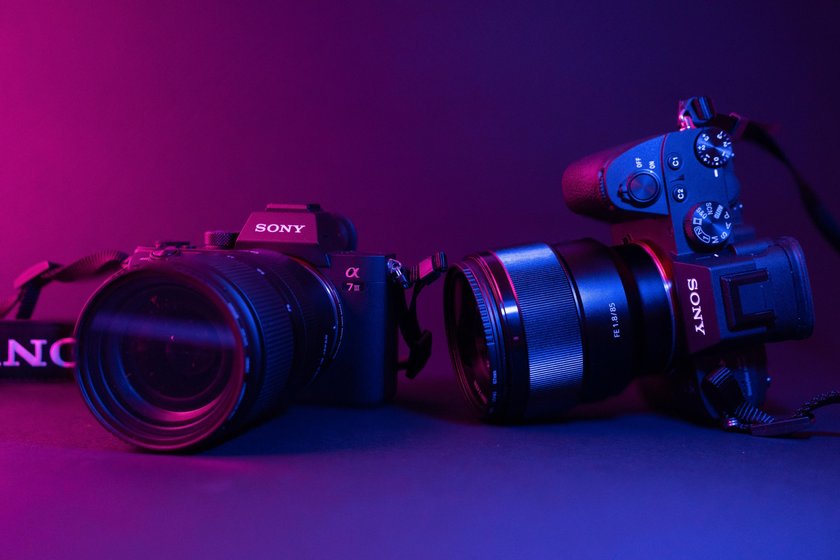 The best travel camera is a key to your creativity that turn your photos from stunning travels into art that looks aesthetically pleasing in your Instagram feed, whether you're a beginner or a professional travel blogger. That's why you are faced with the task of choosing a model that combines high quality, lightness, functionality, and portability. These are the characteristics that are useful during a long journey that involves constant movement with a backpack behind you.
Make sure to think about your needs. What exactly do you want? A small option for capturing action skydiving or a hardy device that is protected from the rain in the jungle or mountains? A workhorse that delivers professional quality with the possibility of post-processing with the best editing picture software, or a universal model that can do everything from landscape pictures to video blogs? Below, we'll consider some features that are also worth paying attention to.
Factors to Consider When Choosing the Best Budget Camera for Travelling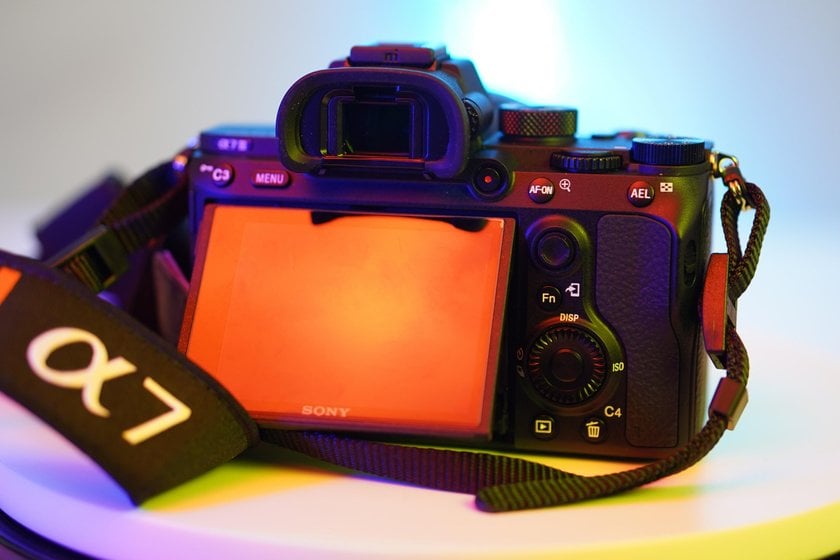 When it comes to selecting the gadget for travel shooting, the number of brands and models in online space or in shopping centers can make your head spin. That's why you should learn about the following features, which will help you navigate more easily among the huge variety of cameras:
Size and weight.

The most important thing in traveling is comfort and ease. A DSLR camera can bring pain to the neck and back, so choose a small or medium model. The exception is if you are on an African safari, where you can just put the heavy equipment on the seat of the jeep while waiting for the wild Savannah's inhabitants.

Sensor size.

This is an important factor for travel photography. The larger it is, the more light it can capture, and therefore works well in low-light conditions. Small sensors on usual digital cameras provide less quality, while the larger ones in DSLR options give good results. If you always shoot the aurora borealis or stars in the night sky, a model with a larger sensor size is for you.

Megapixels & resolution.

Most photographs believe that tiny dots (pixels) provide high resolution, and thus the image is bright, clear, and detailed. In fact, the photo quality depends also on other factors such as the sensor size, lenses, and skills of the photographer. Therefore, it makes no sense to spend money on an expensive multi-pixel device if you take travel photos only for social networks or your own archive. The exception is if you do post-processing of taken photos for further printing to present them in your own collection at an exhibition or print in a glossy magazine. After all, high-resolution photos don't lose their quality after cutting.

RAW.

Most modern cameras shoot in a RAW format that is perfect for post-processing in

editing software for photography

because it saves images without any changes. This gives you more art opportunities than JPEG.

Lens.

When choosing the camera for your adventures, pay attention to the lens, because this optical system is like an eye that captures a bright and clear image. Compact travel cameras usually have fixed lenses, which makes the zoom range unchangeable. At the same time, mirrorless and DSLR models have interchangeable optical devices that give you wider opportunities and approach the shooting of amazing mountain views with birds, distant snowy peaks, and other subjects individually. You can replace the ordinary lens with a wide-angle, zoom, or another variant you need.

Zoom.

To get incredible results, look at cameras with a long zoom range. It is available even in fixed-lens models. But in this case, most photos lose their quality when approaching the desired object. Buying a mirrorless or DSLR model, you don't care about it, as an additional zoom lens provides the best results shooting at some distance.

Stabilization.

Do you notice that your camera shakes, and images are blurred when capturing a handheld at a slow shutter speed? In this case, a camera with Optical Image Stabilization (OIS) will help you out a lot. It makes photos sharper, limiting movement from handshaking.

Manual settings.

If you want to improve your photography skills and discover the world of creativity, consider a model with aperture, ISO, and shutter speed settings. Conversely, if you don't want to immerse in all features and nuances, a point-and-shoot camera with the Auto mode is for you.

Video capabilities.

Long gone are the days when you need to take a video camera with you when traveling. After all, many modern models record video in HD (1080) and even 4K formats. Of course, if you're a travel blogger, we recommend you pay attention to the model with 4K capabilities. But keep in mind that it is more expensive and usually consumes more battery power. If you need photography equipment for recording videos for your own archive, the cheaper model with HD will be enough.

Battery life.

Do you plan to travel for many hours or several days? Then choose a camera with long battery life. Thus, you don't have to worry about the discharge of the battery at the most unexpected moment, for example, when you found a fascinating location or caught a fantastic sunset near the ocean.

Weather and waterproofing.

Typically, if you shoot cities, lakes, and other calm locations, you don't need a camera with special protection. It's another matter if you're an extreme photographer who adores shooting in harsh weather conditions, like while climbing a snow-capped Mount Everest, walking under a tropical rainstorm in the jungle, or any other wild nature outing. In this case, pay attention to the best budget model with moisture-repellent materials such as magnesium. When capturing coral reefs and fish underwater, select a fully waterproof device. An action camera or an option with a lens that has a waterproof rubber seal is ideal.
So, we've covered the main points to consider when choosing cheap equipment for traveling. And now let's dive deeper into the world of cameras by getting to know the main types: point-and-shoot, mirrorless, and DSLR.
Point-and-Shoot Cameras: Accessibility and Convenience in Your Pocket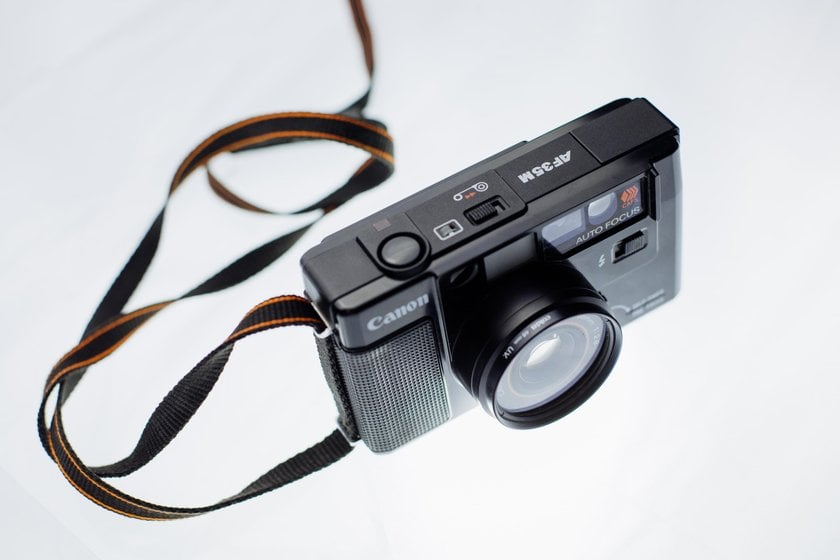 If you're a traveler who prefers a budget journey with minimum things, this type of camera is a nice choice for you. The compact and easy gadget, like a smartphone, fits in your jacket or backpack pocket. In addition, it is easy to use, which it's appreciated by beginners who haven't yet delved into more serious settings. In order to capture a particular moment from your trip, simply point and shoot.
And due to its attractive price, even a tourist with a thin wallet can afford it. The best cheap travel camera from such a category costs under $100-400. The only thing is that it is not as impressive in terms of quality and power as other types. But it still remains popular for its compactness and portability. Let's consider the top 5 models for capturing unforgettable moments.
1. Polaroid Go: Live Photos in Vintage Style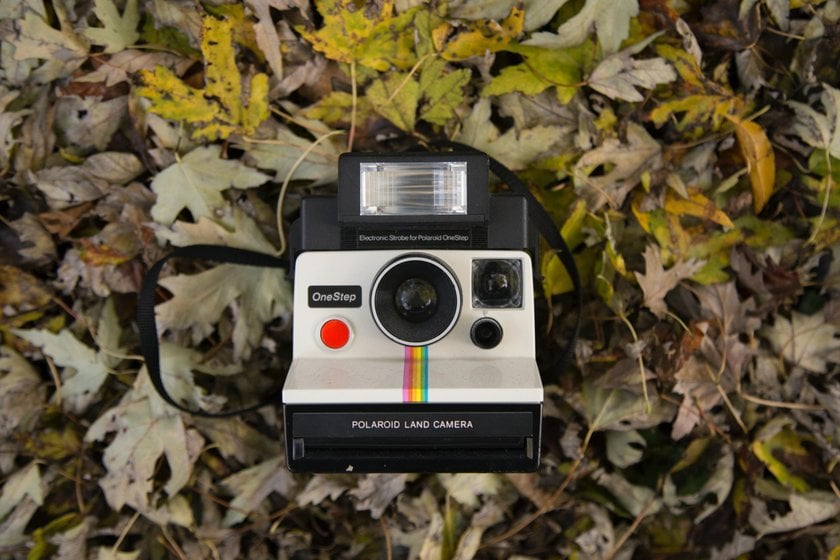 Are you a fan of instant vintage-style photos while hiking in a canyon, climbing on a mountain, or having other outdoor adventures? This compact cell phone-sized model is made for you. It is budget-friendly, easy to use, and has a retro body. This model is so simple that even beginners can use it. It has only a few control buttons. And a handy digital shot counter lets you see how many photos you've already taken and how many more you have left.
Despite the fact that the point-and-shoot camera has fixed focus and doesn't allow shooting macro shots, it pleases with double exposure options, self-timer, and flash override. You may also be a bit disappointed by the size of the photos, which resembles the size of a credit card. But instead, they turn out to be so atmospheric with pastel notes and detail that you'll want to make a collage of them on clothespins at home on the wall. So, it is definitely the best compact camera for instant results and aesthetic pleasure.
2. Akaso Brave 7 LE: Good GoPro Analog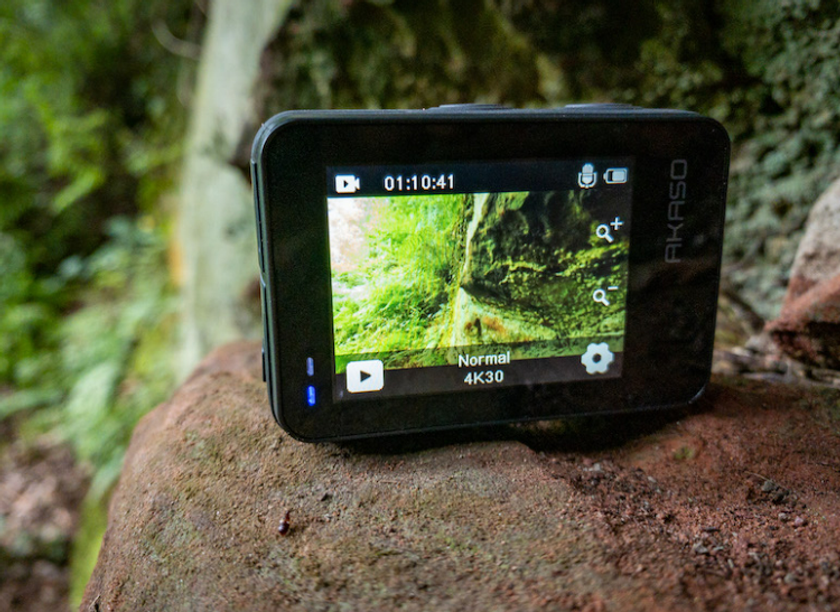 Are you an extreme who adores shooting action videos and photos while climbing mountain slopes, doing incredible snowboard tricks, or making your way through the dense jungle on a bike? A miniature action camera can help you capture the craziest ideas in the frame. But what if you can't afford an epic GoPro? There is a great alternative. This is Akaso Brave 7 LE. This "baby" costs three times less, but has almost all the same features as its popular counterpart. And it is at a relatively decent level.
The small workhorse is a perfect find for bloggers who share moments of their travels on Instagram or YouTube. After all, it supports 4K video at 30 frames per second, takes 20-megapixel photos, and has a front-facing screen. In addition, you don't have to worry about image shakes during active movement because this model has image stabilization.
Thanks to voice commands, you can ask the device to take a photo or video in a selected language without touching the control buttons. This is very convenient when you take an arm-length selfie. An intuitive touchscreen interface and excellent sound are other benefits you'll like.
Additional features of one of the best budget action cameras, the gadget includes a remote control, two batteries in the box, and waterproof housing. This device is impressive because you can submerge it to a depth of 1 meter without a cover. If you plan to explore deeper water in fans and a mask, you can easily shoot coral reefs and colorful fish at depths up to 40 meters with a waterproof case.
3. Olympus Tough TG-5: Incredible Waterproof and Strength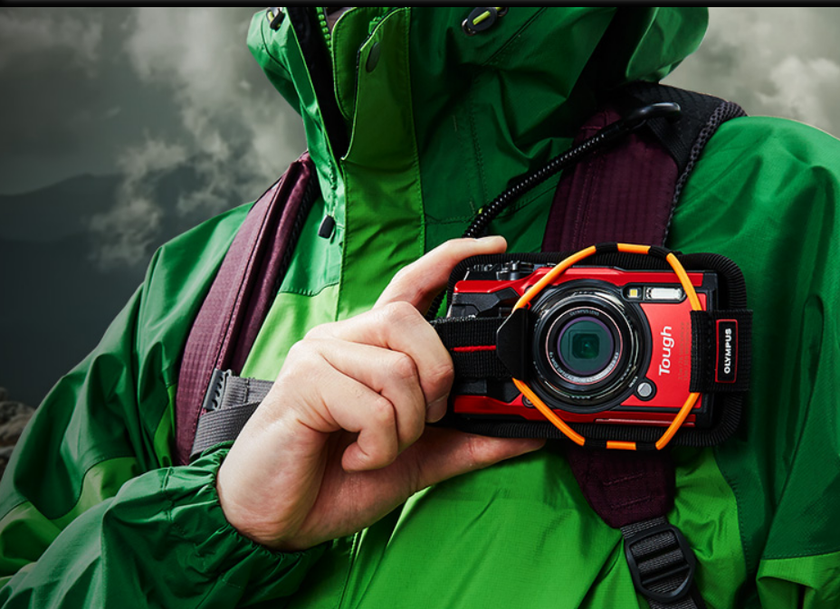 Are you looking for an unbreakable camera that is not afraid of water, frost, hitting stones during bad throws, and other extreme conditions? You have come to the right place. Olympus Tough TG-5 has such a durable body and a good waterproof seal around the battery housing that you can do whatever you want, whether dropping from height or immersing in depth. You'll be surprised that the camera remains intact without any cracks. At the same time, the image quality is relatively high. By choosing this one of the best budget travel cameras for sports, you'll get a wide creative opportunity: Live Composite and Macro modes, as well as shooting in RAW format and 4K video. The convenience is one more benefit. You can fix the camera just on your backpack and take photos anywhere.
4. Canon PowerShot G9X Mark II: Pocket Camera of Professional Level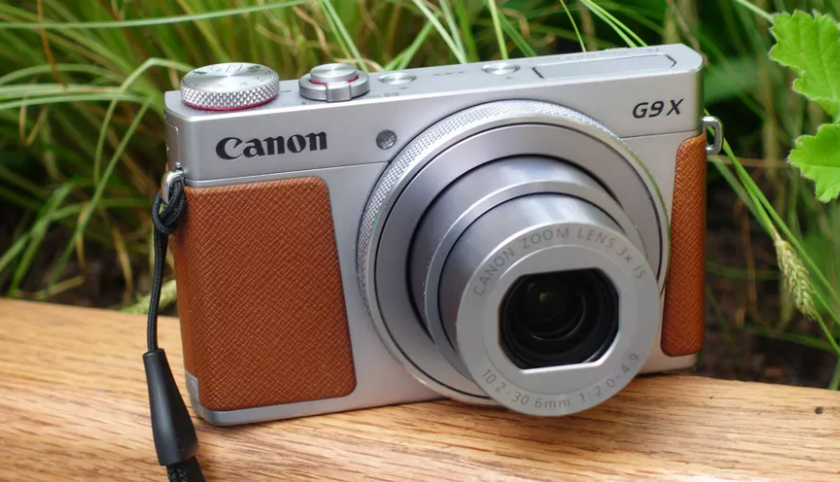 Do you need a pocket camera that is easy to use, fast, and offers creative possibilities in addition to your smartphone? Pay attention to this model. It's capable of taking high-quality photos and Full HD videos with rich colors, moreover when shooting night landscapes and other ideas in low light conditions. The secret lies in a large amount of light captured by the large sensor and f/2-4.9 lens.
Although it is difficult to call this model the best cheap camera for travel under 100 – 250 dollars, it is much cheaper than high-end compact cameras. This "baby" isn't only for beginners, but also for professionals who don't have the money to buy professional-grade equipment. After all, you can either use the auto mode or switch to manual control. In addition, this model can be easily connected to a smartphone or laptop via Wi-Fi and Bluetooth, which is a great feature if you're a blogger and need to quickly upload your content. And convenient USB charging allows you to charge your gadget right from the power bank on the go.
The combination of lightness, miniature size, high quality, functionality, and retro style makes this gadget one of the best compact cameras for travel.
5. Canon G7X Mark iii: Perfect Choice for Bloggers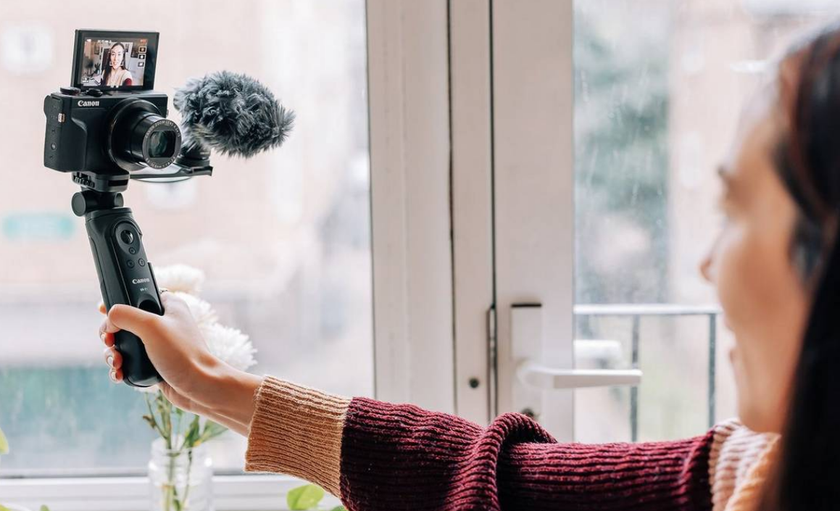 Do you dream about discovering the world of video blogging to tell interesting stories, but still haven't decided on a camera? Canon G7X Mark iii is your reliable friend. Although this model is also not a cheap option, it costs significantly less than professional-grade equipment. It is designed for travel bloggers who want to produce aesthetically pleasing content but have a limited budget.
What impresses this camera? It can shoot video in 4K format, which is known for its good resolution and incredible quality. What's more, you can connect an external microphone and headphones to the built-in connectors of this gadget to get a clearer and more pleasant sound in the frame. And the 180-degree screen allows you to maneuver the camera as you want and get a great selfie and composition without cutting off the head in the frame and other defects. Since the photography gadget supports vertical shooting, you can create content for Instagram and TikTok.
This model is also one of the best cheap travel cameras because it captures interesting moments of your adventures in the photo of its 20-megapixel capabilities. And the remote control from your smartphone makes the creative process even more enjoyable.
Mirrorless – the Best Cheap Travel Camera for Pictures and Video
Are you tired of point-and-shoot models and want to play around with different functions and lenses? Mirrorless cameras provide such opportunities. Unlike the previous type, their quality is close to DSLR cameras, with good color brightness and clarity. Despite the fact that they have a weak autofocus and a smaller set of lenses, they are compact and portable enough to carry in a backpack. In addition, such gadgets allow the processing of ready-made photos with the best free Photoshop apps.
The price of such models is between $500–$1000. But you can find both cheaper and more expensive options on the market. Below, we've selected two of the best models in our opinion that are suitable for budget travelers.
6. Sony Alpha A6600: Cheap Workhorse with DSLR Level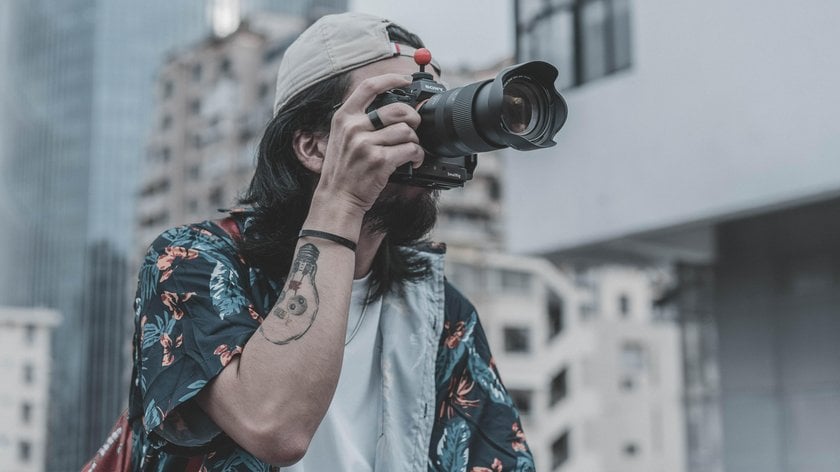 You don't have to spend a lot of money on the best DSLR camera to get great shots while traveling in the mountains, canyons, deserts, jungles, and other amazing places on our planet. Sony Alpha A6600 is a cheaper and more compact alternative. This camera is ideal for a wide variety of creative ideas thanks to the good range of lenses you can change from wide to zoom.
It is capable of capturing 24-megapixel images in high quality and even shooting video in popular formats such as Full HD (1080p) and 4K. Thanks to the maneuverable 180-degree screen, you can feel like a real blogger shooting video from different angles with incredible sound, as the camera also allows you to connect an external microphone.
In addition, you can even try yourself as an extreme photographer and capture such moments as skydiving, jet skiing, or sandboarding in the Sahara dunes. All thanks to the fast autofocus system.
7. Fujifilm X-T200: Catch Live Emotions and Moments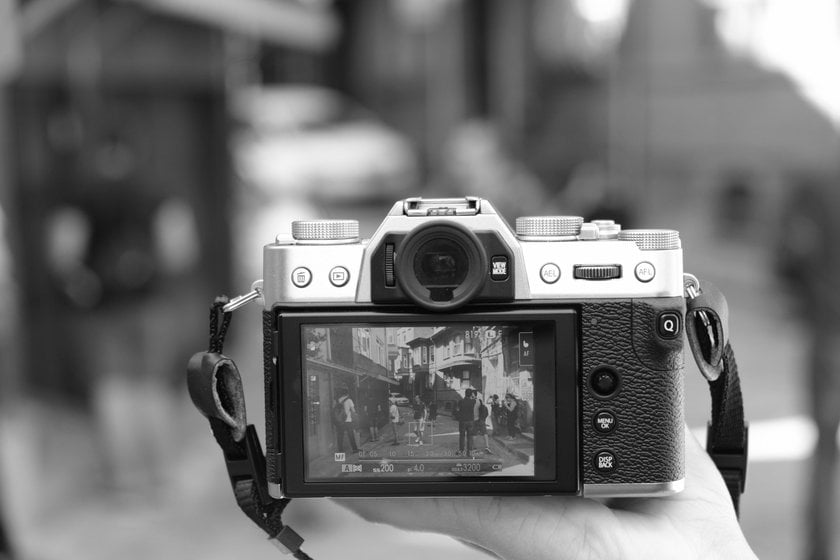 If you're just starting to make your way into the world of more advanced travel photography, this mirrorless camera will give you such an opportunity. It is perfectly adapted for beginners because it is easy and intuitive to use. It allows you to capture vivid and detailed 24.2-megapixel photos with help of several touchings. Also, you can create stunning 4K videos with a low level of noise for Instagram Reels or YouTube channels. The camera has everything you need for this: widescreen and swivel LCD, as well as the ability to connect an external microphone and headphones.
Superior autofocus is your chance to capture genuine, spontaneous emotions and moments.
You can also play around with different settings for brightness, contrast, sharpness, and other parameters. And advanced effects and filters such as analog film effects, lomography, and others will give you even more creative possibilities.
DSLR Cameras: Best Value for Your Money
Are you looking for the best camera for your travels? Indefinitely, DSLR is a nice choice. It is less common in the epoch of smartphones and mirrorless cameras but still continues to be valuable.
DSLRs differ from the first two types by the highest image quality, wide function, and long battery life. The main difference is the presence of a special mirror inside, thanks to which the image is captured on the matrix and subsequently on the SD card. This allows you to process further results using simple photo editing software effortlessly.
Definitely, it is the best choice if you're a professional. But be prepared to splurge for such a device, since the price of the top model ranges from $2000 to $6000 and even more. If your budget is not large, but you want to take advantage of all the advantages of DSLRs, we have found a more loyal option for you in terms of price. Let's talk about it below.
8. Nikon D3500: A Power DSLR With a Pleasant Price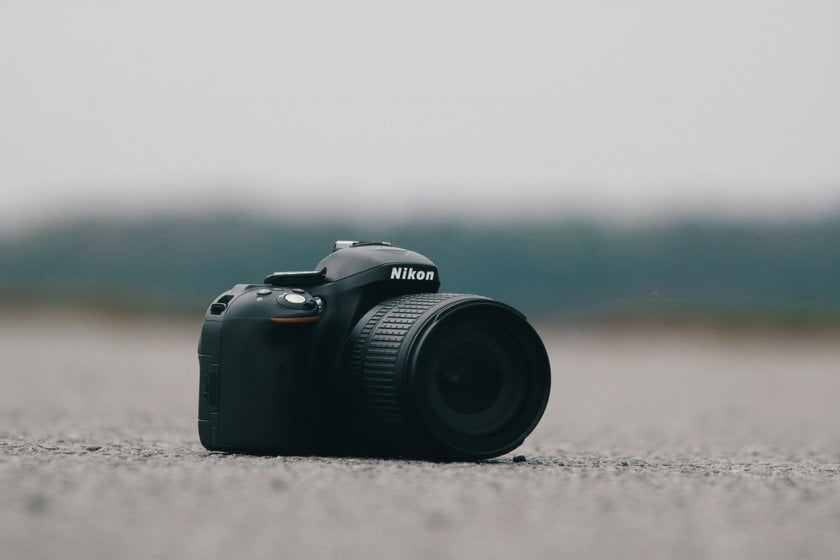 If you are a beginner who is just taking the first steps in mastering DSLR cameras, buy a DSLR camera from Nikon. Unlike other large-sized models, this option is quite light and portable. So, you can put it in your travel backpack or a special bag and capture the best moments of your trip anywhere, whether in the mountains, on the ocean shore, or in the desert. With this model, you'll truly enjoy your photography experience thanks to its high performance, solid materials, and recessed handle that miraculously adapts to the shape of your hand and provides a comfortable grip during hours of shooting.
This camera gives you a wide range of options for taking great pictures. For example, even when in Auto mode, you can capture detailed photos with natural colors, whether it's a sunrise or an evening sky, thanks to the 24-megapixel sensor. With the superfast autofocus system, you'll keep a person's face, a dolphin on the horizon, or any other subject in perfect focus. In addition, the wide range of lenses available for this good travel camera extends your creative possibilities, from flattering bokeh in a portrait to a detailed image of a butterfly in a tropical tree.
Photography isn't the only thing this DSLR is proud of. It can easily replace your camcorder as it captures stunning full HD (1080p) videos at 60fps with an emphasis on detail. Built-in creative effects allow you to experiment with both video and stills in the best possible way. And if you can't wait to share your fresh shots with your friends, family, or followers, you can easily connect it to your smartphone or tablet. And when you go on a long trip, you don't need to worry about the charge. The camera can shoot up to 1550 shots on a single charge.
Best Camera Accessories for Traveling on a Budget: What to Put in the Backpack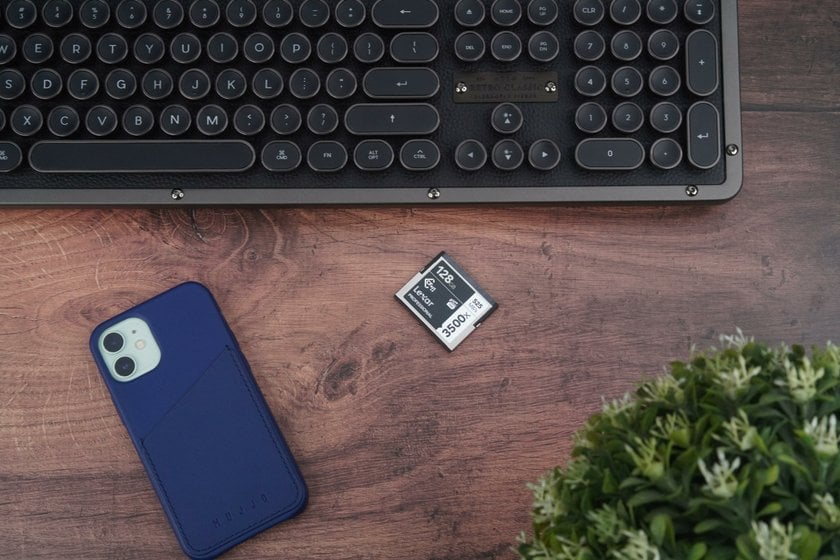 In order to get the best results and enjoyment out of your photography while traveling, pack the following accessories in your backpack:
Tripod.

It prevents the camera from shaking and therefore helps you to take sharper and more stable photos or videos.

Memory cards.

You'll need them during a long trip. After all, you don't want to face a situation when you need to delete several files to capture stunning shots because your memory card is full, right?

Spare batteries.

Keeping them in your backpack will make you feel calmer because you won't have to be nervous about your camera running out of power.

Additional lenses.

If you have a mirrorless or DSLR camera, we recommend taking with you 2 lenses maximum so that you don't have to carry around a backpack full of equipment. One of them can be, for example, a wide-angle for taking landscape photos, and the other a zoom for capturing birds and other distant objects. The best option for an affordable camera for travel is a 30x lens.

Camera bag.

You'll need this thing if you have a mirrorless or DSLR model. Choose a bag with a soft lining that will act as a pillow, protecting your equipment in case of a sudden fall. Also, take care of a waterproof bag cover, which will come in handy if you suddenly get caught in a downpour while walking.

Lens cleaning kit.

Dust, dirt, and other contaminants are common when traveling. Therefore, you need to take a special kit with you wipes, a brush, and other items that will help you remove all this from your camera lens in a matter of minutes.
How to Make the Most of a Budget Camera While Traveling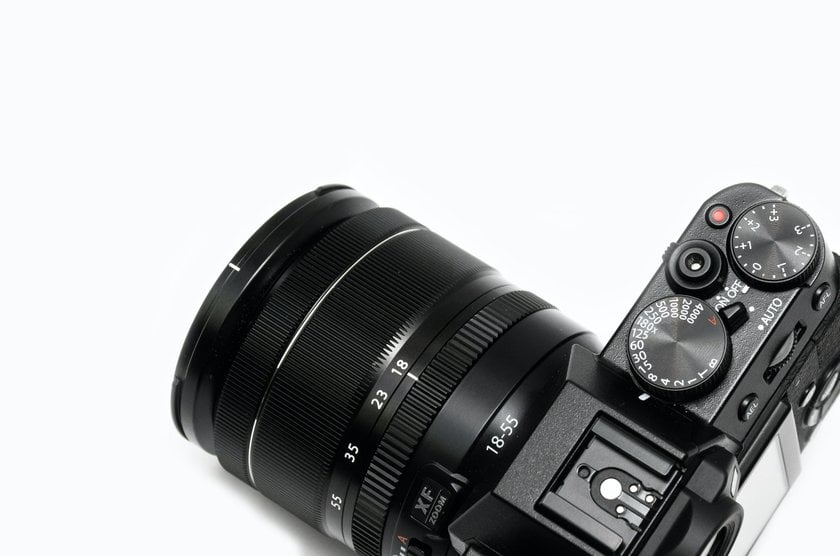 As we see on Reddit, you can get the most out of even the best affordable travel camera. We've also prepared some recommendations that will help you with this:
Familiarize yourself with the features and functions of your camera before you travel. This will save you a lot of time and nerves, as well as will help you navigate the location to make the best shots.

Play around with different settings after you've taken a photo of the location in auto mode. Just a little adjustment of the brightness, exposure, and other parameters will allow you to discover a world of different styles and effects.

Try shooting from different angles and finding interesting perspectives to add more interest and originality to your photos.
Conclusion
Shooting travel photography is a fascinating creative process in which the camera plays a key role. When it comes to choosing a budget model, think carefully about your needs and preferences. Do you want to capture leisurely strolls in an authentic city and don't like to bother with settings? Then select something from the point-and-shoot category. Do you adore capturing the adrenaline of jumps and other extreme sports? Then GoPro alternative will be a good find for you. Do you wish to get instant aesthetically pleasing paper photos? The Polaroid Go is your perfect option. And if you want to go to a higher level and expand your capabilities, select something from mirrorless or DSLR models.
In any case, learn all the nuances and practice before getting with the backpack on a bus, train, or plane. And you'll get amazing captured moments that will warm you on long winter evenings, like a cup of cocoa in the hand by the fireplace.
FAQ
What Kind of Camera Is Best for Travel Photography?
A small, inexpensive model is best for you. Consider Canon, Nikon, and Olympus.
What Is the Best DSLR Camera for Travel Photography?
We recommend the Nikon D3500. This model is inexpensive and the quality of the pictures it takes is amazing.
Is DSLR or Mirrorless Better for Travel Photography?
Both the first and second options work well if you want to make good pictures. The DSRL is the best choice for a professional, while the mirrorless is good for beginners and those who photograph at an intermediate level.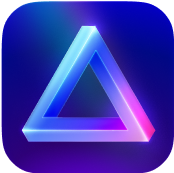 Advanced yet easy-to-use photo editor
view plans