When someone talks about light trail photography, we usually imagine night shots of megacities with wide highways, along which invisible cars seem to be rushing at crazy speeds.
However, it is not always about the city or the roads. In this article, we will tell you everything about light motion photography: it is types, necessary equipment, camera settings, suitable locations, shooting secrets, etc.
Make it move with a light long exposure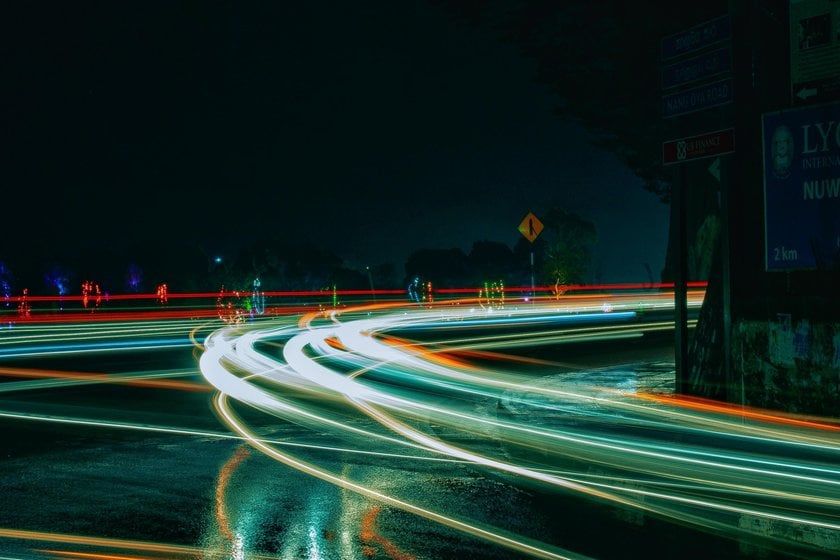 The main condition for creating cool light photography is a slow shutter speed. So let's start with the simplest and most important.
Long exposure means shooting from a few seconds to several hours, making moving objects in the photo appear blurry. It does not require a specialized camera or lens, and the results will definitely please you. In addition to blurring moving objects, slow shutter speeds allow you to increase the amount of light entering the camera, which in turn allows you to work at a low ISO without sacrificing image quality.
In the 19th century, when photography was just beginning, the light sensitivity of materials was too low, which made shutter speeds always very slow. For portraits, they even came up with special devices that allow you to fix the position of the head so that a person cannot move for half an hour or more until the film is exposed.
Luckily, we don't have to do that much today because any modern camera can take a photo in a fraction of a second. This means that shooting at slow shutter speeds is not an inevitable problem but an artistic technique that can create genuinely eye-catching photographs.
These can be the already mentioned shots of moving cars and photos of the starry sky, in which the stars seem to dance in a circle, as well as any moving light source.
At the same time, physics, in this case, works in such a way that the object itself is most often invisible to the eye so that in the final picture, you only have a light trail, which looks very cool. So, how to capture light in photography?
The light tracing photography tips
Tip 1. Choose the right equipment for shooting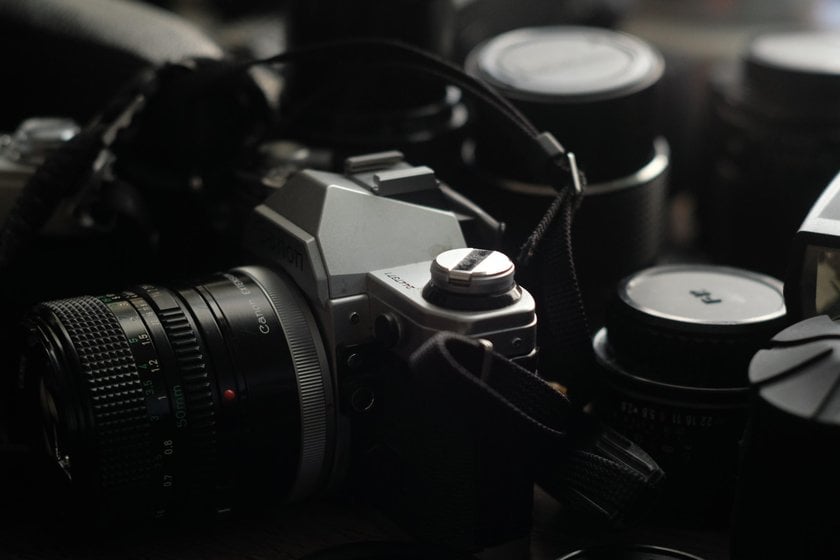 As for the camera, there are a couple of essential requirements. Firstly, it should make it possible to choose a slow shutter speed (30 seconds or more). Secondly, you will need a remote control function because while pressing the shutter to open it, you create micro-vibrations in the camera, which can blur the picture. The third one is the self-timer. This is necessary if you do not have a remote control or want to create a light trail on your own and not wait for a good chance. Luckily, most modern cameras have these three.
The second thing you can't do light streak photography without is a tripod. Since you plan to shoot a long exposure, the camera must be kept still throughout the entire time. All modern cameras and tripods have the same thread. There are many models at different prices. In most cases, their design is almost the same, with the only difference being the strength of the material, so you can pick whichever one you can afford.
It is advisable to have a hood for your lens. This will cut off unnecessary glare to accentuate the light you are trying to catch.
As for the lens itself, there is no single option. However, we recommend using zoom, as it will allow you to choose the correct framing by changing the focal length.
Tip 2. Set your camera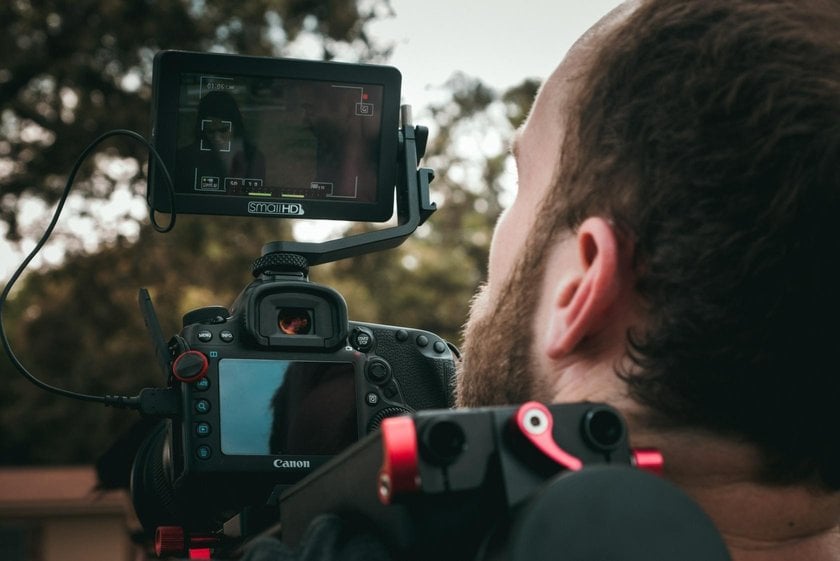 For light exposure photography, close the aperture as much as possible. Firstly, this will increase the depth of field, and secondly, it will allow you to avoid overexposure to the sky (you will be photographing not in total darkness but at dusk, but we will talk about this a little later).
A slow shutter speed also allows you to set a low ISO of 100 or 200. This will keep your photo free of noise and give you a more pleasant ambient light.
Due to low light, your camera may not find the focus point correctly, so you are better off using the manual focus mode (usually, the switch is located on the lens). We like focusing through the viewfinder, even at night, but many people find it inconvenient, so you can also focus while looking at your camera's display.
Light trail photography is not difficult, but to use this technique and get great shots, you need to experiment a lot with shutter speed. We suggest this:
do not trust the exposure meter and take a couple of test shots first to understand what minimum shutter speed you need;

estimate how long it takes the car to overcome the section of the road that you captured in the frame;

compare the two values and adjust the exposure if necessary (for example, open the aperture slightly).
The main thing is that the shutter speed is longer than it takes for the light source to travel from point A to point B. This way, you will get a continuous shining line.
Tip 3. Choose your location carefully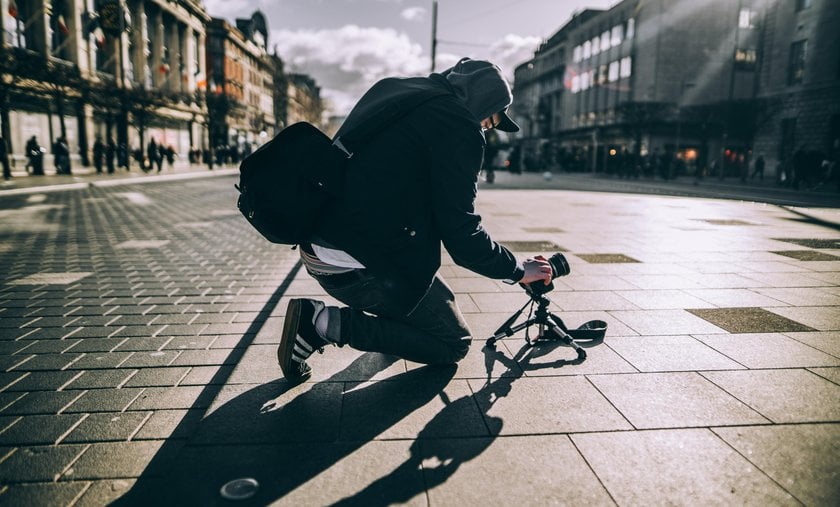 Speaking about how to shoot light trails, one cannot fail to mention the importance of the shooting location. First, you must be comfortable. For example, if you choose to shoot on a bridge, ensure there is enough room for pedestrians so that no one bothers you.
Second, think about the angle. Most often, cool light photography is shot from top to bottom: this way, you can show the perspective more clearly and capture more details in the frame. A common mistake made by newbie photographers is to shoot at the same level as the light source. In this case, it might be difficult to separate the light trail from the rest of the details, especially when it comes to photographing cars.
Third, you must be clear about how much space your lens can capture (even if it's a zoom). Therefore, before you come to the shooting "fully armed," do not be too lazy to walk to the chosen location and take good aim. Light tracing photography is not a matter of one second, so appropriate preparation is needed.
Tip 4. Never Forget Composition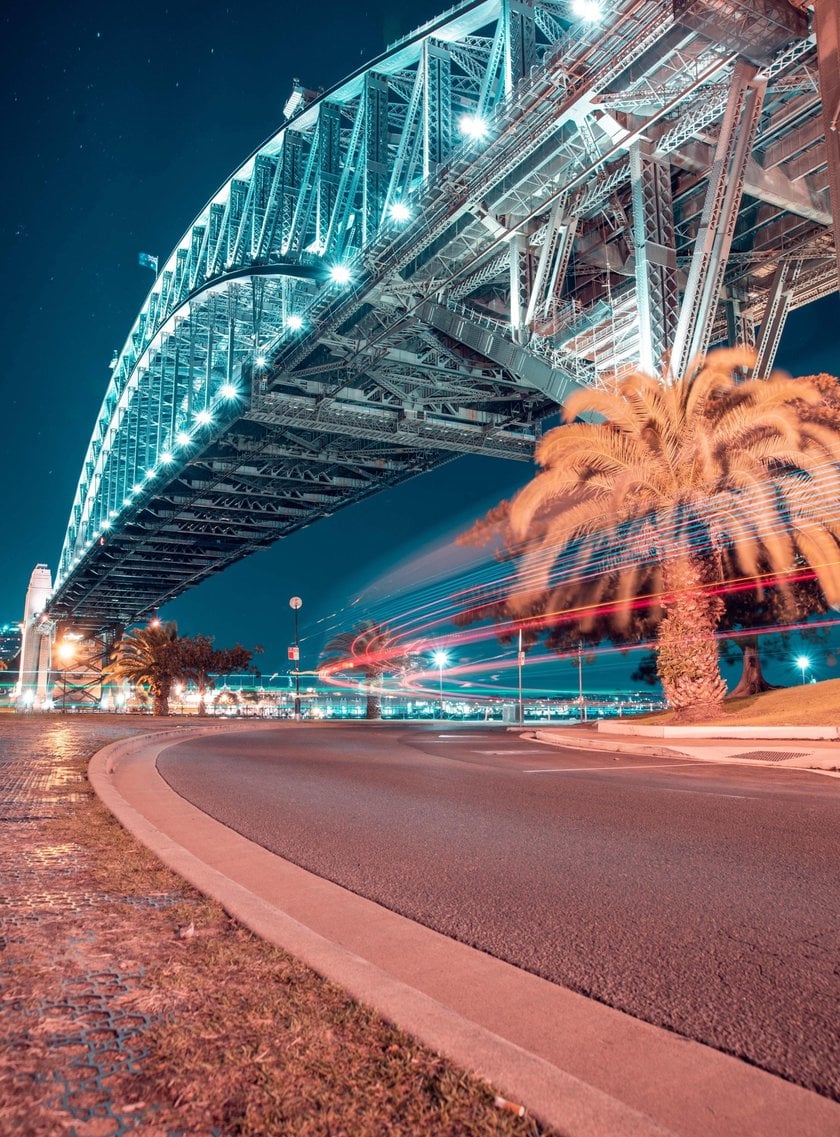 Moving light photography is tricky in that you have to work with a bright flow of light when everything else is dim. That is, you will have a very expressive guideline that must not go anywhere. The viewer is supposed to go through this path behind the light with their eyes and clearly understand where it leads. That's the only way this photo will work. In this regard, serpentine roads look very impressive.
Tip 5. Look for size, or don't even try to shoot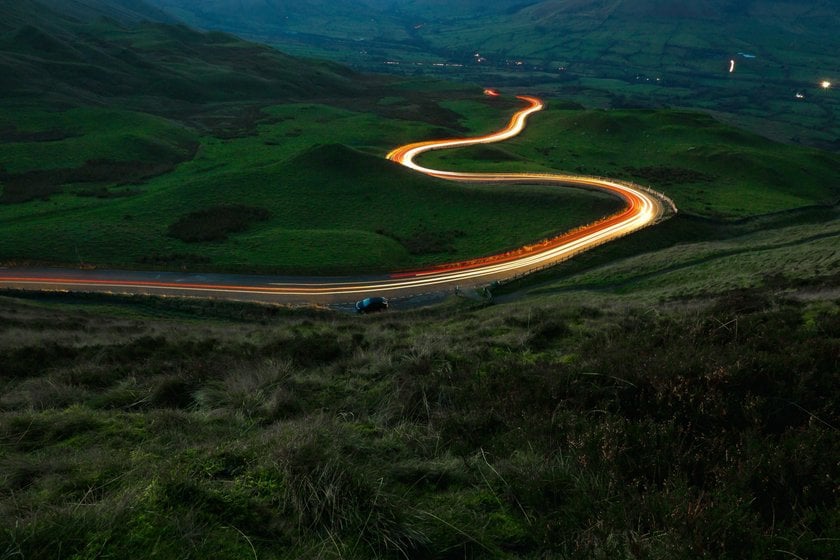 It is unlikely that anyone will be surprised by pictures with tiny light lines. No, we want more, as in photographs of night megacities with long luminous trails crossing the frame! In fact, objects will appear much larger if you get closer. You can enhance the effect by using wide-angle lenses. Another option is to shoot the object from below, this will enlarge it visually. It is easy to see that a person photographed from a low point looks taller and larger. A similar pattern applies to light plumes. So, the main rule is to be as low and close as possible. Of course, it's important to keep safety in mind, especially when photographing fast-moving cars and the like. In such cases, the tripod with the camera should be placed as low as possible and in such a way that the legs rest against the curb. This simple tip will help make your light lines much longer and more effective, although this is not the only option.
Tip 6. Light trails don't always need cars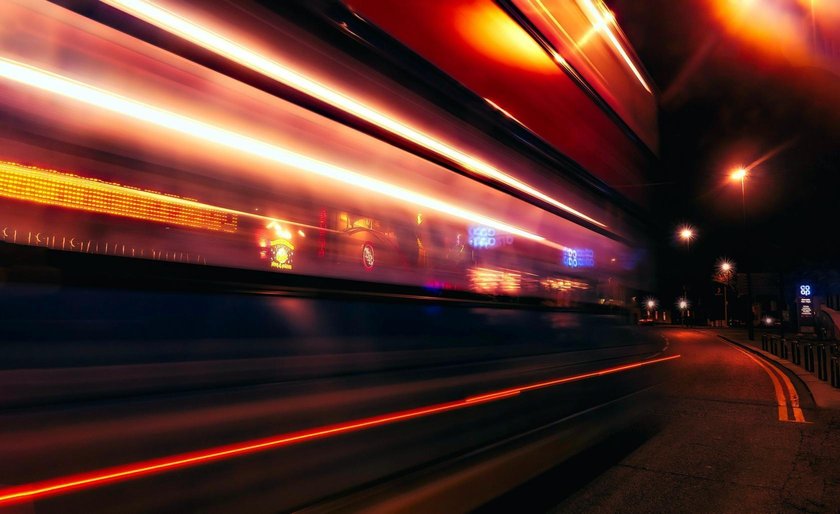 As we said at the beginning of this article, contrary to popular belief, you can use more than just glowing car headlights for pictures with original light trails. The main thing is to arrange a photo shoot in the dark and find any shiny object you want to expose. It can be trains, buses, trams, bicycle and motorcycle lights, and even a group of kids waving glow sticks. The rules of composition remain the same, but there will be an opportunity to practice where cars do not go and arrange photo experiments with unusual light.
Tip 7. Don't shoot at night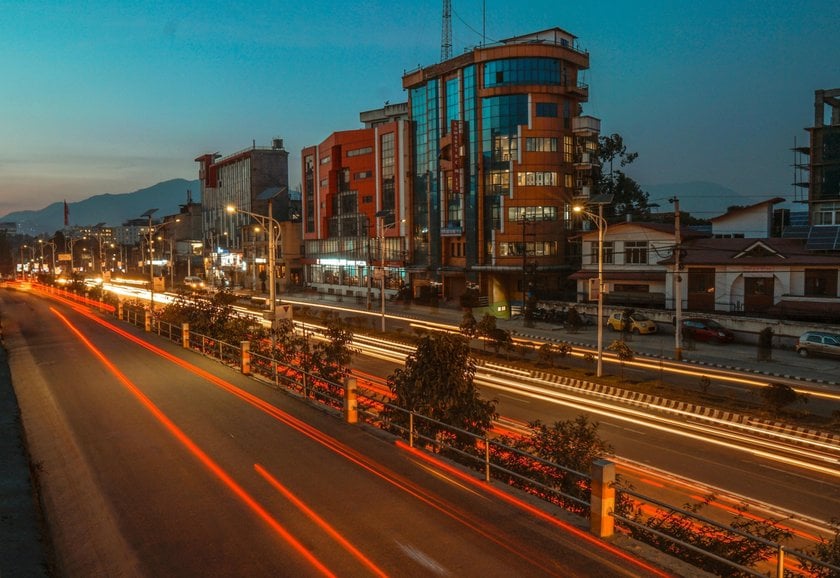 This is another thing that we mentioned earlier. Shooting at night when the surroundings are very dark will not help you get the desired result in light capture photography. The fact is that the outlines of a city, a mountain, a river bank, or anything that surrounds a stream of light should also be read clearly. Therefore, it is better to start shooting when the Sun is already below the horizon, but its rays still illuminate the space. Even if you can't get the shot the first time, you'll have plenty of time to try again.
For some reason, it is generally accepted that post-processing can recover any details lost. However, if there is no information in some part of your frame due to a lack of light (just black pixels), there is nothing you can do about it. And don't worry about the Sun overexposing the photo. This will not happen if you keep the timing.
Trail Photo Processing in Luminar Neo – the best way to make your images look fantastic!
So, there is one more thing that we should discuss. This is the post-processing of photos. You already know how to take light trail pictures, and we are sure you can do it just fine. However, there is no limit to perfection, so we will give a few more recommendations for improving your work.
Since you are taking on a specific genre of photography, you may need to improve the image's color spectrum, as, in the dark, your camera's sensor may not convey the full beauty of the scene. With Luminar Neo, you can do it with just one slider! The Accent AI tool uses artificial intelligence to make the processing process as simple and fast as possible.
On the other hand, this is possible if you want to control each color individually and do everything manually.
Luminar Neo allows you to improve your photos and completely change them to your liking. Turn a cloudless sky sheet into a dramatic and cloudy one, add a mystical-looking fog to emphasize a dark charming vibe of your shots, or completely change the scene lighting if you don't like the original image.
Luminar Neo combines convenience, ease of use, functionality, and complete control over the image. At the same time, you do not need to spend several hours on processing, working for a long time with a brush or erasers. In Luminar Neo, almost everything can be done in seconds. This software is not just another photo editing tool but a full-fledged workspace that gives you many creative opportunities.
The Bottom Line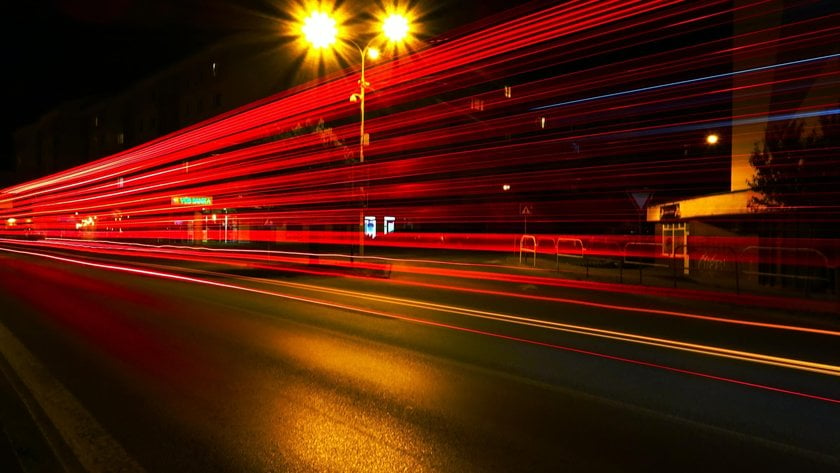 We love light motion photography because it's not a random shot or just capturing a moment. This is a real work of visual art, which forces the photographer to carefully work on the frame, build a composition, select an angle, and sometimes come to the same place several times to calculate everything. It may be strange, but we also like to stand these few minutes (or several hours) near the camera with an open shutter. The feeling of anticipation that you experience at this moment is comparable to the euphoria of a runner who has finished. We hope our thoughts will inspire you and the tips will help you quickly get used to the light trails photography technique. We wish you successful shots and inexhaustible inspiration!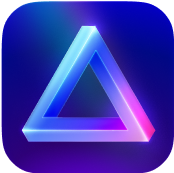 Advanced yet easy-to-use photo editor
view plans