Want the scoop on the new Luminar 3? We've scraped the internet and collected Luminar reviews from unbiased photography experts and tech authorities.
Of course, we think Luminar 3 is pretty great, and we're proud of the work the Skylum team has put into creating the best photo organizing software out there (if we do say so ourselves). But don't take our word for it — take a look at what real photographers have to say in their photo editing software reviews.

Luminar Review: What you need to know
Before we get started on the Luminar 3 review: What exactly is Luminar 3?
We like to think of it as an all-in-one, state-of-the-art photo editor and photo organizing software. In particular, our designers and developers focused on building a full suite of powerful features, presented in a sleek, attractive interface.
In a Luminar review published on Shotkit, Usnea Lebendig describes the look of the software as "sleek and minimalist." Jackie Dove over at Macworld says Luminar 3 boasts a "friendly, intuitive interface."
In short, according to the Luminar reviews, Luminar 3 looks pretty good. But what kind of features does it include?

Focusing on being "best," not "first"
The makers of Luminar have a strong philosophy: Anything worth doing is worth doing better than anyone else. There are some features that are simply indispensable to the modern photographer, and those are the features that we wanted to nail.
According to many Luminar reviews, this new release easily holds its own with the best photo management software on the market. The Luminar review on Macworld sums it up nicely, we think:
Luminar 3 is an outstanding prosumer editing alternative for people seeking abundant automation and creative options for a wide range of photos. Despite its many professional features, Luminar is easy to learn and use and lets you create stunning photos.
We draw inspiration from you
We know that the race to be the best smart photo editor and the best photo management software is a tight one. That's why we pay such close attention to our users' concerns in order to upgrade, refine, and innovate with each new release.

In fact, Luminar reviews and photo editor reviews for other companies' products are a huge source of inspiration for the Skylum team. And with each Luminar review we read — from the positively glowing to the not-so-glowing — we're more determined than ever to continue creating the very best photo organizing software and photo editing software for our customers.
We take pride in the fact that our products are the result of an ongoing dialog between our developers and our users. As a result, we're able to offer solutions that precisely address the pain points of today's photographers.
For example, many photographers have sounded off about the subscription-based model of Lightroom. For a significant proportion of photographers, that model is inconvenient, inefficient, and restrictively expensive.
And we agree: We don't like the idea of having to pay ad nauseam just to keep using what's yours. That's why Luminar 3 is available for a flat, one-time payment. (To all those that mentioned how much they approved of our pricing model in their Luminar 3 reviews, we hear you loud and clear!)
One feature that has become an integral part of every photographer's workflow is rock-solid photo organizing software. We'd seen from some earlier Luminar reviews that many of our users were looking to third-party software to get the job done. So we decided to do what we do best: Take what our competitors are doing and improve on it to better serve our community. Luminar Libraries, our own digital asset management tool, is the result.
Luminar Libraries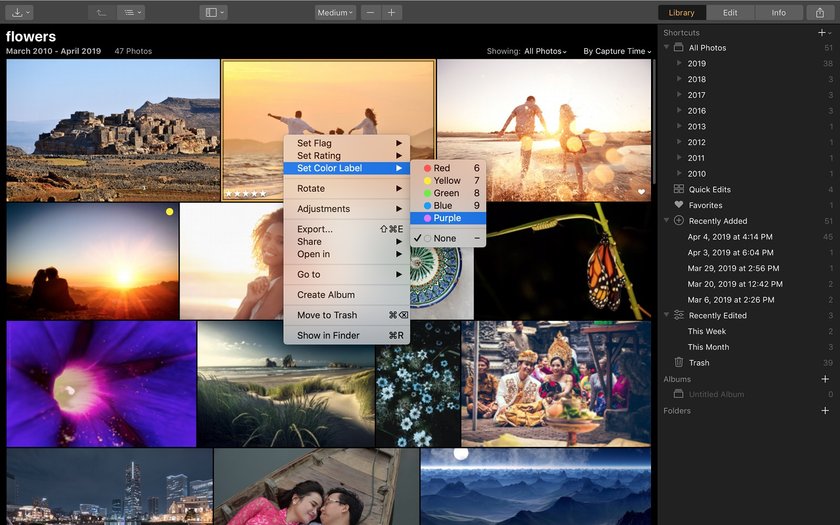 This is one of the features that our team was most excited about here at Skylum. Our newly unveiled digital asset management system, Luminar Libraries, brings Luminar from the realm of smart photo editor to true top-of-the-line photo management software.
Libraries provide easy access to all of your photos, whether they're located on an SD card, on an external or internal hard drive, or in the cloud. The catalog syncs seamlessly with changes you make to files in those locations without ever requiring you to transfer your files from one place to another.
From your Luminar Libraries, you can make the usual edits to your photo folders — changing folder names, creating subdirectories. But Libraries also gives you access to a number of additional organizational tools. You can create collections based on color label, star rating, or favorites, or group photos into virtual albums without affecting the root files. The Recently Added and Recently Edited options allow you to painlessly navigate to your most important files.
According to the reams of positive Luminar reviews on the web, the Libraries feature has secured Luminar's place among the very best photo organizing software out there. In one Luminar review for Macworld, tech writer Jackie Dove says the addition of Libraries "allows the app to compete with Lightroom functionality both in editing and photo management."
Of course, that's not the only new feature that was unveiled in Luminar 3.1.1 update. Here are some more of our favorites — and, according to the Luminar reviews, your favorites as well.

AI filters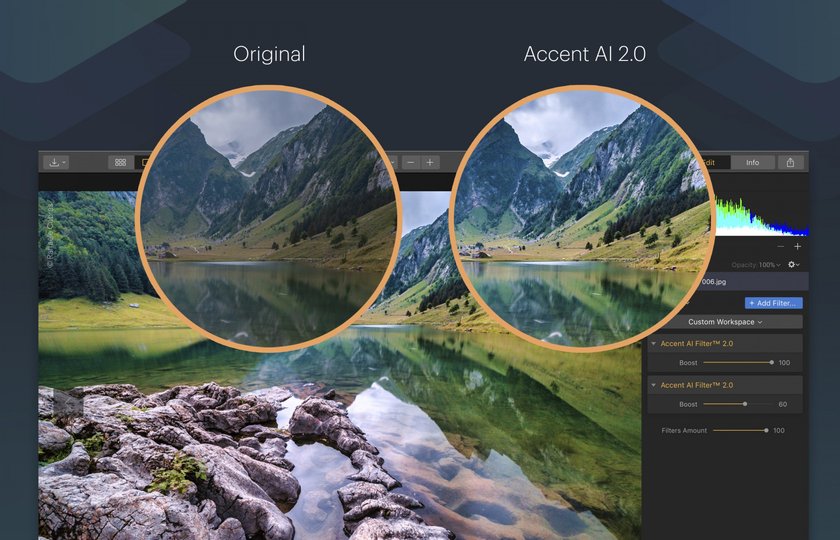 One thing that's been generating a lot of buzz, both in Luminar review articles and in the wider photography community, is how AI is changing image editing and photo management software. Our users have long been excited about this area of technology in their photo editing software reviews, and our team has been excited right along with them.
Artificial intelligence is much more than a buzzword here at Skylum. Our team has put the power of AI to work in addressing some of the most prevalent issues in digital photos. In Luminar 3, you have access to the uniquely human-aware Accent AI 2.0 filter and the all-new Sky Enhancer. It's no surprise that these features were some of the most talked about in Luminar 3 reviews.
Accent AI 2.0 sets the bar in terms of dynamic photo correction powered by artificial intelligence. The Luminar 3 review on Shotkit explains that Accent AI 2.0 "handles everything from tone, depth, and detail, to exposure, color, and contrast… with remarkable accuracy."
Best of all, the slider-based filter recognizes and accounts for skin tones in its adjustments, so human subjects are balanced perfectly with the background.
If you'd like to give Luminar's Accent AI 2.0 a test run with your own photos, you can try it out for free. We offer this free trial so you can put Luminar through its paces before you decide to purchase.
In a Luminar review for PCMag, Michael Muchmore calls the Accent AI filter
One of the best auto-enhancers I've seen.

(Muchmore, like many other Luminar reviewers, also highlights the Foliage Enhancer and Polarizing Filter as favorite features.)
The Sky Enhancer provides a slider-based smart tool to bring out detail in the sky, whether that means correcting for blown-out clouds or bringing vibrance back to a sickly-looking blue scene. This tool is ideal for adding drama to washed-out or otherwise imbalanced images.
Photography educator Dahlia Ambrose, in her Skylum Luminar review, mentions:
Luminar 3 has over 50 filters, including what they call the AI Sky Enhancer, which, frankly I love!!!!

Luminar Libraries was a major focus for our designers when creating the photo management software component of the program. But what kind of smart photo editor would Luminar be without some cutting-edge AI for good measure?
Sync adjustments
Batch processing has long been a staple of all the best photo organizing software. We took into account Luminar reviews from previous versions to build on what was essential and create something even better. This version takes things to the next level by cutting down the time and effort required to apply the same edits to a group of photos.
Simply make your edits to a photo until it looks exactly the way you want. This can involve as many steps or different processes as you like. Then go back to the Library view. Click first on the photo you've just edited, then hold Shift/Command and click to select the other images to which you want to apply the same edits. Finally, right-click on any of the selected images and select Adjustments > Sync Adjustments. That's it!
This simple, streamlined method of batch editing has earned a lot of fans. It bypasses the need to create a preset and enables professional photographers to tighten their turnaround from shoot to delivery. In his Luminar 3 review, Matt Suess over at PetaPixel calls this out as his favorite feature in the program, describing it as a "huge time saver!"
Non-destructive editing
In photo editor reviews, this is a feature that many professionals (and the commitment-phobic among us) consider non-negotiable. In Luminar 3, as in previous versions, all editing is completely non-destructive.
What this means is that every change you make to your photos is captured and recorded. As a result, you have the ability to go back not only to the original version but to any step you made in the editing process. All edits live in the accessible, intuitive History Panel.
Luminar 3 review from Darlene Hildebrandt at Digital Photo Mentor includes layer-enabled, non-destructive editing among Luminar's many pros.
Looks library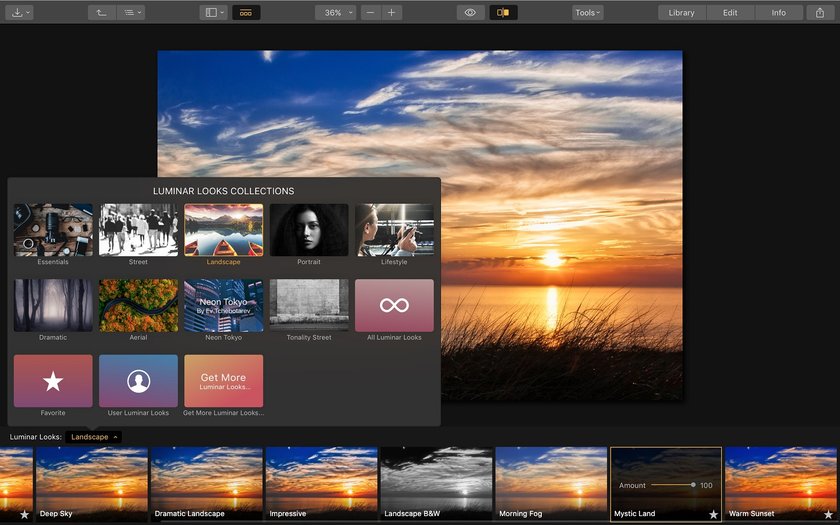 Photo filters are nothing new. What is new is a vast library of one-click presets, or Looks, each carefully tailored to bring life to your photos. The Looks included with Luminar 3 are organized into seven categories:
Street
Landscape
Dramatic
Portrait
Lifestyle
AerialEssentials
But Luminar doesn't limit you to these default Looks. Photographers can build up their library by visiting the Luminar Marketplace, where they'll find additional Looks made by the Skylum team as well as by individual users. While some of these add-on Looks come with a small fee ($29 at most), others are completely free.
And while you're in the Marketplace, you'll also be able to browse an array of additional resources, including e-books and video tutorials, lookup tables (LUTs), textures, and workspaces.
While we were busy creating the best photo organizing software, we were also focused on the creative and artistic features that are vital for a great photo editor.
Keeping pace with the times
It's like they say: In the tech world, on time is late, and early is right on time. Read any of the dozens of photo editor reviews on the web and you'll quickly get the idea that technological advancements are moving faster than ever. Digital image processing is no exception. Because things are changing so fast, the only real way to measure success is by the support and loyalty we earn in our user community.
On that count, we think that reviews of photo editors — many of which call Luminar one of the best photo organizing software on the market — speak for themselves.
When talking about Luminar's wide selection of proprietary filters and full suite of professional-grade editing tools, here's what the folks at Shotkit have to say in their Luminar review:
"Luminar 3 offers endless opportunities for creative and artistic editing, as well as straight-up batch processing editing work."
The technological race never changes
Luminar is right at home with the breakneck pace of technological development. While we've developed a reputation for reliable photo organizing software with strong editing functionality, we're definitely not done.
After doing a thorough in-house Luminar review of our own over the past several months, we've found a number of ways to make the software even more streamlined and powerful than it is now. We look forward to continuing to improve, refine, and expand Luminar's capabilities.
Looking ahead
What's next for Luminar?
We're glad you asked. The Skylum team is already thinking ahead to the next great thing for Luminar, and we're excited about what's to come. Here's a quick preview of what's in store for Luminar:
Extended AI capabilities, including smart layering and masking features, improved editing for skin tones in portraits, and streamlined object removal
Smart search functions to help you quickly and easily find and sort your photos by file names, keywords, and EXIF data
A Lightroom migration tool that will allow you to seamlessly transfer your files and data into Luminar from Adobe Lightroom
Real-time switching between RAW and JPEG versions of the same file while viewing the file as a single image
Virtual copies, a new feature for Luminar Libraries that enables you to easily edit the same photo via multiple editing histories to achieve different looks and styles
Conclusion
At Skylum, we're pretty proud of our work on Luminar 3. And because we take each Luminar review seriously, we're also incredibly appreciative of the support and feedback we've received from our beta testers, reviewers, and users throughout the last several years.
Luminar simply wouldn't be what it is today without the exceptional community of savvy photographers who use it and who have graciously shared their experiences and insights with our team. If you've been a part of that, the entire Skylum team sincerely thanks you.
If you want to know more about our software, we encourage you to read additional Skylum Luminar reviews and see for yourself what this smart photo editor and photo organizing software can do for you. Read photo editing software reviews for other applications too, while you're at it — we're confident Luminar 3 stacks up to the competition.
And if you try our software and love it — or if you spot something that you'd love to see improved! — feel free to drop us a line or write your own Luminar review. We'd be happy to hear from you.
If you haven't used Luminar 3 with Libraries yet, we'd like to invite you to try it out. It's the result of a lot of hard work and dedication by the team at Skylum, and we'd love for you to give it a go.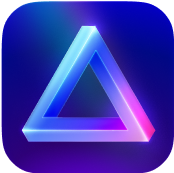 Advanced yet easy-to-use photo editor
view plans