Welcome to the world of New Year's photography magic, where every click captures the essence of new beginnings and fond memories. As we usher in a fresh year, what better way to celebrate than by immortalizing the moment with a New Year's photoshoot? In this article, we will guide you through the New Year photoshoot ideas and prop inspirations.
New Year's Eve is a time of joy, reflection, and anticipation, and your photos should reflect all these emotions. Whether you're a seasoned photographer or just someone who loves taking pictures, our tips and ideas are tailored for everyone who wants to create New Year-themed works of photographic art, from the preparation stage to finding the best New Year's Eve selfie props to post-processing with the innovative photo editing software Luminar Neo. Get ready to transform your New Year's memories into stunning visuals.

New Year's Photoshoot Ideas
Confetti And Balloons Galore
Embrace the joy of New Year's with an explosion of confetti and balloons. Create a fun and colorful backdrop for your photoshoot, and when the clock strikes twelve, let the confetti rain down while you capture the sheer delight on everyone's faces.
The Classic Countdown Shot
What better way to mark the transition from the old year to the new than with a classic countdown shot? Gather your friends and family, hold sparklers, and pose as you count to midnight. The burst of light and excitement in the final moments of the year makes for a breathtaking photo.
Nighttime Sparklers
New Year's Eve is all about the dazzling lights, and sparklers add that extra magical touch. Snap photos of friends and family writing messages with sparklers at night, creating a beautiful and memorable effect.
Glamorous Black And Gold
Go for an elegant and stylish look by using black and gold as your color scheme. Dress up in your most glamorous attire, and set up a photo area adorned with golden accents. This combination exudes sophistication and is perfect for ringing in the new year with class.
Reflections And Fireworks
If you are near water, capture the beauty of fireworks reflecting on its surface. It adds a touch of magic to your photographs. Coordinate your shots with the bursts of fireworks in the background to create stunning, unforgettable images.
New Year, New Beginnings
Symbolize the transition to a new year by taking pictures that capture the concept of new beginnings. Include props like an hourglass or an open book, emphasizing turning the page to a fresh chapter.
Candid Moments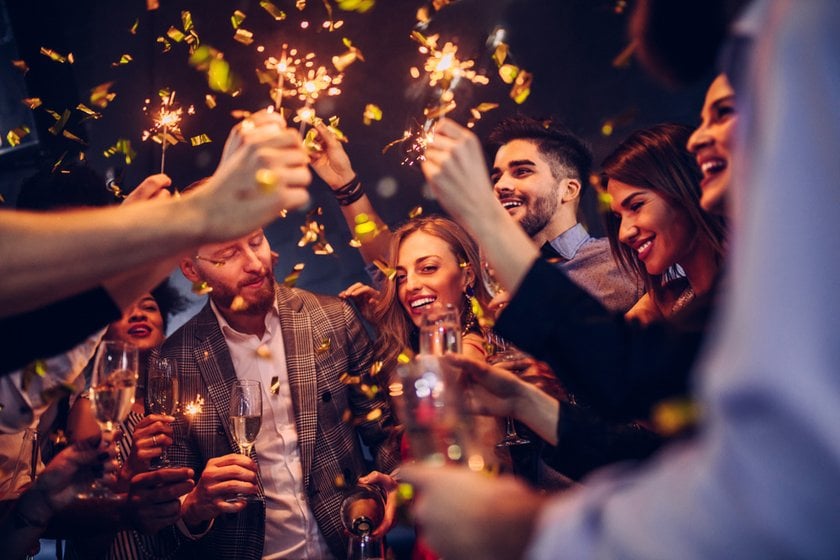 Sometimes, the best photos are the unscripted, candid moments. Let your subjects be themselves, and capture the authentic emotions and interactions that make New Year's special.
In the next section, we will guide you through creating your photo booth for the ultimate New Year's photography experience.
DIY New Year's Photo Booth
Choosing The Right Location
Before building your DIY photo booth, consider the ideal location. It should be an area with good lighting and enough space for your props and the photographer. Indoors with a well-lit corner or outdoors with a scenic backdrop are both excellent choices.
Backdrop And Decoration
Start by selecting a backdrop that aligns with your New Year's theme. You can opt for shimmering curtains, metallic foil curtains, or even a simple, well-decorated wall. Adding a New Year's banner or colorful balloons can make the space more inviting. Get creative with your decorations to set the perfect scene.
Lighting
Good lighting is essential for high-quality photos. Use soft, diffused lighting to reduce harsh shadows. You can incorporate string or fairy lights to create a warm, cozy atmosphere. If you're outdoors, utilize the natural light to your advantage.
Camera Setup
Ensure you have a suitable camera setup. If you have a DSLR, set it on a tripod for stable shots. For those using smartphones, invest in a smartphone tripod or a durable surface. You can even use a remote shutter for convenience.
Photo Booth Signage


Design and display a sign encouraging your guests to use the photo booth. Include instructions, fun captions, and hashtags to promote social sharing.
Photo Booth Fun
Please encourage your guests to let their creativity flow in the photo booth. Capture candid moments, group shots, and individual portraits. You can set up a tablet or a laptop for instant viewing and sharing, adding a modern twist to the experience.
Props
Your DIY New Year's photo booth is incomplete without many props. To keep the photo booth exciting throughout the night, periodically rotate the props and decorations. It will ensure that your guests have something new to play with and photograph. Which props will you need to fulfill your photo booth ideas for New Year's Eve? Let's see below.
New Year's Eve Selfie Props
Glittering Glasses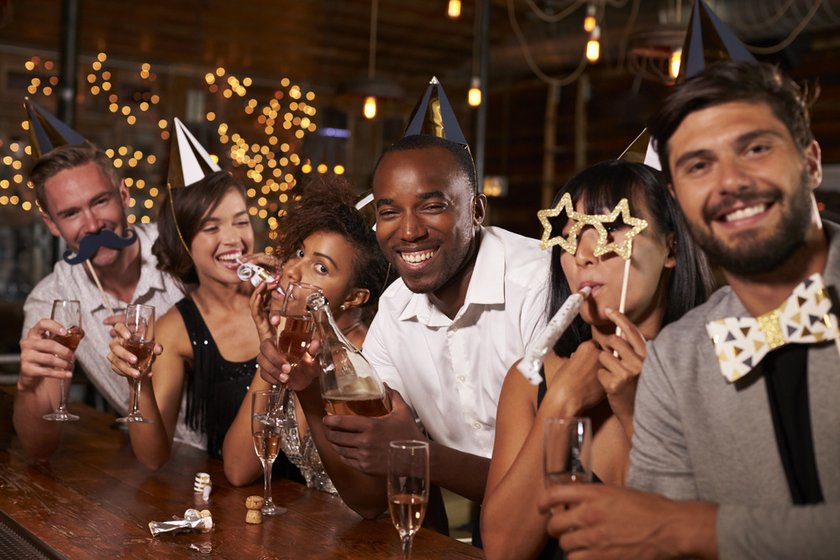 Welcome the new year with style by sporting glasses with the year on them. These glitzy accessories not only look fabulous but also make for a perfect prop for your New Year's selfies. They come in various designs and colors, so you can choose the one that matches your style.
Party Hats And Tiaras
No New Year's celebration is complete without party hats and tiaras. These classic props add a touch of festivity to your photos. Whether you opt for a playful party hat or an elegant tiara, they will elevate your selfies.
Sparkling Confetti Poppers
Capture the excitement of the moment with confetti poppers. These are perfect for action shots, creating a dazzling display of colors and shapes to make your selfies truly dynamic.
Countdown Clocks
Counting down to midnight? Use a countdown clock as a prop to remind everyone of the time left until the big moment. These clocks make for a fun and thematic addition to your New Year's selfies.
Champagne And Party Props
Celebrate with a glass of bubbly! Champagne flutes and bottles can be both props and sources of enjoyment during your photoshoot. You can also include noisemakers and party blowers to add an extra dose of merriment.
New Year's Resolutions Board
Creating a New Year's resolutions board can be a unique and personal touch to your selfies. Write down your aspirations for the upcoming year and capture the moment with your resolutions.
Personalized Signs
Craft personalized signs with your favorite New Year's wishes or greetings. These signs can serve as a creative prop and convey heartfelt messages.
Now that you have successfully set up your photo booth let's explore how to enhance and edit your New Year's photos.
Editing New Year Photos With Luminar Neo
Step 1
Begin by importing your New Year's photos into Luminar Neo. You can easily do this by opening the software, selecting Catalog,' and choosing Add Photos.' This step allows you to organize and access your images within the software.
Step 2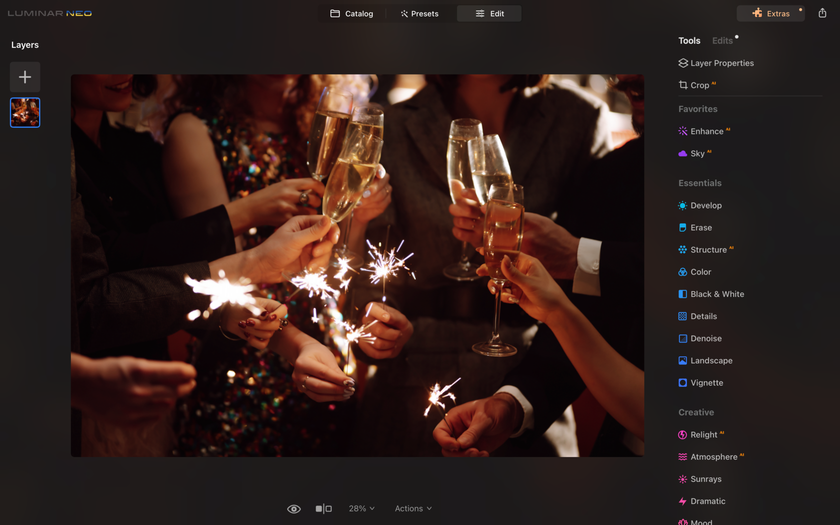 Luminar Neo offers a range of basic adjustment tools to enhance your photos. Start by adjusting the exposure, contrast, and saturation to fine-tune the overall look of your images. With the Enhance AI feature, it only takes a moment. Pay attention to the lighting, making sure your photos capture the essence of the moment.
Step 3
Get creative with Luminar Neo's filters. Experiment with filters like 'Glow' to add a magical touch to your photos or 'Golden Hour' to infuse warmth and charm. These filters can evoke the desired mood of your New Year's celebration.
Step 4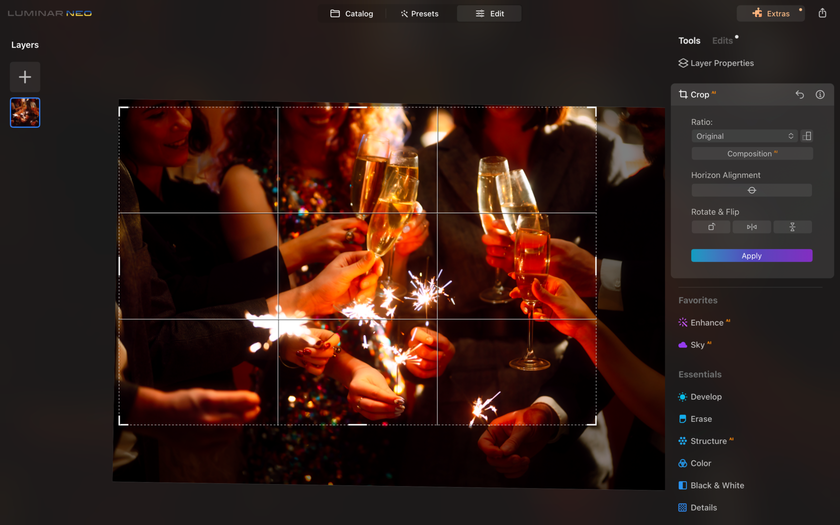 Crop and adjust the composition of your photos to focus on the central elements or create a balanced and visually pleasing frame. Luminar Neo offers easy-to-use cropping tools that allow you to resize and reshape your images.
Step 5
If you are capturing portraits or close-ups, Luminar Neo's skin retouching tools can help enhance the complexion of your subjects. Remove blemishes, smooth out skin, and achieve a flawless look without compromising natural beauty.
Step 6
Color grading is a powerful tool for setting the mood of your photos. Luminar Neo allows you to adjust the colors in your images to achieve a specific tone or atmosphere. Experiment with color palettes to find the perfect look for your New Year's photos.
Step 7
Use Luminar Neo's sharpening and enhancing tools to make your photos crisp and vibrant. These tools can help you highlight the finer details and make your images pop.
Step 8


Once you're satisfied with your edits, it's time to export your photos. Luminar Neo makes it easy to save your edited images in various formats. You can save your photos for print, social media sharing, or online galleries.
By following these simple steps and leveraging the capabilities of Luminar Neo, you can turn your New Year's photos into stunning visual memories that you will cherish for years to come.
Unleash Your Creative Potential with Luminar Neo
View Plans
Bottom Line
From classic countdown shots to glittering confetti and fireworks reflections, the possibilities for New Year's photoshoots are endless. The addition of New Year's Eve selfie props adds fun and style to your celebrations, turning ordinary selfies into extraordinary memories.
Creating your DIY New Year's photo booth provides a dedicated space for candid moments and poses, allowing you and your guests to embrace the season's spirit. Your photo booth becomes a center of excitement and a backdrop for unforgettable images.
And for the finishing touch, Luminar Neo is the magic wand to enhance your New Year's photos. With its wide array of editing tools, you can add that professional touch, create the desired mood, and make your images stand out.
So, as you prepare to ring in the new year, remember to pick up your camera, gather your props, and let your creativity shine!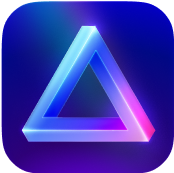 Advanced yet easy-to-use photo editor
view plans