Our guide can help you choose the application for graphic design that suits all your needs. Whether you're a beginner or a professional designer, we'll provide you with the information you need to make an informed decision.
Speaking of the two most popular graphic software, Affinity Designer vs. Illustrator immediately comes to mind. They are commonly used by designers and artists to create vector illustrations, logos, icons, and other graphic content. While both applications offer a wide range of features and capabilities that allow users to create stunning content of any complexity, they differ significantly in various aspects.

Choosing one of them is not easy. However, in this article, we will take a detailed look at all the necessary information and compare the strengths and weaknesses of each software. Thanks to this you will be able to decide which one is better for you and is perfect for your design needs.
A Detailed Review of the Apps: Which One to Choose?
In order to avoid mistakes and make the right choice, there are many different factors to consider. This is especially important if you are a beginner and have no experience with graphic applications. We'll take a detailed look at all the nuances that may be of interest to every user. So, let's begin.
Consider Interface Usability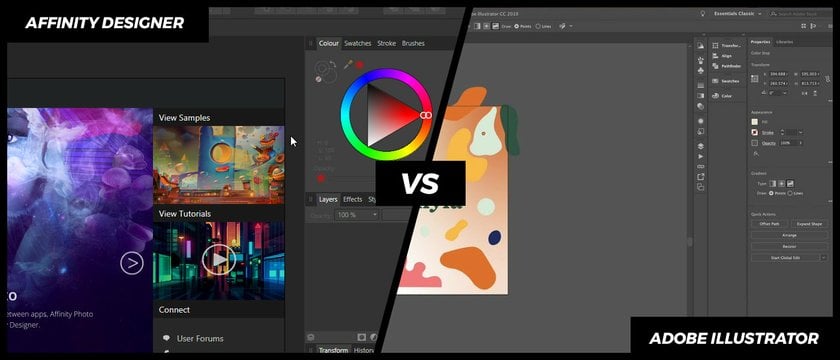 Comparing Adobe vs. Affinity interfaces, we can say that they may seem cluttered because of the sheer number of functions they offer. These applications come with many tools, menus, toggles, and other instruments for creating images. However, users can easily customize the interface by sliding and rearranging panels to suit their preferences.
There is a noticeable difference in the number of options and instruments between Affinity and Illustrator. As a result, it may seem that the former has a more user-friendly UI due to a somewhat smaller feature set. However, both apps have a lot in common in their interfaces, comparable toolboxes, and the ability to use Illustrator keyboard shortcuts in Designer. The menu structures may differ slightly, but in general, these applications look and feel very similar.
The Affinity interface has a slight advantage over the Adobe product in terms of color. While the Illustrator tools and menus are completely black and white, the Designer interface has color icons. This seemingly insignificant difference can significantly help you find certain features during the design process. However, it is a matter of taste. Perhaps some users will find the multicolored icons distracting.
Comparison of Tools and Features
Affinity Designer and Adobe Illustrator have their own peculiarities. Let's take a closer look.
Affinity Designer offers:
Vector Brush Tool: Affinity has a powerful vector brush tool that allows users to create strokes with varying thicknesses and pressure. You can also customize the brush's shape, angle, and rotation.

Node Tool: It lets you adjust the anchor points of your vector shapes, which can be used to change the shape, size, or curvature of your design.

Live Filters: Affinity Designer includes a wide range of live filters, such as blur, distort, and

sharpen

, which can be applied to your designs in real time.

Artboards: The app lets you create multiple artboards in a single document, which is great for making designs for different devices.

Symbols: You can create symbols in Affinity, which can be used to reapply elements across your designs, making it easier to make changes to them.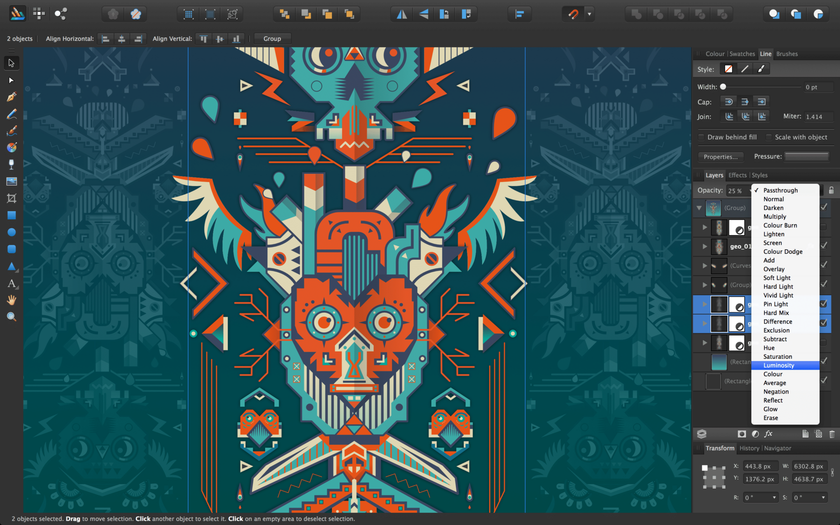 Comparing Affinity vs. Adobe, let's look at the tools and features in Illustrator:
Pen Tool: This instrument in Illustrator is a staple of vector graphics, allowing you to create precise paths with anchor points.

Type Tools: The app has a wide range of typography tools, including text manipulation, font styles, and effects.

Live Paint Bucket: The software includes a Live Paint Bucket tool, which makes it easy to fill in shapes with color quickly.

Gradient Mesh: This instrument lets you create complex gradients that blend smoothly between colors.

Actions: The application has an Actions panel that lets you automate repetitive tasks, saving time and effort.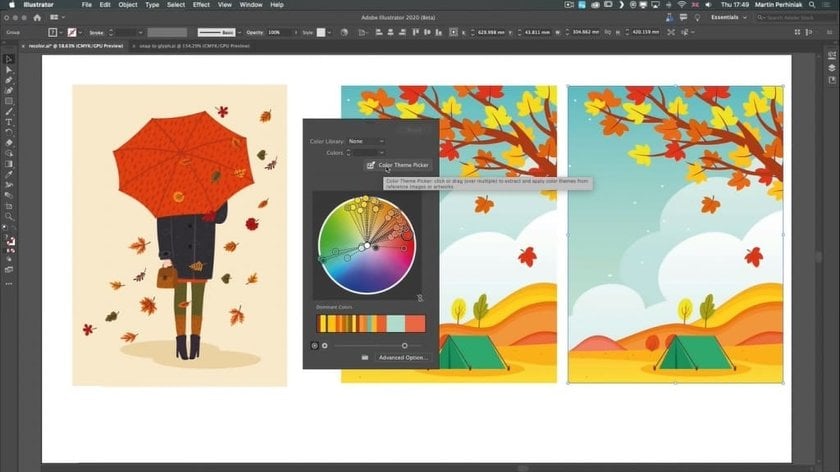 When it comes to comparing the tools in Affinity Designer vs. Illustrator, Adobe's experience has a distinct advantage. While Designer has a decent set of instruments, Adobe Illustrator has more features, including some that can greatly enhance the creation of vector graphics.
One notable feature of Illustrator is the Shape Building Tool, which allows users to create complex shapes from simpler ones using an intuitive click-and-drag method. Affinity has something similar to the Pathfinder option in Adobe, which lets users select multiple shapes and use buttons to combine or subtract their parts.
However, the Designer app lacks features such as an automatic tracing tool and the ability to apply distortion or deformation effects. In addition, Illustrator offers a number of other capabilities that Designer doesn't have. Although Serif is constantly adding new features to its software, it has yet to catch up in this area.
Apps Compatibility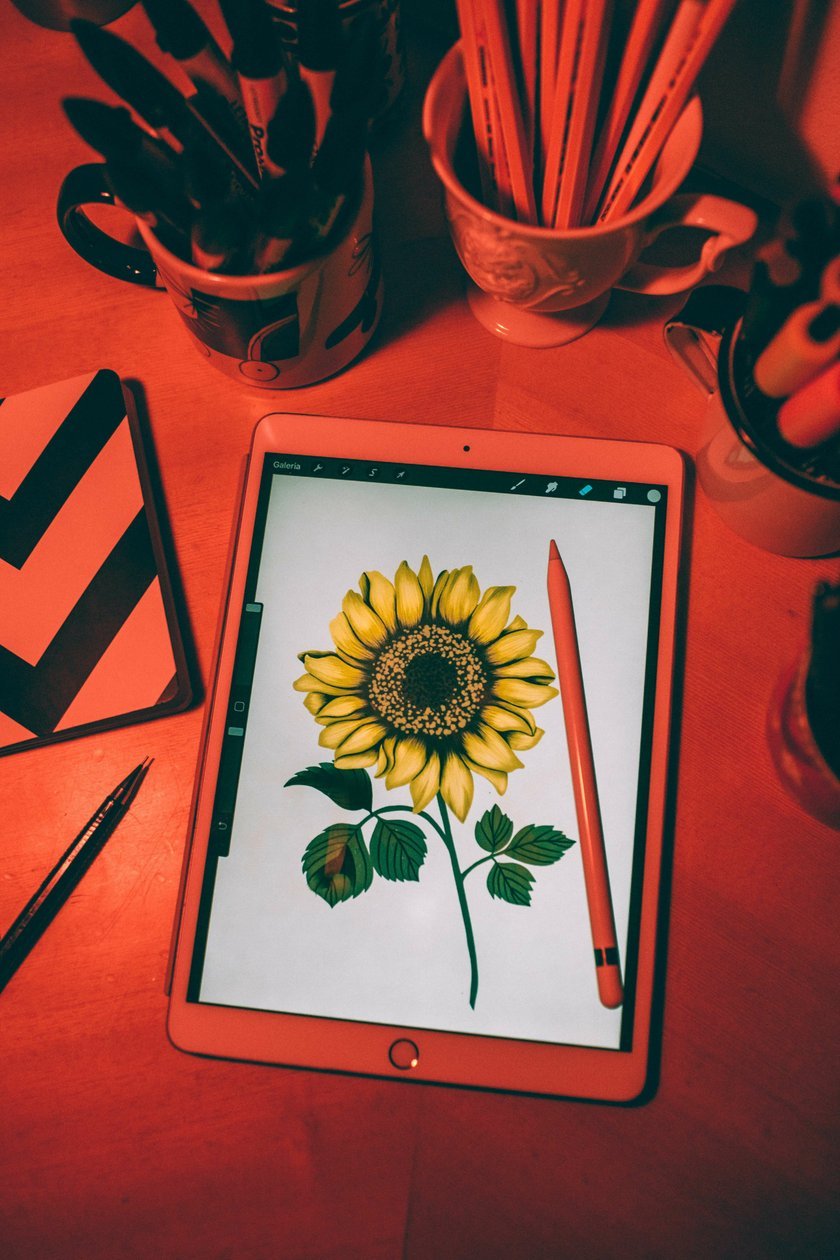 The question of Adobe Illustrator vs. Affinity Designer usage can be approached from many angles. First, it's worth noting that both apps are compatible with macOS and Windows operating systems. However, while there are mobile versions for both of them, they are different products that work separately.
In terms of file type compatibility, it's important to consider the vector file formats that each program supports. Both Affinity and Illustrator offer a wide range of file import and export options, although Adobe supports a slightly larger selection.
The Designer app is capable of opening files in AI format, while its file types are not compatible with other software. In addition, Adobe brushes can be imported into Affinity, but they require conversion. On the other hand, Illustrator in comparison with Designer provides some level of support for competing file formats, such as the ability to open files from CorelDRAW and save AutoCAD files.
Here we cannot say that Affinity Designer is better than Adobe Illustrator or vice versa. In the matter of compatibility, these applications are practically equal.
Software Flexibility
When comparing Adobe Illustrator vs. Affinity Designer we can't ignore such an important point as flexibility.
Adobe has focused all its efforts on one particular task, and that's vector editing. This has given a fantastic result, as this software has succeeded as much as possible in this area. However, its competitor offers users a unique advantage. In addition to working with vectors, you also have the opportunity to edit photos, thanks to the Personas feature. It lets you create shapes and curves, add vector strokes, control fills and transparencies, add text, and crop pictures.
At the same time, "Pixel" Personas resembles a lighter version of Photoshop, which allows users to apply raster brush strokes and erasers. These changes are made on adjustment layers, allowing you to turn them on and off at will.
Eliminating the need to switch to another photo editing software, Designer's pixel and vector Persona is a simpler and less memory-intensive option compared to switching between Photoshop and Illustrator at the same time.
Comparing Learning Curve

If you have no knowledge of vector design options, using Affinity Designer or Adobe Illustrator can be challenging. You need tutorials to get the most out of these applications.
Adobe has been around for more than three decades and is the industry standard for vector graphics software. It has a rich feature set, including advanced drawing instruments, color management, and typography. However, the extensive functionality comes with a more complex learning curve. The interface can be overwhelming for beginners, and some advanced features may take some time to learn.
Illustrator has a lot of online resources for this purpose. These include official tutorials, as well as numerous manuals from professionals and amateurs.
Affinity, on the other hand, is a newer player in vector graphics software. It offers a more modern interface and an optimized workflow that is easier for newcomers to learn and use. Its feature set is also extensive, including vector drawing tools, advanced typography, and support for raster effects.
Although Serif provides its own guides and has a growing community, the number of Designer tutorials is not large in comparison with Illustrator.
However, Affinity has the advantage of a less cluttered feature set, making it easier for beginners.
System Requirements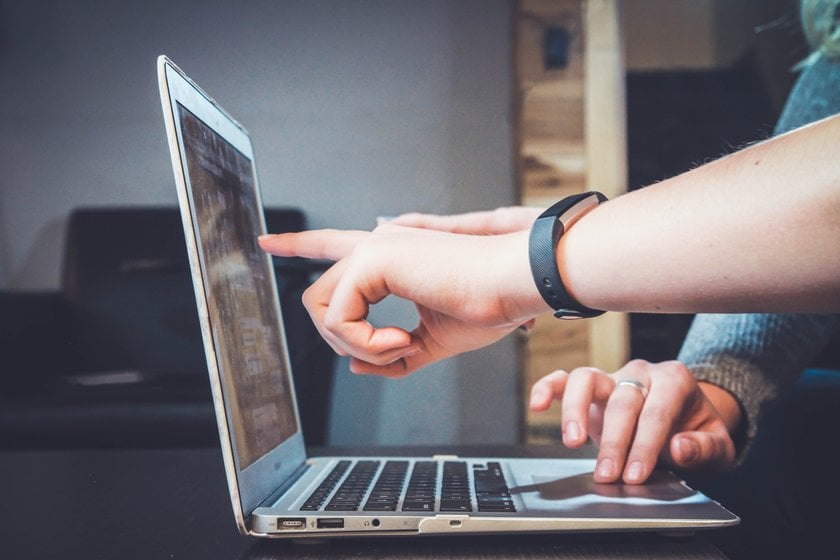 Comparing Affinity Designer vs. Adobe Illustrator, we can say that both applications can be used on various operating systems. While Affinity can be purchased separately, the iPad version of Illustrator is included with a subscription to Adobe and Creative Cloud.
One advantage Affinity Designer has over its competitor is that it runs on a wider range of models and requires less RAM, making it a more affordable option for users with smaller budgets or less powerful devices. This is especially important as more and more designers work from home, and outsourcing illustrations are becoming more common.
Illustrator, on the contrary, always had high system requirements, and the latest generation of software is no exception. In addition, Adobe's Creative Cloud runs in the background, using system resources and potentially putting a strain on already overloaded processors.
It's worth noting that both apps offer free trials so that users can test the software on their system before making a purchase. Ultimately, the choice between Affinity vs. Adobe depends on the user's specific needs, preferences, and system capabilities.
Additionally, the system requirements may change with new software updates, so it's always a good idea to check for the latest information on the software's official website.
Pricing Policy
The Affinity Designer vs. Adobe Illustrator differs in their pricing models. Affinity Designer offers a one-time payment with no ongoing subscription fee, while Illustrator requires a monthly or annual purchase through Adobe's Creative Cloud service.
Affinity's one-time payment is significantly lower than the subscription price for Illustrator. The price of the former depends on the platform you use: Windows, Mac, or iPad.
Illustrator subscriptions are more expensive, and there are different price levels depending on usage and whether you pay monthly or annually.
It's worth noting that subscription also includes access to other Adobe creative software such as Photoshop and InDesign. Affinity Designer, on the other hand, is a stand-alone application that does not include any other software.
Ultimately, the choice between Affinity Designer vs. Illustrator may come down to personal preference and budget. If you need a one-time payment with no ongoing subscription fees, Affinity may be the best option for you. However, if you need access to other Adobe creative software or prefer the benefits of a subscription model, Illustrator may be a better choice.
Final Thoughts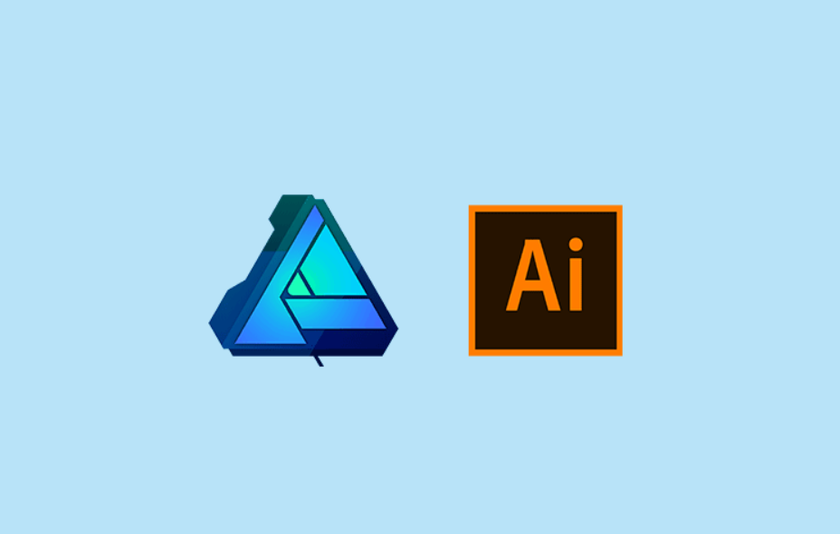 We can conclude that both applications offer advanced features and capabilities for creating stunning designs. While Illustrator remains the industry standard and has been around for decades, Designer has quickly gained popularity due to its user-friendly interface and affordable price.
When choosing between these two apps, it all depends on personal preference, budget, and specific project needs. Here are the main differences between Affinity Designer and Illustrator:
Affinity is more affordable, but Illustrator has a broader feature set and integration with other Adobe products.

Designer has a modern, user-friendly interface, while Illustrator has a more complex learning curve.

Affinity is more efficient and works better on less expensive hardware, while its competitor requires more powerful devices to run smoothly.

Illustrator requires a monthly subscription, while Designer involves a one-time payment.
Overall, both applications have their strengths and weaknesses, and it's up to the user to determine which one best suits their needs. Regardless of which software you choose, Affinity Designer or Adobe Illustrator, both of them are powerful enough to bring your creative ideas to life.
FAQ
In this section, we have prepared answers to the most popular questions.
Is Affinity a Good Alternative to Adobe?
Yes, it is a great alternative for vector graphics design. It offers many of the same features and instruments as its competitor, but at a more affordable price.
Should I Use Adobe vs. Affinity?
The decision to use one of these applications ultimately depends on your needs and preferences. Illustrator has been the industry standard for many years and offers a wide range of powerful tools and integration with other Adobe software. However, it has a high price tag and requires a monthly subscription, which may not be affordable for everyone.
Affinity, on the other hand, offers a more reasonable one-time payment option. In addition, it has a modern, user-friendly interface that's easier for newcomers to navigate, and the software works more efficiently on lower-end devices.
What Can Illustrator Do That Designer Can't?
In fact, we can give you several examples: Perspective Grid, Live Trace, and Blob Brush — these functions are not available in Affinity. However, comparing Affinity vs. Illustrator it's worth noting that the former boasts many features that Illustrator does not, and that Designer is a more affordable option with a modern, user-friendly interface.
Can Designer Use Illustrator Brushes?
Yes, it can. The app supports a wide range of brush formats, including Adobe Illustrator's AI.
Do Professionals Use Luminar Neo?
Undoubtedly, Luminar Neo is becoming more and more popular among professionals. It has many advanced features, such as AI-powered tools and layer-based editing, which make it a versatile photo editing software.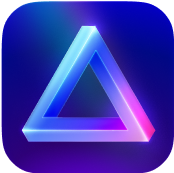 Advanced yet easy-to-use photo editor
view plans